In the 200 years since its founding, San Francisco, California has been through a lot of changes in its culture, economy, and geology: a gold rush, a world war, the Summer of Love, the Gay Liberation Movement, the dot-com boom and crash, and multiple earthquakes and reconstructions in between.
The result is a liberal city that is considered a cultural melting pot and one of the world's most livable cities.
With its rich history and unique attractions, San Francisco is an excellent destination for backpackers, families, and adrenaline junkies alike.
In today's article, I list down some of the most popular things to do in San Francisco so you can make the most out of your visit, especially if this is your first time to visit the City by the Bay.
The Best Things To Do In San Francisco
1. Experience the Golden Gate Bridge.
The Golden Gate Bridge is one of the most famous bridges in the US and is one of the most photographed bridges in the world.
You can walk, bike, take a bus, cab, or rideshare, or drive yourself across the Golden Gate Bridge, and treat yourself to panoramic views of the Pacific Ocean, the Marin headlands, Alcatraz, and San Francisco.
The pedestrian walkway is the east sidewalk, which runs along the east side of the bridge, while bikes can ride on either side depending on daily schedule.
It's free to walk or bike across the Golden Gate Bridge, but drivers pay a $7.25 toll coming into San Francisco.
If you prefer flying over the bridge, the Vista Grande Helicopter Tour gives you spectacular views of Alcatraz, the Golden Gate Bridge, Fisherman's Wharf, Coit Tower, and the financial district.
Want to experience the bridge from the water? Of course you can.
The San Francisco Bay Sunset Catamaran Cruise takes you on a catamaran ride across San Francisco Bay gliding past Alcatraz, underneath the Golden Gate Bridge, and to the San Francisco skyline at twilight.
How to Best Photograph the Golden Gate Bridge.
The Golden Gate Bridge is extremely photogenic, and taking photos of it is one of the must-do things to do in San Francisco.
There are several beaches around it where you can get photos of the bridge in all its glory. Here are some of these nearby beaches with excellent vantage points.
1. Baker Beach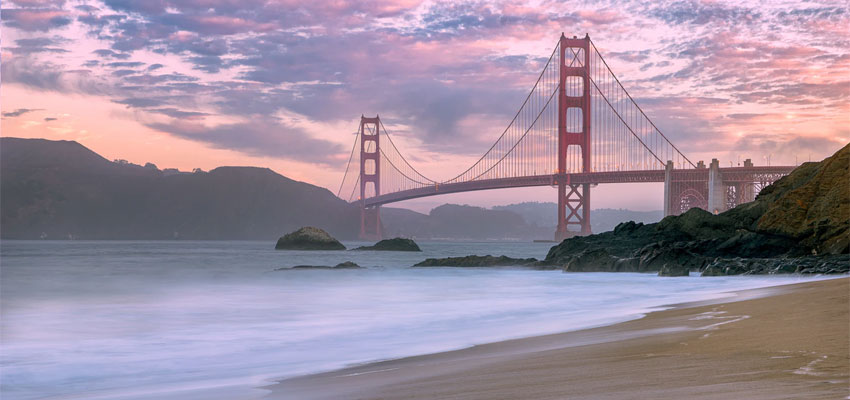 It's possible to get a reflection of the bridge on the water.
Best time to take photos: Sunset
2. Crissy Field Beach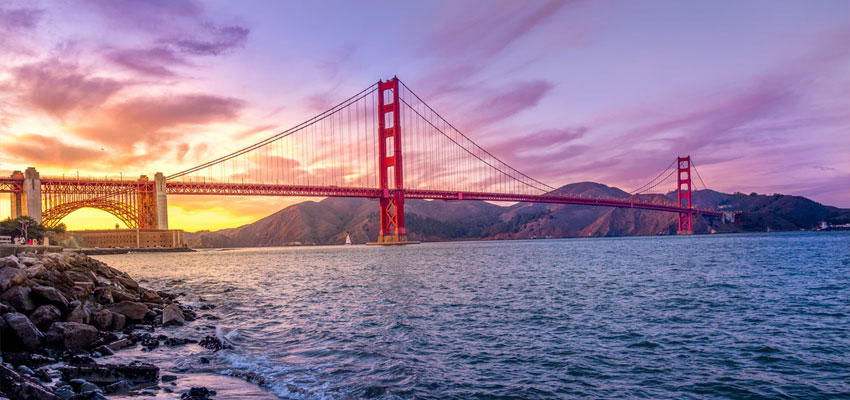 From some observation points, you can capture the old Fort Point Lighthouse on top of the building at Fort Point directly under the bridge.
Best time to take photos: Early morning
3. Fort Baker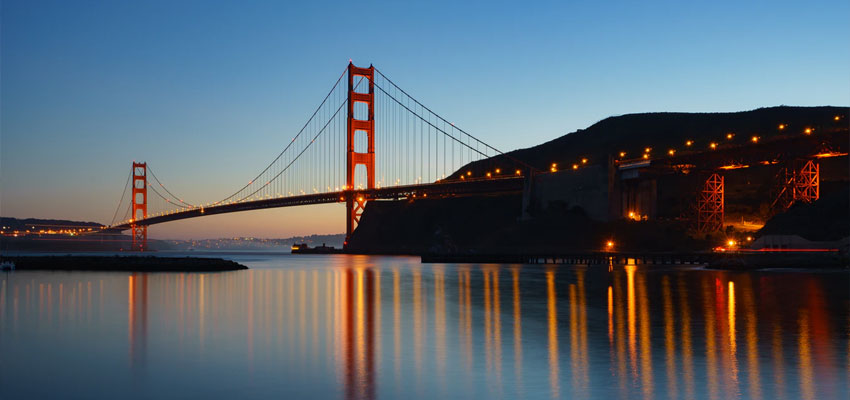 From here, you can take a photo of the bridge with the Lime Point Lighthouse building under the bridge.
Best time to take photos: Sunset, evening
4. Kirby Cove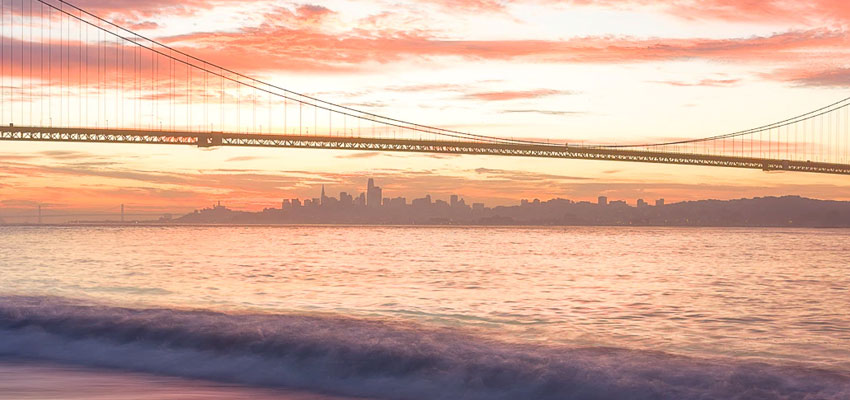 Capture the San Francisco skyline framed under the Golden Gate bridge span.
Best time to take photos: Early morning
2. Ride a cable car.
Riding a cable car is one thing to do in San Francisco that you shouldn't miss.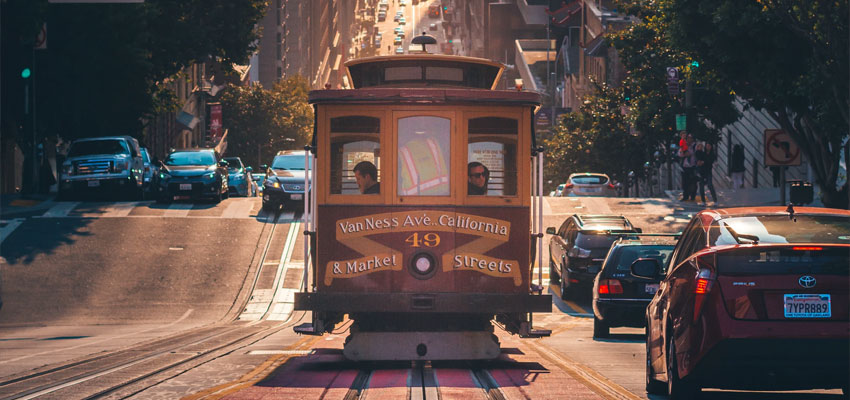 Its history dates back to 1873 when Andrew Hallidie, a Scottish engineer and wire rope manufacturer designed a cable railway system to solve the problem of transporting people up and down steep San Francisco hills.
Today, San Francisco's cable cars are the country's only rolling National Historic Landmark, taking millions of people for a nine-mile-per-hour ride on them every year.
Tickets can be bought at the Powell Station at Market Street, or at the ticket booth on Hyde and Beach. Single-ride tickets cost $8 per head for adults.
It's more cost-effective to buy 1-day, 3-day, or 7-day visitors passes, depending on how long you're staying in the city. A more complete table of all the fare and ticket options is available on the SFMTA website.
3. Spend a day (or two) in Fisherman's Wharf.
You can ride a cable car right into the historic Fisherman's Wharf neighborhood.
San Francisco's Fisherman's Wharf is a world-famous tourist attraction, combining a vibrant shopping, dining, and entertainment scene with historical parks and a thriving fishing community.
There are plenty of attractions, and there's something for everyone in the family. Sightseeing and exploring this neighborhood is one of the unique things you can do in San Francisco.
Here are a few of the must-visit places on Fisherman's Wharf.
Pier 39
Located on the waterfront in the Fisherman's Wharf neighborhood, PIER 39 is a two-level entertainment, retail, and dining venue.
Exploring Pier 39 is without a doubt one of the best things to in San Francisco.
Here are some of the notable attractions that everyone can enjoy.
7D Experience. An immersive, interactive rollercoaster-slash-cinema
Aquarium of the Bay. An aquarium featuring 30,000 animals found in the San Francisco Bay ecosystems
Magowan's Infinite Mirror Maze. Seemingly infinite hallways, endless circles, and dead-ends
Frequent Flyers. Bungee trampoline for all ages
Musical Stairs. Interactive art exhibit featuring stairs that play music when you go up or down
San Francisco Carousel. Historic two-level carousel with artistic renderings of San Francisco
Sea Lion Center. Hub of interactive displays, educational videos, and presentations about California sea lions that frequent the pier
Wine Tasting On The Bay. The Bay's first and only floating wine-tasting room
The Flyer. Theater with motion seats, live-action and computer-generated imagery, and special effects to simulate flight
Players Sports Grill & Arcade. Food, drinks, arcade games, sports broadcasts, and bay views, all in a 12,000-square-foot venue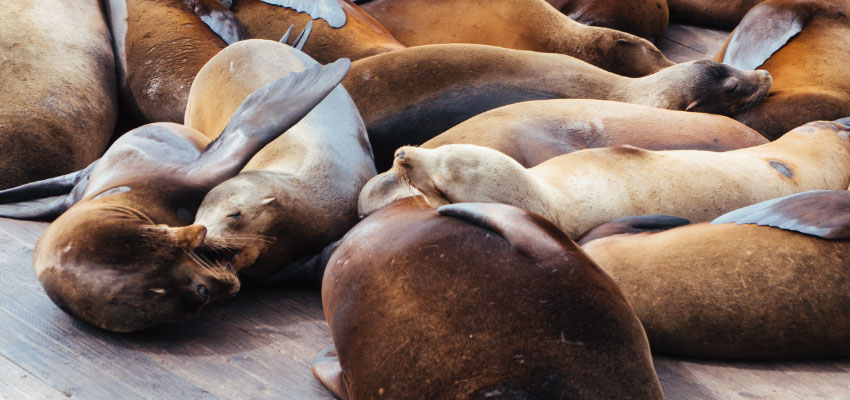 This pier also serves as the launch point of plenty of tours, such as bay cruises on catamarans, biking tours, bus tours, whale tours, Bay Voyager, and the RocketBoat.
Some of the fan favorite restaurants in PIER 39 include Fog Harbor Fish House, Boudin Bakery & Café, Pier Market Seafood Restaurant, and Bubba Gump Shrimp Co. Restaurant & Market.
Street performers, magicians, and caricaturists provide entertainment to locals and tourists walking around the pier.
Essential Information
Address: Beach Street & The Embarcadero, San Francisco, CA 94133 | 415-705-5500
Website: PIER 39
Ghirardelli Square
Originally a chocolate factory, Ghirardelli Square is now a specialty retail and dining complex that combines the latest trends in fine cuisine and shopping with the atmosphere of classic San Francisco.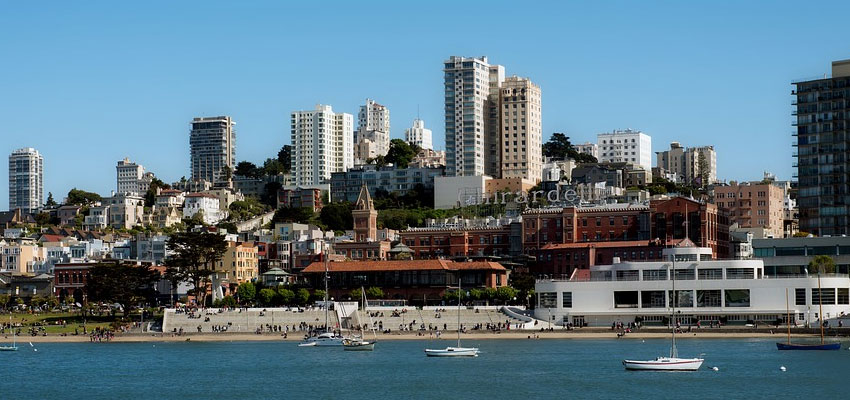 Explore the different boutiques and eateries in this National Historic Landmark.
And of course, a visit to Ghirardelli Square would never be complete without sampling the goods at the original Ghirardelli Ice Cream & Chocolate Shop.
Enjoy soda fountain classics, such as ice cream shakes and hot chocolates, or chocolatey treats, such as chocolate chip cookies, brownies, and chocolate-dipped strawberries.
Essential Information
Address: 900 North Point Street, San Francisco, CA 94109 | 415-775-5500
Duration: 2 to 3 hours
Website: Ghirardelli Square
Historic Pier 45
If you're a war history buff, Pier 45 should be on your list of things to do in San Francisco.
Pier 45 is home to two historic war vessels, namely, the SS Jeremiah O'Brien and the USS Pampanito.
The first one you'll encounter is the USS Pampanito, which is a restored World War II diesel-electric powered submarine.
When it was operational, it made six patrols in the Pacific during World War II. It sank six Imperial Japanese ships and damaged four others.
Nowadays, it is a National Historic Landmark that serves as both a museum and a memorial to those who served in the silent service.
Essential Information
Address: Pier 45, San Francisco, CA 94133 | 415-561-6662
Hours: Sun–Thu 9am–6pm; Fri–Sat 9am–8pm
Duration: 45 minutes to 1 hour
Cost: $20 per head for adults; discounts available for seniors, children, students, military
Website: USS Pampanito
The SS Jeremiah O'Brien on the other hand, is one of two remaining fully functional Liberty ships of the 2,710 built and launched during World War II. Its first mission began on 1943 and it completed seven tours before the war ended.
Its restoration began in the 1970s and now serves as a floating museum and tribute to the men and women who served on Liberty ships, as well as the civilians who built them.
It still departs the pier once in a while for educational cruises around San Francisco Bay.
Essential Information
Address: Pier 45, San Francisco, CA 94133 | 415-544-0100
Hours: Mon-Sun 9am-4pm
Duration: 1 hour 30 minutes
Cost: $20 per head for adults; discounts available for seniors, children, students, military
Website: National Liberty Ship Memorials
4. Tour Alcatraz Island.
Alcatraz Island, known as "The Rock," is a 9-hectare island that was the site of the first lighthouse, the first US built fort on the West Coast, and is now a bird sanctuary.
More popularly, though, it's known for its time as a federal prison, hosting high-risk civilian criminals, such as Al Capone, Robert Franklin Stroud (the Birdman of Alcatraz), and George "Machine Gun" Kelly.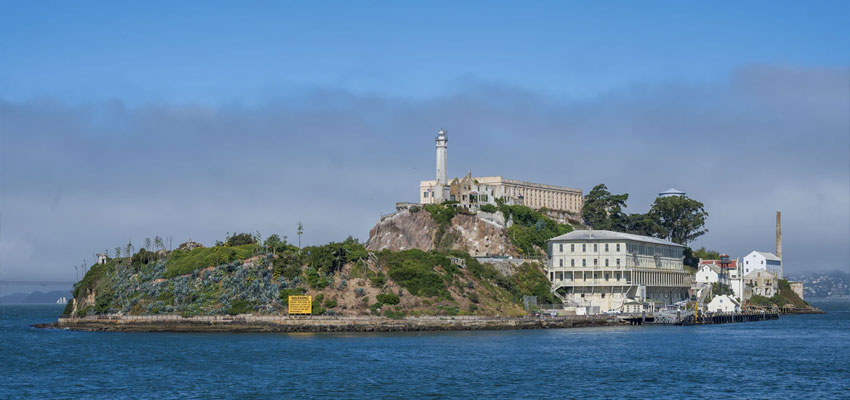 It's very important to note that there is only one company that can legally dock on Alcatraz Island and facilitate a guided tour of the prison, and that is Alcatraz Cruises. Even private boats are prohibited from landing in the island.
Some tour companies offer a tour of Alcatraz Island as part of a package, but take note that Alcatraz Cruises are issuing the tickets to them, which they then issue to you. Other tour companies offer a sail-by near Alcatraz Island so their passengers can see the island from the water.
When you join an Alcatraz cruise, you take a 20-minute ferry ride, a 45-minute self-guided audio tour, free time to explore the island, and then a 20-minute ferry ride back.
All Alcatraz cruises leave from Pier 33 Alcatraz Landing, on The Embarcadero, a quarter-mile away from Fisherman's Wharf. Tickets sell out really quickly, so make reservations in advance; tickets are available 90 days in advance.
Essential Information
Address: Golden Gate National Recreation Area, B201 Fort Mason, San Francisco, CA 94123 | 415-561-4900
Hours: Summer: Mon-Sun 8:45am-6:30pm; Fall to Spring: Mon-Sun 8:45am-4:30pm
Duration: 2 hours 30 minutes
Cost: Varies from $39.90 to $78.65 per head for adults; depends on the type of tour
Website: Alcatraz Island National Park
5. Walk on Lombard Street.
Going to a unique street for the 'Gram doesn't get more touristy than this.
San Francisco is known for its steep, rolling streets, but perhaps the most famous and most photographed of them all is Lombard Street.
A certain one-block stretch of Lombard Street between Hyde and Leavenworth streets in the Russian Hill neighborhood is known for its 8 hairpin bends.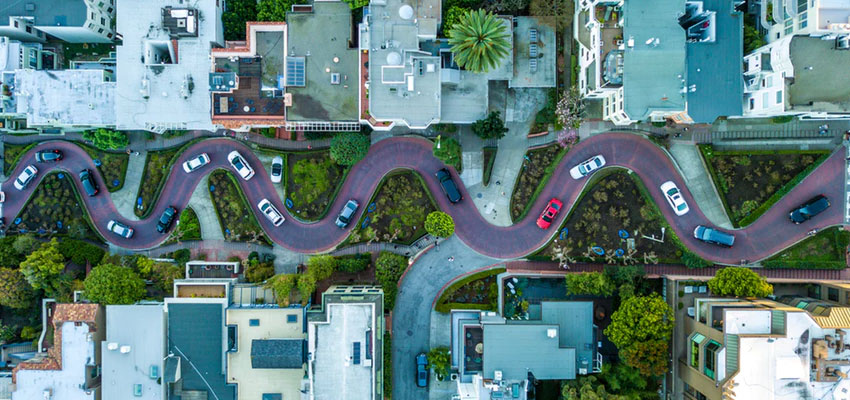 These bends are intended to help pedestrians and cars navigate this steep street, which is at a 27° angle. Cars can only go downhill toward Leavenworth.
Note that this street is in a constant traffic jam. It's more practical to park near the top and walk down it instead, enjoying the sight of the surrounding Victorian homes and the flowerbeds between the bends.
Essential Information
Address: 1070 Lombard Street, San Francisco, CA 94109
6. Discover Chinatown.
San Francisco's Chinatown is the largest Chinatown outside of Asia. Touring Chinatown offers an excellent look into the history, culture, cuisine, language, beliefs, and traditions of the oldest Chinese community in the US.
Chinatown is located in the heart of the city; bordered by Kearny Street and the Financial District to the East, Powell Street and Nob Hill to the West, Columbus Avenue and North Beach the North and Bush Street and Union Square to the South.
The traditional entrance gate to Chinatown is called Dragon's Gate on Grant Avenue, which is the main street of interest, lined with various shops selling souvenirs, glass, art, books, oriental rugs, antiques, and herbal teas.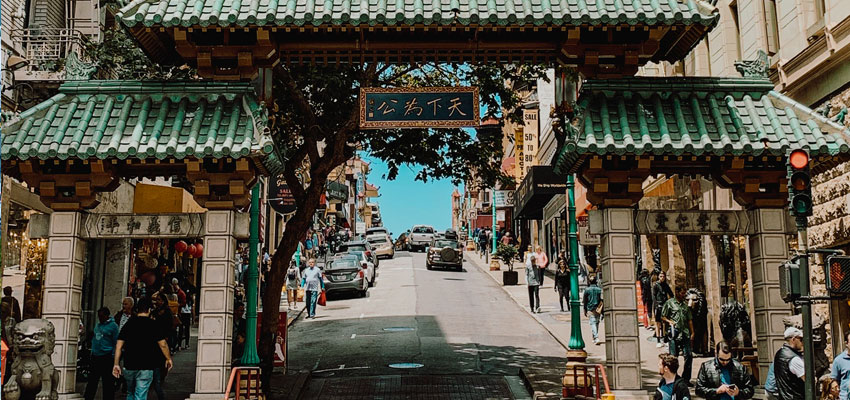 Stockton Street has more of the local flavor, with authentic Chinese food markets and locals who shop there.
Here are some places of interest to visit in Chinatown.
St. Mary's Square. San Francisco Chinese American War Memorial and statue of Sun Yat-sen
Ma Tsu Temple. Modern Buddhist and Daoist temple
Chinese Historical Society of America. Museum showcasing the contributions and legacy of the Chinese in America
Sing Chong Building and Sing Fat. Oldest pieces of pagoda-style architecture in Chinatown
Buddhas Universal Church. Largest Buddhist church in the United States
Tin How Temple. Oldest Chinese temple community
Waverly Place. Alleyway lined with high buildings with lovely painted balconies
Delicious Dim Sum. Most popular dim sum restaurant in San Francisco
Golden Gate Bakery. Famous for egg custard tarts
Golden Gate Fortune Cookie Factory. Fortune cookie factory where you can sample fortune cookies and tour their factory
East West Bank Building. Formerly the site of the Chinese Telephone Exchange
Portsmouth Square. Favorite tai chi and chess spot; replica of the Goddess of Democracy statue
7. Immerse yourself in counterculture on Haight Street.
Haight Street is best known for being the center of San Francisco hippie culture in the 1960s and the heart of the Summer of Love Festival in 1967.
Haight Street runs from Market Street to Stanyan Street on the edge of the Golden Gate Park.
Stroll along the same street and the same neighborhood that Janis Joplin, Jimi Hendrix, The Grateful Dead, Joni Mitchell, and countless others etched their marks into the collective counterculture of this city.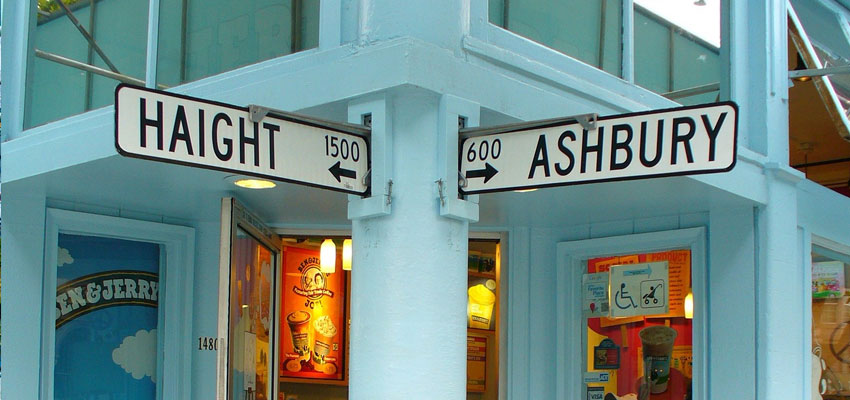 Browse stores offering vintage art, fashion, music, and literature, and grab something to eat in one of the chic restaurants or hip holes-in-the-wall.
Hang out in Buena Vista Park and enjoy excellent views of the Golden Gate Bridge, downtown San Francisco, and the Pacific from the top.
Admire the "Painted Ladies": quaint, colorful Victorian houses that line the street.
Information And Tips On Visiting San Francisco
Getting To San Francisco
When you're booking a flight to San Francisco, you'll have three airport options; San Francisco International Airport, Oakland International Airport, or Mineta San Jose International Airport.
San Francisco International Airport services the most number of airlines and flights and is the nearest one to downtown and the tourist attractions.
From any of these airports, you can book an airport shuttle, private car service, rental car, taxi, or even the BART train, if you pack light and don't mind taking public transportation.
Getting Around
Renting a car is the most convenient way to get around San Francisco, but navigating the steep hills and the traffic can be challenging. Ridesharing and public transportation are also available options.
The Muni System is a network of buses, trains, streetcars, and cable cars that cover the entire city. You can download the MuniMobile app to buy your tickets.
Where To Stay
The most popular neighborhoods to stay in San Francisco are in Fisherman's Wharf, as well as in Downtown San Francisco, near the Financial District, Union Square, and South Market neighborhoods.
These are the ideal neighborhoods because they're near tourist attractions and are accessible to public transportation.
What To Wear
The weather in San Francisco is cooler in the summer and warmer in the winter than what you'd expect. It's practical to dress in layers so that you can shed and don layers according to the current weather.
More importantly, wear supportive, comfortable shoes. San Francisco is built on 43 hills, so just walking around can wreak havoc on your feet if you're not mindful of your footwear.
What To Expect
San Francisco has an increasing number of homeless people on the street, and if it's your first time to the city or first time after a while, you might be surprised. Make sure to maintain a safe, respectful distance from them and avoid any confrontations.
Despite that, San Francisco isn't considered a dangerous city, and you can still walk around the streets, especially in neighborhoods considered tourist destinations.
What To Eat
San Francisco is historically a fishing town, and you can expect seafood dishes to be their specialty, but as different cultures converge in the city, the food became more and more eclectic. Here are some of the dishes you need to try when you're in San Francisco.
Cioppino is a simple seafood stew in a tomato and wine broth, with any number or variety of seafood thrown in, usually served with garlic bread.
Dungeness crab is only seasonally available, so when it's available, make sure to order it. Restaurants in Fisherman's Wharf serve the best Dungeness crab around.
Clam chowder is simply a New England-style chowder, but what makes it special is that it's served in San Francisco's world-famous sourdough French bread.
Joe's Special originated in the 1930s. Legend has it that a chef told a local bandleader that there was nothing left in the kitchen but spinach, onions, mushrooms, ground beef, and eggs. The bandleader said "Mix 'em together" and Joe's Special was born.
Hangtown Fry is an omelet stuffed with bacon and oysters that goes back to the days of the gold rush.
Mission-style burritos have frequently been considered the best burritos in the country. Flour tortillas are packed with rice, meat, beans, and salsa, with guacamole, sour cream, and cheese poured over.
Start Planning Your San Francisco Trip Today!
San Francisco is a wonderful city, full of various experiences, cuisine, and history from many different cultures and countries.
This city is one of the best places you can visit in the US.
In fact, we've considered this as one of the best weekend destinations, best skylines, and best warm winter destinations in the country.
Did I miss anything? What would you add to the list?