If you love a day at the lake, you've probably heard of Kentucky Lake and Lake Barkley, but there's even more to the lakes in Kentucky outside of Land Between the Lakes.
Growing up I loved the seaside for the endless fun and gorgeous scenery, but now I find myself appreciating a peaceful weekend at the lake more.
My husband and I stopped at Lake Cumberland during a road trip in 2017 and fell in love with the area. That's me pictured above resting lakeside in a hammock at our rental.
Lakes in Kentucky are fun and activity-packed, offering a relaxing atmosphere and a lot of hiking, biking, horseback riding, and fishing.
In this guide, I'll help you choose between my top 10 choices of lakes in Kentucky.
Lakes in Kentucky at Land Between the Lakes National Recreation Area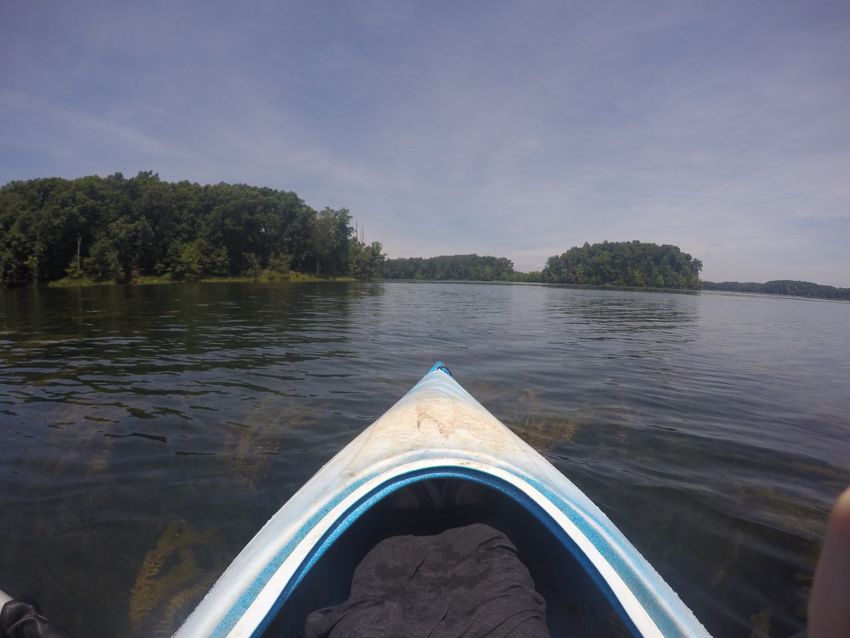 Hiking the Land Between the Lakes "coast to coast" is a wonderful adventure on a budget.
While even a 3-day weekend could be enough to explore, I recommend taking 4 to 7 days to complete a more satisfying itinerary.
The park is beautiful and covered in hiking paths that wind between Kentucky Lake and Lake Barkley.
If you love to stay in a different campground every night and backpack in nature, this is a great choice.
From hiking to swimming, boating, kayaking, and more, you could spend a whole week at Land Between the Lakes, and you would not get bored.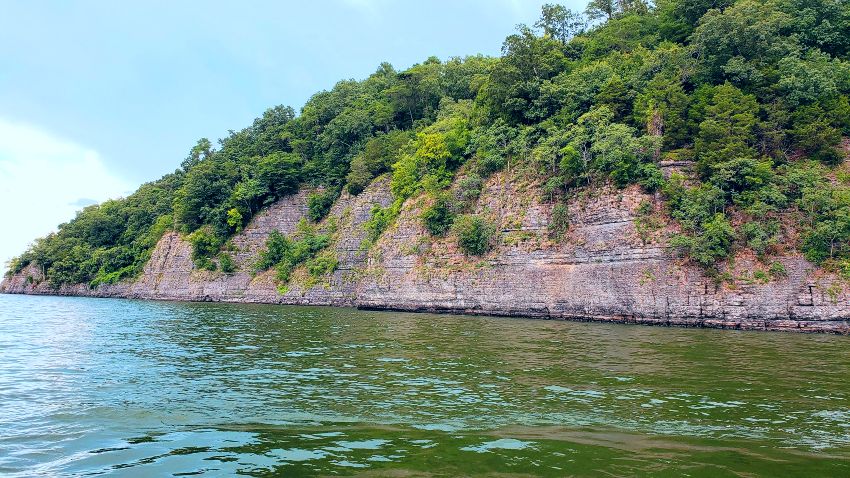 Kentucky Lake is the largest lake in the state by surface area, and one of the preferred spots by locals for boating, swimming, and fishing.
The lakeshore is dotted with great fishing spots, and there are many marinas and docks scattered around the lake, allowing for easy boating.
The scenery here is unmatched and sunsets are going to blow your mind every night.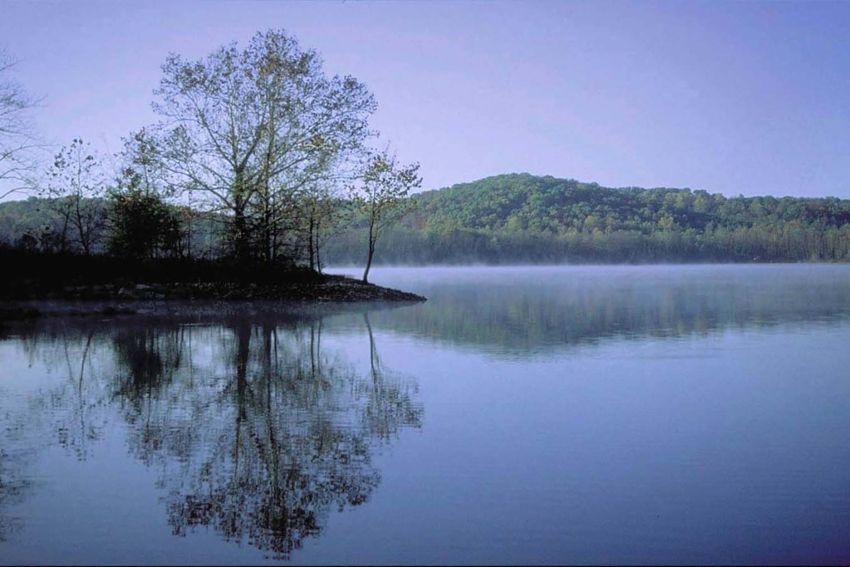 Lake Barkley is a scenic and adventurous lake destination, immersed in the gorgeous state park. The lake is very well kept and nature is pristine, as are the hiking trails.
You can rent a boat or a kayak in one of the many marinas and explore the park on the water for the day, or you can set camp at Wranglers Campgrounds and enjoy some peace and quiet by the lakeshore.
Peaceful & Scenic Lakes in Kentucky for the Perfect Lake Getaway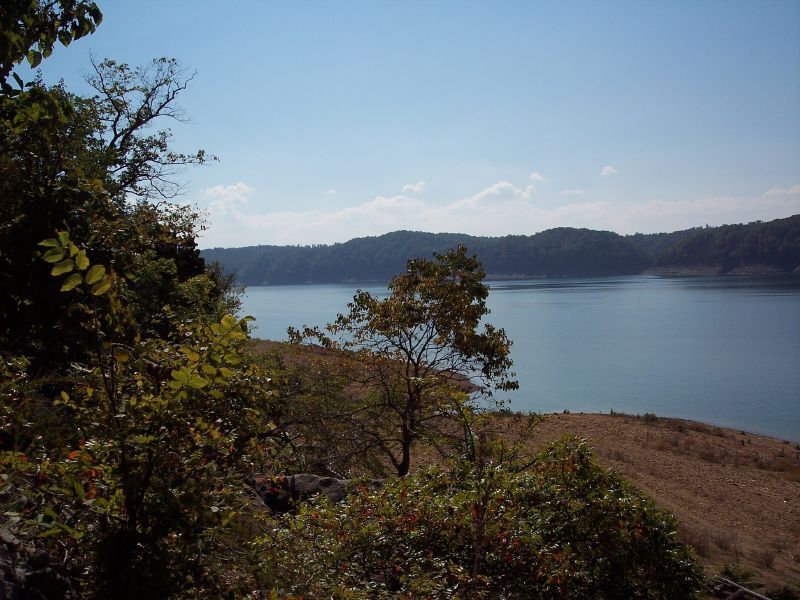 Lake Cumberland is the second largest lake in Kentucky, closely followed by Lake Barkley.
It's one of the favorite lake holiday destinations by locals, as it's super-scenic and offers a lot of different activities.
I recommend Lake Cumberland, especially to people who love boating and are looking for a gorgeous lake to explore.
The lake's unusual shape makes it perfect for an adventurous holiday, as there are seemingly infinite bays, inlets, creeks, and coves to discover.
After a couple of days exploring the lake, nothing beats a change of scenery, and with a boat, you can easily reach Seventy-Six Falls or Sid Bell Falls and spend a day by gorgeous waterfalls.
For hiking enthusiasts, I recommend hitting the scenic Baugh Branch Trail (1.6 miles) which will get you to one of the best viewpoints on the Lakes, Baugh's Branch Overlook.
For a much longer walk, Lake Bluff Trail (4.0 miles) is a great choice, but you'll need good gear and a certain degree of physical preparation as it's not only pretty extensive but there are also steep sections at some pretty rough grades.
For a comfortable stay, you can book a cabin or room at Lake Cumberland State Resort Park, while a much more basic and less expensive option is the Lake Cumberland campgrounds.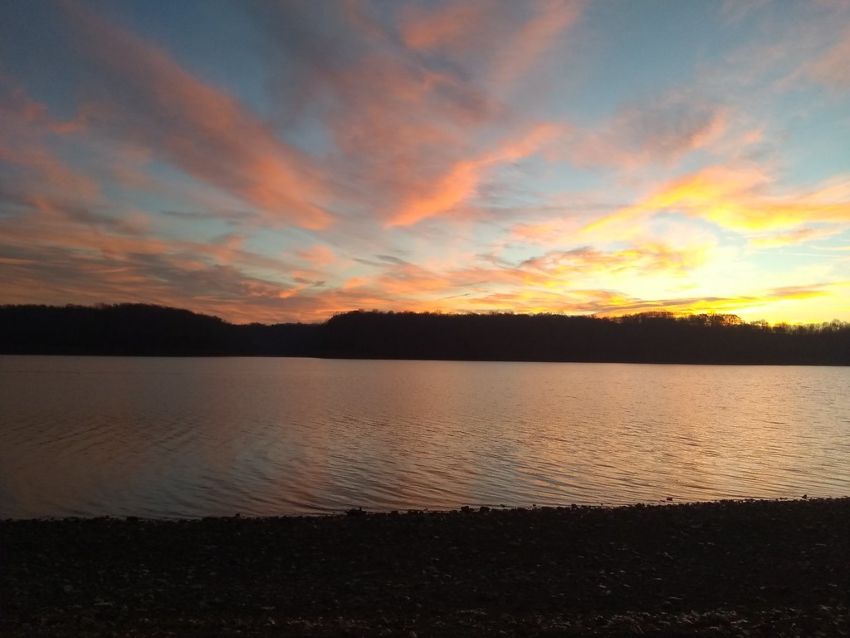 A camping trip to Green River Lake will satisfy the more avid boating, fishing, and hiking enthusiasts.
The grounds surrounding the lake are covered in over 28 miles of trails, which are suitable not only for hiking and backpacking but also for mountain biking and even horseback riding.
If you love RV camping, you'll find more than 160 RV campsites at the lake's campgrounds, plus 60 sites for tents.
The soft and sandy lakeshore is perfect for children to play with or adults for going for long strolls along the water. The beach is also equipped with volleyball sand courts.
The marina at Green River Lake has renting options, with more than 200 slips, fishing boats, jet skis, pontoon boats, and even houseboats available.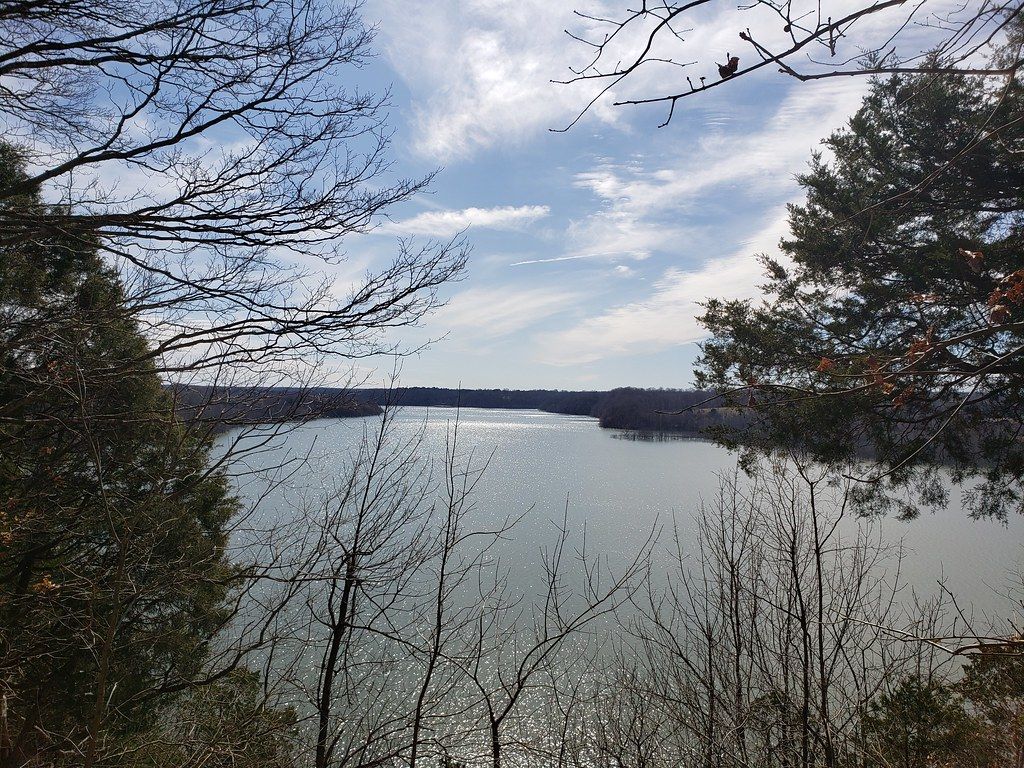 Barren River Lake is not so barren, as it's filled with bluegill, bass, catfish, and crappie.
If you love a simple lake with plenty of secluded fishing spots to cast the fishing rod in peace, Barren River Lake is a good choice.
Wildlife observation is also a popular activity around the lake, as you can catch the side of local wildlife all over the many hiking trails.
For a moderate and beginner-friendly hike, I recommend Peter's Creek Trail, which is only 1.2 miles long and will grand you some great scenic views. On this trail, you'll also find a multi-centenary white oak.
For the best wildflower viewing, Connell Nature Trail is a great choice, while for biking, there's a suitable paved trail. The Paved Bike & Hike Trail is 2.5 miles long and not too challenging, although you'll find a few steep points.
Golfers will have a great time at 18-hole Golf Course at Barren River Lake. Rentals are available.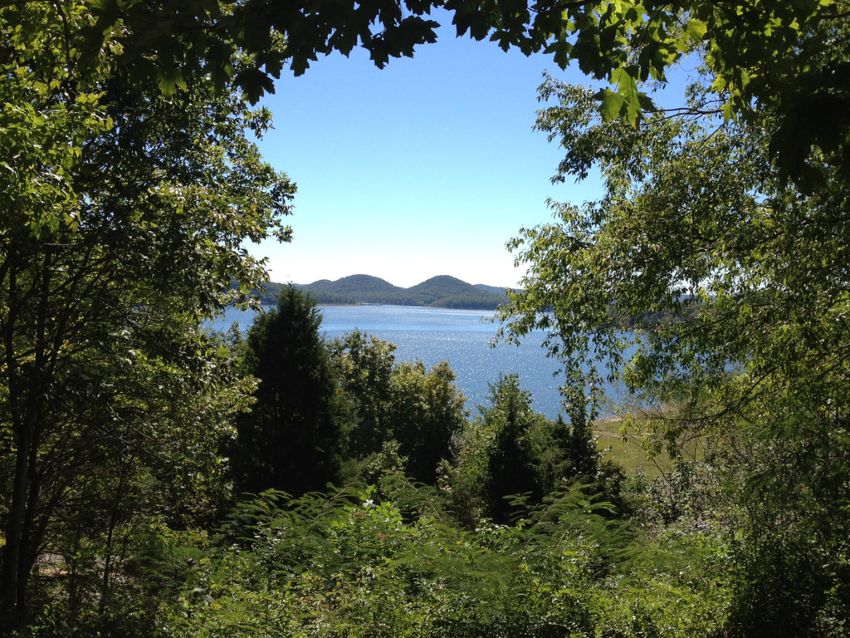 Cave Run Lake is a hidden gem of Kentucky, as not many outside of the state know about this smaller but picturesque lake.
It's very popular among locals and can be at times crowded during the summer, but it's a great destination for some fun by the lakeshore.
There are five campgrounds nested around the lake. The main ones are the Zilpo campground (which offers cabin rentals) and the Twin Knobs campground.
Collectively, both campgrounds offer almost 400 campsites, both basic tents, and RV campsites.
The lake is also equipped for boating as there are 12 boat ramps located on the lakeshore, and there's at least 1 boat ramp for each campground.
For some scenic views on Cave Run Lake, you'll be spoiled for a choice of hiking trails. There are almost 60 hiking trails, allowing for easy exploring of the forest around the lake.
I recommend checking out the Twin Knobs Shoreline Trail, Zilpo Mountain Trail, Knob Overlook Trail, and Lakeview Ridge Trail.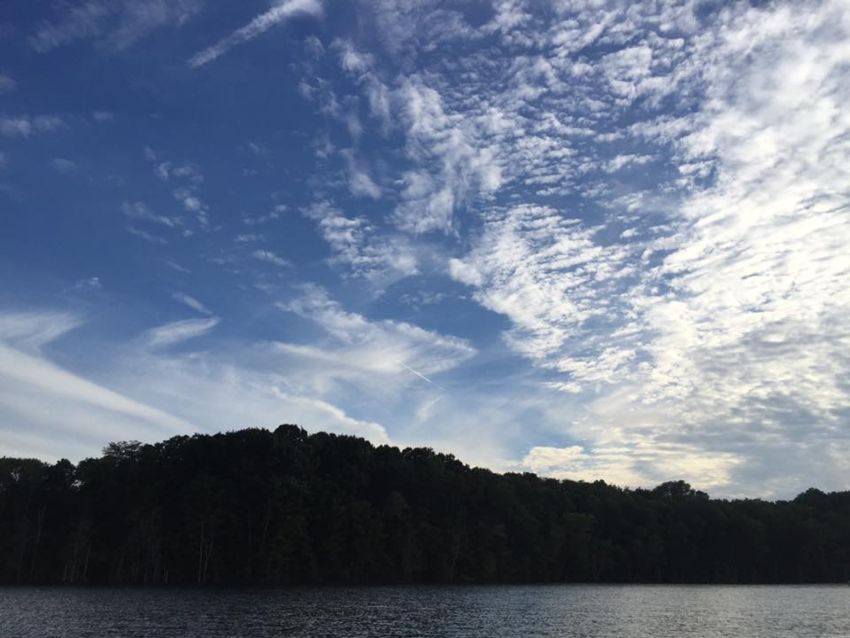 Cedar Creek Lake is the ultimate Kentucky fishing lake. It's simply packed with fish and it gets periodically replenished to ensure the perfect fishing experience.
You can launch off your fishing boat or kayak from the Cowan Road access ramp, then take a look around to find the perfect secluded fishing spot.
With many fish attractions such as grassy flats, flooded wood, and roadbeds, the lake is an ideal location for fishing.
From crappie to catfish, bluegill, and sunfish, something has to bite at Cedar Creek Lake.
There's a chance that some motorboats will disturb the fish on weekends, so I recommend coming during the week or early on the weekends.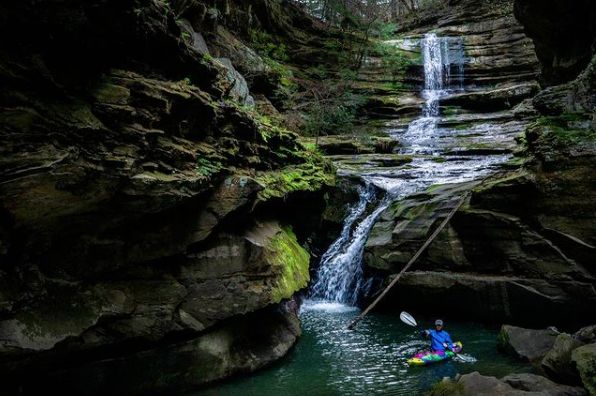 Forget the classic fishing-lake scenery. For some almost Caribbean breathtaking views, Grayson Lake is the way to go.
The lake boasts almost 75 miles of shoreline characterized by a diverse scenery, with something different and unique at every turn.
It's truly worth exploring this lake by kayak or canoe in order to be as agile as possible and get to see every small cove and hidden waterfall.
You'll find all kinds of impressive sandstone rock formations around the lakeshore, from rock arches in the water to canyons, green cliffs, and inlets.
At Grayson Lake, kayaking enthusiasts will have the time of their life.
There are many secret nooks and secluded bays in this area, which are inaccessible from the land, and the scenery resembles a seaside rather than a lakeshore.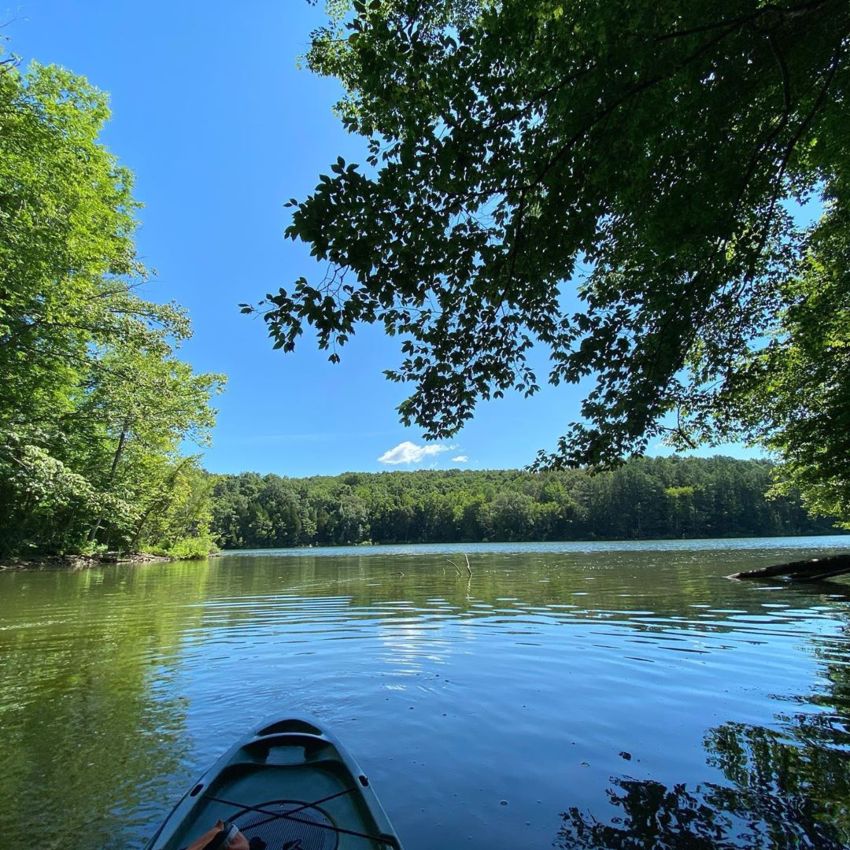 Shanty Hollow Lake is the perfect destination for a day out of town. If you love to hike and explore in complete freedom, away from big crowds and fancy amenities, this 114-acre lake won't disappoint.
Adventure-wise, nothing is missing from this gorgeous park. You'll be able to hit several hiking trails and enjoy some swimming, fishing, boating, biking, and more.
If you want to make a game out of your visit to Shanty Hollow Lake, try to find every hidden waterfall around the lake. There are dozens.
Hikes can be long but are never too strenuous, perfect for beginners, and suitable even for families with children.
With its interesting rock formations, blue waters, and fairytale-like waterfalls, Shanty Hollow Lake is a true hidden gem that should be on your radar.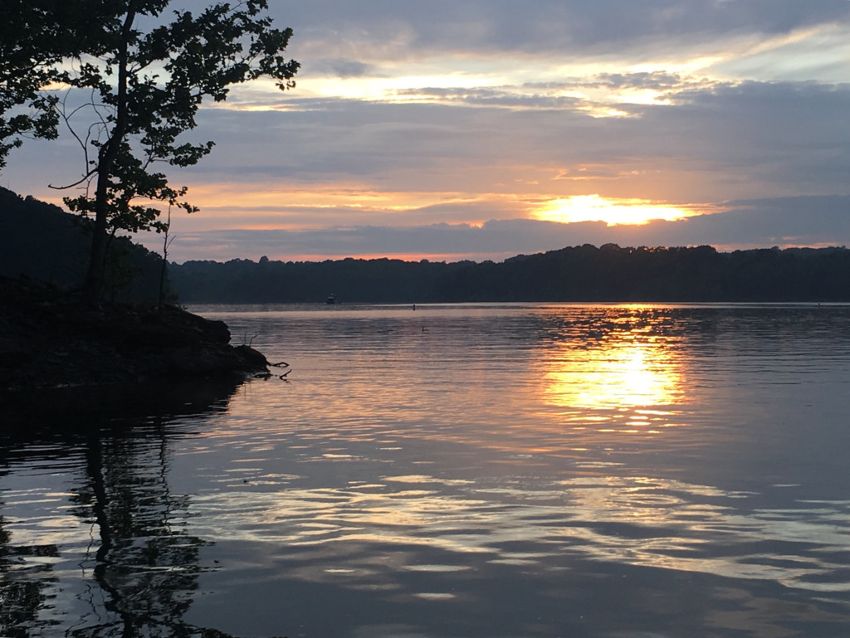 Looking for a super relaxing day at the beach? Nolin Lake comes with a fully equipped sandy beach and a wonderful lakeshore.
At Nolin Lake, you'll love to kick back and enjoy the sound of the water and the shade under the trees.
The lake's campground, which is wheelchair accessible and conveniently located near the lake, is a great place to stay for multiple days.
The campground includes around 60 campsites, both primitive or with electricity and water access.
The lake is surrounded by 10 miles of dirt paths, which are open all year round for hiking in nature.
At Nolin Lake, you can also enjoy boating and fishing, and you can catch walleye, crappie, catfish, and bass.
Exploring All the Best Lakes in the States
One thing is for sure, there is no shortage of beautiful, scenic lakes in the States, but which ones are worth visiting?
If you loved the lakes in Kentucky, discover the clearest and most gorgeous lakes in North Carolina, Tennessee, South Carolina, Virginia, Alabama, and Arkansas.