All major lakes in South Carolina are man-made, but they offer some of the most peaceful and spectacular views in the state.
While many people flock to South Carolina's beaches like Myrtle Beach during summertime and spring break, several of the lakes in South Carolina can actually be a good alternative if you're interested in unlimited swimming, boating, fishing, and other water sport activities, while avoiding the party crowd at the beach.
6 Lakes in South Carolina You Should Visit at least Once in a Lifetime
If you can't visit all SC lakes, then pick one from the following list…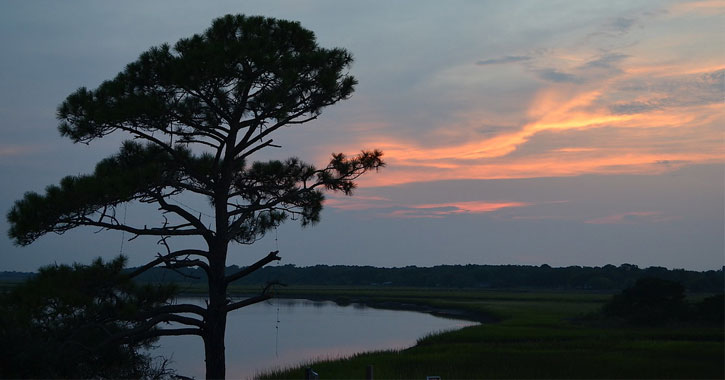 Location: Lake Bowen Park is accessible through Anchor Park in Inman, South Carolina. 
Fishing info: Crappie, largemouth bass, spotted bass, striped bass, catfish
The largest lake in Spartanburg County, Lake Bowen (named after William C. Bowen) is a man-made reservoir situated near the North Carolina border. This 1,543-acre lake offers 33 miles of shoreline with a lot of opportunities for swimming and water activities. 
Lake Bowen is managed by the Spartanburg Water system, so if you plan to hold an event here, you can rent out a picnic pavilion that accommodates up to 50 people. This venue offers waterfront access for swimming and fishing, two boat ramps, and a playground for kids.
If you plan to go fishing or boating, you need to get a boat permit from Spartanburg Water. 
Nearby, you can play golf at Woodfin Ridge Golf Club, explore the well-kept acres and acres of nature at Milliken Arboretum, play sports at Va-Du-Mar McMillan Park or eat out at Carter's Steak & Seafood, Lake Bowen Fish Camp, or Bowen's Landing.
Location: 302 State Park Road, Ninety Six, SC
Fishing Info:  Large Mouth Bass, Striped Bass, White Bass, White Perch, Crappie, black crappie, Bream, Pickerel, channel catfish, and bluegill
Lake Greenwood is massive at 11,400 acres spanning three South Carolina counties (Greenwood, Laurens, and Newberry). It has 212 miles of shoreline with plenty of activities for the family, from boating to swimming, picnicking, and of course, fishing.
Lake Greenwood has two boat ramps and a fishing pier, making it convenient for visitors to bring their boats to the lake. Since some parts of the lake also encompass the 944-acre park, you can also find hiking trails, camping spots, and wildlife if you wanted to get one with nature.
Unlike other lakes in South Carolina, Lake Greenwood is owned and managed by Greenwood County. This ownership allows locals to give the lake extra care, which is evident at the water levels (it is kept full or near full even during extreme drought). It also attracted many people to the lake area as an option for retirement.
If you're visiting in June, join the South Carolina Festival of Flowers Triathlon, an annual tradition where you'll truly feel the culture and vibe of the community.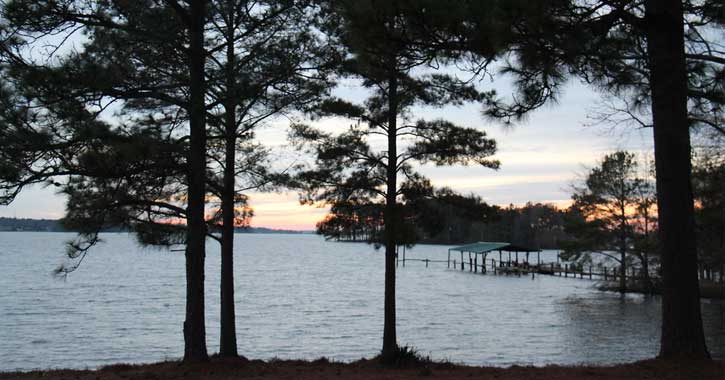 Location: Lake Murray is located on the Saluda River in Central South Carolina. It is accessible in Lexington, Richland, Newberry, and Saluda counties. From Interstate 8, take the Lake Murray Boulevard exit, turn right onto Lake Murray Boulevard, and turn left on Kiowa Drive, which leads to the reservoir entrance.
Fishing Info: Striped Bass, Largemouth Bass, Catfish, Redear Sunfish, Crappie, Bluegill
Lake Murray is a 41-mile-long, 50,000-acre man-made lake created with the damming of Saluda River in 1930. It was named after its chief engineer William S. Murray.
Located just 30 minutes from Columbia, Lake Murray is a favorite getaway for Columbia residents who want to swim and enjoy all other water activities like boating, and fishing. Do note that the lake is unsupervised, so be extra careful when swimming.
Because there are several parks within the area, you can also pay a small fee for parking, then spend the night near the lake. You can camp out in the wild or rent a cottage, cabin, or villa. If you're interested in exploring the land, you can find several picnic areas and hiking trails. There are also opportunities for birding – it's definitely worth the boat ride to the Purple Martin Audubon Sanctuary.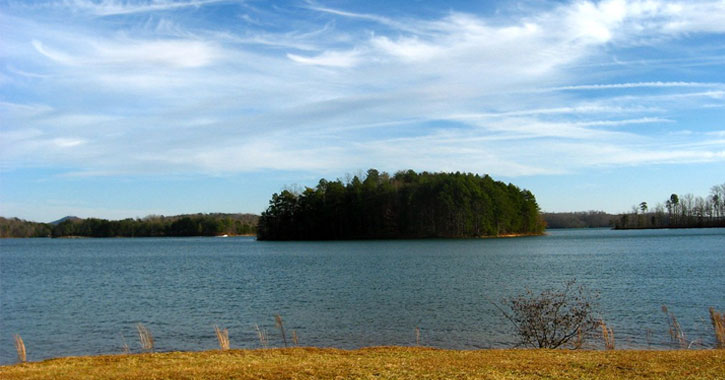 Location: Lake Keowee is easily accessible via Interstate 85 from Atlanta, Georgia, or Greenville, South Carolina.  From the south, take I-85 to Hwy. 11 north (Cherokee Foothills Scenic Highway).  From the north, take I-85 to US-76 and head north.
Fishing Info: Spotted bass is the most predominant species on Lake Keowee. But if you're lucky, you can find largemouth bass, crappie, bluegill, yellow perch, rainbow trout, brown trout and catfish. There is no striped bass in the waters of Lake Keowee.
Lake Keowee is another man-made lake in the state. It was created for Duke Energy's Oconee Nuclear Site in 1971 by damming the Keowee River.
Today, the super-blue 18,500-acre Lake Keowee (which is in the foothills of the Blue Ridge Mountains) is one of the most picturesque lakes in South Carolina. It offers 800 feet deep of water and 300 miles of shoreline.
You have access to High Falls County Park, South Cove County Park, and Keowee-Toxaway State Park, so if you're interested in overnight camping (there are 1000-acre campgrounds available) and hiking around the area, you can do so. 
Aside from the typical water activities like boating, swimming, waterskiing, and fishing, Lake Keowee is also near several waterfalls and small-town entertainment and cultural experiences that Oconee County towns provide.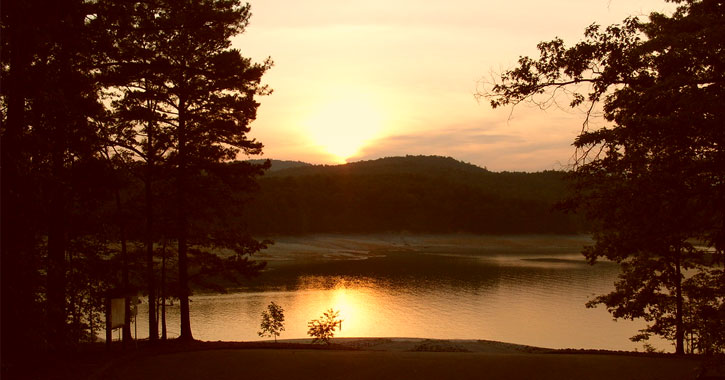 Location: It is located in Devils Fork State Park, 161 Holcombe Cir, Salem, South Carolina 29676
Fishing Info: Lake Jocassee attracts all kinds of anglers, since it accommodates both fly fishing and deep-water fishing. You can find brown trout, rainbow trout, bluegill, spotted bass and smallmouth bass on the four main fishing streams at Lake Jocassee: Whitewater, Thompson, Horsepasture and Toxaway.
Lake Jocassee is a clear, mountain spring-fed lake that gets its year-round cool and clean waters from 4 Appalachian mountain rivers.
Made in 1973 by Duke Energy, Lake Jocassee is located in the middle of the Jocassee Gorges and is one of the hardest lakes in South Carolina to visit. So if you're looking for the least crowded lake getaway in the state, Lake Jocassee should be your best bet. It's also known to "secret coves and spots" where only boats can reach (join boating tours if you're new to boating).
Lake Jocassee sits in a valley with a backdrop of the Blue Ridge Mountains and waterfalls. It's a VERY pretty sight, especially if you're a nature photographer looking for special outdoor spots. 
The waters (all 7500-acre deep) of Lake Jocassee are ideal for kayaking, swimming, boating, scuba diving, or camping in nearby parks where you can rent a cabin or camp outdoors overnight.
FUN FACT: Aside from being the setting of one of the Hunger Games films, Lake Jocassee was also home to the Mount Carmel Baptist Church Cemetery. This exact area was the movie set for the 1972 Burt Reynolds and Jon Voight movie "Deliverance." It was flooded after production and is now covered with 130 feet of lake water.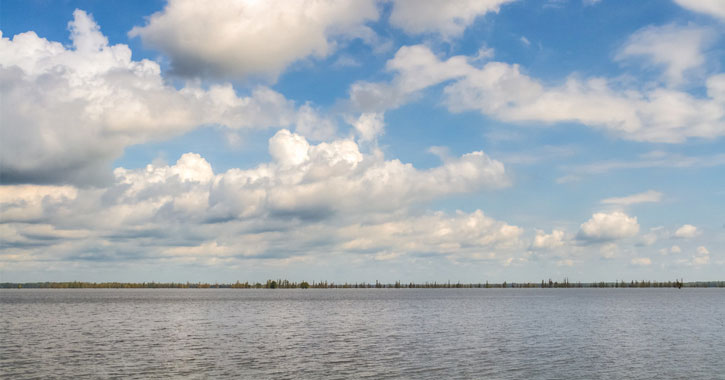 Location: You can access Lake Marion from Interstate 95, near the Town of Santee. There are also several public boat ramps in Santee State Park, and the Santee National Wildlife Refuge.
Fishing Info: You can find largemouth bass, striped bass, white bass, black crappie, white crappie, bluegill, pumpkinseed sunfish, redbreast sunfish, redear sunfish, warmouth, white perch, yellow perch, chain pickerel, channel catfish, flathead catfish, and blue catfish at Lake Marion in South Carolina.
Created in the 1940s during the damming of Santee River, Lake Marion is fed by many water sources from the Santee River and Wyboo Creek to smaller springs like Eutaw Springs.
Today, Lake Marion offers many water activities. It is most famous for the lake's abundance of fish and wildlife. It holds the state fishing record for Largemouth Bass (at 16.2 Ibs). Other wildlife you can find here are deer, fox, squirrel, turtle, dove, wild turkey, and various species of duck, hawk, eagle, egret, and osprey.
Do note that Lake Marion is home to hundreds of alligators, which primarily dwell in the shallower swampy sections of the lake and in coves and creeks.
The swimming section of Lake Marion is by the little beach found right near the Cypress View Campground. There's also the 2,500-acre Santee State Park with a beach for swimming and areas specifically for fishing and boating.
Other US Lakes: Beyond the lakes in South Carolina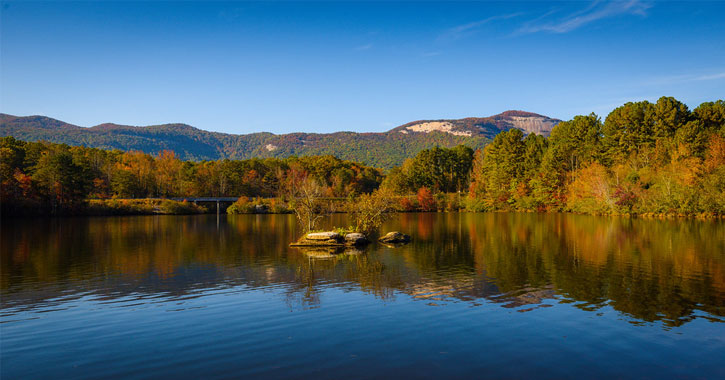 Are you on a Lake-hopping trip? Check out some of my bucket list and travel guides surrounding some of the best lakes in the country, including:
Of course, if you're spending an entire vacation in South Carolina, I recommend you explore the beach towns in SC when you get a chance.