Tennessee may not be your first choice if you're craving for swimming in nature, since the state doesn't really have access to the ocean, but the abundance of lakes in Tennessee totally make up for this.
So if you're looking to swim, go boating, fishing, or simply relax under the sun, check out these 7 lakes in Tennessee for your next quick getaway.
7 Must-Visit Lakes in Tennessee
Tennessee boasts dozens of lakes all over the state, each with unique characteristics and offerings. Some are great for sports fishing, while others are mainly for boating, some are family-friendly spots, while others are exclusive for competitive water sports or fishing.
I hand-picked 7 lakes in Tennessee as my favorite ones (I hope you get a chance to visit them and LOVE them as much as I do):
What makes it special: Home to the most  number of boat clubs in Tennessee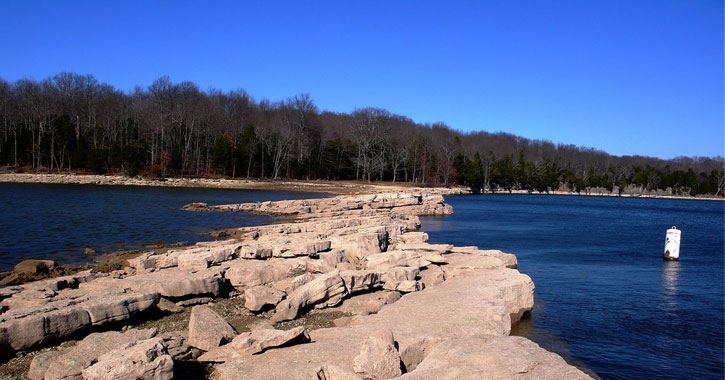 Location: 3778 Bell Road, Hermitage, Nashville, Tennessee, 37076, USA
Named after American politician Percy Priest (officially called J Percy Priest Lake), this Nashville-located, 5,700-hectare reservoir attracts 7 million visitors annually. The lake's water stretches over 40 miles, offering six swimming spots to choose from.
Percy Priest Lake is busiest in the summer because it offers a wide range of activities from camping to hunting, swimming, kayaking, paddle-boarding, and a whole lot more.  There are also 3 campgrounds, 11 picnic shelters, and showers scattered all over the park, making it a family-friendly option.
This lake is also home to 12 boat ramps, 8 marinas, and many clubs, such as Nashville Rowing Club, Vanderbilt Rowing Club, The Tennessee Boat Club, Vanderbilt Sailing Club, and Percy Priest Yacht Club.
What makes it special: Nashville-located Norris Lake is quick to get to, but offers spectacular views of the Appalachian Mountains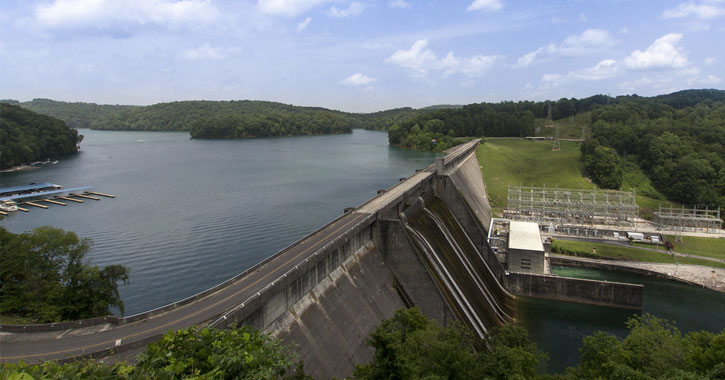 Location: Maynardville, eastern Tennessee, about north of Knoxville
Norris Lake was created by the damming of Clinch River. It is now the go-to summer getaway of locals mainly because it's very close to the city, and yet you can experience the full majestic of the rolling hills of the Appalachian Mountains, the rich Chuck Swan State Forest, and 33,000 acres of pristine turquoise waters of the lake when you decide to visit.
Camping (both tent and RV camping are available). There are also rentals (cabin, boats, canoes, and other equipment) if you don't want to travel equipment with you.
Norris Lake is a favorite spot for fly fishing, and there are numerous opportunities for swimming, water-skiing, boating, and enjoying other water sports.
What makes it special: If you're chasing waterfalls, this area has 3 unique waterfalls to marvel at.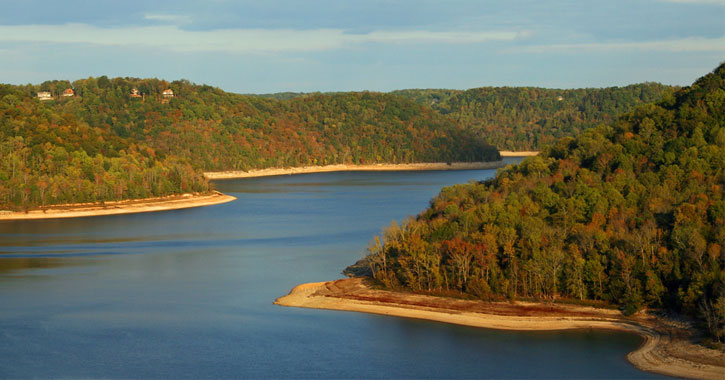 Location: Located in Middle Tennessee, about 9 miles north of Smithville.
Center Hill Lake is another picturesque lake with gorgeous forest backdrops and miles and miles of shoreline. What makes this eastern Tennessee lake stand out is that not only can visitors enjoy all the swimming, boating, fishing, and relaxing lake-side, there are also 3 unique waterfalls that you should definitely explore.
The most popular Center Hill Lake waterfalls is Waterloo Falls, situated 11 acres on a rolling hill, with over 2000 feet of river frontage on Spring Creek. It isn't a dramatic waterfall, but it is pretty nonetheless. The water is shallow between the waterfalls so even kids could enjoy the water. There are also Burgess Falls, Fancher Falls, and Twin Falls, which are all at Rock Island and accessible by water.
If you plan to stay in Center Hill Lake for the weekend (or longer), you can find most of the shoreline packed with vacation homes. And if you're on a budget, check out the Ragland Bottom Corps of Engineers Campground with 56 campsites (complete with w electricity and water, hot showers, and very clean restrooms.  Many of the sites are on the shore, with most others providing lake views, and all are spacious in length.
4. Nickajack Lake (One of the Most Popular Lakes in Tennessee)
What makes it special: It is called the Grand Canyon of Tennessee for a reason.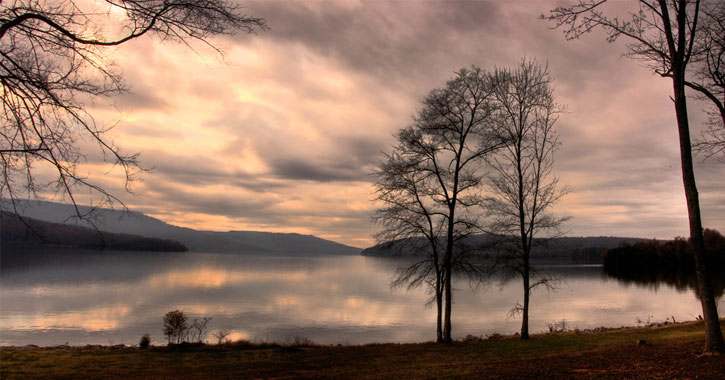 Location: About 20 miles from Chattanooga in the city of Guild, almost at the Tennessee/Georgia border.
Nickajack Lake is called "the Grand Canyon of Tennessee" for its breathtaking scenery. If you can only pick just one from the many lakes in Tennessee, I recommend choosing Nickajack Lake.
Originally dammed in 1913, Nickajack Lake is now under the TVA's management for flood control. Today, it is also open for recreational use and has been a boater's paradise even if the lake only offers 215 miles of shorelines. There is also plenty of bird-watching, fishing, hiking, and camping.
What makes it special: One of the most picturesque lakes in Tennessee, but the most difficult to reach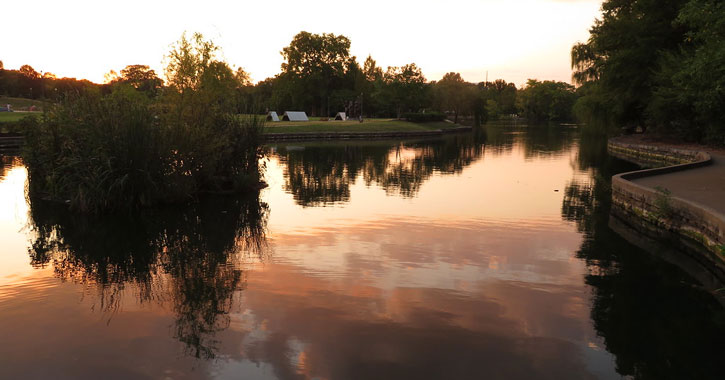 Location: East of the city of Elizabethton
Created in 1948 with the damming of the Watauga River, Watauga Lake is a stunning scenery with 169 kilometers shoreline and a backdrop of the breathtaking Cherokee National Forest and Appalachian Mountains of Northeastern Tennessee.
If you're looking for peace and quiet, Watauga Lake is the perfect choice for you. Because of its relatively difficult road access, the lake is lightly touristed with only one small motel and several seasonal marinas available for guests.
The upside is you have unlimited opportunities for swimming, fishing, boating, water-skiing, and enjoying nature in full view. Camping is popular in Watauga Lake, but don't expect full amenities.
What makes it special: The go-to spot for watersports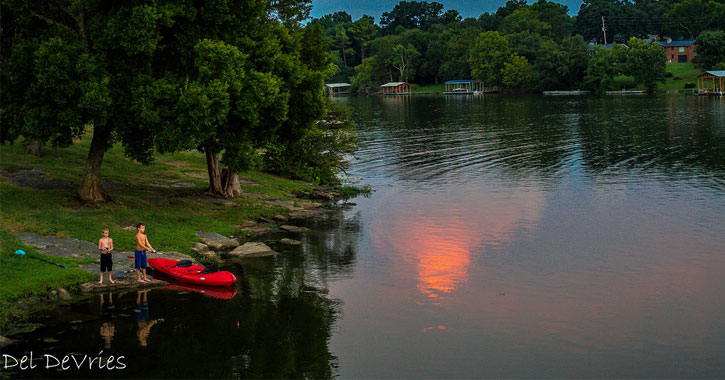 Location: Hendersonville, Tennessee (around 40 kilometers from the city of Nashville)
Old Hickory Lake is a reservoir created by the Old Hickory Lock and Dam in 1952. It was named after President Andrew Jackson, who used love in the area and was nicknamed "Old Hickory."
Sitting at an elevation of 136 meters above sea level, Old Hickory Lake spans 22,500 acres, extends 97.3 river miles., and encompasses 5 counties in north-central Tennessee.
Many of the picnic areas and swimming spots by the Old Hickory Lake are well-kept. There are also two campgrounds available for those who want to rough it out in the wild, and the super-interesting Hickory Lake Arboretum where you can find over 60 species of shrubs and trees.
Old Hickory Lake is most famous for hosting watersports (yachting, fishing, boating, sailing, kayaking, paddle boarding, jet skiing, and so on). The lake has 8 public marinas, 41 boat access, hiking trails, and opportunities for archery.
What makes it special: The best bass fishing lakes in Tennessee & one of the best in the country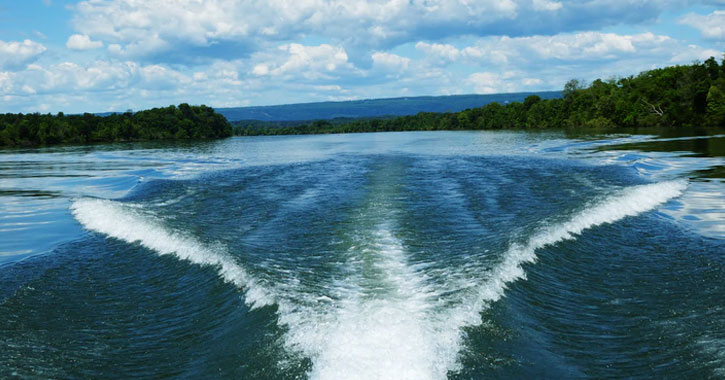 Location: north of Chattanooga
Chickamauga Lake is a reservoir along the Tennessee River, created with the building of the Chickamauga Dam. It is famous as one of the best bass fishing lakes in the country. In fact, the current record holder for largest largemouth bass (15 pounds, 2 ounces) was caught in Chickamauga Lake.
With over 800 miles of shoreline, fly fishing from the banks is popular here. Also, there are plenty of boat launch ramps so everyone from beginners to advanced anglers can fish for bass on kayaks, pontoons, and larger bass boats. Visit during late winter to early spring for bass fishing, but if you're planning to join tournaments, it often falls around February to June.
If you have time, take a detour to the underground waterfall, the Ruby Falls, which I featured in my best-of waterfalls series. It is one of 10,000 caves in Tennessee.
Beyond the Lakes in Tennessee
If you're staying in Tennessee for a couple of days, maybe you'd like to go camping too (I made a list of the best camping spots in the state here).
For traveling couples or groups of adult tourists, you might also be interested in taking the super-cool Tennessee whiskey trail (with stops to 10 of the best Tennessee distilleries that open their doors to guests like you and me).
Here are some specific Tennessee attractions you could add to your itinerary, depending on how long you're staying:
Awesome mountains– The Appalachians Mountains is technically a part of several states, but if you're in Tennessee, you have access to this glorious 1.1-billion-year-old mountain. This is also the case with Great Smoky Mountains National Park (which is one part North Carolina, one part Tennessee).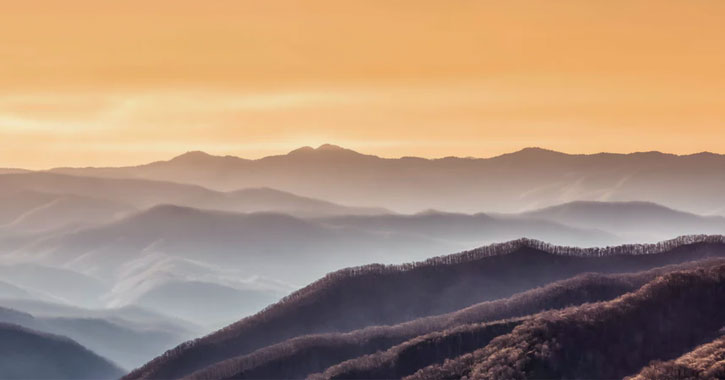 Lastly, if you're in search of a 3-day Nashville itinerary, I wrote one ideal for first-time visitors.
For those just passing by the state, check if you can drive the infamous 11-mile Tail of the Dragon stretch along Highway 129. It's challenging, but thrilling thanks to the 318 curves it features.