It's okay if you come to the state for bourbon, horse racing, moonshine, bluegrass music, fried chicken, or even local sports, as long as you visit at least one of these water parks in Kentucky.
If you're visiting with kids or teens, you'll surely get brownie points for adding something fun to the family itinerary.
8 Super-Fun Water Parks in Kentucky to Check Out in the Summer
Some of the following outdoor waterparks in Kentucky only open during summer, so check the "guest info" details below before visiting.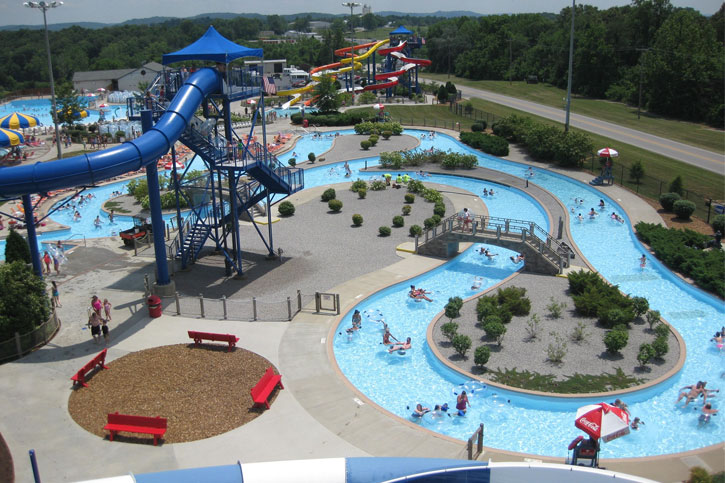 Location: 1030 KY-2227, Somerset, KY 42503
Fees: $15.95 to $17.95 plus tax
Guest info: Open Monday through Saturday 11 am to 7 pm and on Sundays 1 pm to 7 pm (Summer Season: Memorial Day to Labor Day)
The SomerSplash Water Park is a family-friendly waterpark located in Somerset. It features several famous areas, including:
The 20,000-square foot wave pool for all ages who can swim (there are six-feet areas here)
Wading Pool and Kiddie Play Area: This spot has over 30 interactive water features from splash pads to bucket dumps and squirters, kiddie slides and more.
Bowl Side: one- or two-person slide that winds you in circles down 50 feet until you crash into the pool
50-feet Speed Slide: a one-person slide with an extreme drop
40-feet Body Slides: zoom through the slide without a tube!
Parents who just want to chill can relax in private cabanas (Rented for around $50/day).
SomerSplash Water Park has summer season passes. In the winter, the area get transformed into an ice skating rink.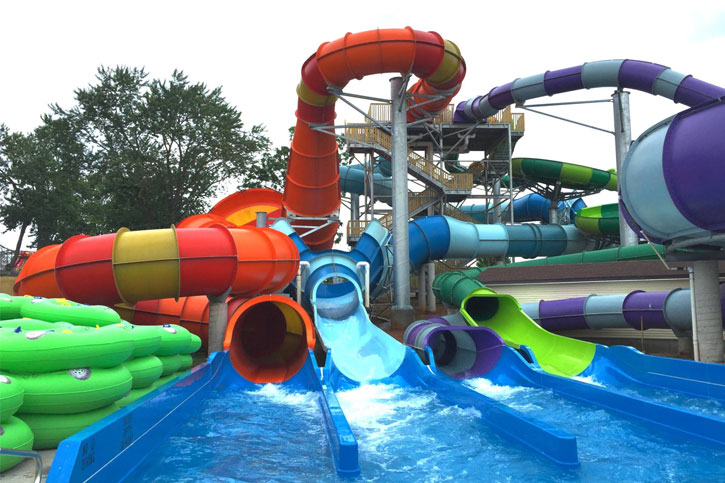 Fees: $29.99 to $34.99, depending on age of guest
Guest info: Open Monday to Thursdays 11 AM-7 PM; Friday 12:30 PM – 9 PM; Saturday 11 AM – 7 PM; and Sunday 11 AM – 7 PM (Summer Season: May to September)
Beech Bend Splash Lagoon is a family-owned and operated amusement and waterpark located in Bowling Green, Kentucky. It is part of the Beech Bend Amusement Park and has placed one of the top 5 Friendliest Parks by Amusement Today mag.
Some notable attractions in Splash Lagoon include:
Cyclone Saucers: a 500-feet long with a trio of flying saucers running at high speeds and with 55-foot elevation change.
Tidal Wave and Lazy River: thrilling surf waves and the relaxing Lazy River are opposites that you should both try.
Polynesian Plunge: Drops riders from the top of the slide tower and then into a swirling bowl.
Riptide: This ride has some parts pitch-black dark, which will thrill many adrenaline junkies.
Tiki Island: A four-story interactive water slide for younger kids with a giant tipping bucket and several mini slides.
Lotta Wotta Island: splash pad space for small kids
Beech Bend is also a campground and a raceway, so if you're done with soaking and sliding at Splash Lagoon, you still have additional activities you can try.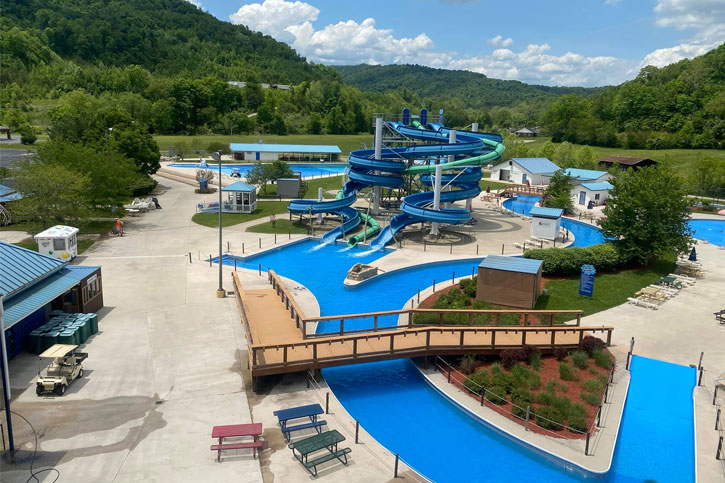 Location: 1050 KY-92, Williamsburg, KY 40769
Fees: Kids two years old and under swim here free. General admission is at $10.
Guest info: Monday to Saturday from 11 AM – 7 PM; and Sundays from 12:30 PM – 6 PM (Summer Season: May to September)
What's better than water parks in Kentucky? Of course Kentucky waterparks with camping facilities!
Kentucky Splash is just that! It is located inside Williamsburg's Hal Rogers Family Entertainment Center, where 25-site full hookup campground with water, power, sewer, cable and Wi-Fi are available. There's also an arcade and an 18-hole miniature golf course.
If you're after the water park though, you'll be glad that the Kentucky Splash boasts multiple rides such as:
The 18,000 square-foot Wipeout Wavepool of wild waves
Triple slide complex: a 40-feet tall complex with two tube slides and a body slide that provides non-stop heart-racing slides.
Double slide Aquatwist tower: a 30-feet tall structure that whirls you to the bottom of the pool in just several seconds.
Lazy Castaway River that leads you to over 900 feet of relaxing water.
The kiddy Tadpole Island with age-appropriate splash pads, pools, slides and other wet activities.
Kentucky Splash is open during summer and certain events, such as Valentine's Day. Check out the schedule to buy your tickets early.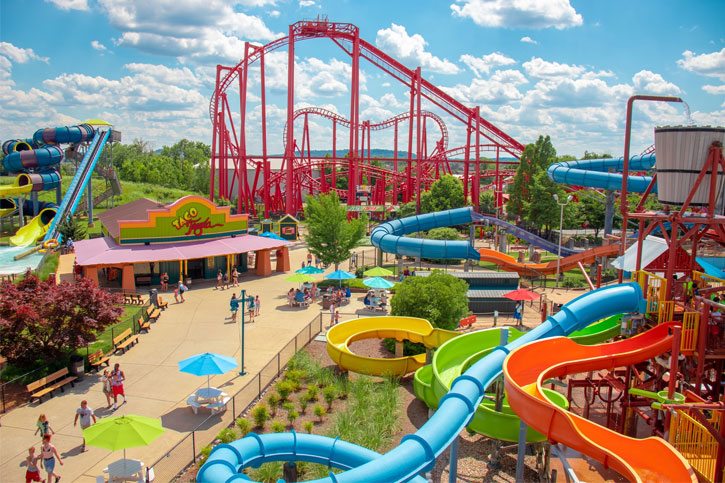 Location: 937 Phillips Ln, Louisville, KY 40209
Fees: Season passes range from $69 to $129 for groups of 3 or 4. Kids 3 to 5 years old can enjoy free passes throughout the season, if you register them early. Day passes are available once season opens.
Guest info: 11 AM – 6 or 7 PM (Summer Season: Last week of May until August)
Kentucky Kingdom is a giant amusement park located in Louisville, Kentucky.
Hurricane Bay, Kentucky Kingdom's dedicated waterpark, is one of the highlights of this place and has its own following thanks to famous rides like:
The Deep Water Dive: This body slide stands 377 feet tall and features a heart-jumping 12-story drop.
Planet Summit: A family raft ride towers 52 feet above the ground.
The Tornado: 7-story drop into a tunnel and various spins and turns.
Deluge: a rocket slide made of hydromagnetic water coasters that bring riders up and down
Big Surf Wave pool (a multi-splash zone for adults and kids), and a kiddie wave pool for younger guests
If you're not a fan of adrenaline-pumping rides, you can chill at the lazy river, Buccaneer Beach or Castaway Creek. The rides above are just a small part of this Kentucky waterpark – there's over 70 attractions to try inside Hurricane Bay.
The best thing about season passes on Hurricane Bay is the unlimited drinks and food discounts guests can get.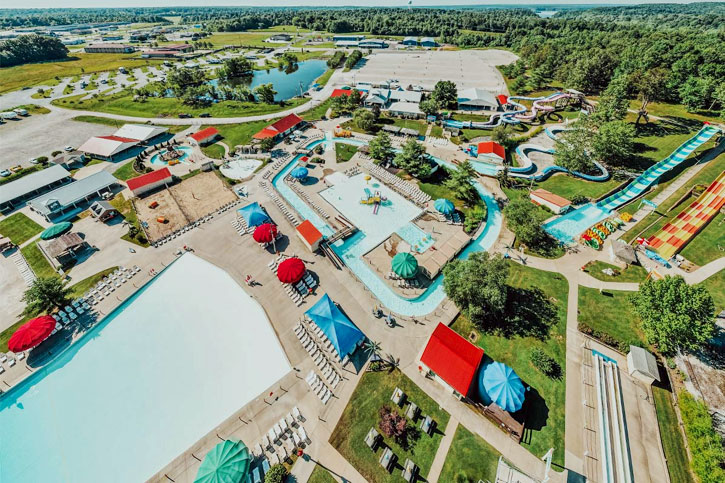 Location: 280 Funway Dr, Eddyville, KY 42038
Fees: $12 for seniors (60+), $21 for kids 54 inches and under, and $26 for everyone else
Guest info: Monday to Saturday from 10:00 AM to 6:00 PM; and Sundays 11:00 AM to 6:00 PM. (Summer Season: May to September)
Venture River Water Park is a family-friendly waterpark in Eddyville, Kentucky. There are over a dozen big structures at the waterpark to accommodate all kinds of swimmers and riders.
TurBoa: A snake-themed single-person body slide.
Amanzi Falls: An intense 60-feet plunge-straight down to the pool.
Wipe Out: A supersized five-level slide house with three tunnels, a multilane slide, 2 flushing buckets, and a crazy cruise slide.
Matanascar: A head-first, race slide for brave riders willing to challenge their friends or family to the finish line.
The Waloopas: A musical and light-up slide that offers a unique experience.
Cyclone: rapid waters tube ride
The Cliffhanger: The name says it all – it's not for the faint of heart. The jump starts at a 3.5-story drop, then rise to the top for another run, but backwards.
If you prefer chilling out instead of testing your adrenaline, the 18,000-square foot Hurricane Bay Wave Pool can be a more relaxed option, as well as the Old Man River.
Kid-friendly spots include the splash pad Frog Island, Soak City Kiddie Pool, and Log Walk – all of which have highly trained life guards ready to save smaller kids.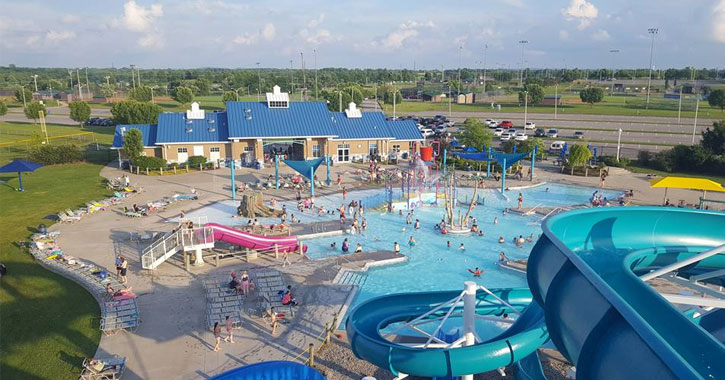 Location: 274 Lake Reba Dr, Richmond, KY 40475
Fees: $6 Monday to Saturday, $5 on Sundays
Guest info: Summer Season is from May to September, the waterpark is open Monday to Saturday from 11 AM – 7 PM, Sunday 1 PM – 6 PM
The Paradise Cove Aquatic Center is located in Richmond, Kentucky.
Opened in 2008, this family-friendly water park was designed to be an all-around activity center for families to spend time year-round.
Compared to other water parks in Kentucky, the Paradise Cove isn't as big. However, it does have the basics, such as four water slides (a 40-foot straight slide, and a 40-foot spiral slide), a large lap pool with diving boards, and a zero-depth entry play pool.
For younger kids, there are butterfly-themed water slides, a shallow pool and splash area with water sprays and dumping buckets. Parents can chill in one of the dozens of lounges, umbrellas and chairs scattered around the park. The Paradise Cove Aquatic Center also has an in-house concession once your kids get hungry from all the splashing.
Aside from the water park, Paradise Cove Aquatic Center also has an Aqua Climb rock climbing wall and swimming lessons available.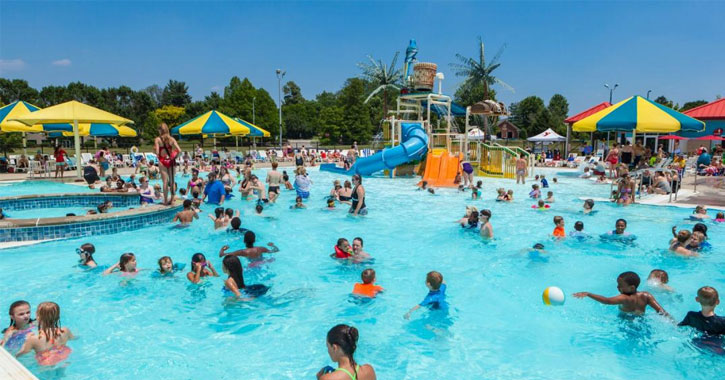 Calypso Cove Family Waterpark is part of the Lyndon YMCA in Louisville, Kentucky, which means you can join in the fun if you or someone you know has membership with YMCA.
Activities at Calypso Cove Family Waterpark include:
The 24-foot Typhoon Twister water slide
The Hurricane Run tube slide
Cast Away Island and Lily Pad Crossing course for kids
A zero-depth, vortex no-entry pool
Heated pools to relax muscles after a day's worth of thrilling slides)
As a family-friendly water park, what I like best about Calypso Cove is the lifeguards readily available and the YMCA Playroom parents can use if they're bringing infants along.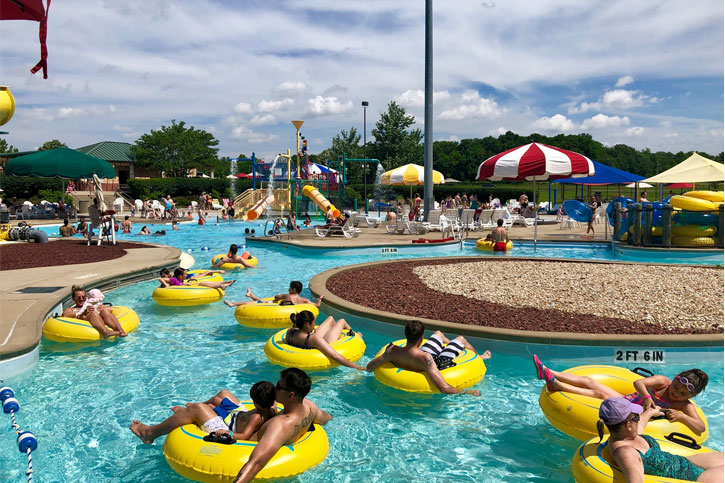 Location: 9503 Eagle Way, Hopkinsville, KY 42240
Fees: Kids 2-year-old and under swim here free, $7 for seniors and guests 48 inches and under, $9 for everyone else
Guest info: Swim season is from Memorial Day to Labor Day. By then, the park is open Monday to Friday from 11 AM to 7 PM; Saturdays 10 AM to 7 PM; and Sundays 12 PM to 7 PM
The Tie Breaker Family Aquatic Center is located in Hopkinsville, Kentucky.
It is home to several fun rides, such as:
Riptide Express, a thrilling tube slide
Hurricane Alley leads you down a twisting corkscrew tube
Ripple River lazy river
Splash Zone for younger kids.
One of my favorite things about Tie Breaker Family Aquatic Center is that they host an annual Doggie Dip, where the entire water park is exclusively theirs (and their paw parents) for a day.
Had a Blast Swimming at water parks in Kentucky, Now What?
If you're just visiting Kentucky and you plan to explore other parts of the state, check out my guide about the best Kentucky lakes. For those traveling with a more adult crowd, don't miss the best distilleries along the Kentucky bourbon trail.
If you're checking off your bucket list of waterparks all over the country, here are more parks to check out: