You don't have to suffer from the intense summer heat, especially if you're near any of these 10 water parks in Alabama.
There are actually a lot more outdoor waterparks in the state, but these 10 will surely make a memorable day trip.
10 Local-Favorite Water Parks in Alabama
Alabama can be hot and humid in the summer with high temperatures averaging over 90°F.
The only good thing about this is there are several waterparks in Alabama where you could cool off.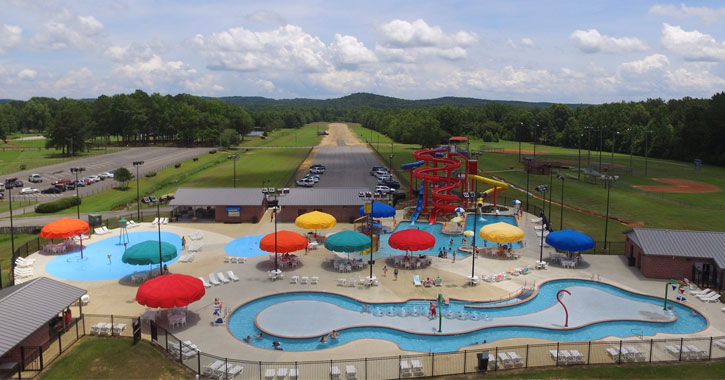 Address: 218 23rd St NE, Fayette, AL 35555
Tickets: Admission is $12 for ages two and older. Senior Citizens (65 and older), Military personnel with valid I.D., and Non-Swimmers will be admitted for $8. Children under age two will be admitted free.
Why It's Unique: Community pool that can compete with commercial water theme parks.
The Fayette Aquatic Center is a municipal Alabama waterpark that features 3 giant water slides, a pool with a diving board, a lazy river, a kids' play area with a splash pad, and a splash fountain.
It's a popular summer destination for Fayette residents and those nearby, but since it is open throughout summer, you can only visit from May to August.
The next opening will be for the 2023 season, beginning on Saturday, May 27, 2023.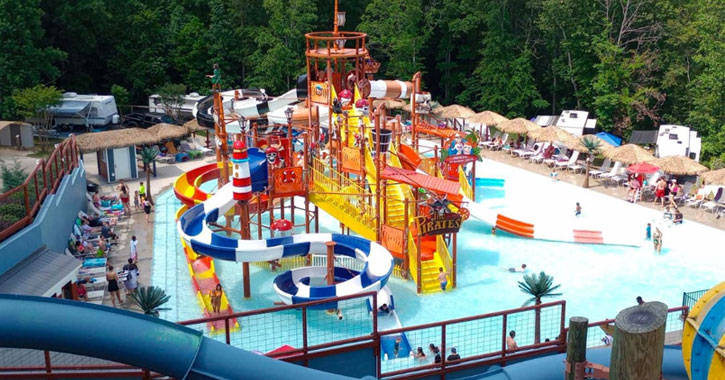 Tickets: $29 per person, but guests of Great Escapes RV Report and Chesnut Bay Resort get discounts.
Why It's Unique: A massive pirate-themed waterpark with mini golf and several nearby resorts (perfect for out-of-town visitors)
Marketed as a summer destination with an option to stay on the Chesnut Bay Resort, 3 RV parks (Great Escaoes Chestnut Bay, Leesburg Landing, Joyland or Weiss Lake) and Secret Bed and Breakfast Lodge, folks from all over visit Pirate's Bay water park for endless fun perfect for all ages.
There are spaces available for younger kids, slides designed for older adrenaline junkies, and common pools and tube slides that can cater to any age.
Aside from the water activities, there's also a zip-line and an opportunity to play putt-putt at the park's 9-hole course built within the wooded areas of Pirate's Bay Leesburg.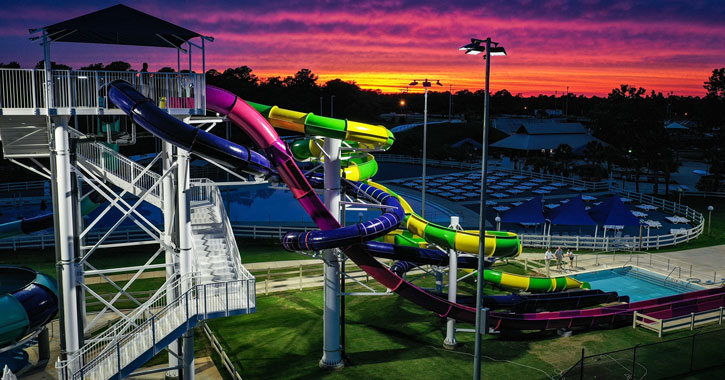 Address: 401 Recreation Rd, Dothan, AL 36303
Tickets: From $10 to $12. Seniors 65+ and kids (37 inches below in height) go in free.
Why It's Unique: Municipality pool with rip tide wave pool, tower slides, and kiddie water activities
Water World is known for three things: the storm bowl (where riders plummet down a body slide and spin into the eye of the storm), their trio twister slides (where swimmers fall from a 40-foot tower down a speed slide, closed-flume and open-flume slides,) and the Rip Tide Wave pool (450,000 gallons of sparkling clear water that bursts into 3-foot waves every 10 minutes).
The storm bowl and Twister slides are only for those 48″ tall and above.
Fortunately, younger kids have their own "cove" with tippy buckets, water cannons, and an enclosed slide, while anyone who just wants to chill under the sun has optional poolside cabanas available to rent all over the park.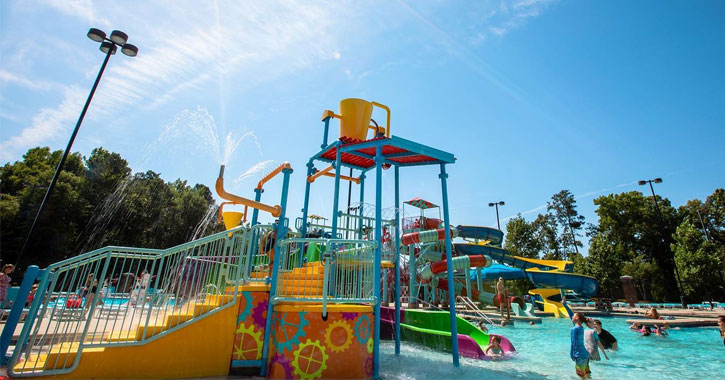 Tickets: $15/person for the water park, $80 to $90 for summer swim lessons, and $10 day-pass for fitness classes. CWAC memberships available.
Why It's Unique: A gym, indoor pool with swimming classes, and an outdoor water park in one.
Cullman Wellness & Aquatic Center isn't as impressive as other water parks in Alabama when you look at its dome-like building from the outside, but once you get in and see the facilities, you know the kids would be having a blast.
There are six-lane indoor/outdoor pools with eight lanes and low and high diving boards used for swim lessons and aquatic classes like paddle boarding and water aerobics.
There are kid's splash areas, two water slides, and a lazy river at the outdoor water park that are open during summer.
One of the best things about the Cullman Wellness Center is their childcare services, so parents can take swim lessons or work out at the gym while their children can get exercise and socialize too!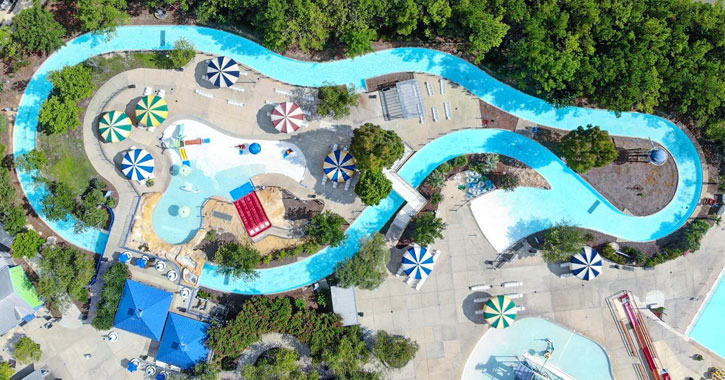 Tickets: Children 2 and under go in free, but the rest is from $44.99 to $49.99 (plus tax) for one-day passes depending on age and height level
Why It's Unique: Alabama Adventure (amusement park) and Splash Adventure (water park) in one location!
Located in Bessemer, this attraction is a spectacular place of fun since it's one part water park and one part theme park. Some notable rides and spots include:
Aqua Maze: a maze-like water ride featuring 4,600 square feet of splashes from showers, twists and turns.
Splash Island: 5 separate slides for different ages
Free Fall: a thrilling open-flume body slide
Kahuna Wave Pool: a pool with 800,000 gallons of fresh water that rolls 4-foot tall waves every several minutes
Salamander Bay: a kiddie-friendly interactive water activity with slides and waterfalls.
Warrior Lazy River: a tube ride for those who just want to chill
The Amusement park has rollercoaster rides Rampage and Cheddar Chase, Drop Zone (that lifts riders 30 feet into the air and drops and bounces going down), the swinging ship ride Galleon, and more.
Younger kids have several rides designed for them too!
Some parts of Alabama Adventure & Splash Adventure are undergoing construction to launch new rides in 2023.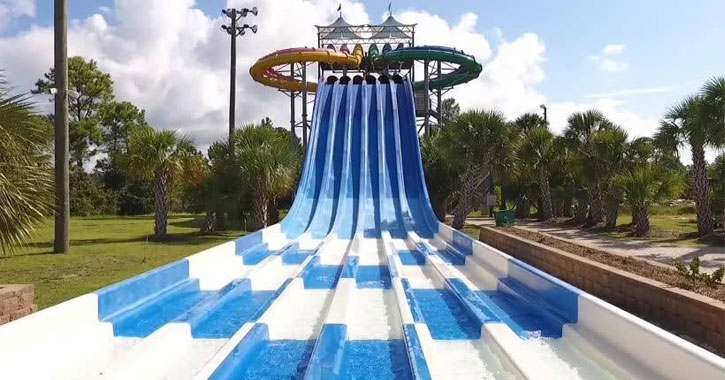 Tickets: From $25 to $34. Waterpark admissions and park admissions vary. Toddlers 2 years old and younger get free passes to the waterpark. Summer passes (individual and family) are also available.
Why It's Unique: A theme park and water park with escape room challenges, go-karts, laser tag, and mini golf, located near the beach.
If you're looking for a Lower Alabama waterpark, check out Waterville USA.
This 2-acre water park has plenty to offer. Waterville's "Screamin' Demon," "Dune Racer," "Great White," "Triple Dog Dare" and the famous "Rainbow Falls" (pictured above) can make the trip all worthwhile.
Little kids will have a blast at the WaWa World, where baby slides are designed specifically for small children.
Aside from water activities, Waterville also has Nascart Go-Carts, Escape House, the Flowrider, several kiddie rides at Fun Depot, 36-hole miniature golf, a massive arcade, and the Cyberville Virtual Reality.
While there is no extra fee to get into the theme park side of Waterville, you do need to pay per ride.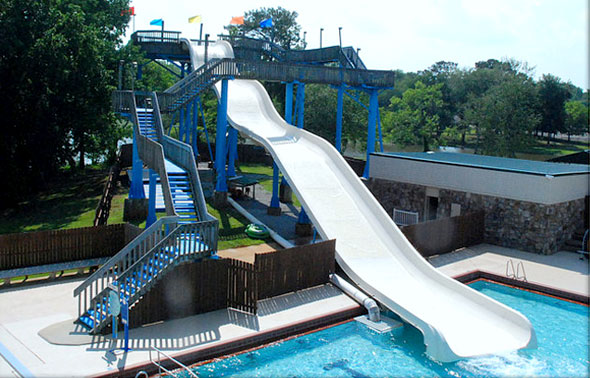 Tickets: $23 to $28 with kids 2 and under go in free. Season pass starts at $140.
Why It's Unique:

Sprawling city park with golf, a huge wave pool, an ice rink & other outdoor activities.
If you're looking for the biggest water park in Alabama, Point Mallard Water Park takes the cake.
Although Alabama Splash Adventure has 200 acres to its name, only 7 acres are used so far for the attractions. Point Mallard, on the other hand, uses its 35 acres completely for outdoor activities.
Point Mallard is thought to be the first wave pool in America.
It also has the Sandy Beach, Towering Sky Pond Speed Slide, Olympic Pool, Three Flume Tube Rides, The Lazy River, and the annual "World's Largest Swimming Lesson" held every June.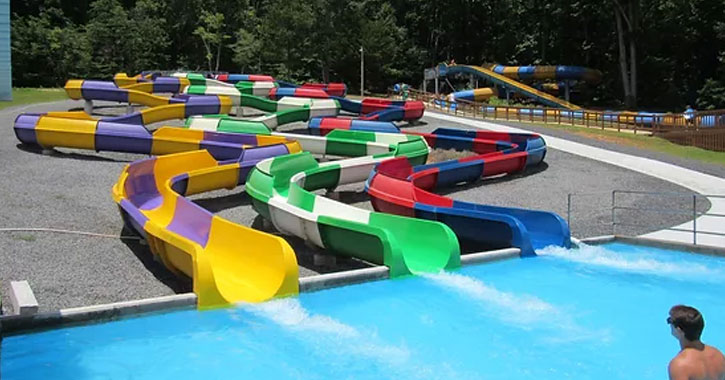 Tickets: $24 to $30 for daily passes, season passes are available at $78+/person.
Why It's Unique: Water park with several slides, a huge pool & a kiddie area
This family-friendly, 25-acre water park features a massive pool, a couple of water slides, a kiddie area with above-water playground, and plenty of lounging spaces, picnic areas and on-site barbecue and grill.
Spring Valley's famous 360 Rush slides are a favorite for thrill-seekers, while other attractions like The Circle, Need for Speed, Sidewinder, Black Out and Riders are also must-experience rides.
You can feel that Spring Valley Beach is a family-owned water park with charming pavillions designed for families who came here to have fun in the sun and grill barbecue.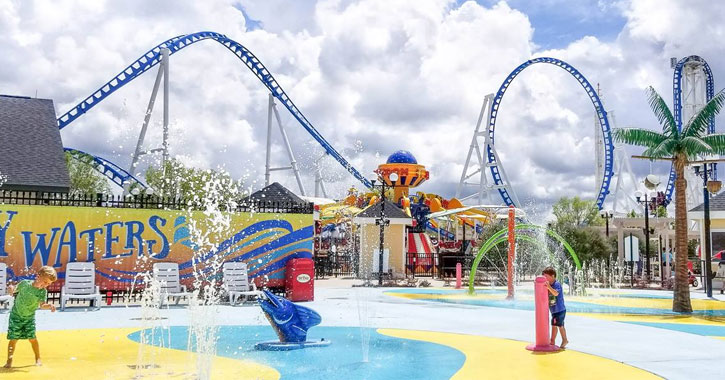 Address: 1501 S OWA Blvd, Foley, AL 36535
Tickets: $24 to $70
Why It's Unique: Features 22 theme park rides from roller coasters to spinning tea cups, plus games & shows.
Unlike other Alabama water parks I featured on this list, Tropic Falls is an indoor water park. It is also one of the newer water parks in the state.
Located in Foley's OWA Entertainment complex, Tropic Falls is just the water park side of this Alabama attraction.
The indoor and outdoor waterpark features 11 water slides, a lazy river, a children's splash pad and slides, and a soon-to-launch outdoor wave pool designed with an integrated surf simulator and concert stage.
The amusement park side of Owa (formerly known as The Park) is still there with rides like Rollin' Thunder rollercoaster attracting guests from all over the state.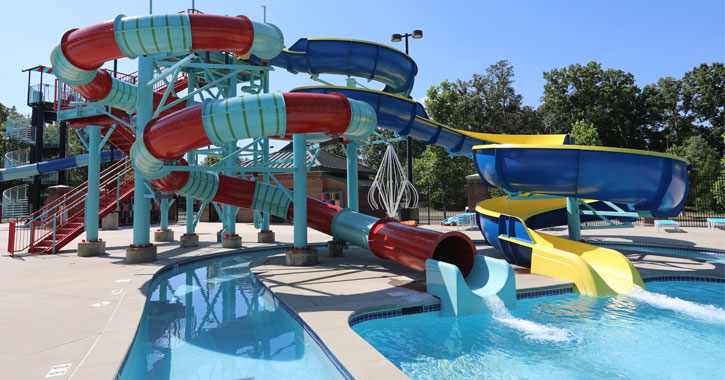 Address: 1707 Main Ave SW, Cullman, AL 35055
Tickets: $23 to $30 day pass with discounted rates for groups and parties
Why It's Unique: Clean new water park with world-class slides and aquatic movies
This 12-acre water park only had its grand opening in June 2022.
It now features a 22,000 square foot wave pool dubbed "RipTide", the Drift River, and 18 waterslides or other attractions like the Side Swipe, The Torque, Blitz, Turbo Twister, Rally Racer, Blue Hurricane, Cannon Bowl, Splash Station, Kids Pro-Racer, Kidz Mini-River, and Kidz Twister.
Other Waterparks to add to Your Bucketlist
For those who are obsessed with waterparks and want to visit all major ones in the country, check out the famous waterparks in Maryland (where a Six Flags location is found) and America's best indoor water parks.
If you decide to go to one of these water parks in Alabama and have a day or two extra to explore the local food and attractions, mix-and-match the worthy stopovers from these guides: