There are no natural lakes in Alabama, but this doesn't mean you can't enjoy almost a hundred artificial lakes throughout the state.
The 25 major lakes and over 75 smaller lakes range in size from 13 acres to 184 acres, many of which have boat access areas, campgrounds, day-use facilities, and a lot of opportunities for swimming and other water activities.
7 Lakes in Alabama Worth Visiting
If you live in Alabama, you know the heat can be unbearable in the summer, and picking any one of these lakes and dipping into the cool waters is an awesome way to cool off and beat the heat.
Unfortunately, if you're not a local and you're just passing by Alabama, there isn't enough time to visit all the awesome lakes in the area.
Here are 7 Alabama lakes that won't disappoint: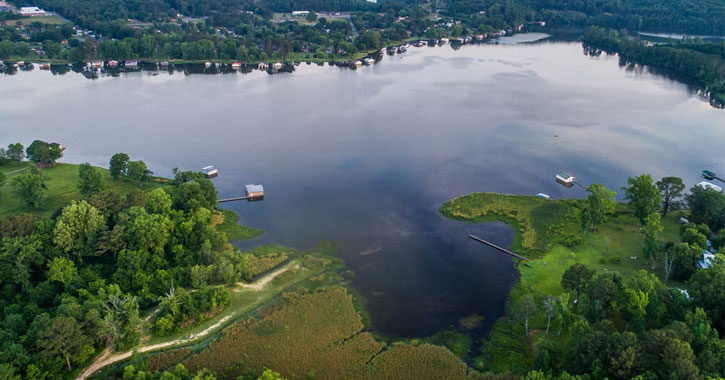 Address: 1155 Lodge Dr. Guntersville, AL 35976(between the cities of Bridgeport and Guntersville)
Best forfishing (there is bass, crappie, bluegill, bream, catfish, redear sunfish) or ticking off a bucket list of the biggest lakes in each state
Other Activities: Swimming, boating, bird watching, camping
Beaches nearby: Lake Guntersville Beach
Nearby services and amenities: Boat launch, 18-hole championship golf course, the Screaming Eagle Zipline, a beach complex, an outdoor nature center, 36 miles of hiking/biking trails
Where to stay: Aside from camping, there are Lakeside cabins for $175/night.
Guntersville Lake is the largest lake in Alabama, sitting between the cities of Guntersville and Bridgeport in the northern part of the state.
Surrounded by 6,000 acres of woodlands, Guntersville Lake is the perfect destination for hiking, biking, and bird-watching for gadwalls, bald eagles, lesser scaup, and red-breasted mergansers.
As a major fishing spot in Alabama, there's a boat dock, public fishing pier, and picnic areas along the 121-kilometer stretch of shoreline. If you don't have a boat, there are rentals available in the area.
If you want to stay overnight, the Lake Guntersville State Park has different accommodation options from campgrounds and cabins to rent run by the Alabama State Parks Division. The locals in the picturesque small town of Guntersville also offer their vacation homes for rent at various price points.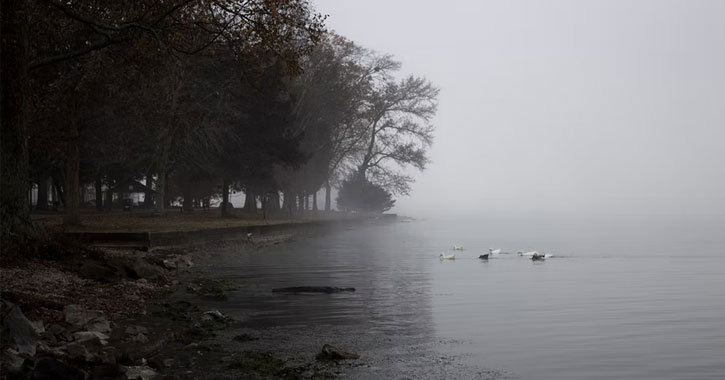 Other fishing lakes in Alabama
If you're after other fishing lakes in Alabama, there is also Logan Martin Lake and Weiss Lake.
The main draw at Logan Martin Lake is fishing for largemouth and spotted bass. You can also fish for channel catfish, white and black crappie, bluegill, white bass, redear sunfish, and striped bass.
Rated as one of Alabama's top lakes for fishing, Weiss Lake is best known for its excellent (white and black) crappie fishing.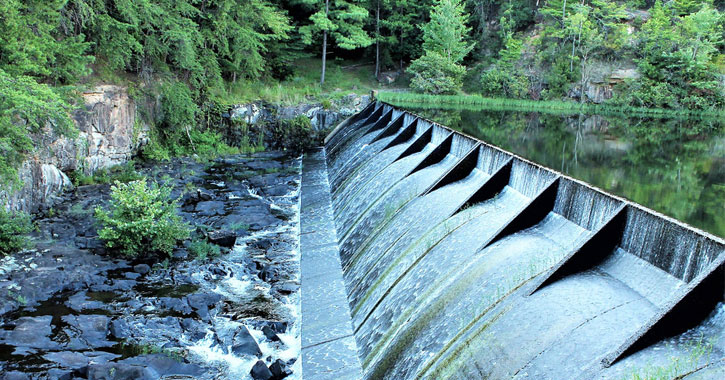 Best for Swimming, fishing, and bird-watching
Other Activities: biking, hiking, camping, picnicking
Nearby services and amenities: Boat launch, fishing supply store, park, shopping center
If you're looking for a lake specifically for swimming and chilling over the weekend, head over to Lake Nicol. It's the lake northeast of Tuscaloosa, located in West Alabama.
Directions may be tricky, but once you see the sign "Welcome to Lake Nicol," you can also feel the temperature drop and know the lake is nearby. The area boasts acres of open, wooded park with plenty of mature pine woods that Brown-headed nuthatches, Eastern bluebirds, Red-headed Woodpeckers, and pine warblers call home.
The Lake Nicol water is crystal clear, which makes it a favorite spot for swimming for locals and tourists alike. There are cliffs along the lake's edge that make a natural spot for hammocks and lounging. If you're in the mood to explore, there are also several trails for you to follow and enjoy.
What makes Lake Nicol a good spot is that you've got a small-town vibe with a nearby neighborhood park, wooded trails and other opportunities for fishing and boating, but there's also a shopping center just a few minutes from the lake.
Crowds, unfortunately, occur on weekends, so set up there early or opt to visit on weekdays instead.
Nearby Lakes
Gainesville Lake is a 6,400-acre reservoir in northwest Alabama (just east of Gainesville, Alabama), used primarily for navigation, flood control, and recreation. You can fish largemouth bass, crappie, bream, catfish, hybrid striped bass, and freshwater drum here.
Lake Harris (locally known as Lake Wedowee) is another bird-watching lake destination. Lake Harris is fed by Lake Nicol, so they're actually connected. But going to Lake Harris passes another road separate from Lake Nicol.
Best for Paddling and swimming
Other Activities: Fishing (with permit), biking, hiking, camping
Beaches nearby: Gulf Shores public beach
Where to stay: Primitive and RV camping available in Gulf State Park, but not by the lake. There are also rental houses and private cabins.
If you're traveling the southern part of Alabama, Lake Shelby is a dog-friendly and family-friendly destination known for being one of the go-to camping lakes in Alabama.
Located inside the Gulf State Park, visiting the 900-acre Lake Shelby means you also have access to bike trails, zip lines, hiking trails, and even a white sand beach. On the other side of the coin, this also means there are alligators and other reptiles roaming around the lake and near the gulf.
There are no parking fees or picnic table rental fees, but they are on a first-come, first-serve basis. There's also a small entry fee to the lake, but you get to enjoy over 6,000 acres of the park as well.
Nearby Lakes
Lake Shelby is one of three spring-fed freshwater lakes inside the Gulf State Park.
If you want to explore further, the nearby lakes Middle Lake and Little Lake connect to Lake Shelby, creating a vast marshland and home to many turtles, alligators and ospreys.
Address: 645 Power House RdJasper, AL 35504
Best for fishing
Other Activities: kayaking, boating, jet-skiing, camping, and fishing
Nearby services and amenities: Boat launch, fishing supply store, general store
Where to stay: Smith Lake Park campgrounds, RV parks, rental houses, and cabins
A little over an hour away from Birmingham, Lewis Smith Lake (simply known as Smith Lake) is one of the most beautiful and clearest lakes in Alabama. It is also the deepest with a depth of 264 feet.
Located on the Sipsey Fork of the Black Warrior River (spanning the Cullman, Walker & Winston Counties), Lewis Smith Lake is a popular place for seniors to retire and investors to buy holiday homes.
Aside from its 500-mile long shoreline that welcomes boating, swimming, and other water activities, Smith Lake also has numerous coves that add another character to it.
The younger crowd goes here for the 21-meter-high Indian head cliff jump, while anglers visit to fish bass, bream, catfish, crappie, black bullhead, and yellow bullhead. Do note that a freshwater fishing license is needed.
Since Lewis Smith Lake is surrounded by a large national forest, there are shaded hiking trails available for those who want to explore.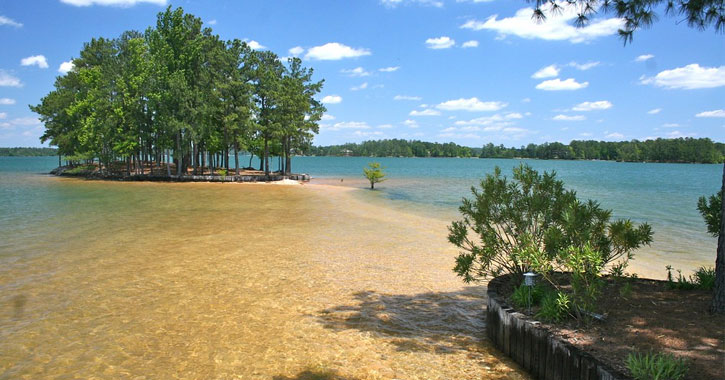 Best for fishing and other outdoor adventures
Other Activities: swimming, boating, fishing, water skiing, camping, and golfing
Beaches nearby: Lake Martin beach, The Ridge Beach Park
Nearby services and amenities: Boat launch, golf course, restaurants, fishing store, general store, laundromat,
Where to stay: Rental houses, state-run campgrounds and cabins, luxury rental houses
Lake Martin is one of America's largest human-made lakes.
It is located inside Wind Creek State Park, which is home to 750 miles of wooded shoreline and provides a ton of opportunities for swimming, boating, water-skiing, and other water activities.
Don't forget to get a map from the Alabama Parks website, where you can find a detailed map of campsite locations, beaches, and trail networks.
The best thing about Lake Martin is that 157 of the 586 campsites with water and power hookups are by the lake, so you can really enjoy the sunrise and sunsets during your waterfront weekend getaway.
Lake Martin becomes a busy lake town during the Fourth of July, fishing tournaments, and the annual Alexander City Jazz festival. Anglers also come here regularly for largemouth bass, catfish, crappie, striped bass, redear sunfish, and bluegill.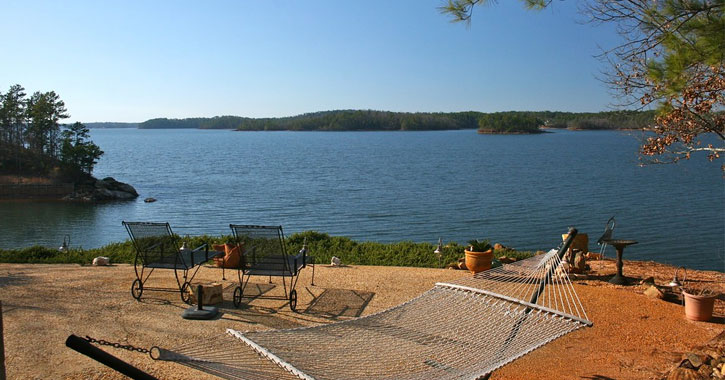 Aside from the beautiful lake itself, Lake Martin is also near several popular landmarks, including:
Acapulco Rock – This graffiti-covered stone comes out from the water about 50 feet. It attracts thrill-seekers who are known to leap from its edge (it's dangerous and not recommended, of course), but Acapulco Rock is still a beauty to behold if you're check sightseeing.
Chimney Rock – Located on a small island near the lake, this rock is usually confused with Alcapulco Rock. It is called as such because the large rock formation resembles a chimney.
You can also explore other small islands nearby, such as the Goat Island (where a family of goats roam around), Sand Island (a sandy shallow beach located between Willo Point and Kowaliga Marina), Graveyard Island (a county graveyard in Bay Pine area), and Wood's Island (a favorite hiking spot of Lake Martin visitors), among others.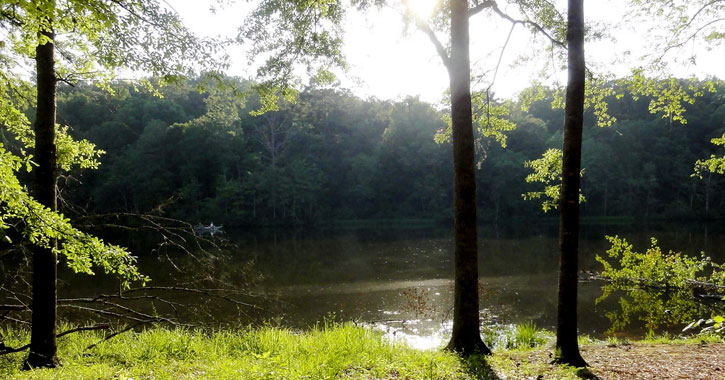 Best for camping and hiking
Other Activities: Swimming, biking, hiking, fishing, kayaking, mountain biking, nature photography
Nearby services and amenities: activity building, picnic areas, play areas, pavilions, bathhouse, fishing piers, boat rentals, and boat-launch areas.
Where to stay: public campgrounds, RV camping, private cabin rentals
Lake Lurleen State Park is one of the older parks on this list, but it is still a scenic and attractive destination, especially if you're looking to be one with nature.
Named after the first woman elected Governor of Alabama, Lurleen Wallace, this west-central Alabama public lake is perfect for quick family camp trips and day trips to cool off on warm summer days.
Lake Lurleen is known for its abundance of crappie, largemouth bass, catfish, and bream.
If you've got enough lake activities into your itinerary, you can also explore the 20+ miles of trails along the shoreline. Ranging from easy to moderate difficulty levels, the trails are perfect for a good hike or mountain biking.
Both the park and lake are well-maintained by local volunteers. You can camp overnight at any of the 91 modern campsites (that comes with water and electric hookup) or park your RVs near the lake.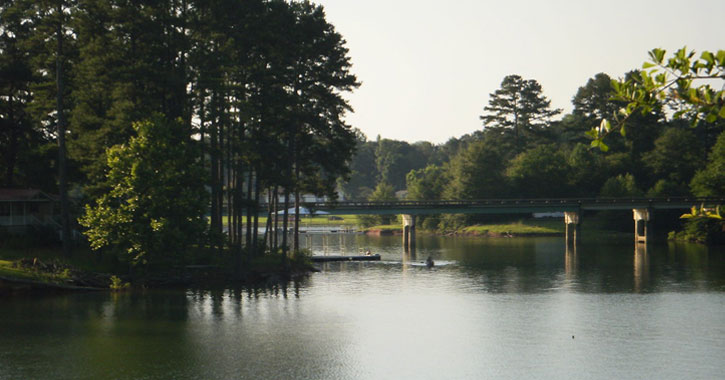 Best forKayaking, swimming
Other Activities: Fishing, biking, hiking, camping, hunting
Nearby services and amenities: 5 boat launches, commercial marina, general store
Where to stay: Rental houses, campgrounds, resorts, cabins
Bankhead Lake, which has been around since 1915, is located along the Black Warrior River. It is the second-largest lake along the river at 3,723 hectares.
You can swim and chill to your heart's content at the lake, but both locals and tourists enjoy kayaking, powerboating, jetskiing here as well.
Anglers visit Bankhead Lake for spotted bass, crappie, striped bass, catfish, rainbow trout, and largemouth bass. If you're up for hunting and you have a hunting license, seek a permit from the Mulberry Fork Wildlife Management Area.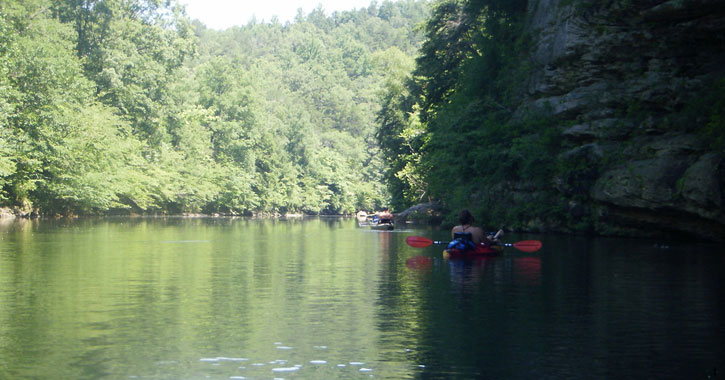 Beyond the Lakes in Alabama
If you're staying in Alabama for long and you're making an itinerary for a long weekend, or a weeklong trip, pick and choose from these top 20 Alabama attractions, from museums like the U.S. Space and Rocket Center and Barber Vintage Motorsports Museum to natural attractions like the Neversink Pit, Alligator Alley, Noccalula Falls Park, and Cheaha Mountain.
If you're visiting other states and building a cross-city itinerary, you can take inspirations from:
For those chasing more awesome lake destinations, make sure to check out the lakes in North Carolina and lakes in South Carolina.