Whether you're eyeing Alabama as your family's next destination, or just passing by on your way to another state, check out my handpicked things to do in Alabama that's perfect for the history buff, science fans, nature lovers, bass fishing crowd and everyone in between.
You might thing the best Alabama attractions are college football (Roll Tide, War Eagle, etc.) and you wouldn't be entirely wrong, but the state can surprise you with how much there is to see and do.
What is Alabama known for?
Alabama is known for being the only state with natural resources enough for major steel and iron production, making it the largest supplier of steel pipes and cast iron.
You can even see numerous links to the state's industrial history from Alabama attractions like the Fallen Robot.
Alabama is a state with a well-balanced culture, history and science.
Home to rolling fields of cotton, the Space and Rocket Center, and many music legends from Nat King Cole to Aretha Franklin, authentic Southern home-style food, and notable historical places from Native American and colonial history to the eras of Civil War and Civil Rights.
When is the best time to visit Alabama?
The most ideal time to visit Alabama is from June (early summer) to September, October and November (autumn months).
Peak season is during summer (June to August), which makes all accommodation and attractions along the Gulf Coast more expensive than normal.
Although Alabama winters are mild, winter months tend to be rainy in Alabama.
You should also avoid the spring months because of tornadoes, but if that's what you're after, then now you know.
Top Alabama Attractions
1 Tranquility Base, Huntsville, Alabama 
What is it? Ideal for families, young and old will definitely go wow with rockets, NASA's achievements, and artifacts of the U.S. space program.
There are also multimedia presentations at the National Geographic Theater and Spacedome IMAX.
Don't Miss: Outdoors, don't miss out on the Shuttle Park, Cosmos Kids Area, and simulators G-Force and Space Shot Accelerator.
Admission Fee: Kids 4 and below are free, children 5 to 12 years old pay $17, and 13-year-olds and adults pay $25.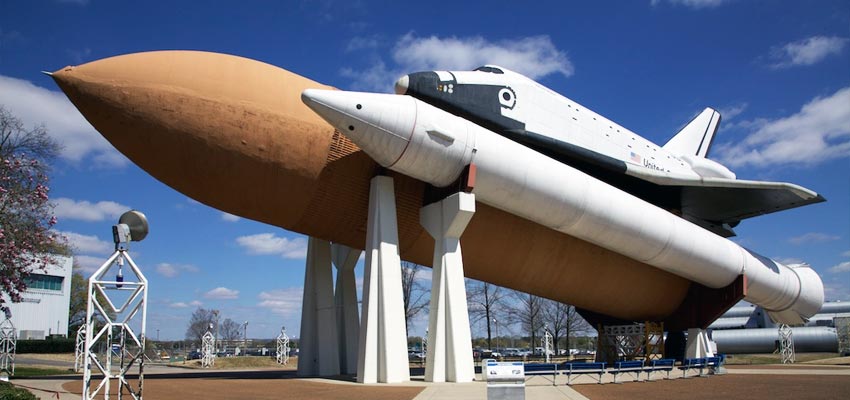 200 19th St N, Birmingham, AL
What is it? This center is as much as an interactive learning center as a play place for kids of all ages.
It's a three-floor building with plenty of exhibits for older kids, and the Itty Bitty Magic City for smaller children.
Don't Miss: Don't miss the anti-gravity and distortion room at ScienceQuest, the Dinosaurs and Sea Monsters area, as well as the Art & Tech Gallery for those with creative hands.
Admission Fee: Kids under 2 are free. Admission fees range from $8 to $20, depending on whether you choose "Adventure Halls" only, IMAX only, or a combination of IMAX and Adventure Halls.
6030 Barber Motorsports Pkwy, Leeds, AL
What is it? This museum is home to 1,200+ vintage and modern motorcycles, race cars, and other vehicles with an adjacent road course.
It's not just a place for car fans – even regular folk who love special buildings will be in awe of the museum's contemporary, glass-enclosed setup and how everything is displayed in head-turning two-tiered platforms.
Don't Miss: The Formula 1 cars and military bikes are definitely a must-see.
If you're visiting in October, spending $60 for a three-day admission to the annual Barber Vintage Festival is worth it.
Admission Fee: Kids can enter for $10, while adults pay $15. Guided tours are available Fridays to Sundays with an extra fee of $30.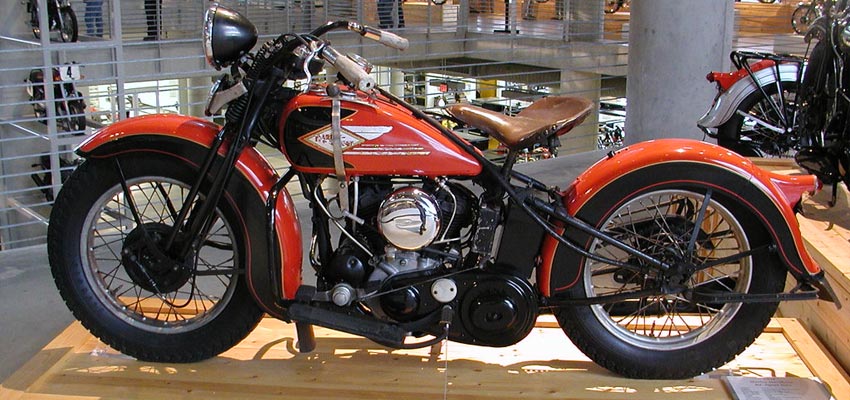 Fackler, AL 35746
What is it? It's an impressive 162-foot open air pit that many rappelers and photographers try to capture.
You'll find something unique on your way down to the floor, depending on when you plan this adventure.
In the winter, expect the walls covered in ice sheets. In the summer, the pit is covered with lush ferns and other fauna. Spring makes gorgeous waterfalls as the rain falls down the pit.
Don't Miss: There's an alternate entrance for non-rappelers: a cave leads you to the floor of this pit.
But you do need to request a permit from the SCCi.
Admission Fee: There is no charge for permits, but you cannot hike, rappel, or go caving without the permit.
Tuscaloosa, AL
What is it? The University of Alabama isn't just a pre-Civil War campus "where legends are made," it is also home to many interesting Alabama attractions, including:
50-acre arboretum
The Paul W. Bryant Museum (a football fan's dream)
The Gorgas House
Alabama Museum of Natural History (for lovers of dinosaurs and the Ice Age)
Don't Miss: Aside from the museums and indoor Alabama attractions, don't miss the Woods Quad Sculpture Garden, outdoor sculptures made by UA students.
Admission Fee: If you're interested in outdoor attractions, you only need to pay parking fee after business hours and on weekends. Otherwise, it is free on campus in a legal space.
Admissions for UA students, faculty and staff for on-campus attractions are free. If you're a visitor, these are the entrance fees:
19950 Co Rd 71, Summerdale, AL 
What is it? This swamp sanctuary is home to hundreds of alligators and other wildlife.
If you're brave enough, there's an elevated boardwalk for visitors who want to get up close, feed and pet gators.
Don't Miss: Don't miss live feedings at 11, 1pm and 4pm.
You do need to pay for alligator chow for $5, but it's definitely an experience you shouldn't miss.
Admission Fee: Kids 2 and under enter free, while kids (3-12) and seniors (65+ years-old) pay $11. General admission for adults is $13.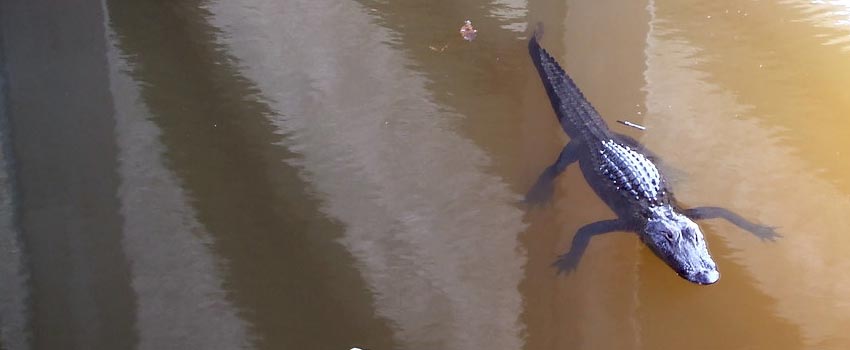 1500 Noccalula Dr, Gadsden, AL
What is it? Home to Noccalula Falls, this park boasts a complete adventure of hiking, zoo petting, mini golfing, camping, and Black Creek trails.
Don't Miss: Of course, you shouldn't miss Noccalula Falls, but since the waterfall is dependent on rainfall to feed the cascade, non-rainy seasons may not give amazing views.
You do have other activities to keep you busy at the park, so you're all good.
Admission Fee: One day passes for adults is $6, seniors/military/children (ages 4 to 12) is $4, and kids 3 or below go in free.
Delta, AL
What is it? Mount Cheaha is the highest natural point in all of Alabama. It is located within Cheaha State Park, northwest of Delta.
Don't Miss: Bring your family for some well-deserved hiking and camping here. Due to the high elevations of the area, it's a scenic place to spend a weekend in the woods.
Admission Fee: Park entrance is $2 to $5, but accommodation and camping fees apply if you're planning on staying beyond normal business hours.
Camping within park grounds starts at $14 to $22/night. Camping on the way to Mount Cheaha require permits plus fees for overnight camping.
Jackson Lake Island, Millbrook, AL
What is it? If you're a movie buff, you'll instantly recognize this place since this privately-owned Millbrook island is where Tim Burton's 2003 movie "Big Fish" was filmed.
Most of the buildings built for the film were left for tourists to check out.
Don't Miss: Those with time to spare can stay in the island overnight and camp out.
You can go boating and fishing for just $10.
Admission Fee: Admission is $3/person; $10 camping. Payment is based on the honor system with cameras monitoring guests.
920 Paul W Bryant Dr, Tuscaloosa, AL 
What is it? The Crimson Tide is among the most storied and decorated football programs in NCAA history, so if you're passing by Alabama, be sure to check out schedules of game day.
Don't Miss: If you can, visit the outdoor Bryant–Denny Stadium on the campus of the University of Alabama in Tuscaloosa.
Admission Fee: Fee for game day varies, but stadium tour is $10-$12/person (depending on how many joins each tour)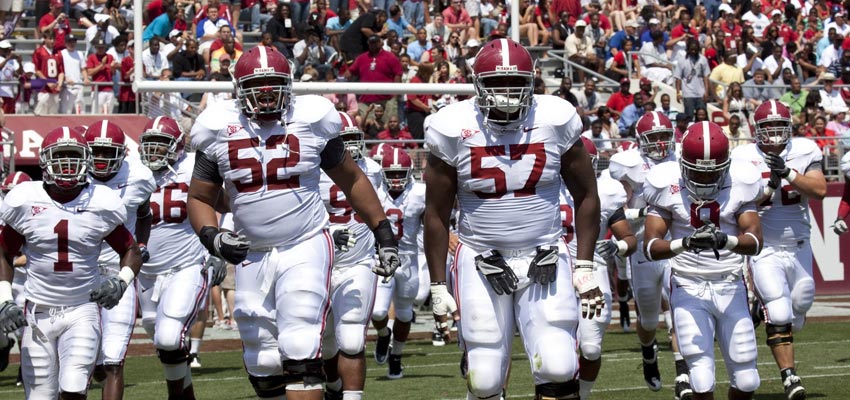 All around Birmingham, AL
What is it? Red Clay Tours offers a walking tour where you'll visit three Birmingham breweries.
Note that this particular tour has partnered with several local breweries, but rotate them with each walking tour.
Don't Miss: Make sure to take advantage of the freebie drinks. Birmingham's craft beer crowd is making a comeback and bringing special brews back.
Admission Fee: The three-hour tour costs $60/person. It includes pick-up and drop-off from Railroad Park, and four 4-ounce samples at each of the three breweries.
3101 Avenue C Bessemer, AL
What is it? Gip's Place is exactly that – it is the home of Henry Gipson (real name: Herman Gipson), who opened the doors of his home in 1952 for musicians to get together and jam.
It is an authentic juke joint through and through. 
Bands that play here are unannounced, but you're sure to have a memorable experience, especially if you love blues.
Don't Miss: It's open every Saturdays, so bring your own booze and order some food at Gip's Place or buy a t-shirt to help out a bit.
The man turns 100 in January 2020, so visit the place while he's still there. It won't be the same without his generosity and genuine smile.
Admission Fee: $10, or free, depending on the time you go.
Free Alabama Attractions
If you want to maximize your tour funds, here are 3 Alabama attractions that are free to visit anytime.
277 Park Dr Montevallo, Al
What is it? This 40-acre park boasts plenty of facilities, from walking trails to athletic fields, playgrounds, and several areas for picnics.
Don't Miss: Hunt for the Tinglewood carvings, storm-damaged cedar trees carved by coal miner Mr. Tim Tingle into whimsical works of art.
These amazing creations began in early 1990s until today.
Admission Fee: Access to the park and Tinglewood carvings are free. Only tickets for sporting events require tickets.
4322 Little River Canyon Pkwy, Fort Payne, AL
What is it? The Little River Canyon National Preserve is a massive area where adventurous hikers, kayakers, campers, and even just those who love nature photography can go crazy with miles and miles of natural beauty.
Don't Miss: Don't forget to take a lot of pictures of the 45-foot waterfall. Most trails begin at the Visitor Center, then a pair of outlooks for the waterfall.
Admission Fee: Some areas are free to visit, but other activities require passes or permits.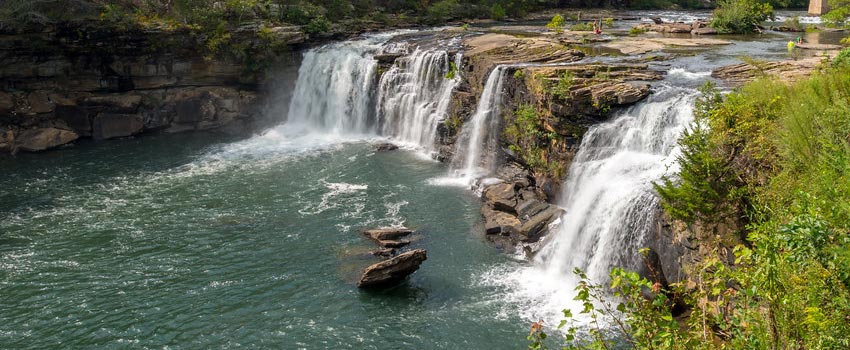 23101 Canal Road, Orange Beach, AL
What is it? The Wharf at Orange Beach is an interesting destination on its own.
It is home to many restaurants, bars, and shopping stores, perfect for all ages.
While the modern amenities of the Wharf can be off-putting if you're after natural Alabama attractions, you'd be glad to know that this is located on Orange Beach itself.
Don't Miss: Don't miss trying out Southern dishes and local seafood.
Take advantage Orange Beach's white sand and clear coastal waters.
Winter Alabama Attractions
Alabama has an average snowfall of 2 inches per year. Snowfall is very rare in this parts of the country, but if you're feeling a bit chilly during your winter tour, here are Alabama attractions you might like:
There's a lot to do in Alabama
Alabama tourism is alive and well.
From creating more walking tours to adventure trails, to promoting Southern food and music, many Alabama attractions now compliment bigger destinations as Barber Motorsports Museum or football season.
More and more tourists are coming in each year, since the locals discovered that creating a unique experience lures more tourists in than just basic tourist spots.
Have you visited Alabama lately?
Do you recommend new places to go, or things to see around this Southern state?
Hope you share with us below…