I've lived in Pennsylvania most of my life and have visited various stunning spots all over the state, but many overlooks in PA still give me goosebumps.
So much so, our wedding engagement photos (shown above) were taken from the Mt. Washington overlook in Pittsburgh!
Over a hundred Instagram-worthy overlooks exist here in my home state and every one of them changes with the season.
If you're visiting Pennsylvania and don't have much travel budget, take a detour or intentionally pass by these overlooks in PA. I promise you they'll be one of the most memorable parts of your trip.
10 Picturesque Overlooks in PA
If you can't choose between the dozens of PA overlooks publicly accessible to visitors, pick from my 10 favorite spots. You can never go wrong with these: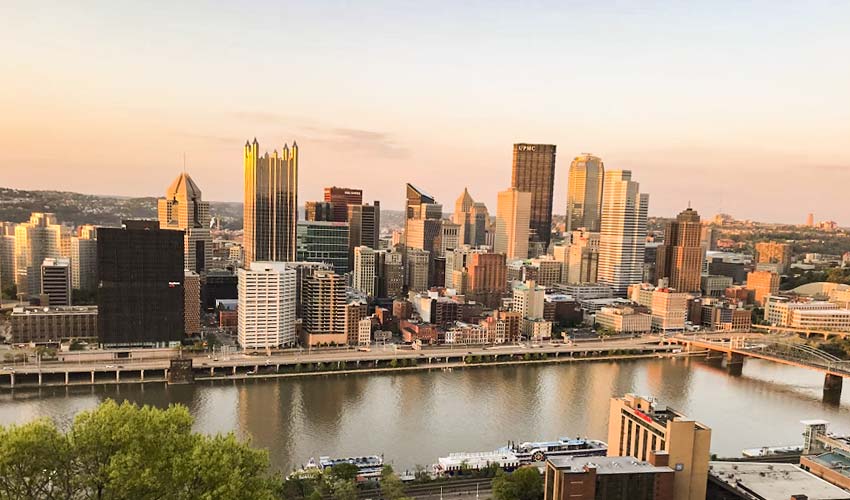 You don't need to drive somewhere to experience Pittsburgh from a different angle. If you're visiting the City of Bridges and have time to spare, go spend a few hours at Mount Washington and be wowed by the view.
Mount Washington is separated from downtown Pittsburgh by the Monogahela River. You can drive to get here or take a quick hike to the top of the hill. From there, you can walk the 1.25-mile Grandview Avenue with stunning views of the city wherever you look.
For a memorable experience, park at the bottom of the hillside and ride the Duquesne Incline to the top of Mount Washington.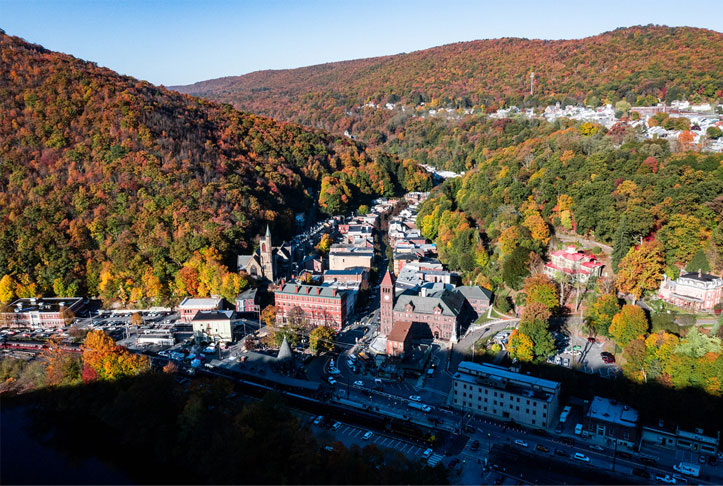 In the 1800s, this place in Carbon County was called the Switzerland of America. Today, if you visit the mountain town and view it from the Jim Thorpe Overlook, you'll understand why.
You have a few trails to choose from, but my favorite is the 100-Mile View Camping, which is accessible via Flagstaff Road. It's actually a private property owned by Awesome View Properties, but they do let visitors go through the overlook and marvel at the gorgeous views.
If you're visiting in the spring, summer, and fall, you get to see the vivid greens and fall colors of the forest embracing the town. If you're visiting in winter, this place becomes magically transformed into a snow-covered panoramic sight.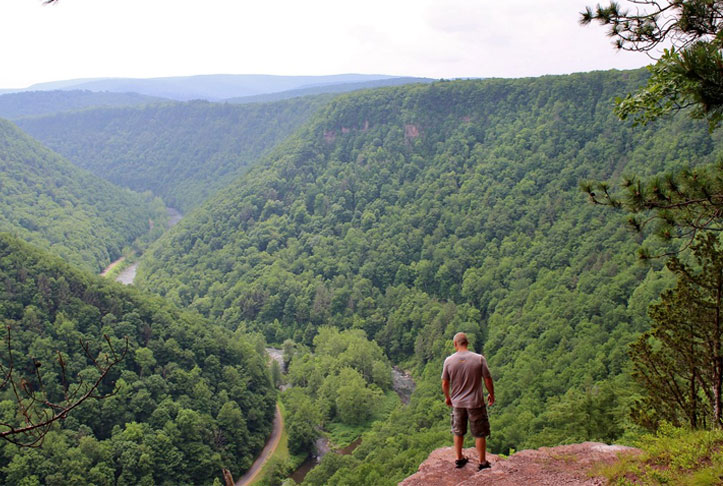 Barbour Rock Overlook, located in Tioga County, is considered by many as the Grand Canyon of Pennsylvania.
The view from this spot showcases the grandness of Pine Creek Gorge – vistas with never-ending greens and forested hillsides of the gorge can impress even those who aren't nature lovers.
Like other overlooks in PA, you don't have just one way to view Pine Creek Gorge, but the view from Barbour Rock is the easiest and most accessible. You'll just walk a half-mile trail and spend as much time as you can gazing at miles of Pennsylvania's best outlook views.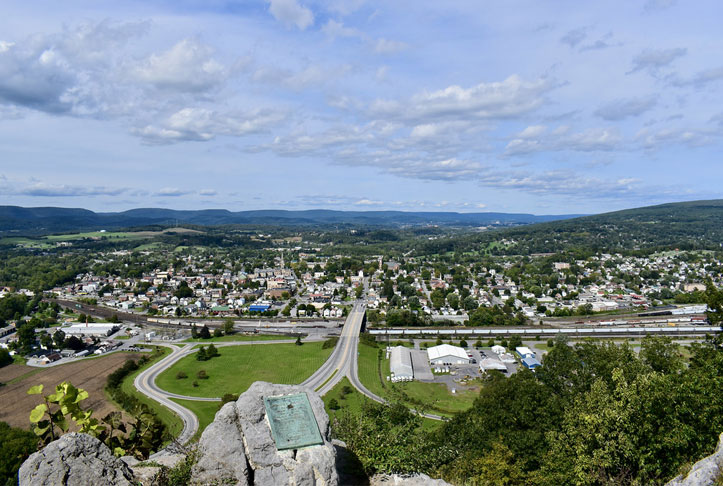 Pennsylvania has many urban overlooks with nature enveloping the city on all sides. The view from Chimney Rocks is one of them.
Chimney Rocks gives you a fantastic view of downtown Hollidaysburg and the area surrounding it.
When you get to Chimney Rocks, you can stay there and just enjoy the vista in front of you. If you're feeling a little adventurous, continue along a steep and narrow trail where you'll have better views of the hillside.
Before you go, drive into town and spend an hour or two in charming Hollidaysburg.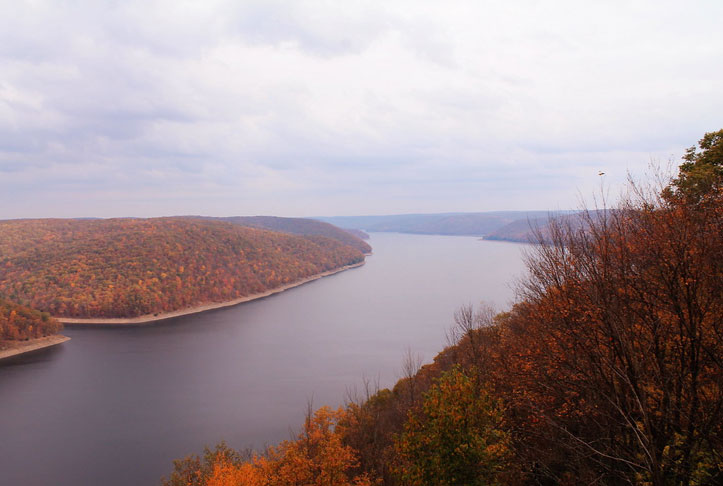 Jakes Rocks Overlook isn't just one spot – it's actually several overlooks in the Warren County part of the Allegheny National Forest.
What I like most about this spot is that there is a parking area and picnic grounds, so you can spend more time with nature after checking out the views.
Jakes Rocks is located on Forest Road 492 via the Longhouse National Scenic Byway, which is approximately 3 miles south of the junction with PA 59 at Kinzua Point.
From here, you'll need to hike around a mile to reach any of the two overlooks available. Any path you choose gives you spectacular views of Jackson Bay of the Allegheny Reservoir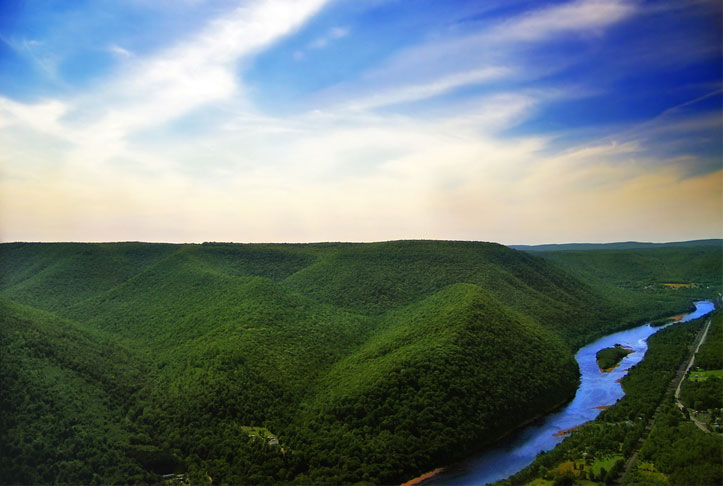 The 6-acre Hyner View State Park is located in the Chapman Township in Pennsylvania's Clinton County.
The park overlook is at an elevation of 1,940 feet (591 m) above sea level. Once you reach the top, you'll have wonderful views of the Susquehanna River and the mountains surrounding it.
This area caters to the adventurous. If you're up for it (with permit of course), you can hang glide from the ramp at the scenic vista and sail out over the West Branch of the Susquehanna River.
If you're just visiting the overlook, you can still get a chance to see hang gliders launching from where you are, or those already mid-air.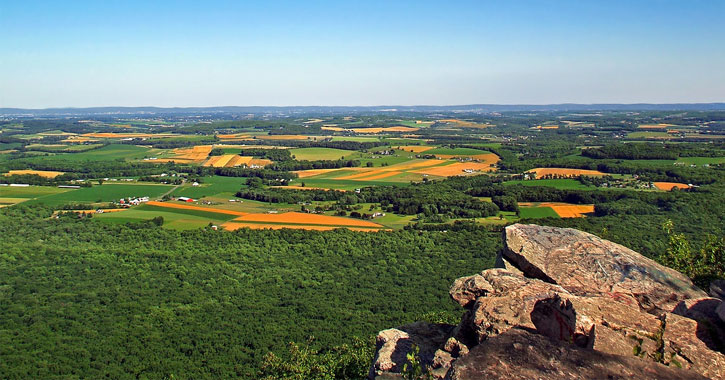 Bake Oven Knob offers south-to-southeast views of the Lehigh Valley from the Appalachian Trail. You can sit on one of the rocks at the overlook and take in the spectacular view.
Getting to the Bake Oven Knob is easy hike-wise (the parking is just 0.4 miles away), but the quick trail is rocky at certain parts. The way to the main outlook offers several other views.
But because Baken Oven Knob is highly accessible both for locals and tourists, the overlook can be crowded.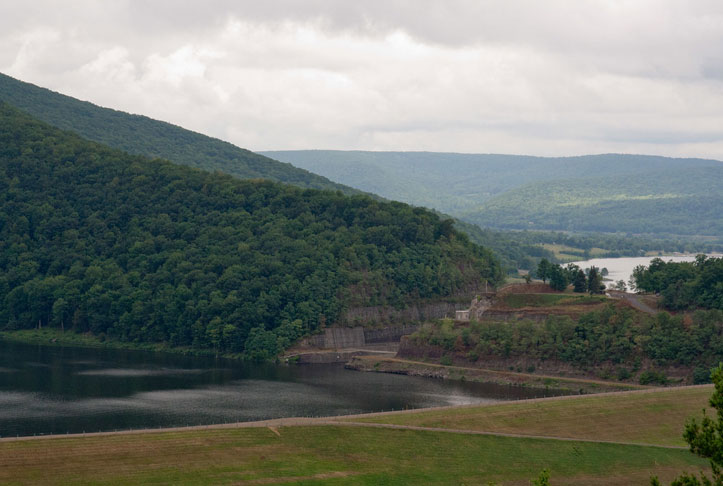 If you don't have time to hike, but want a memorable experience, go visit the Tioga Reservoir Overlook.
Visiting this spot is like viewing two scenic overlooks in Pennsylvania in one – because you are! Tioga Reservoir Overlook showcases two lakes (which serve as reservoirs for locals in the area) and the channel between the lakes.
The channel, where the overlook was perfectly built, allowed excess water in Tioga Lake to be funneled into Hammond Lake to help further prevent flooding.
And because the parking lot is just a quick walk away from the overlook, it's perfect for guests of all ages. Also, the overlook is safe with fencing and signs all over the place.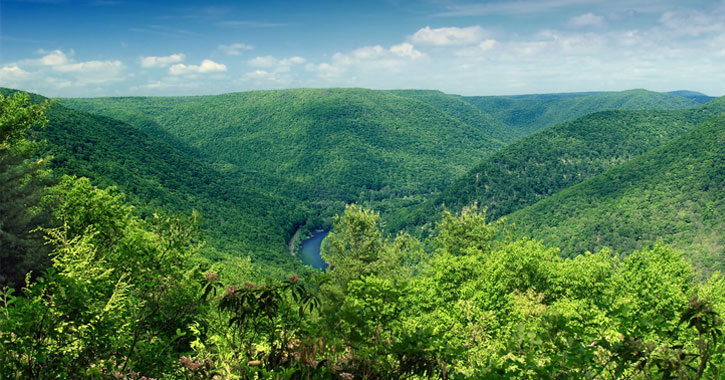 For scenic mountain views in PA, I recommend Sinnemahoning Canyon Vista for an off-trail, gorgeous overlook unlike others on this list.
It is located in the Bucktail State Park Natural Area in Cameron County and is one of 3 scenic vistas in the area.
To reach the spot, follow the gravel road at Montour Road and drive around 2.5 miles more until you reach a parking area (41.325393, -78.042696.) in the Elk State Forest.
100 yards south of the parking area, you'll see a gate where the 2-mile trailhead begins. Be prepared for another 3-mile hike going back.
The vista is located at 41.300091, -78.048657 and is completely free of any kind of development. You'll hear nature and enjoy one of the best views in PA without crowds.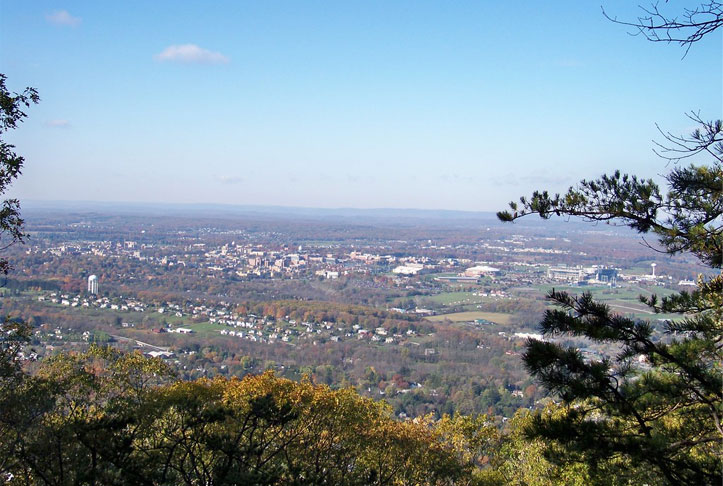 The way to this scenic overlook requires one of the best hikes in central PA. From the top, you can see the Beaver Stadium, Nittany Mall, Rockview Correctional Institute, and the western edge of State College.
The 2.3 km out-and-back trail near Lemont takes an hour to complete and is considered a moderately challenging hike. But it is dog-friendly and quite a popular spot for locals.
How Many Overlooks in PA are there?
You see, these 10 are just my favorites and I can vouch for their jaw-dropping beauty whether you visit in the fall, winter, or summer. Pennsylvania has so much more outlooks that I've lost count.
Many spots around the state also have 2 or more outlooks for every location, giving you a different vantage point when you're facing the other way.
If you're just passing by Pennysylvania and are interested in more scenic spots, don't miss my post about The Trail Ridge Road, Highway 12 Utah, or America's 20 Most Scenic Drives.
If you're spending more time around Pennsylvania, check out the ghost towns in PA, breweries in Pittsburgh, water parks in Pennsylvania, and beaches in PA (and this beach guide if you're visiting Lake Erie).