Are you interested in gem mining in Michigan, but have no idea where to start the hunt?
Don't worry. In this post, I'll talk about the legality of collecting gems in Michigan, the types of gems you can see around the Wolverine State, and other beginner gem-mining details you should know before traveling.
What Gems Can You Find in Michigan?
What is the rarest stone in Michigan? Are there gems exclusively found here?
Let's start with Michigan's state gemstone: Isle Royal Greenstone, or Chlorastrolites.
1. Isle Royal Greenstone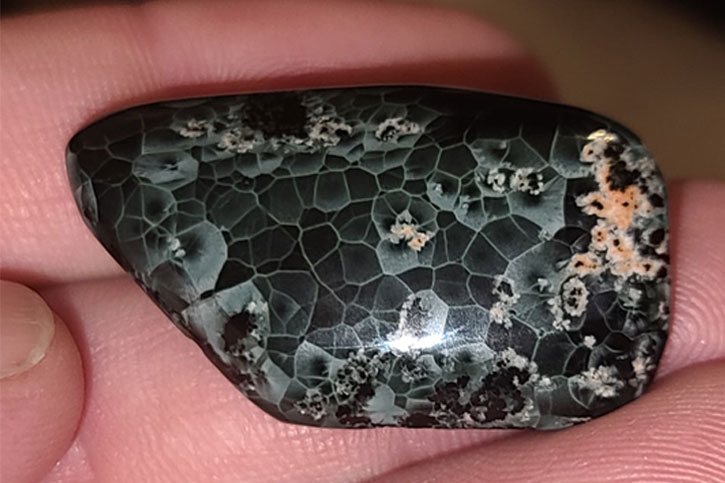 Isle Royal Greenstone (also known as chlorastrolite) is Michigan's state gemstone. These gemstones are rare and come in green, bluish green, or bluegreen color and one-of-a-kind turtle shell pattern (like the photo above). Other colors may also exist, when the stone has other color-changing minerals as well.
The name chlorastrolite originated from how minerals "crystallize" when hot lava cools down. These gemstones are found in Greenstone Ridge, where the largest lava flow in the country occurs.
Greenstones are usually small, no larger than an inch in diameter. This is why they're used almost exclusively for jewelry and not as showpiece for other bigger projects.
Where to find Greenstone in Michigan
Isle Royale National Park is the primary location of greenstones.
These gems may also be found in the Keweenaw Peninsula, most specifically at the Isle Royale Mines in Lake Superior and Delaware Mines.
2. Yooperlites
In normal light, Yooperlites® look like any ordinary gray rock. But once it's under UV light, they showcase their bright yellow and orange color.
Interestingly, it was only in 2017 when Yooperlites® were discovered and name by treasure-hunter Erik Rintamaki.
The best time to go hunting for Yooperlite is in the spring (from late-March to April) when snowmelt pushes the rock to the shoreline.
Where to find Yooperlites in Michigan
You can find Yooperlites in Michigan's Keweenaw Peninsula and Upper Peninsula, more specifically along the eastern beaches of Lake Superior.
3. Lake Superior Agate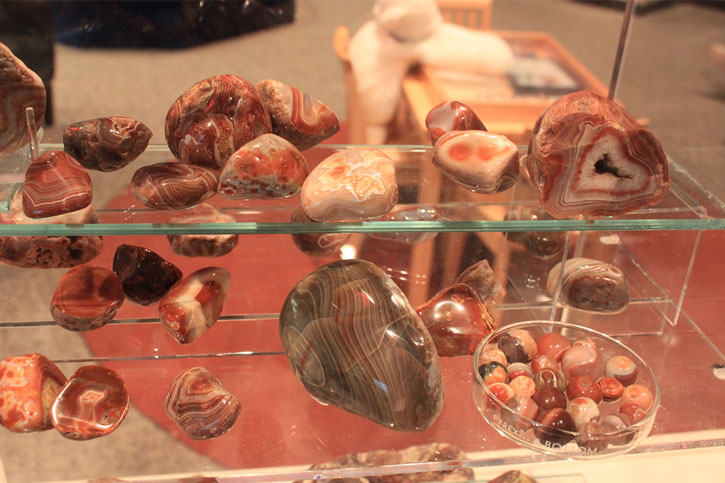 Lake Superior agates are notable for their rich coloring – a mix of yellow, orange and red hues caused by iron oxidation.
These agates usually have strips or swirls in tan, white, gray or black colors.
It's not allowed to collect in the Pictured Rocks National Lakeshore, but you can hunt for Lake Superior agates at other areas in Michigan's Upper Peninsula, such as gravel pits and beaches of Grand Marais, shores of Whitefish Point, and Copper Harbor in the northern Keweenaw Peninsula.
Where to find Lake Superior Agate in Michigan
As its name suggest, these agates are mostly seen along the shores of Lake Superior.
4. Thomsonite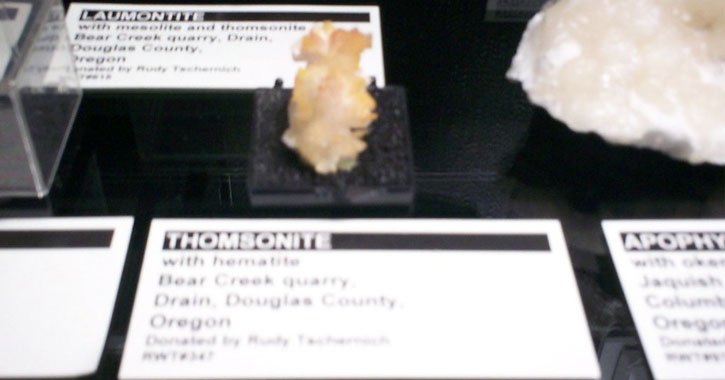 The Thomsonite of Michigan is one of the rarer zeolites. It is often colorless or white, beige with a tinge of red, yellow or green hue.
Thomsonites often occur together with other zeolites or enclosed in basaltic volcanic rocks. When you see thomsonites sold as gemstones, they're often hiding in plain sight on beach pebbles.
Where to find Thomsonite in Michigan
While very rare, Thomsonite has been reportedly seen around the Copper Harbor Conglomerate in northern Keweenaw Peninsula, and the Greenstone Ridge Formation of Isle Royale.
5. Datolite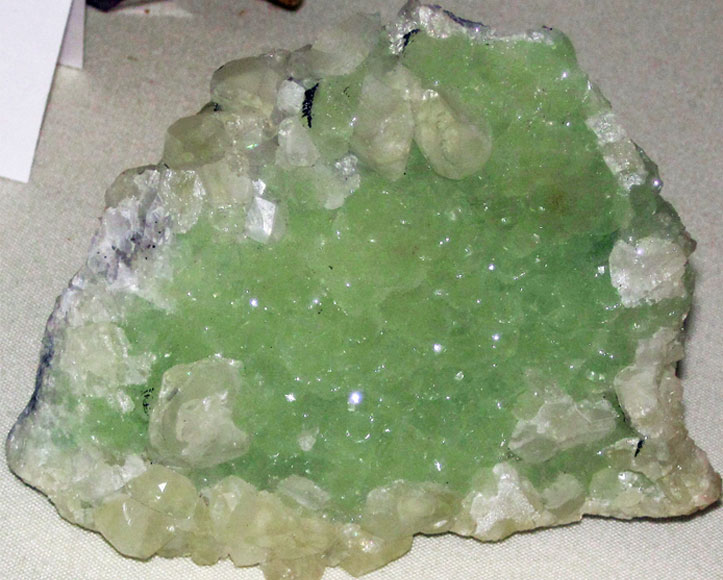 Datolite is a calcium borosilicate mineral characterized by the presence of the element boron.
Datolites, which you can see above as light-colored white and green around the edges, are known for their fine, colorless, and crystal-like appearance.
Where to find Datolite in Michigan
Datolite is primarily found in the copper mines of the Keweenaw Peninsula.
If you find one, datolite can be polished effectively due to its dense texture.
6. Petoskey Stone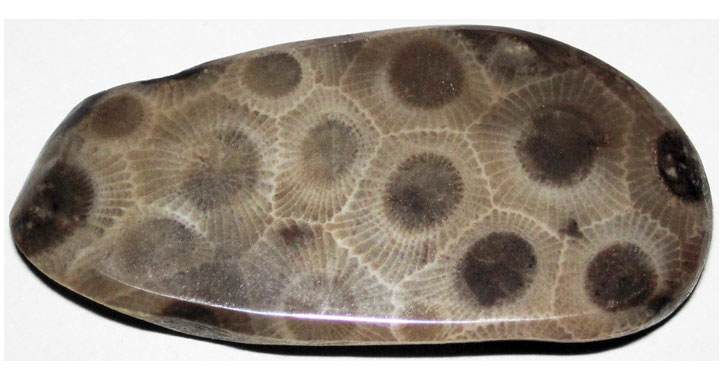 Petoskey stone is Michigan's state stone. It is a fossilized coral with a unique honeycomb pattern, making it a preferred stone for jewelry pieces.
You can find Petoskey stones are either cobbles or rounded pebbles, usually in clusters. You're allowed to take some, but not a LOT.
Where to find Petoskey stone in Michigan
Along the shores of Lake Michigan, Lake Huron, and surrounding areas.
Petoskey stones are found specifically at:
Orchard Beach State Park in Manistee;
Pt. Bestie Lighthouse in Frankfort;
Bayfront & Sunset Park, Magnus City Park Beach, and Petoskey State Park in Petoskey;
Sleeping Bear Dunes National Lakeshore, Empire Beach, and Leelanau State Park of Leelanau County;
Charlevoix areas Beaver Island, Fisherman's Island State Park and Lake Michigan Beach, North Point Nature Preserve, and Mt. McSauba Beach.
It is most ideal to go beachcombing for Petoskey stones after a storm.
7. Leland Blue
Leland Blue is a greenish blue-looking "stone." It's technically NOT a stone and was man-made (by mixing blue glass with other chemicals).
Leland Blue was born out of the effects of Leland Lake Superior Iron Company, a company which operated an iron smelter from 1870 to 1884. The company used to dump slag into the harbor and with time and the elements, resulted in this blue slag.
Nonetheless, Leland Blue is still one of the most sought-after beach slag glass in Michigan thanks to its bright color.
Where to find Leland Blue in Michigan
True to its namesake, you will find Leland Blues primarily in the Leland area.
8. Jaspilite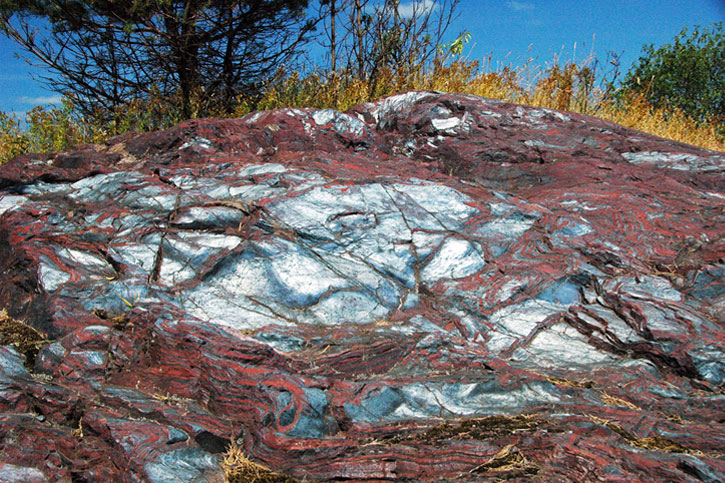 BIFs (banded iron formations) are sedimentary rocks made of alternating layers of iron-rich oxides and iron-rich silicates.
Jaspilite is a type of BIF characterized by its red and silver color. It is made of a mix of red chert (jasper) and hematite.
The Jaspilite you see today are the last of their kind – they were created in the Proterozoic age and are extinct.
Where to find Jaspilite in Michigan
Jaspilite can be found in the Menominee Iron Range of Michigan's Upper Peninsula.
Is Mining Gems Legal in Michigan?
If you're visiting any park under the National Park Service, collecting or mining any kind of gem you find is illegal.
Michigan National Parks that do not allow mining gems include Isle Royale National Park, Sleeping Bear National Lakeshore, and Pictured Rocks National Lakeshore.
You can visit the following locations instead:
Van's Beach, Leland.
Petoskey State Park.
Point Betsie Lighthouse Beach, Frankfort.
Empire Beach.
Mission Point Lighthouse, Old Mission Peninsula.
Barnes Park, Antrim County.
Peterson Park, Northport.
Christmas Cove, Northport.
Do note that there's still a limit. According to State Land Rules by the Michigan Department of Natural Resources, it is illegal to remove over 25 pounds of any rock, mineral specimen, or invertebrate fossil from any state-owned land.
Fee-to-Dig Sites Where You Can Legally Collect Rocks in Michigan
So if national parks is a no-go and you don't want to push your luck in the beach or other Michigan public areas, where can you find rocks and gems in Michigan that you can take home safely?
You're probably looking for Fee-to-Dig Sites. Here are some of your options: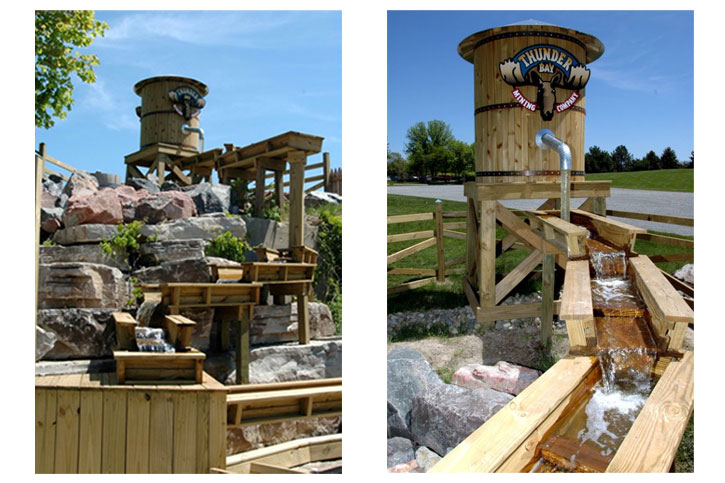 Hours: Open daily 10 am to 7pm, but closed for winter
Michigan gems found here: adventurine, sapphire, quartz, obsidian, peridot, crystal points, raspberry quartz, topaz, smokey quartz, moon stone, amethyst, emerald, fluorite, rose quartz, sodalite, calcite, citrine, pyrite, garnet
Owned by the same people managing Bavarian Belle Riverboat, Thunder Bay Mining Company is a fun side stop where miners of all ages can sift for gemstones and fossils.
Thunder Bay Mining Company uses an old school wooden water flume. If you're lucky and you get see all the gems after sifting, you can compare with others and identify your treasures.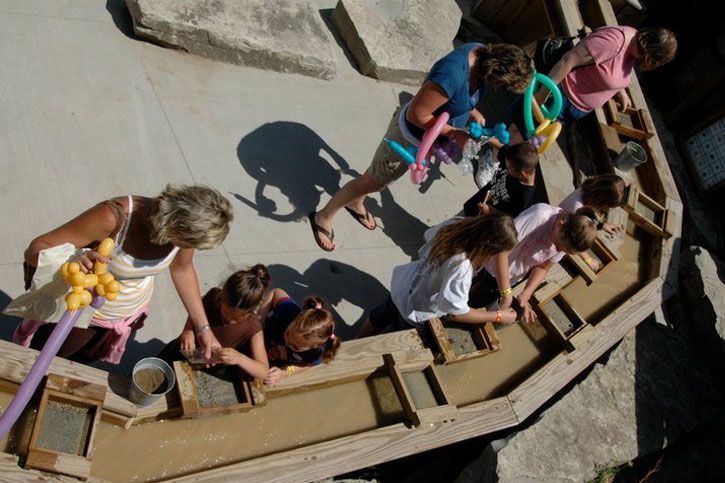 The shop also offers several bags that have some of each of the minerals and gemstones. The bag ranges from $8 to $28.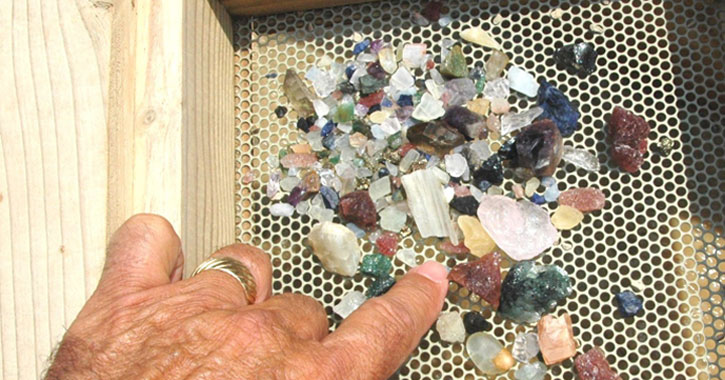 Thunder Bay Mining Company accepts reservations for big groups and birthday parties.
Delaware Copper Mine Tours isn't focused on the hunt, but gives you a pretty cool experience.
There are very few mines left in the country that allow you to go down the mine shaft totally without a guide. The lights there aren't even "exceptionally bright" – the soft light feels like how miners used candles in the 1800s.
Before visiting, note that the Delaware Copper Mine Tours:
* Includes a 100-step trail down the mine.
* Can get cold, about 40 degrees, so be prepared with a jacket.
* Doesn't really have "digging" involved, but you can buy cool copper items at the gift shop.
Note that the place only accepts cash or check.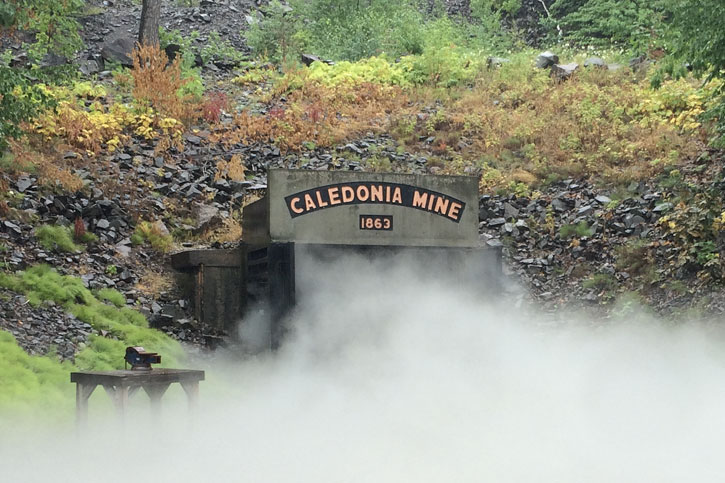 Location: Caledonia Rd, Ontonagon, MI 49953
Hours: During the season, the mine is open Thursdays, Fridays, and Saturdays. (Each season begins on Memorial Weekend)
Michigan gems found here: Agate, azurite, quartz, copper crystal, cuprite, chlorite, calcite, basalt, datolite, epidote, feldspar, goethite, gerhardite, hematite, limonite, malachite, prehnite, tenorite, and pumpellyite, among others.
Caledonia Mine is an interesting place that lets you experience what Paleo Americans have been mining since 2000 BC.
This family-run mine used to be an underground, walk-in copper mine that operated from 1863 to 1870 when the mill burnt down.
Today, Caledonia Mine holds educational programs and running piles, which you'd have to reserve before going.
Prices of "Ore Pile" plans range from $50 to $250, depending on the number of adults and hours.
Done Gem Mining in Michigan?
If you enjoyed your gem mining experience in Michigan and want more, plan for your trip to Ohio and make an itinerary with these 8 Ohio gem-mining spots.
If you're extending your stay in Michigan, check out my guides about the best Michigan beaches (or Lake Huron beaches if you're visiting Lake Huron specifically, the things to do in Mackinac Island, and my favorite Grand Rapids breweries.