There is nothing like gem mining in Ohio to get a great souvenir out of a fun activity.
Gem enthusiasts love to go gem mining in Ohio for the great variety of stones and crystals that can be found.
But gem mining is also a great activity for complete beginners just looking for a fun day-out-of-town destination.
State parks and caves are the most common locations for gem mining stations in Ohio.
For this reason, I recommend taking some time to explore the surroundings and make your gem mining afternoon into a nature getaway.
Let's explore your 8 best options for gem mining in Ohio, and find the perfect weekend destination for gem lovers.
Best 8 Spots for Gem Mining in Ohio – Caves & Rock Farms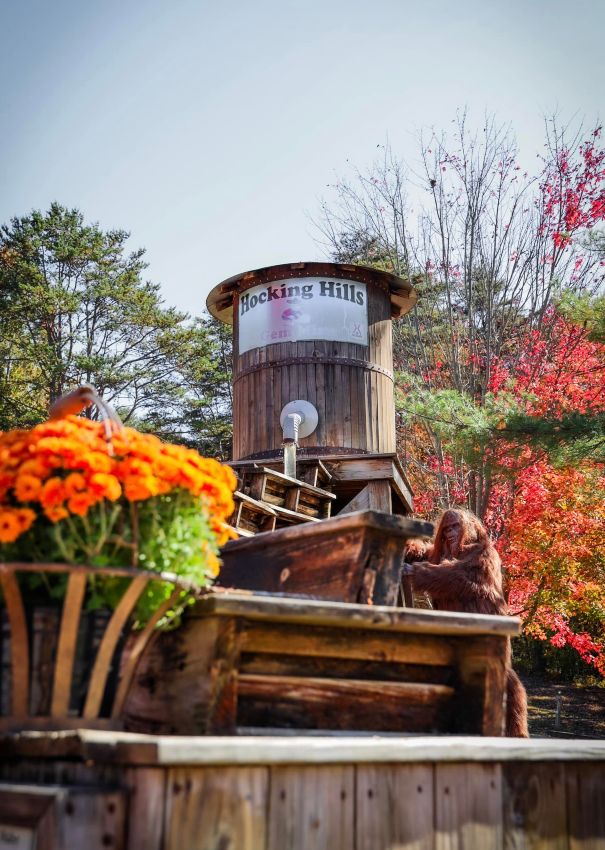 You might know Hocking Hills State Park for the many hiking trails, lakes, and waterfalls, or for its massive caverns, but in the park, you'll also find one of Ohio's best gem mining stations.
At Hocking Hills Gem Mine you'll get friendly and knowledgeable staff and three different options for gem mining.
You could start easy with the Lil Prospect gem buckets, but for the best selection of gemstones, I recommend going for the Motherlored bucket.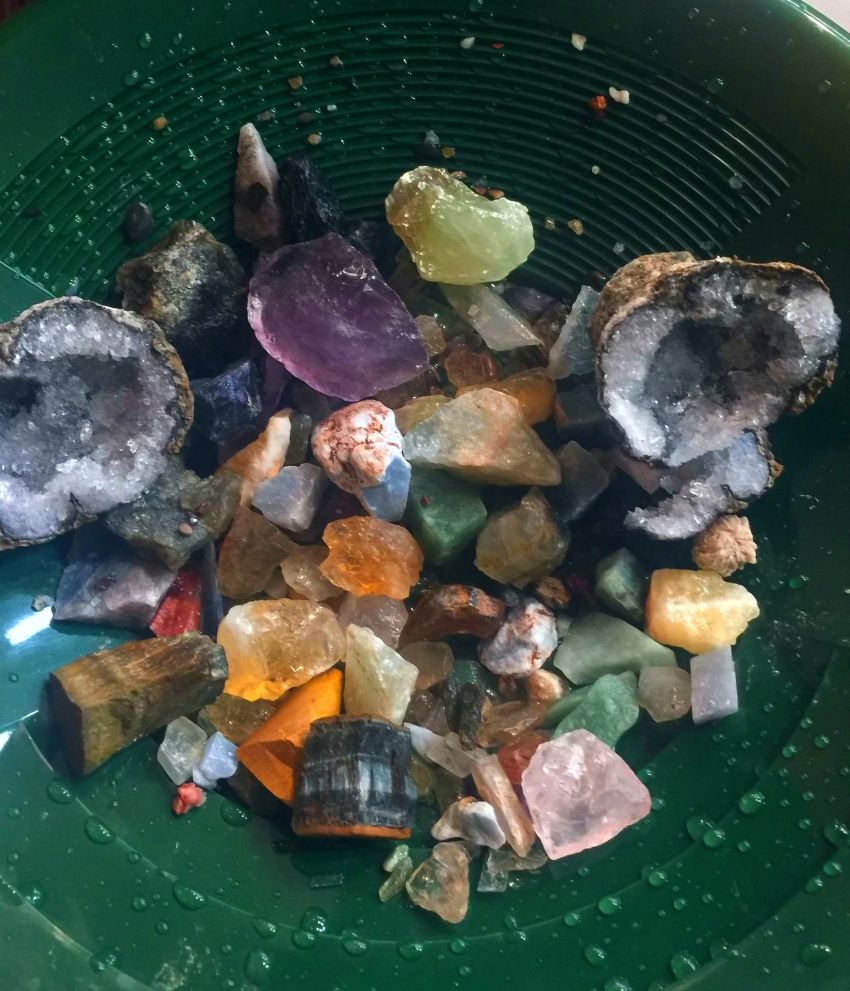 While the Motherlode bucket could seem a bit expensive (around $57) it's worth it, especially if it's shared by multiple people.
For example, it's a great choice for families with children looking for cooperative quality-time activity.
Hocking Hills Gem Mine also offers the possibility to examine your stones under a microscope, to better determine the type and nature of the smaller rocks you've mined.
You might even find some larger geodes. In that case, the staff will help you crack them open with a hammer to discover the hidden crystals inside.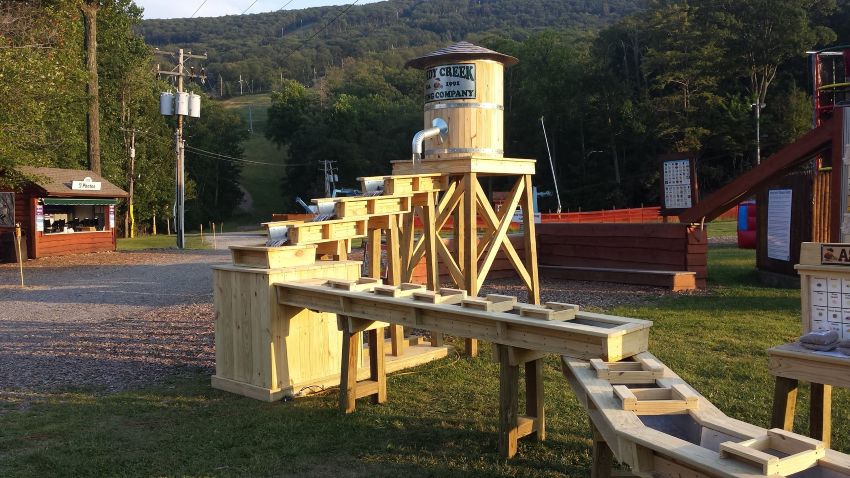 Sant Fork State Park is a very popular destination among all outdoor lovers and is most famous as a great hiking, boating, and camping area.
But there's more to the state park than just stunning views.
At Salt Fork, you'll find a wide choice of outdoor activities, from kayaking to golfing, and of course gem mining.
While Salt Fork state park doesn't directly offer gem mining, Sandy Creek Mining has an ongoing collaboration with the park, so you'll be able to purchase rough from them.
The activity is mostly intended for children but can be enjoyed by anyone.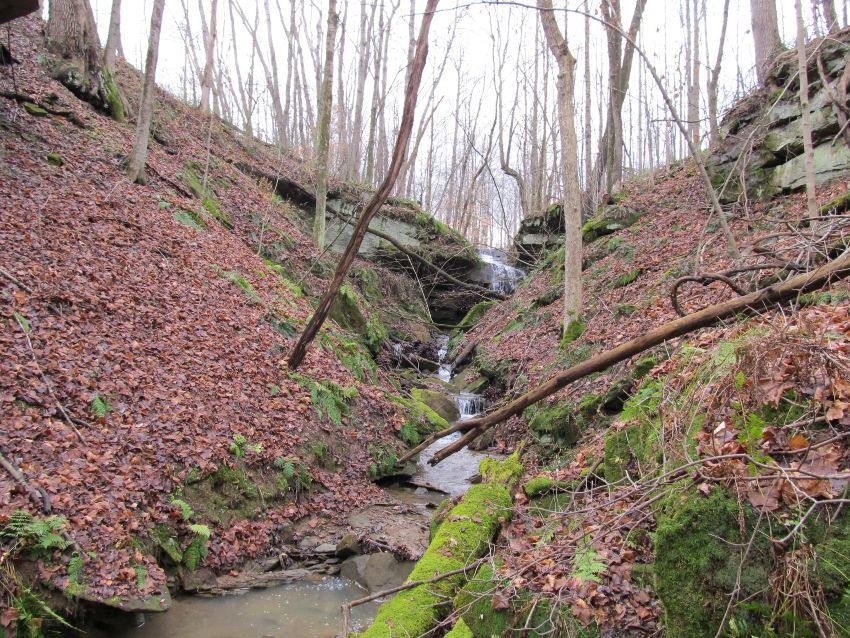 Participants will have bags of rough at their disposal and will be able to separate the gems (plus arrowheads and fossils, for those interested) from the waste.
Afterward, you'll get to explore a sluice and learn sifting "the old way".
Most of what you'll find gem mining at Salt Fork State Park is "tailings", which are hard stones below gem quality, meaning they usually cannot be turned into jewels.
However, the bags of rough are very rich and variegated in content, so chances are you could find anything from sapphire to rubies and emeralds, to fossils, trilobites, and even corals.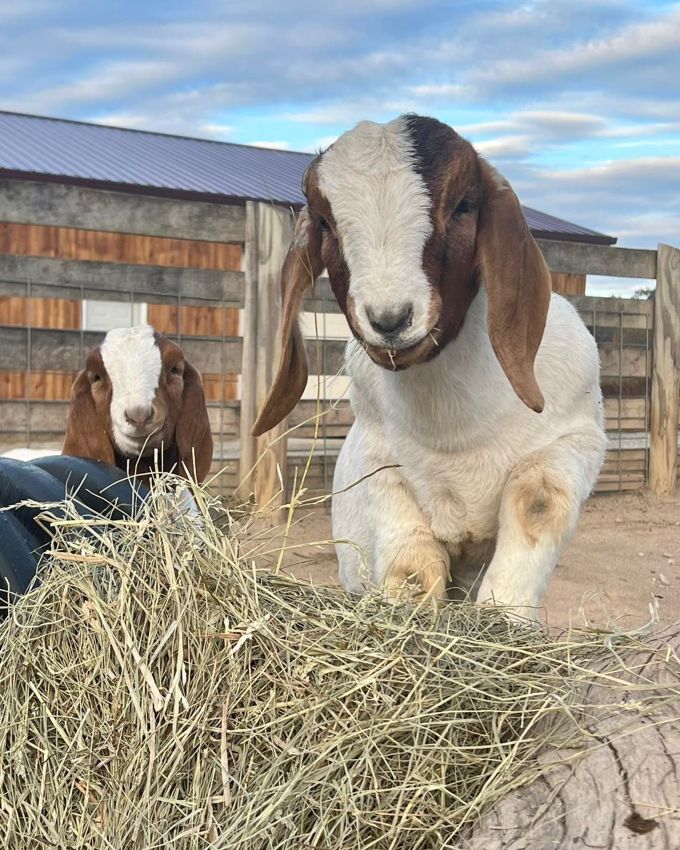 For a great family day, with both gem mining and a petting zoo at an affordable price, I can recommend Fox's Hick Rock Farm.
Children will simply adore this location feeding the goats, horses, and cows, while adults will enjoy the peaceful setting and gorgeous natural surroundings.
I recommend this location for those looking for a fun-filled day, in a wholesome and tranquil environment.
From Barbara to Lisa and Gretel, every animal at Fox's High Rock Farm has a name and a story.
You can even check out the many pet members of the family before getting to know them in real life.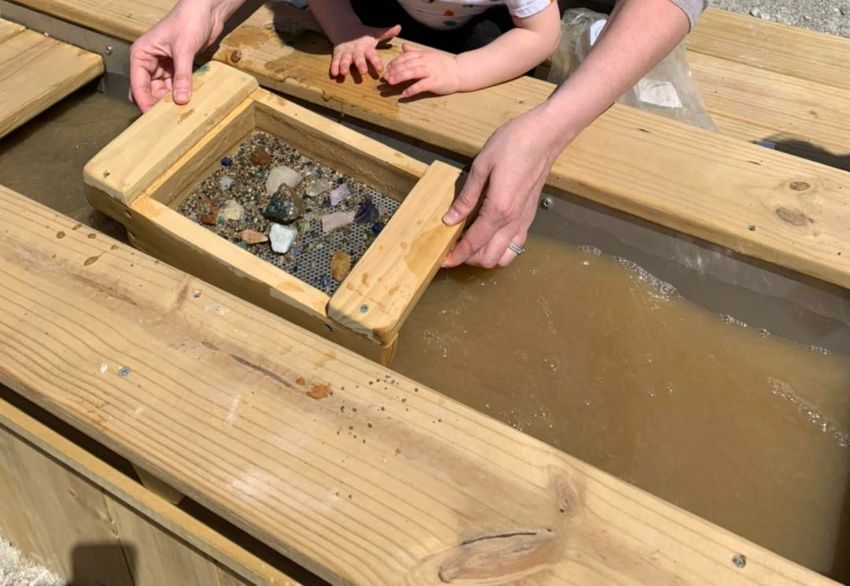 There are a few gem mining bags you can choose from. The smallest rough bag is the Paydirt and will get you only 3lb.
However, I would say the bigger the bag, the bigger the fun. The largest and most expensive option is the Mega Stryke around $55 gets you more than 20lb.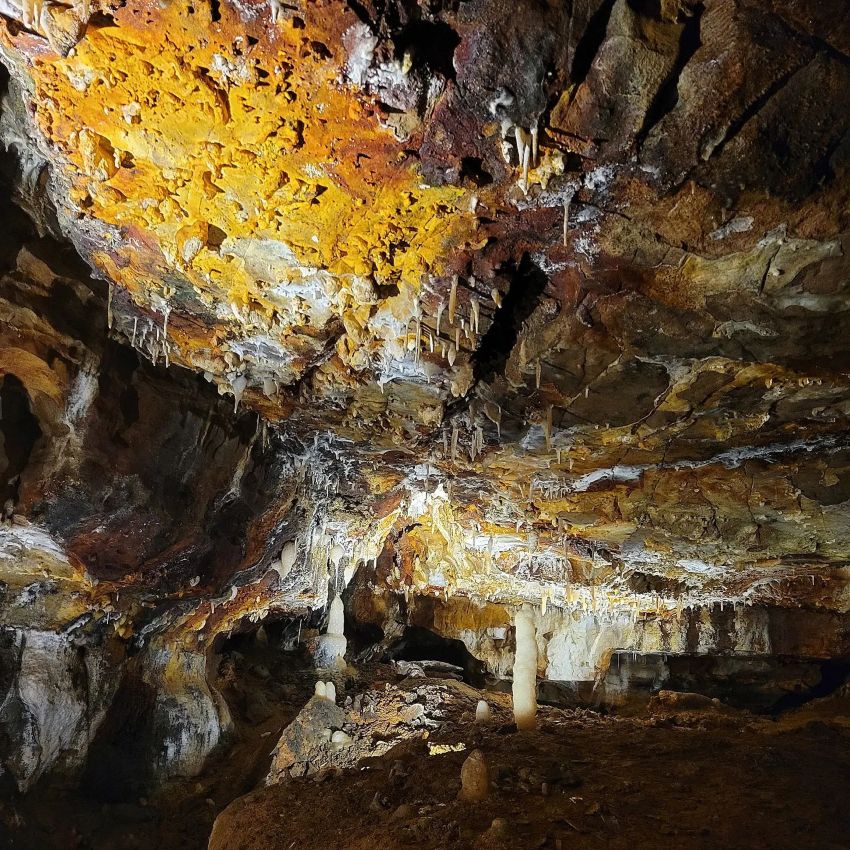 Ohio Caverns are the largest and most widely popular caves in the state, and they definitely deserve the fame and recognition they get.
If you're interested in exploring the caves, check out my guide to the best caves in Ohio, where I went into more detail about the Ohio Caverns guided tours.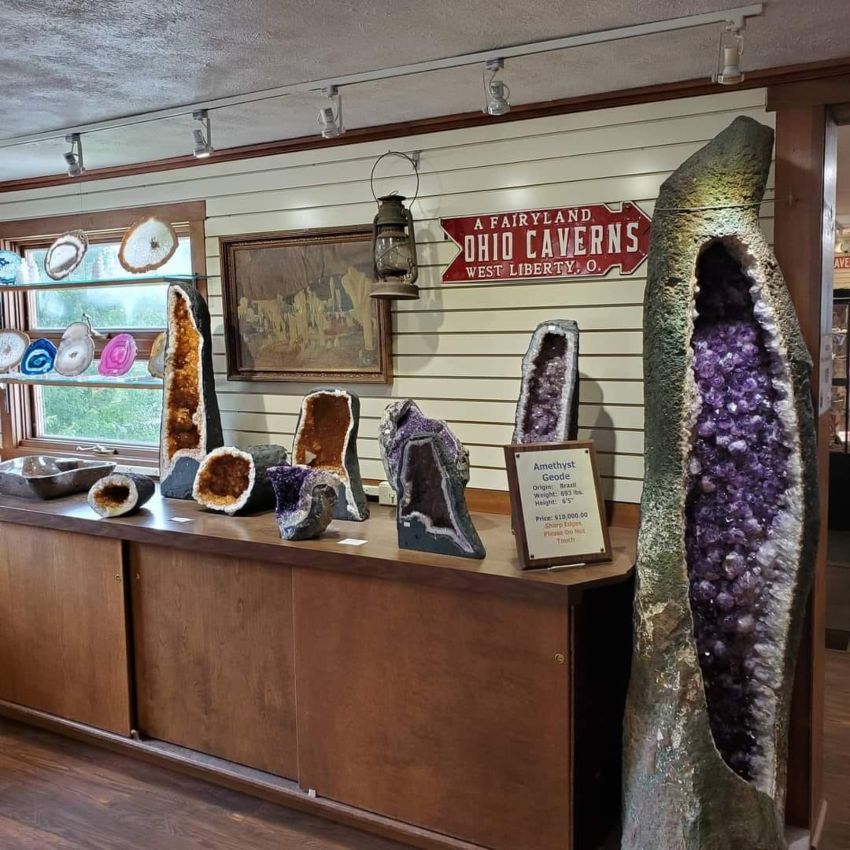 At the caves, you can mine for both gems and fossils. You'll find bags of rough for sale at the cave's gift shop, varying in weight and price from 3 pounds (cheapest option, for $6) to 20 pounds ($50).
The most popular choice is the Motherlode bag of rough for $25, where you'll likely find amethysts and could even score some emeralds.
I recommend the motherlode sifting bag for the best value for money.
This is the perfect gem mining destination for beginners who would love to learn more about identifying gems.
Gem mining is possible year-round at Ohio Caverns as there are two designated gem mining sluices, the main outdoor one for warm weather, and a smaller indoor one for winter time.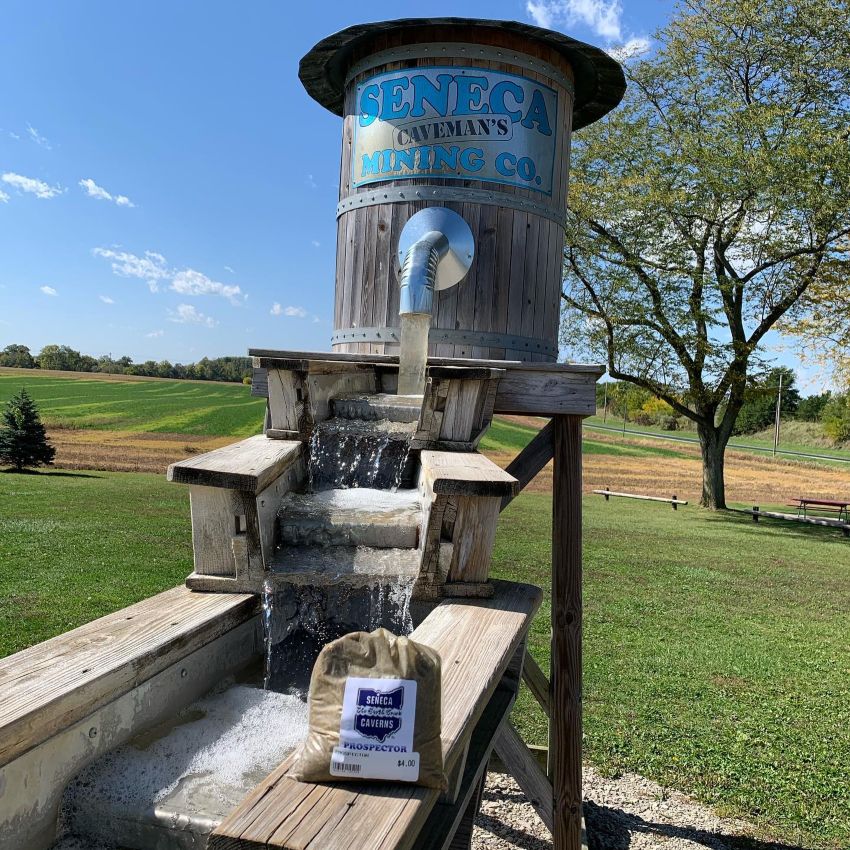 Seneca Caverns are a great destination for a nature-immersed getaway.
If you have some time to spare, I recommend checking out also Flat Rock and Blackwater falls which are located close by.
After exploring Seneca Caverns, nothing beats a trip to the gift shop for some gem and fossil mining.
Children and adults will love this activity as it perfectly complements a visit to the caves, providing some relaxation (well deserved, after the 1-hour walking tour), and a unique souvenir to take home.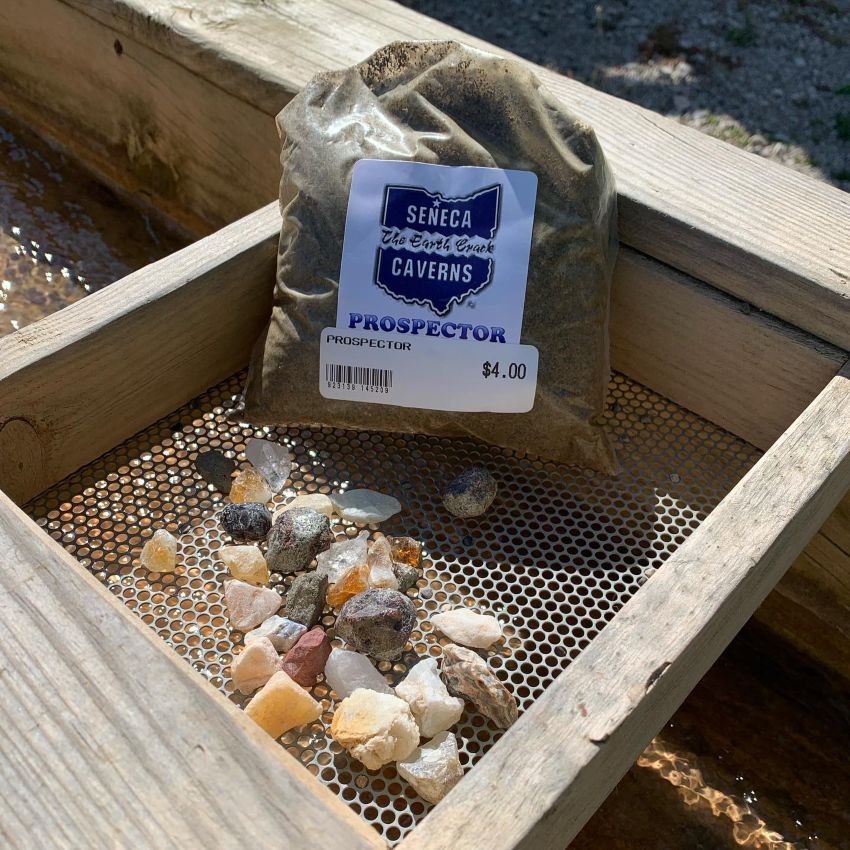 The rough bags at Seneca Mining Company are reasonably priced (between $4 and $28) and filled with not only gems but also minerals, fossils, arrowheads, and crystals.
The gem mining activity ends with a trip to the working sluice complete with flowing water.
At Seneca Caverns, you're in for some serious treasure haunting, with many gorgeous gems potentially hidden in the rough from sapphires, to amethysts, rubies, fluorite, and quartz.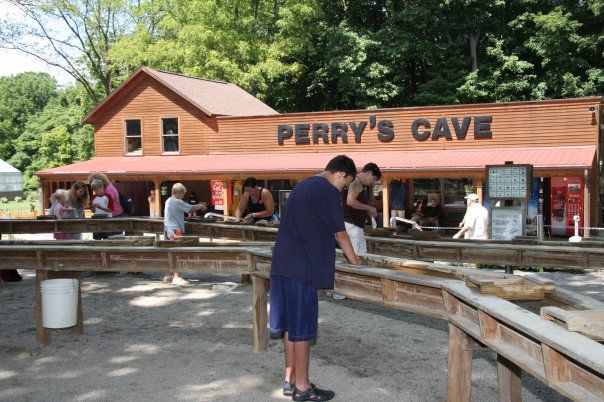 Perry's Cave is called a family fun center for a reason. Especially for families with children, Perry's Cave will guarantee a day of never-ending fun and entertainment.
Even if you're mostly interested in gem mining, I recommend exploring the caves and the magical underground lake (you can learn more about this mesmerizing and mysterious destination on my Ohio caves guide).
If you're looking to take home a real treasure, you can buy geodes at the gift shop and ask the staff to cut them for you.
The gorgeous crystals hidden in the geodes can make for a perfect nightstand display item or a unique gift for a friend.
Bags of rough are also available to buy at the gift center for classic gem and fossil mining.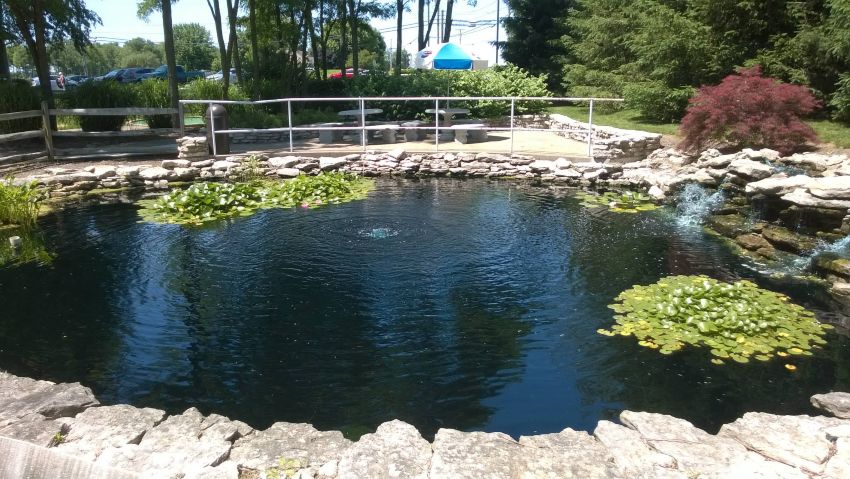 Nothing beats an afternoon of gem mining, except maybe for gem mining & mini golf, and at Paradise Park, you get both.
The whole family will appreciate this location, as while the children can enjoy gem mining and mini golf, the adults will love strolling along the gorgeous estate.
Even on a hot summer day, you'll find shade at Paradise Park, as it's far from the usual super-landscaped and artificial miniature golf spots.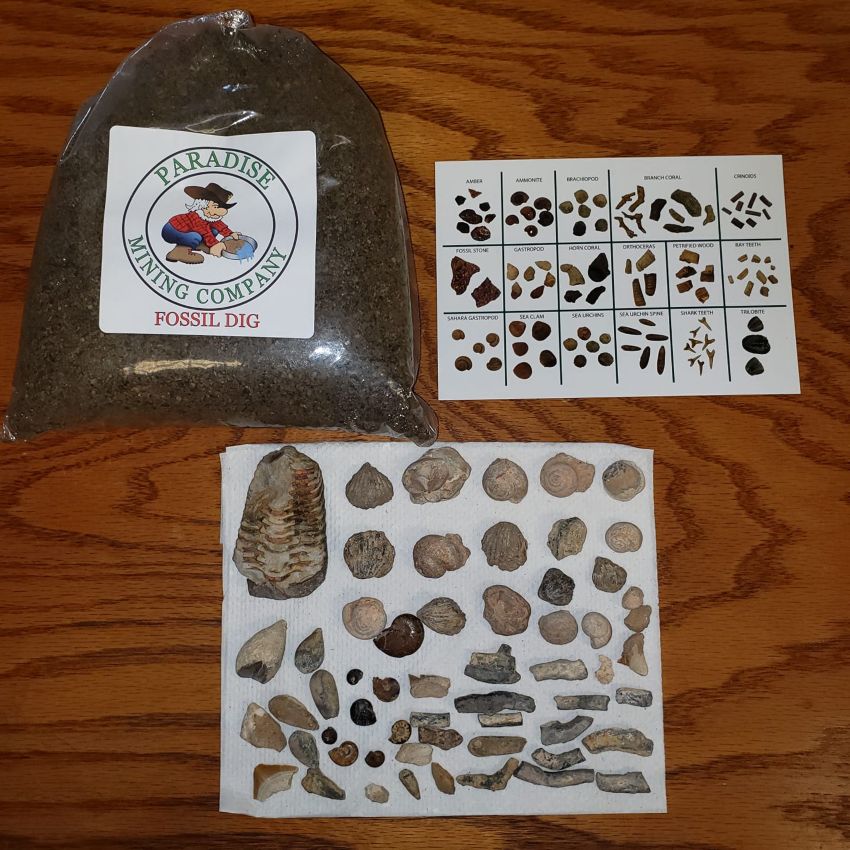 There's a gem mining station, and you'll be able to purchase different-sized bags of rough and comb through them for some fun treasure hunting.
And if you love a healthy and sweet snack in between fun activities, you cannot miss out on Paradise Park's famous ice cream.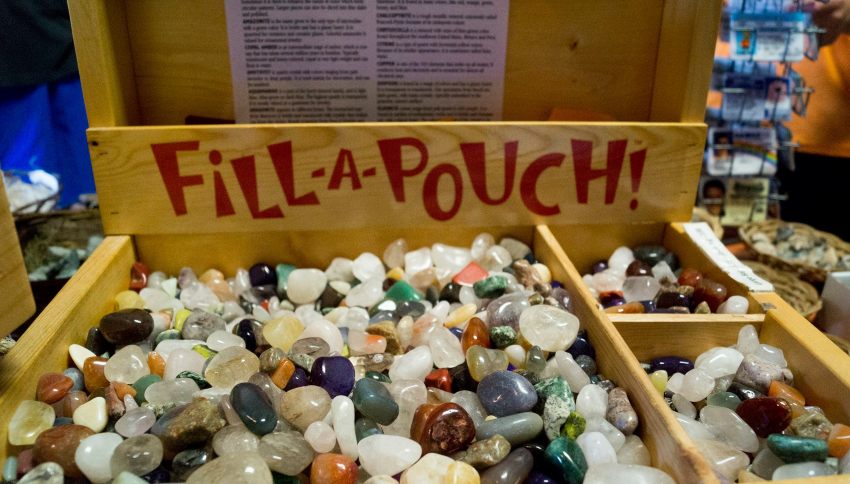 Island Mining Co is not only a gem and jewelry store but also a gem mining station.
After purchasing a bag of rich soil, you can grab your mining trails and head outside.
There's a huge gem mining sluice outside, with running water, where you'll be able to comb through the rough and discover the hidden crystals and stones.
The store also sells jewelry made of similar stones and crystals to those present in the soil bags.
Some of the stones you might find are calcite, tiger eye, and amethyst.
Best Gemology Courses to Check Out Before Gem Mining in Ohio
If you want to learn more about gems before going mining, I recommend checking out the online courses offered by the International Gem Society.
You can learn about where the best gems in the world can be found, and how to identify and treat gems.
I especially recommend these courses to those interested in pursuing gemology as a career as well as a hobby.
To access the courses and articles you'll need a Gem Enthusiast subscription for $12/month.
Other Caves are Worth Exploring
If you love gem mining, you probably enjoy a nice cave.
Cave exploring can be fun, and Ohio offers plenty of choices, from show caverns featuring guided tours to secluded caves in the middle of nature that you can only reach after a nice hike.
And for real gem enthusiasts, it doesn't get much better than diamond digging in Arkansas.