If you're planning an exciting trip, the mysterious and scenic caves in Ohio are worth checking out.
There are many more caves in Ohio than you might think, scattered everywhere around the state.
Whether you love exploring the caverns in complete autonomy, flashlight in hand, or looking for guided tours of more touristic caves, Ohio offers plenty of choices.
Keep reading my guide to learn more about the diverse landscape of the caves in Ohio, and find your next weekend destination.
4 Largest Caves in Ohio (With Guided Tours)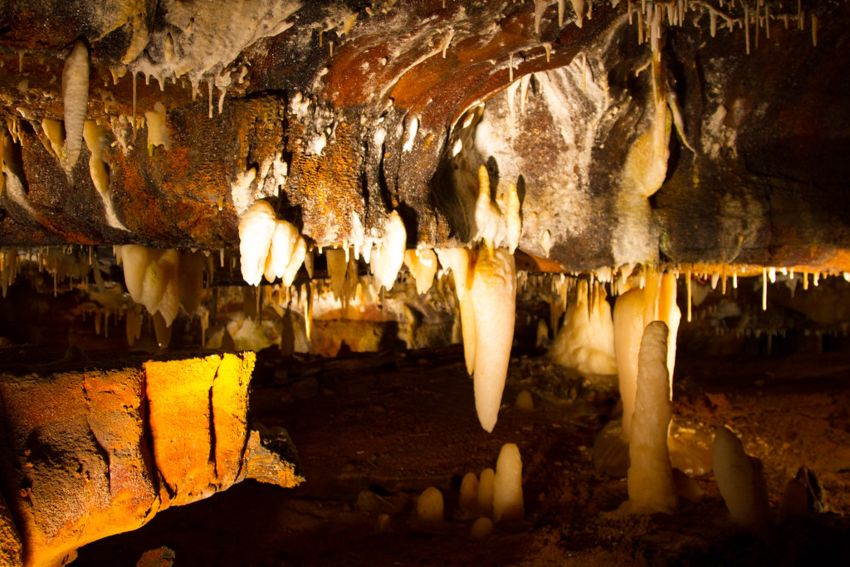 Location: 2210 OH-245 E, West Liberty, OH 43357, United States
The Ohio Caverns are the largest in the state, and one of your best choices regarding guided tours and fun activities.
The caves are open year-round, with different tours available throughout the seasons.
The Natural Wonder Tour focuses on the cave's rock formations, making it perfect for those interested in learning more about the location's geology. It's available from May to September and lasts about 50 minutes.
In the summer, the Ohio Caverns are also an accessible cave destination for people with disabilities, with the Limestone Tour being specifically designed for visitors with walking difficulties.
On the Historic Tour, you'll follow the footstep of past explorers that visited the cave between 1897 and 1925. You'll descend into the cave from its original entrance, and walk the first-made paths through the caverns.
In wintertime (October through April) there is one tour available, the Winter Tour, which combines all the best bits from the Natural Wonder and Historic Tour.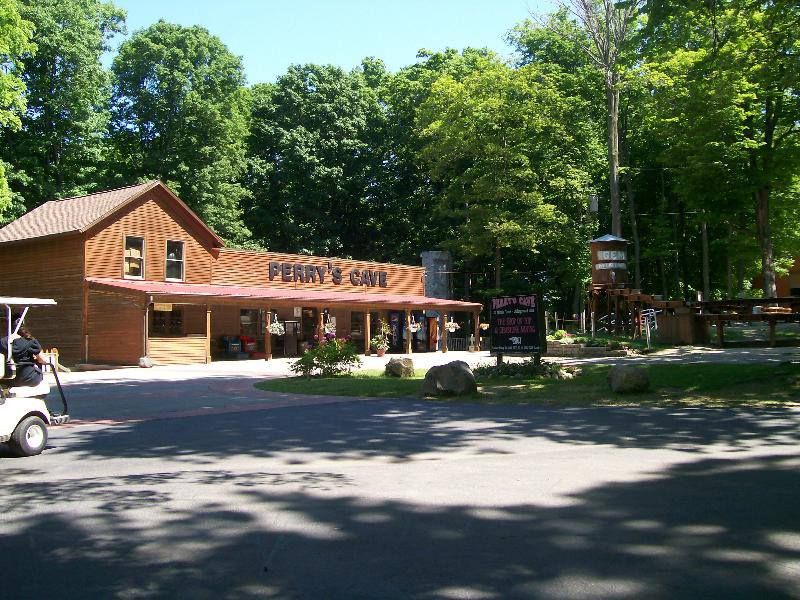 Location: 979 Catawba Ave, Put-In-Bay, OH 43456, United States
As the name suggests, Perry's Cave Family Fun Center is a great destination for an exciting family getaway. There are enough activities to keep children and adults entertained and make lasting memories together.
With a magical atmosphere and a mysterious underground lake, Perry's cave is the main attraction.
The lake is connected to Lake Erie, and the water level is somehow linked to Lake Erie's tides, however, we still don't know exactly how this is possible.
Especially in the summer, Perry's cave is a great destination to escape the heat, as the temperature underground is fixed at 52 degrees.
Apart from the cave, the Family Fun Center also includes other attractions such as a maze, mini golf, a rock climbing wall, and the newly added butterfly house.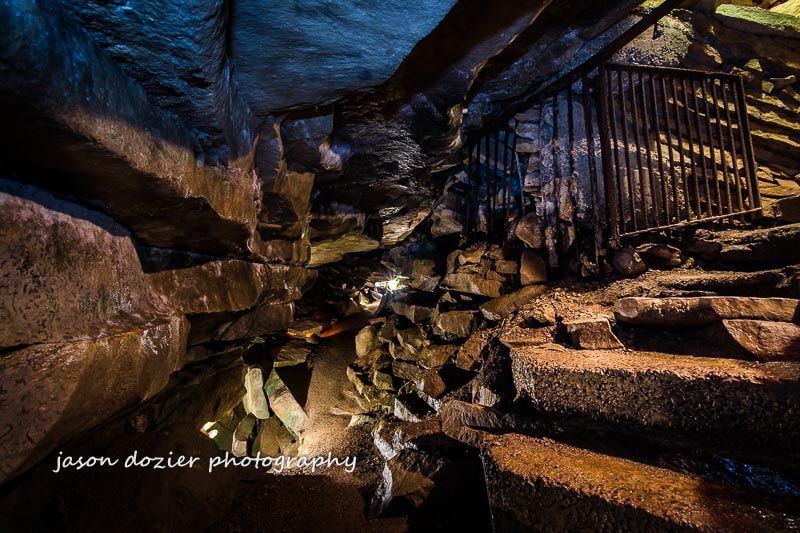 Location: 15248 E Township Rd 178, Bellevue, OH, United States
While these caverns can be visited pretty quickly, you can check out Seneca Caverns on your way back from the famous Flat Rock, and make it a one-day getaway.
There is one main guided tour of the caverns, which lasts about one hour and dives about 165 feet underneath the ground.
Seneca Caverns are famous for its diverse array of rock formations, which will amaze even the more navigated cave explorers.
If you're interested in mining and bringing home a unique souvenir, you can purchase a bucket from the cavern's gift shop and try your luck.
For the more adventurous, there are many activities available in the naturalistic area surrounding the caverns, from exploring the Nelson Rocks Preserve, to rock climbing at Seneca Rocks, and even horseback riding.
If you're looking to add one more stunning location to your itinerary, Blackwater Falls are gorgeous and located just one hour from Seneca Caverns.
Unfortunately, Seneca Caverns are currently closed, but they are scheduled to open again as soon as the staff shortage issue is solved. Check the website to stay updated on the reopening.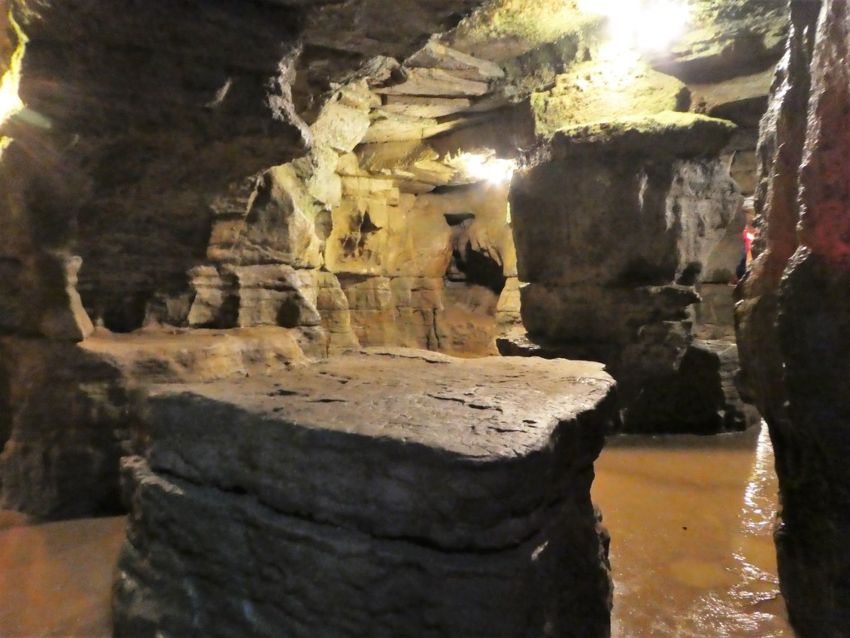 Location: 1779 Home Rd, Delaware, OH 43015, United States
Make Olentangy Caverns part of your summer bucket list if you'd like to explore a three-level cave with water-carved pathways.
Olentangy Caverns are one of the local families' favorite weekend locations in the state, and it's especially great for small children, which will have a great time between the caves and the petting zoo.
There are no guided tours, but you can get on the Self-Guided Tour and explore the caverns on your own, while still learning valuable information.
There are 7 audio stations scattered across the caverns and the whole tour takes about 30 minutes to complete.
There is also a fun and educational petting zoo, featuring all of the most popular farm animals from goats to chickens, pigs, rabbits, and more.
The Caverns are closed during wintertime but will reopen in the spring on April 1st.
5 Stunning Caves in Ohio to Explore in Complete Autonomy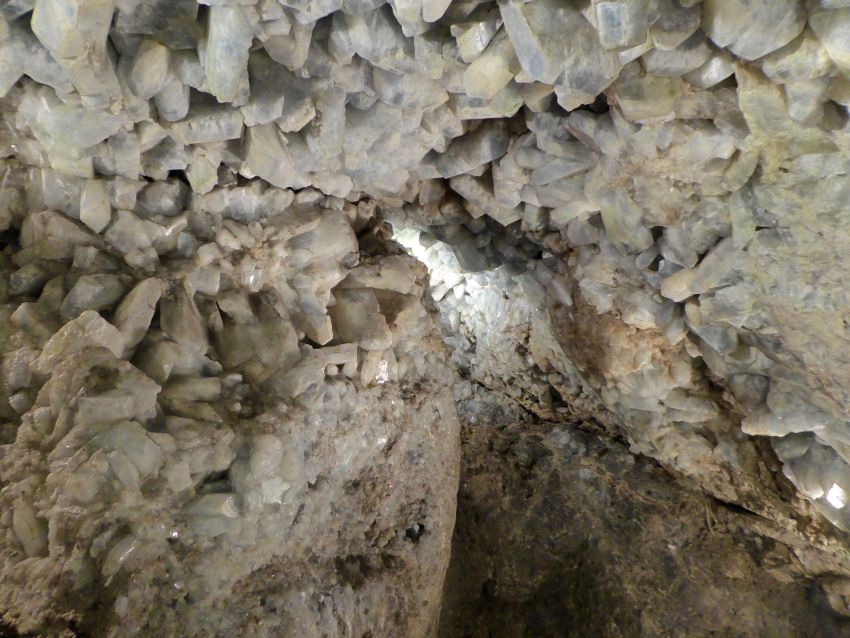 Location: 978 Catawba Ave, Put-In-Bay, OH 43456, United States
If visiting a crystal cave with a glass of wine in hand sounds like the unique afternoon you were waiting for, you cannot miss out on Crystal Cave at Heineman's Winery.
This is an awesome, unusual location, complete with an interesting history.
The cave was discovered by accident in 1897, by people working at the construction of a winery.
The winery still exists, and visiting the cave goes hand in hand with trying the local grapes. Children can visit the cave for free, but for adults, the cost of the ticket includes a 5oz glass tasting of locally sourced wine.
Entering the cave you'll be inside a great geode, with the internal walls completely covered in stunning celestine crystals, also known as strontium sulfate.
The cave is open May through September, from Monday to Sunday.
6. Ash Cave at Hocking Hills State Park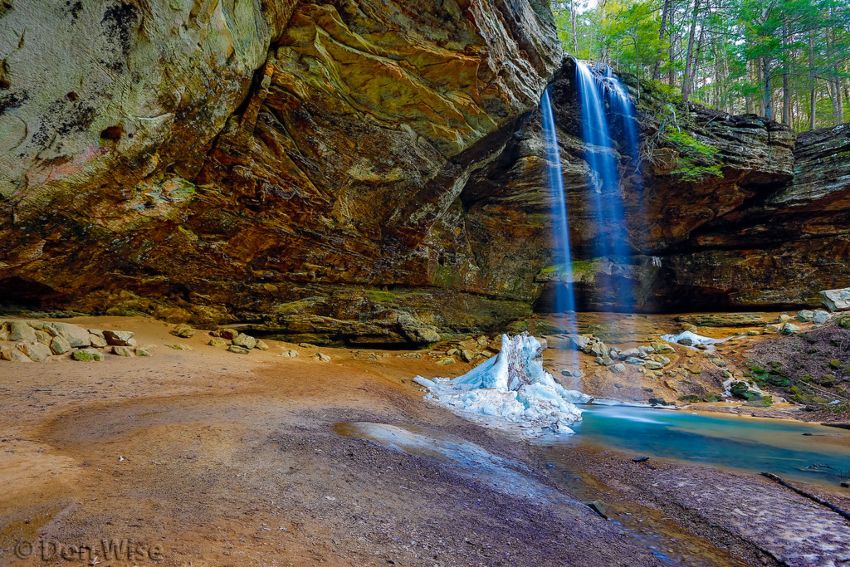 Location: 26400 OH-56, South Bloomingville, OH 43152, United States
Ash Cave is located within Hocking Hills and it is a simply spectacular destination.
This natural cavern boasts a wide arch (700 feet wide) reaching 90 feet in height.
A natural waterfall flows from the cavern's rim and the whole area is covered in deep woods, giving this location a magical, otherworldly atmosphere.
There is no guided tour for this cave, but you can reach it autonomously through a short and fairly not demanding hike (less than 5 miles loop).
The path is paved and not steep, accessible by wheelchairs and even strollers for children.
After following the trail for about 15 minutes you'll reach Ash Cave and the waterfall, but there's more hiking around if you're in the mood for it.
Once you get to the cave, you can get on the path to Cedar Falls, which is just 4 miles round trip and slightly more challenging than the hike for Ash Cave.
7. Whispering Cave at Hocking Hills State Park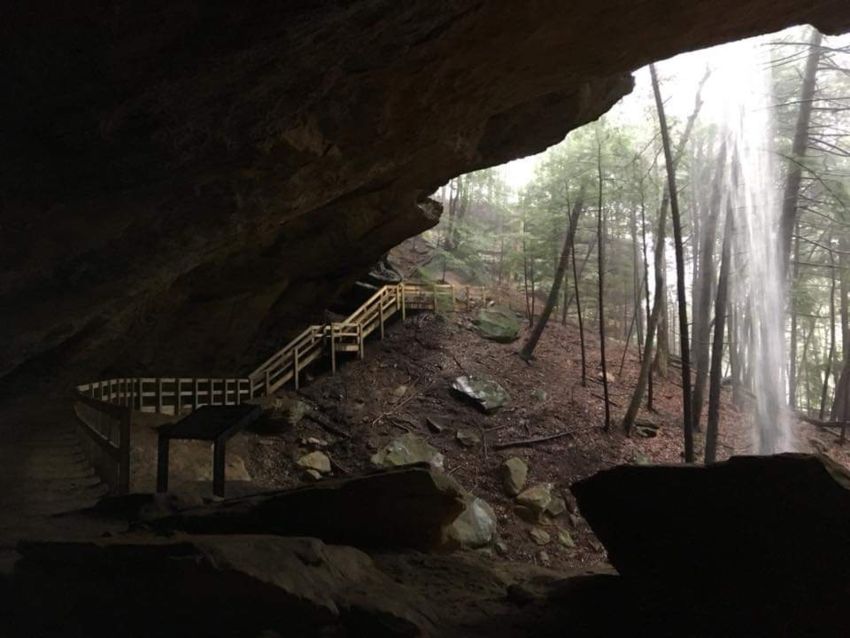 Located less than a 15-minute drive from the more popular Ash Cave, Whispering Cave is another must-see at Hocking Hills State Park.
You can reach Whispering Cave either directly from Ash Cave, from Cedar Falls, or Old Man's Cave trailheads.
Between swinging bridges, small creeks, and tall trees with twisted roots, the trail to the cave looks straight out of a fairytale.
While being just as beautiful as the neighboring caves, Whispering cave is way less visited and much more tranquil. If you're looking to stay away from crowds of tourists, this is your spot.
The dirt trail is easy, but not well-signaled at all times, so you may want to keep a map and GPS at hand.

Location: 1160 Hillcrest Dr, Cuyahoga Falls, OH 44221, United States
Situated in the Gorge Metro Park, this massive sandstone cave is a spot worth checking out.
You can reach the cave through the Gorge Trail or the Glens Trail, both running along Cuyahoga Riverside.
Gorge Trail is the direct way to reach the cave, with the trailhead in the parking lot located just half a mile from the cave.
I recommend going through Glens Trail in the wintertime when the cold transforms the scenery and creates what is known as the Crystal Palace, an amazing frozen icicle formation.
While the trails are not too strenuous, visiting the cave is not for everyone.
This is a destination for expert cave explorers and well-equipped hikers, as the terrain can be slippery and steep.
If you're looking for a more challenging hike, that still provides amazing views of the river, just cross the bridge and hit the Highbridge Trail.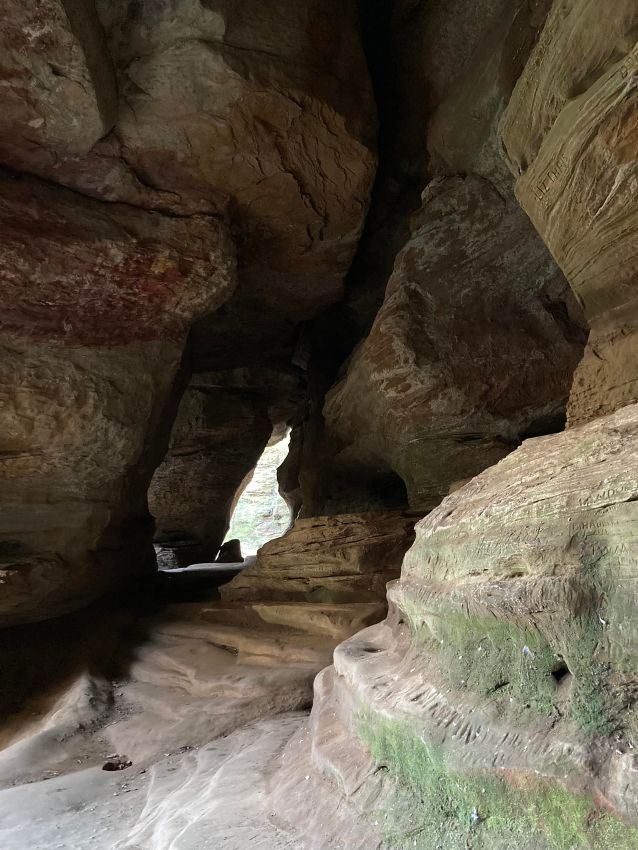 Location: 16350 OH-374, Laurelville, OH 43135, United States
Rock House is located in the heart of the Hocking Hills region, and is one of the most impressive sights in the park.
The cave is uniquely shaped like a tunnel carved within a Blackhand sandstone cliff.
You can reach Rock House through a short but fairly strenuous loop hike.
While the trail is only 0.8 miles long, it can be quite a workout, especially if you're visiting after a rainy day and the terrain gets muddy.
I recommend bringing quality hiking shoes and walking sticks to ensure you reach comfortably the cave.
Also, don't forget your camera, the view at Rock House is special and you'll want to capture the scenery.
This location is very popular and during the summer can get crowded. The best times to visit Rock House, both for weather conditions and lack of crowds, are late spring and early fall.
Exploring Never Ends – Here Are More Caves In The US
Are you a sucker for impressive caverns? Check out my favorite top 8 caverns in the US.
For more cave destinations across the states, don't miss out on the caverns in Indiana, Arkansas, Utah, and Washington.
And for a true winter wonderland, schedule a trip to the wonderful Colorado Ice Caves.