Papakōlea Beach, also known as Mahana Beach, is the green sand beach Hawaii proudly shares with locals and visitors.
Papakōlea Beach is one of only four green-sanded beaches in the world. The other 3 are:
Talofofo Beach (in Guam),
Punta Cormorant on Floreana Island in the Galapagos Islands (in Ecuador),
and Hornindalsvatnet (in Norway).
If you're interested in visiting this unique Hawaiian beach, this post discusses everything you need to know about this destination.
Where is the Green Sand Beach in Hawaii?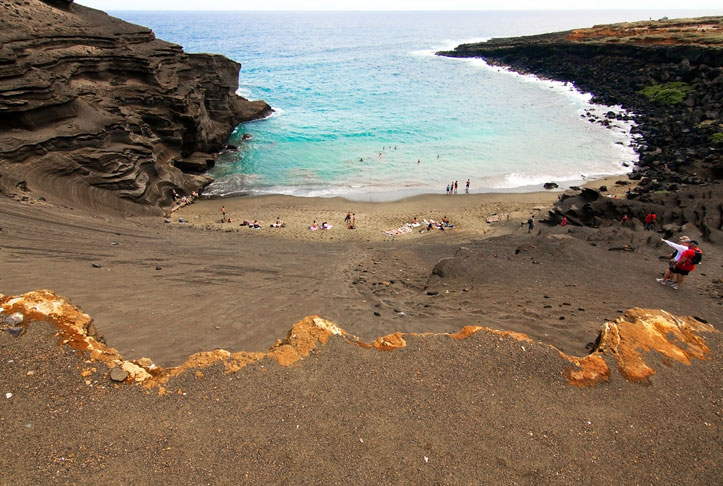 This Green Sand Beach is located about 3 miles (5 km) east of Ka Lae (South Point) in Hawaii's Kau district.
Papakolea was once a cinder cone volcano, which erupted and spewed lava rich in olivine (an abundant mineral in found volcanic rock). Years of erosion and daily weather slowly eroded the lava rocks until only the olivine sand left behind. This olivine is the reason for Papakolea Beach's distinctive green coloring.
Some people describe the sand as "black" with some parts showcasing the greenish sand.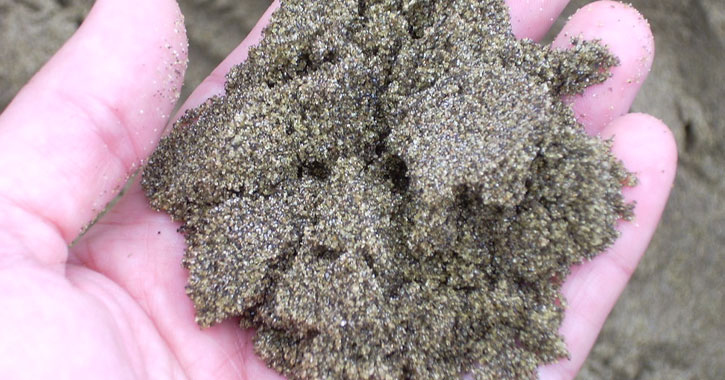 The photo above show a close-up look of the sand, while the photo below gives a microscopic look at the olivine elements mixed in with the sand.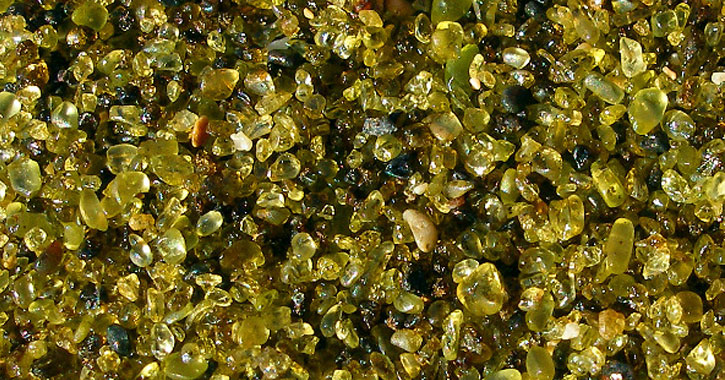 Since there are no amenities available at the beach, it's easy to swim, explore, take photos and explore the entire Mahana Beach within 1 to 2 hours.
If you brought some food, you can have a picnic here as well. The shuttles that bring tourists here also serve as local vendor selling drinks and other snacks. Pack up and bring your trash with you after eating.
Other things to do at Mahana Beach
Swimming at the beach is possible, but note that the place has no lifeguards and the waters can get rough, especially along the southern shore. If you're traveling with young kids, don't let them swim alone far from the shore as strong winds and currents can easily bring them further to sea.
Jumping off the South Point cliff. Experienced swimmers and adrenaline junkies could head over to the South Point and jump off the cliffs. Make sure you know what you're doing and you're jumping as safely as possible. Non-jumpers will also love the experience of being on the southernmost point in the United States. How many times can you say you've been at the edge of the country, right?
Papakōlea Beach FAQs
If you're planning to visit Hawaii's Papakōlea Beach, read how to get here, hiking details, swimming rules, and other important tourist information.
Do you have to hike to Green Sand Beach?
The only legal way to get to Papakōlea Beach is by foot.
The 2.9-mile walk is easy, but since the path is a rugged with rocky patches, many tourists find other ways to reach Green Sand Beach. The walk to the beach is an hour-long, each way.
Since 2016, the Department of Hawaiian Home Lands (which owns and maintains the land) has tried to restrict vehicles from going in and out of the area in hopes of protecting the fragile ecosystem. However, the attempts have failed due to many tourists wanting to skip the walk and paying for shuttle (which are provided illegally by local business-minded folk).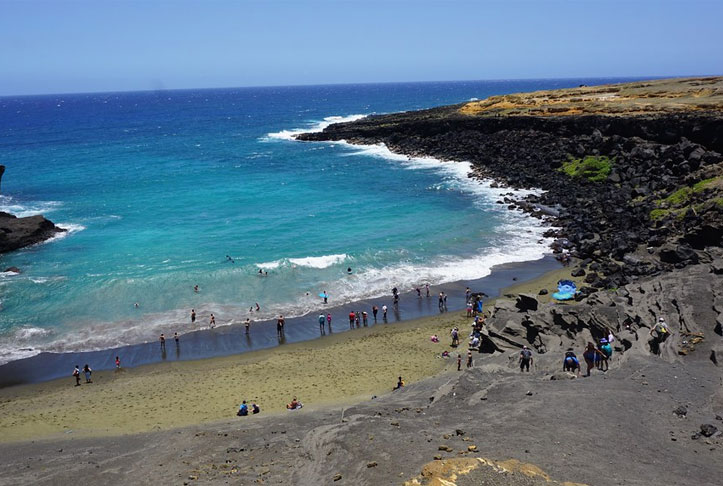 After crossing the pastureland, you'll be able to see Papakōlea high up from a stunning view (check photo above).
To get down there with others enjoying the waters, your only choice is to climb down the cinder cone. You don't need to be a professional rock climber or hiker to go down the beach, but you do need to be careful. Some areas can be steep.
Can you drive to Green Sand Beach, Hawaii?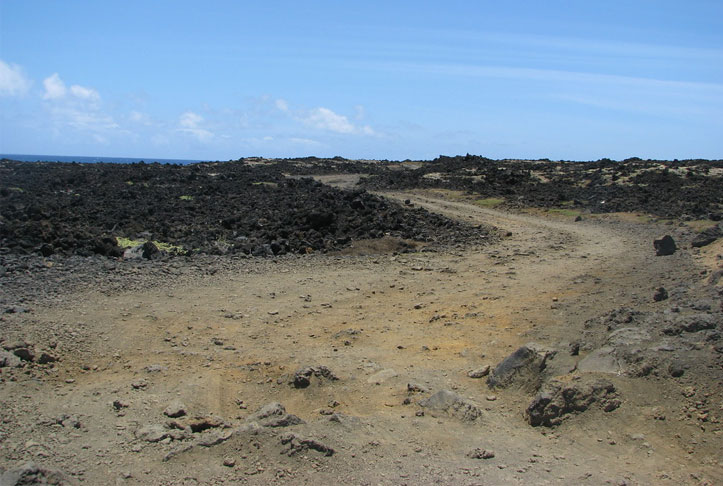 Yes, you can drive to Papakōlea Beach, but it is actually illegal to do so.
If you decide to push through driving your way to the beach, know that you cannot bring your car rental since the road going to this area is all rough terrain with huge rocks, muddy puddles, and other elements that only a high-powered, SUV, UTV or all-wheel-drive vehicle can withstand.
Those who have a 4WD (and is experienced driving rugged and steep roads) can drive going to the beach. Each way would take you 30 minutes.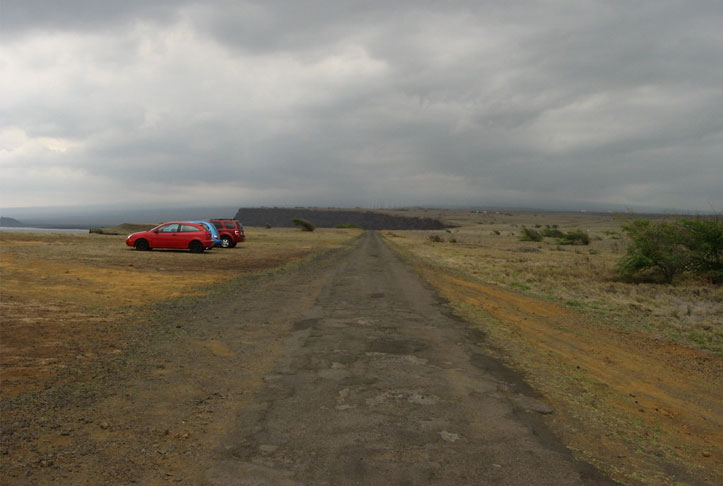 Many tourists also just park at the 'Green Sand Beach Trailhead' (view in Google Maps) and hitch a ride with shuttles provided by locals in pick-up trucks,
Shuttle going to Green Sand Beach cost $10 to $20. It takes about 90 minutes drive from Kona or 1 hour and 45 minutes drive from Hilo. If you decide to get here via shuttle, make sure you negotiate your return with the driver and how long before they go back to pick you up.
Note: That it is actually illegal for shuttles to pass this road since vehicular traffic have been creating ruts in the soil (recorded to reach over 8 feet deep as of 2021), but there are no one really enforcing the law.
Keep in mind that the amenities at Papakōlea Beach (Green Sand Beach) are non-existent.
Like many secluded beaches, there are no restroom or other amenities by the sand or beach. However, there are port-a-potties near the parking lot (as of September 2022).
Make sure to bring a trash bag and take your trash with you when you leave.
Leave the Green Sand There
If this is your first time to visit Hawaii, it's understandable why you'd want to take sand as souvenir.
But like many of Hawaii's beaches, it is illegal to take sand home. Yes, even a handful of sand could cost you fines upwards of $100,000.
It doesn't matter if you're planning to get a spoonful of black volcanic sands from the famous black-sanded Punalu'u Beach, or a pink of green sand from Papakolea Beach – the punishment is steep and Hawaii is strict with this law.
The Bottom Line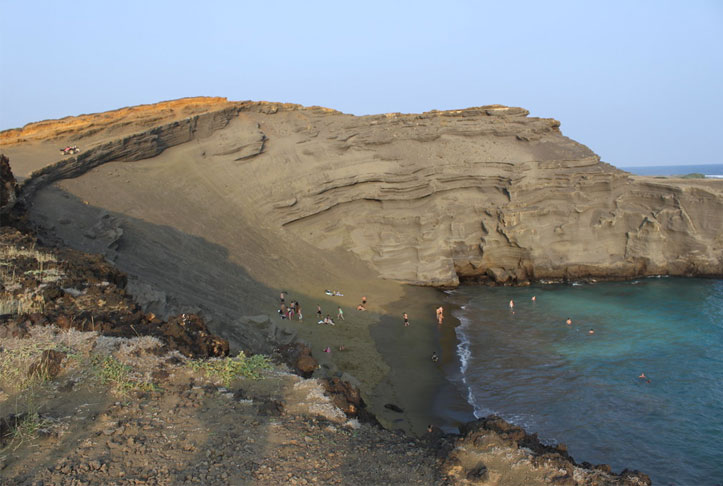 If you've been on the hunt for unique beaches and are a fan of secluded coves, then this Green Sand Beach is definitely worth the trouble.
If you want to go on a beach-hopping tour across Hawaii, check out the following guides:
For other interesting beaches in the world, make sure you visit any of these 12 beaches known for sea glass or the best beach hikes in the country.