Koalas are naturally native to southeastern and eastern Australia, but US zoos with koalas have now become possible due to drought, diseases, and bushfires that have been occurring in their Australian habitats in recent years.
More and more zoos in Northern America are opening their gates to foster and nurture koalas who have lost 80% of their original habitats and have been listed as "vulnerable" by the International Union for Conservation of Nature's Red List of Threatened Species.
If you're wondering how you can see these awesome creatures in person, here's an updated list of US zoos with koalas as mainstays.
US zoos with Koalas: San Diego Zoo's Koala Loan Program
Of all the best US zoos, San Diego Zoo has been leading US zoos in working with Australia for the protection, conservation, and studies of koalas for decades.
They even have scientists working both at the San Diego zoo and St. Bees in Australia to continue learning more about mating, diet, and more.
Since 1983, San Diego Wildlife Alliance has shared koalas with zoos in the country and around the world through its Koala Loan Program.
About 53 koalas are homed across 9 US zoos.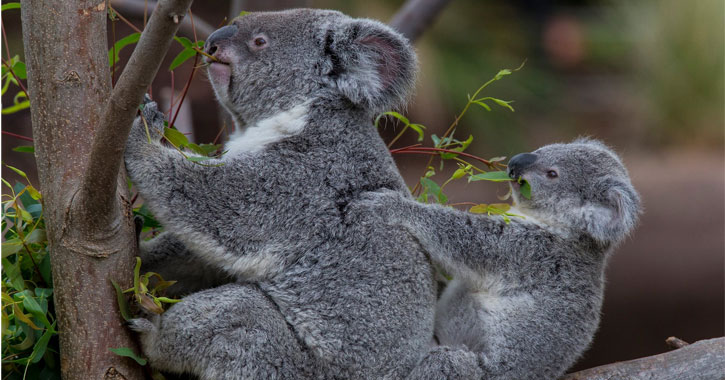 There are over 20 koalas at the San Diego Zoo's "Koalifornia" exhibit.
You can view them live online at the koala cam.
Note that from 7:30 a.m. to 7:30 p.m. Pacific Time, you're watching the live cam while it's daytime in San Diego. While it's dark, from 7:30 p.m. to 7:30 a.m. San Diego Zoo rebroadcasts that morning's stream.
You can visit San Diego Zoo at 2920 Zoo Dr, San Diego, CA 92101 with one-day pass tickets ranging from $55 to $65.
Why don't more zoos have Koalas?
If you're wondering why aren't koalas at more zoos, it's not because US zoos don't want them.
Unfortunately, many of the participating US zoos with koalas can only accommodate them only temporarily because koalas live in very specific areas in Australia: southern coasts and inland areas of Queensland Australia where eucalyptus trees are found.
Koalas thrive in cool-temperate to tropical areas, which is why some US zoos can only accept them during summertime. For example:
The Indianapolis Zoo loaned koalas Thackory and Milo for the summer of 2015, but gave the duo back to San Diego Zoo after the season ended.
The Great Plains Zoo in Sioux Falls, South Dakota loaned two koalas (named Moki and Burra) from the San Diego Zoo. They were part of the zoo's "Koala Wilds" exhibit from May to September 2017.
Which US Zoo will feature these koalas next?
San Diego Wildlife Alliance does not publish a list of the next zoos to be loaned koalas.
In most cases, the recipient zoo will be the one marketing this loan program to its visitors.
8 Other US Zoos with Koalas
So far, there are only 9 US zoos with koalas that are accredited by the Association of Zoos and Aquariums (AZA) to house them permanently.
While many of the zoos below got their koalas from the San Diego Zoo, these 8 US zoos with koalas now have AZA-accredited permanent habitats with many of them successfully welcoming baby koalas to their respective zoos as well.
Address: 1101 W Sligh Ave, Tampa, FL 33604
Tickets: $35 to $45/day for one-day admission. Encounters need to be pre-booked and cost around $15 to $20 per person for non-members.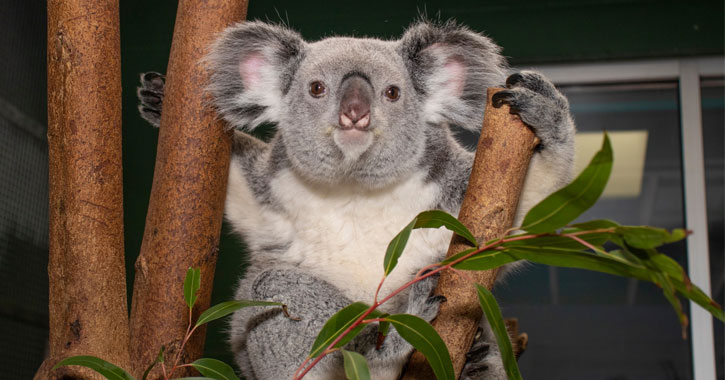 There are three ways you can see koalas at Zoo Tampa:
Get close to koalas with ZooTampa's Photo Encounter: Get super-close to the koalas and take as many photos as you like within the timeslot you've pre-booked. There's additional fees for the photo encounter and it isn't available all year, so check this page before you visit.
Visit the Wallaroo Station: If the Photo Encounter isn't available, don't worry. You can still see the koalas at the Wallaroo Station, the zoo's Australia-themed family area that mixes splash pads, rollercoasters, and kiddie playgrounds with access to real-life animals like emus, wallabies, bats, and koalas.
Host a birthday party: A dedicated space at the 4.3-acre Wallaroo Station can be closed off for birthdays and other private events.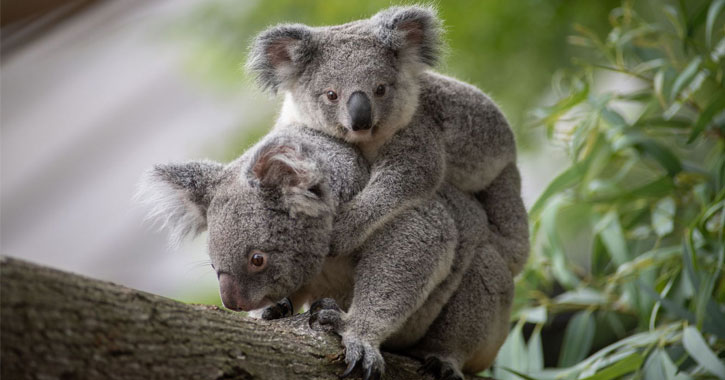 This Ohio zoo doesn't have any photo programs or close-up encounters with the koalas, but Columbus Zoo and Aquarium does have a permanent zoo section called "Australia and the Islands."
Columbus Zoo features koalas Katy and Thoar (both came from San Diego Zoo in 2015), who became parents to a koala joey in 2020.
Tickets: $14/kid ages 2-11 and $18/person for adults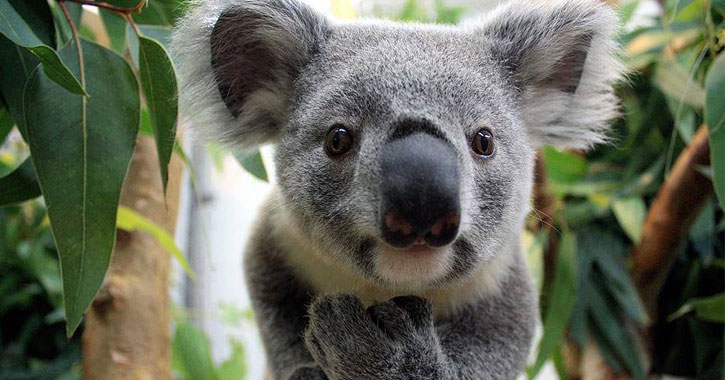 Explore Cleveland Metroparks Zoo's Australian Adventure to visit koalas year-round and see kangaroos and wallabies roam. The zoo is also home to the Gumleaf Hideout where they eat leaves of eucalyptus trees in both indoor and outdoor habitats.
Koalas McKenzie and Maya call the Cleveland Metroparks Zoo home. They are mom-and-daughter koalas (Maya was born at the zoo just before the pandemic began).
Cleveland Metroparks has some interesting experiences, such as the 90-minute Inside Track program where visitors ride a golf cart and get close opportunities with the koalas and other animals.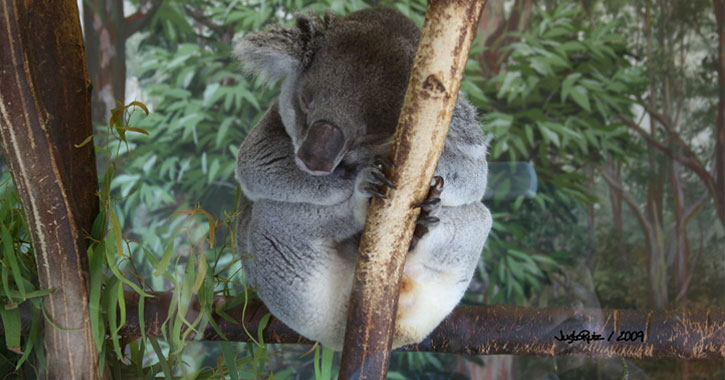 At Zoo Miami, you'll find over 3,000 mammals, birds, fish, amphibians, reptiles, and other highly-endangered animals like koalas.
There's a koala couple at Zoo Miami: "Milo," a male Queensland Koala, and "Rinny" the female koala who gave birth to "Hope" in May 2019. Unfortunately, baby Hope died in mid-2021 due to recurring gastrointestinal issues.
Tickets: Toddlers (2 years old and below) go in free. Admissions for kids ages 3-12 is around $19, teens to adults ages 13 to 59 is around $25, while seniors (60+) pay $23.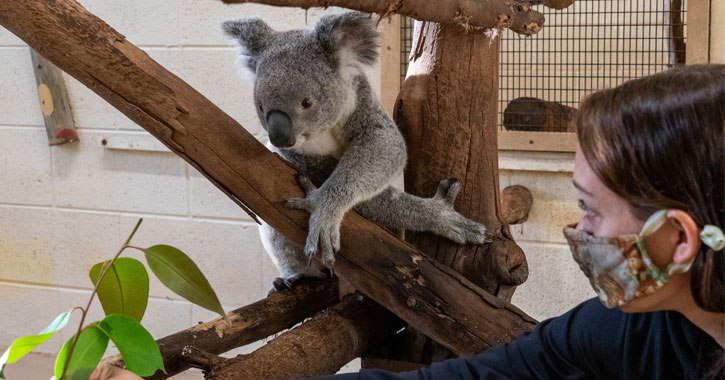 Palm Beach Zoo only has 1 koala, a male named Sydney, who lives at the facility's Koala Forest, in the Islands section.
When the zoo took in Sydney from Zoo Tampa in 2021, he was only 2 years old. He was born in 2018 to parents Heathcliff and Ceduna, who are related to former Palm Beach Zoo residents Oz and Katherine (they died in 2020-2021 six months apart).
Sydney can be seen every day in Koala Forest, during operating hours; 9:00 AM to 5:00 PM. He's likely roaming around his 3 indoor bedroom spaces and two outdoor yards.
Palm Beach Zoo is waiting on welcoming a potential mate for Sydney as part of the Association of Zoos and Aquariums Species Survival Plan® (SSP), a program that ensures a genetically healthy population of all animals for the future.
Palm Beach Zoo used to have a koala experience program (it is 1 of 8 animal close-encounters available at the zoo), but as of mid-2022, these programs were temporarily put on hold.
Address: 5333 Zoo Dr, Los Angeles, CA 90027
Tickets: Infants 23 months or younger go in free. Admission fees for kids 2 and higher range between $17 and $22 for a single-day pass. Membership plans are available, too!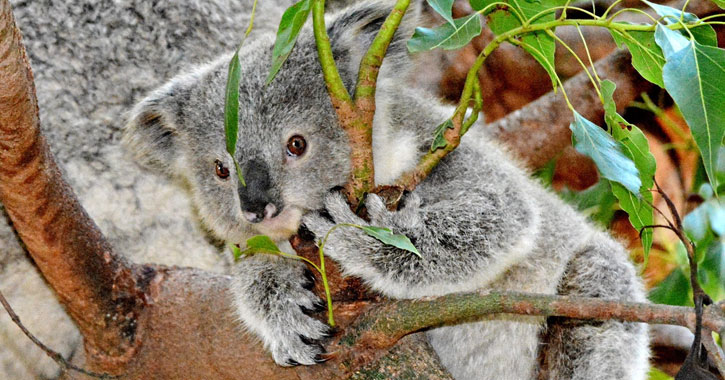 Many people ask: Does the LA Zoo have koalas? It's an understandable question. A couple of years back, LA Zoo had horrific news about its family member koala (an elderly female named Killarney) that went missing and was suspected of being killed by its famous mountain lion neighbor named P-22.
LA Zoo still has koalas today. The furry marsupials from Australia are found in a special exhibit, which allows them to sleep many hours each day (trivia: it's normal for koalas to sleep 22 hours a day).
The special experiences at LA Zoo are temporarily closed, but even when it was open to the public, the zoo had no program for the koalas. There are, however, Elephant Training demonstrations, World of Birds show, Hippo Encounters and Giraffe Feedings.
Tickets: General admission tickets range between $15 and $25, depending on how old the guests are. Memberships are available as well.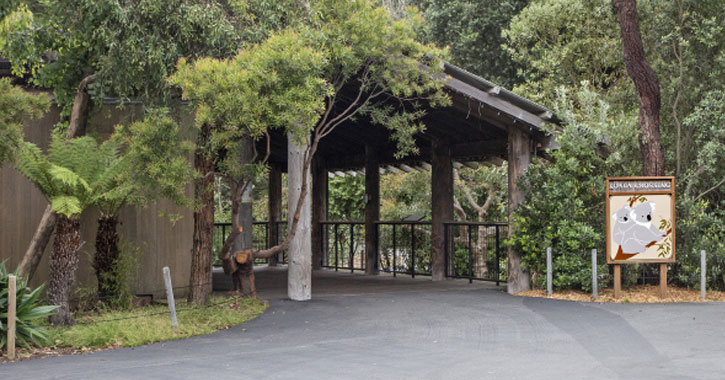 San Francisco Zoo & Gardens has a couple of koalas living in their specially-designated "forest" called Koala Crossing.
When the temperature is between 65 and 80 degrees, the koalas may be seen munching eucalyptus leaves and snoozing in the zoo's outdoor enclosure. On chilly days, you'll see the koalas keep warm in an indoor exhibit (don't worry, there are windows you can see through).
San Francisco Zoo is known to host naming contests for many of their new-arrival koalas as a way to raise money for Australia's koala population.
In early 2020, supporters named the koala Cobar Wollemi (pronounced Coe-bar Wall-em-eye) and raised $15,000. The zoo again began a naming/bidding contest in May 2022 for a newly-arrived female koala.
Tickets: The price of Koala Backstage is per private tour with a capacity of 6 total guests. $180/tour Riverbanks members and $220/tour general public. Plus single-day admission rates per person are between $18 to $22 (depending on age).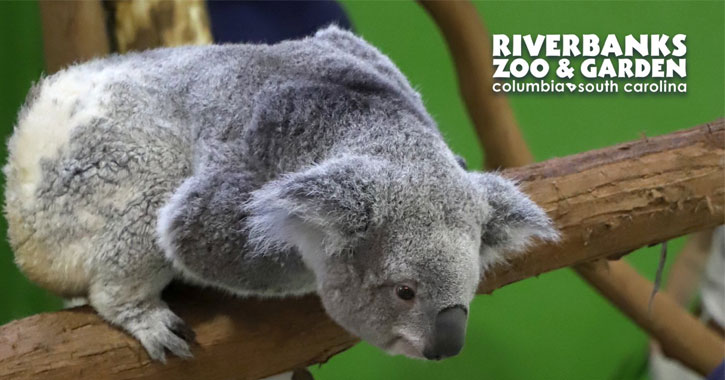 Come see several Australian animals at the Koala Knockabout section, where koalas, Australian fish, kangaroos, wallabies and reptiles are found.
Riverbanks Zoo has a "Koala Backstage" experience available as group tours.
Each ticket lets up to 6 participants (ages 8+) to hang out with the zoo's pickiest eaters. You'll get to learn all about the care and keeping of these magnificent marsupials, then step into their habitat and snap a rare photo with a koala!
The Future of Koalas in US Zoos
There's still hope for koalas to reproduce and get out of the vulnerable status. In fact, a wide range of animals from around the world have successfully avoided extinction thanks to many conservation programs. Examples include the Kenyan Bongo Antelope, the majestic California Condor, the wow-worthy Arabian Onyx, the striking Golden Lion Tamarin, and Amur Leopards, among many others.
If your search for US zoos with koalas doesn't fit your budget, schedule, or itinerary and you'd love to check out other kid-friendly destinations, I recommend you read: