Whether your kids have been in awe with the newest "Jurassic Park" film or you're amazed at everything about the geological period between the Triassic and the Cretaceous, this list of the best dinosaur museums in the US will surely make you happy to plan your next trip.
Almost all natural history museums in the country house hundreds of tiny dinosaur fossils, but only the best dinosaur museums in the US have exhibits that animate dinosaur skeletons from millions of years ago into larger-than-life skeletal mounts.
12 Best Dinosaur Museums in the US
These 12 museums with dinosaur centerpieces, exhibits or halls dedicated to these extinct creatures are a must-visit; make sure to include them on your itinerary or plan a trip around them.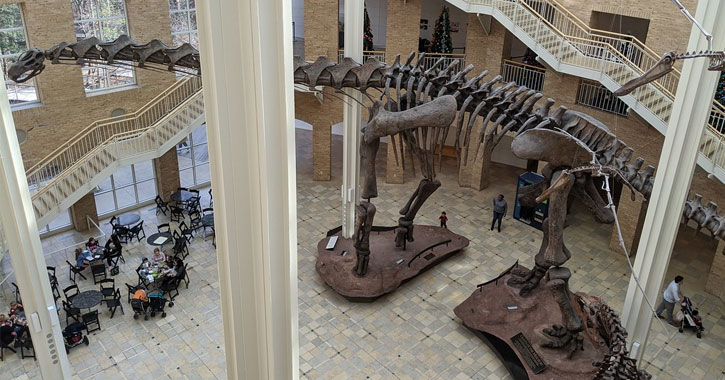 Address: 767 Clifton Rd NE, Atlanta, GA 30307
Contact: +1 404 929 6300
Tickets: General admission for non-members is between $22 to $25 (depending on age).
Highlights: Argentinosaurus (the largest dinosaur ever classified)
Fernbank Museum of Natural History in Atlanta showcases the largest dinosaur ever discovered in the country – a full-sized, 100-ton Argentinosaurus skeleton.
If that wasn't enough of an impressive exhibit, there is also the carnivorous Gigantosaurus and a flock of 20 pterosaurs flying over them.
This mesmerizing scene has been permanently featured on the museum's Giants of the Mesozoic exhibit.
If you're not coming with kids, check out the museum's After Dark program that lets visitors stay beyond museum hours with drinks and a different kind of dinosaur-themed adventure.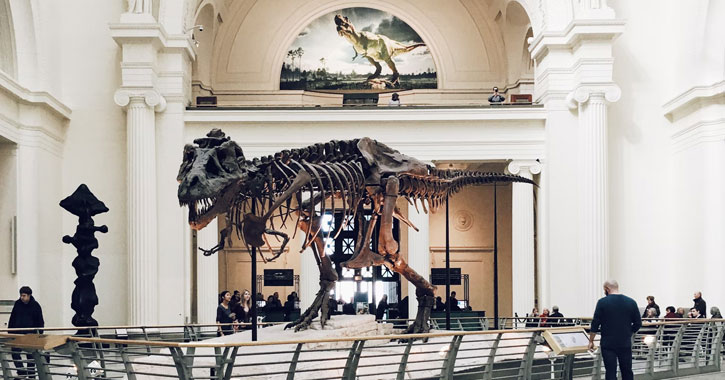 Contact: +1 312 922 9410
Tickets: Tickets range from $26 to $20 depending on where you reside, your age, and package you chose.
Highlights: Sue the T. Rex
Once you enter this Chicago institution, you'll go straight to the Stanley Field Hall, where you'll meet Sue the T-Rex (her bones are the largest and most complete Tyrannosaurus bones ever found.
It's a sight to behold – the skull weighs a whopping 600 pounds and features 58 teeth.
Aside from Sue, the Evolving Planet exhibit should also be an interesting visit since it focuses on other species from 4 billion years ago, such as dinosaurs found in Antarctica and Madagascar.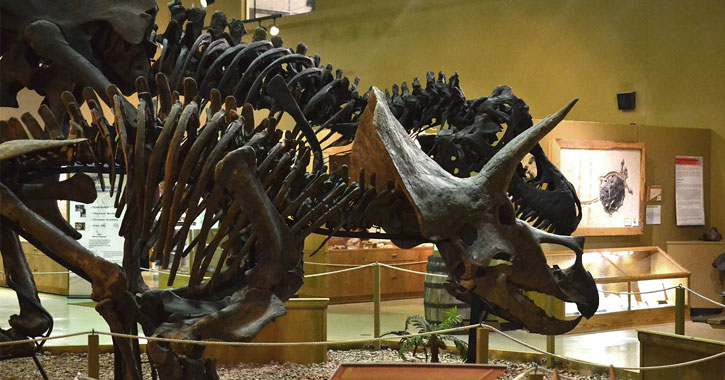 Contact: +1 307 854 2997
Tickets: Tickets range from $10 to $12. School fieldtrips and other groups are cheaper ($6 to $10). Payment for the dig site (Dino De-Tour) is separate.
Highlights: 106-foot Supersaurus, 60+ mounted skeletons, and an underground excavation site
Out of all the best dinosaur museums in the US, this one stands out because not only does it house the largest skeletons of Triceratops, Stegosaurus, Velociraptor, and other dinosaurs in the country (and 2nd to Berlin's in the world), it also has an underground dig site that lets visitors "dig for a day" and ask all kinds of questions directly to in-house paleontologists.
The dig site program is special because if you find any fossils, the location, type of bone, and your name will be forever included in the Wyoming Dinosaur Center bone registry.
How cool is that?
If you're traveling around Wyoming and visiting near the Medicine Bow town, check out Fossil Cabin, a structure made by Thomas Boylan in 1932 using 5,796 real dinosaur fossils.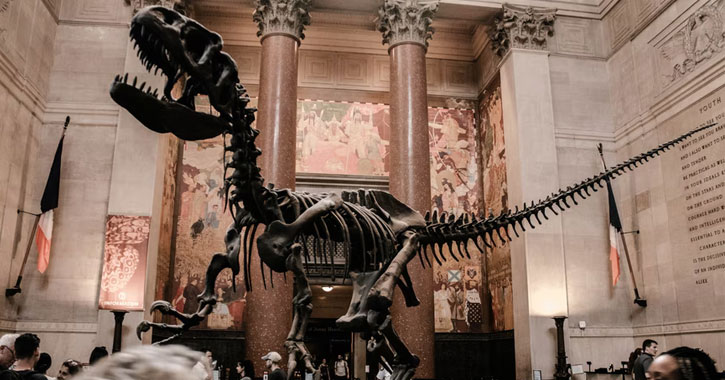 Contact: 212-769-5100
Tickets: Kids 3 to 12 years old enter with $13, while students and senior adults (60+) pay $18. General admission for other adults is $23.
Highlights: The t-rex featured on Ben Stiller's movie "Night at the Museum"
Yup, "Night At The Museum" was filmed at the American Museum of Natural History, and the enormous Tyrannosaurus rex from the movie is actually the real one displayed at the Hall of Saurischian Dinosaurs.
Aside from this, the museum is also home to more than 600 fossils (100 of which are dinosaur fossils found on the fourth floor), making AMNH the museum with one of the largest dinosaur collection in the country.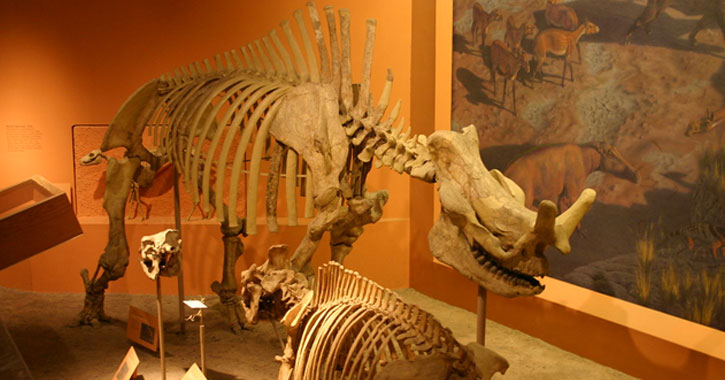 Contact: 202-633-1000
Tickets: Admission is FREE. Timed-entry passes are no longer required to enter the museum.
Highlights: The last American dinosaurs exhibit
There are a few reasons why people love the Smithsonian National Museum of Natural History.
First, because it's FREE and if you're passing by Washington, D.C., you simply just have to make time for this adventure.
Second, because the museum has an extensive dinosaur collection.
In the past, the Smithsonian's dinosaur hall was called "Museum of Extinct Monsters," considering the museum has some of the most movie-like poses such as a T-rex eating a Triceratops.
About 6 million people visit the Smithsonian each year, many of them to witness exhibits like the David H. Koch Hall of Fossils Deep Time and The Last American Dinosaurs: Discovering a Lost World, both of which showcase fossils and the prehistoric creatures that roamed the earth 4.6 billion years ago.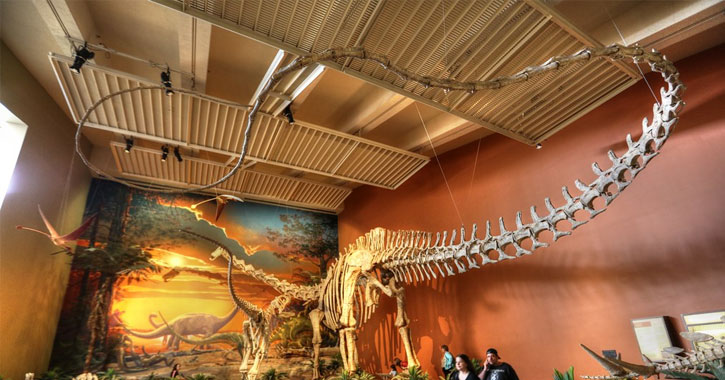 Contact: (505) 841-2800
Tickets: Entrance fees to the exhibits range from $5 (for kids) to $7 & $8 for teens, seniors and adults (18 to 59 years old). If you wish to visit the planetarium or dynatheater, admissions go higher (about $7 to $15).
Highlights: Seismosaurus, one of the world's largest dinosaurs in the world.
As one of Albuquerque's famous family-friendly attractions, the museum will give you a walkthrough 12 billion years of New Mexico's natural history.
Of course, the biggest crowd-pleaser is the museum's Seismosaurus, a New Mexico native from the Jurassic Period (150 million years old) that is showcased in the Jurassic Hall.
If you're lucky to visit with the FossilWorks open, you'll be able to witness how fossils are discovered, cleaned and set-up to create the massive dinosaur skeletal set-ups we absolutely love.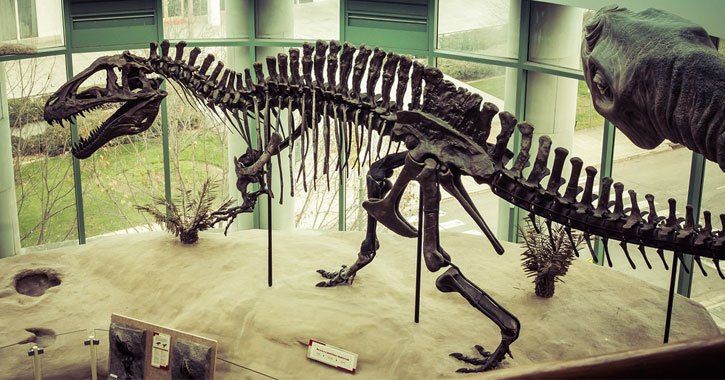 Contact: 919-707-9800
Tickets: Free Admission, open 10 AM to 4 PM, from Tuesdays to Sundays
Highlights: Acro, the Acrocanthosaurus
The North Carolina Museum of Natural Sciences is home to live animals and recreations of extinct creatures as old as 66 million years old.
If you wish to go straight to the dinosaurs, head over to the third floor, at the Nature Exploration Center, where you'll be welcomed by a 66 million-year-old Thescelosaurus and Acro, the Acrocanthosaurus. Lovingly called by the museum's team as "Terror of the South," Acro is the only skeleton display of its kind in the world.
From 2023, the museum will be featuring the impressive Dueling Dinosaurs exhibit.
Plan ahead and be on the front row to one of the most comprehensive documentation of the Triceratops and Tyrannosaurus rex.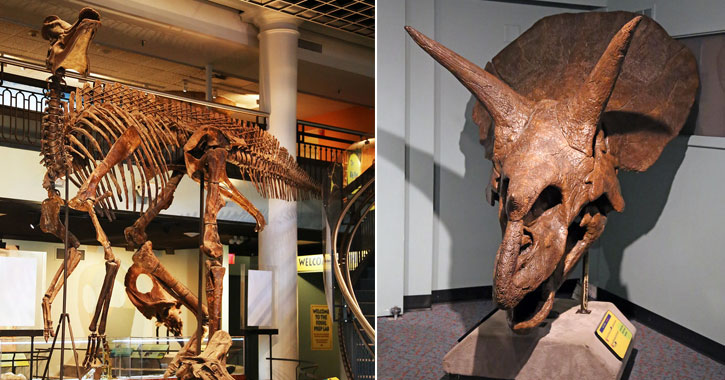 Contact: 215-299-1000
Tickets: From $18 (kids) to $22 (adults)
Highlights: T-rex and a life-size model showing the internal anatomy of a Stegosaurus
Philly's Academy of Natural Sciences of Drexel University is the oldest natural history museum in the country and the first in the world to display a fully mounted dinosaur.
The museum's interactive Dinosaur Hall exhibit is home to over 30 dinosaur species with real bones carefully turned back to life as full skeletal mounts. These include Avaceratops, Chasmosaurus, Corythosaurus, Deinonychus, Pachycephalosaurus, Tenontosaurus, and Tylosaurus.
Don't miss the green-screen video studio for more dinosaur-learning content and check out many eggs, footprints, sculptures, and murals of different dinosaur species and other Mesozoic creatures.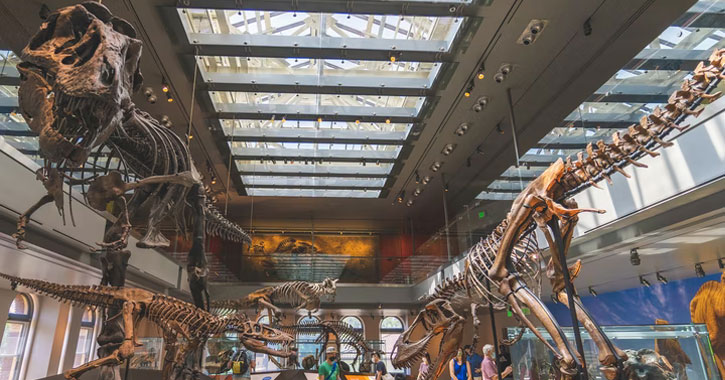 Contact: 702-384-346
Tickets: General admission starts at $15 for non-members. Members get to visit free.
Highlights: a baby, teen, and adult T-rex bones
The Natural History Museum of Los Angeles is a must-visit if you're traveling nearby.
If you're visiting with kids, the Dino Lab and its in-house paleontology team will give kids the opportunity to ask all the questions their little heart's desire, while getting up-close to life-size dino puppets Hunter the T. rex and Dakota the Triceratops (the starts of the Dinosaur Encounter show).
There are other areas at the museum to focus on, including:
The pretty cool T-Rex growth series shows the massive dinosaur in baby size to juvenile to adult.
The Jane G. Pisano Dinosaur Hall with over 300 fossils and 20 mounted skeletons, including Stegosaurus, Triceratops, sauropod Mamenchisaurus.
The Dinosaur Institute showcases the Mesozoic collection with thousands of real dinosaur bones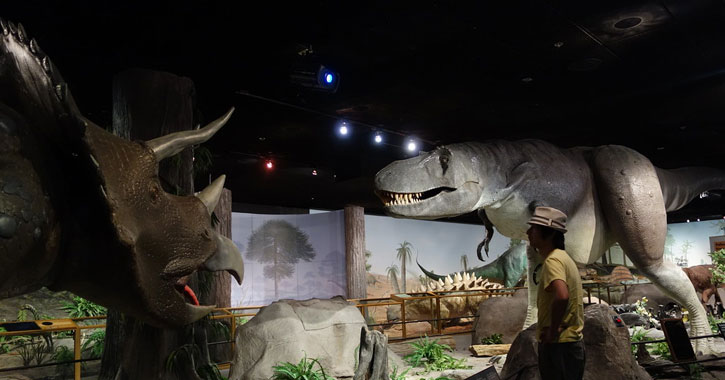 Contact: 702-384-346
Tickets: From $10 (kids) to $12 (adults). There's also an exclusive 'Director's Tour' for $75.
Highlights: Dinosaur Mummy CSI
If you're embarking on a tour of Las Vegas' "Cultural Corridor," give some time to visit the Las Vegas Natural History Museum if you love everything prehistoric, including a raptor, an ichthyosaur, an ankylosaur, and triceratops.
The Engelstad Family Prehistoric Life Gallery features a life-sized Tyrannosaurus rex that would make your kids giggle with excitement as it moves and even let our a crazy roar.
The museum's Dinosaur Mummy Cretaceous Science Investigation is also pretty exciting, which focuses on the crime-scene techniques used by modern paleontologists to study dinosaurs.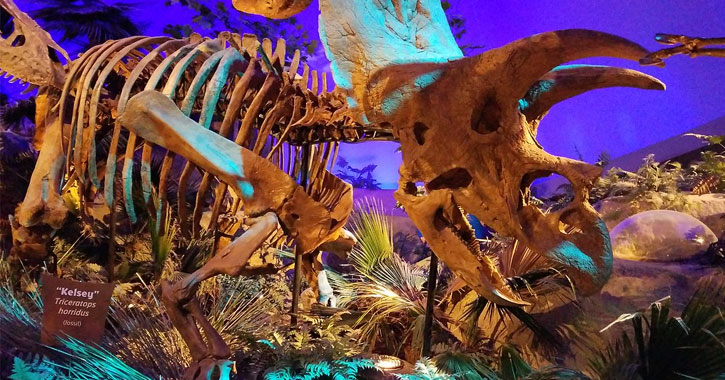 Contact: 317-334-4000
Tickets: Starts at $15 to $30, depending on the day you visit.
Highlights: Dinosphere and other kid-friendly science programs
From outside the building, three King Kong-sized dinosaurs are attempting to break into the museum. It's a pretty cool welcome for dinosaur lovers both young and old.
Since 2004, the Children's Museum has been hosting the popular Dinosphere exhibit. Unfortunately, it's currently closed for some BIG renovations.
The good news? It's going to be re-launching in March 2022.
And once it does, you'll get to see the famous dino Creatures of the Cretaceous that's been in the museum since the start of the exhibit, such as the Guinness World Book of Records title-holder Brachylophosaurus for being the best-preserved dinosaur remains along with awesome four-legged creatures of the "Giants of the Jurassic" and the ancient aquatic world of "Monsters of the Mesozoic Seas."
Kids can also join the Dinosphere Art Lab for a TON of dino-learning.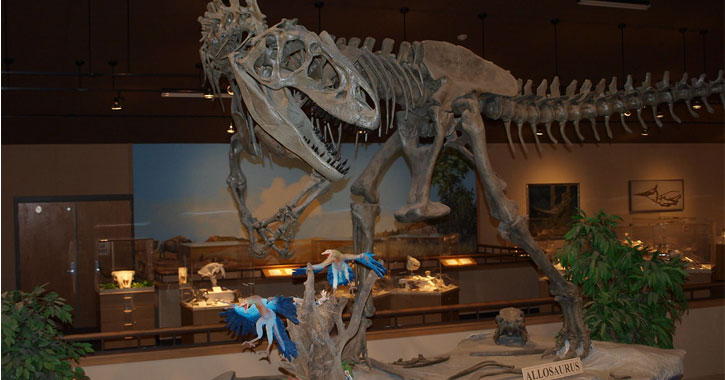 Contact: 701-456-6225
Tickets: Admission fees range from $4 (kids) to $6. Seniors (65 and older) pay $5, while kids below 2 years old get in free.
Highlights: the 1,500-pound Triceratops
Formerly known as Dakota Dinosaur Museum (from 1992 to 2015), the newly-renamed Badlands Dinosaur Museum is home to a world-class mineral exhibit and the most dinosaur fossils on display in North Dakota.
The museum's centerpiece is a complete Triceratops skull, which was discovered just west of Dickinson by an ordinary couple in 1992 and gifted to the museum.
Badlands Dinosaur Museum is also home to other full skeletons of Thescelosaurus, Albertosaurus, Edmontosaurus, Allosaurus, and Stegosaurus, among others found from the paleontological "Dinosaur Land" of Montana, Wyoming and both Dakotas.
The center also has its own lab where scientists "process" new dinosaur bones and fossil discoveries.
10 More Dino-themed Attractions to Visit
Of course, if you're just looking for anything dinosaur-themed, here are 10 attractions to add to your itinerary:
Located in New Jersey and Kansas, the Field Station: Dinosaurs is a theme park perfect for young kids obsessed with prehistoric creatures.
The outdoor park features over 30 life-sized animatronic dinosaurs with cool facial recognition and sensors that allow them to move as visitors approach them.
There are also a few dig sites and playgrounds outdoors, and a Paleontologists' Laboratory indoors for educational programs.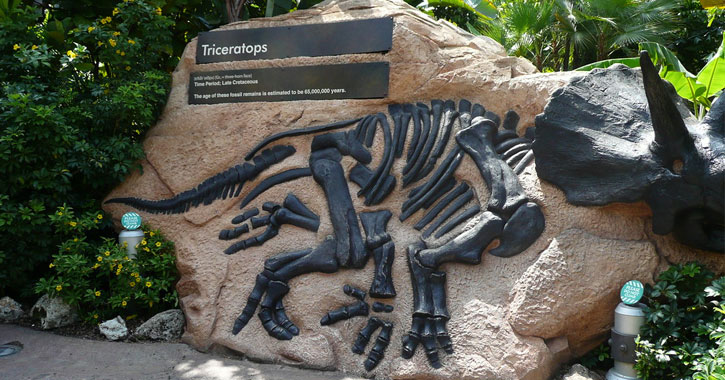 If you're already planning a Universal Studio Orlando trip, make the beeline to one of the most famous attractions, the "Islands of Adventure" where the Jurassic Park River Adventure is housed.
It's a thrilling ride that gets you close to an awesome T-Rex and the ride's 85-foot plunge.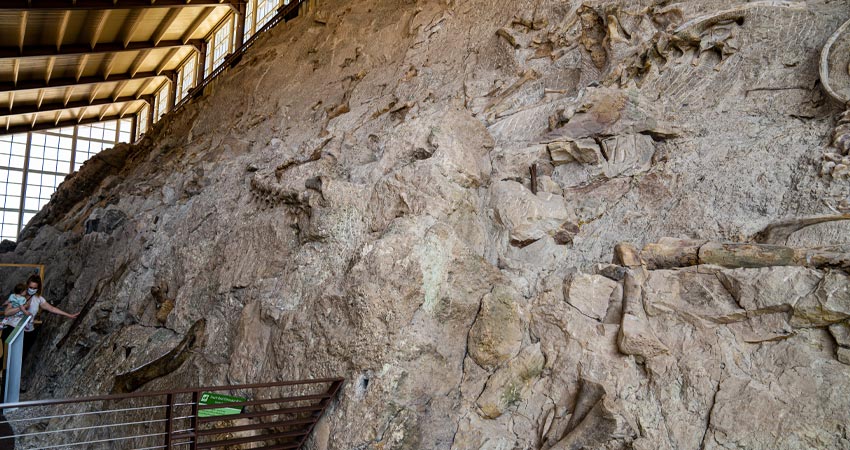 The Dinosaur National Monument is a good stop if you're on a Utah adventure since there are plenty of outdoor activities from white-water rafting to fishing and hiking.
But if you go into the Quarry Exhibit Hall, you'll be in a totally different world with more than 1,500 dinosaur fossils of Stegosaurus, Allosaurus, Diplodocus, and others that have been naturally glued to the rock million years ago.
4. Dinosaur World (Kentucky, Texas & Florida)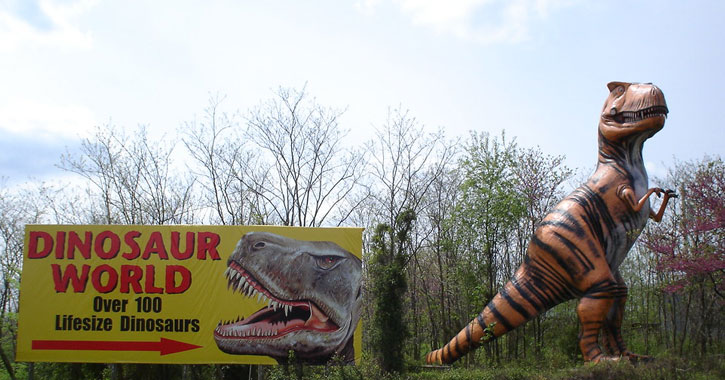 Located in Kentucky, Texas, and Florida, this outdoor attraction boasts of over a hundred cool-looking, life-sized dinosaurs positioned along a wooded walking trail.
Each location surely gives visitors plenty of Instagrammable photo opportunities.
Plus, there are dinosaur-themed playgrounds for young kids, an interactive exhibit of prehistoric creatures and a museum with real fossils.
Address: 1815 Hawthorne Blvd UNIT 301, Redondo Beach, CA 90278, United States
Highlights: Indoor dino-themed playground with a small museum and a TON of activities for young kids
This indoor dino-themed playground is located inside South Bay Galleria mall in Redondo Beach.
It's a great side trip if you're visiting the west coast with young kids, or if you wish to host a legit dinosaur birthday party.
Aside from the museum with over 100 dinosaur models, Wonder of Dinosaurs also has a miniature golf, maze, kiddie rides, animatronic stuffed dinosaurs – all located indoors.
6. T-REX Cafe (Disney Springs, Florida)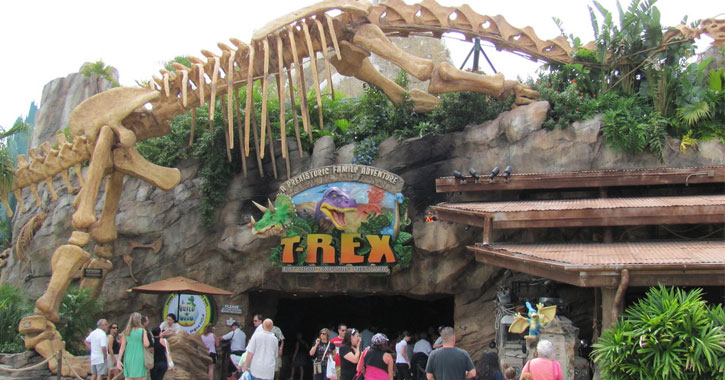 Address: 1676 E Buena Vista Dr, Lake Buena Vista, FL 32830
Highlights: Dine at this dinosaur-themed cafe for a memorable birthday or special event
Enjoy American eats alongside animatronic dinosaurs at the T-Rex Cafe, as you take a break from your Disney Springs trip.
There's a fun kid-friendly Paleo Zone where kids can dig for dinosaur bones or precious gems.
Note that since this is inside a theme park, reservations ahead of your trip are necessary.
Stone Mountain Park has its own "Dinosaur Explore" attraction that features over 20 animatronic dinosaurs like the Allosaurus, Brachiosaurus, Triceratops, and of course, the Tyrannosaurus rex.
Kids can become a Junior Dino Ranger after embarking on a dino-themed program. Younger kids also have their own Dino Nursery in the Dinotorium.
Dinosaur Caves Park is a cute dinosaurs themed playground in Pismo Beach that is great for younger travelers.
If you are driving on Highway 101 between San Francisco and Los Angeles, this could be a great pit stop to give your tiny dinosaur fans to run off some steam and have a picnic.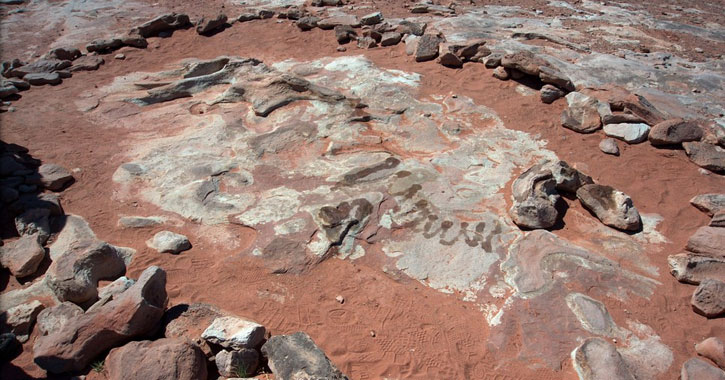 Address: Dinosaur Tracks, Tuba City, Arizona 86045
Highlights: Go on a hunt to find dinosaur tracks in Arizona
Take a trip to HW-89 and Tuba City, AZ off HW 160, where you'll find the start of Moenkopi Dinosaur Tracks attraction.
In this area, you'll be able to feel and make the same footsteps of real dinosaurs who walked through this part of Arizona approximately 200 million years ago.
There is usually a Navajo Nation representative to greet you and ask if you'd want a tour for a small fee. He/she will direct you to every known dinosaur track in the area.
Of course, you and your kids can also do the hunting yourself if you've got a lot of time to spare.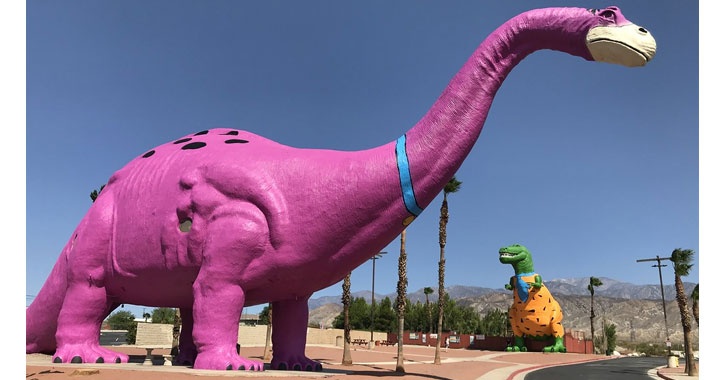 Address: 50770 Seminole Dr, Cabazon, CA 92230
Highlights: This roadside attraction features life-sized dinosaurs in pop culture "costumes"
You won't see dino bones and fossils at Cabazon Dinosaurs, but you'll be in awe at those towering, man-made dinosaur replicas of Brontosaurus, Apatosaurus, Tyrannosaurus rex & more. You can even go inside the T-Rex and take another view of the attraction right from inside the head of the dino. Admission to the Dinosaur Park ranges from $10 to $13.
Cabazon Dinosaurs is also famous for the holiday-themed dinos that they paint to celebrate Christmas (the T-Rex dressed as Santa), Valentines (tux-wearing T-Rex with heart design), and so on.
What's Better than the Best Dinosaur Museums in the US? A Spectacular Dinosaur Trail across different cities!
If you're planning your next trip around dinosaurs, check out these two state-wide trails: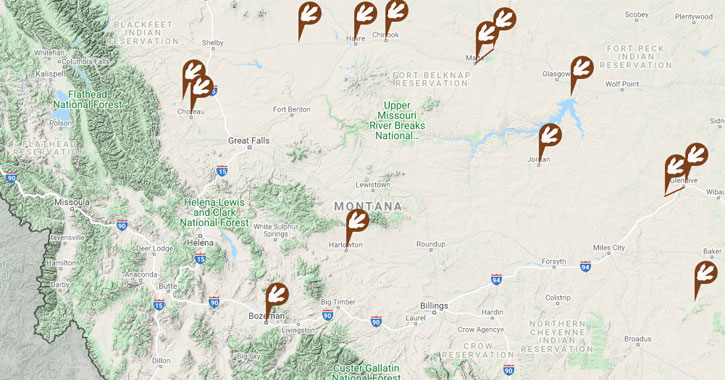 Take the planning out and go straight to enjoying your dino-themed road trip.
Montana's dinosaur trail runs across Montana's 14 famous locations from the Montana Dinosaur Center in Bynum to the Carter County Museum in Ekalaka.
Of course, you can always choose which location to start your adventure, so check the map and pick-and-choose from the stops you'd love to include into your itinerary.
This diamond-shaped trail runs 512 miles through Utah and Colorado and takes around 4 days to complete all stops. You can pick the starting attraction you want from the loop in spots like:
Got Other Museums in Mind?
From massive dinosaur bones showcased smack in the middle of museums to an entire exhibit of the Age of Dinosaurs, anyone interested in these fascinating creatures and prehistoric time should make a trip to the following museums a memorable one.
I hope you enjoyed my list of the best dinosaur museums in the US.
But if you're still on a museum high and would love to continue checking off museums from your bucket list, make sure to read up on: