Gem mining in Tennessee has been a go-to educational field trip activity for many local schools, but did you know these mining destinations are open to all tourists and other visitors as well?
Learn all about the types of gems found in Tennessee and where to go for beginner- and kid-friendly gem mining around the area.
5 Places for Gem Mining in Tennessee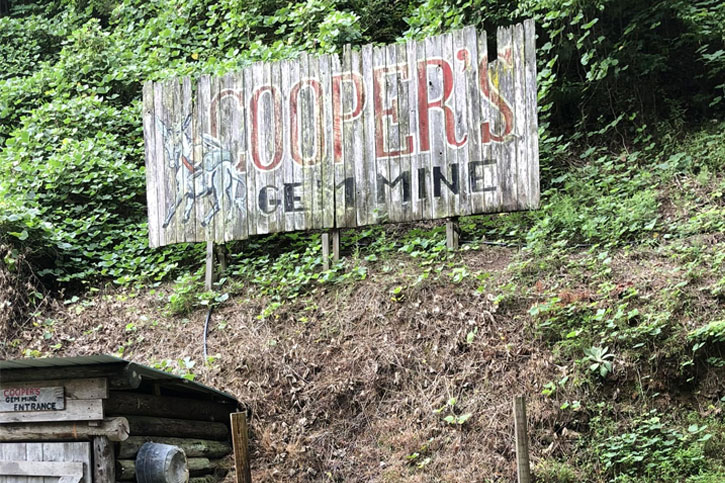 Fees: Bucket prices range from $4 to $20, Buckets with special gems could go as high as $500
Guest Info: The Mine is open seasonally and season affects prices, so inquire before you visit.
There is no entrance fee going into Cooper's Gem Mine, but you'd have to pay per bucket. The price would depend on what types of Tennessee gems you like to own. Buckets with regular gemstones, rocks and minerals start at $7.
For every bucket you buy at Cooper's Gem Mine, you will receive a sifter. Visitors pour the contents of their buckets into the sifter, dip the whole thing in the water and see what treasures they'll get once the fossils, arrowheads, stones and gems are left.
If this is your first time gem mining before, the experience will totally make you want to "dig" more. What makes Cooper's Gem Mine special is that it is located right in the Tennessee mountains.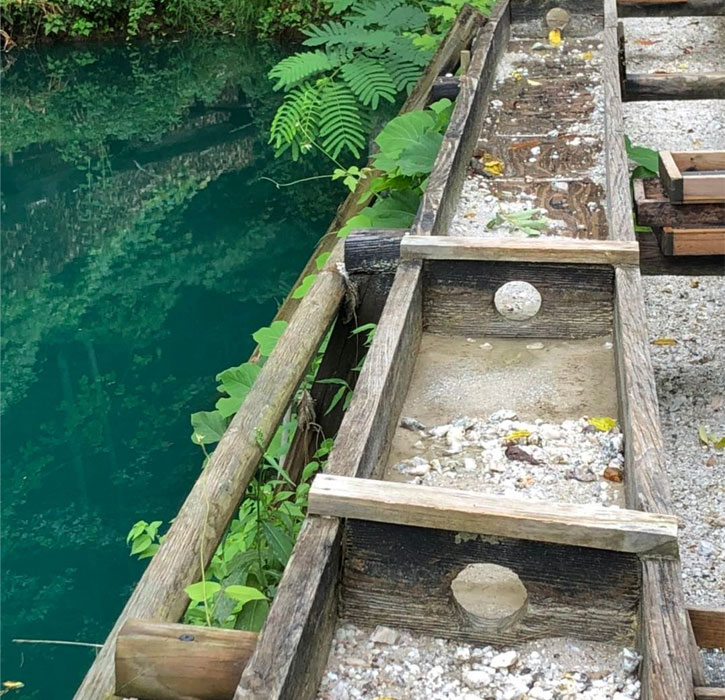 Don't expect digging into mines with a pickaxe, but Cooper's Gem Mine is perfect for any family looking to bond over nature and geology.
Some Tennessee gems you might find here are ruby, citrine, pyrite and amethyst. But if you go for the bigger (or more expensive) buckets, expect pink crystals, rainbow crystals, or other rare gemstones as well.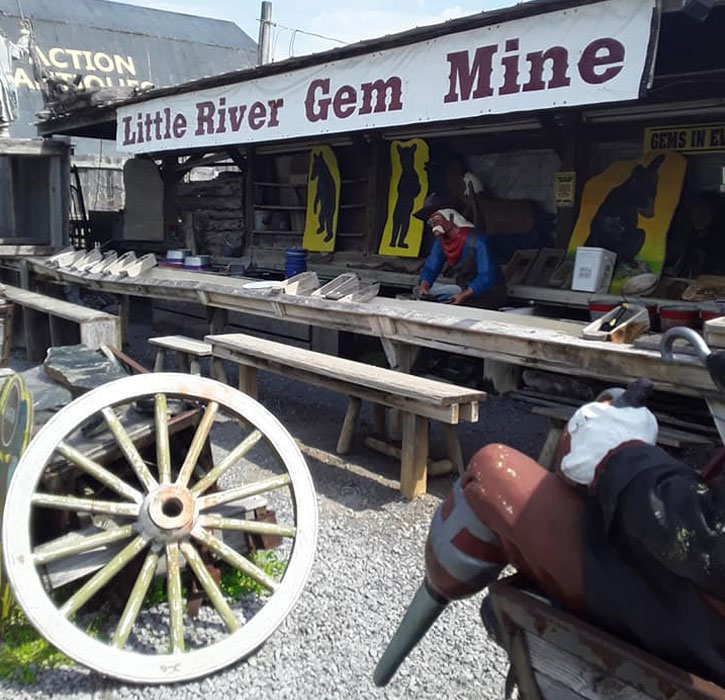 Fees: Depends on the bucket you choose. Start with two buckets for $35
Guest Info: Indoor store and outdoor yard
When it comes to the most memorable gem mining experiences in Tennessee you can find, head over to Townsend where the Little River Gem Mine is located.
This interactive destination, found Sevierville between I-40 and Route 441, is a well-loved stop for both kids and adults. Little River Gem Mine also has a rock shop, if you'd like to start collecting or making jewelry. They have plenty of interesting fossils and gems you can use for your craft.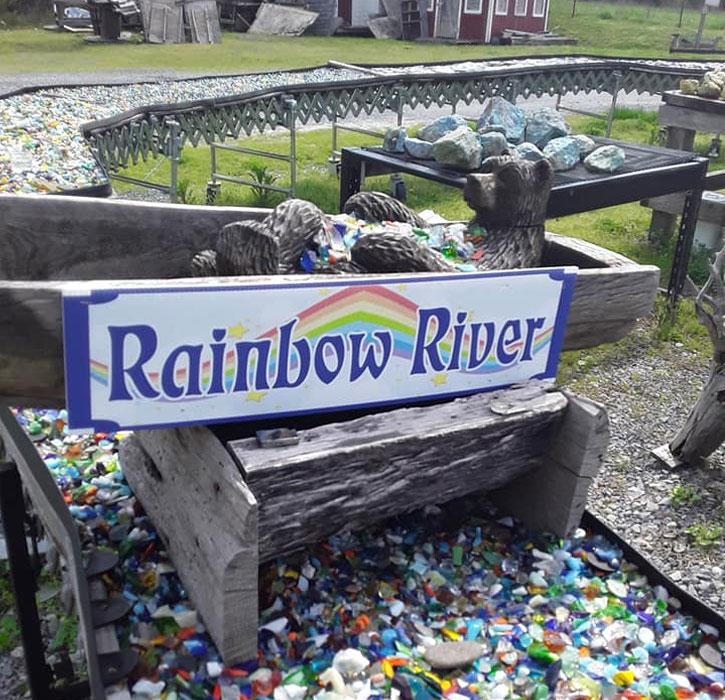 There are 3 things that make Little River Gem Mine a must-visit:
The variety of treasures are top-notch: If you came here for gem mining, you won't be disappointed. Every bucket of dirt you purchase will reveal chunks of rocks, gems, and other treasures, such as Jasper, amethyst, moonstone, Tiger's eye, agate, onyx, green aventurine, turquoise, and more. The sizes of these stones vary as well. You're not just going to receive tiny crystals.
The awesome outdoor decor: Even if you're not mining, the place can still be such an entertaining location. Everywhere you look, you're bound to see something quirky, interesting, hysterical, or informative. From pirate statues to tigers, life-like dinosaur décor to old-timey cabins, you're definitely in for a treat! And if you're lucky, the item that got your attention might be up for sale.
The knowledgeable staff: The staff is helpful and super experienced. Not only do they help you with anything you're looking for, the Little River Gem Mine crew can also answer every gem question you may have.
I recommend you spend an entire morning or afternoon exploring Little River Gem Mine.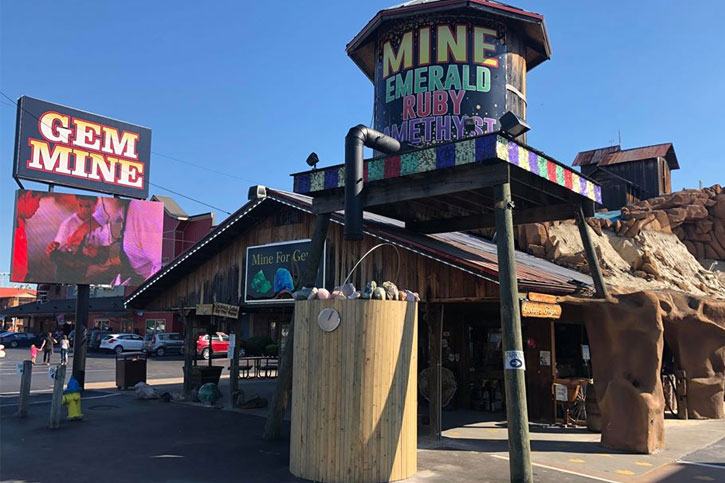 Location: 2865 Parkway, Pigeon Forge, TN 37863
Fees: Gem mining buckets range from $35 to $1500
Guest Info: Open from Monday to Sunday (9 am to 10 pm), or call 865-453-4733 to confirm.
Pigeon Forge is probably the most popular out of all the gem mining spots in Tennessee. One look at the place and I'm sure your brain won't forget how this gem mining spot looks like.
What makes Pigeon Forge special? There's 3 things I LOVE about this destination:
It is along the way to Great Smoky Mountains National Park. If you're heading to this park, Pigeon Forge is a must side stop, especially if you have kids with you.
Pigeon Force has its own museum. Yup, if you're not in the mood for treasure hunts but still love everything about gemology, check out the Rock and Fossil Museum. It's free to explore!
Get your find cut, polished or transformed into jewelry. Leave it to the pros to process your newfound rocks and gems into smooth gems you'll cherish for years. You can even have them made into wearable jewelry.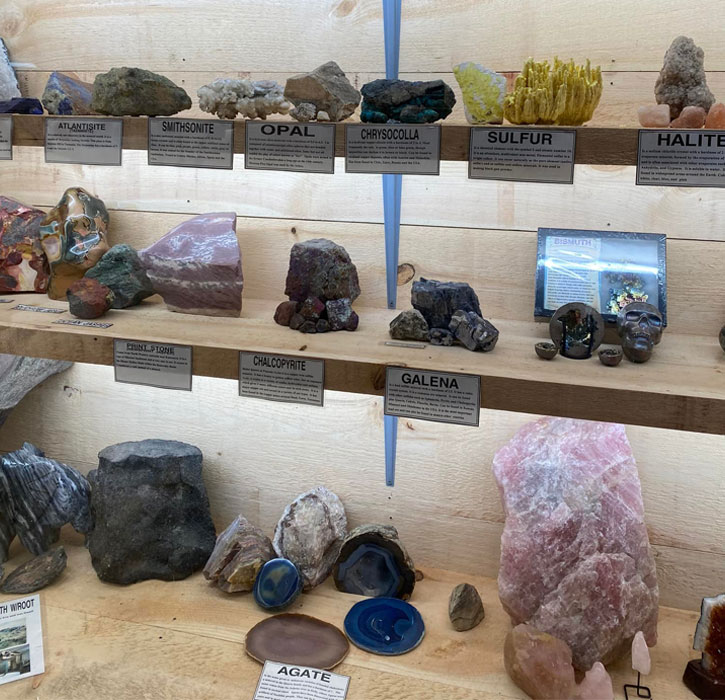 At Pigeon Forge, you can find fossils and minerals, such as pyrite, sodalite, citrine, amazonite, Dalmatian jasper, geodes, crystal quartz, and bloodstone, among many others. For popular gems, there are sapphires, mountain topaz, rubies, rose quartz, aquamarine, garnets, tourmalines, amethysts, and emeralds found in most buckets.
Like other gem mining in Tennessee, your options at Pigeon Forge would depend on the bucket you choose. Each bucket ranges from $35 to $1500, which means you have a higher chance of getting rare gems the higher-priced bucket you choose.
$35 is the standard, which is more than enough for a kid's first-time gem mining experience
$65 Big Bear option includes free 1 Carat Cut/$15 off custom jewelry
$100 Miners Special was made for advanced miners who might enjoy fossils along with Tennessee gems. This also includes 2 Free Carat Cut/$30 off custom jewelry
$500 to $1500 Super buckets are bundled packages. Some come with admission to Three Bears General Store, others include dining stubs to the Sawyers Farmhouse Restaurant, all on top of Pigeon Forge Gem Mine activities.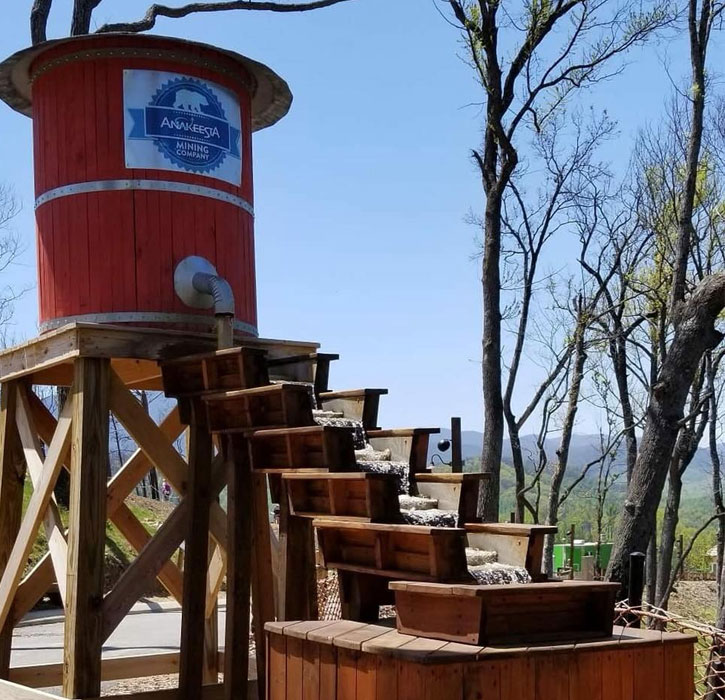 Anakeesta is another gem mining destination in the Smokies, but unlike the others on this list, Anakeesta isn't just a place for mining Tennessee gems.
Anakeesta is also an adventure park with zip lining opportunities, gondola rides, a treetop play area & other fun activities while enjoying nature.
The gem mining area is located at the end of the park's Treetop Canopy Walk. If you're coming from the Treehouse Village, it's quick to see the outdoor space available for mining.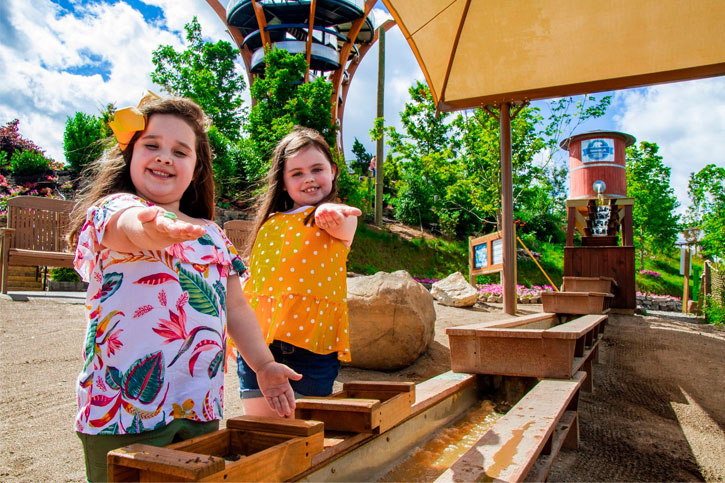 Price for the gem mining is low (starts at $8) since this is designed mostly for kids and families (instead of hobbyists and gem collectors). As such, don't expect rare gems or large rocks, fossils or other treasures at Anakeesta. However, I'm sure the variation of gems in a bucket would be enough to make first-timers satisfied with their "finds."
What I love most about Anakeesta is that once the kids are done gem mining, there are plenty more to do. You can even wait for the sun to set and enjoy live music while stargazing the Smokies' amazing views.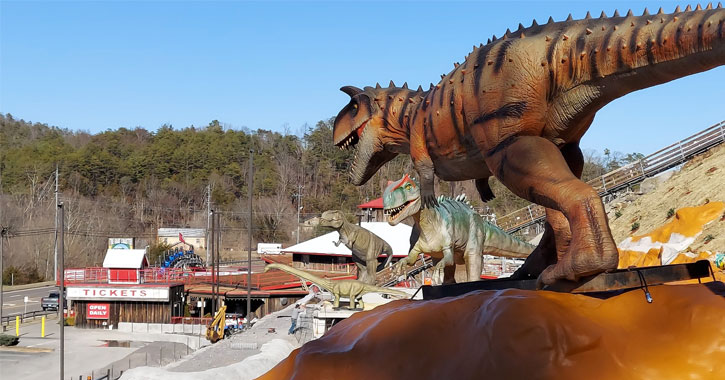 Fees: $15 to $25 per bucket
Guest Info: Opens every day of the week from 8 am
Located at the Wears Valley Road, Goats on the Roof is named after the goats that roam around the place (yes, including the roof!).
Aside from all the goat-y activities, such as goat feeding and petting, this mountain attraction also has a gem mining facility where kids and kids-at-heart can sift through piles of dirt to find gemstones such as sapphires, rubies and emeralds. Goats on the Roof uses the traditional water sluice technique.
Like many gem mining spots in Tennessee, Goats on the Roof gem mining is priced per bucket. Visitors have the option of paying $15 for a bucket full of gem-rich soil, $20 for 2 buckets, or $25 for a larger bucket.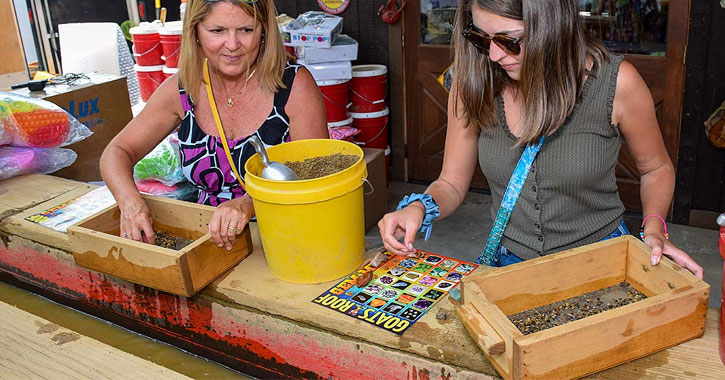 When you're done with gem mining, ask any of the helpful staff about turning these gems into jewelry.
Make sure to explore other parts of Goats on the Roof such as the Goat Coaster, which shows off views of the mountains and the goats roaming around from another vantage point. You can also check out the gift shop with gems and other trinkets.
Gem Mining in Tennessee FAQs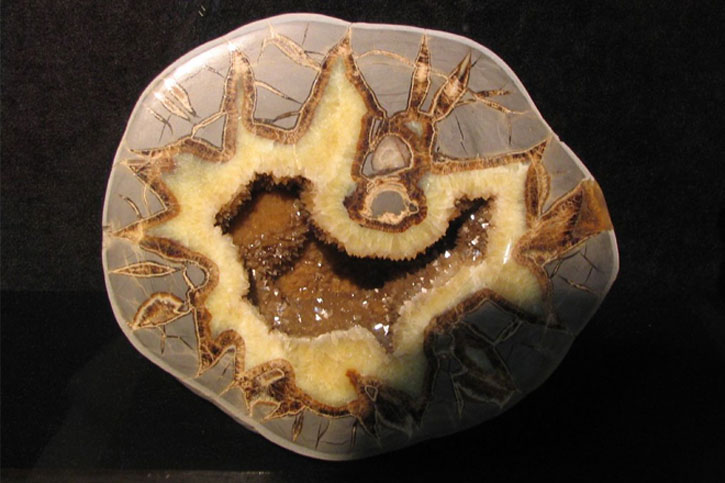 Where to find geodes in Tennessee?

Central Tennessee is rich in geodes. In the eastern part of Tennessee, mainly in Russellville, there are plenty of quartz geodes,

What types of rocks are found in Tennessee gem mines?

You can find a well-balanced variety of sedimentary, metamorphic, and igneous rocks in Tennessee. There are jasper, marble, sandstone, agates, obsidian, geodes, flint, bauxite, limestone, and more.
Jasper is a common occurrence in mines in the Sullivan, Greene, or Hawking's counties.
If you're after obsidian, your focus should be around the Benton, Cheatham, or Humphreys counties, where many obsidian artifacts were found.

Do I need reservation to visit gem mining attractions in Tennessee?

Not really, but the gem mining destinations above have varying opening hours, especially during change in season, which is why it's a good idea to check their websites or call ahead before visiting.
Done Gem Mining in Tennessee? Here are other must-visit mines around the country
Gem mining is one of my new favorite hobbies. If you're new to this too and want to find out other gem mining spots around the country, check out my guide about gem mining in Michigan or gem mining in Ohio.
If you'd rather explore other parts of Tennessee, check out the best Tennessee caves, waterfalls, lakes, or camping spots.
My 3-day in Nashville guide or Tennessee Whiskey Trail guide could also be something you'd be interested in, so check it out and enjoy!