No matter what season it is, no matter what the occasion, no matter who you're taking, a Florida Keys road trip is always a good vacation idea.
Driving from mainland Florida all the way to Key West, you'll get treated to spectacular views of the ocean and pristine landscapes.
Today's article is an essential guide to taking your Florida Keys road trip; sites to visit, places to eat, activities to do, and everything in between.
The Florida Keys: A Primer
The Florida Keys is an archipelago off the southern coast of Florida composed of hundreds of islands connected by a total of 42 bridges.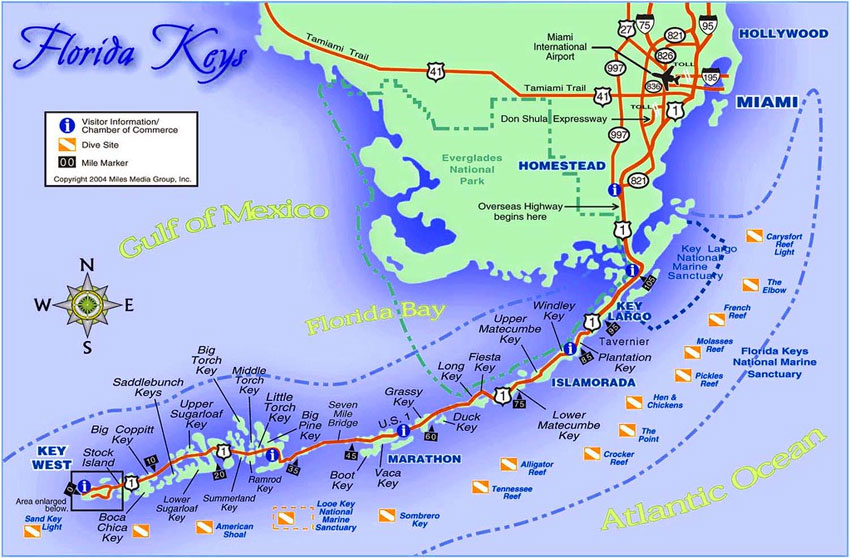 For this road trip, you'll be traveling almost entirely along the Florida Keys Overseas Highway, which is a 113-mile section of US Highway 1 starting at the Miami-Dade/Monroe County line, all the way to Mile Marker 0 in Key West. If you drove directly from Key Largo to Key West, it would take you around 2.5 to 3 hours.
Uniquely Florida Keys: Mile Markers
Because of the linear nature of the Florida Keys Overseas Highway, directions and addresses to establishments and attractions are locally described by the mile markers along this highway.
For instance, if you try to ask for directions to a certain place, you can be told that it's at Mile Marker 79.1. Of course, there isn't really a Mile Marker 79.1, this just means it's a little past Mile Marker 79.
Keep this in mind when asking directions and reading local brochures and guides to the Florida Keys.
Florida Keys National Marine Sanctuary
The sanctuary protects the waters surrounding the Florida Keys, protecting the only barrier coral reef in North America, as well as various smaller coral reefs, shipwrecks, seagrass beds, and fisheries.
Remember that every time you set foot in Keys waters, you are in the sanctuary, and thus, you need to abide by sanctuary rules to take care of the ecosystem.
For more information, you can read up Florida Keys Visitor Information before you go on the road trip.
Florida Keys Cuisine and Drinks
Aside from the usual fish, such as yellowtail snapper, grouper, mahi-mahi, and lionfish, as well as the usual shellfish, the Florida Keys offers various other dishes.
Look for delicacies such as stone crab claws, spiny lobster, hogfish, and wild-caught Key West pink shrimp. For dessert, look for key lime pie, with or without meringue.
Conch used to be almost synonymous with the Florida Keys, but since they've been overfished to the point of extinction, conch dishes served nowadays are either not really made of conches or are fished illegally from the Bahamas.
Craft beers and rums are increasingly becoming popular by natives of the Florida Keys. Craft breweries and distilleries are popping up all along the Overseas Highway.
When To Travel
If you live in a place where winters are cold, this is the time you'd probably want to take this road trip, but this is also peak season as many other travelers have the same idea. March to May is a better time to travel because there are fewer tourists and fewer cars on the highway.
As I've mentioned before, if you drive straight from Key Largo to Key West, it takes mere hours, but if you're already in the Florida Keys, you might as well take a day to explore each of the Keys.
The ideal time to spend on this road trip is from 4 to 5 days to fully appreciate everything the Florida Keys have to offer.
Florida Keys Road Trip Itinerary
In this itinerary, it is assumed that you'll enter US 1 through Florida City in mainland Florida.
Key Largo: The Dive Capital of The World
This is the first of the Keys and where you get to start your road trip.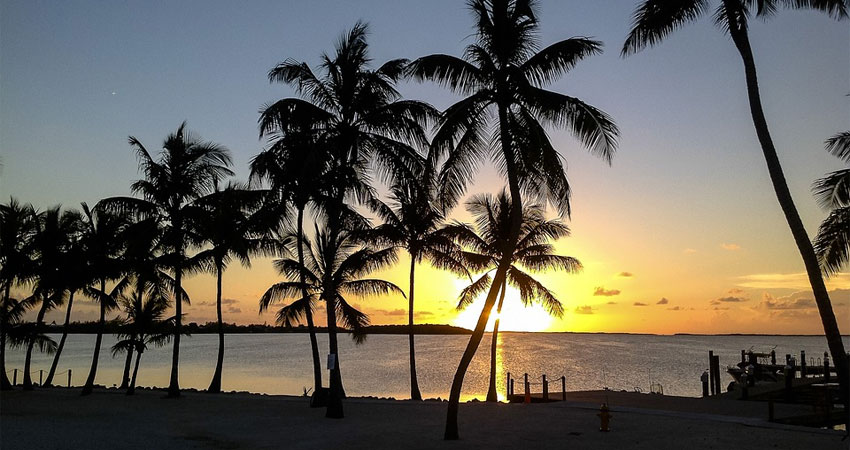 You have two choices when entering Key Largo from Florida City: either follow US Route 1 to get to the Miami-Dade/Monroe County line and to the beginning of the Florida Keys Overseas Highway, or take Card Sound Road to North Key Largo and follow the 905 south until it merges with the Overseas Highway.
If you choose the latter route, you'll enter Key Largo on the northern side and will get to see more of what Key Largo has to offer.
Surrounded by Florida Bay, the Florida Straits, and the Atlantic Ocean, Key Largo lives up to its moniker as the dive capital of the world with various travel agencies offering glass boat tours, eco-tours, deep-sea fishing, snorkeling, skin and scuba diving, and kayaking around the area.
Where To Eat in Key Largo
Where To Stay in Key Largo
List Of Highly Recommended Key Largo Hotels
Places To Visit in Key Largo
1. John Pennekamp Coral Reef State Park
The first underwater park in the United States, John Pennekamp Coral Reef State Park cover around 70 nautical square miles, featuring coral reefs, seagrass beds, and mangrove swamps.
Scuba diving, snorkeling, kayaking, paddleboarding, fishing, and glass-bottom boat tours are popular activities you can do in this state park.
It also tops my list of one of the best places to snorkel in the US.
Dolphins Plus offers a variety of dolphin experiences, with the structured swim with them being the main attraction.
If you don't want to get into the water, you can also just stay dockside and have them kiss you or paint a picture with you.
3. Dagny Johnson Key Largo Hammock Botanical State Park
The Dagny Johnson Key Largo Hammock State Park is home to 84 protected species of plants and animals and contains one of the largest tracts of West Indian tropical hardwood hammock in the United States.
Its paved trails are accessible to hikers, as well as visitors in bikes and wheelchairs.
Information about the wildlife and ecosystem are also posted along the various trails.
Islamorada: The Sport Fishing Capital Of The World
Islamorada, whose name means "Purple Isle" in Spanish, is made up of six islands: Plantation Key, Windley Key, Upper Matecumbe Key, Lower Matecumbe Key and the offshore islands of Indian Key and Lignumvitae Key.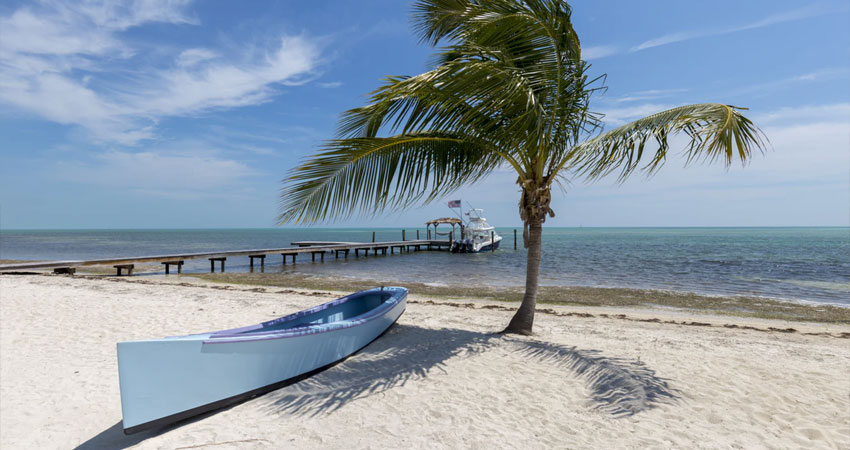 Located between Florida Bay (the "backcountry") and the Atlantic Ocean, Islamorada offers numerous fishing opportunities, so it's not surprising that backcountry sport fishing and saltwater fly-fishing started right here.
Islamorada has a less commercial feel than Key Largo, but it has more professional offshore charter boats and definitely more recreational fishers than anywhere else in the Keys.
Where To Eat/Drink in Islamorada
Where To Stay in Islamorada
List Of Highly Recommended Islamorada Hotels
Places To Visit in Islamorada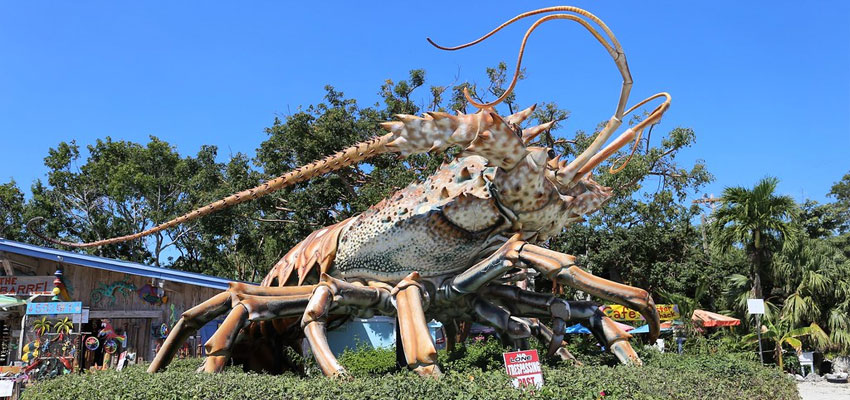 You can't miss it: it has a giant lobster named Betsy out front. The Rain Barrel Village is an artisans' haven with various shops and galleries featuring works made and sold by local artists.
2. Robbie's Marina of Islamorada
Robbie's Marina offers many attractions and activities, such as fishing, sunset cruises, and parasailing, but tourists all over the world come here to feed the wild tarpon.
Tarpon are silver-colored fish that migrate through Islamorada from March through September, and a certain school of a hundred or so tarpon come up to the docks and feed on the bait that visitors dangle.
Theater of the Sea houses various sea animals, alligators, and birds. Their mission is to provide a sanctuary for animals while giving visitors a chance to interact and experience these animals up close.
Here's your chance to swim with dolphins, sharks, and stingrays, as well as interact with sea turtles and sea lions up close and personal.
4. Keys History & Discovery Center
Barely a decade old, this museum and movie theater features exhibits and shows documentaries exploring the rich history of the Florida Keys: from the first people on the keys to Spanish treasure hunts to Henry Flagler's over-sea railway that was destroyed by a huge hurricane in 1935 and is now the Florida Overseas Highway.
If you're a diver or at least a diving enthusiast, this museum featuring artifacts, documents, antiques, books, photographs, and oral history related to the history of diving and man's quest to explore the underwater world.
Marathon: The Heart of The Florida Keys
Known as the heart of the Florida Keys because of its central location, Marathon is considered the most marine-friendly cities in the Florida Keys, known for its various facilities to support transient cruisers.
It is also home to the Florida Keys Marathon International Airport, accommodating private planes and chartered planes from Miami.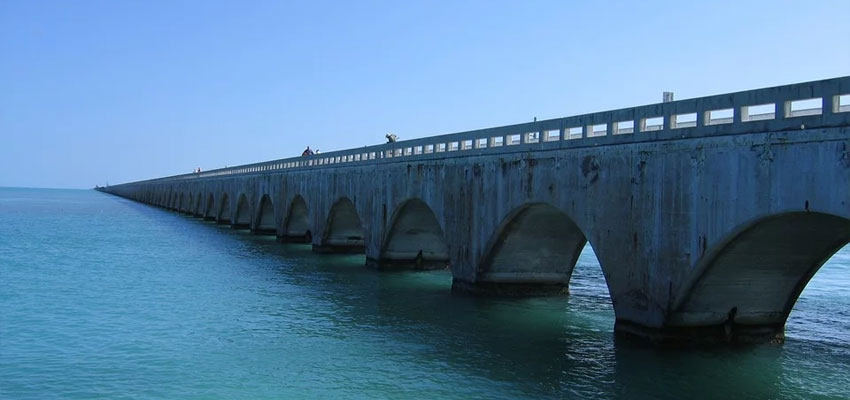 When leaving Marathon, you'll go through the Seven Mile Bridge going to the Lower Keys. The Seven Mile Bridge is the longest bridge in the Florida Keys and is included in our list of the most famous bridges in the US.
As with the rest of the Florida Keys, there are many opportunities for sailing, fishing, and diving in Marathon, but probably the most recommended snorkeling spot is the one on Sombrero Key.
Where To Eat in Marathon
Where To Stay in Marathon
List Of Highly Recommended Marathon Hotels
Places To Visit in Marathon
1. Crane Point Museum, Nature Center, and Historic Site
In 1976, the Florida Keys Land & Sea Trust bought the land where this nature center stands to save it from urban development.
Today, Crane Point features a natural history museum, a children's museum, a bird center, and numerous nature trails for hiking.
2. Sombrero Key Sanctuary Preservation Area
You can rent a boat, sail it from the 33rd Street Public Boat Ramp, tie it off on one of the mooring buoys on the south side of the Sombrero Key Lighthouse.
From here, you can go on snorkeling and diving to see all the colorful marine life in the crystal clear waters. Fishing is strictly prohibited, though; this area is a protected sanctuary.
This is a non-profit organization dedicated to rehabilitating endangered sea turtles and educating the public about how to take care of sea turtles and make the environment safe for sea turtles.
Visitors can take a tour of the facilities and even "adopt" a sea turtle (you won't actually own the turtle, it's more of a sponsorship).
The Lower Keys: The Natural Keys
The Lower Keys are quieter and less commercialized, and with a national wildlife refuge, a national marine sanctuary, and a state park, you are never far from the natural world; flora and fauna abound with the surrounding marine ecosystem in the background.
Once you get off the Seven Mile Bridge, you'll pass some minor keys before getting to Bahia Honda Key, which is home to the Bahia Honda State Park.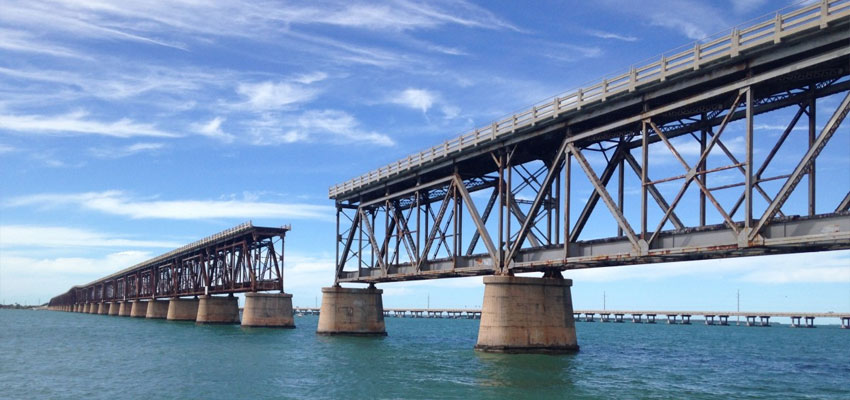 From here, you'll be entering Big Pine Key in the Lower Florida Keys, which is the center of a national refuge for miniature Key deer. The species has come back from near-extinction to a thriving population.
Where To Eat in The Lower Keys
Where To Stay in The Lower Keys
List Of Highly Recommended Lower Keys Hotels
Places To Visit in The Lower Keys
1. Bahia Honda State Park and Recreation Area
The Bahia Honda State Park features endless expanses of white sand beaches.
It also gives you access to hiking up on to one of the original bridges that were constructed from Miami to Key West. It also gives you a vantage point to the abandoned Bahia Honda Rail Bridge on the western side of the Bahia Honda Key.
The endangered Key deer is only found in the Lower Keys.
Poaching and loss of habitat reduced their population to only a few dozen animals in the 1950s, but with the establishment of this refuge in the 1960s, their population is now closer to a thousand.
The main attraction of the National Key Deer Refuge is the deer, but don't neglect to visit the Blue Hole, also found within the grounds. This freshwater "lake" is a quarry left over from the construction of the Henry Flagler Railroad that filled up with fresh water from the frequent rains.
From the observation deck in the Blue Hole, you can observe a variety of wildlife such as birds, animals, and reptiles, especially the American alligator.
Drive extra carefully when passing by this area; 5-15% of the Key deer populations are lost to motor vehicle collisions. And don't feed them!
3. Looe Key National Marine Sanctuary
The Looe Key reef has been federally protected since 1981.
This area includes a Sanctuary Preservation Area that is a popular snorkeling and dive destination to see various fish, such as parrotfish, surgeonfish, barracudas, butterflyfish, and angelfish.
Key West: The Conch Republic
Key West is the last of the keys on your road trip, and probably where you'll encounter the most tourists. But this is also where you'll get to experience the most diverse culture, as many of the residents of Key West were Bahamian immigrants and Cuban refugees.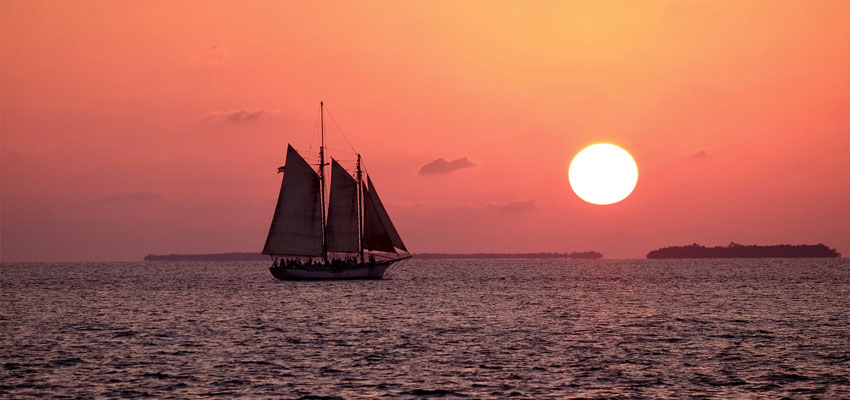 This cultural diversity is evident in local art, architecture, and cuisine.
This rich culture has inspired literary giants such as Tennessee Williams, Robert Frost, and Ernest Hemingway.
The Key West has a large angling history, and it remains a fisherman's haven, from fly fishing to reef fishing. Other water activities, as with the rest of the Florida keys, include diving and snorkeling, as well as kayaking and eco-tours.
This is also home to the most spectacular sunsets in the world; so spectacular that they even built a celebration around it. Plenty of tour operators offer sunset cruises to experience it up close.
Internationally, Key West is known as a gay mecca, where LGBTQ visitors are warmly welcomed.
Before gay marriage was legal, pastors of the local Metropolitan Community Church have been holding commitment ceremonies for gay and lesbian couples. There are even male-only or female-only, gay-exclusive hotels.
If you rented a car, you can actually end your road trip here and fly out of the Key West International Airport to the mainland, or you can turn around and go back to Key Largo and the mainland the same way you came.
Where To Eat/Drink in Key West
Where To Stay in Key West
List Of Highly Recommended Key West Hotels
Places To Visit/Things To Do in Key West
1. The Southernmost Point Buoy
You simply can't visit Key West and not stop by the southernmost point in the continental United States, where you are closer to Cuba than to mainland Florida.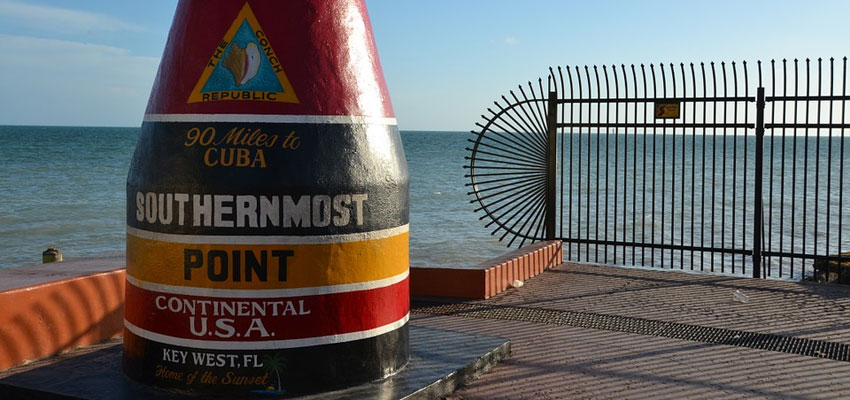 The line for photos with this red and white pillar is long unless you get there early in the morning or very late at night.
2. Key West National Wildlife Refuge
This wildlife refuge was created in 1908 to preserve and breed various nesting birds and other wildlife. Today, it is a haven for 250 species of birds, as well as green, loggerhead, and hawksbill sea turtles.
You can go snorkeling, diving, boating, and fishing in the area, as long as you follow fishing regulations. You may also opt to simply observe and photograph the wildlife.
Escape 70 miles west of Key West to the secluded islands of the Dry Tortugas National Park. This park is so secluded that it is only accessible by boat or by seaplane.
History buffs will enjoy exploring the historic Fort Jefferson and the lighthouse in Loggerhead Key, while outdoor enthusiasts will enjoy snorkeling, diving, and swimming in one of the many picturesque beaches.
If you want to stay longer, you can stay in a campground on Garden Key. Remember that you'll need to bring all the supplies you need and that you'll have to bring out any trash you produce.
4. Ernest Hemingway Home & Museum
Go back in time and visit the house and gardens that hosted Ernest Hemingway at his most productive.
The Hemingway House was built in the Spanish Colonial style, and Ernest and his second wife Pauline restored and remodeled it in the 1930s, turning it into the grand masterpiece it is today.
Works of Ernest Hemingway are available to purchase on-site. Guided tours are available for this National Historic Landmark, Literary Landmark, and Historic American Building.
All roads lead to Mallory Square, arguably the center of Key West. This bustling plaza overlooking the Key West Harbor is a great place to people watch and is close to many tourist spots in downtown Key West.
Learn about Key West's marine ecosystem in the Key West Aquarium, take a 90-minute tour aboard the Conch Tour Train, or simply stroll along the Westin Marina or through the Historic Seaport and enjoy the breeze.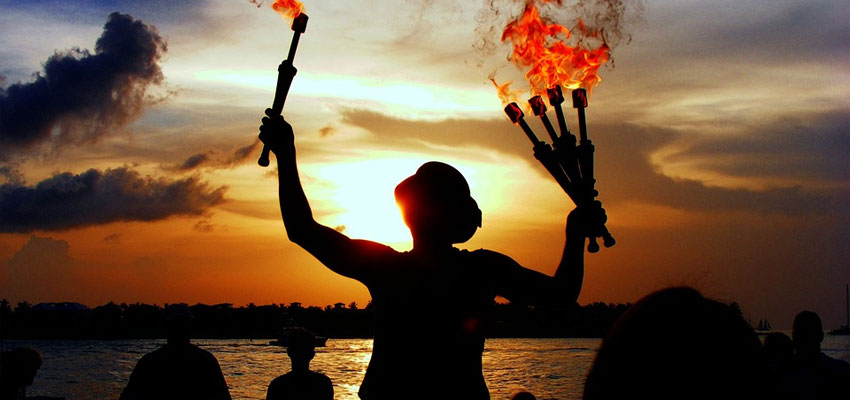 An hour before sunset, join the Key West Sunset Celebration featuring street performers, psychics, local musicians, artists, and food vendors. This nightly party hosts tourists and locals alike and is a beautiful celebration of natural beauty and culture.
6. Duval Street
When the sun has set, make your way to Duval Street, a mile-long commercial street running from the Gulf of Mexico to the Atlantic Ocean. It's the ultimate hub for shopping, sightseeing, local cuisine, and cold brews and spirits.
With over 100 small bars packed in 15 blocks, a Duval bar crawl is certainly going to be an unforgettable experience. Listen and dance to a variety of music ranging from jazz to rock to EDM and hip-hop to Cuban and salsa music.
Wherever you go, you'll be sure to find something unique and to have a great evening.
7. Night Kayaking and Paddleboarding
This had to be mentioned as a fairly new and unique activity: exploring the ocean floor nightlife with lighted kayaks and paddleboards.
Snorkeling and diving during the day, you get to see fish and other sea creatures that are active during the day. But at night, the nocturnal sea creatures, such as lobsters, crabs, rays, and certain types of fish come out. Night kayaking allows you to see these creatures that you will not be able to see any other time of day.
The two best operators that offer them are Ibis Bay Beach Resort and Night Kayak Key West.
Go On That Florida Keys Road Trip Today!
Well, you know, maybe not today, but soon!
The Florida Keys is an escape from rowdy crowds and a chance to take a breather and relax in the middle of turquoise waters and nature.
It is a great place to sample delicious local seafood, spectacular ocean parks and sanctuaries, awesome wildlife refuges, unique restaurants and bars, and plenty of history, culture, and breathtaking sunsets along the way!
A Florida Keys road trip is truly an awesome experience. Here are other road trips in the US that you can take: