Skate parks in Seattle have come a long way in the last 50 years.
Like much of the country, the skateboard culture in Seattle used to be synonymous with breaking the rules. The anti-establishment stance was mostly because skateboarding wasn't fully accepted as a sport by parents, communities, and even sports organizations.
Today, skateboarding is well-received thanks to video games, big-brand establishments and sponsorships, local government participation, and even the introduction of skateboarding in the Olympics in 2020.
9 Must-Visit Skate Parks in Seattle
So if your kids got bitten by a skateboarding bug, or you're planning a trip to Seattle and wanted to skate, here are 9 spots you could visit.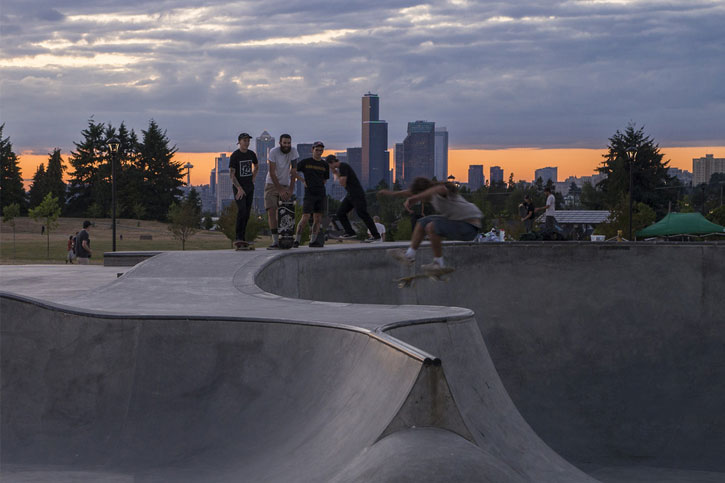 The Jefferson Park Skatepark is located in Jefferson Park, the sixth biggest park in Seattle. It offers one of the best views of the city on one side and the Olympic Mountains in another. The skatepark is just one part of the bigger park that includes a golf course, lawn bowling, and community center.
If you live near southeast Seattle, Jefferson Park Skatepark would be your go-to skatepark.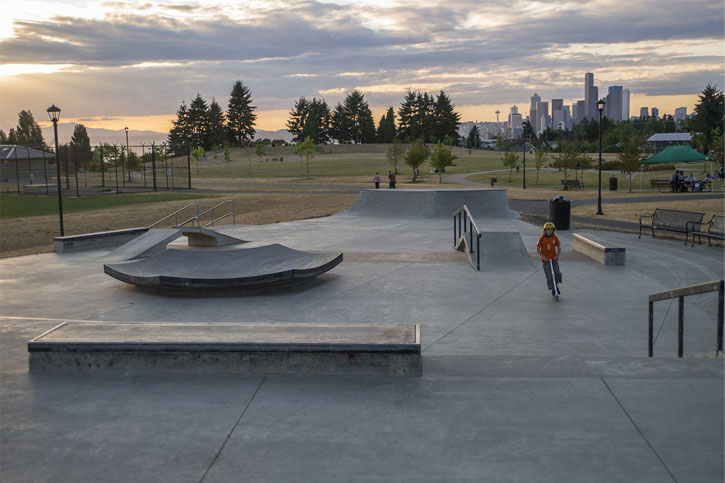 Jefferson Skatepark has a mega bowl with a shallow end and deep end.
There's also a section with ledges, handrails, quarter pipes, a-frames, manual pad for learning tricks.
At the other side of the skatepark is the Red Bull Skate Space, which was designed for advanced skaters.
What I like are the shaded areas around Jefferson Skatepark and the restroom (not all parks have them).
The only problem for such a famous park is that parking does get full most hours of the day. The upside is that it is accessible by the 36, 60 and light rail station, as well as near coffee shops and burger joints.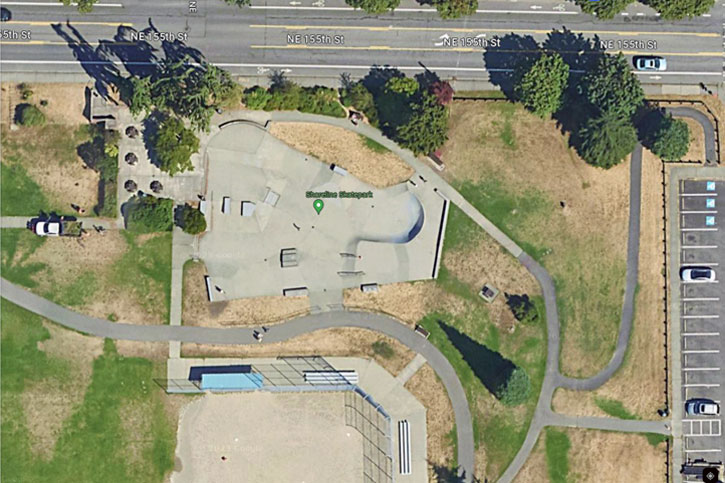 Shoreline Skate Park features a half bowl, nice open flow and paved loop around the fields. It is clean and well-maintained, but ideal for beginner or casual skaters
Beside the skatepark is a playground, water fountain and public restroom.
Note that it can get busy with young kids in scooters and bikes, especially during weekends, so time your visit at later hours to avoid the young crowd and get more space for your skating.
If you're not from around here and you plan to visit by bus, Shoreline Skate Park isn't the most accessible since it is located in a residential area.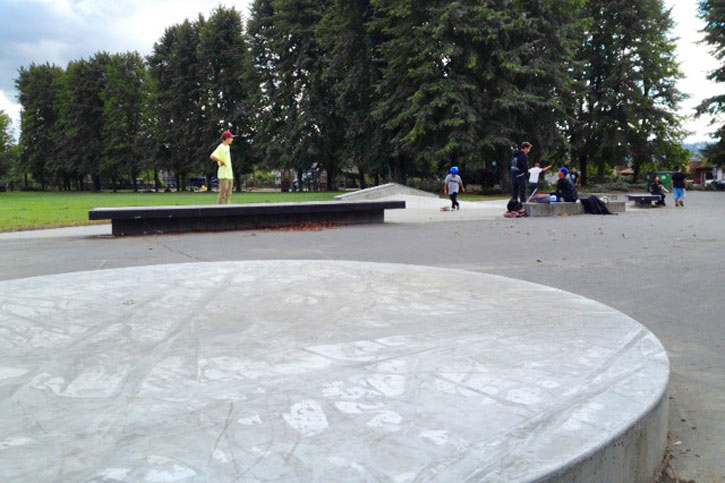 Benefit Skate dot is situated in south Beacon Hill, near Jefferson Skatepark.
Although the park itself has everything from a playground to basketball courts, grass areas, and plenty of paved spaced, the space for skateboarding at Benefit Skate dot is quite small.
Benefit Skate dot was designed with a few Grindline ledges, a manual pad with long quarter pipe.
Note that you'd need to drive to get to Benefit Skate dot.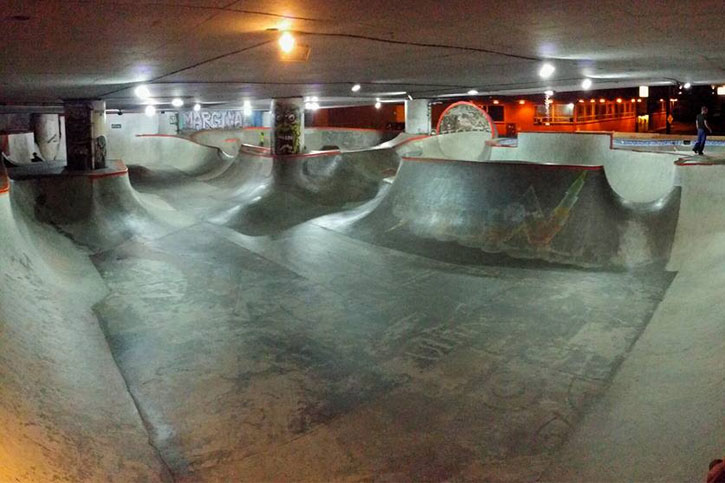 The Marginal Way Skatepark is a unique and impressive DIY skatepark made by hand by local skaters.
What made this skatepark special is that a group of skaters started pouring concrete underneath the freeway, which then became a community project and officially recognized by the city. Since then, Marginal Way Skatepark has been featured in most skateboarding magazines and even kicked off Thrasher's 2017 King of the Road contest.
If you love bowls, you're in for a treat because Marginal Way Skatepark has multiple bowls that are linked up with various transition elements.
The entire park is covered in art and graffiti, which gets you back to the old-days of skateboarding, except Marginal Way is well-lit and clean. It's also accessible from the Sodo light rail train and bus from Hanford or First Avenue.

Marshall "Stack" Reid, a Seattle skateboard veteran, wanted to give parents a safe place to leave their kids to learn the sport. He pitched the indoor skatepark idea to ski/snowboard store Evo and the rest was history. All Together Skate Park was built by Grindline Skateparks just downstairs from the Evo store.
All Together Skate Park offered private one-on-one lessons, group lessons, summer camps, Ladies Night on Mondays, junior varsity teams, "Skate Like a Girl" programs, and other fun events that encourage kids, teens and even adults to join and learn how to skateboard. Yup, there's a 30+ skaters program called Adult Swim on Sundays 7pm onward.
The best thing about All Together Skate Park is that it opens exclusively for students (regardless of age) earlier in the day. They don't mix them with skaters who already know the tricks and just want to skate.
The skatepark has a mix of street and transition, including elements like a vert wall, ledges, manual pads, quarter pipes, banks, stairs, and numerous rails.
All Together Skate Park has quite the edge as being the only indoor skatepark in Seattle, especially during rainy season. Do note that parking is limited, but if you're commuting via the 62 bus or just dropping off a kid, this shouldn't be a problem.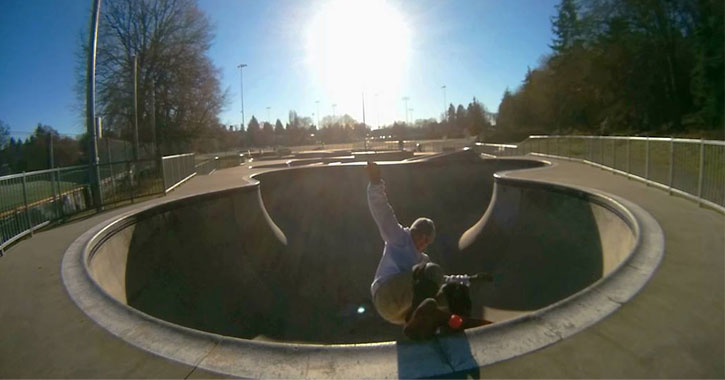 Lower Woodland Skatepark is a park ideal for intermediate to advanced skaters. It is located on the east side of Woodland Park, near the intersection of N 54th Street and East Green Lake Way, which is why most locals call the skatepark "Greenlake."
This skatepark has an infamous street section with has stairs, banks handrails, quarter pipes, a-frames, and ledges, which isn't a favorite among skaters who know what they're doing. However, people flock here because of its set of well-designed bowls – specifically two large bowls with significant vert sections and two smaller half-bowls.
Plus, Lower Woodland Skatepark is open 24 hours a day with plenty of parking spaces available. There's also a drinking fountain and public restroom on-site.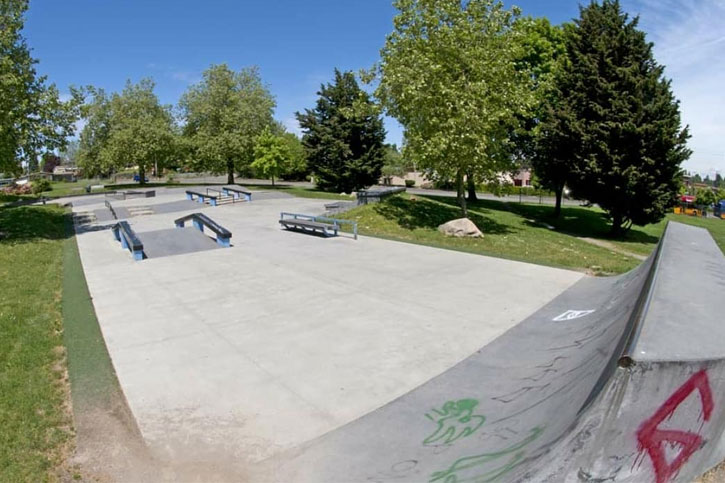 Roxhill Skatepark has an interesting history. It was built from temporary obstacles set up for Seattle's first appearance on Street League. Rob Dyrdek converted the street-style obstacles into the permanent park we see now at Roxhill.
Don't expect bowls here, but the street components are some of the best you'll find around Seattle. There's a a glorious manny pad, A-frame with 2 ledges and leads into a quarter pipe, bank-to-ledge, bump to flatbar, and plenty of open flat ground to practice at Roxhill Skatepark.
You won't need to worry about parking. Roxhill Skatepark is beside Westwood Village, which also means it can get busy with young kids on scooters and high schoolers hanging out.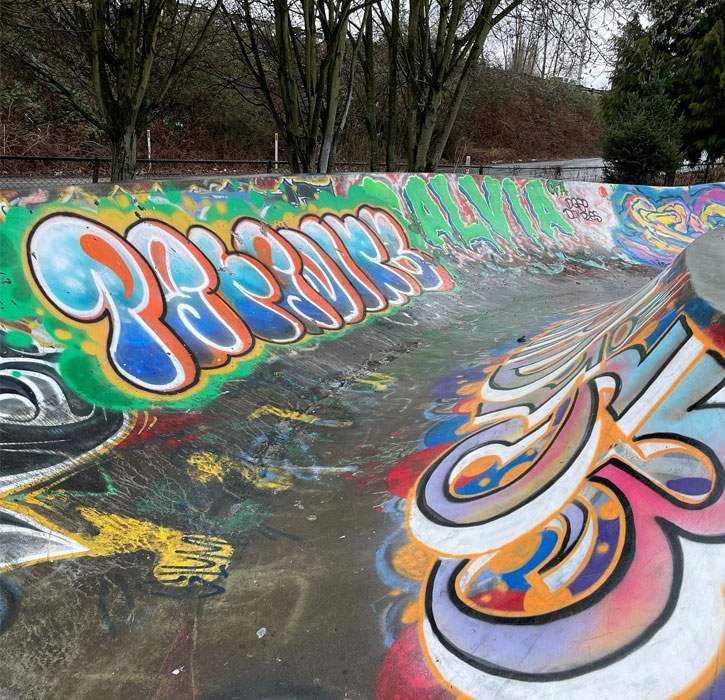 River City Skatepark, also known as Cloverdale Skate Park or "South Park," is a truly unique play place for skaters of all skill levels.
What's great about this skatepark is that many Gridline employees live in the area and have convinced the city to give them an abandoned spot to build whatever they wanted.
The land given was next to the Highway 99 onramp. View from above, the skatepark is shaped like a clover thanks to being made entirely out of transition.
Cloverdale skatepark is a circular snake-run style park with a cross-shaped snake in the middle and four doorways at the end of each cross point. These runs are hard and often reserved for immediate to pro skaters.
That's probably a good news, if you're looking for a skatepark with less toddlers-on-scooters. The park still gets busy at times, even if it's open 24/7, but the vibe is more apt for older skaters who would enjoy the graffiti-filled environment.
In 2018, an expansion with quarter pipes and vert wall was added to the park to commemorate the legendary Grindline Skateparks founder Mark "Monk" Hubbard who died the same year.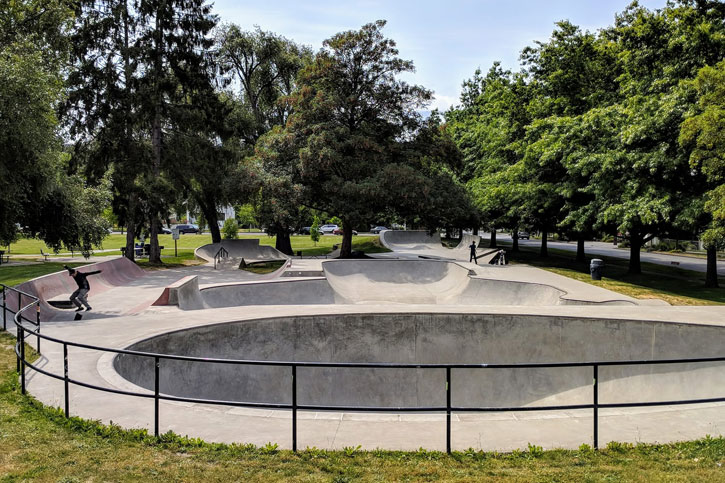 The Delridge Skatepark features a stair set, ledges, and quarter pipes in between two large bowls. There's also a small street section with smooth concrete and a few areas with brick if you're looking for a different texture.
Beside Delridge Skatepark is a playground and park for kids that can't skate. They even put up tiny pools here during the summer for the young ones to cool off.
Done Visiting these skate parks in Seattle?
If you're spending more time around Seattle, you should check out my guide about Olympic National Park vs. Mount Rainier National Park, the best beaches in Washington for sea glass, or the best Washington spots for whale watching.
Those checking a bucketlist of skateparks to visit across the country, here's my guide to skateparks in and around Las Vegas, New Jersey, Florida, Maine, Colorado, and Pennsylvania.