If you're a beachcomber and you've wondered if there were sea glass beaches in Washington State, look no further; we list down beaches in Washington where you can find sea glass and sometimes more.
The saying "One man's trash is another man's treasure" cannot be more applicable to sea glass beaches. Sea glass is essentially discarded glass—bottles, drinking glasses, windows, lamps, vases, windshields, headlights—that have been tossed and smoothed by strong waves over the years until they look like pretty little stones.
This process takes anywhere from a few years to decades, and it takes strong waves, sand, and stone to tumble the glass sufficiently. This is why the best beaches to look for sea glass often feature pebbles and rock pools, as opposed to pristine sand.
That unique frosted look on the surface of sea glass is from the chemical reaction of soda and lime in the glass with salt water.
In recent years, sea glass has become harder to find because of increased recycling efforts and plastic use.
Here are some of the best sea glass beaches in Washington where you're still likely to find some sea glass.
10 Sea Glass Beaches in Washington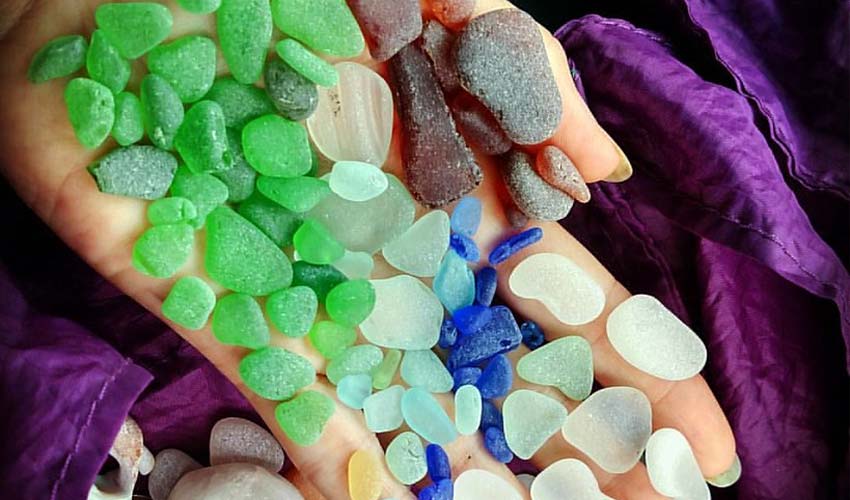 Glass Beach in Port Townsend is probably the most famous sea glass beach in Washington.
The sea glass here is a byproduct of trash being dumped over the bluff at McCurdy Point to be washed out to the sea back in the day.
To get to Glass Beach, you'll have to take a hike from North Beach Park westward. It may take around 60 to 90 minutes to get to Glass Beach.
It's not such an easy hike, though; you'll be between the ocean and bluffs up to 100 feet high. Make sure you time your hike during low tide and wear appropriate footwear.
When you're not beachcombing, take your time and explore Port Townsend. This charming city has been around since 1851. Known as "Key City" as it guards Puget Sound, it has a thriving arts community amidst beautiful architecture.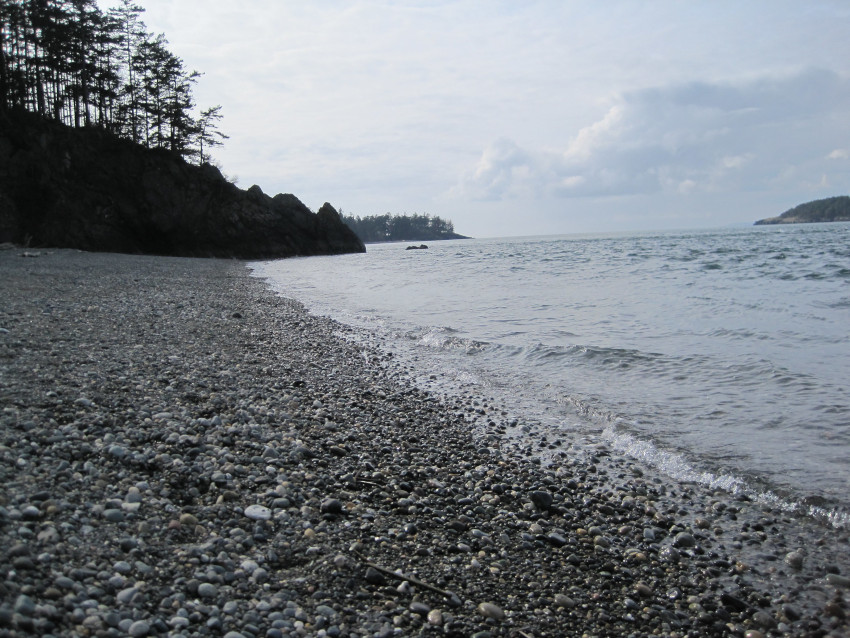 Deception Pass State Park is Washington State's most-visited state park. Straddling Whidbey Island and Fidalgo Island, this marine and camping park includes a high bridge, forests, cliffs, 77,000 feet of saltwater shoreline, and 33,900 feet of freshwater shoreline on three lakes.
West Beach inside the park is a long, pebbly beach on the northwest corner of Whidbey Island where you can find treasures such as sea glass, amber, and driftwood. If you can be bothered to look up, you'll get treated to breathtaking views of the Olympic Mountains, San Juan Islands, and sometimes even Victoria, BC on a clear day.
When you get tired of beachcombing, you can rest and enjoy the scenery and wildlife on one of the picnic tables in the area.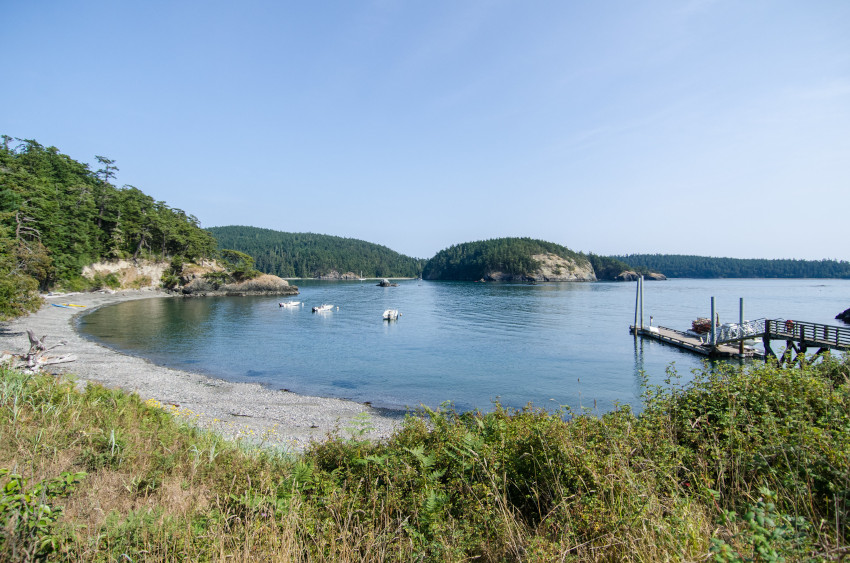 Rosario Beach is also within Deception Pass State Park but on the Fidalgo Island side.
It's made up of two beaches with a peninsula in between, with sea glass, driftwood, tidal pools, and Native American mermaid legend, as well as the occasional whale spotting.
To access Rosario Beach, you can park at the end of Rosario Beach Road, look for the Rosario Head Trailhead, and then follow the trail southwest along the beach until you get to the Maiden of Deception Pass. This wooden statue of the Samish maiden Kwuh-kwal-uhl-wut, half human and half mermaid, is where the trail loops back.
You'll also pass by the Rosario Beach Tidal Pools, one of the more popular places to visit on this island.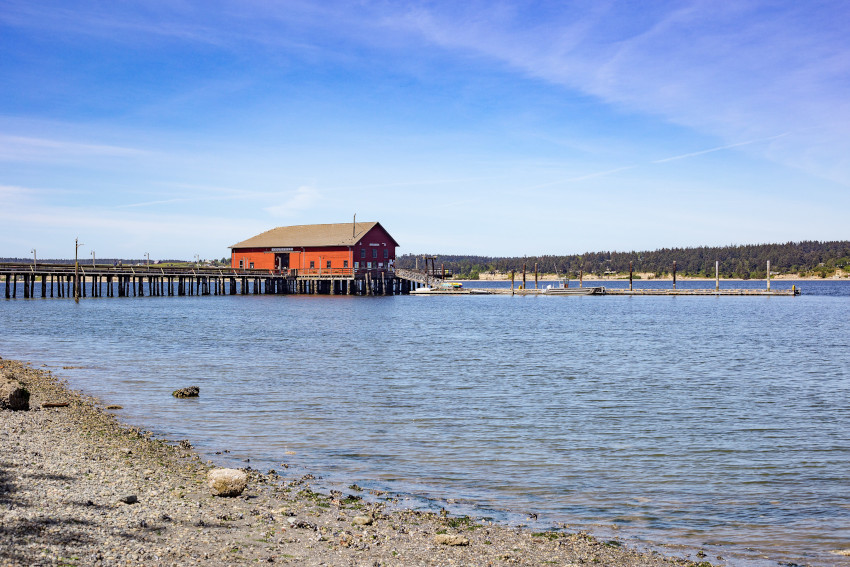 Coupeville is a seaside town on Whidbey Island along the shores of Penn Cove.
It's famous for Penn Cove Mussels and being at the heart of Ebey's Landing Historical Reserve, preserving farms, wildlife, and historical homes.
You may find the town familiar if you're a movie buff; it's where the movie Practical Magic starring Sandra Bullock and Nicole Kidman was shot.
There's a public beach access near the Coupeville Wharf along Front Street that needs to be accessed through some wooden stairs. On a good day, beachcombers can find at least a handful of sea glass on this public beach.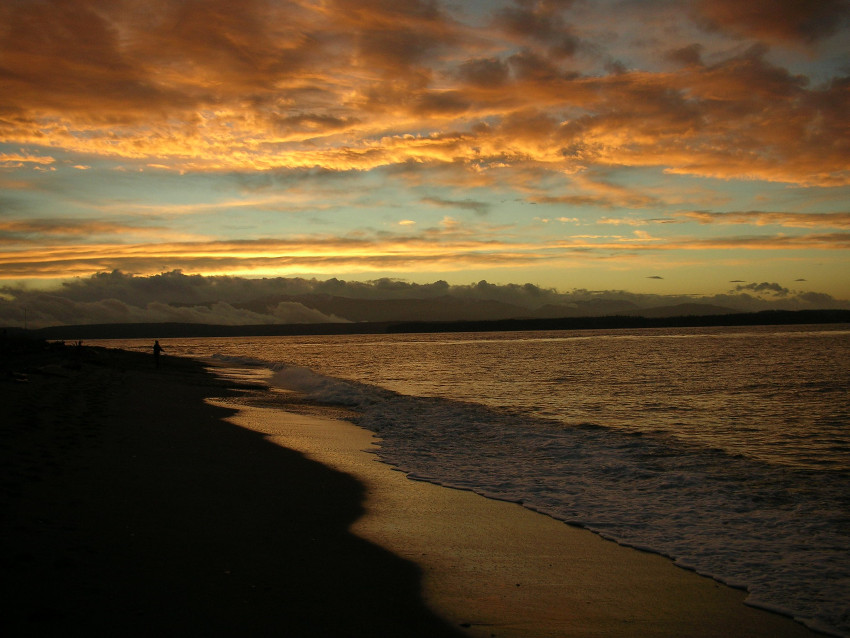 Freeland is the economic hub of South Whidbey, and Bush Point is a popular fishing spot for salmon and coho.
Bush Point is one of the best-kept secret sea glass beaches in Washington, with an excellent view of the Olympic Mountains (if you bother to look up from the sand).
In the winter, if you can bear the cold, you may get a glimpse of sea lions, porpoises, harbor seals, and more rarely, gray whales and orcas.
Public access to Bush Point is a bit tricky; it's surrounded by private property whose owners to be safe, make sure to find your way to the Bush Point Boat Ramp on East Spyglass Drive near Bush Point Wharf B&B.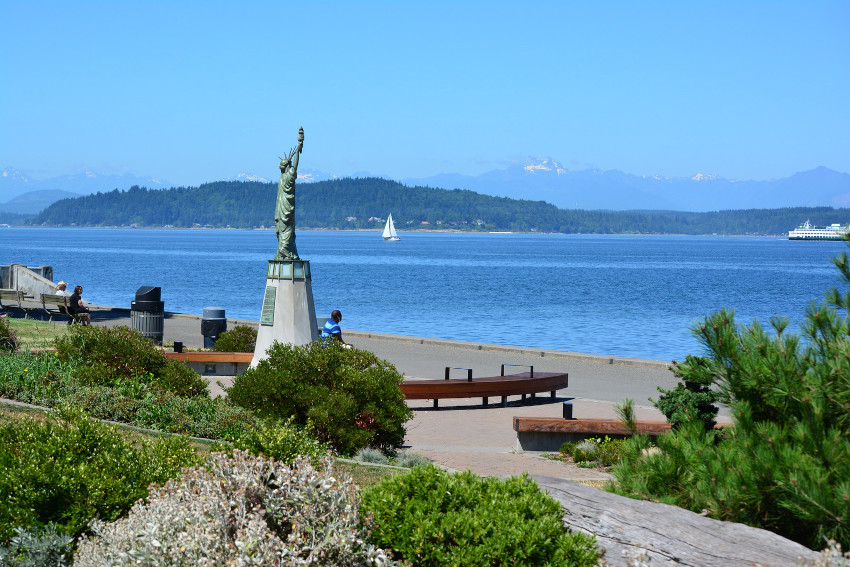 Alki Beach Park is a strip of beach in Seattle that runs from Alki Point to Duwamish Head on Elliott Bay, with nice views of the Olympic Mountains and Blake Island.
Because Alki Point was historically a trash dump site and Alki Beach was a party beach for more than 5 decades, there is plenty of sea glass to be found along this beach.
The best section of the beach to go beachcombing is around the northeast corner. However, be aware that you'll have plenty of competition; it's not really a secret location for sea glass.
Parking, restrooms, and picnic tables are plentiful in the area, making your visit convenient.
Other notable things to see here include the Alki Point Lighthouse, a miniature Statue of Liberty, and the Birthplace of Seattle Monument.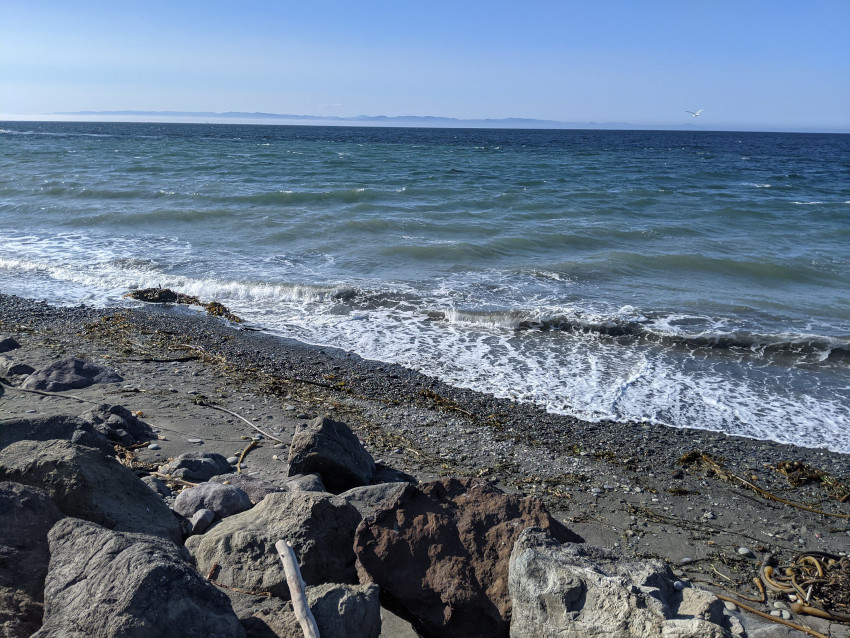 Port Angeles is a city on the northern shore of the Olympic Peninsula, an hour's drive westward from Port Townsend.
Ediz Hook is a three-mile-long, crescent-shaped sand spit stretching from the Port Angeles Boat Haven and Marina, providing a natural shelter from storms and swells moving eastward from the Strait of San Juan de Fuca.
Ediz Hook is to Port Angeles what Glass Beach is to Port Townsend in that this is where the sea glass from the former dump site has washed up.
While beachcombing for sea glass on Ediz Hook, you get beautiful views of Mount Angeles and Klahhane Range, as well as of Port Angeles. Once you hit the north side of Ediz Hook, you can possibly get sightings of sea birds, orca pods, harbor seals, and other marine life.
You can drive through Ediz Hook Road from downtown Port Angeles through Marine Drive, but biking or walking through the paved Olympic Discovery Trail is more fun and even healthier.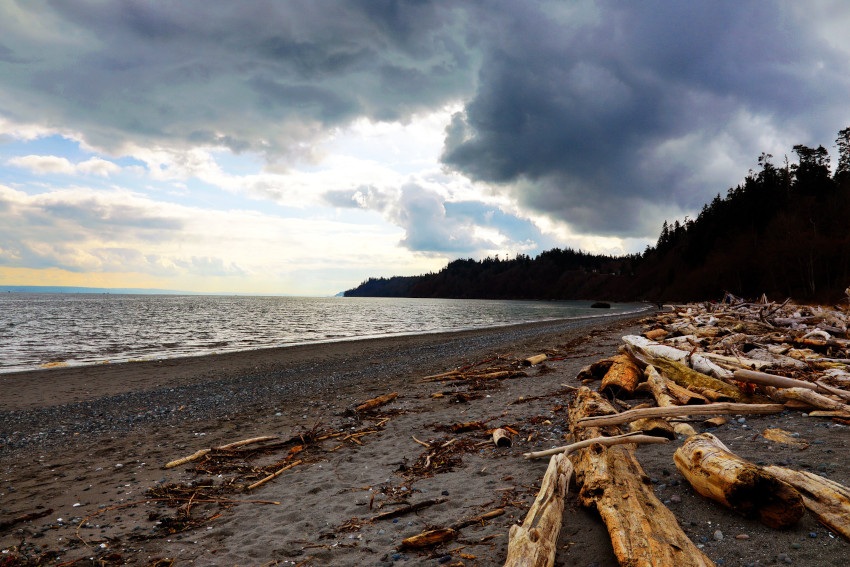 Point No Point is an outcropping of land protruding from Kitsap Peninsula into Puget Sound. It houses a 61-acre county park, a lighthouse, and a lighthouse keeper's quarters that's a vacation rental.
There's a sandy beach curving west toward the town, and a rocky beach extending south from the lighthouse. The rocky beach is where you'll likely find plenty of sea glass, as well as agates, driftwood, and smooth pebbles.
Parking is available near the lighthouse and is free.
Birdwatching is another popular activity here; there are plenty of marine bird species around, attracted to the nearby marsh behind the beaches.
Or you can simply enjoy the views of Whidbey Island and the Cascade Mountains.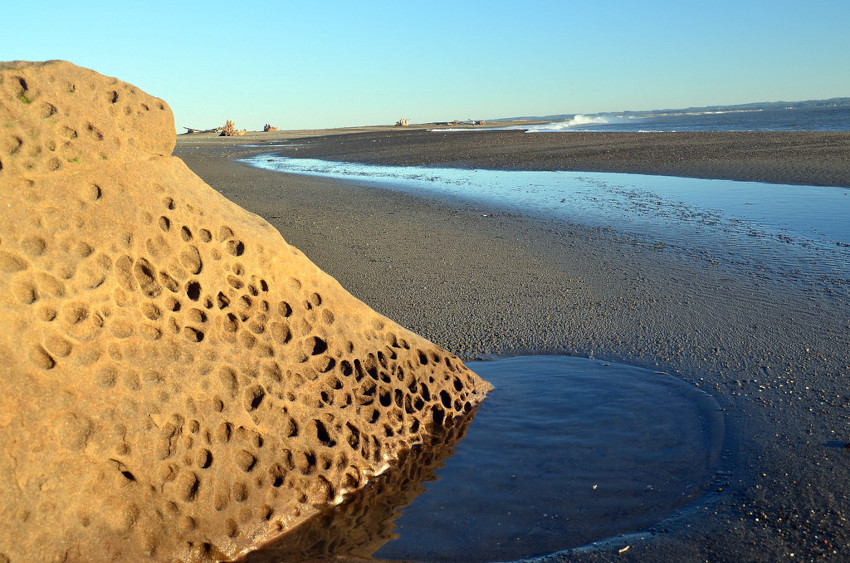 Ocean Shores is a seaside city famous for its long beach facing the Pacific Ocean and its golf course.
Damon Point is a 61-acre peninsula on the southeastern tip of Ocean Shores jutting into Grays Harbor.
With 4 miles of shoreline and nothing but water on its 3 sides, it's definitely one of the most scenic sea glass beaches in Washington.
The entrance is just past the Quinault Marina and RV Park. Park on the grassy area and walk past the port-a-potties on a paved road and right into the sand.
The best section of the beach to find sea glass, agates, the occasional glass float, and other sea treasures is reportedly two miles south of the entry point.
The beach itself is underdeveloped, but there are usually washed-up logs to rest on when you get tired of walking.
The Washington Department of Natural Resources is in charge of the land and has been working to restore it as a bird habitat. While beachcombing in the winter, you might get a glimpse of snowy owls and endangered snowy plovers.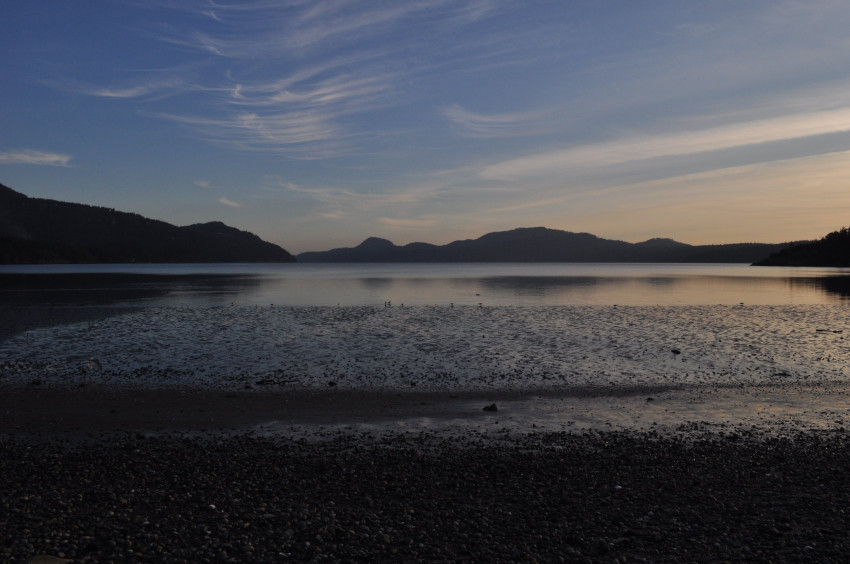 Located on Orcas Island, Crescent Beach may be the most secluded of our picks of sea glass beaches in Washington.
Orcas Island is the largest, the "Gem," of the San Juan Islands archipelago, seated at the heart of the Salish Sea. A train and ferry ride away from Downtown Seattle, this island boasts spectacular natural beauty and a tranquil pace.
Crescent Beach is a mile-long, publicly accessible pebbly beach within a nature preserve just outside the city of Eastsound. The preserve also contains an expansive wetland and marsh area.
The locals love to look for sea glass on this curved beach during the colder months and sand dollars during the warmer season.
Tips When Beachcombing in Washington
Raring to go to one of these sea glass beaches in Washington? Here are some tips to make the most out of your trip.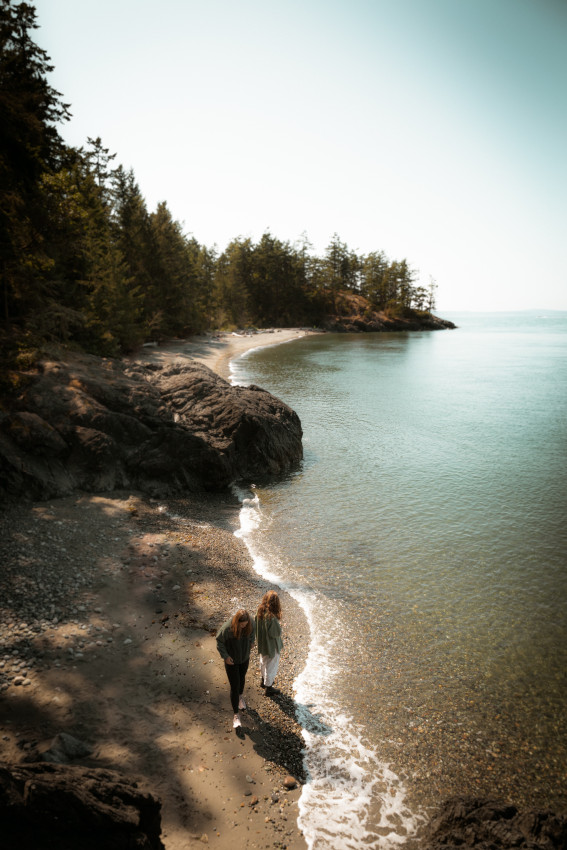 Know the best time of the year to visit. Locals generally agree that winter is the best time to visit Washington beaches for sea glass.
Specifically, try to time your visit after a storm, as the strong waves during a storm are likely to wash up more debris on the shore.
Know the best time of day to head to the beach. Early in the morning, two hours before and during low tide, just when the tide is receding, is the best time of day to look for sea glass and other beach treasures.
All the debris that the waves have washed up will show up at this time, and when the tide is fresh out, the sea glass will be wet, and they'll be easier to spot against the plainer pebbles.
If you're planning to beachcomb in a secluded area or where the beach is between the cliffs and the open sea, low tide is also the safest time to go.
Study the tide times and tide charts beforehand. Considering that low tide is the perfect time of day, look for tide times and tide charts online before going beachcombing.
Aside from that, keep in mind that sea glass beaches in Washington, as well as in any other state, usually have hard waves and unpredictable timing of when tides come in.
Getting swept away in a riptide or stranded on a beach is really not worth all the sea glass in the world.
Pack the right stuff. Here are the beachcombing essentials that you should always have.
Hat, sunblock, sunglasses (protect yourself from the sun)
A watch (so you know when it's time to get off the beach)
Layers of clothing (so you can put them on and take them off easily depending on the temperature)
Slip-proof boots (to protect your feet from injuries and the cold water)
Bucket (or some other container for your sea glass)
Shovel, rake, or other similar tools (to gently dig into loose sand and move pebbles around without injuring your hands)
Garbage bag (you might as well collect and dispose of the trash you find)
A phone (with a waterproof covering so you can call for help if you need it)
Take your time. It's not a race, it's a marathon.
Walk slowly and keep your eyes peeled for that telltale glitter.
Besides, you're supposed to be on vacation!
Respect the land. Washington beaches usually allow sea glass collection, but some beaches may have laws or ordinances against taking the sea glass home with you (similar to catch-and-release fishing).
You might also randomly find Native American artifacts, such as arrowheads. Make sure to return them to the authorities.
Enjoy! Sea glass is subject to the whims of the tide, so try to manage your expectations and accept that there are no guarantees; you may or may not be finding sea glass on any given day.
Whether you go home with pockets empty or full, you got to go to the beach, get a hit of that salty ocean air, witness astonishing views of the ocean and possibly distant islands, perhaps get to know a seabird or two, and experience nature in all its beauty.
Visit One of These Sea Glass Beaches in Washington State Soon!
Beachcombing is a great way to connect with nature and get some exercise while doing it, and these sea glass beaches in Washington give you hundreds of miles of sand to do just that.
If collecting sea glass is your hobby, we've listed down the best sea glass beaches in the US.
Or if the exercise is what gets you excited, here are the best places to go on beach hikes.