Everyone is a fan of beach hikes – some people just don't know it yet.
Whether you're hiking along a beach, trekking while overlooking a beach, or exploring a trail that ends with a secluded beach, this post should introduce you to some of the most relaxing, thrilling, and unique adventures fit for the beach and hike lovers out there.
Here are some of America's best beach hikes:
Hawaii Beach Hikes
Hawaiian beaches are legendary for having spectacular views of mountains, forests, beaches and sunsets all in one island. There are numerous beach hiking trails in Hawaii, but these two are most popular: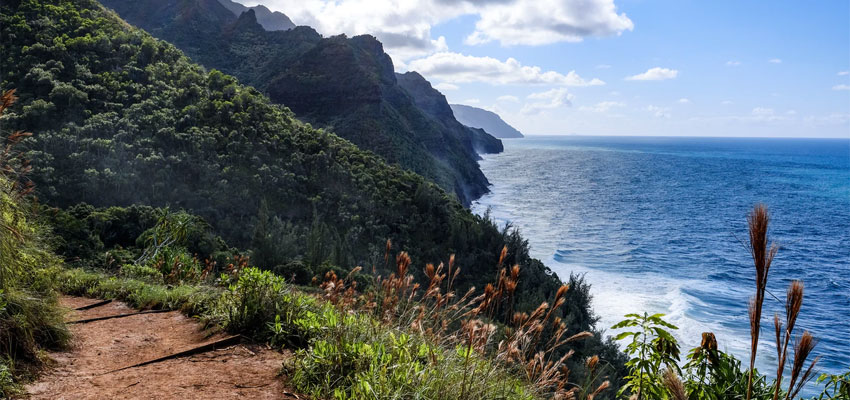 Located in Kauai, the Kalalau Trail is an 11-mile hike with amazing views of the Napali Coast. The trek from Ke'e Beach to Kalalau Beach is the only way by foot you can visit this secluded beach.
There's trail on cliffside, so it can be dangerous in winter months and during rainstorms. In fact, this trial is considered to be one of the most difficult trails on the Hawaiian Islands. Beginner trekkers should be accompanied by someone more experience.
The upside to the hiking challenge is the jaw-dropping scene with the beach's white sand and turquoise blue waters.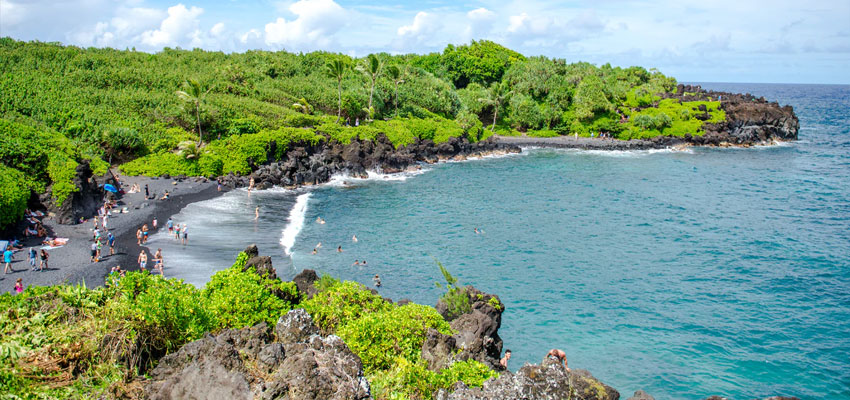 Located in Maui, this 3-mile trail begins in Kainalimu Bay, then through the coastline of the famous "King's Highway."
The sceneries you can witness during this hike feels like you've been transported into a post card. Imagine coastal cliffs, lava tubes, two massive black rock coves, Kapukaulua burial site and even the ruins. You'll reach two small cobblestone beach pockets along the way.
The trail is accessible year-round and since it is within the Wai'anapanapa State Park, you can rent cabins, picnic tables, and wash up at the restroom/shower facilities if you like.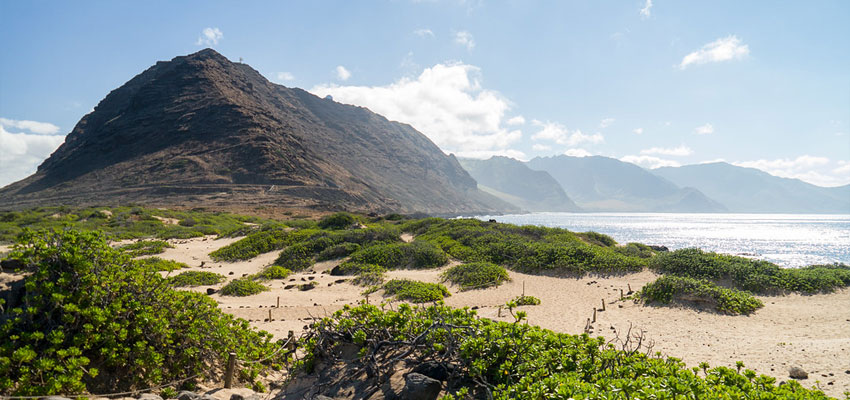 This family-friendly 2.5-mile trail is located at the western-most tip of Oahu. You can hike Ka'ena Point from the North Shore or the West Side of the island, but both will lead you to a lighthouse, which means you're nearing the end of the trail.
The beach is remote, serene and protected since this is a Natural Area Reserve. It is home to many seabirds and native plants with coastal sand dune everywhere. During winter months, whales frequent this shoreline, so expect to witness more than your heart's content.
In Hawaiian folklore, this place is a spiritual location where souls supposedly go after death and leap into the afterlife.
Beach Hikes in Florida
Florida has interesting beach spots for everyone, whether you enjoy the crowds or the peace of secluded beaches.
There are definitely dozens of beach hikes around Florida if you love the trek and scenic views during your adventure. These 3 are just a sneak peek of what Florida has to offer: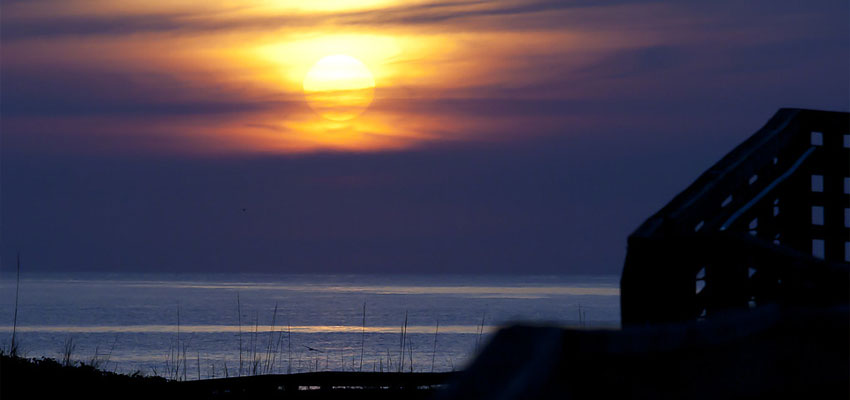 Little Talbot Island is one of the few remaining undeveloped islands in Northeast Florida. It is home to five miles of pristine, untouched beaches with white sand and diverse ecosystems.
The Island Hiking Trail is located in Little Talbot Island State Park. It is a 3.5-mile loop that begins in a shady forest with storied oaks, but dramatically leads you to big dunes and finally a wide view of the Atlantic Ocean. A bench welcomes you at the perfect spot where you could soak in all the surf, sand and sun.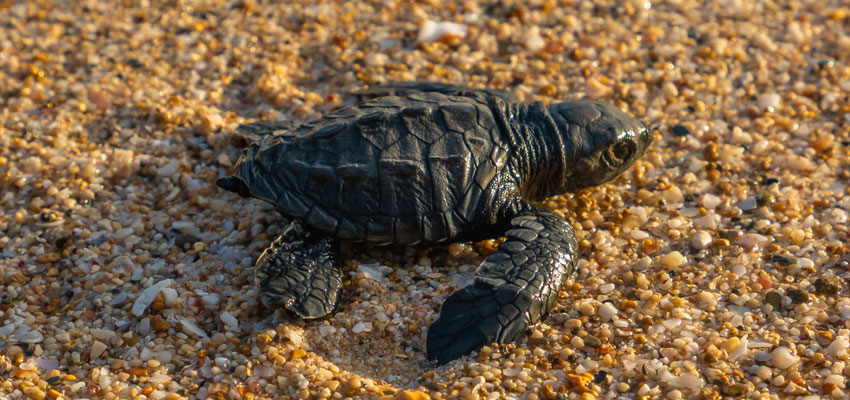 The Dune Trail may be short (there's only 1/3 of a mile of hiking), but it feels like you've entered Alice in Wonderland with this one thanks the shaded tunnel of sea grapes. During autumn, these grapes turn red.
If you peep out from the grape tunnel, you can see the Anastasia Limestone rock formations that are situated along the beachfront preserved by the Nature Conservancy.
When you reach the beach and the tide is low, you can explore small to massive sea caves that were built organically by waves striking the rock formations. Don't mind the reddish stones you may see on the sand – those are just normal rocks with iron deposits coming from the limestone.
If you visit in the summer, you can expect about 500 sea turtles nesting along the shoreline.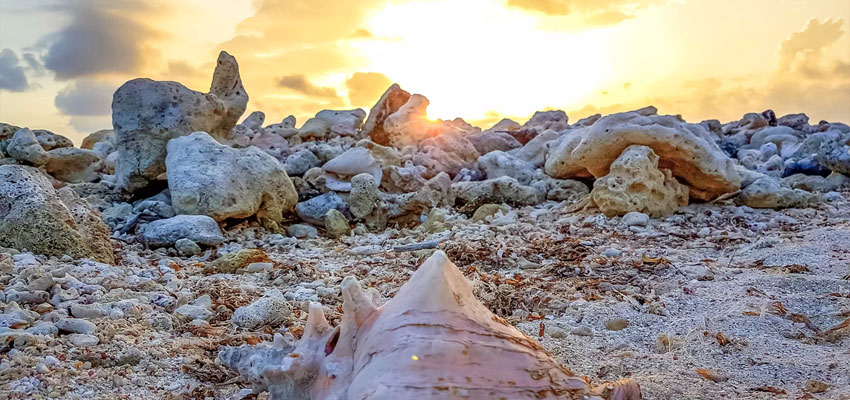 What makes this network of trails exciting is that they are located at Cayo Costa State Park, which you can only reach by taking a ferry from Pine Island.
Once there, you can take the Cemetery Trail, Quarantine Trail Scrub Trail, and Pine Wood Trail with a combined length of 6.5 miles… or just go half-way.
Whatever you decide, you'll begin your hike just behind the visitor center. Your journey starts with Quarantine Trail and it leads you to a forest with leather ferns and palms. You'll reach the Scrub Trail as you move to the mangrove swamp and feel the presence of more mosquitoes. You'll stop at the old quarantine station where 1900 ships were stopped and "quarantined" for yellow fever and malaria.
Go back a little to the Scrub Trail path, but then turn right as your hike goes higher up into the old dunes and on your way to Cemetery Trail and Boca Grande Pass. If you retrace this path and take the route where you hear waves, you'll reach the beach after a mile and a half.
Hiking California Coast: Popular Beach Hikes in CA
For those planning a trip to California, these beach hikes are for you: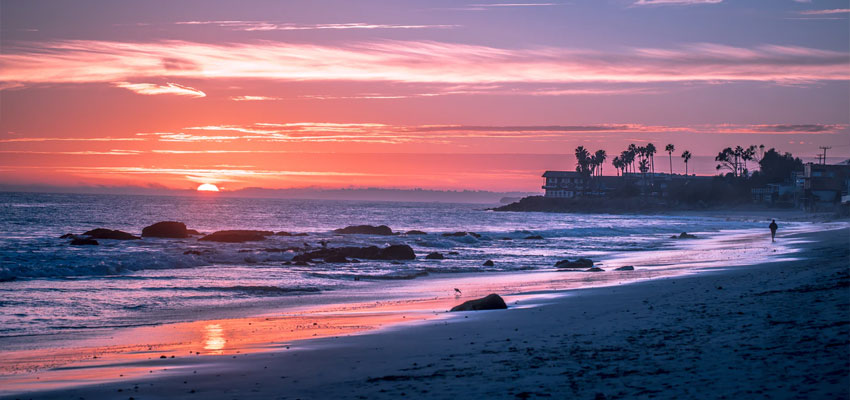 Corral Canyon only has the Sara Wan trailhead (but other trails are being planned), so if you're looking for a quick hike with a spectacular beach view and good food at the end, then head over to PCH in Malibu.
The Sara Wan trail is a 2.5 mile loop with a decent climb. It's perfect for beginners and family during certain months when bushes aren't overgrown.
You self-pay $5 along the Pacific Coast Highway and find a small pathway by the north side. The trails begins here and descends quickly into the shaded bed where you'd find the distinct smell of purple sage and California sagebrush.
The trail would make a bit of elevation by the .25-mile mark. You'll pass by remnants of an old homestead as a clue and continue to follow the loop trail in a clockwise direction. Prepare for a slight drop as the views of the interior canyons show up.
Follow the path as you see awesome views of the coastline. You can leave the main trail or go all the way, but whichever path you take, make sure to go back to rest at the Malibu Seafood for some fish and chips.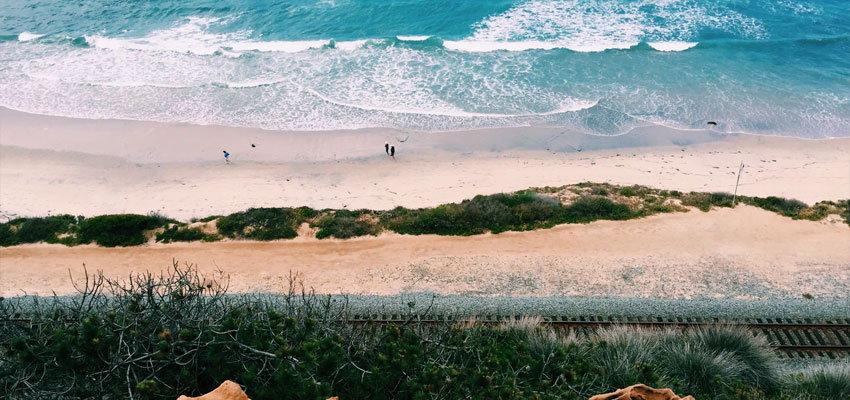 There are several hiking trails around the Torrey Pines State Reserve, but if you want to spend some time in the sand and sea, you have two options:
Beach Trail – this 3/4-mile trail is a footpath going to the Upper Reserve with a descent about 300 feet to the beach.
Broken Hill Trail – This 1.3-mile trail is the Reserve's longest trail. It goes through sagebrush, small trees, and chaparral, but it ends with a beach access to the Torrey Pines State Beach.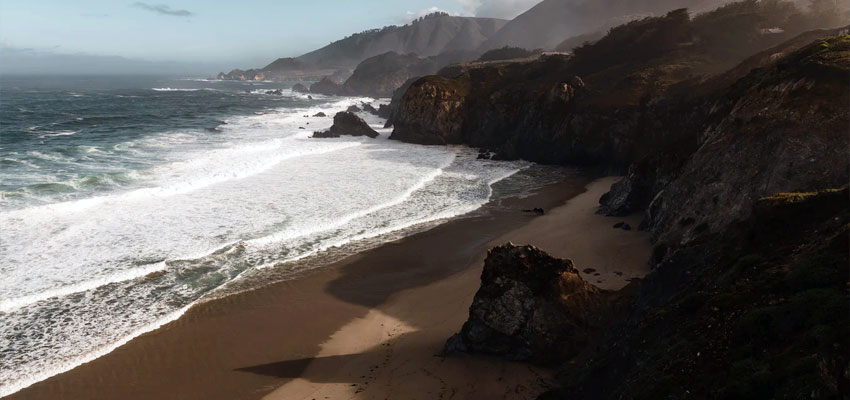 This hike is an absolute joy for people who love to go all out in nature, mud and all.
Located in the Big Sur, 2 miles south of the small community of Lucia, the Limekiln trail has it all – tall redwoods, a small stream, a wooden bridge, and a gorgeous 100-foot waterfall cascading down a huge limestone face.
Continue with the trail until you reach the parking lot going to Highway 1 and out to the beach, where you can see dolphins clearly from the shore if you visit sometime in January.
Other Notable American Beach Hikes
Our country is home to thousands of hiking trails that we can explore freely and can be a life-changing experience, but for now, I'm giving you 3 more beach hikes from other parts of the US beyond Hawaii, Florida and California: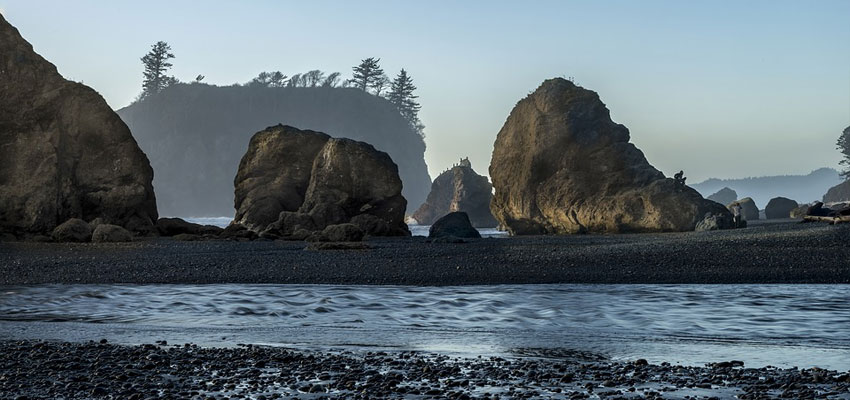 Washington State's Olympic National Park isn't just a park famous for the "Twilight" vampire-werewolves film series, it is also home to numerous hiking spots (about 250 miles of trails to pick and choose).
But if you're looking to get your feet wet or just chill after a hike, check out: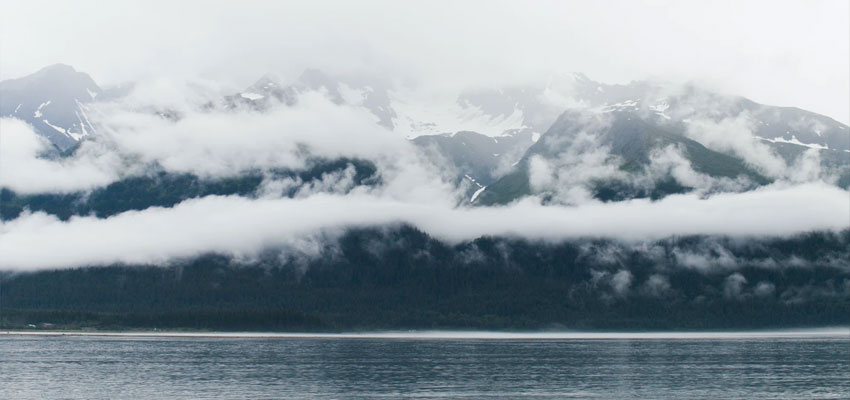 Alaska is a beautiful state with miles and miles of nature still fiercely preserved and coastal trails that people can enjoy, just like the Seward Waterfront Shore Path.
The Seward Waterfront Shore Path is available all year round and since it is only a 1.9-mile trail, it is ideal for any skill level. There's a good balance of wildlife, nature, mountains and water as you explore this trail, but it won't end with your swimming as the water is always chilly in Alaska.
It also wouldn't be much of a challenge for advanced hikers, since there's basically no elevation involved here. Just an easy brisk walk with picture-perfect views.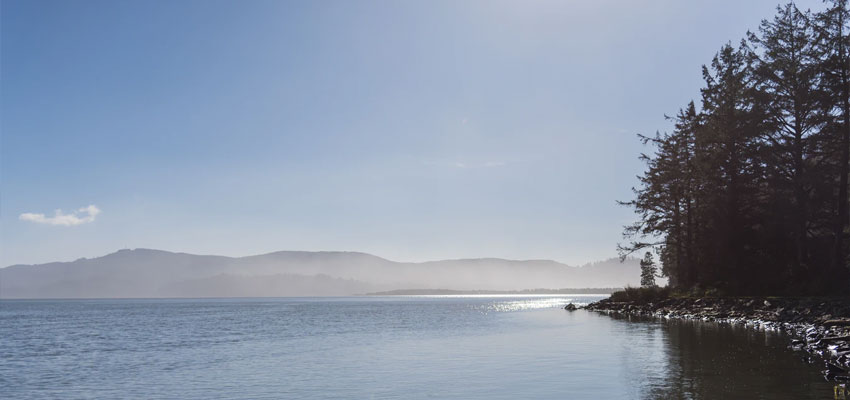 The Tillamook Head Traverse Hike is a moderate 3.6-mile loop to the headland's tip gains 900 feet of elevation.
You can begin your hike either one of these two ways:
The Indian Beach Trailhead (located in Ecola State Park, north of Cannon Beach), or
Tillamook Head Trailhead (south side of Seaside)
But no matter which route you take, this traverse hike isn't for beginners, but definitely offers a jaw-dropping view of 900-foot cliff faces, interesting WWII era bunkers, and thick, mossy Oregon forest.
In Search of Other Adventures?
For those looking for inspiration for your next hike, check out what the West Coast National Parks or the Mountain towns has to offer. Also check out the best hikes in Zion and if you're traveling with your entire pack, the best campgrounds for families.
If you're interested in adventures in water, check out the most exotic US vacation spots, and the best waterfalls in the country.