Known as the Magic City, Miami has been a major international port and a gateway for immigrants, especially those from Latin America, for more than 4 centuries.
From Miami's unique multicultural neighborhoods to Miami Beach's beautiful beaches, traveling here for a few days or more makes for a memorable trip.
In today's post, I list down the details of a 3-day Miami weekend trip to help you plan.
Day 1: Miami | Downtown Miami and Brickell
Downtown Miami is a mix of the old and the new, as well as of business and culture. Here are some of the attractions in the area that you shouldn't miss.
Vizcaya Museum and Gardens
Located at the very edge of the Brickell neighborhood, the Vizcaya Museum and Gardens is a sprawling estate designed in the Mediterranean Revival style and influenced by Tuscan Italian Renaissance and Baroque elements.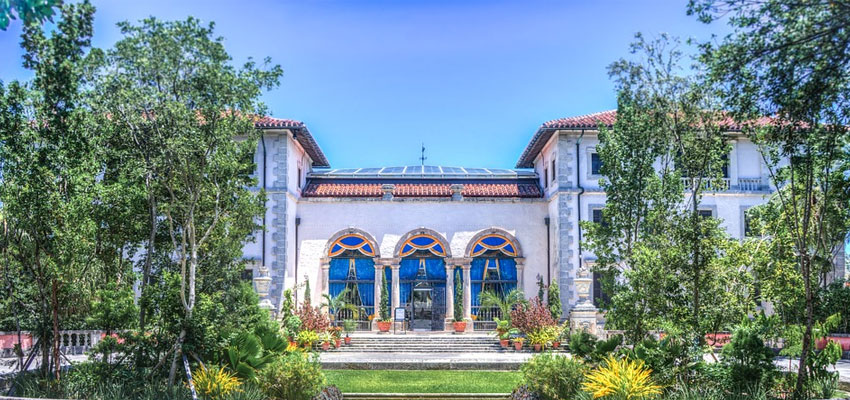 The house used to be owned by James Deering, an agricultural industrialist who used it as a winter residence from 1916 to 1925 when Deering died. Since then, his descendants slowly sold off surrounding parcels of land until only the main house, formal gardens, and the village remained.
In 1952, Miami-Dade county bought what remained of the estate, and the art, antiques, and furnishings were donated by the Deering descendants.
Today, the main house and formal gardens are available to visit year-round. The main house features various paintings and antiques, all set in marvelous fresco ceilings, gilded panels, and marble floors.
The formal gardens cover 10 acres, featuring a maze garden, a fountain garden, an orchidarium, and even a secret garden.
Guided tours of the main house are available onsite hourly from 10:30pm to 2:30pm for an additional $5 per head. Audio tours are also available in five languages, also for an additional $5 per head.
Essential Information
Address: 3251 South Miami Ave., Miami FL | 305-250-9133
Hours: Wed-Mon 9:30am-4:30pm; Tue closed
Duration: 2 hours
Cost: $22 per head for adults; discounts available for seniors, children, students, wheelchair users; Free for military with ID and children 5 and under
Website: Vizcaya Museum & Gardens
Wynwood Walls
Scattered across six buildings between Joey's Italian Café on 25th Street and Wynwood Kitchen & Bar on 26th, the Wynwood Walls are a collection of street murals in an outdoor museum.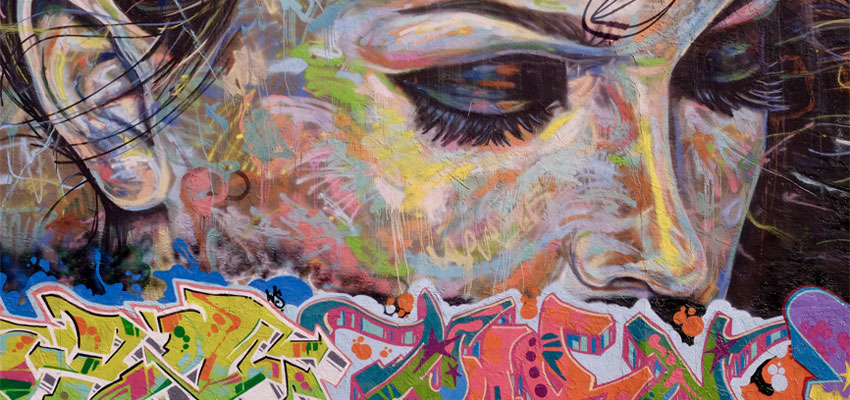 This project was started by Tony Goldman in 2009 to revitalize a neighborhood that used to be a warehouse district and showcase prominent street and graffiti artists. The art has spilled into the side streets and the front doors of establishments in the area.
The artwork on the walls continually changes, so if you visit on a particular day, it may not look the same after a month or even a week.
If you want to take a piece of the artistry home with you, shop at Wynwood Walls Shop, where they offer a carefully curated collection of gifts, books, prints, and other merchandise.
It's free to the public and is open all year round, but you can also book a walking tour on their website if you want more backstories and context behind the art.
The Wynwood Artwalk is held every second Saturday of the month, when the Wynwood Arts District transforms into a late-night street party celebrating art with food trucks, live music, and drinks courtesy of art galleries open until late.
Essential Information
Address: 2520 NW 2nd Avenue, Miami, FL
Hours: Mon-Thu 10:30am-11:30pm; Fri-Sat 10:30am-12am; Sun 10:30am-8pm; Wynwood Artwalk 10:30am-12am
Duration: 1 hour
Cost: Free
Website: Wynwood Walls
HistoryMiami Museum
The HistoryMiami Museum is a Smithsonian Affiliate that aims to educate and provide an understanding of Miami's past and how it shapes the future.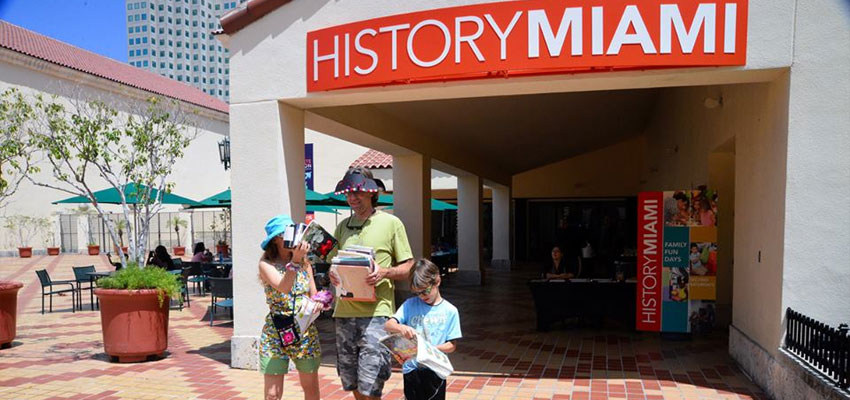 It was founded as the Historical Museum of Southern Florida in 1962 and was renamed the HistoryMiami Museum in 2010 to mark the museum's 70th anniversary.
The museum's collections include more than 37,000 artifacts, ranging from prehistoric archeological finds to contemporary Afro-Cuban folk art.
On permanent display is the Tropical Dreams: A People's History of South Florida exhibition covering 10,000 years of South Florida history, and visitors can also head on over to the Archives and Research Center to browse through millions of documents and photographs.
The main focus of the museum is to host exhibitions, but they also do city tours, education, research, and even publications.
Essential Information
Address: 101 West Flagler Street, Miami, FL | 305-375-1492
Hours: Tue-Sat 10am-5pm; Sun 12pm-5pm; Mon closed
Duration: 1 hour
Cost: $10 per head for adults; discounts available for seniors, children, students
Website: HistoryMiami Museum
Freedom Tower
Considered by many as the "Ellis Island of the South," the Freedom Tower opened in 1925 as the local newspaper's headquarters but is more famous for being the home of the Cuban Assistance Center from 1962 to 1974.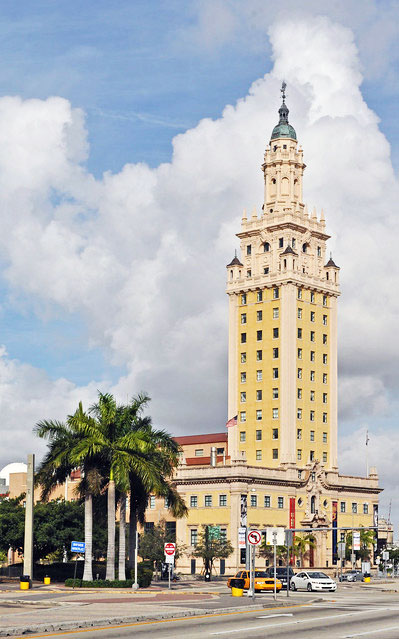 When Cuba came under the rule of Fidel Castro and the country was moving toward communism, many upper and middle-class Cubans fled to the United States, most of them landing on Miami via Pan Am's so-called "Freedom Flights."
Because of the large influx of refugees in such a short amount of time, the US government established the Cuban Assistance Center on the first four floors of the Freedom Tower in 1962.
For more than 11 years, this center provided the tools and resources necessary for the Cuban refugees to rebuild their lives in a new country.
Currently, it's part of Miami Dade College's Wolfson Campus, housing the Miami Dade College Museum of Art + Design (MDC MOA+D). With its architecturally distinct octagonal tower and intricate exterior, it remains one of Miami's most recognizable historic buildings.
Taking photos of the exterior is free, but it's worth exploring the Cuban Exile Experience & Cultural Legacy Gallery at the ground level to know more about stories and struggles of the Cuban exile community.
Essential Information
Address: 600 Biscayne Blvd., Miami, FL | 305-237-7700
Hours: Wed, Fri-Sun 1pm-6pm; Thu 1pm-8pm; Mon closed
Duration: 1 hour
Cost: $12 per head for adults, discounts available for seniors, children, military
Website: Freedom Tower Home Page | MDC MOA+D
Little Havana
Known as Miami's Latin American neighborhood, Little Havana is home to Cuban immigrants and others from Central and South America.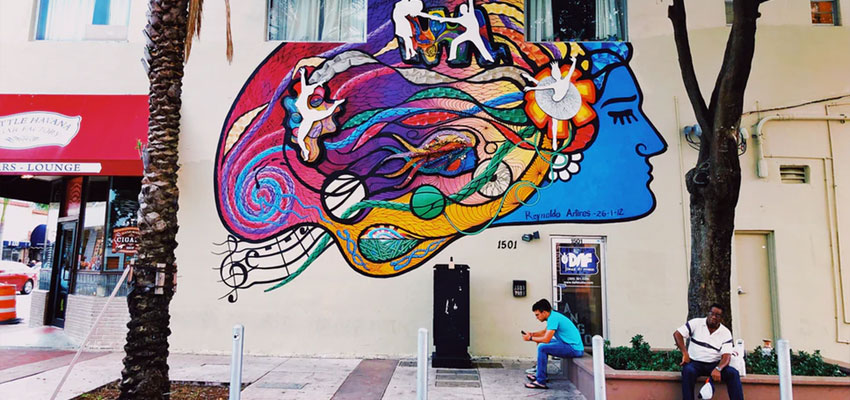 The heart of Little Havana is arguably Calle Ocho, home to the annual Calle Ocho Music Festival, a one-day fiesta that celebrates Latin American culture.
Time your visit on the last Friday of the month, and you can catch Viernes Culturales (Cultural Fridays), a monthly gallery night showcasing the cultural arts scene of the neighborhood.
There are plenty of companies offering guided walking tours through Little Havana, which give you more context about each place and its significance, but if you want to do a self-guided tour, here are some of the places of interest in Calle Ocho in Little Havana:
Cuban Memorial Boulevard Park. Grassy middle park as a memorial to those who fought for Cuban independence; features the Bay of Pigs Monument
Yisell Bakery. Home to the best pastelitos de guava in town
Havana Classic Cigar. Tobacco shop offering hand-rolled cigars, with a classic coffee bar serving cafe Cubano
Calle Ocho Walk Of Fame. Stars in the sidewalk with names of Cuban and Latin cultural figures
Máximo Gómez Park. Also known as Domino Park, favorite hangout and meeting spots of domino and chess players and site of a huge mural wall
Tower Theatre. One of Miami's oldest cultural landmarks; showing Spanish-language films
Little Havana Visitor Center. Offers a wide variety of brochures highlighting attractions, points of interest, maps, event calendars, tours, and special offerings
Agustin Gainza Arts And Tavern. Widely known as Taberna del Pintor; visitors can enjoy Gainza's art while enjoying mojitos with small plates of nibbles
Versailles Restaurant Cuban Cuisine. Iconic Cuban restaurant, home to the best Cuban sandwich
Don't limit yourself to these places, though; take in the sights, sounds, smells, and tastes of this neighborhood as you walk Calle Ocho and let your heart guide you
Essential Information
Address: Calle Ocho Street, (SW 8th Street) Miami, FL
Hours: 24/7
Duration: 2 hours
Bayside Marketplace
End your day in one of Miami's premier destinations: Bayside Marketplace.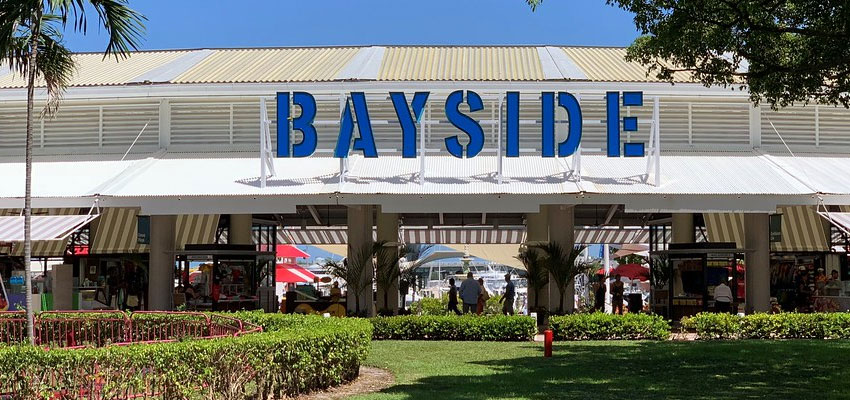 It is a vibrant waterfront entertainment complex home to over 150 shops, restaurants, cafés, and bars.
Experience an authentic taste of Miami's eclectic, multicultural feel through the world-class restaurants, superb retail shops, and exotic music.
If you make it before sunset, you can take a sunset cruise and sip champagne or beer while taking in the Miami sunset on the water.
In the mood for a party? Go for an evening disco cruise instead.
Or maybe just chill in one of the many bars with a cocktail and watch the boats cruise along the harbor.
This is also a great spot to take gorgeous photos of downtown Miami and the marina, especially from the first-floor terraces.
Essential Information
Address: 401 Biscayne Blvd., Miami, FL | 305-577-3344
Mall Hours: Mon-Thu 10am-10pm; Fri-Sat 10am-11pm; Sun 11am-9pm; Eateries, restaurants, and bars may be open later
Website: Bayside Marketplace
Where To Stay In Downtown Miami
YVE Hotel Miami
YVE Hotel Miami offers bright, airy rooms with excellent views and modern amenities in a convenient location.
Essential Information
Address: 146 Biscayne Blvd., Miami, FL | 305-358-4555
Type: Boutique Hotel
Cost: $
Website: YVE Hotel Miami
Eurostars Langford Hotel
Housed in what was formerly the Miami National Bank, the Eurostars Langford Hotel provides chic accommodations with modern amenities in a historic setting.
Essential Information
Address: 121 SE 1st St, Miami, FL | 305-420-2200
Type: Boutique Hotel
Cost: $$
Website: Eurostars Langford Hotel
Hyatt Regency Hotel
The Hyatt Regency is a four-star, full-service hotel offering a Hyatt Grand Bed and superior beddings and pillows, and of course, the expected state-of-the-art amenities you can expect from a four-star hotel.
Essential Information
Address: 400 SE 2nd Ave., Miami, FL | 305-358-1234
Type: Hotel
Cost: $$
Website: Hyatt Regency Miami
Day 2: Miami Beach | South Beach
A Miami weekend trip would not be complete without a visit to Miami Beach.
And if you're not from South Florida, you may not know that Miami is different from Miami Beach.
Miami and Miami Beach are separate municipalities, but more than distinct governments, they have distinct histories and cultures. The result is a huge difference in the vibe once you venture across the McArthur Causeway to Miami Beach.
While Miami is decidedly urban, Miami Beach is more old-school glamorous. Latin American influences are prevalent in Miami, Jewish influences are more obvious in Miami Beach.
South Beach is the southern portion of Miami Beach, known for its vibrant nightlife and probably the closest to Miami, both in location and in the city feel. Here are some of the things to do in South Beach.
South Pointe Park
Start your day in the southernmost portion of South Beach.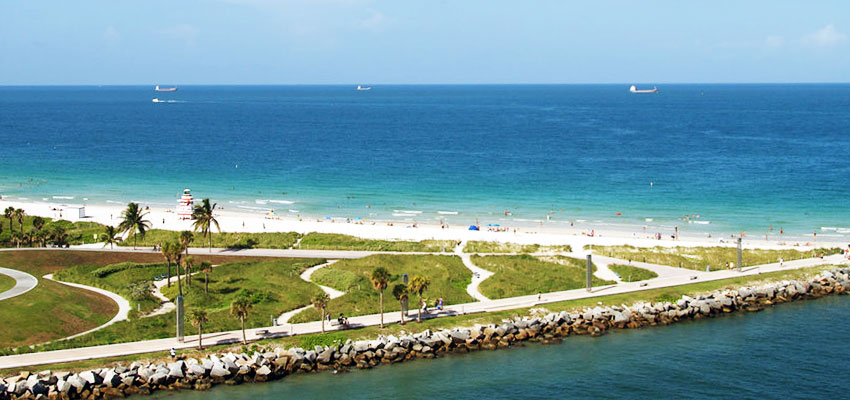 South Pointe Park is a public park that has walking trails, beach access, and plenty of open space to relax and enjoy the ocean breeze.
Walk all the way to South Pointe Pier, where you can get fantastic views of Biscayne Bay, Fisher Island, downtown Miami, and the Atlantic Ocean.
All that walking get you hungry? Head to Joe's Stone Crab Restaurant and order their signature dish of stone crab with coleslaw and hash brown potatoes.
Essential Information
Address: 1 Washington Ave, Miami Beach, FL | 305-673-7779
Hours: Mon-Sun 7:30am-6pm
Duration: 1 hour 30 minutes
Art Deco Historic District Tour
Officially, the Art Deco Historic District is the area between 23rd Street and 5th Street, along Ocean Drive, Collins Avenue, and Washington Avenue, covering more than 900 buildings.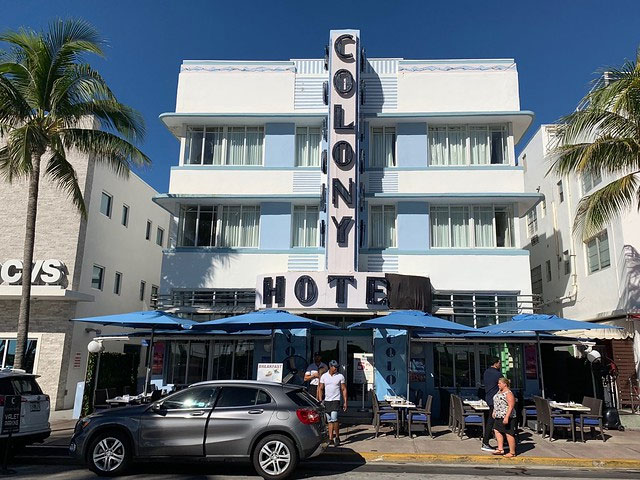 The Art Deco style originated in Paris in the 1920s, representing luxury, glamor, and social and technological progress. Its key features are geometric forms, excellent craftsmanship, expensive materials, and bright colors.
However, by the time Art Deco made its way to the US in the 1930s, it was the Great Depression. Colors became subdued and the materials weren't as luxurious, but the craftsmanship and the unique geometric patterns remained.
The Miami Design Preservation League (MDPL) is in charge of preserving the art deco buildings in this historic district. They are housed in one of the art deco buildings they're tasked to preserve, where you can visit and learn more about the architectural and cultural heritage of Miami Beach.
They offer walking tours every morning, as well as self-guided audio tours and private tours.
Celino Hotel (formally Park Central). Newly-renovated luxury hotel complex
Colony Hotel. Most photographed art deco hotel on Ocean Drive
Art Deco Welcome Center. Home to the MDPL and the Art Deco Museum
The Clevelander South Beach. Historic hotel featuring a patio bar
The Villa Casa Casuarina. Formerly owned by Gianni Versace
The Tides South Beach. "The Diva of Ocean Drive"; known for its pinkish hue and porthole windows
The Leslie Hotel. Distinct yellow structure
The Carlyle. Featured in movies such as Scarface and Bad Boys 2
Cardozo Hotel South Beach. Curved edges with straight lines of the windows
Cavalier Hotel. Features vertical lines as opposed to the usual horizontal lines of the other art deco buildings
You can then turn left into 14th street and turn left again to enter Collins Avenue, heading the opposite way (north to south).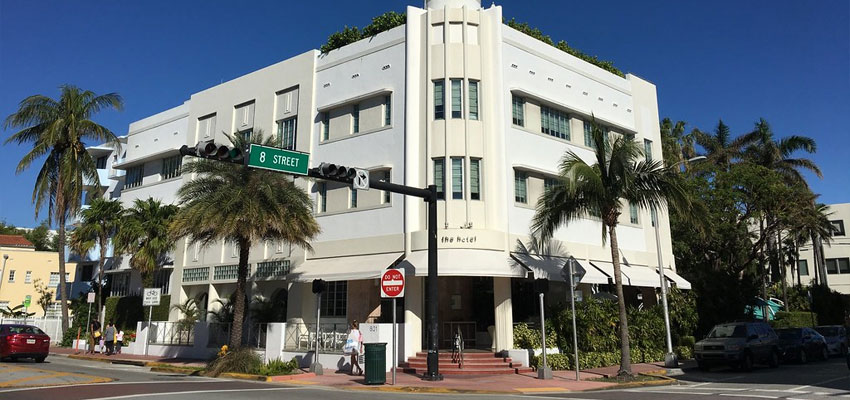 The Webster. Formerly a hotel, now a high-end fashion boutique
Marlin Hotel. Features "eyebrows" over the windows
Essex House Hotel. Resembles a cruise ship
Hotel of South Beach. Features a neon spire that reads "Tiffany"
Strolling along Ocean Drive, you'll get to see sidewalk cafés and restaurants; grab a bite whenever you get hungry.
To your right, running alongside Ocean Drive for most of your tour is Lummus Park, stretching from 5th Street to 15th Street. You can walk or bike on the paved paths, and even points where you can access the beach.
Essential Information
Address: c/o Miami Design Preservation League 1001 Ocean Drive, Miami Beach, FL | 305-672-2014
Hours: Tue-Wed 10am-5pm; Thu 10am-7pm; Fri-Sun 10am-5pm; Mon closed
Website: Miami Design Preservation League
South Beach Nightlife and Music
roaming the sizzling nightlife corridors of Ocean Drive, Collins and Washington avenues, and Lincoln Road.
Sophie's
Sophie's is a fairly new European-inspired nightclub that has a more intimate vibe, with a young and hip crowd.
Essential Information
Address: 814 1st Street, Miami Beach, FL | 305-318-7745
Hours: Thu–Sun 6pm–5am
Cost: $$
Nikki Beach Miami Beach
After you've been to South Pointe Park and you're not in the mood for touring the art deco district just yet, head over to Nikki Beach and have some brunch with champagne.
You might just stay the whole afternoon here, though.
Nikki Beach is a large oceanfront complex that has been a South Beach landmark for over a decade, and they're known to host parties from brunch till sunset. So if you're a day partier, you'll find yourself at home here.
Essential Information
Address: 1 Ocean Dr, Miami Beach, FL | 305-538-1111
Hours: Mon-Thu 11am-6pm; Fri 11am-12am; Sat 12pm-11pm; Sun 11am-12am
Cost: $$$
Website: Nikki Beach
STORY Nightclub
STORY Nightclub is a huge, high-energy nightclub featuring 5 bars, bottle service, and hip-hop and rap music.
The crowd is a bit high-end, and it's evident in their dress code; no beachwear, no flat shoes for the ladies, not even activewear is allowed. Lil Wayne and Jaden Smith have played here, so expect the crowd to be a bit posh.
Essential Information
Address: 136 Collins Ave, Miami Beach, FL | 305-479-4426
Hours: Thu-Sat 11pm-5am; Sun-Wed closed
Cost: $$$$
Website: STORY Nightclub
Rockwell
Rare to have a nightclub open on Mondays, especially a high-end one, but this may actually be the best day to visit Rockwell.
It prides itself on bringing Los Angeles cool and New York music and infusing them with Miami Beach energy.
Essential Information
Address: 743 Washington Ave, Miami Beach, FL | 305-793-3882
Hours: Mon 11:30am-5pm; Wed 11:30am-5pm; Fri-Sat 11:30am-5pm
Cost: $$$$
Website: Anchor Text
Mango's Tropical Café
If salsa music is more your jam, head over to Mango's Tropical Café, featuring live Latin music and excellent food and drinks.
You can also reserve a place on their nightly beginner salsa lessons from 7:30pm-10pm (inclusive of one mojito, a plate of bites, and VIP entrance).
Essential Information
Address: 900 Ocean Dr, Miami Beach, FL | 305-673-4422
Hours: Mon-Fri 11:45am–5am; Sat-Sun 11am–5am
Cost: $$
Website: Mango's Tropical Café | South Beach
Where To Stay in South Beach
You can pretty much stay in any of the art deco hotels listed above, but here are a few more options to consider.
Posh Hostel South Beach
If you're traveling alone and you just want a no-frills, affordable hostel in a convenient location with completely modern amenities, the recently renovated Posh Hostel has got you covered.
Yes, they have bunk beds, but they have memory foam mattresses, ultra-soft linens, and swanky privacy dividers. The lockers are secure, the shared living area is spacious, and the rooftop pool is Instagram-worthy.
Note that the hostel is only open to out-of-state and international guests; Florida residents cannot check in. Also, note that you'll need to check in at the Whitelaw Hotel next door.
Essential Information
Address: 820 Collins Ave, Miami Beach, FL | 305-674-8821
Type: Hostel
Cost: $$
Website: Posh Hostel South Beach
Washington Park Hotel
Just a couple of blocks from the beach, Washington Park Hotel is a complex of four Art Deco hotels that were recently renovated on the inside while retaining the art deco look on the exterior.
Their chic, retro rooms offer modern amenities, with upgraded rooms having floor-to-ceiling windows with either a pool or courtyard view.
Their amenities are also accessible, even their pool has a lift.
Washington Park Hotel is great for couples and families who want to be near the beach but don't want to be disturbed by all-night revelers.
Essential Information
Address: 1050 Washington Ave. Miami Beach, FL | 305-421-6265
Type: Boutique Hotel
Cost: $$$
Website: Washington Park Hotel
Villa Casa Casuarina
The former Versace Mansion is now a five-star hotel and restaurant that offers opulent suites with modern amenities. Different one-bedroom suites offer different views: pool, garden, and ocean views.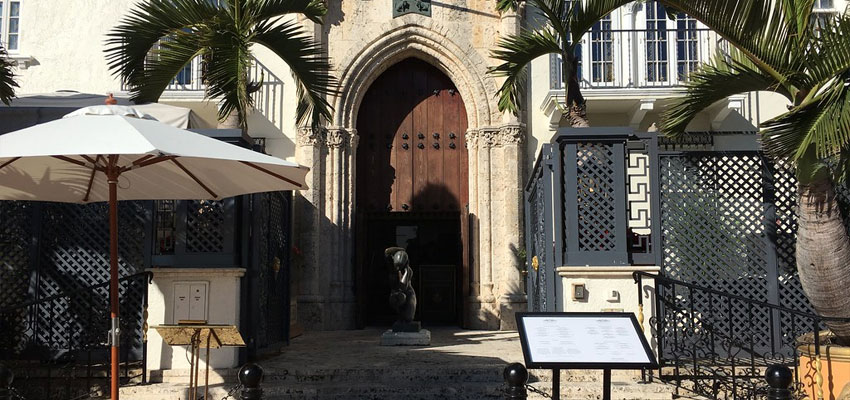 If you can afford to splurge and want to stay in a cultural and historical landmark (and if you can get past the fact that Versace was shot on the very steps of the villa), this is perfect for you.
Essential Information
Address: 1116 Ocean Drive, Miami Beach, FL | 786-485-2200
Type: Luxury Suites
Cost: $$$$$
Website: Villa Casa Casuarina
Day 3: Miami Beach | Mid-Beach
As you head north along Collins Avenue from South Beach to Mid-Beach (from 23rd Street to 63rd Street), the shoreline becomes less crowded, the crowds become quieter, and the vibe becomes more laidback.
Those who planned a Miami weekend trip to come to Miami Beach and just lay on the sand all day to relax will find themselves at home at Mid-Beach.
That said, there are still things to do and places to see, but I recommend just enjoying the beach and lounging around all day.
Collins Waterfront Architectural District
If South Beach is known for its Art Deco District, Mid-Beach has its own version of it: the Collins Waterfront Architectural District.
The architectural styles in this district are eclectic, ranging from Art Deco, Mediterranean Revival, and the local Miami Modern (MiMo) style, which is characterized by fun, glamor, and over-the-top themes.
The district itself was only recently added to the National Register of Historic Places (in 2011) and covers more than 100 buildings and structures. It's bounded by the Atlantic Ocean on the east, and by 24th Street, Indian Creek Drive, Pine Tree Drive and the Collins Canal.
It's fairly new, so if you want an idea of the buildings that are in this district, simply walk along Collins Avenue from 23rd Street until the 43rd Street and check out the hotels.
Faena District
Faena District stretches north on Collins Avenue from 32nd Street to 36th Street is a new neighborhood rooted in arts and culture.
The Faena Bazaar on 34th Street is a high-end shopping center in the heart of Faena District, hailed as Miami Beach's new design destination.
Faena Theater showcases the best, highly acclaimed artistic performances in Miami Beach. It is also an event space that you can rent for your own private events like weddings and dinner parties.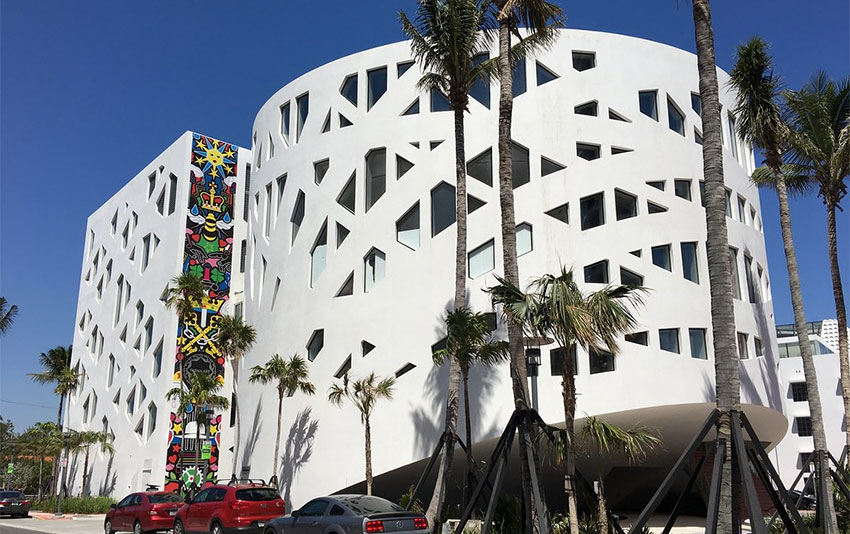 The newly-inaugurated 43,000-square-foot Faena Forum is a monumental landmark, aiming to showcase cutting-edge collaborations in art, business, entertainment, technology, and beyond.
Essential Information
Address: 3201 Collings Ave., Miami Beach, FL | 305-534-8800
Website: Faena
Other Recommended Activities in Mid-Beach
These are some other suggestions for things you can do in Mid-Beach, but again, I highly recommend just hanging out on the beach or poolside and soaking up the sun.
Watersports. Boating, kayaking, jet-skiing, paddleboarding, banana boating, parasailing, and surfing
Spa. Mid-Beach has plenty of day spas and aesthetic centers
Golf. Miami Beach Golf Club is away from the beach, but it's an 18-hole golf course set in a beautifully renovated neighborhood. If you managed to take your golf clubs with you, book some tee time.
Mid-Beach Nightlife and Music
Mid-Beach may be more laid-back, but it doesn't mean that there's no nightlife to be had. Here are some of the top nightlife spots in Mid-Beach:
Basement Miami
This nightclub features famous DJs and live dancers, but more uniquely, there's a bowling alley(!) and an ice-skating rink(!!!). Reservations are highly recommended, especially if you want to use the alley or rink.
Essential Information
Address: 2901 Collins Ave, Miami Beach, FL| 786-257-4600
Hours: Sun-Thu 5pm-2am; Fri-Sat 5pm-5am
Cost: $$$$
Website: Basement Miami
LIV
This is where it's happening; Travis Scott, DJ Khaled, and Kanye West have all played here. Your tab can run you into debt for the next few months, but if you want to see celebrities and VIPs, LIV is where you party.
Essential Information
Address: 4441 Collins Ave, Miami Beach, FL | 305-674-4680
Hours: Wed-Sun 11pm-5am; Mon-Tue closed
Cost: $$$$$
Website: LIV Nightclub
Living Room
If you're already staying in the Faena Hotel, you don't need to go out of the hotel complex to chill out in their lounge.
Enjoy bespoke cocktails and their small bites while enjoying the live music and excellent entertainment.
This is for those who want to have a couple of drinks on their last night in town but don't really want to experience the party scene.
Essential Information
Address: 3201 Collins Avenue, Miami Beach, FL | 305-535-8800
Hours: Sun-Wed 11am-12am; Thu 11am-1am; Fri-Sat 11am-2am
Cost: $$$
Website: Living Room | Faena Hotel
Where To Stay in Mid-Beach
Casa Faena
Originally built in 1928 as the El Paraiso Apartments, the Casa Faena is a Spanish-style inn that's stylish and relaxed. Art and comfort merge in this home away from home, just a few steps away from the beach.
And yes, this is inside the Faena District, so if you love art and want to be part of a community that loves art, this is the perfect place for you.
Essential Information
Address: 3500 Collins Ave., Miami Beach, FL | 305-604-8485
Type: Inn
Cost: $$
Website: Casa Faena
Fontainebleau
It's hard to imagine now, but Frank Sinatra and the Rat Pack used to hang out here.
Fontainebleau is where old world Miami charm meets cutting-edge aesthetics and technology.
This sprawling, 20-acre hotel features striking architecture, modern amenities, and contemporary art and music.
The amenities include 11 pools, the LIV nightclub, 12 fine dining and casual restaurants, state-of-the-art conference and event facilities, and the 40,000-square-foot Lapis spa.
Essential Information
Address: 4441 Collins Ave., Miami Beach, FL | 305-538-2000
Type: Luxury Resort Hotel
Cost: $$$$
Website: Fontainebleau Miami Beach
Faena Hotel Miami Beach
The gilded wooly mammoth skeleton encased in glass and gold gives its location and its promise: elegance.
The Faena Hotel Miami Beach is the newest resort hotel in town and is the centerpiece of the new Faena District.
From the dramatic red carpet and gold pillars in the lobby to the spacious, richly furnished rooms, the hotel makes you feel like you're in a Hollywood movie.
This is also home to the Tierra Santa Healing Spa, featuring one of the largest hammams on this side of the US.
The Faena Hotel also features a pool dotted with trademark red-and-white umbrellas, 2 fine dining restaurants, and the Living Room lounge.
Essential Information
Address: 3201 Collins Ave., Miami Beach, FL 33140 | 305-534-8800
Type: Luxury Resort Hotel
Cost: $$$$
Website: Faena Hotel Miami Beach
Information And Tips On Visiting Miami
Here are some more tips on visiting Miami on a weekend trip to help you plan it seamlessly.
Getting To Miami
The main airport that both local and international visitors land on is Miami International Airport, serving 45 million passengers a year.
An alternative airport is the Fort Lauderdale–Hollywood International Airport, 21 miles north of Miami.
Getting Around
The most convenient way to get around, especially if you're going to Miami Beach, is by rental car. There are around 15 car rental companies in the Miami International Airport.
If you do rent a car, make sure you get a SunPass to pay tolls. Also, be prepared to cough up expensive parking fees.
Airport shuttles are available from the airport to selected destinations, and rideshare services Uber and Lyft are also available in this city if you prefer that over renting a car.
Public transportation options include Metrorail, Metromover, and Metrobus.
Go Miami-Dade is Miami-Dade County's official transit mobile application, which gives you access to maps, routes, and fares of the Metrorail, Metromover, and Metrobus systems.
You can also plan your trips and buy mobile passes so you don't need to buy physical tickets anymore.
Taxicabs are also available, but this might be the most expensive, especially if you're going long distances.
What To Wear
Miami is one of those places that's sunny all year round. The average temperature is in the 70s, and it has never recorded snowfall.
You'll rarely need anything warmer than a light jacket. That said, it can be drafty, especially around the beach areas, so dressing in layers is practical.
Dress appropriately for dinner, though; leave the flip-flops and flimsy cotton dresses at home.
What To Expect
As a tourist destination, pickpockets and thieves are common crimes in this city. Always be careful of your belongings, especially if you're traveling alone.
Some variant of the Spanish language is constantly spoken in the city, as it has a high percentage of immigrants from Cuba, Central America, and South America. It doesn't hurt to know a few basic phrases in Spanish.
What To Eat
Miami's highly diverse population is reflected in its cuisine, which is a combination of the Caribbean, Latin American, and American cuisine. A term has even been coined for this unique mixture: Floribbean cuisine.
Here are some dishes you need to sample during your weekend in Miami.
A Cuban sandwich is made of fresh Cuban bread, baked ham, roasted pork, Swiss cheese, yellow mustard, and pickles
Cafe con leche y Tostada Cubana is a traditional Cuban breakfast. Cuban espresso is mixed with scalded milk and then served with fried Cuban bread.
Pastelitos are baked puff pastries that can be stuffed with a variety of sweet and savory fillings, such as cream cheese, ham, ground beef, coconut, guava, and many more.
Croquetas are made of béchamel sauce and ham or any other savory filling formed into bite-size cylinders, coated with breadcrumbs and fried to perfection so that it's crispy on the outside and fluffy on the inside.
Arepas are made of ground maize dough grilled or fried into flat corn cakes. You can eat them on their own or stuffed with meats, cheeses, seafood, and vegetables.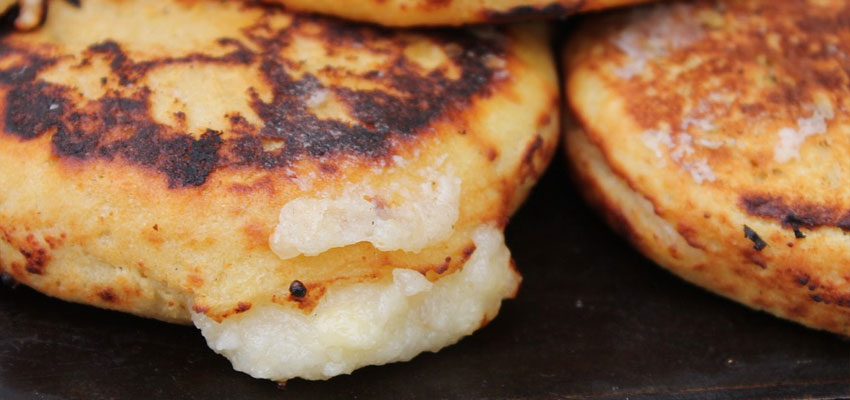 Chicharron is a dish made of pork rinds that are deep-fried until the skin becomes puffy and crunchy.
Stone crab claws are usually flash-boiled, chilled, and cracked, before serving with a sauce (usually mustard- or mayonnaise-based), hash brown potatoes, and coleslaw.
Empanadas are half-moon shaped turnovers made of flour or cornflour dough, stuffed with a savory or sweet filling, and then fried or baked. Fillings can be chicken, beef, chorizo, cheese, lobster, crab, guava, apple, and many more.
Churrasco is a general term for grilled pork or beef steak, usually skewered, and served with chimichurri sauce.
Ceviche is fresh raw fish cured in citrus juices, such as lemon or lime, and spiced with ají or chili peppers.
Jerk chicken is chicken that's dry-rubbed or marinated with Jamaican jerk spice, mainly allspice and Scotch bonnet peppers with other herbs such as cinnamon, nutmeg, and thyme, as well as aromatics such as garlic and ginger.
The chicken is then grilled over charcoal or oven-roasted.
Plan your Miami weekend trip today!
Miami is one of the most diverse cities you'll ever visit, and it shows in their food, culture, art, and entertainment.
Set all this diversity on Florida's southern coastline, and you get a holiday destination like no other.
Double down on your Florida holiday!
Can you extend your vacation for a few more days? Why not drive down to the Florida Keys?
To get there, follow these directions:
From anywhere in mainland Miami, make your way to I-95
Exit at FL-836 W
Continue along FL-836 W and take FL-826 S
Continue along FL-826 S and follow the signs for Toll Rd/Homestead
Take FL-874 S then merge onto Ronald Reagan Turnpike
Continue along Ronald Reagan Turnpike then merge onto US-1 S
Follow our guide to a Florida Keys road trip and have a great time!
Are you planning to go on that weekend trip to Miami soon? Which places are you planning to hit up first? Share it in the comments section!