The wineries in Maryland are renowned for 36 types of grapes that they've been cultivating since the 1800s.
What's more impressive is that the wine industry in Maryland continues to expand with more wineries popping up left and right, giving wine lovers more options to sample classics and newer blends crafted by up-and-coming wineries.
So if you visit the state in 2023 (or onward), you get a taste of award-winning wines from the regions of Piedmont (Cabernet Franc, Merlot, Pinot Gris, and Cabernet Sauvignon), Sangiovese from the eastern shore region, and Petit Verdot, Cabernet Franc and Chardonnay in the western mountainous region of Maryland.
You don't need to wait for September (when the annual Maryland Wine Festival is held) or March (for Maryland Wine Month) to come and taste what wines the state offers.
10 Most Famous Wineries in Maryland and the Drinks You Should Try
The following Maryland wineries are not arranged in a specific order.
If you have time, I recommend you visit all of them. But pick and choose a couple from my list below if you have limited time or budget.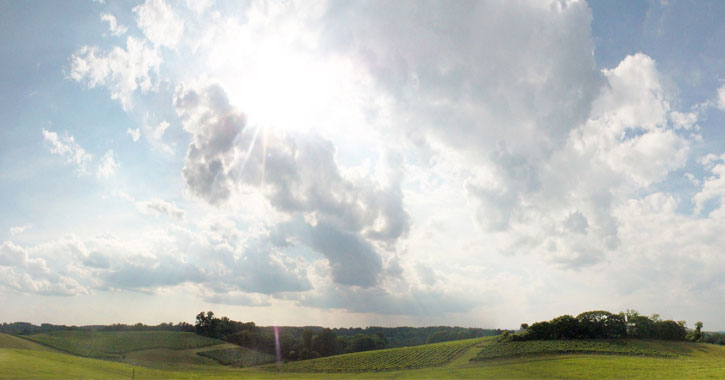 Linganore Winecellars is a family-owned and -run winery that has been around since 1976. Set on a 230-acre rolling vineyard, this winery is one of the biggest and oldest winery in Maryland.
Although this winery began with hand-crank equipment, producing only a handful of classic wines like Cabernet Franc and Chadonnay. But today it is known for many award-winning blends, such as their white wine blend Terrapin.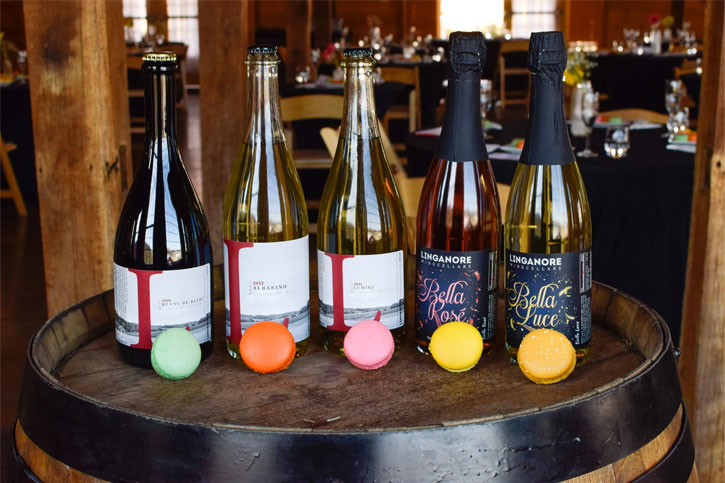 Linganore Winecellars also offer wine tastings, private guided tours, and venue rental for weddings and other private parties at their 165-seat Abisso Banquet Hall. If you're just visiting for a casual hang out and tasting, the best time to go enjoy the place is during winter, when Linganore crew prepares the lawn with fire pit tables. You just have to bring your own chairs.
Business hours at Linganore Winecellars is from 10 am to 5pm Mondays through Thursdays, 10 am to 6 pm every Fridays and Saturdays, and 12 to 5pm on Sundays.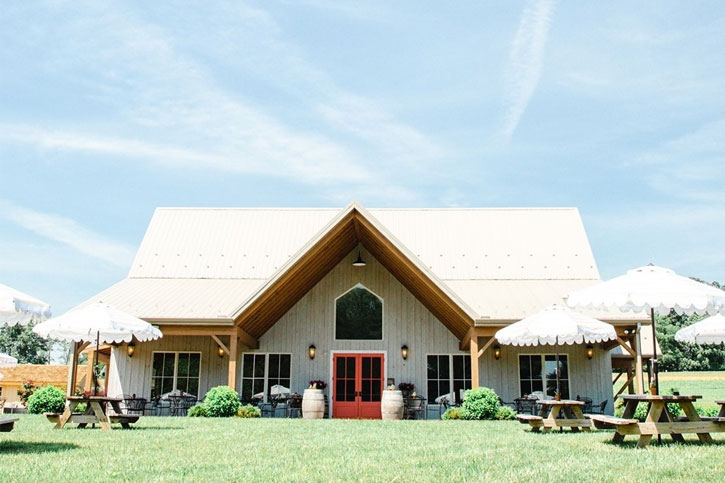 This "family farm" is run by siblings Drew Baker (the farmer), Lisa Hinton (Old Westminster's head winemaker) and Ashli Johnson (general manager). Located in Carrol County, Old Westminster was founded in 2010 and added its tasting room in 2015.
When you arrive at the Old Westminster property, you'll find it extremely inviting. Just look at that cozy house with picnic tables and benches scattered around it encouraging you to hang out. It also accommodates private groups – they have greenhouses and igloos that give guests their own space while still letting them enjoy the surroundings.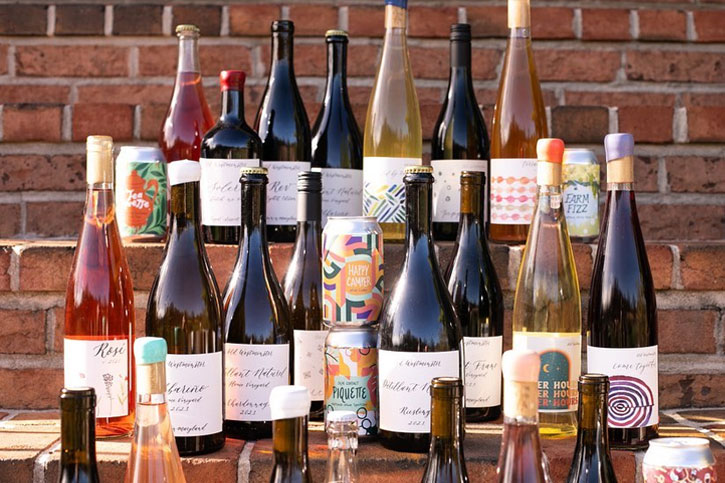 Old Westminster wine is available by the flight, glass, and bottle. Probably the most popular wine here is their Blinded by the Light ( a blend of Vidal Blanc, Piquette Blanc and Gruner Veltliner) that showcases flavors of peach, pineapple and lemonade. But if you're a fan of red wine, go with Rev 8th Edition, or Ver Juicy if you love rose bubbly instead.
Old Westminster also serves brick-oven pizzas, local cheese & charcuterie plates, artisan jams on sourdough toasts, and more. I recommend their Sunday brunch (if you're after good food), or reserve an igloo in the winter for a romantic, winter-wonderland meal with your loved one.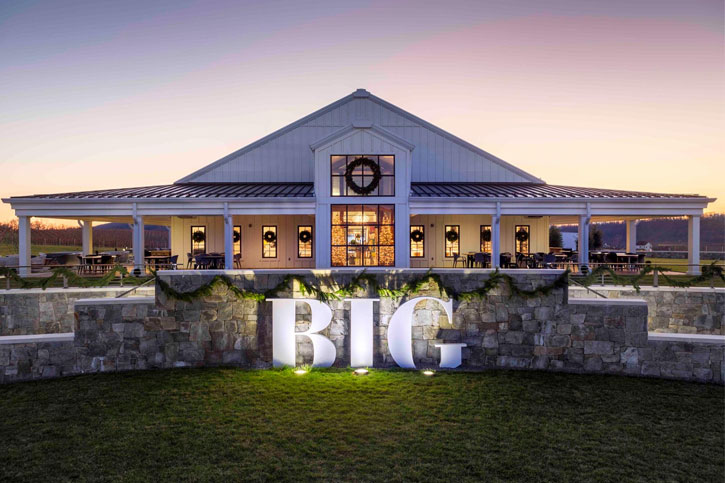 Big Cork Winery began in 2011 when a Virginia winemaker grew grapes across his first 22 acres. Since then, the winery has been producing over 25 types of wines, many of which are award-winning wines.
As you can see from the picture below, Big Cork Winery has made a name for itself thanks to its long list of kickass wines, from the must-try like Nebbiolo and Sauvignon Blanc, to underrated flavors like the cherry-tinged Muscat Rose or Syrah Rose. They also have a raspberry port and ice wine with massive following.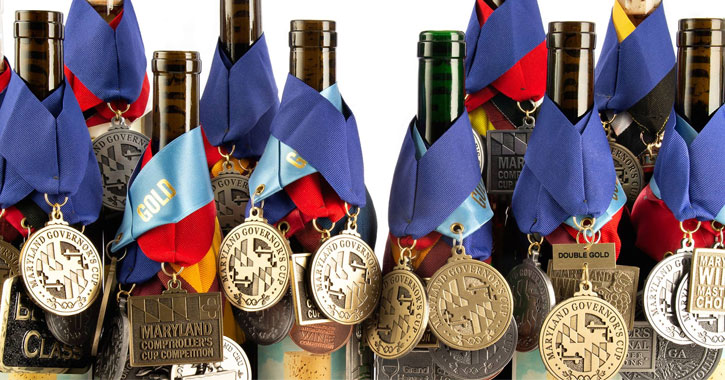 I recommend you visit on weekends if you love live music while sampling their wine offerings. You can also do a winery tour, wine tasting with cheese pairing (or if you have a bigger group of 5 or more people) by reservation.
For walk-ins, Big Cork Winery is open from 11 am to 5pm Thursdays to Mondays, and until 9pm on Fridays. They're closed on Tuesdays and Wednesdays.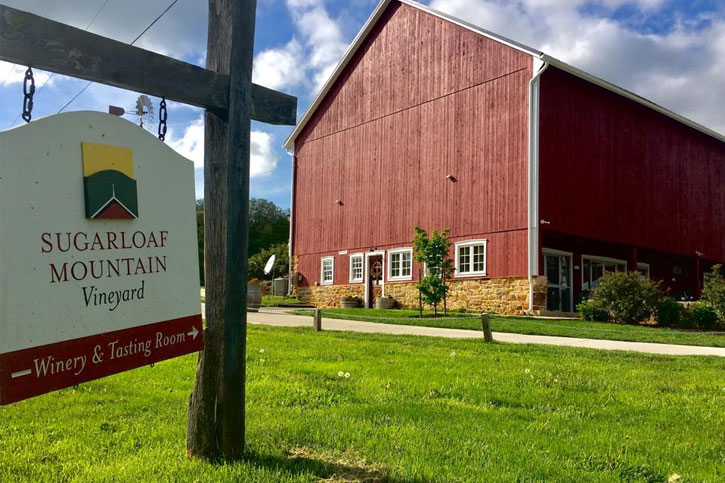 There are a couple of reasons why you should take time to visit Sugarloaf Mountain Vineyard.
First, the vineyard's location is exceptional. Not only is the 22-acre winery located near the Virginia border (which gives the property a climate unique), it is also nestled at the base of Sugarloaf Mountain. Many people who climb Sugarloaf stop by this winery and take in the experience longer.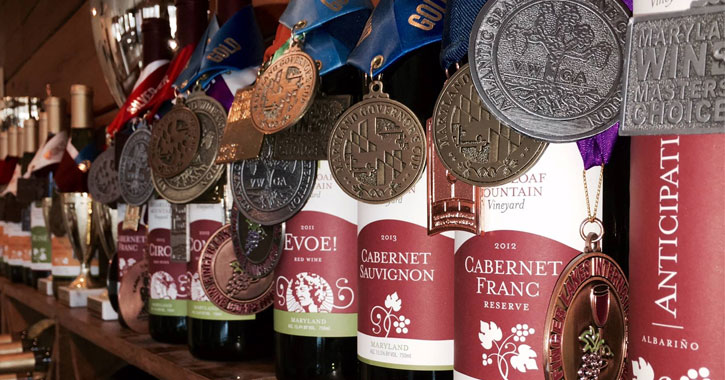 Second, Sugarloaf Mountain Vineyard has been around since 2006. Owners Emily Yang, along with resident winemaker Manolo Gomez has produced multiple award-winning wines since, and they're not stopping anytime soon.
Lastly, unlike other wineries in Maryland, Sugarloaf Mountain Vineyard is open daily for wine tasting, winery tours, and private events.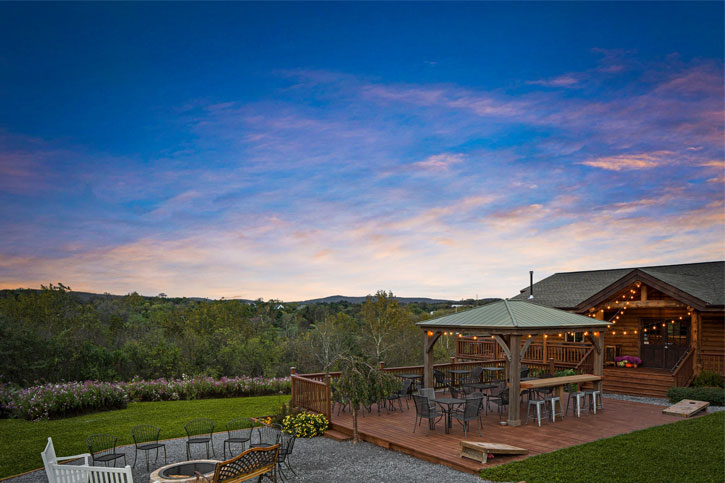 The gorgeous Orchid Cellar Meadery and Winery is a sight to behold. Opened in 2010, this place began with just one red wine offering and several, well-selected meads.
Today, Orchid Cellar Meadery and Winery has some of the best-tasting meads you can find in Maryland, even if they only have 2 acres of vineyards.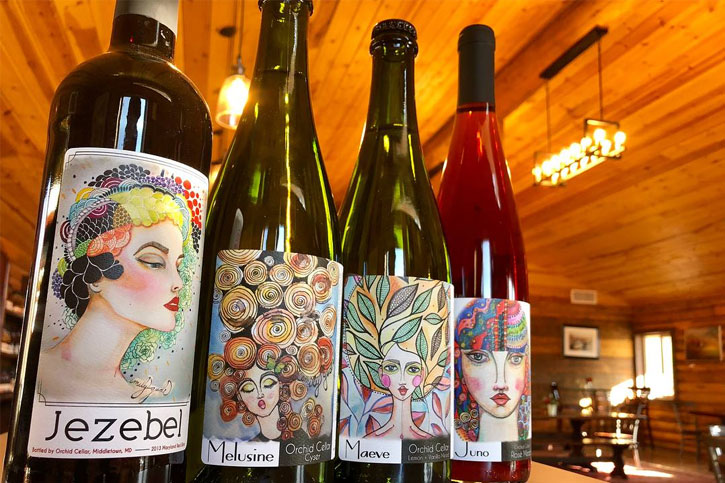 Orchid Cellar Meadery and Winery is small for vineyard standards, but they pack people from all over the world daily. If you're lucky and you visit when there's a public event with live music, new offerings, or other seasonal events, you'll see how the tasting room and the beautiful lawn comes alive.
It's a perfect spot for intimate weddings, since Orchid Cellar Meadery and Winery can also be rented out for private events and functions.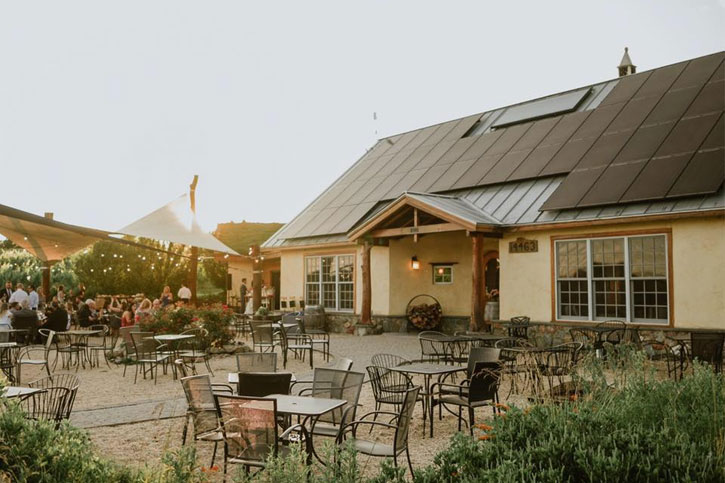 Black Ankle Vineyard is located in the beautiful Mt. Airy, which welcomes anyone who prefers to bask in the views of the vineyard, or get cozy indoors instead. Owners Ed Boyce and Sarah O'Herron opened their doors in 2008 to their dog-friendly, sprawling property.
Grown and developed using traditional winemaking process, the wines at Black Ankle Vineyard like the Gruner Veltliner, Chardonnay, Syrah, Terra Dulce VI and various blends can accommodate everyone's tastes.
And even those who don't drink are welcome to bring their non-alcoholic drinks to join their family and friends. The place is perfect for picnic and Friday-night out with people who also love live music.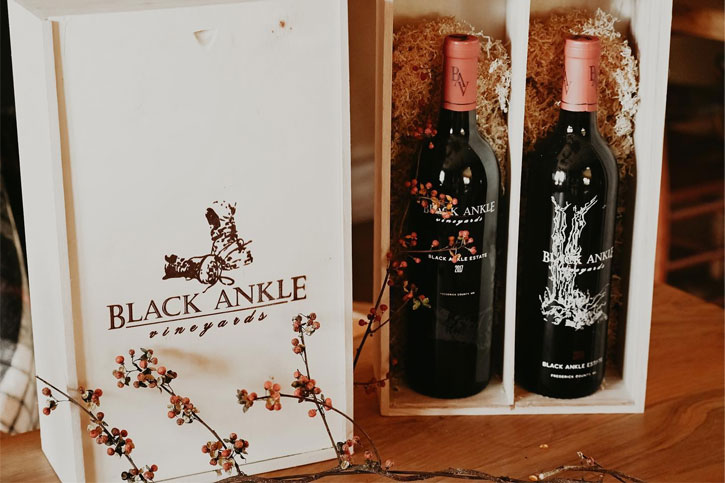 Photo Credit: Black Ankle Vineyards FB
Black Ankle Vineyard partners up with local food trucks as well, so better check with them first when you plan to drop by.
Black Ankle Vineyard is open 12pm to 5pm every Monday, Wednesday and Thursday, then 11 am to 5pm from Fridays through Sundays. The vineyard is closed Tuesdays.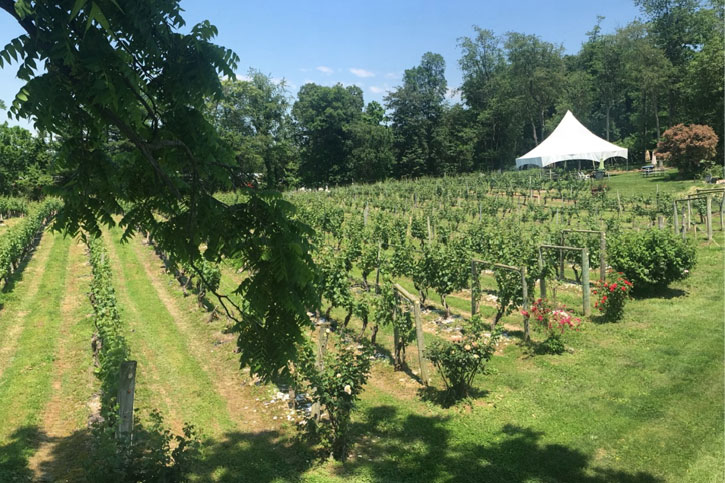 Elk Run is one of the oldest vineyards in Maryland, founded in 1979 as the state's first all-vinifera vineyard. Plus, it is situated in a historic property that dates back to the 1700s.
If you're new to wine-tasting, it can be hard to pick just one Elk Run wine to try (they do have multiple award-winning ones). But the folks at Elk Run have created their tastings ($12/person) specifically for you, so you can sip up to six wines and find the best one from their wine list to best suit for your taste.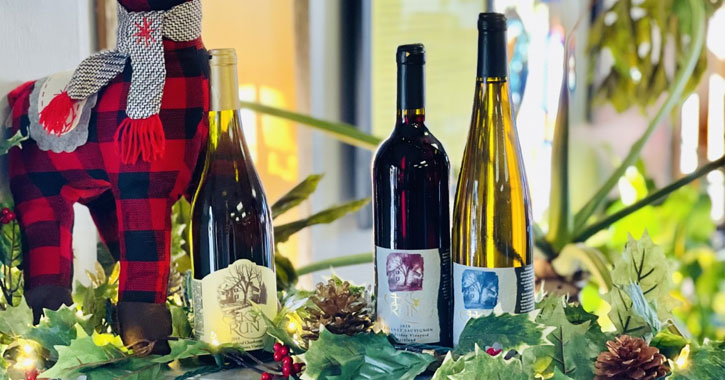 Elk Run's fine wine selection matches perfectly with the atmosphere you'll experience here.
I love the tents on the grounds that are available for guests year-round.
Go on weekends if you're planning to experience wine flights, an authentic private tasting, or a winery tour for bigger groups. And if you visit anytime between spring and fall, there's a chance for live music as well.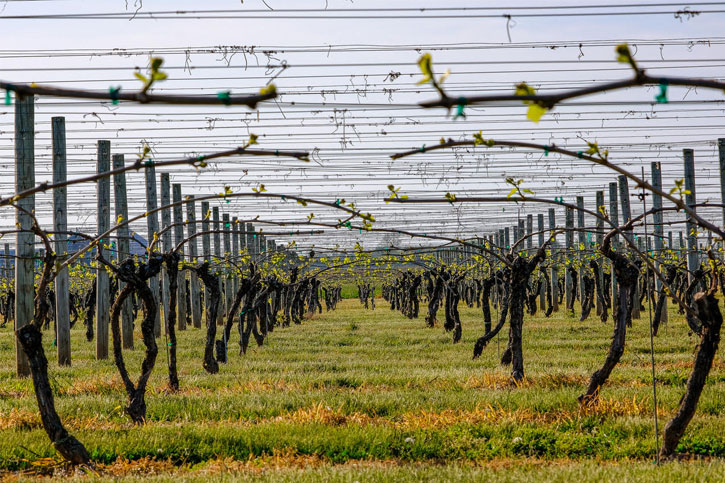 Crow Vineyard & Winery was established only in 2012, but you'd think the products they produce at the farm-vineyard has been around for decades. After all, the third-generation farm has been growing corn and soy, as well as producing Angus beef on its 365-acre property even before grapes were first planted.
Out of all the wineries in Maryland, Crow Vineyard & Winery is just one of only a few establishments with a bed and breakfast on site.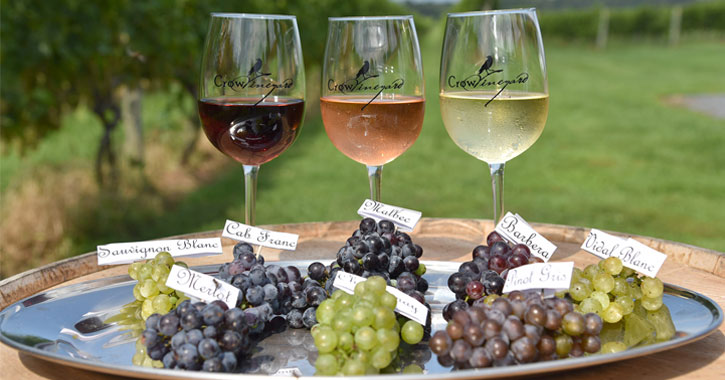 Crow Vineyard & Winery is also known for their 20+ distinct wine blends and classics like Merlot, Barbera and Chardonnay.
And because they're a farm-to-table establishment, you can expect good food here and unique pairings (such as wine + oyster tasting or beef + red wine tasting). One unique offering here is the Chocolate Pairing Flight, which includes four different chocolates with 3 different wines.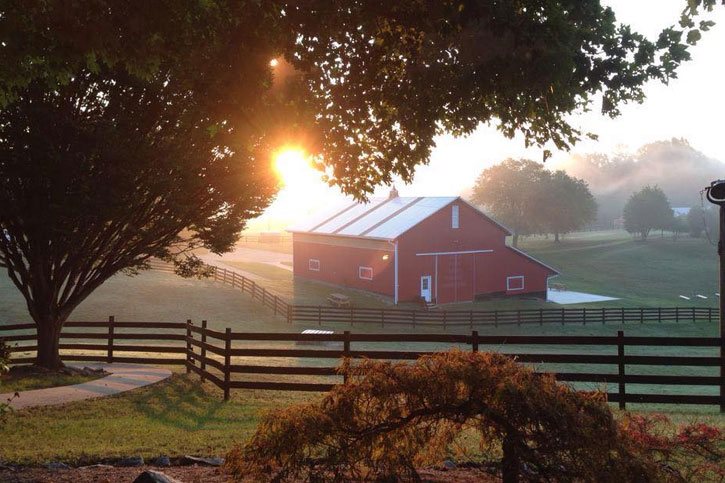 Robin Hill Farm and Vineyards looks like it came out of a postcard. Situated in the picturesque Southern Prince George's County, this family-owned farm and winery has been around since 1957, but their barns was used to process tobacco in the past.
Today, every inch of the vineyard is dedicated to wine-making and entertaining. Guests can rent the entire place for weddings or reserve a quiet spot on the estate for private events.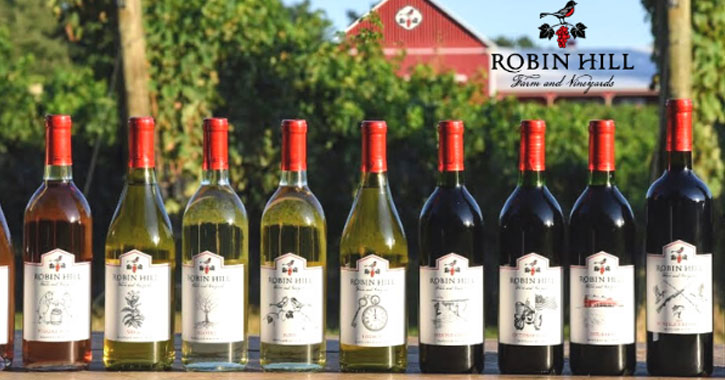 Wine drinkers will love the self-guided wine tasting tour that includes 12 wines from their vineyard.
Robin Hill Farm and Vineyards also partners with local food trucks and host live music artists on the farm. If you like picking at charcuterie boards with your wine instead, it's available there as well.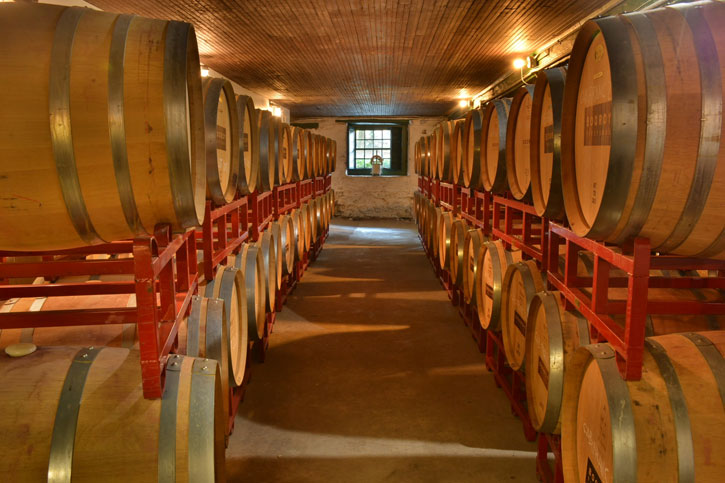 Boordy Vineyards, which opened their estate to the public in 1945, is one of the first wineries in Maryland. The Deford family took over the operations in 1980 and turned it into a family business with four generations of Deford actively working on the vineyard.
The Boordy winery is housed in a historic building. You need to visit the place to see the beautiful grounds, tasting room, and barn yourself.
Although Boordy produces a wide range of wines like Cabernet Franc, Merlot, Chardonnay, and Pinto Gris, their most popular wine – the Albariño Reserve – is probably the most sought-after. This particular blend is aged in Burgundian oak barrels for six months.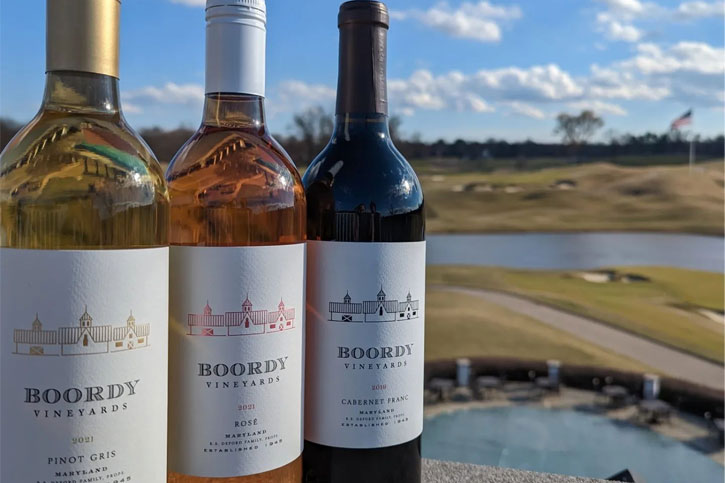 Boordy Vineyards is open daily from 10 am to 5pm – you can request for a vineyard tour (that includes the winemaking area and barrel room). If you're after good food (via their partner food trucks) or live music, your best bet is to plan your visit on the weekend. They even host farmer markets during the summer.
The place has an outdoor area and private venues available for weddings, parties and other special events. Note that the tables inside their Boordy Barn and the Patio Tent are by reservation only.
After Visiting Wineries in Maryland, What Next?
If you plan to visit the wineries above, you'll be able to take in many of Maryland's awesome landscapes.
But if you have extra time to explore this gorgeous state, check out my guide about Maryland's beautiful waterfalls, the unique caves of Maryland, the best Maryland waterparks for kids, and stunning lake destinations around Maryland.