Yellowstone waterfalls are some of the most picturesque falls in this part of the country.
Yellowstone National Park is actually home to at least 45 named waterfalls and cascades (plus hundreds more that remain unnamed and undiscovered).
8 Must-See Yellowstone Waterfalls
If you're on a mission to explore the majestic waterfalls of Yellowstone, here are 8 you should visit at least once in your life:
Let's begin with the two most popular falls – Upper and Lower Yellowstone Falls.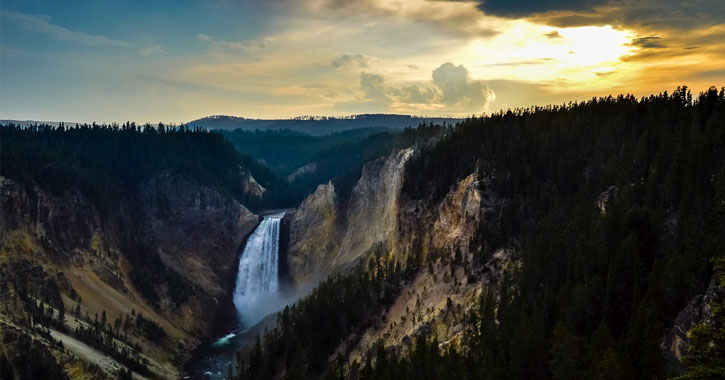 Essential Information
Upper Falls is the Yellowstone waterfall with the best up-close views.
The upper falls are 109 feet (33 m) high. It is technically smaller than the lower falls (more on this below), but Upper Yellowstone Falls can still be a jaw-dropping scene.
There are many ways you can view this waterfall, but these two access points are the most common:
South Rim (Upper Falls viewpoint with 75-feet elevation change)
This is an easier trail than the two because it involves a short walk from the South Rim Trail to two viewpoints of the Upper Falls. One trail goes to Uncle Tom's Point (requiring a .25-mile roundtrip), which is quick but can still be strenuous and not ideal for people with lung or heart conditions.
North Rim (Brink of Upper Falls with 75-feet elevation change)
The multiple drop-offs at the North Rim Trail make this path more dangerous and ideal for experienced hikers.
Upstream of the waterfall, visitors can see the old Canyon Bridge, which today is part of the North Rim Trail.
From the overlook on the left of the falls, look downstream to glimpse Crystal Falls on the opposite side of the Canyon. The north rim trail is known for showing off rainbows in the afternoon.
All trails can be icy or covered in snow during winter. Sometimes, one or both trails are closed completely.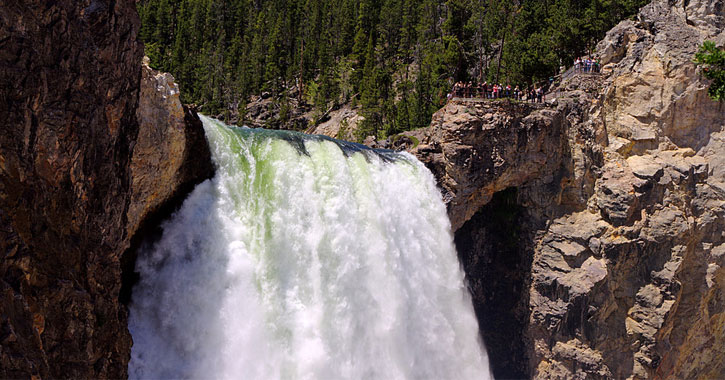 Essential Information
If you're in search of the best Yellowstone waterfalls, Lower Falls is hard to beat.
Plunging down from a 308-foot-high precipice, Lower Falls is the highest waterfalls in Yellowstone National Park. In fact, many people visit the park just to get a closer look at this waterfall.
Like in the Upper Falls, you have several trails to choose from if you decide to go see Lower Falls.
Uncle Tom's Trail (South rim with 500-feet elevation change)
This strenuous trail lets you face over 300 steps, but it is the most engaging – you can actually hear and see the Lower Falls in front of you. Note that this trail is closed in the winter (and sometimes in spring/fall too).
Artist Point (South rim with 50-feet elevation change)
Out of all the trails, Artist Point is the spot that gives the most photogenic vistas. It's an easy hike that begins at the large parking area at the east end of South Rim Drive.
Brink of Lower Falls (North rim with elevation change of 20 to 600 feet)
You can begin the trail straight from the top of the trailhead viewpoint (giving you only to deal with a 20-feet elevation change), or accept the more challenging trail from the bottom (with a 600-feet elevation change).
The latter trail isn't recommended to kids, seniors and people with serious heart/health conditions because of dangerously steep drop-offs.
Lookout Point (North rim)
This easy trail with a 25-feet elevation change begins at the Grand Loop, then onto North Rim Drive where you can easily access the lookout. There is a parking lot nearby and requires only a .15 mile round trip walk.
Red Rock Point (North rim)
If you want a more challenging trail, begin from Lookout Point (above), then hike down a ton of stairs.
Considering this trail has an elevation change of 490 feet, it isn't for the faint-hearted. However, the 1-mile roundtrip strenuous trail does end you with a dramatic view of Lower Falls.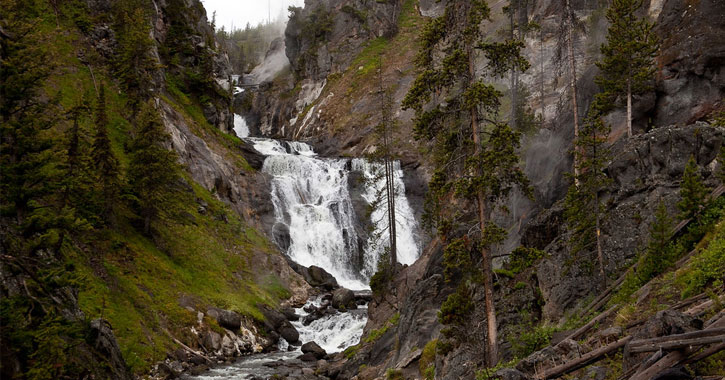 Essential Information
Mystic Falls isn't as dramatic as the Upper and Lower Falls, but this cascade waterfall has everything you're expecting from a Yellowstone visit – geothermally-heated steam rising from the ground, a marvelous sight of the waterfall, and nature left and right.
You can visit Mystic Falls up close via a scenic trail along the Little Firehole River.
Walk .3 miles to the far side of the Biscuit Basin boardwalk, then follow the trailhead. (There will be signs all the way to the falls)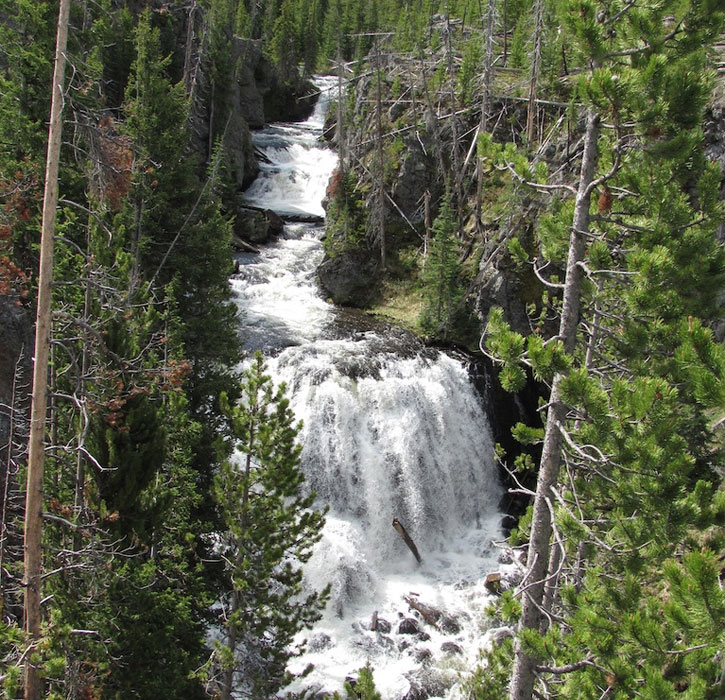 Essential Information
If you're looking for the most accessible Yellowstone waterfalls, add Kepler Cascades to your choices.
Kepler Cascades, located about two miles south of Old Faithful Village, is accessed via a trail along the Firehole River and the Grand Loop Road until you reach the Kepler Cascade overlook.
You'll be able to view the three-tiered cascade waterfall, dropping around 150 feet over multiple drops (with the longest drop at 50 feet).
While the overview looks small (because of the pines that tower beside it), Kepler Cascades has a well-marked trail.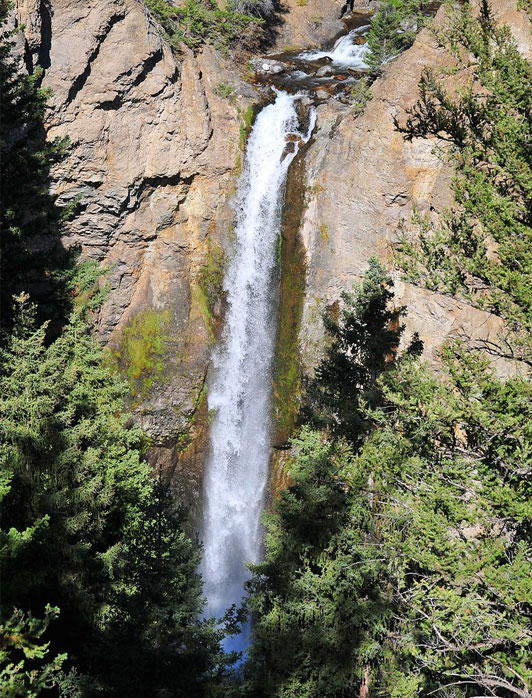 Essential Information
Tower Fall is one of the more popular Yellowstone waterfalls mainly because it is near a campground, the Roosevelt Lodge, and the Lamar Valley (if you're here for wildlife watching).
The waterfall was named in 1870 for the unique rocky pinnacles framing the falls.
Tower Fall is accessible from the Grand Loop Road, walking 1/10th of a mile to the Tower Fall Overlook. From here, you can marvel at how Tower Creek drops 132 feet down Yellowstone River.
Unlike other Yellowstone waterfalls, Tower Fall can get pretty busy. But if you arrive here with fewer tourists, you'll find amazing photographic opportunities at every angle.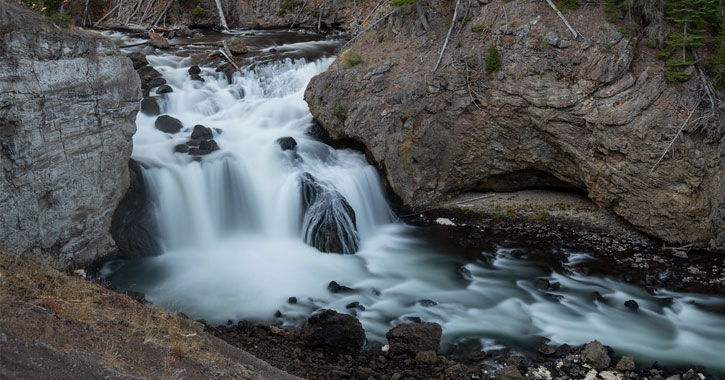 Essential Information
Anyone looking for a waterfall in Yellowstone to swim in, the Firehole Falls is the place to go.
Firehole Falls is easy to explore. It is located less than 30 minutes from the town of West Yellowstone. Take the scenic drive through Firehole Canyon Drive, off the Grand Loop south of Madison, until you reach the overlook.
The Firehole Canyon Scenic Drive has a small parking area. Once here, find the stairs that lead down to a rocky beach where you can swim.
Note that while swimming is allowed, temperatures could get chilly. It is better to swim during the warmer months of summer.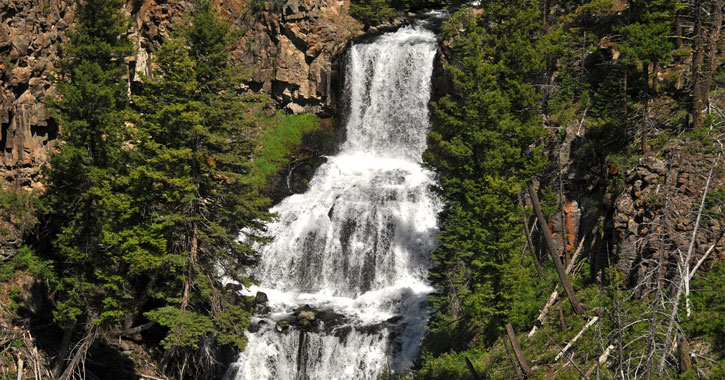 Essential Information
Located just about 4 miles east of Mammoth Hot Springs in the northern area of Yellowstone National Park, Undine Falls is a three-step waterfall that you can easily view from a roadside.
It was originally named "Gardiner River Falls" or "East Gardner Falls," but was renamed in 1885 by geologist Arnold Hague after female water spirits from German mythology who lived around waterfalls.
Undine Falls drops 60 feet into a tight canyon below. You can access it either by the roadside (via the highway between Mammoth Hot Springs and Tower-Roosevelt) or a short hike (starting from the Lava Creek Picnic Area via the Lava Creek Trail) for a closer view.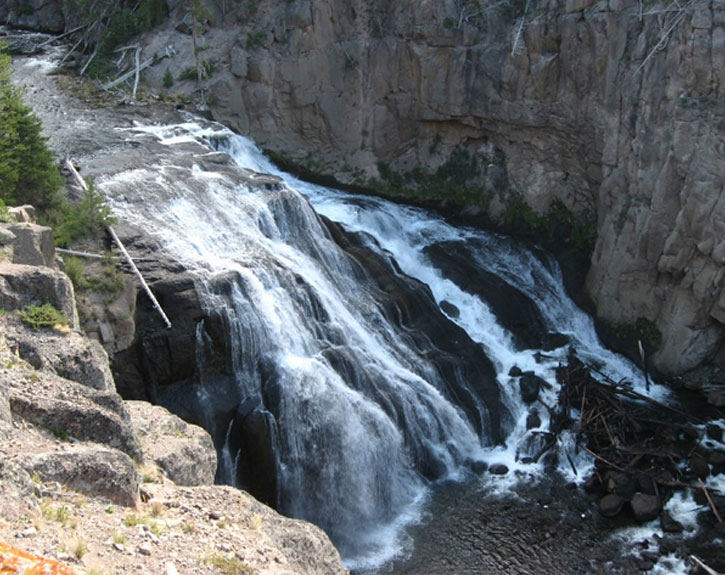 Essential Information
Gibbon Falls is a waterfall on the Gibbon River in northwestern Yellowstone National Park.
You can reach Gibbon Falls just off the road between Madison and Norris Junctions.
You can even hear the falls from your vehicle, but the effort of taking a few steps into the woods and being welcomed by the majestic falls is definitely an experience you should take.
Gibbon Falls drops 84 feet into a small, clear pool. People are allowed to swim here, but if you decide to get wet, be cautious of rocks and chilly temperatures.
When is the Best Time to Visit Yellowstone Waterfalls?
The best months to visit Yellowstone are late April to May, then September to early October. These "off-season" months offer little to no road closures, thinner crowds, and milder climates with better chances of seeing local wildlife.
If you have kids, you might have no choice but to pick the most popular months to visit – in July and August – when school is out.
Visiting Yellowstone waterfalls is a bit different than camping, boating, or fishing since some falls can be marveled at from a distance at viewpoints near the road.
As such, many people still visit these falls that require no advanced hiking at any time of the year.
If the route you want to take requires a hike, check with Yellowstone park first. Ice and snow could close down trails temporarily.
Other weather conditions, like rain, wind, and heat, should also be considered before you hike to any of these waterfalls.
Done Chasing Yellowstone Waterfalls?
Yellowstone has numerous naturally-occurring areas that can wow anyone. These include:
For those chasing waterfalls around the country, be sure to check out my waterfalls guide on Kansas, Oklahoma, Massachusetts, Tennessee, Vermont, Arizona, Ohio, Oregon, and other under-the-radar waterfalls in the US.