Portland Oregon waterfalls are quite legendary.
First of all, Oregon is home to over 230 waterfalls. Many of these waterfalls come with trails and hikes ideal for beginners to average-skilled adventurers, so even families with kids can experience these waterfalls.
If you're visiting Portland, Oregon soon, make sure to spare a day or two to check out the Columbia River Gorge, where many waterfalls are found. Plus almost all national forests in the state have a hidden waterfall or two you can definitely explore.
What makes a good waterfall destination?
Choosing from over 200 waterfalls in Oregon can be tricky, especially if you have little time available to explore these majestic natural attractions.
The good thing is that each waterfall can be categorized by several criteria, such as:
Located within a national park — Generally speaking, waterfalls inside national parks have developed trails, which means they are safer for beginners.
Accessible by car and a quick hike — If you only want to include one or two Portland, Oregon waterfalls in your itinerary (for instance, if Portland, Oregon is only a stop on your way to another destination), you'd save time by choosing waterfalls that are readily accessible by car, minutes away from the parking lot.
With nearby accommodations — Searching for a weekend getaway? Is the waterfall the only thing to do in the area, or are there other activities that can keep you busy for a weekend stay? Also, are there cabins, parking spots for RVs, or campgrounds available?
Ideal for waterfall hunters — If you're looking for the biggest, deepest, most beautiful waterfalls in the country, then you're considered a waterfall hunter. Are you willing to hike for hours just to reach these waterfalls?
As you can imagine, a "good" waterfall destination depends on what you're looking for, so keep these considerations in mind when checking out my list of Portland Oregon waterfalls below.
Waterfalls of the Columbia River Gorge National Scenic Area
We can't talk about Portland, Oregon waterfalls without mentioning the Columbia River Gorge National Scenic Area.
The Columbia River Gorge is forged by the mighty Columbia River into the Cascade Mountains, forming a 90-mile-long canyon and forming a natural border between Washington and Oregon.
It has one of the greatest concentrations of waterfalls in the country, particularly along the Oregon side of the western Gorge. The fastest way along the Gorge is via I-84, but if you love scenic drives, you'll want to take the Historic Columbia River Highway.
To get to the Historic Columbia River Highway from Portland, find your way to I-84, take Exit 18 and then travel south along the Sandy River to the Sandy River Bridge. Follow the keystone markers through the towns from Troutdale to Dodson, where the "waterfall section" ends, or continue on to the end, which is in The Dalles.
Traveling east from Portland, Oregon, here are the waterfalls you'll encounter.
1. Latourell Falls (Guy W. Talbot State Park, Multnomah County, OR)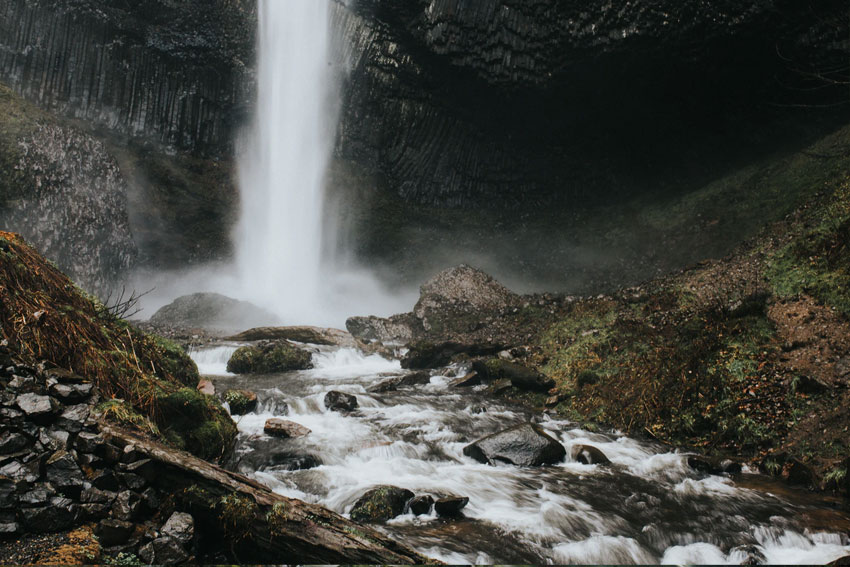 This is the closest waterfall to Portland, and the lush forest background amidst the 224-feet waterfall combo makes this spot pretty photogenic.
The lower falls are visible from the Historic Columbia Highway, and to see the upper falls, you'll need to hike along a 2.1-mile moderate trail.
2. Shepperd's Dell Falls (Shepperd's Dell State Natural Area, Multnomah County, OR)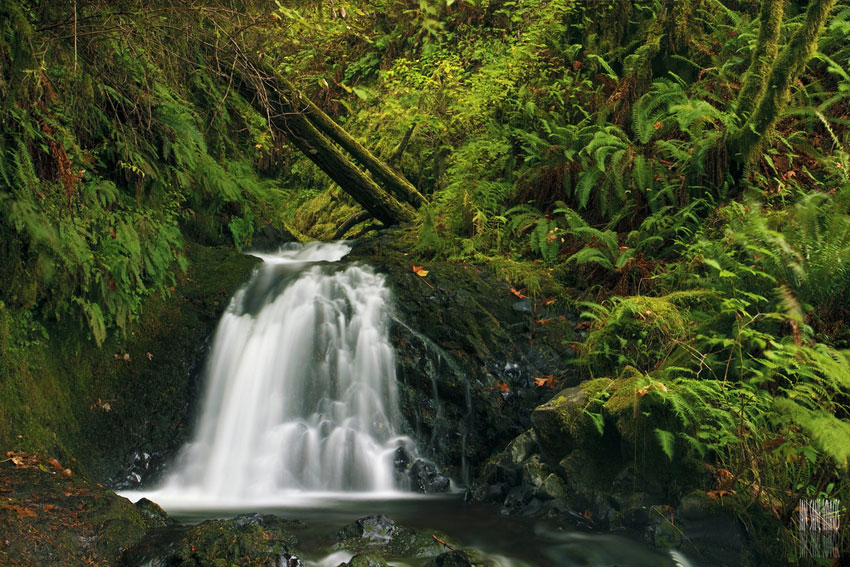 Shepperd's Dell Falls is a two-tiered waterfall cascading into Youngs Creek and into the Columbia River below.
It's an easy 0.2-mile to see the falls, and you'll pass an Instagram-worthy arched bridge built in 1914.
3. Bridal Veil Falls (Bridal Veil Falls State Scenic Viewpoint, Multnomah County, OR)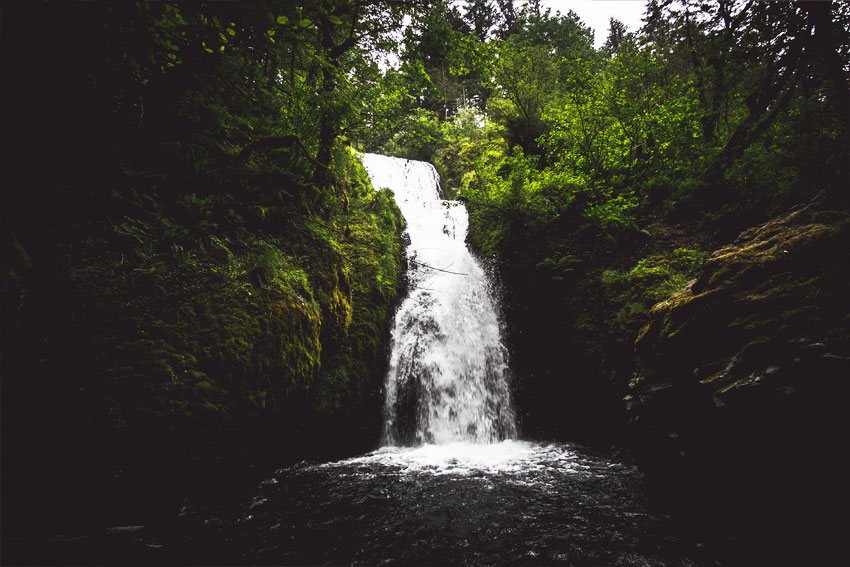 Bridal Veil Falls is another two-tiered waterfall that is easy to miss, as it's not really visible from the road; the falls are beneath the road.
There are two trails that you can hike to see different views of these falls; the lower trail is a steep, 0.3-mile descent to the base, while the Overlook Trail is a 0.5-mile hike upward on a paved trail, giving hikers magnificent views of rock formations and the Columbia River on your way to the viewpoint.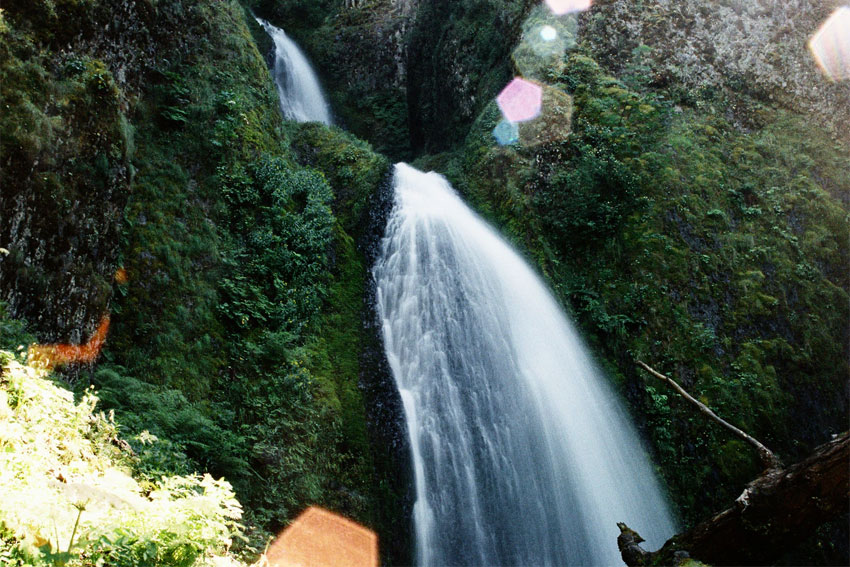 Multi-tiered Wahkeena Falls can be viewed right on the viewing plaza above the parking lot, or you can take a 0.2-mile hike along the Wahkeena Trail to get a closer look.
Continue another half mile on the Wahkeena Trail to Lemmons Viewpoint to treat yourself to gorgeous views of the Columbia River and the surrounding mountains.
If you're feeling a bit more adventurous, continue another half mile of steep, unpaved trail to get to Fairy Falls, a small yet lovely fan waterfall.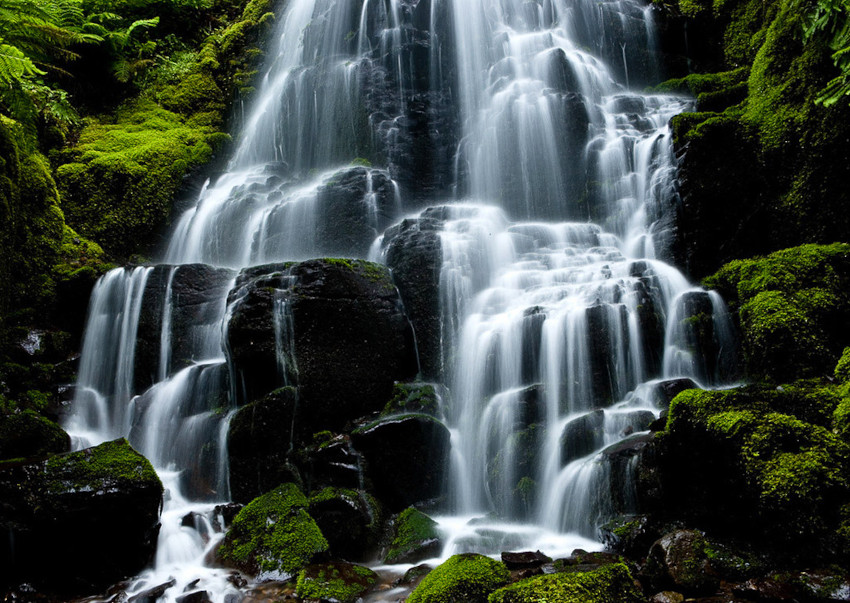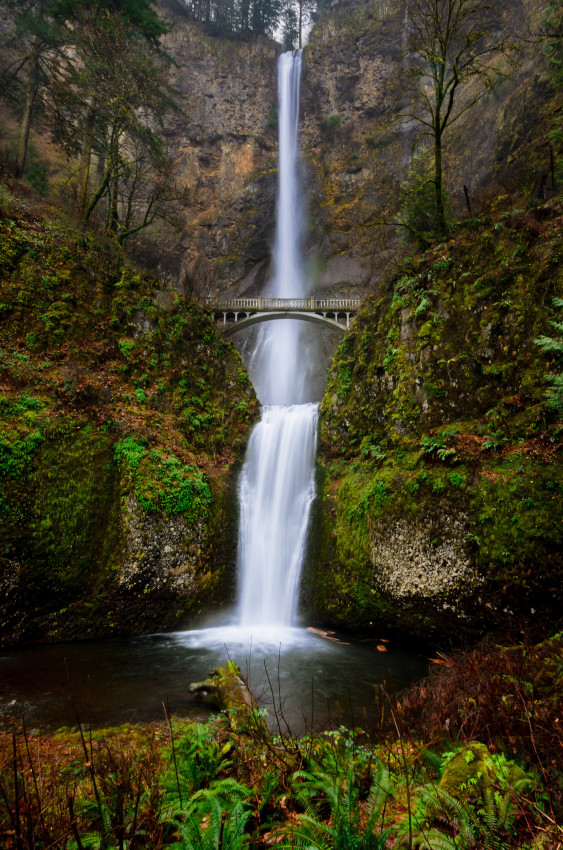 Multnomah Falls is probably the most familiar on this list, and it shouldn't be a surprise; it's the most popular waterfall near Portland, with around 2 million visits a year.
The 620-foot plunge-type waterfall looks dramatic enough, and add the Benson Bridge that sits between its upper and lower drops and you get an extraordinary photo.
When you're parked at the Multnomah Lodge, you can already see the top portion of the falls. Follow the trail to a viewing area to get a full view of the top and bottom drops.
If you're not afraid of heights, walk another quarter mile up to Benson Bridge to marvel at the 524-feet top tier and look down 69 feet as the bottom tier plunges to the depths.
Finally, you can hike up another mile to the top of the falls to look down over the brink of Multnomah Falls plus find a surprise waterfall at the top.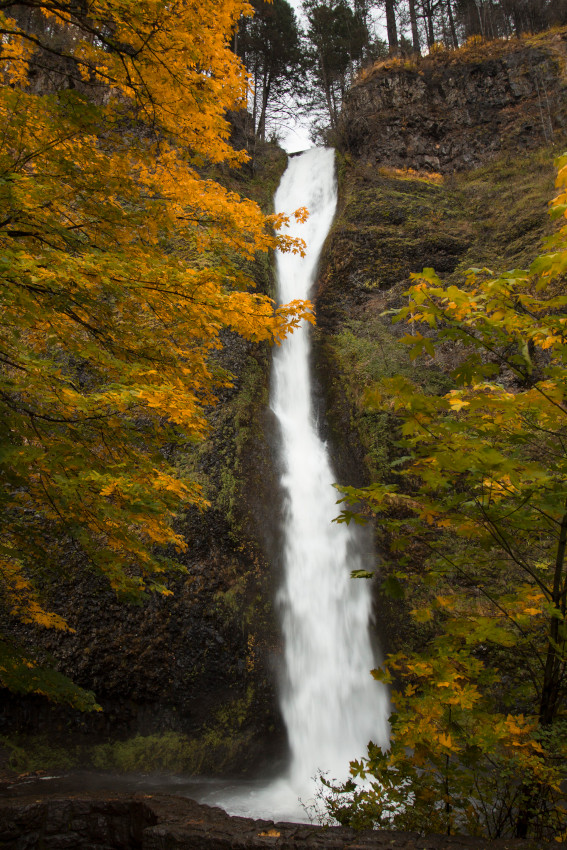 If you know your way around waterfall types, you'll instantly recognize that "horsetail" is a type of waterfall because well, it looks like a horsetail as the water drops vertically.
This particular waterfall is 176 feet high and is visible from the parking lot. Of course, you can get a better photograph at the base during the summer, when you can get super close to the plunge pool and maybe even wade in it.
If you're in the mood for more hiking, though, Ponytail Falls is a 0.4-mile uphill hike from the parking lot.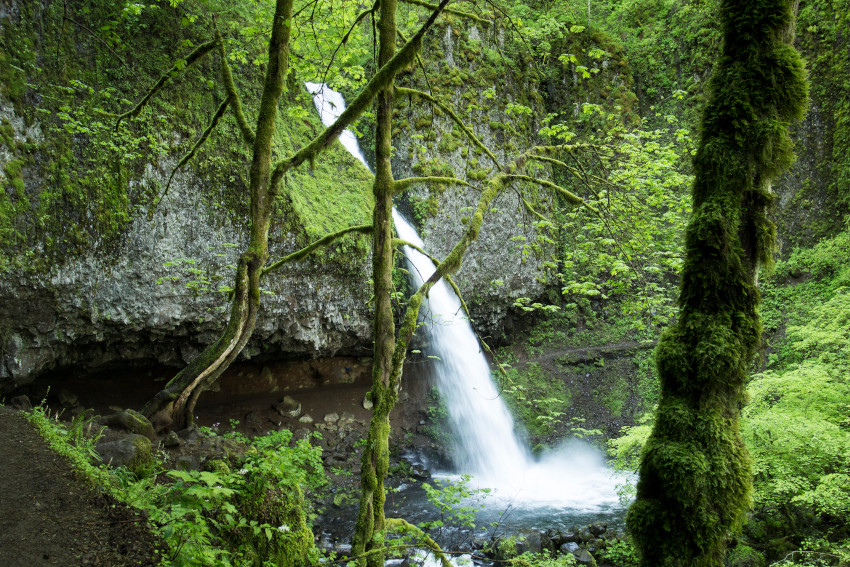 Ponytail Falls is a smaller version of Horsetail Falls, such that it's sometimes referred to as the Upper Horsetail Falls. You can even go behind the Ponytail Falls following this trail, but it's very slippery and not recommended for small children and pets.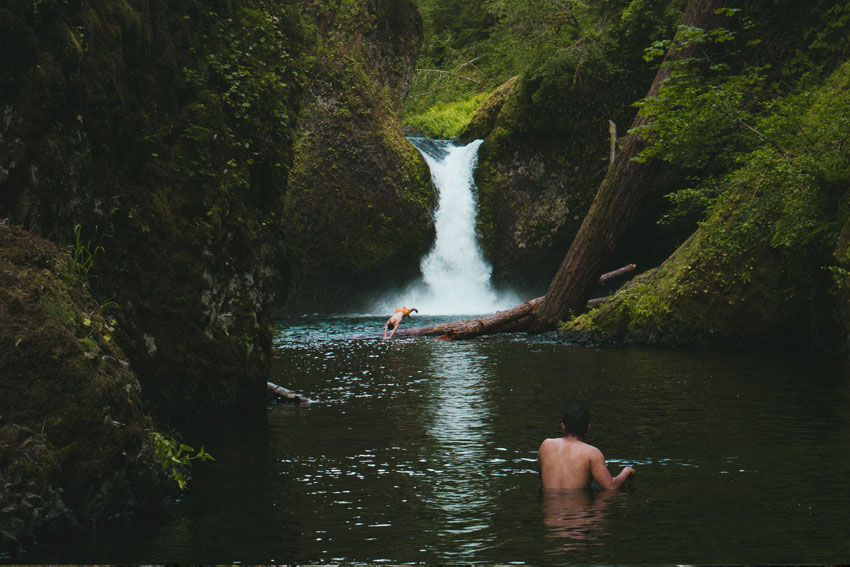 This last one isn't by the roadside, but it is located within the Columbia River Gorge via Eagle Creek Trail. It is popular among tourists and locals alike, especially in the summer, since you can swim here to your heart's content while enjoying the view of the waterfalls.
Waterfalls in the Portland, Oregon Area
Aside from the Columbia River Gorge ones, there are other waterfalls in the Portland area that are worth visiting. Here are just a few.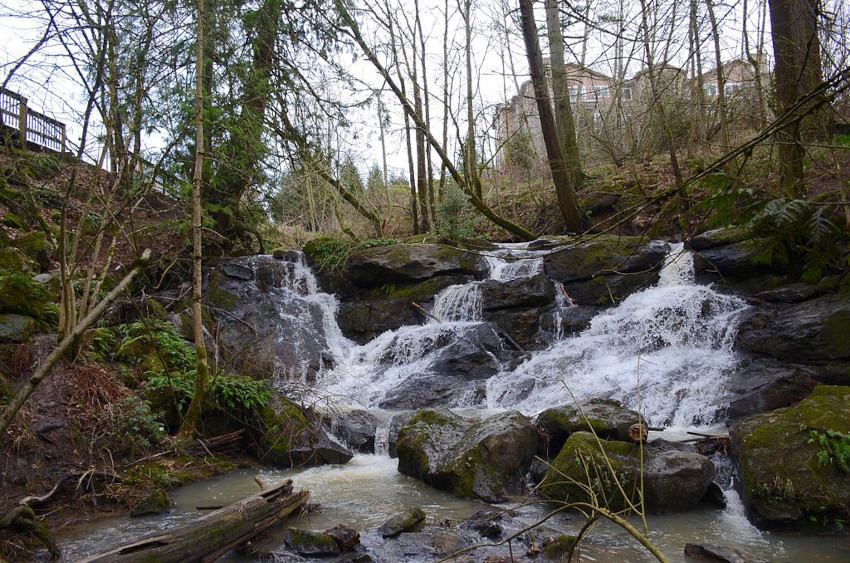 Cedar Mill Falls is an urban waterfall in Cedar Mill, a suburb of Portland. If you have a waterfall itch you want to scratch but driving for hours doesn't appeal to you, these falls may just be the thing.
Make your way toward the Cedar Mill Bible Church and park in the parking lot. Walk along Cornell Road and find the trail just beyond John Quincy Adams Young House.
There's a boardwalk that makes it convenient to move around, and there's a viewing platform with benches where you can hang out for a while.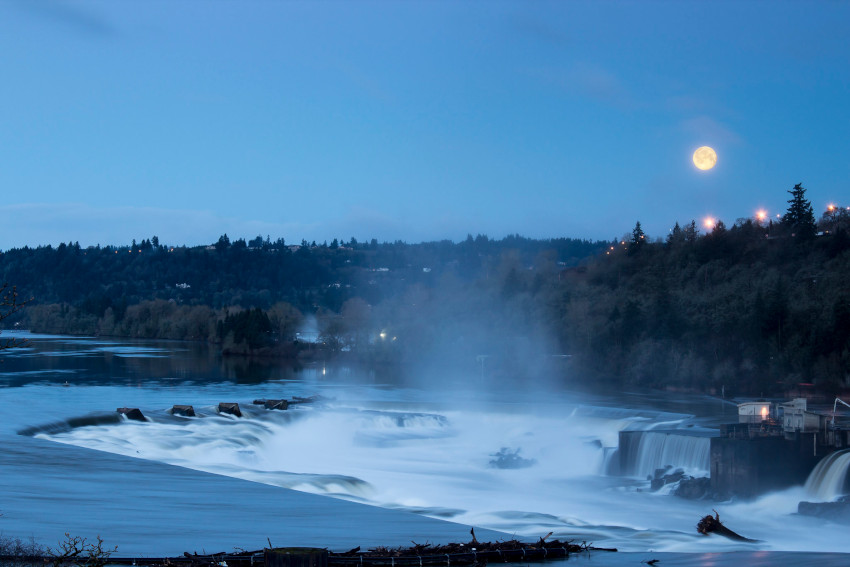 Stretching between Oregon City and West Linn, Willamette Falls is the second largest waterfall in the United States by water volume (Niagara Falls is the largest).
It is a horseshoe-shaped block waterfall, making it unique from the other Portland waterfalls on this list.
Another way that these falls are different is that it's surrounded by paper mills instead of rockfaces or mountains like other waterfalls.
One of the viewpoints is along Interstate 205 and the other is on Highway 99E. Or find a paddle shop on the Willamette River and kayak or canoe your way to the falls to see them up close.
12. South Falls (Silver Falls State Park, Marion County, OR)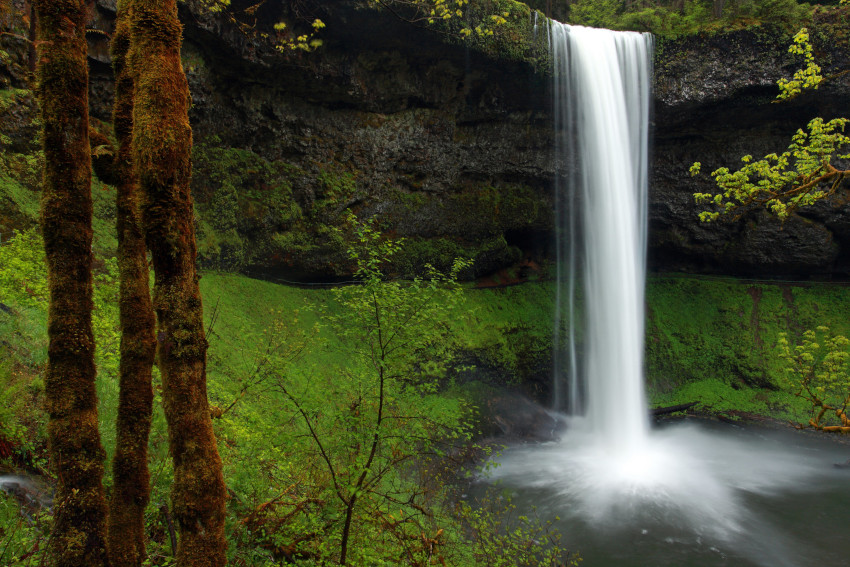 Silver Falls State Park is the largest state park in Oregon and is most famous for its Trail of Ten Falls, a 7.2-mile loop throughout the forest literally leading hikers to ten impressive waterfalls.
Of the ten waterfalls, the most accessible and thus most visited is South Falls. It may not be the highest of the ten falls (the honor is reserved for Double Falls), but it's a gorgeous waterfall, nonetheless.
You can stop here or complete the loop and visit all ten waterfalls on the trail.
Must-Visit Waterfalls Further Away from Portland, Oregon
Oregon has more than 230 waterfalls, and the Portland area isn't the only place to see gorgeous waterfalls. Here are other waterfalls further away that are worth traveling for.
13. Salt Creek Falls (Willamette National Forest, Lane County, OR)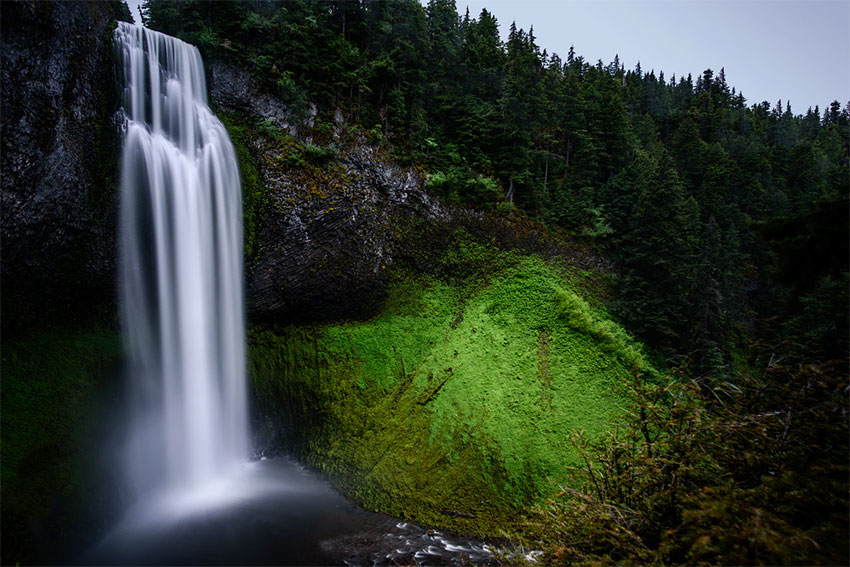 Salt Creek Falls is Oregon's second-highest, single drop, cascade and plunge waterfall, which falls 286 feet into a gaping basin. It is located near Willamette Pass in the Willamette National Forest.
You can consider this spot as roadside since you can go to the viewing platform just 50 feet from the parking area. But if you're after an adventure, you can take two kinds of trails that would both lead to the base of the falls.
14. Proxy Falls (Willamette National Forest, Linn County, OR)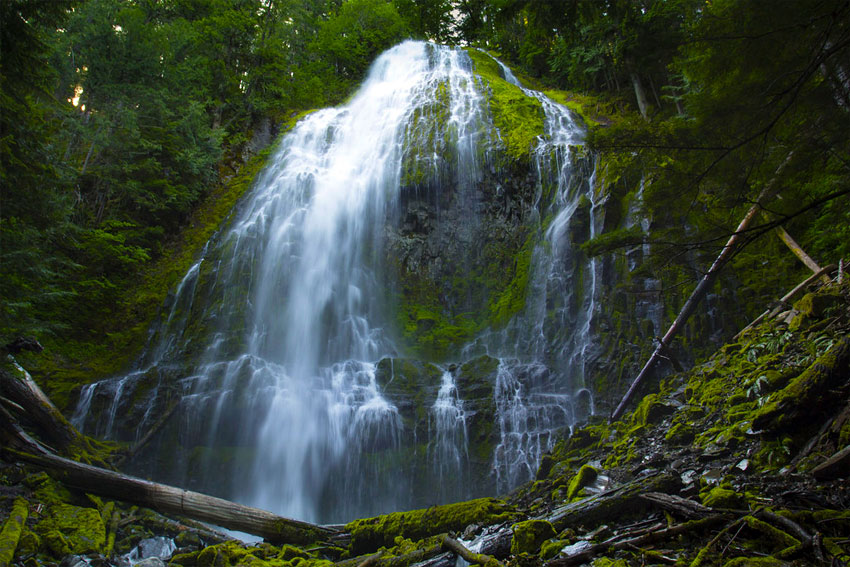 Dogs are welcome on this family-friendly, 1.5-mile hike, but it is a heavily trafficked loop trail especially from March to November. Located near Blue River in Oregon, this trail is ideal for all skill levels and lets you marvel at the lush Three Sisters Wilderness on your way to the viewpoint of Lower Proxy Falls.
Go further uphill to reach the Upper Proxy Falls. It's worth the effort, especially once you witness how Proxy Falls drop 226 feet, making it one of Oregon's highest-plunge waterfalls.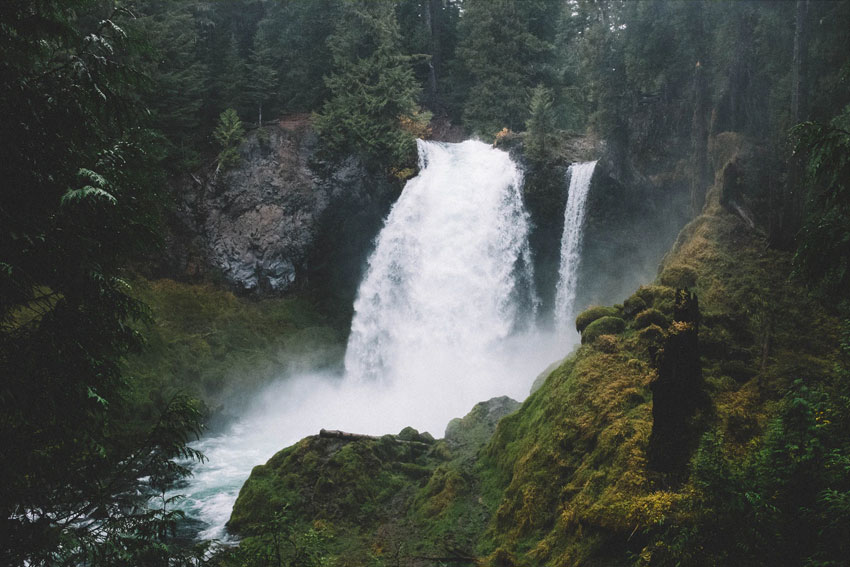 Also located within the Willamette National Forest, Sahalie Falls and Koosah Falls are a pair of quite dramatic waterfalls that are definite must-sees.
Sahalie Falls is famous for its foaming white water that plunges down 100 feet over a lava dam, easily viewable from a platform close to the parking lot.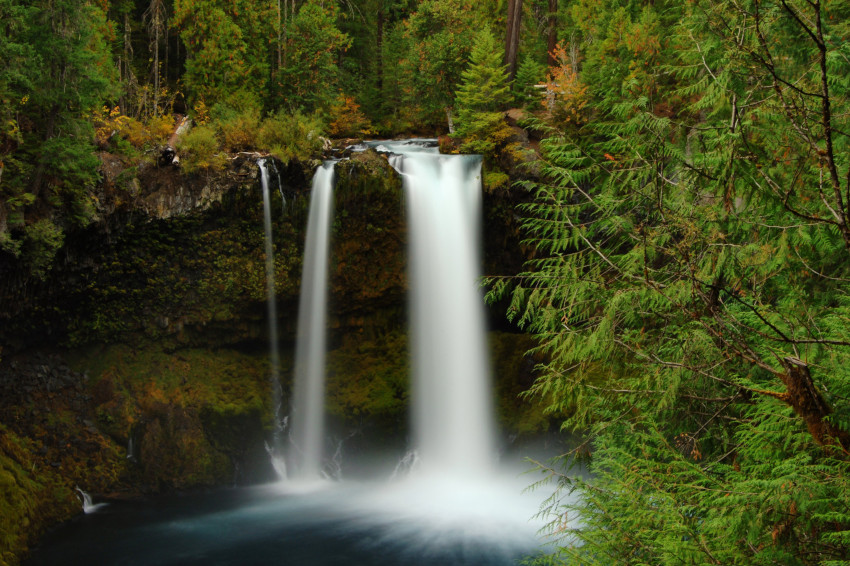 A 2.6-mile loop trail connects Sahalie Falls to Koosah Falls, another gorgeous waterfall that drops around 70 feet into a massive, deep pool.
17. Watson Falls (Umpqua National Forest, Douglas County, OR)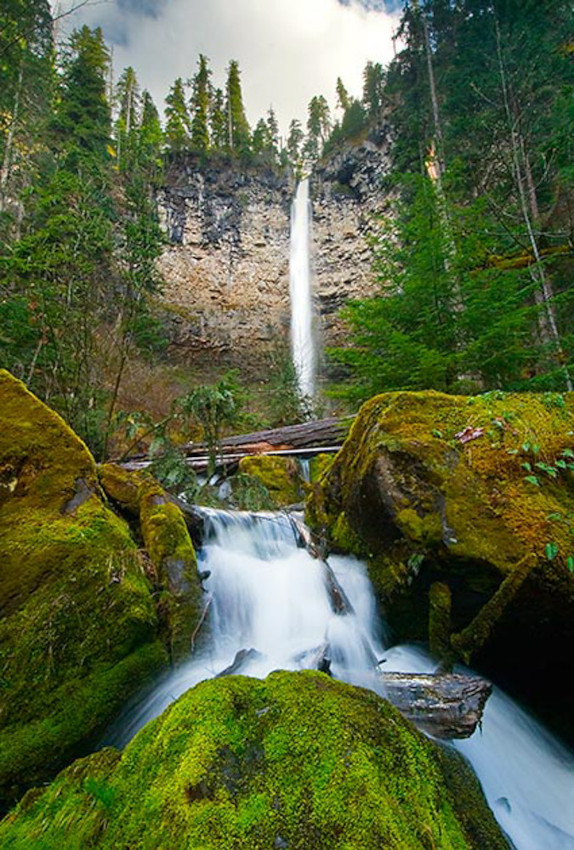 Tucked inside the Umpqua National Forest, you'll find Watson Falls, the highest waterfall in southwest Oregon. It is a free-falling waterfall with a 293-foot drop and characterized by multiple tributaries that create stunning waterscapes perfect for long-exposure photography.
Watson Falls is barely viewable from the parking lot and shaded picnic area, so you'd have to take a (mostly uphill) half-mile hike to get up close. Enjoy the surroundings as you go, especially if you've come at a time when the massive rocks are covered in moss; it truly looks like a scene out of a fairy tale.
18. Toketee Falls (Umpqua National Forest, Douglas County, OR)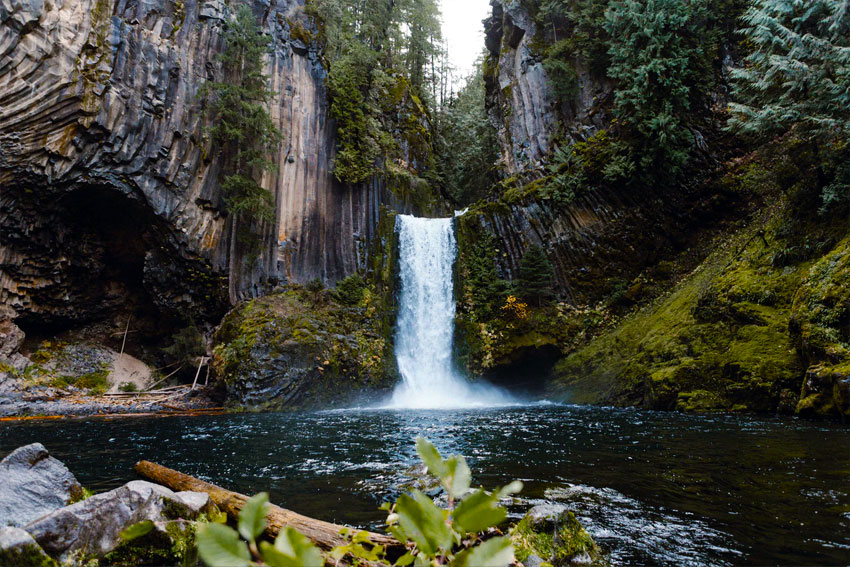 If you came from Watson Falls and you still have time to explore the Umpqua National Forest, you have an option to go further (about 3 miles more) to chase another one called Toketee Falls, one of the more popular Oregon waterfalls.
You'll follow the Toketee Falls Trail, which is a semi-developed trail with rest stops, stairs, and railing available. Once you reach the falls, you can see it more vividly as the Toketee Falls plunge from more than 100 feet. And if you're up for a swim (and if the weather allows it), go ahead and have a memorable dip into the water.
19. Tumalo Falls (Deschutes National Forest, Deschutes County, OR)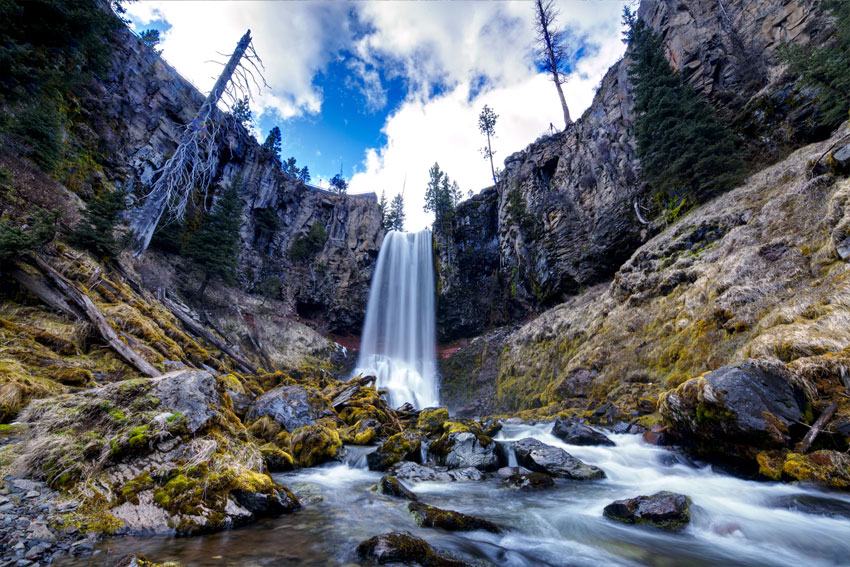 This 97-foot waterfall on Tumalo Creek is located within the Deschutes National Forest. It is one of Bend, Oregon's top attractions and is a no-hike destination. Once you reach the parking area, you'll get a fantastic view of the entire Tumalo Falls.
If you're an adventurous type, you can hike up to the top of the falls for a different and probably more magical perspective.
20. White River Falls (White River Falls State Park, Wasco County, OR)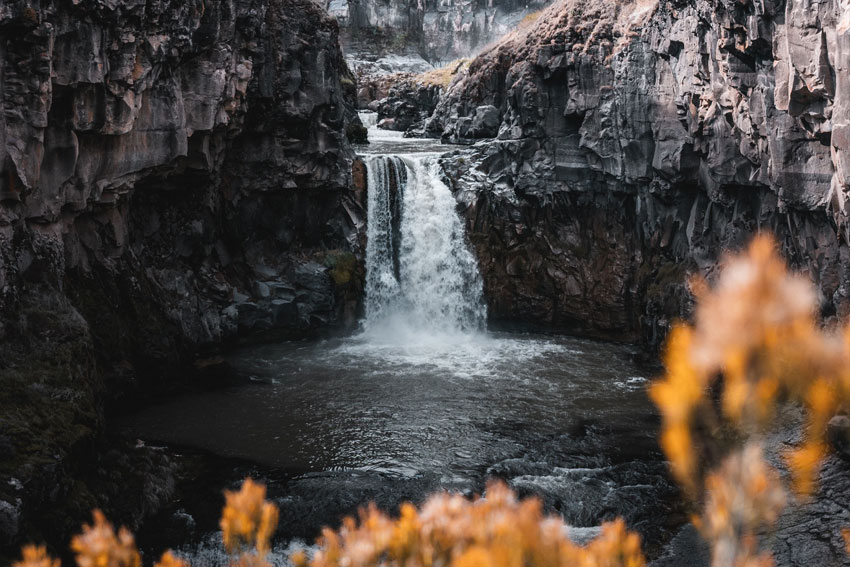 Known as Oregon's secret hideaway, White River Falls State Park is actually a dry and remote place, except of course for the White River Falls (also known as the Tygh Valley Falls) located at the heart of the park. It is found about 30 miles south of the Columbia River and just east of Tygh Valley via Highway 216.
Reaching this waterfall requires a one-mile hike to the base of the falls, where you can take a dip while watching as the falls plunge over 90 feet into the water.
21. Munson Creek Falls (Munson Creek Falls State Natural Site, Tillamook County, OR)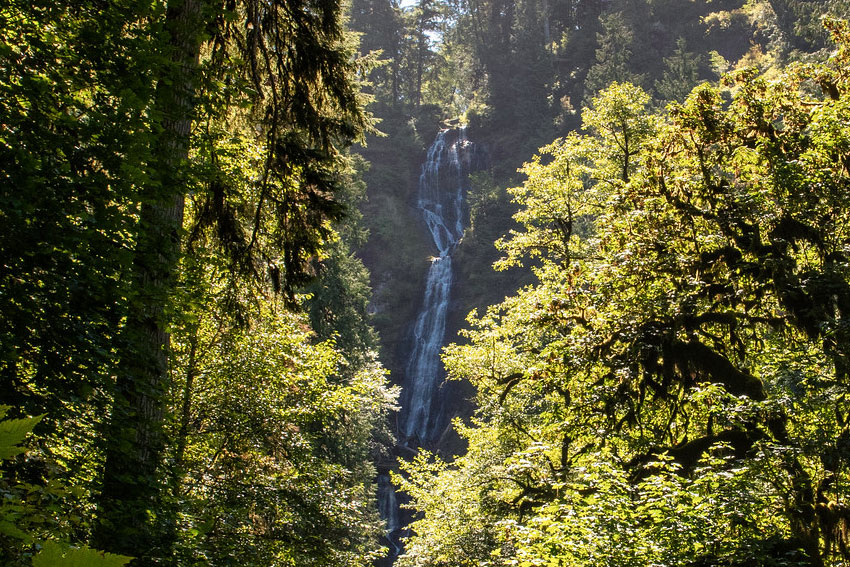 If you're passing by the Oregon Coast Highway, make sure to check out Munson Creek Falls…one of the largest Oregon waterfalls.
There are two ways to take this waterfall in:
Lower Falls Trail – a half-mile trail where you already see the tiered waterfall plunge down 300 feet to the base
Upper Falls Trail – a challenging trail that gives you a bigger picture of not only the waterfall but also the dense forest that embraces this gorgeous waterfall.
Plan Your Visit to Portland, Oregon Waterfalls Today!
Oregon is an underrated vacation destination; instead of sharing a crowded beach in Miami with spring breakers, why not plan a nature trip to one of these waterfalls or to one of Oregon's magnificent lakes?