Camping is one of the best memories people have of their childhoods.
It's not every day we get to spend time close to nature, away from the busy day-to-day tasks of life, and just breathe in the fresh air, spectacular views, and one-of-a-kind experiences camping brings.
However, camping definitely isn't for everybody. Not all parks are the best places to go camping either. This is especially true for beginners and families with young kids. But this shouldn't stop you from making camp memories of your own.
Below, I made a list of the best campgrounds in the US for families. My criteria for family- and beginner-friendly campgrounds are as follows:
Easy access to the car/parking
Showers and bathrooms
Fire pit for your campfire s'mores and cuddling
Stroller and PWD-friendly paths
Places where you don't have to worry about wildlife like bears
A road trip away from your house
Best Campgrounds in the US for Families
When I think of family camping, I think of the road trip that comes with it. Sometimes, the crazy memories begin from the songs sung, conversations made and fights experienced during the trip all the way to the campground.
This is why I divided this list for those on the East and West coasts, so you can skip camping areas very far from your home. Then choose from either the best places to camp in National Parks, near water (like lake or beach), or anywhere with opportunities for wildlife viewing.
Best Campgrounds on the East Coast
East Coast's Best Campgrounds in National Parks
Many of the East Coast national parks accommodate camping with tent and RVs. Here are just some that can be great for families: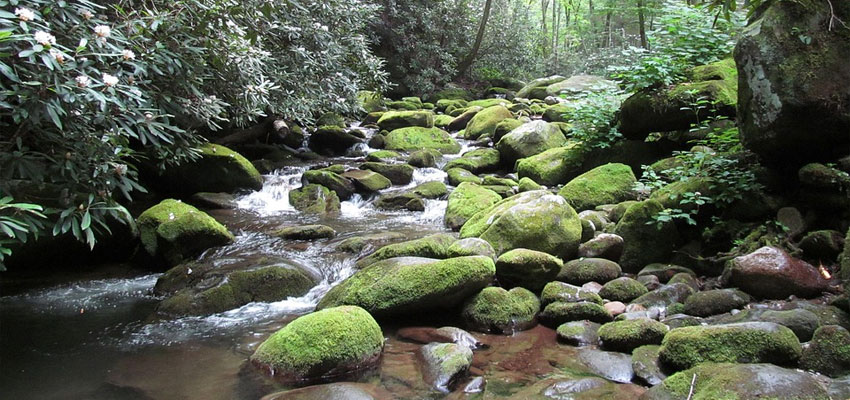 Location: Gatlinburg, TN (in the heart of Great Smoky Mountains National Park)
What makes it unique: Swimming, biking, trout fishing, hiking, and other activities
Other highlights: All activities can be experienced with yours pets, so bring them with the family and make memories with them too
Best Times to Visit: All year, except winter
Price Range: From $35 to $50
Walk in vs. Reservation: The camp allows walk-ins, but since there are only a few spots available, it's best to get a reservation.
The Great Smoky Mountains itself is among the oldest mountains in the world and one of America's most diverse biological area with over 19,000 animal species documented (along with 1,500 bears), and 100+ massive, native trees.
The campground was originally named Greenbrier Island Campground (since it is technically located on an island), but renovated and reopened in May 2016, dropping the "Island" to its name completely. The site has playground, game room, laundry facilities, cable, Wi-Fi and outdoor activities, blending modern tech with its rustic surroundings.
There is a nice swimming hole where the two creeks meet at the end of the island. You can begin hiking 10 minutes from camp, too!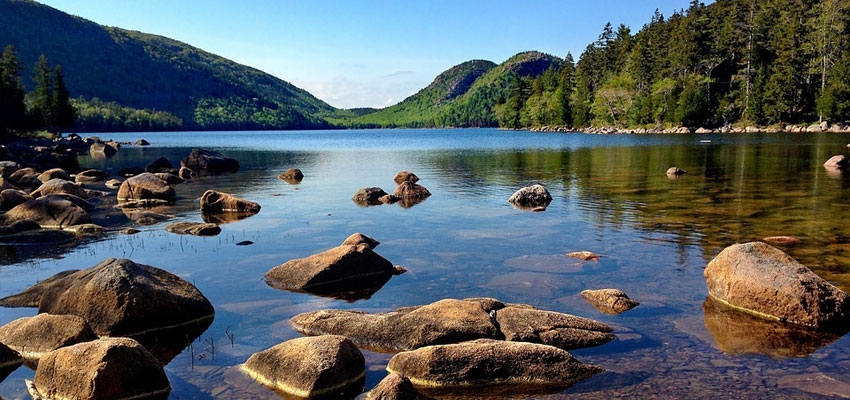 Location: Blackwoods Campground is located on the east side of Mount Desert Island, off Maine State Route 3 in Acadia National Park.
What makes it unique: Beginner-friendly hiking and nature trails, horseback riding and bicycling, Blackwoods campground also lets you fish for perch, salmon, pickerel and other freshwater fish.
Other highlights: Wildlife watchers can scan for some of the more than 300 species of birds known to inhabit the park
Best Times to Visit: Any time is good, but be sure to dress in layers if you're visiting in the fall (climate there drops from super-sunny to very cold within an hour or two)
Price Range: $30 per regular campsite, up to $60 per group campsites
Walk in vs. Reservation: Blackwoods campsites are reservable up to 6 months in advance.
Blackwoods features 306 mostly wooded campsites (no hook-ups), four group sites, bathrooms plus offers nearby showers and supply store. If you want to visit the main section of the park and Bar Harbor, Blackwoods Campground is where you want to camp. Pets are welcome most places and allowed on all shuttles sitting in the back.
Ideal for families who really want to experience camping in the wild (but with basic amenities like bathroom), this campground at the mountain peaks of Acadia National Park should be a memorable experience for everyone.
East Coast's Best Campgrounds on the Beach or Lake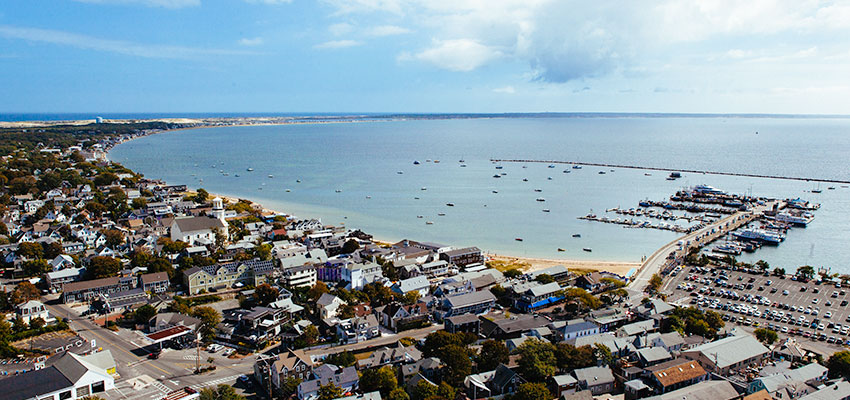 Location: Cape Cod, Massachusetts
What makes it unique: Located within easy walking distance of scenic Head of the Meadow Beach, near the tip of Cape Cod.
Other highlights: The campground is actually located in the heart of the Cape Cod National Seashore Park, but near quaint Cape Cod towns Provincetown and Wellfleet.
Best Times to Visit: May and June, when kids are still in school and you get to enjoy quiet time with nature
Price Range: $100 refundable deposit while making a reservation, $48/night that includes 1 vehicle and up to 2 people at the camping site.
Walk in vs. Reservation: Walk-ins are allowed, but not during peak season (July 19 to August 22). It's safe to get a reservation to ensure your spot.
North of Highland Camping Area has been managed by the same family since 1954 and they're responsible for much of the camping ground's beauty today.
The place is family-oriented with a quick walking path through the "Cape Cod National Sea Shore" going to the Head of the Meadow ocean beach.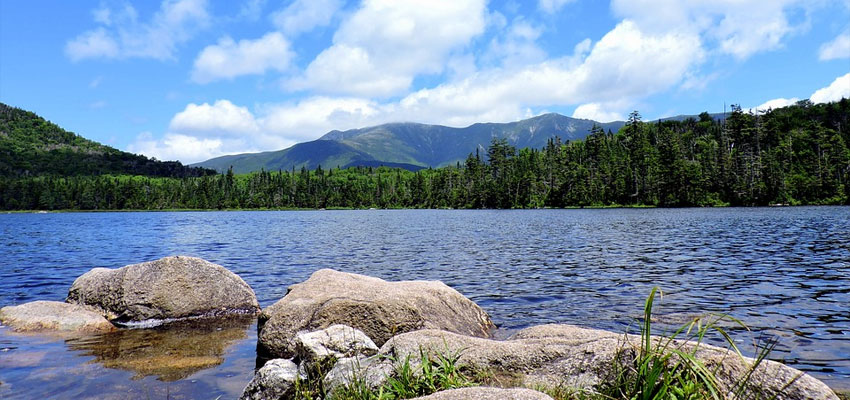 Location: Route 302, Glen, NH
What makes it unique: Lots of River-sites because it's located smack in the middle of the Glenn and Saco River
Other highlights:  There is absolutely no cellular service, which can be a good thing for families wanting to get off the grid
Best Times to Visit: All year-round
Price Range: $36 to $50 per day
Walk in vs. Reservation: Reservations can be made online, by phone or in person.
If you're in the white mountain area, this is  one of the nicest camp grounds in New Hampshire.
Clean well maintained with the perfect spot, the campground is near the North Conway train runs by the Campground during the day.
Check out this area during fall  – the fantastic fall colors are vividly displayed everywhere at Glen Ellis.
It's a perfect family-oriented camping spot with nice pool and swimming holes, biking, tubing, ice-cream, arcade, movies, playground splash pad and more.
East Coast's Best Campgrounds for Wildlife Viewing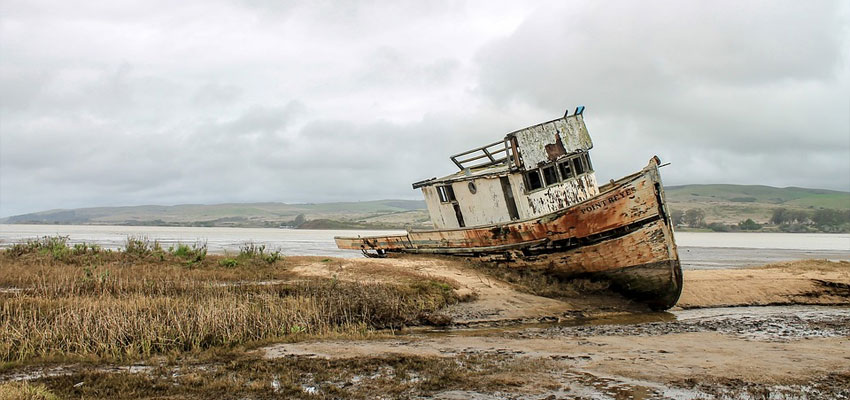 Location: 16148 Ocean Hwy, Murrells Inlet, SC
What makes it unique:  Its Atlantic beach and wetlands are inhabited by sea turtles, alligators and rich birdlife with over 300 species of birds (perfect for a family who loves birdwatching).
Other highlights: This dog-friendly campground is also home to loggerhead sea turtles, alligators, mink, and other wildlife.
Best Times to Visit: This campground is best visited in summer, but make sure you bring sunscreen and bug spray.
Price Range: $5/day/person
Walk in vs. Reservation: There are 173 campsites for tents and RVs to choose from. You can reserve here, or walk in.
Huntington Beach State Park is a favorite of many people because it has the best of both worlds: an untouched wilderness for camping and a walking beach for all things aquatic.
Check out the Atalaya Castle, Brookgreen Gardens, and Marshwalk, go on a hike, or just chill on the many pathways around the campground, there are surprisingly more attractions here than you'd expect.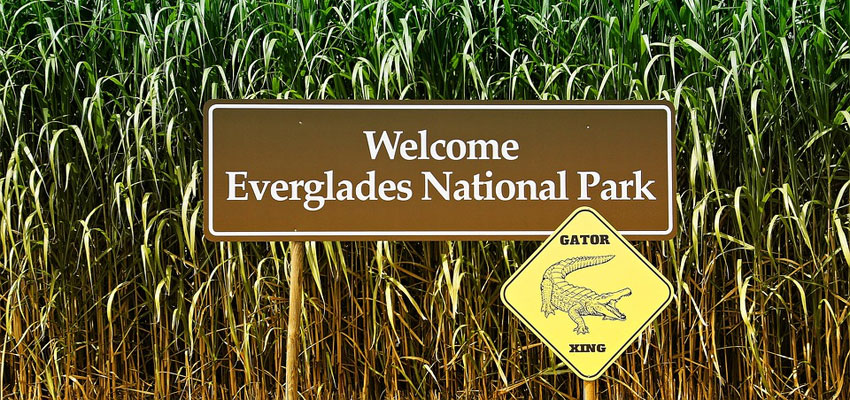 Location: 26700 SW 8 St, Miami, FL
What makes it unique: This is the country's third largest national park. It's bigger than Glacier and Yosemite, so expect a ton of things to see and do here. But if your family is after sightseeing wild life, you can check out alligators, snakes, birds, sharks, dolphins, otters, and a whole lot more. Don't miss the two-hour tram ride through Shark Valley – this is where you can go for a perfect view of the wetland's famous wild life.
Other highlights: If you're coming from the Homestead entrance of the park, you can choose from two drive-in campgrounds that you can drive from here: Long Pine Key Campground and Flamingo Campground.
Best Times to Visit: Winter is ideal, skip summer because of the heat and mosquitoes.
The Long Pine Key Campground is in an ideal location (in the east of the park), especially if you're planning to trail the Anhinga and Long Pine Key.
Bird watches would love staying here.
The campgrounds are open from November to May (closed June to October), which you should take note since you can't get reservations here via online or phone.
If no spots are available, you have to continue south to the Flamingo camping area.
The Flamingo Campground is definitely much more organized (and you can get reservations online), and there's never-ending views of the Florida Bay.
The campgrounds have showers, picnic tables, grills, and an amphitheater for winter programs.
There isn't much shade, but there are plenty of bird watching, flamingos, giant insects and exotic wildlife experience here.
You can also join daily boat tours, if you're up for it.
Best Campgrounds on the West Coast
West Coast's Best Campgrounds in National Parks
With so many West coast campgrounds to choose from, let's begin with two breathtaking ones located at West Coast National Parks.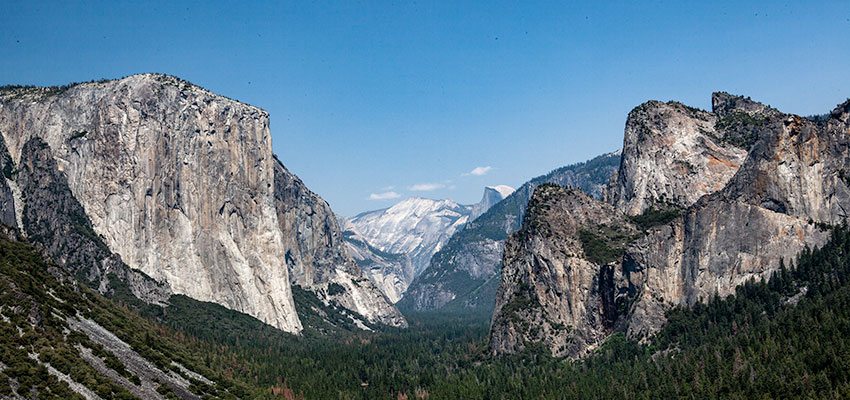 Location: Yosemite National Park, California
What makes it unique: Wake up to the majestic view of the Half Dome's granite-facing cliff
Other highlights: Accessible to all of the major trails, lakes and Yosemite park icons
Best Times to Visit: Open from April to October
Price Range: $26/night
Walk in vs. Reservation: Reservations are required and can fill up as much as six months in advance.
Lower Pines Campground is one of only three reservation campgrounds in Yosemite Valley.
If you don't know yet, Yosemite is home to both Half Dome and El Capitan (the granite wall and world's most famous rock climbing destination).
The 60-campsite grounds is scattered with pine trees and shading, with each campsite equipped with a picnic table, fire ring, and a food storage locker.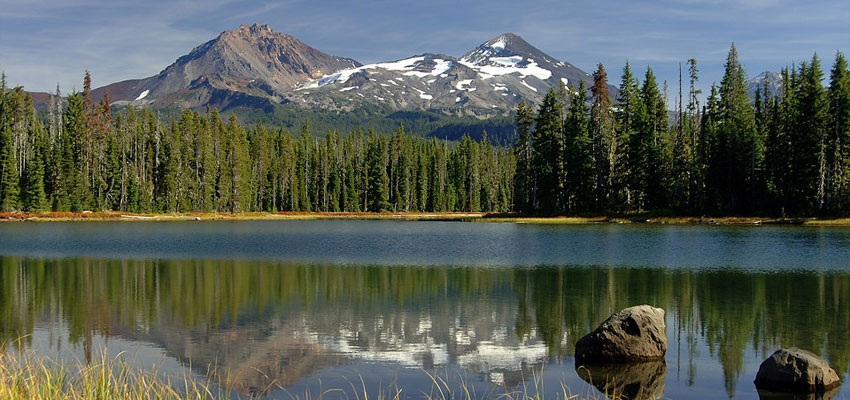 Location: Wallowa Lake State Park is located 6 miles south of Joseph, OR
What makes it unique: It's got a junior ranger program, a playground, an amphitheater, planned activities, etc. Get further a bit and you'll find mini golf, horseback riding, go-karts and a tramway ride up to the top of Mt. Howard.
Other highlights: Oregon's famous tourist destinations The Wallowa Mountains
Best Times to Visit: Go between October to mid-May
Price Range: $20 to $55
Walk in vs. Reservation: Reservations must be made 1 Day(s) ahead of arrival and can be made up to 9 Month(s) in advance.
Wallowa Lake State Recreation Area is ideally positioned as a base camp for both wilderness treks and water sports fun. 
As a spectacular camping spot between 9,000′ tall snow-capped mountains and a large clear lake, there's water activities like fishing and boating for families available.
West Coast's Best Campgrounds on the Beach or Lake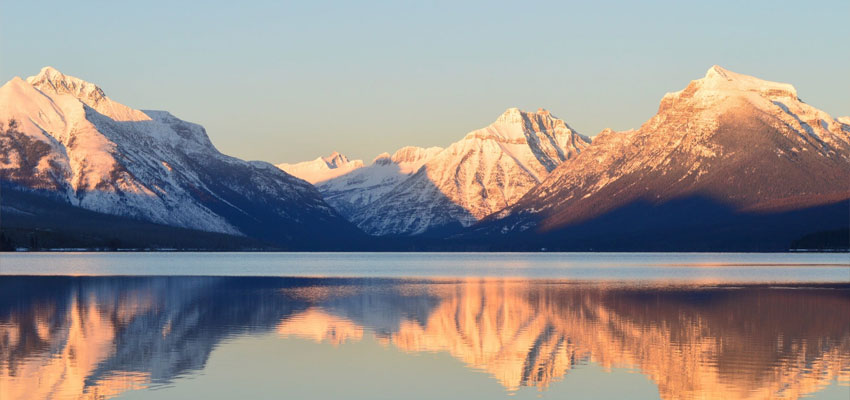 Location: Glacier National Park, Montana
What makes it unique: Calming, majestic views for solitude-seeking campers, off-the-beaten path
Other highlights: Fly-fishing, swimming and time for contemplating
Price Range: $15/night summer fee
Walk in vs. Reservation: First-come, first-serve basis. Up to 7 days stay max.
Just south of the Canadian border, Kintla Lake is Glacier National Park's most remote developed campground.
It is a camping spot perfect for those seeking solitude.
You'll be surrounded by towering mountains with glacier carvings and Kinta Lake, what many call "paddlers paradise."
If your family is into kayaking and canoeing, then this campground will be heaven. Fishing is also allowed, so more peaceful activities to enjoy with your fam.
Not ideal if you have young kids. The campground features only 13 sites and no RVs. There's hand pump potable water and vault toilet and no other amenities, so be prepared.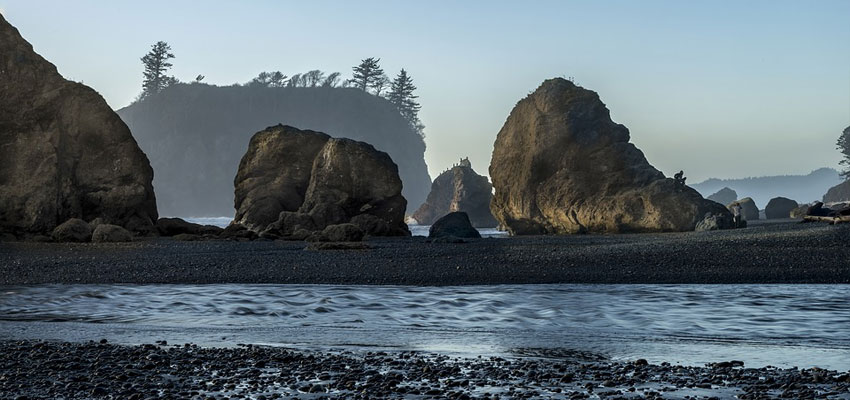 Location: Olympic National Park, Washington
What makes it unique: For families hunting for the best sunrise and sunset views, Kalaloch campground has one of the best you'll ever see.
Other highlights: There's access to the Kalaloch Beach on the Pacific Ocean, and close distant to the Hoh Rainforest.
Best Times to Visit: Early to mid-June
Price Range: $22 to $44
Walk in vs. Reservation: The only Olympic campground that accepts reservations. You can begin getting a reservation from June 18 to September 1. Reservations may be made up to six months in advance.
The campground is perched on the edge of a cliff overlooking the Pacific Ocean.
There's 166 sites to choose from, so you have options if you want to stay closest to the edge of the world or not.
Kalaloch Campground is open year-round, since it's Olympic's largest camp site.
There are fire pits, flush toilets, potable water, RV dump station, day use picnic area, a large amphitheater with summer educational programs, restrooms, and bear-proof food storage lockers.
West Coast's Best Campgrounds for Wildlife Viewing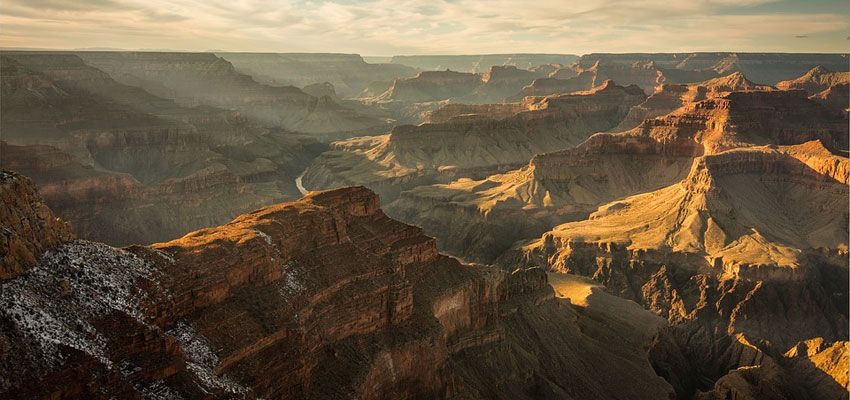 Location: South Rim in Grand Canyon Village (Grand Canyon National Park)
What makes it unique: Elk, mule deer, coyotes, lizards, songbirds and the endangered California condor live in the South Rim
Other highlights: Campers can take a short shuttle bus ride from the campground to the Visitors Center, so you have quick access to the canyon and Yavapai Geology Museum.
Best Times to Visit: March to November
Price Range: $6 to $50/night
Walk in vs. Reservation: You must make a reservation to secure a slot.
Contrary to popular belief that this campsite could be busy because of the proximity to the Grand Canyon, it's actually a quiet campsite.
Mather Campground is a large facility with 327 campsites, all of which come with a campfire ring, cooking grate, picnic table, parking space and room for up to three tents.
More than 90 different mammals call Grand Canyon National Park their home, so don't be surprised to see elk, bison, bighorn sheep, mule deer around the sites. There are also plenty of reptiles, birds, insects and amphibians.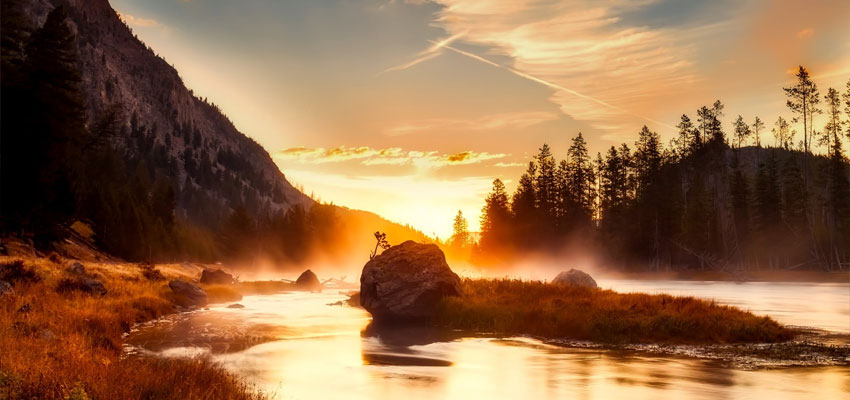 Location: Yellowstone National Park, Wyoming
What makes it unique: Spend the night with spectacular view of the stars and the possibility of hearing wolves howl.
Other highlights: Slough Creek can be the go-to fishing spots for campers planning to fish, while the nearby Slough Creek Trailhead guides you to daytime or overnight hikes.
Best Times to Visit: April 15 – October 15
Price Range: $14 to $34/night
Walk in vs. Reservation: The campground is only open during summer and early fall. All sites are first-come, first-served.
Slough Creek Campground is an off-the-beaten path camp site, located far northeast corner of Yellowstone. It has 23 non-electric campsites.
But if you're after some authentic wildlife viewing, this spot is perfect for wolf watchers and avid anglers who would be fine roughing it out with access to basic restroom facilities and potable water.
Which Campsite Do You consider the Best of the Best?
Have you gone to any of these campgrounds? Which camp site do you think I should include in this list?
Let me know in the comments below!