Whether you live on the East Coast and are looking for a weekend getaway, or you are looking for reasons to visit the East Coast, I'm sure you'll love what these East Coast national parks have to offer.
You see, even though the majority of national parks are on the western side of the US, the national parks on the eastern side each have their own unique features that make them worth your while.
7 Best East Coast National Parks
Picking a single best East Coast national park is unthinkable.
After all, how can you possibly compare the swamps of the Everglades to the Shenandoah Mountains?
That's why this list is in no particular order.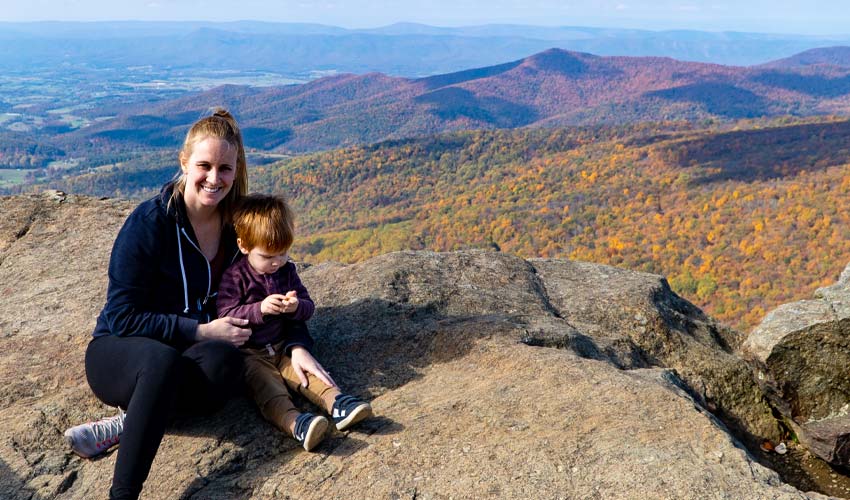 Absolutely don't miss: Skyline Drive and the scenic views along the 105-mile road. It is the only public road through the park and it has 75 different scenic lookout points.
Shenandoah National Park is located in Virginia and is only 75 miles away from Washington, D.C.
The Blue Ridge Mountains, part of the larger Appalachian Mountain Range, span 8 states all the way from Georgia to Pennsylvania and contain two US National Parks.
Shenandoah is one of those national parks, and the Great Smoky Mountains National Park (also on this list) is the other.
Shenandoah is especially wonderful for families with young children, the elderly, or anyone with limited mobility. Of course, like most other national parks, this park offers strenuous activities like hiking for nature lovers.
Shenandoah certainly has its share of difficult hiking paths, but the views you can see directly from Skyline Drive make this national park special to me.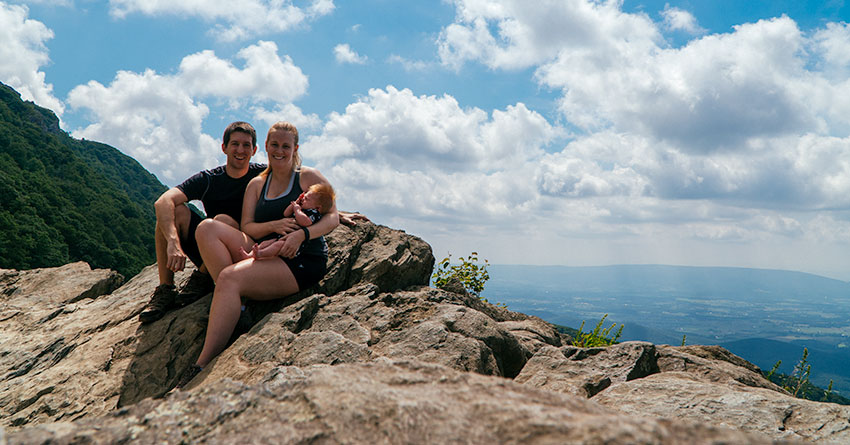 My family made a trip out to Shenandoah when my son was only 6 weeks old. We had been locked up in the house feeding and changing the baby all day long and needed some new scenery.
Shenandoah was just perfect. We were able to rent a cabin near Luray, Virginia and enjoy spectacular views while tending to our newborn.
When we had the energy to venture outside of our cabin, we found that just driving Skyline Drive was perfect.
The scenic lookouts were great for stopping and snapping some pictures and enjoying some fresh air without walking away from the car. When our son was sleeping we didn't even need to take him out of the car seat.
The park rangers were very helpful with giving recommendations on short hikes so that we could go explore without getting too far from the car in case the baby started crying and needed to go back home. One of the hikes was even suitable for strollers or wheelchairs.
Best Things To Do in Shenandoah National Park
There are hundreds of miles of hiking trails within the park (including 101 miles of the Appalachian Trail) that lead to scenic views and other popular places in the park.
Hiking to Old Rag Mountain is one of the more difficult but rewarding activities to do here.
If you would like to stay overnight, the park offers accommodations including a lodge, a resort, cabins, and campgrounds.
Best Time To Visit
Late spring offers pleasant weather for hiking and camping, while fall offers a burst of lovely colors.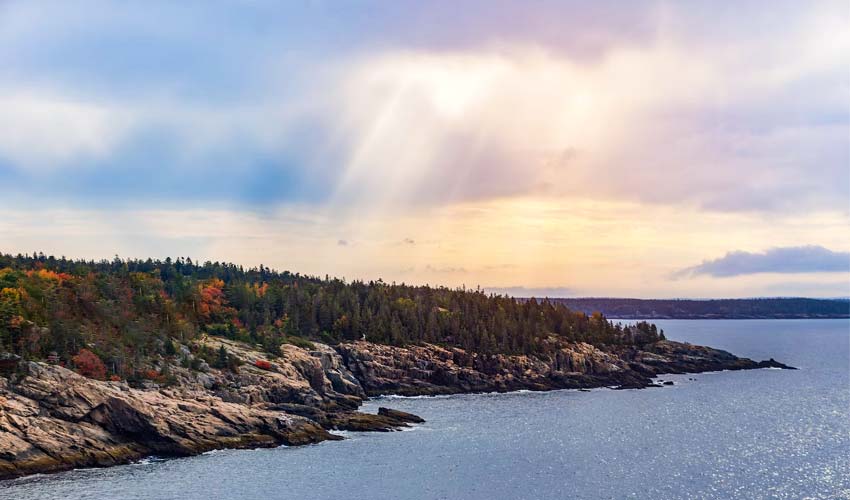 Absolutely don't miss: Hike or drive up to the top of Cadillac Mountain, the highest point on the eastern seaboard, to witness the sun rise over Frenchman Bay.
Acadia National Park is home to one of the most ruggedly beautiful coastlines in the US, featuring islands, mountains, coastal views, wooded areas, and lakes.
Best Things To Do in Acadia National Park
Exploring the coast from Sand Beach to Otter Point is popular in this park.
Jordan Pond is a gorgeous lake perfect for canoeing and kayaking.
Planning your trip should include driving on Park Loop Road, a road system that allows you to access the areas in the park I mentioned.
Best Time To Visit
Late spring to early fall (May to October) is the best time to visit this park if you plan to swim in the beach or hike around.
But if you're visiting for the Cadillac Mountain sunrise experience, visiting from October to March allows you to witness the first light in the continental US, an experience like no other.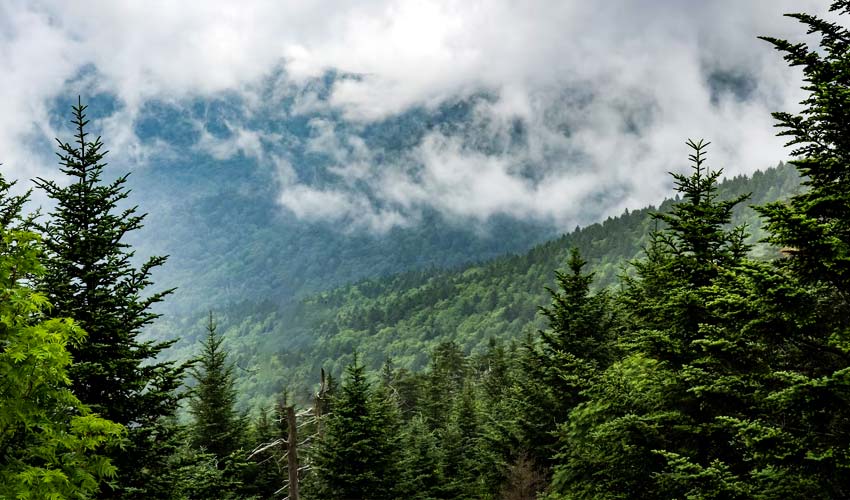 Absolutely don't miss: Clingmans Dome is the highest point in the Great Smoky Mountains National Park and offers fantastic 360-degree views.
The Great Smoky Mountains National Park is located between North Carolina and Tennessee and is one of the most visited national parks.
Fun fact: The name comes from the fog tinted blue with isoprene, an organic compound released by the trees in the mountains.
Best Things To Do in Great Smoky Mountains National Park
Auto touring is a great way to see the park, especially along the Cades Cove Loop and the Roaring Forks Motor Nature Trail. Look out for various wildlife, including deer, elk, and even black bears.
When you are ready to get out of the car, hike your way to Rainbow Falls or any of the other waterfalls in the park.
Fontana Lake on the southern border of the park is a great place to fish.
Worthwhile Side Trips
A few distilleries on the Tennessee Whiskey Trail are in East Tennessee and are a few minutes away from the Sugarlands Visitor Center.
Best Time To Visit
The summer and fall months are the perfect time to visit when most visitor centers are open and the weather is ideal for outdoor activities. The fall foliage here is especially dramatic.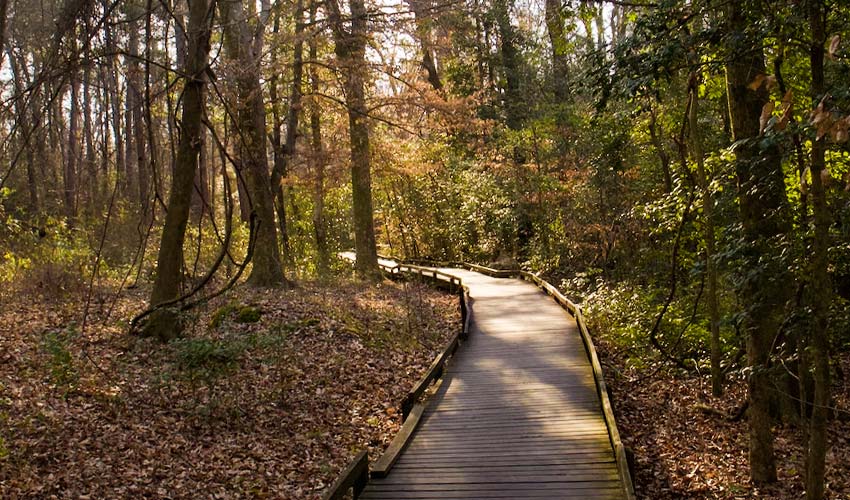 Absolutely don't miss: The Boardwalk Loop Trail is 2.4 miles long and an excellent way to see the hardwood forest and wildlife without ever getting into the swamp. It has benches along the way and is wheelchair and stroller accessible.
Congaree National Park is probably one of the most underrated East Coast national parks. Some may think of it as one big swamp, but it's actually the largest remaining floodplain forest in the country.
Nutrient-rich waters from the Congaree and Wateree Rivers flow through the floodplain, giving rise to plenty of champion trees (super-sized specimens of their respective species).
Best Things To Do in Congaree National Park
The numerous hiking trails, such as the Boardwalk Loop Trail, Bluff Trail, River Trail, and all the other trails are popular ways to see the natural beauty of this park on foot.
But paddling a kayak or canoe on Cedar Creek is another great way to experience this park.
Keep your eye out for wildlife such as river otters, turtles, birds, alligators, and the occasional rattlesnake.
Worthwhile Side Trips
Congaree National Park is around an hour away from two South Carolina lakes: Lake Murray and Lake Marion.
On the other hand, a couple of hours' drive to the west and southwest away are some of South Carolina's best beach towns.
Best Time To Visit
The best time is either spring or fall. Summer means heat, humidity, and mosquitoes, so it's best to avoid visiting then.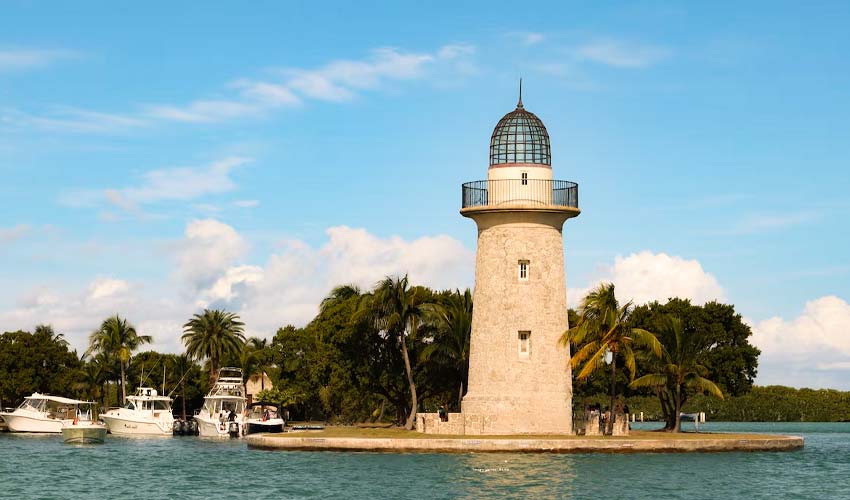 Absolutely don't miss: Snorkeling in the third-largest coral reef system in the world.
Unlike the other East Coast national parks mentioned above, Biscayne National Park is 95% water and is best accessed via boat.
Biscayne is south of Miami and is on the northernmost part of the Florida Keys.
Speaking of coral, the park protects the northernmost part of the Florida Reef, which is the third biggest living coral reef in the world. The Florida Reef is the only one of its kind in the continental US.
Best Things To Do in Biscayne National Park
Boca Chita Key is the most visited island in the park, featuring a lighthouse, campground, and a hiking trail.
It's all about the ocean here, so the best thing is to get on a boat. Paddle on a canoe or kayak, go on a fishing boat, or join a guided boat tour.
If you're certified, don't miss diving the Maritime Heritage Trail and exploring shipwrecks and corals.
Best Time To Visit
If you're sick of snowy winters, vacation here instead. December to April is the best time to visit here, with bearable temperatures and storms less likely to occur.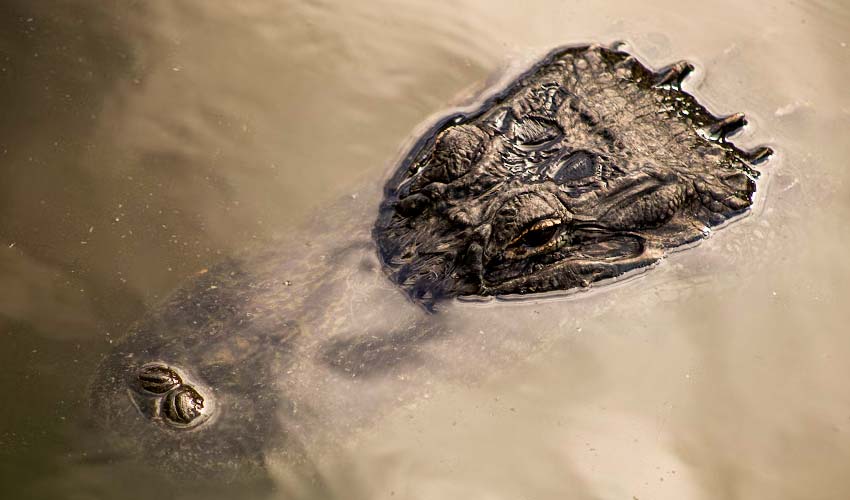 Absolutely don't miss: Wildlife watching (watch out for alligators!) from the safety of a boat
The Everglades is a 1.5-million-acre wetland with a thriving yet fragile ecosystem.
It's home to many endangered species such as the Florida panther, West Indian manatee, American alligator, and many others.
Best Things To Do in Everglades National Park
Paddling through the wetlands is a popular way to explore the park and try to spot various rare wildlife and birds.
Bobcat Boardwalk Trail at Shark Valley takes you through sawgrass and hardwood forests without having to board a boat.
Flamingo is a town on the southernmost part of the park (despite the name, it's very unlikely to see flamingos here). It's the launch point for expeditions on Florida Bay to go birdwatching for sandpipers, egrets, pelicans, and many more.
Best Time To Visit
It's best to schedule your trip between December to April to avoid the humidity and mosquitoes of the summer months.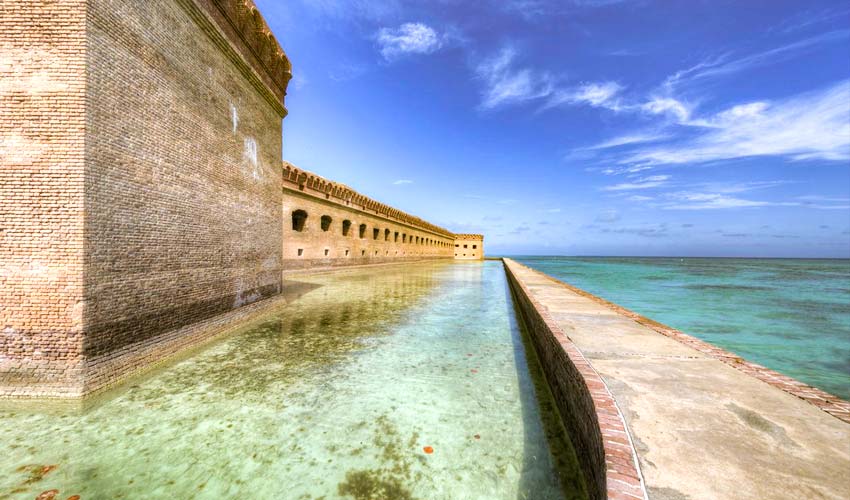 Absolutely don't miss: The historic Fort Jefferson in Garden Key is this park's most prominent structure. Explore the inside through a walking tour and the surroundings through swimming and snorkeling.
Dry Tortugas National Park is located around 70 miles west of Key West in the Florida Keys and is primarily water, but also includes seven small islands.
It is only accessible by boat or seaplane, and there are no services available on the islands. Camping is allowed but all food, water, and necessary supplies must be brought with you and taken home when you leave.
Best Things To Do in Dry Tortugas National Park
Aside from Fort Jefferson, the other prominent structure in this park is the lighthouse in Loggerhead Key.
Swimming beaches in the park include South Swim Beach, Seaplane Beach, Dinghy Beach, and North Swim Beach.
Snorkeling and diving spots range from the Moat Wall of Fort Jefferson to the Windjammer Shipwreck near Loggerhead Key.
Dry Tortugas National Park was named after the sea turtles that swim and nest on these beaches (tortugas means "turtles" in Spanish). Not surprisingly, you might see loggerheads, green turtles, and hawksbills floating around; if you're lucky, you might spot Kemp's ridley and leatherback turtles as well.
Birdwatching is another favorite activity here, as rare and spectacular birds stop over on this island to and from North and South America.
Best Time To Visit
As with the other Florida national parks, the best time to visit for calm, clear water for swimming and diving is between December to April to avoid the storm season.
However, if you want to be there when sea turtles nest, it's best to schedule your visit between June to December.
Or, if you want to come for the birds, spring is the perfect time when they stop over on the islands of the park on their way to North America.
Which of these East Coast national parks is your favorite?
When one mentions a national park vacation, you probably first think of West Coast national parks.
And who can blame you when 60% of the national parks in the US are located in the western states?
Nonetheless, I hope I've intrigued you enough to consider looking at an East Coast national park for your next adventure!
Other East Coast Destinations to Visit
If you'd like an East Coast getaway but want a different experience from the ones offered by national parks, here are some articles to inspire you: