Gem mining in PA is known to be one of the most exciting activities in the state, but did you know that many people also enjoy rockhounding in the region?
Whether you're a seasoned pro miner or a beginner enthusiast, Pennsylvania has something for everyone.
9 Spots to go Gem Mining in PA
In this guide, I'll take you through the top gem mining spots in PA, Bushkill Falls, and Lauren Highlands.
For those who also enjoy rockhounding independently, and exploring gemstone-dense areas while enjoying nature, I'll also list the best rockhounding spots in Pennsylvania for limestone, crystals, geodes, and more, from Grubb Lake Nature Park to Wissahickon State Park.
1. Bushkill Falls – Gemstone and Gold Mining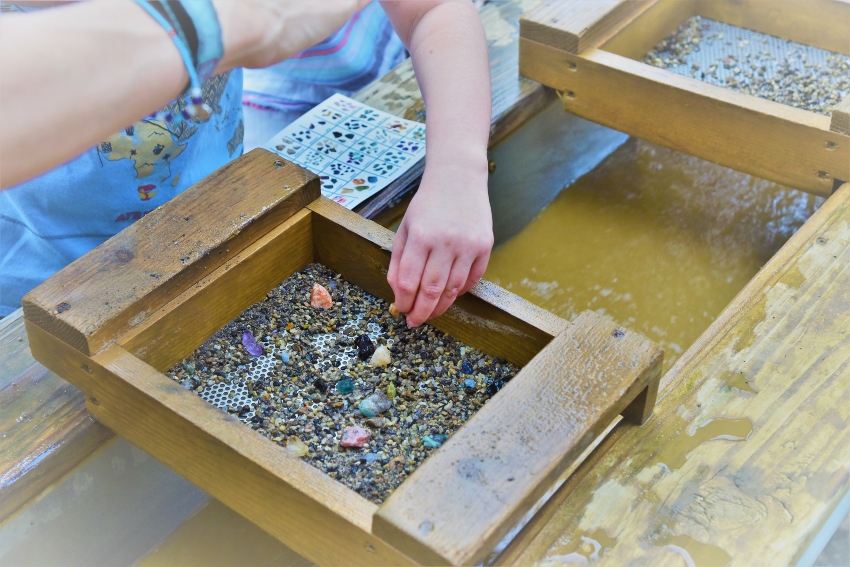 Gem mining and gold panning in the Pocono Mountains is an exciting experience for gem mining enthusiasts.
One of the best places to try it out is at Bushkill Falls, which caters to families and provides fun at an affordable price.
Visitors can purchase a bag of rough for just $16 and enjoy sifting through it at the sluice.
The helpful team at Bushkill Falls is always ready to assist with identifying any rocks found in the rough and provide informative gemstone cards.
In addition to gem mining, Bushkill Falls, also known as the Niagara of Pennsylvania, offers various other attractions.
After polishing and identifying your rocks, you can also explore the park's nature trails. The Green Trail is a quick 15-minute hike that leads to the main falls, while the Yellow Trail is slightly more challenging and takes around 45 minutes, leading visitors through the park's other popular landmarks, including Lower Gorge Falls, Laurel Glen, and Upper Canyon.
2. Laurel Highlands – Gem Mining and Rafting Tours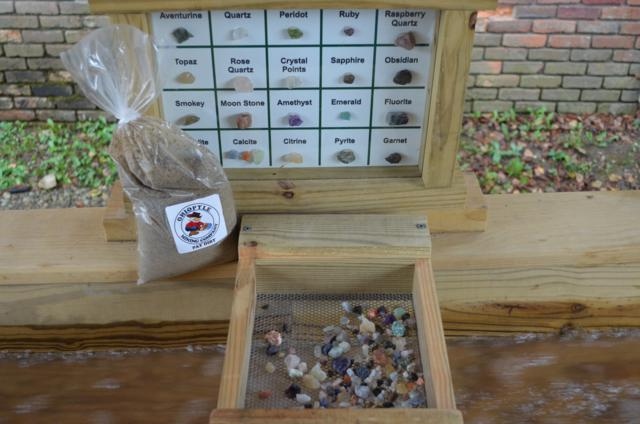 The Ohiopyle Mining Company in Laurel Highlands offers an exciting gem mining in PA experience for all ages.
Visitors can purchase bags of mining rough that include anything from local gemstones to fossils or arrowheads.
You'll be provided with a screen tray to sift through the rough in the sluice located right outside the Ohiopyle Mining Company.
Prices per bag range and differ in weight and content. The cheapest option is the $9 Pay Dirtbag, which includes a minimum of 3 oz of gemstones, a keeper bag, and a gemstone identification card.
There are two bags dedicated to those more interested in fossils and arrowheads. The more expensive option is the Mother Lode, which costs $25 and includes 10 lbs. of sand filled with arrowheads, gemstones, fossils, and more.
Laurel Highlands is well-known for its rafting tours, which are a must-do if you're already in the area for gem mining.
For the ultimate experience, I suggest trying the Lower Yough Express Tour, a 7-mile water adventure on the Lower Yough that lasts 3 hours and is guided by an expert.
It's the perfect way to add some excitement to your trip and make the most of your time in Laurel Highlands.
Rockhounding in Pennsylvania, 4 Spots and Tips
3. Prospect Park – Kyanite and Feldspar Crystals at Tinicum Park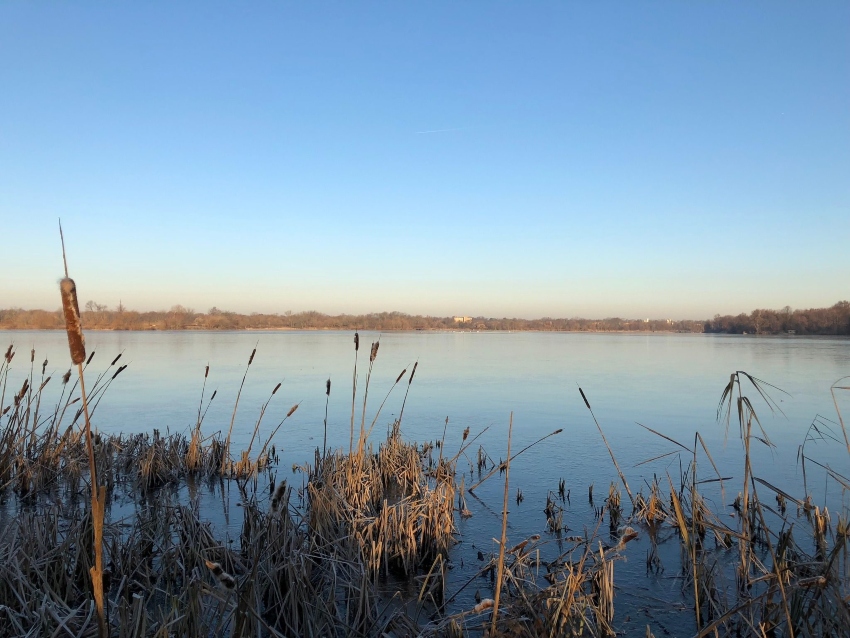 Prospect Park, located southwest of Philadelphia at the Morton Homestead on Rte 420, is a well-known destination for rockhounds of all levels of experience.
The area is particularly popular for the collection of kyanite and orthoclase feldspar crystals.
To collect kyanite blades, I recommend you come prepared with a trowel to sift through the mud rather than digging with your hands.
You can easily locate the site by heading to this location on Google Maps. The coordinates will lead you between the little island of Tinicum Park and the bridge on Wanamaker Avenue, over Darby Creek.
Tinicum Park, the southwestern part of John Heinz National Wildlife Refuge, is crossed side by side by the Fishing Trail and is visited not only by fishermen but hikers, runners, and of course rockhounds.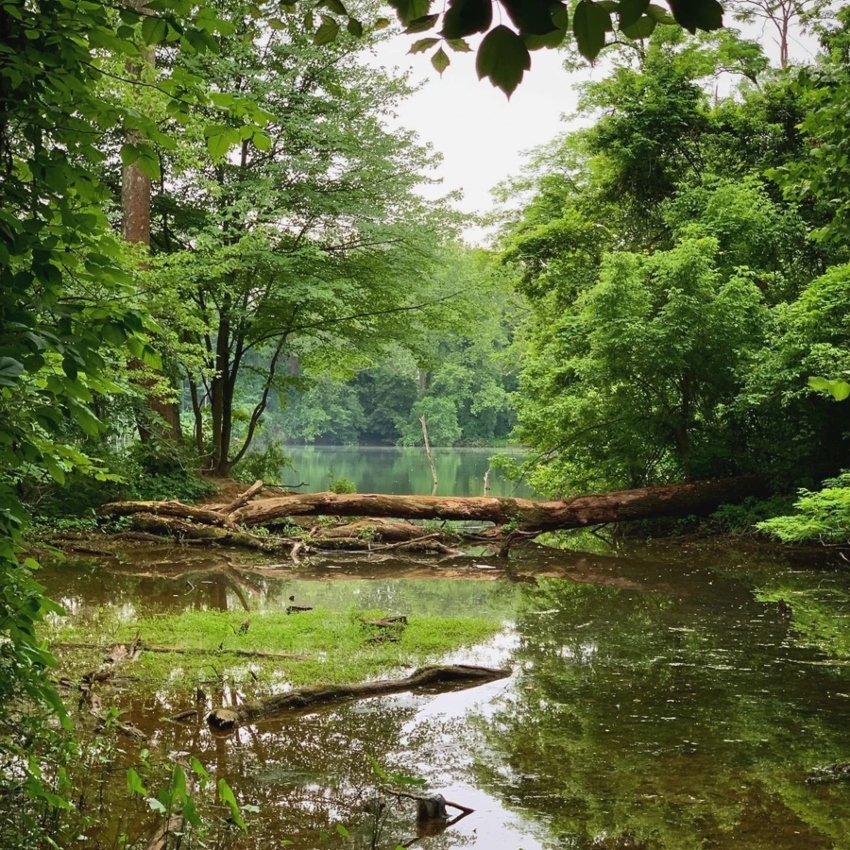 The natural area around Grubb Lake is a good spot for those more interested in finding limestones and geodes.
While now it is only a naturalistic attraction and a spot for mining enthusiasts to have fun, the Grubb Laka area used to be an iron ore mine, which has since then been filled with water, creating the lake.
Just around the lakeshore, you'll be able to spot little crystals and limestone or even devil's stones.
It is a gorgeous naturalistic spot for fishing or just sunbathing and swimming.
The main trail, Lake Grubb Trail, is 1.28 Miles long and will take you around the former iron ore mine site.
The amenities at Grubb Lake Nature Park include two large pavilions, picnic tables and grills, a nice playground for children complete with an activity area, a 1-mile hiking trail, and several fishing areas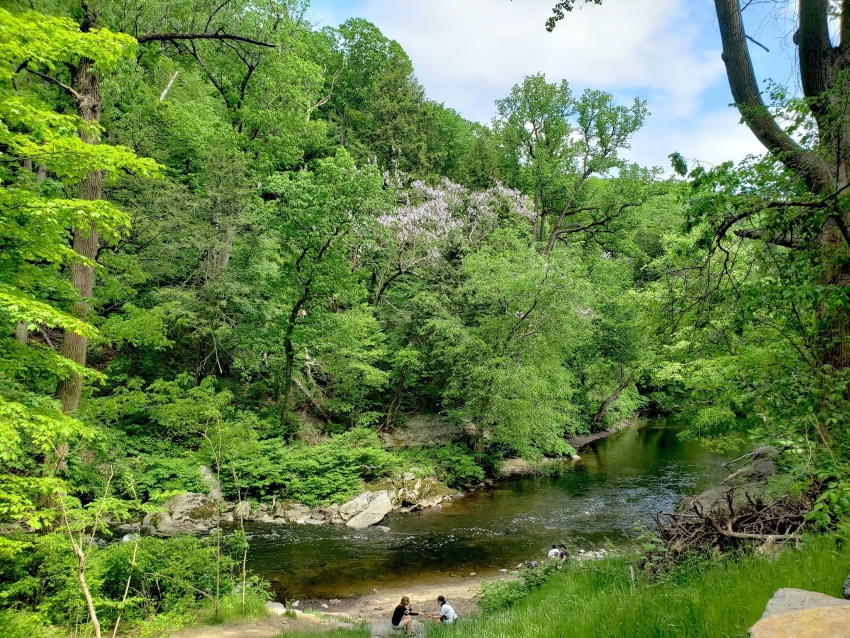 Wissahickon State Park is located in the Piedmont Province of Pennsylvania, a region characterized by Precambrian and lower Paleozoic rock formations, geodes, and fossils.
The best spot to rockhound in the Park is the area around Wissahickon Creek, especially for collecting the so-called Wissahickon schist (pelitic schist) or quartzite.
Around the granite quarries in the park, one can also find sillimanite, along with mineral crystals, garnet, tourmaline, kyanite, staurolite, muscovite, and biotite micas.
Running five miles along Wissahickon Creek, the Forbidden Drive provides a convenient way to explore the park and discover rocks without the risk of getting lost while rockhounding.
You might want to occasionally get out of the way since a lot of people use this trail for running.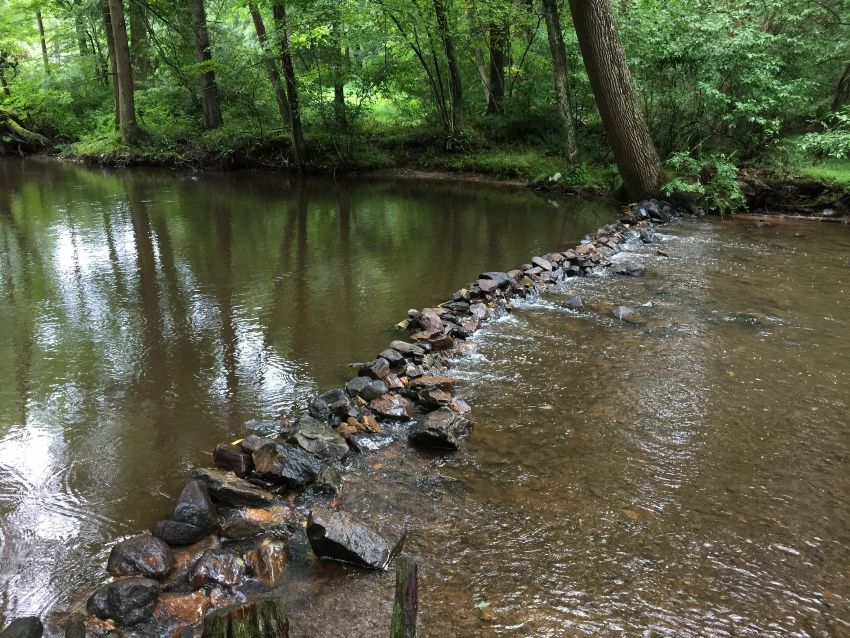 Caledonia State Park is covered in fantastic rock formations, from large stony grounds to tall but easy-to-climb rocks.
There is a series of interconnected hiking trails of different levels, allowing you to explore the park and the various rocky areas.
The most extensive trail is the Appalachian Trail, which is quite challenging but features the most diverse terrain (perfect for spotting unique rocks).
Other 2 trails that will get you around the park the most are the Chambersburg Water Line and the Ramble Trail loop.
This said, even the natural and deeply wooded area around the park (outside of the park's bounds) is great for rockhounding, and even better at times since it's less visited.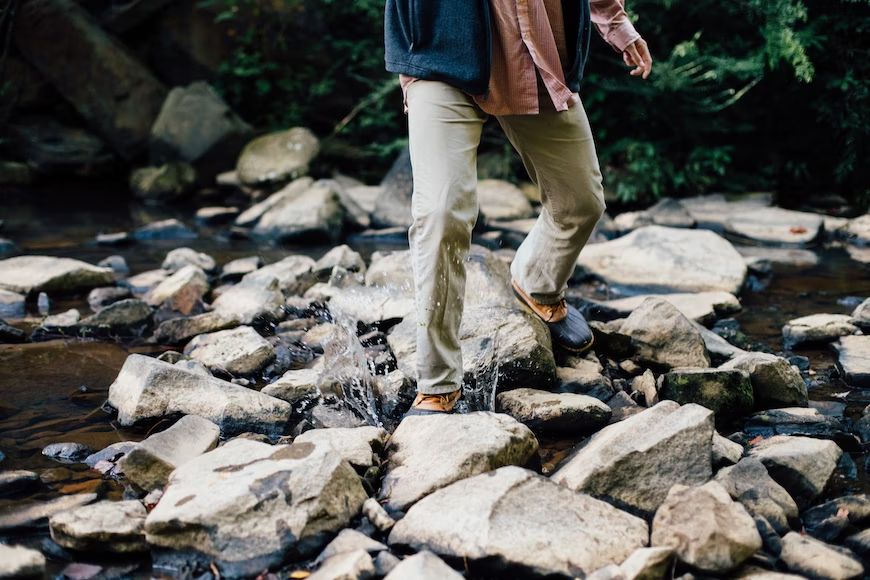 Laid out on one of the largest serpentine barrens in North America, Nottingham County Park is a 731-acre park, featuring 3 main trails and plenty of rockhounding opportunities.
Buck Trail, almost 3 miles long, is the rockiest path, which makes it perfect for independent gem mining and rock collecting, but a bit less great for hiking.
Be sure to pack good hiking shoes and be careful not to step on the many loose rocks along the way.
The most common rock found here is the serpentine stone, which is a gorgeous yet lesser-known light-green mineral.
8. Rockhound By Yourself Using an Interactive Geological Map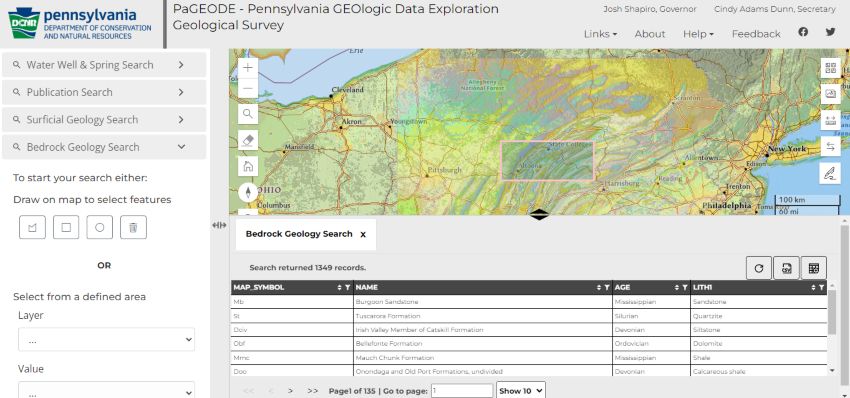 If you enjoy rockhounding and exploring new locations, you may be interested in checking out the interactive geological map provided by Pageode Pennsylvania Geological Data Exploration.
This map allows you to learn more about the state's bedrock geologies, quarries, and surficial geologies.
To access the map, select either the Surficial Geology Search or Bedrock Geology Search in the left sidebar, draw the exact area you want to explore on the map and enjoy detailed information on what can be found in the selected region.
This map is a great tool for anyone interested in geology, whether you are a professional geologist or just someone who loves to explore and collect rocks.
Learn about Coal Mining in Pennsylvania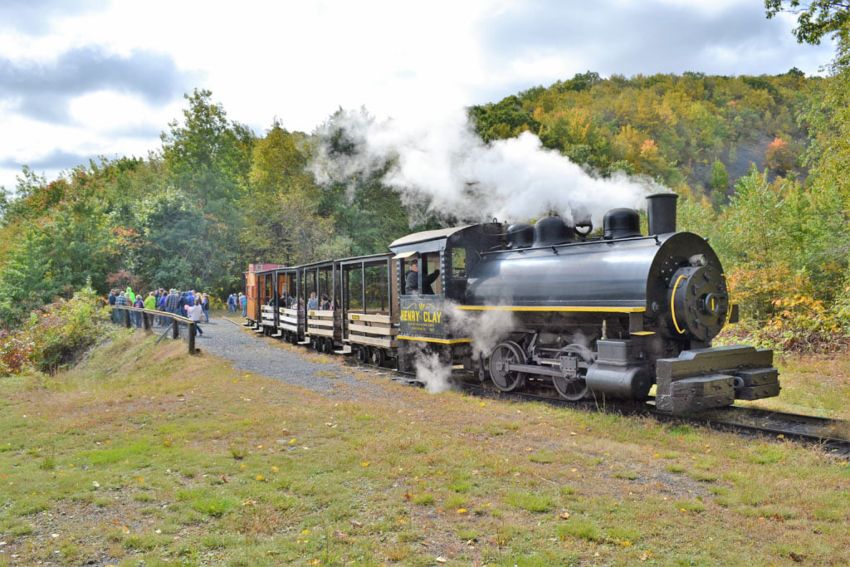 While this location does not offer to mine per se, you can still experience what it feels like to be a miner for a day by exploring a mine.
Pioneer Tunnel, an abandoned coal mine located near Mahanoy Mountain, runs horizontally for around 18,000 feet underground.
There are two main activities you can try here. Firstly, you can take a guided tour of the mine while riding comfortably in open mine cars.
The knowledgeable guides at Pioneer Tunnel usually have a background in the mining and can offer thorough explanations of what you will see during the tour and the deep mining methods used.
I recommend bringing a sweater, even during the summer, as the temperature inside the mine can be as low as 50 degrees and the tour lasts for more than 30 minutes.
The other popular ride at Pioneer Tunnel is the locomotive, affectionately called Lockie Henry Clay.
For dining, there is the Jellybucket Cafe which offers food and drinks, and you can take your food to the nearby Ashland Borough picnic tables.
There is also a gift shop selling all kinds of fun merchandise related to the coal mine and the locomotive, including rocks and minerals.
One of the things that people love to purchase at the gift shop is Coal Candy, a local delicacy of hard candy that looks like coal and colorful rocks.
What's Next?
If you enjoy coal and gem mining in PA, you may want to explore further mines and gem mining spots in Ohio.
There are many opportunities to explore mines and collect gems throughout the United States, offering a fun and educational experience for anyone interested in geology and mining.