New York City here we come! Well I should say, here I come, because this article is about the best hotels for solo travelers in NYC.
Whether you're an experienced solo traveler, or this is your first time venturing alone in the city, it is crucial to choose the perfect accommodation, to ensure a safe and comfortable stay.
Are you looking for a hotel with a concierge, maybe in a particular area? Do you have safety concerns regarding your stay in the great apple?
Read this guide to find out the best hotels to check out on your own, and let me relieve your solo-traveling-related doubts.
Is New York a good city for solo travelers?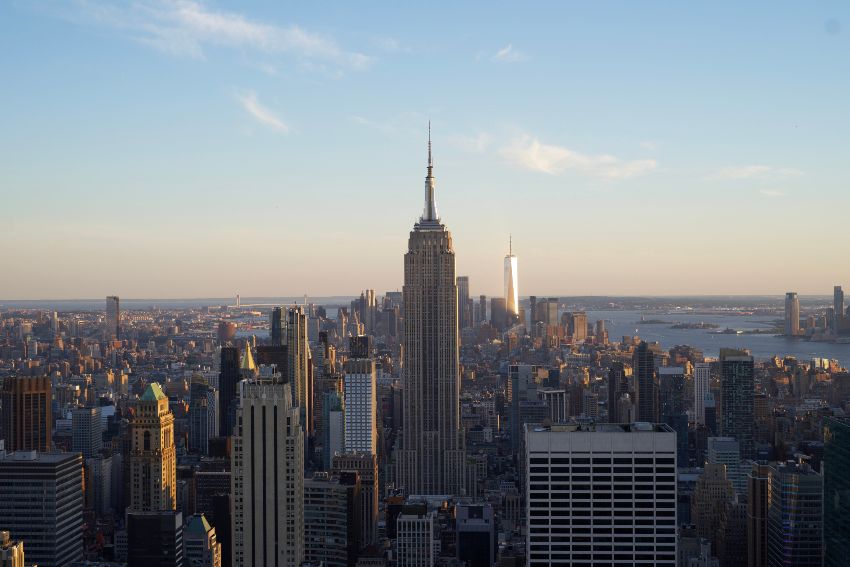 New York is arguably the perfect destination for solo traveling. NYC is one of the largest and most hectic metropolises in the world, with so much to offer in terms of landmarks, activities, and tourist attractions, that you'll hardly be bored.
The best part about exploring NYC on your own is that the city is your oyster! Anything you want to visit, see, or do, you can, without having to compromise with travel buddies or comply with the taste of others.
If you find yourself wondering "what are some awesome and unexpected things I could do" check out my guide on the 10 Unusual Things To Do In New York City.
One of the best places to visit by yourself is the famous Central Park, the green oasis in the heart of Manhattan.
While just going for a simple stroll in nature and people-watching could be great, I recommend adding some items to your bucket list from my article on 50 Cool Things to Do in Central Park.
Traveling Solo: 8 best Hotels for solo travelers in the heart of NYC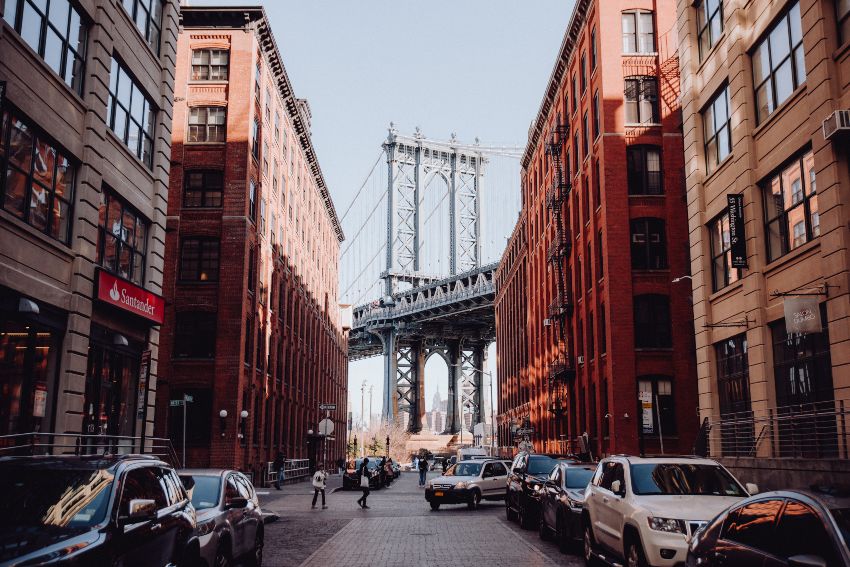 1. Sheraton New York Times Square Hotel, Four Points by Sheraton Manhattan Midtown West, and Four Points by Sheraton New York Downtown.
The three Sheraton hotels are all great choices for solo travelers.
Their central locations make them perfect as start points to go and visit Manhattan, and the ample choice of rooms and suites can fit different budgets.
The most comfortable (but expensive!) is the New York Times Square Hotel, with single suites going for $350 on average, and the (cheapest) most frugal is the Four Points by Sheraton New York Downtown, where a single room can go as low as $150, while still being centrally located.
The art deco-style Belvedere Hotel is a high-end and super-central Manhattan hotel, with convenient prices for single rooms.
The Belvedere Hotel is conveniently located between the theater district and Times Square, the location is perfect, with any NYC landmark just a short cab drive distance.
The hotel is also close to several subway stations, allowing you to visit the city comfortably. This is a great choice for travelers looking for a great service at an affordable price, with the average single room going for $215.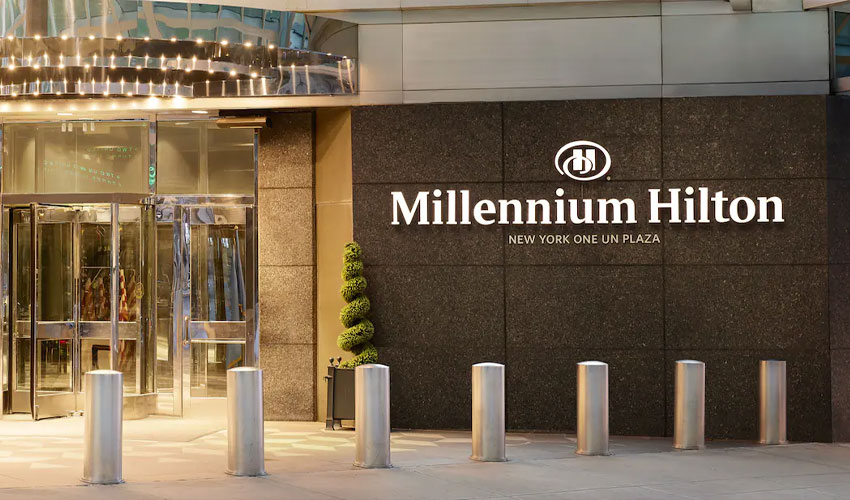 The Millennium Hilton UN hotel is the way to go if you are looking for a spacious room in central Manhattan, with a great view of the city.
You can dine in, grab a meal at the hotel's signature restaurant, Ambassador Grill, or have breakfast at the UN cafè before hitting the town.
Rooms can be a bit pricey, so I only recommend this hotel to people booking their stay in NYC months in advance. With their special Best Available Rate offer, you can get a price reduction on your room up to 20%, getting a much better value for money.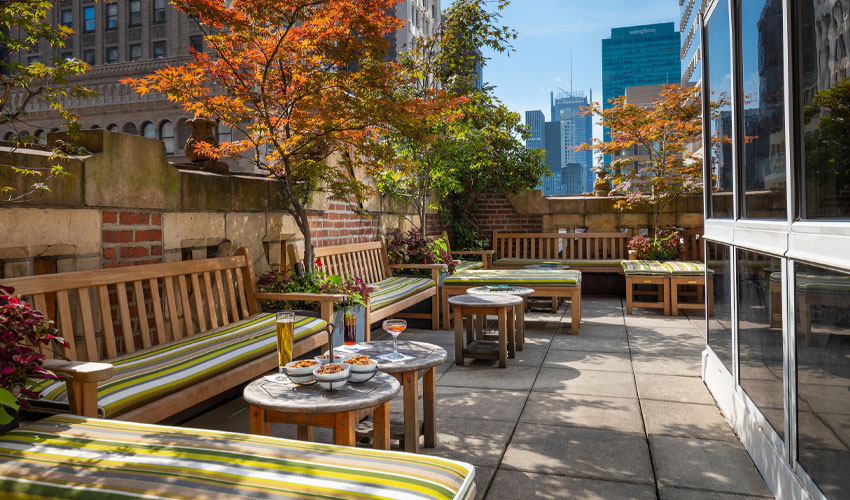 The Library Hotel at Madison Avenue is simply an exquisite establishment, with both the interior and exteriors of the hotel being perfectly curated in every detail, giving off an elegant and welcoming vibe.
Spacious and clean rooms overlook the city, and a few of them have small private balconies from which you can admire Madison Avenue and the bustling New York City life happening down below.
The exterior features an open terrace with a wooden patio, where you can dine or have a drink in a charming setting, surrounded by the iconic city skyscrapers.
The hotel takes the name from one of its most peculiar features: a stunning library lounge complete with a pianoforte, and refreshments available for the guests all day long.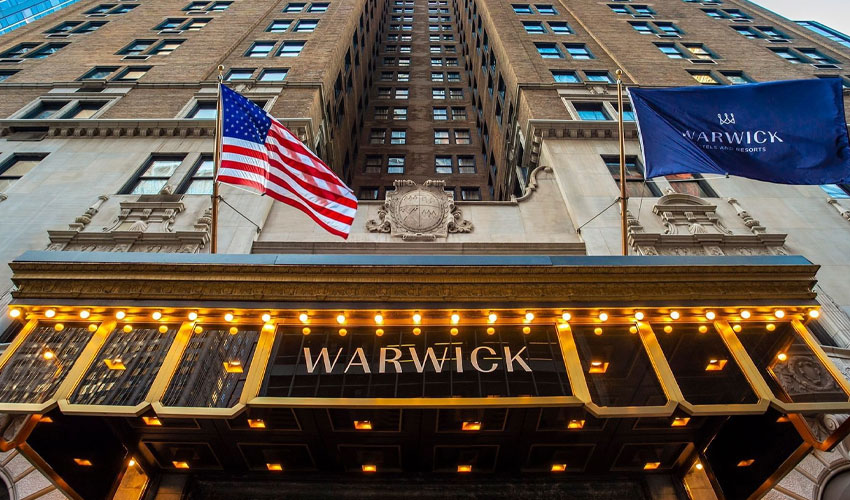 If you want to spend the night where stars of the caliber of Elizabeth Taylor, James Dean, Elvis Presley, and even the Beatles loved to book their stay in NYC, go for the iconic Warwick hotel.
Located between Midtown West and Hell's Kitchen, the position couldn't be more central, just a few blocks away from Central Park or Times Square.
The building itself is an NYC landmark, constructed in 1926 in an immortal traditional but elegant style.
For a perfect New York experience, you can upgrade your room for a great view and even a private balcony facing the heart of Manhattan.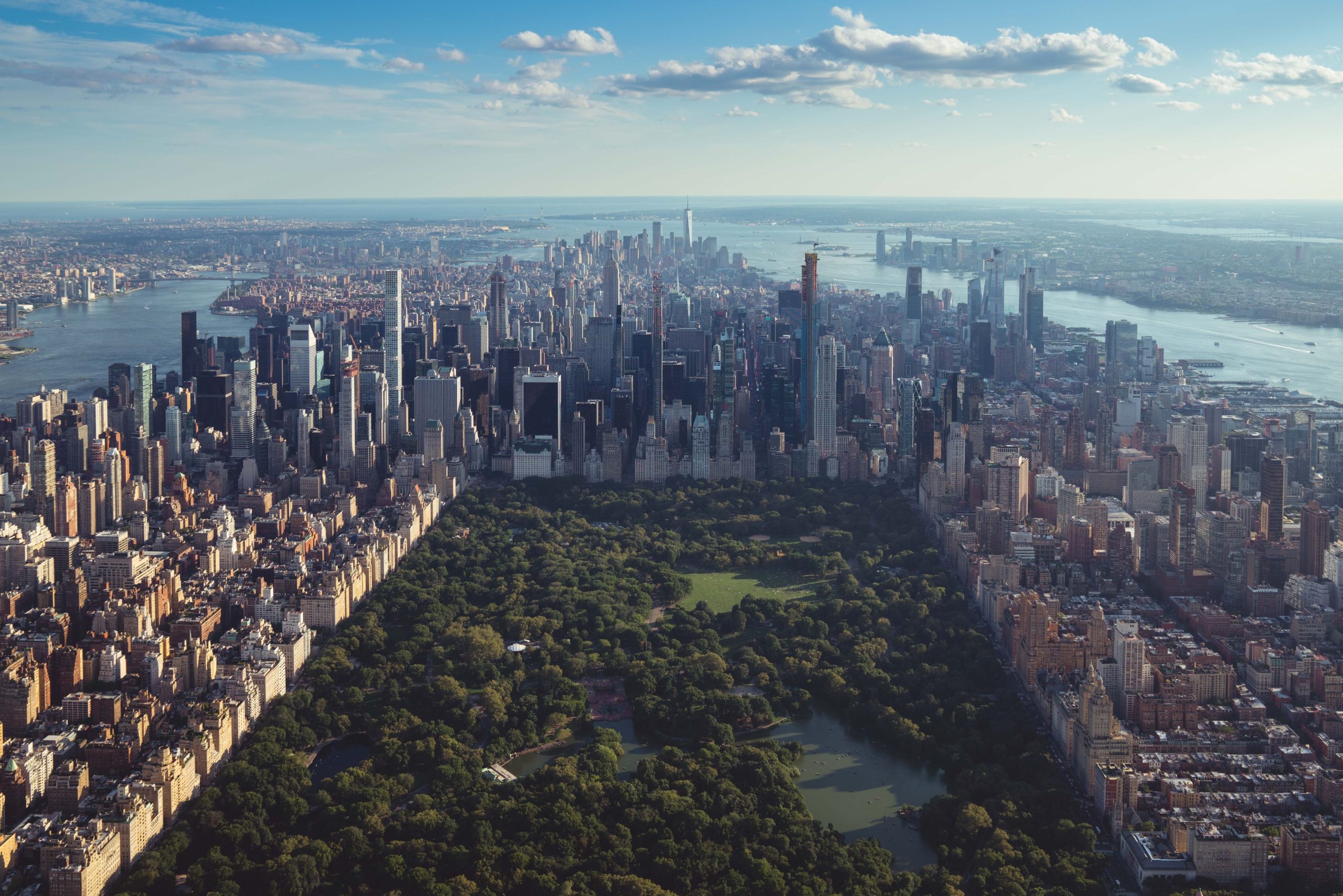 The Central Park North Inn is a perfect option for a solo traveler looking for cheaper and more spartan accommodation, just 5 minutes walking from Central Park.
The charming redbrick hotel welcomes the guests with a New York-style stairway leading to the door. Before even checking in, you'll be feeling like a real New Yorker!
Some rooms are equipped with a cooking area, giving a sense of home-away-from-home, and allowing cooking at home a few meals, which can be relaxing as well as cost-effective.
Single rooms at Central Park North can be as cheap as $150.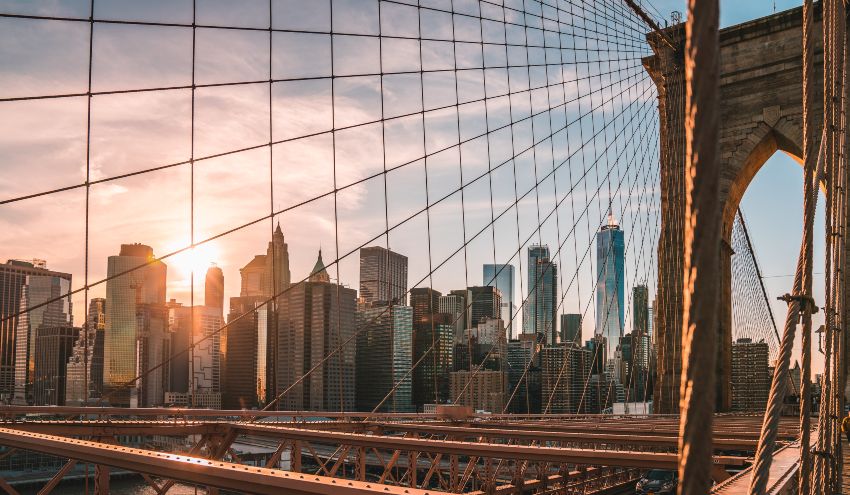 Many prefer to avoid Manhattan when choosing their accommodation position, and prefer to go for the more hip (and a bit cheaper) neighborhoods around the island.
The Akwaaba Mansion is conveniently located in the historic Brooklyn neighborhood and will get you a great value for money.
If you prefer fireplaces to infinity pools and home-cooked hearty meals to sophisticated food, the Akwaaba Mansion is the place for you.
Akwaaba Mansion, with its gorgeous interiors covered in antiques, is not your usual NYC hotel.
This is a great choice for travelers that enjoy staying in a unique, full of spirit location.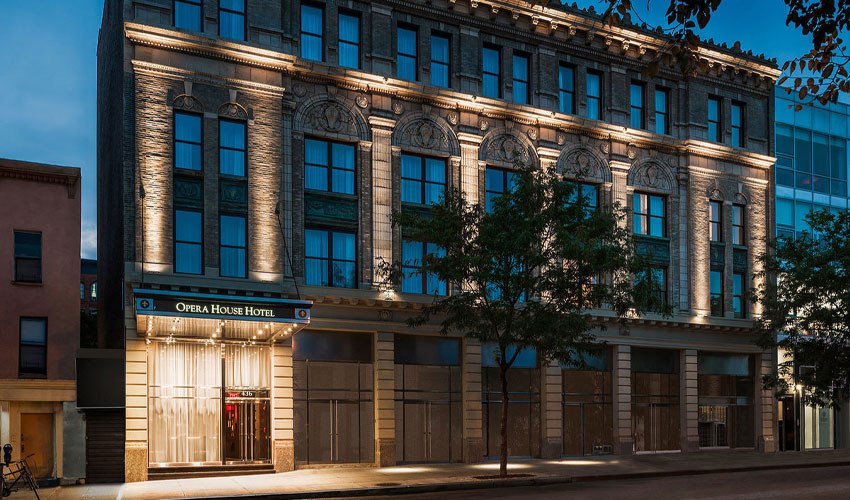 Last but not least, the Opera House Hotel, is one of the best hotels for solo travelers in NYC.
Looking for a truly enchanting location? Solo travelers love this hotel: the former opera theater converted as a hotel, is simply an excellent option.
Located in the heart of the Bronx, the Opera House Hotel is blessed with a stunning building, a rich history, helpful staff, and even spacious rooms!
Both the rooms and shared areas inside the hotel are extremely well kept, organized, and clean, and the decor is the original from the historical opera house.
The hotel also offers a simple breakfast and while being located in the Bronx, is well connected with Brooklyn and Manhattan.
Is it Safe to Visit New York City by myself?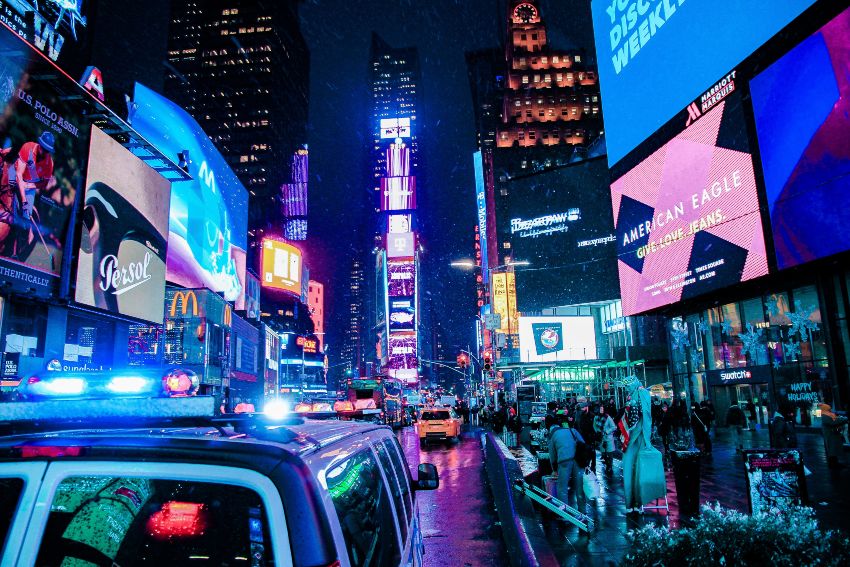 Sure! Despite what you may think, Manhattan consistently ranks as one of the safest areas in the US, and the NYPD is known to be tourist friendly and helpful.
This said you may want to use common sense when exploring the city by yourself, especially at night.
Especially in tourist and crowded areas, you'll be completely safe. The most common thing that can happen to a distracted tourist is to get your belongings stolen.
The best thing you can do to avoid this is to be aware of your surroundings, and in general trust your guts when it comes to suspicious people or if you're venturing into a less busy area.
While there's no need to go long ways to protect yourself, I would recommend avoiding notoriously less-safe areas of the city at night, and in general, keep your "spidey sense" on at all times.
Tips for Solo Traveling on a Budget in NYC: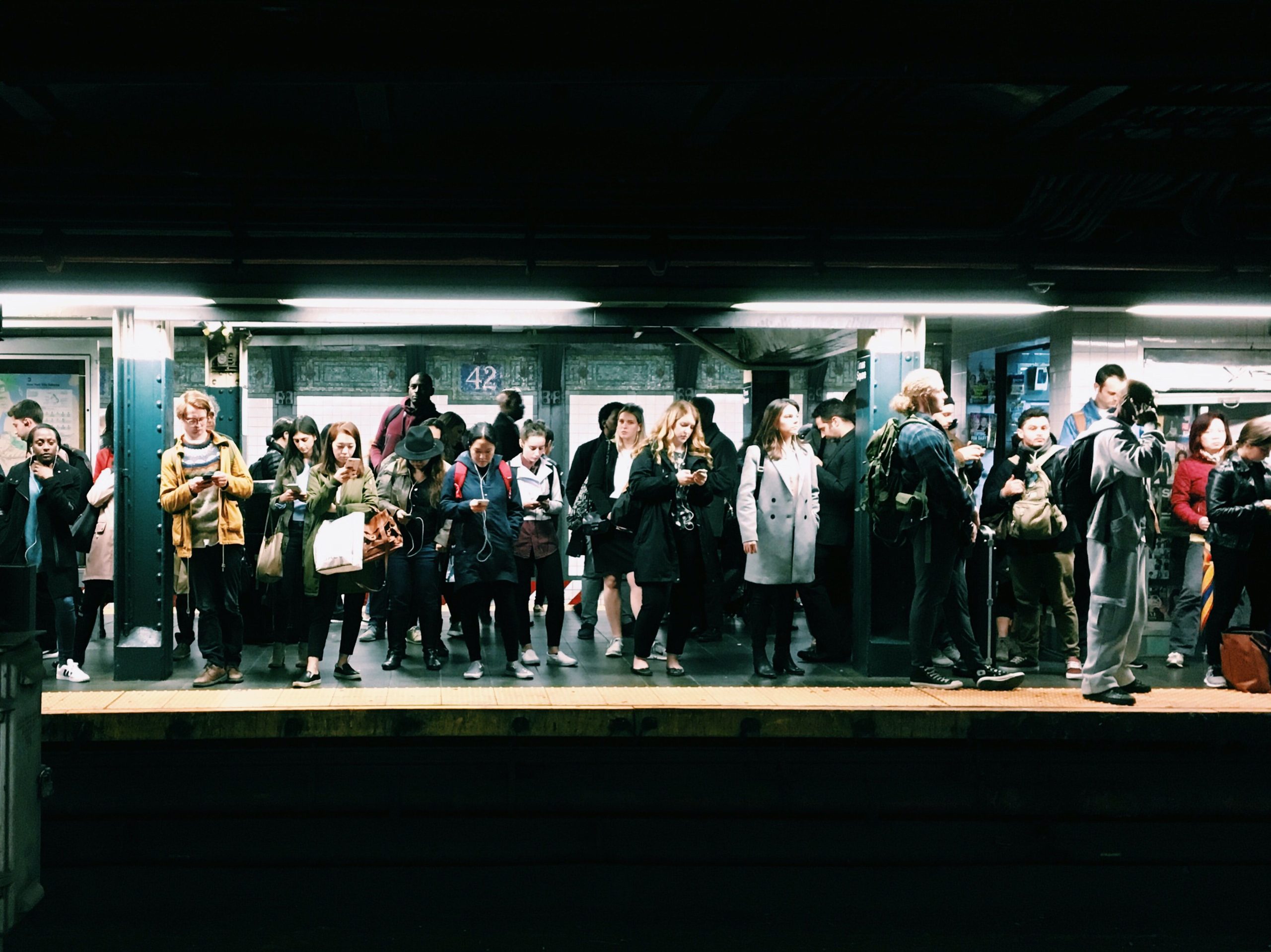 Staying in NYC in a comfortable, safe and conveniently located hotel can be expensive, and when planning a solo trip to the city, the numbers can add up pretty quickly.
If you are traveling on a budget, and you don't want to economize on accommodation, follow these travel hacks to make your NYC experience more affordable:
Be smart and save on transport: Nobody owns a car in NYC, and the public transport system reflects that. Make this an opportunity to travel like a local. You can buy a Metrocard for cheap, which will gain you access to the subway, rail cars, buses, and trains.
NYC is one of the greatest places for eating out, but it does not have to be expensive. Street food in the city is common, tasty, and cheap. If you want to experience food from different cultures, restaurants in Little Italy, Chinatown for example can provide fun meals at low prices.
Traveling alone and don't know a local new yorker to guide you through the city? You can download audio tours (some are even GPS enabled) for free, or $5 at most.
Made up your mind about the best hotels for solo travelers in NYC? Here's what's next:
If you loved exploring New York City and you're looking for your next solo trip destination, check out The 15 Best Skylines in the US That You Shouldn't Miss for inspiration.
If you loved the Brooklyn Bridge, don't miss out on the 25 Famous Bridges in the US You Have to Cross Soon.