With 2,876 miles of tidal coastline, South Carolina, particularly its beach towns, is a favorite vacation destination for families and party-goers alike.
Whether you're looking for a nearly empty beach to relax and be one with nature, or a center for water activities, or a crowded party beach, South Carolina can deliver.
To get the most out of your time in this beautiful state, read our list of the best South Carolina beach towns and find the one (or more) beach town that fits your vision of a dream beach vacation.
The Most Scenic South Carolina Beach Towns
1. Kiawah Island
Known for: Waterfront golf courses
Located just a short drive from Charleston, Kiawah Island is a private island featuring 10 miles of beautiful, unspoiled beaches, lush marshes, and woodland forests.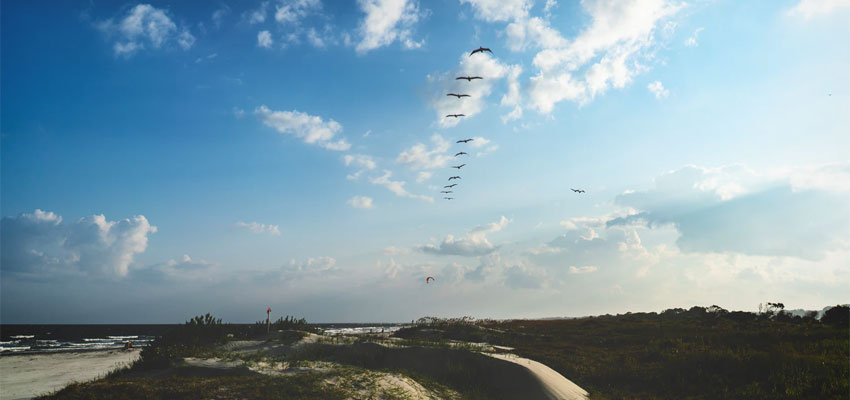 Kiawah Island is known for its five waterfront championship golf courses, all housed in the luxurious Kiawah Island Golf Resort
Aside from golf, Kiawah Island boasts of thriving wildlife, such as loggerhead turtles, alligators, and egrets.
Most of the island's beaches are privately owned, meaning they're only accessible to property owners, guests, and vacation renters.
Kiawah Beachwalker Park is the only public beach access, but it's a beautiful beach, with the Atlantic on one side and vast woodlands on the other.
Plenty of public amenities are available, including outdoor showers, washrooms, change rooms, and picnic areas. There's also a nice boardwalk for strolling, ramps for wheelchair access, and public parking.
Swim areas are prominently marked, with lifeguards on duty during peak seasons.
Essential Information
Best for: Families with kids; tourists who love golf
Beach access: Kiawah Beachwalker Park
Where to stay:
The Sanctuary Hotel at Kiawah Island Golf Resort
Andell Inn
Villas at Kiawah Island Resorts
Where to eat:
Loggerhead Grill at the Sanctuary Hotel
Fuji Sushi Bar & Grill
La Tela Pizzeria
More information: Town of Kiawah Island
2. Myrtle Beach
Known for: The most popular beach destination in South Carolina
Welcoming a whopping 10 million tourist visits a year, Myrtle Beach is probably the most popular beach town to visit in South Carolina.
Swimming and various beach activities are popular on its magnificent white-sand beaches, but a huge draw is its family-friendly entertainment complex and tourist attractions, including an amusement park with one of the tallest Ferris wheels in the US.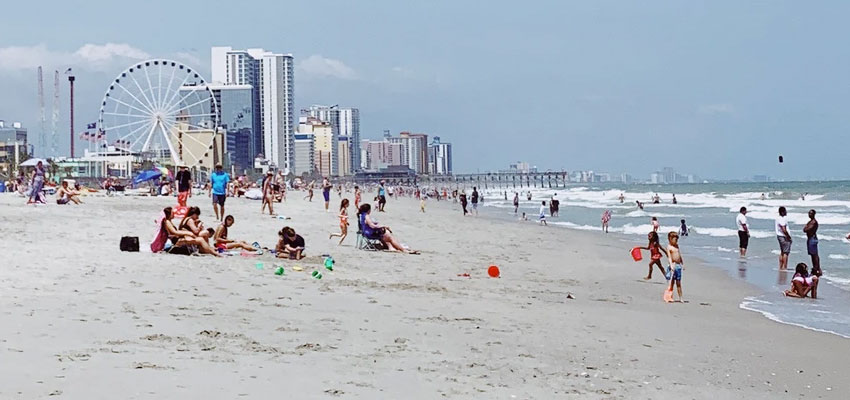 Water activities that are popular here include surfing, scuba diving, jet-skiing, paddle boarding, and parasailing. You can also charter a boat and go fishing, or fish at one of the 8 piers here, including the 14th Avenue Pier and the Myrtle Beach State Park Pier.
But you can also simply hang out on the beach, collect shells, and build sandcastles if you want.
Explore the Myrtle Beach Boardwalk for shopping, dining, entertainment, and to ride the Myrtle Beach Sky Wheel.
Miniature golf is also big here in Myrtle Beach, so if you're looking to improve your game, pop into one of the 50 mini-golf courses here.
Myrtle Beach is a favorite spring break destination for college students, so this is something to consider when planning your trip.
Essential Information
Best for: Families with children, college students, water sports enthusiasts, recreational fishermen
Notable beach access points:
Myrtle Beach State Park
Myrtle Beach Boardwalk
Cabana District
The Golden Mile
Hurl Rock Park
Where to stay:
Captain's Quarters Oceanfront Resort
Myrtle Beach Marriott Resort & Spa at Grande Dunes
North Beach Plantation
Marina Inn at Grande Dunes
Hampton Inn & Suites Oceanfront Resort
Sandy Beach Resort
Bay View on the Boardwalk
Where to eat:
Kings Highway aka "Restaurant Row":
Mr. Fish
Captain George's Seafood Restaurant and Sea Captain's House
RipTydz Oceanfront Grill and Rooftop Bar
Atlas Tap House
Myrtle Beach Boardwalk:
Landshark Bar & Grill
Pier 14 Restaurant
Peaches Corner
Dirty Don's Oyster Bar & Grill
Moe Moon's
Nearby places of interest:
Family Kingdom Amusement Park
Broadway At The Beach
Ripley's Aquarium of Myrtle Beach
Pelicans Ballpark
Carolina Opry
More information: City of Myrtle Beach, Visit Myrtle Beach
3. Murrells Inlet
Known as: The Seafood Capital of South Carolina
Just a short drive from Myrtle Beach is Murrells Inlet, a historic fishing town where pirates, reportedly even Blackbeard himself, used to hide and wait to plunder English ships.
Today, Murrells Inlet is a vibrant fishing community and tourist town.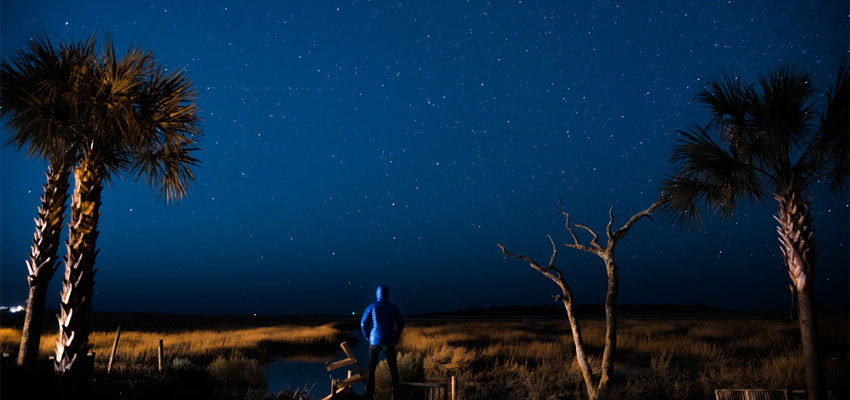 Huntington Beach State Park features a pristine, 3-mile-long beach within 2,500 acres containing wildlife and history, making it a favorite of nature and adventure lovers. Within the park is a surf fishing spot, a 2-mile-long hiking trail, picnic facilities, and campgrounds.
In fact, we've included this state park in our list of the best campgrounds in the US.
Plenty of water activities await, such as charter fishing or crabbing, and even scuba diving off the coast to look at historic shipwrecks.
If you want to experience the area's delicious seafood along with some live music and a spectacular view, Murrells Inlet MarshWalk is a wooden walkway overlooking a salt marsh where you can find a number of restaurants and bars.
The beach itself has few amenities, but if you're looking for a semi-secluded beach close to nature, away from scores of tourists, then Murrells Inlet is the beach town for you.
Essential Information
Best for: Adventurous, nature-loving individuals and couples
Notable beach access points:
Huntington Beach State Park
Murrells Inlet Park
Where to stay:
Hampton Inn Murrells Inlet
The Inlet Sports Lodge
Country Inn & Suites by Radisson
Where to eat:
The Wicked Tuna
Drunken Jack's
Bovine's
The Claw House
Creek Ratz
Nearby places of interest:
Brookgreen Gardens
Murrells Inlet Historic District
Atalaya
More information: Murrells Inlet
4. Sullivan's Island
Known as: One of the smallest inhabited islands on the South Carolina coast
A mere 20-minute ride from Charleston, Sullivan's Island is a largely unspoiled beach town for those who want to get away from the city.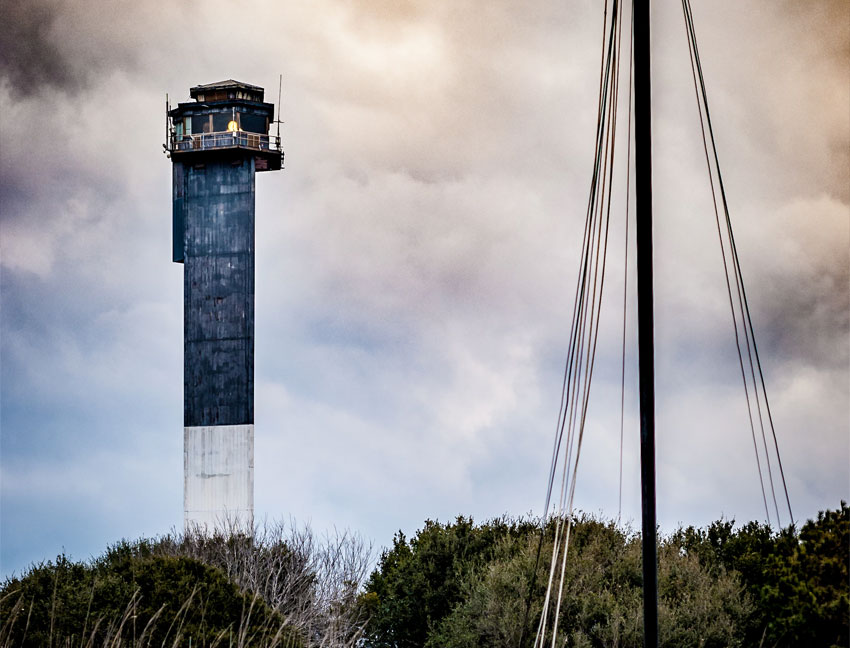 This barrier island offers white sand beaches and calm waters that are perfect for water sports such as paddle boarding, kitesurfing, kayaking, and many more.
Being only 3.3 square miles in size, there's a nice community feel in this little island, evident in the local dining options, shops, and vacation rentals and B&Bs.
The lack of beachfront developments or even beach facilities such as restrooms or outside showers might prove difficult for families with smaller children.
But if you're looking for a beach that's accessible and yet completely away from the hustle and bustle of the city, Sullivan's Island fits the bill.
Little known fact: This island served as the inspiration for Edgar Allan Poe's short story "The Gold-Bug," which tells the story of a man bitten by a gold-colored bug that leads him to buried treasure.
Essential Information
Best for: Families with older children, couples, water sports enthusiasts
Notable beach access points:
Stations 12 to 32
Where to stay:
Nearest hotels are at Charleston and Isle of Palms; either plan a day trip or find a vacation rental here
Where to eat:
Poe's Tavern
Home Team BBQ
The Obstinate Daughter
Beardcat's Sweet Shop
Nearby places of interest:
Fort Moultrie
Sullivan's Island Lighthouse
Eye of the Storm dome house
More information: Town of Sullivan's Island (site currently down)
5. Isle of Palms
Just a short drive from Sullivan's Island is Isle of Palms, an upscale resort island featuring 6 miles of soft, white sand beach.
There are a variety of water sports you can do on the island, like kayaking, fishing, windsurfing, parasailing, jet skiing, beach volleyball, or simply swimming, sunbathing, and digging around in the sand.
You can also take boat tours to nearby Capers Island, Dewees Island, and Bulls Island to get a glimpse of wildlife and unspoiled nature.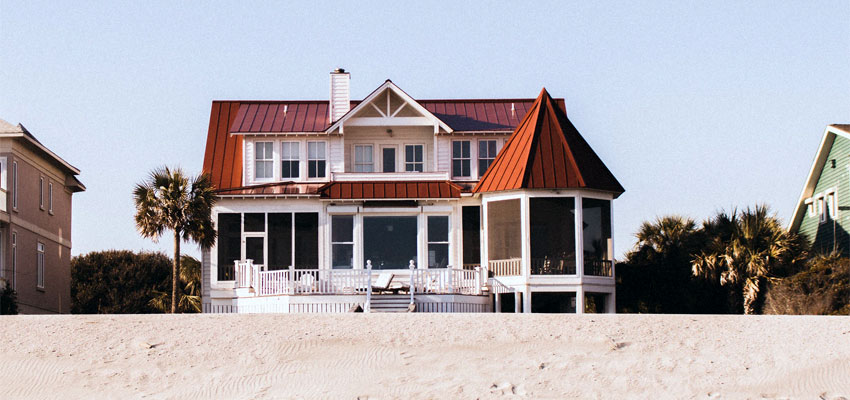 Front Beach is the most popular beach access point, while the neighboring Isle of Palms County Park is more popular with families due to their facilities, such as restrooms and showers.
The island is home to two world-class golf courses, the Wild Dunes Harbor Course and the Wild Dunes Links Course. Also, different types of tennis courts can be found on the island.
Sea turtles nest here from May to August, and the Isle of Palms Turtle Team identifies and marks nests. You can contact them to find out where they'll be and whether you can join them in watching the hatchlings make their way to the water.
Note: Parking is very limited, so get here as early as you can.
Essential Information
Best for: Families, golfers, tennis players
Notable beach access points:
Front Beach
Isle of Palms County Park
56th Ave
Where to stay:
Wild Dunes Resort
The Palms Oceanfront Hotel
Boardwalk Inn
Isle of Palms Resort & Beach
Where to eat:
The Boathouse at Breach Inlet
Coda del Pesce
Acme Lowcountry Kitchen
Coconut Joe's Beach Grill
Papi's Taqueria
Morgan Creek Grill
The Windjammer
Nearby places of interest:
Wild Dunes Harbor Golf Course
Wild Dunes Links Golf Course
Isle of Palms Recreation Center
Capers Island
Dewees Island
Boneyard Beach (Bulls Island)
More information: City of Isle of Palms
6. Hilton Head Island
Known for: 2019 Condé Nast Traveler Readers' Choice: #1 Best Island in the US
Hilton Head is another South Carolina beach town that's home to pristine beaches, spacious parks, and luxurious resorts and amenities.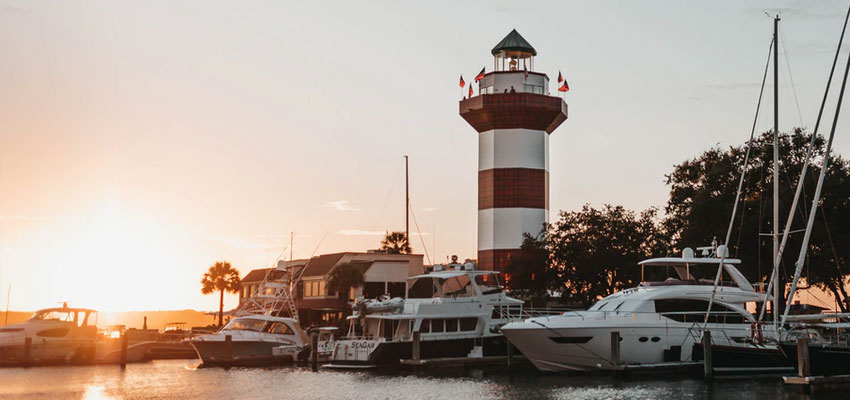 With a total of 12 miles of coastline, there are plenty of areas to enjoy activities on the beach, like swimming, paddle boarding, boating, sunbathing, fishing, and surfing.
Aside from the beach activities, you can also play a few rounds of golf or tennis, or indulge in a relaxing wrap and massage. The island boasts more than 24 championship golf courses, more than 300 tennis courts, and more than 20 luxury spas.
Hilton Head Island is also known for its dedicated bike trails, with paved pathways that connect hotels and vacation rental properties to more commercial areas and restaurants, and just about everywhere in the island. In fact, the barrier island has been recognized as one of the most bike-friendly places in the US.
There are also plenty of shops for the shopaholic, as well as restaurants for foodies and bars for the partygoers.
Essential Information
Best for: Retirees, golf or tennis enthusiasts, families looking for some luxury, couples or groups who want a sports-and-spa weekend
Notable beach access points:
Coligny Beach Park
Alder Lane
Driessen Beach Park
Mitchelville Beach
Where to stay:
Sonesta Resort Hilton Head Island
Disney's Hilton Head Island Resort
Hilton Head Marriott Resort & Spa
Sea Pines Resort
Where to eat:
Tiki Hut
The Porch at Beach House Resort
Michael Anthony's
Main Street Café & Pub
Frankie Bones Restaurant & Lounge
Kenny B's Cajun Seafood Hut
The Drydock
Ruby Lee's
Nearby places of interest:
Coastal Discovery Museum
Pinckney Island National Wildlife Refuge
Daufuskie Island
Hilton Head Lighthouse
Hilton Head Golf Courses
Shelter Cove Community Park
More information: Hilton Head Island Official Tourist Site
7. Hunting Island
Known for: Coastal Living Magazine: One of the 14 secret places in America to visit in 2020
Hunting Island may not be as popular as Myrtle Beach, but with over a million visitors a year, it's definitely not a secret.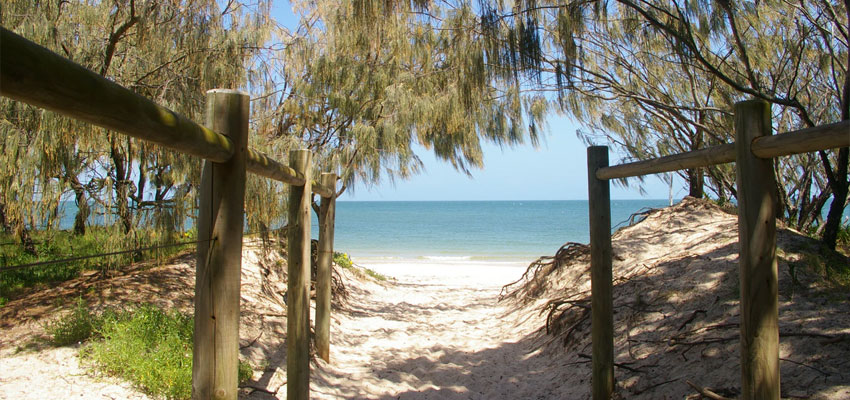 The entire island is a state park, and with five miles of unspoiled beach, thousands of acres of marsh and forest, a saltwater lagoon, and an ocean inlet, it's not hard to imagine the natural beauty and the wildlife on this island.
Being a state park, there aren't major developments here, but that doesn't mean it needs to be rough going. Showers and dressing rooms are available on the beach.
Picnic shelters and campgrounds are also available to rent, as well as the single furnished cabin on the island. Yes, it's the only one, so you need to reserve in advance.
There's lots of outdoor activities to do here. You can go fishing in the creek, lagoon, beach, or on the fishing pier. A boat ramp and a bait and tackle shop are readily accessible.
Boating and kayaking are allowed, as well as swimming in the ocean. Take note, though, that there aren't any lifeguards
The island also has an 8-mile bike/hike trail, plus 3 walking nature trails that provide visitors a chance to experience the environment and the wildlife.
Of all the lighthouses in South Carolina, the one in Hunting Island is the only one you can climb (although it's no longer a functioning lighthouse), so the Hunting Island Lighthouse is definitely worth a visit if you find yourself here.
Little known fact: The surrounding marshes were used in the movie Forrest Gump as the backdrop for the Vietnam War
Essential Information
Best for: Outdoors adventure-loving families, groups, and couples
Notable beach access points: Hunting Island State Park Beach
Where to stay:
One 2BR Rental Cabin (Furnished)
Campsites
Where to eat: No restaurants in Hunting Island, so you can pop into neighboring Harbor Island for these places:
Johnson Creek Tavern
Marsh Tacky Market Café
Nearby places of interest:
Harbor Island
Hunting Island Lighthouse
Marsh Boardwalk
Fripp Island
More information: Hunting Island State Park
8. Folly Beach
Known as: "The Edge of America"; Charleston residents' favorite
Folly Beach is a favorite of Charleston residents, who lovingly refer to it as "The Edge"
The usual watersports done here are surfing, kayaking, boating, and most of all, fishing, both deep-sea and pier fishing.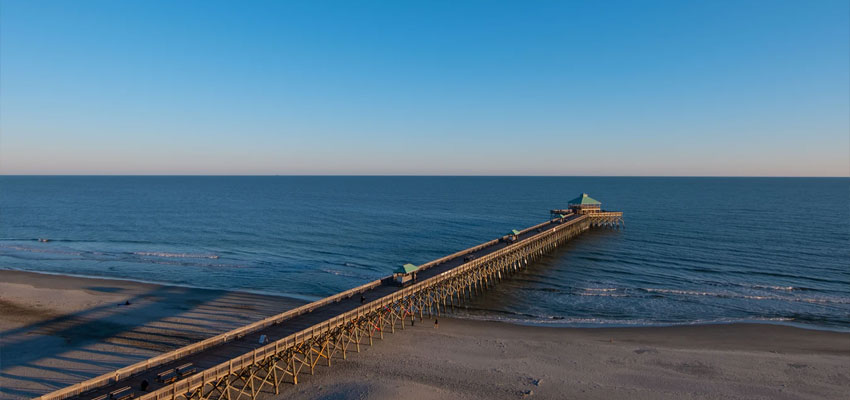 So it's not surprising that the most distinctive feature on the beach is the 1,045-foot-long Edwin S. Taylor Fishing Pier where you can fish, hang out, and experience the local vibe on nearby Center Street featuring dozens of local shops, restaurants, cafés, and bars.
Folly Beach County Park is another popular beach access point, where you can kayak around to spot marine wildlife such as dolphins, rays, and even bonnethead sharks.
Right on the other side on the island, Lighthouse Inlet Heritage Preserve is the perfect spot to view the Morris Island Lighthouse, as well as observing birds and maybe even some surf fishing. Swimming is prohibited though; the drop is steep and the tides are harsh.
Essential Information
Best for: Surfers, anglers; Laid-back, younger solo travelers, couples, and families
Notable beach access points:
Center Street Beach
Folly Beach County Park
Where to stay:
Tides Folly Beach Hotel
Holiday Inn of Folly Beach
Water's Edge Inn at Folly Beach
Riverside Inn and Cottages
Where to eat:
Folly Beach Crab Shack
Pier 101 Restaurant & Bar
Jack of Cups Saloon
Drop In Deli
Bowens Island
Lost Dog Café
Chico Feo
Nearby places of interest:
Edwin S. Taylor Fishing Pier
Folly River Park
Pirate's Cove Playground
Lighthouse Inlet Heritage Preserve
Morris Island Lighthouse
More information: Visit Folly Beach
9. Pawleys Island
Known for: Rope hammocks; salt marshes
If your idea of the perfect beach activity is hanging out on a rope hammock with a book and a drink while listening to the waves, Pawleys Island may be the beach town for you.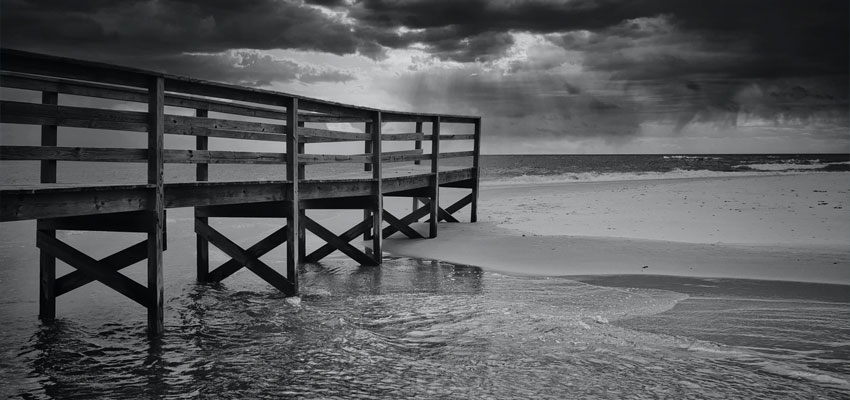 Pawleys Island is one of the oldest resort areas on the East Coast, but it's still largely uncommercialized. It offers peaceful marsh views, an uncrowded white sand beach, and a relaxed vibe.
The beach is so relaxed that it's self-service, meaning you'll need to bring your own chairs, umbrellas, and snacks. There are no lifeguards, so it's pretty much swim at your own risk.
Water activities you can do here include surfing, paddle boarding, boating, fishing, and jet skiing. In Pawleys Island Creek, you can also go crabbing, kayaking, and canoeing.
You can also just stroll on the beach and explore the houses in the Pawleys Island Historic District, featuring houses and buildings that have withstood the test of time and beach weather.
Don't leave Pawleys Island without stopping at The Hammock Shops Village and buying a hand-woven hammock from The Original Hammock Shop.
Little-known fact: It may be strange to be known as the home of the rope hammock, but it was invented on Pawleys Island by a riverboat captain named Joshua John Ward.
Essential Information
Best for: Families and couples who want privacy and a slow, sleepy town vibe
Notable beach access points:
South End
Hazard Avenue (aka Broken Groin)
Second Avenue (Front Beach Access)
Pawleys Island Nature Park
Pawleys Island Beachfront
Where to stay:
The Sea View Inn
The Pelican Inn
Rental homes
Where to eat: No restaurants in Hunting Island, so you can drive into the mainland on Ocean Boulevard (Highway 17) for these places:
Frank's & Frank's Outback
Habaneros Mexican Cantina
Hog Heaven BBQ
Pawleys Island Tavern
Nearby places of interest:
The Hammock Shops Village
Brookgreen Gardens
Pawleys Plantation Golf & Country Club
Pawleys Historic District
Pawleys Island Pier
More information: Pawleys Island Official Tourism Site
More Information On Visiting South Carolina Beaches
Best Time Of Year To Visit
As you might expect, the months of June to August have the perfect weather for enjoying the beach, although these are also the peak tourist months.
September sees the least amount of visitors on the beach, while January and February has the best deals on flights and hotels.
What To Pack
Aside from the basics, such as your toiletries, grooming products, medicines and vitamins, cellphone, charger, and weather-appropriate clothing and shoes, don't forget your sunscreen, sunglasses and a hat, no matter what month you're visiting.
Make sure you have a first aid kit packed as well, especially if you're travelling with kids.
What To Know
Before you leave for your trip, look up the rules of each beach you plan to visit.
They have specific rules about pets, alcohol, digging holes on the beach, interfering with sea turtle nests and eggs, fires, food containers, vehicles, and many others. Rules and ordinances on one beach may not apply to other beaches.
Which South Carolina Beach Town Will You Visit?
South Carolina is a beautiful state to visit, and its beach towns are proof of this.
Hopefully, our list helps you find the perfect beach town for your vacation.
Other beach destinations
It's hard to imagine, but if none of these South Carolina beaches tickle your fancy, here are other East Coast beach destinations to consider:
Are you excited to go on a South Carolina beach getaway? Which town are you planning to visit? Share your plans with us in the comments!