Growing up in Pittsburgh, I have more than enough experience checking out the water parks in Pennsylvania.
Man a summer day has been spent traveling to different corners of the state to hit up a wave pool, lounge on a lazy river, or drop down some sweet slides.
So, without further adieu, here are my 6 favorite water parks you can find across PA, both of the indoor and outdoor variety.
4 Outdoor Water Parks in Pennsylvania You'll Love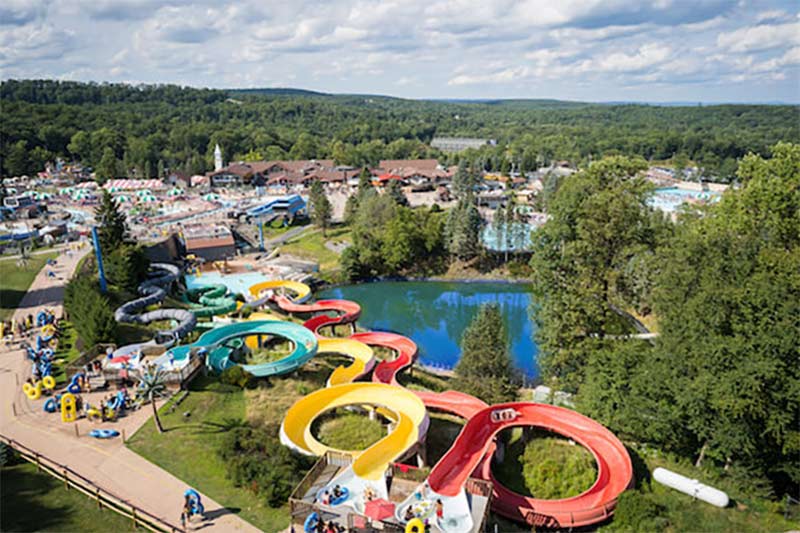 Address: 301 Resort Dr, Tannersville, PA 18372, United States
Tickets: Camelbeach day tickets with full access to the park start off at $45 per/person, while a spot by the beach could go for just $35.
There are also multiple formulas available, with discounts applicable to groups of 2, 3, and 4 people.
What Makes Camelbeach Mountain Outdoor Waterpark Unique?
This is one of the best, most comprehensive, and fun outdoor waterparks in Pennsylvania because it caters to the needs of both children and their parents.
The waterpark is huge and counts 14 main water slides and rides, enough to keep an active family busy and entertained for a whole weekend.
Among the most popular rides, children will surely get a kick out of the Triple Venom water slide, the Titan (8-stories waterslide), or the exciting Rival Racers.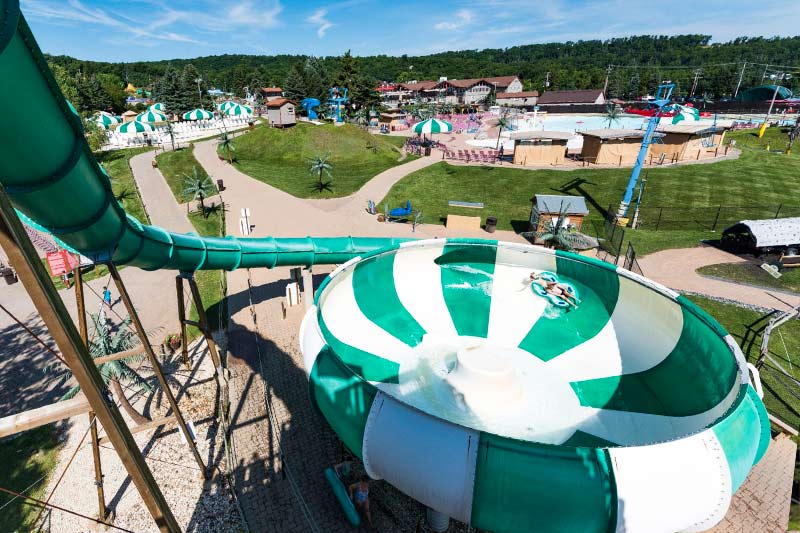 For younger children who are still getting the hang of water and swimming, Mummy's Oasis is both fun, relaxing, and safe.
As far as amenities go, the bathrooms are consistently reviewed as clean, and the park is dotted with plenty of food and refreshment options, with even adult drinks available!
My only advice: avoid the weekend as much as possible.
This is a very popular waterpark, and lines for a single ride or attraction can go as long as 1 hour during the weekend, while during working days access to rides is much faster and easier.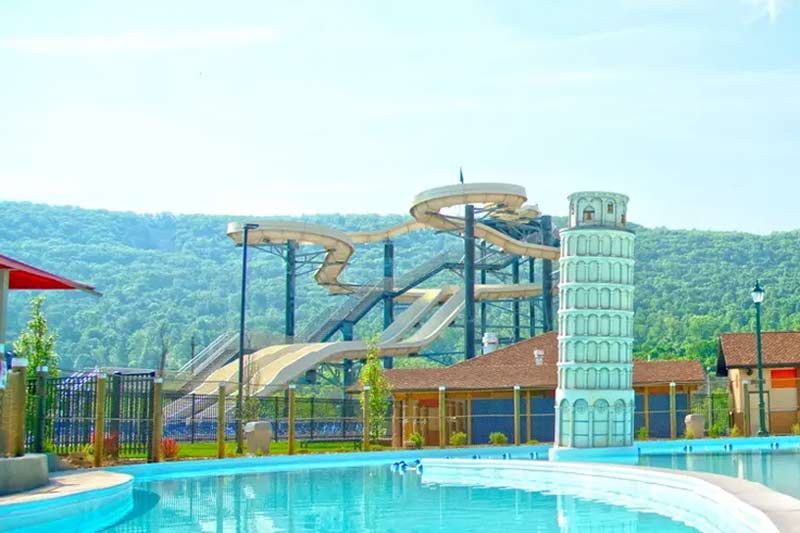 Address: 4352 E Pleasant Valley Blvd, Tipton, PA 16684, United States
Tickets: The All-day fun passes are very reasonably priced at $21.95 May through September, with a slight increase at $31.95 June through August.
What Makes Laguna Splash Water Park Unique?
The 15 water rides at Laguna Splash Water Park are designed to appeal to children of all ages, with many attractions especially suitable for small children.
Parents and older children will have the time of their life between the Twin Twister (an amazing water slide with even a stunning view of the surrounding mountains and rolling hills), the Great White, or the Leaning Tower of Pisa.
For more chill and relaxing rides, you can spend a fun and safe time splashing in the water at the Laguna Splash Mushroom pool, or the cute Twin Slides and Frog Slide.
One of the biggest highlights of this park is certainly the prices: especially for larger families with many children, the cumulative price of entrance tickets for any park could be huge, but the Laguna Splash Water Park is much cheaper than the average amusement park.
Laguna Splash is also known for hosting many events throughout the year, even during the fall.
Summertime is great for food drive donation events, fireworks, or dog-friendly weekends. Coming up this September you can't miss out on Grandparents Day, or Harvestfest.
Be sure to keep an eye on their " rel="noopener" target="_blank">upcoming events calendar.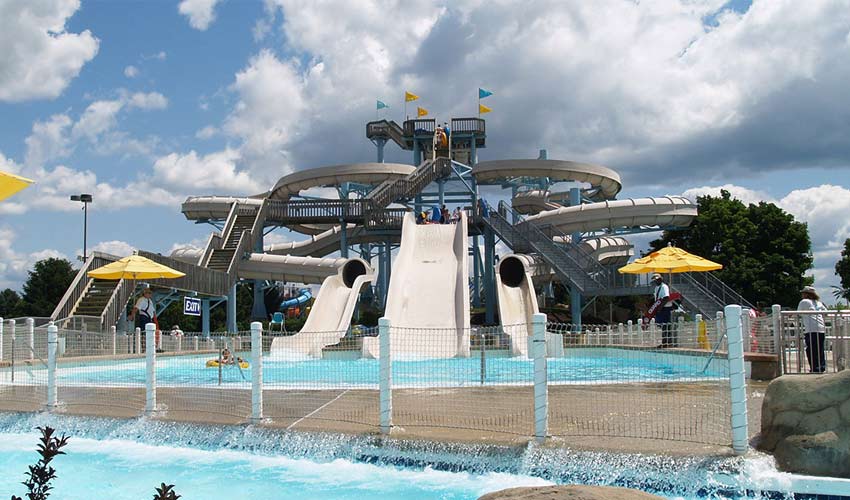 Address: 4000 Dorney Park Rd, Allentown, PA 18104, United States
Tickets: the basic daily admission ticket costs $45/per person, while the After 4PM admission ticket has a discount and costs $35/per person. There are also discounts available for couples, and even a convenient "bring a friend" ticket option.
What Makes Wildwater Kingdom Unique?
This is both an amusement park and a waterpark, and the ticket price is all-inclusive. When you're done with the waterslides and pool, you can still have fun on the regular amusement park rides.
Water slides at the Wildwater Kingdom are rated based on "thrill" level, which is a great way to understand beforehand if you or your child are up to a specific ride.
On the lower thrill level, young children will enjoy the Lollipop Lagoon, Seaside Splashwork, or the Runaway River.
For the brave and bold, the Boa Blaster, the Constrictor, or the Python Plummet will give the right amount of adrenaline, and make your day.
For the Mar Schultz comics fans, the park has a section dedicated to Snoopy and the Peanuts. Coming up this autumn, you can check out the Peanuts-themed events like The Great Pumpkin Fest, available from September through October.
There is a wide range of events so be sure to check out the official page to stay updated.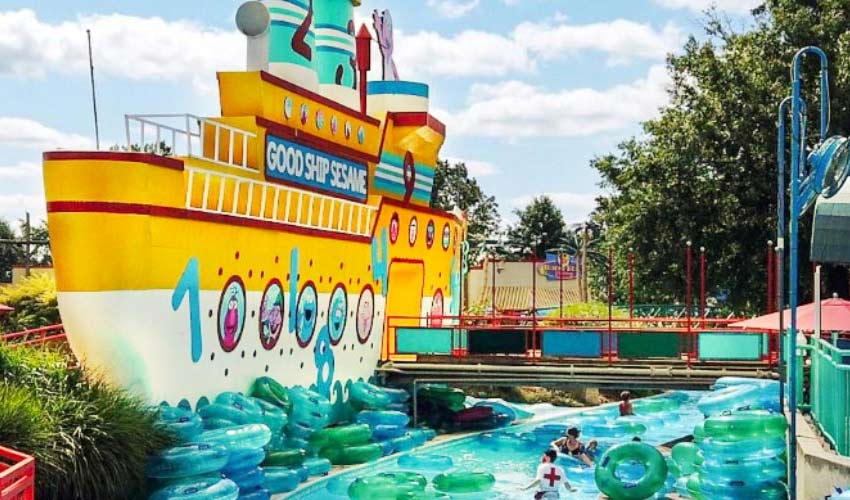 Address: 100 Sesame Rd, Langhorne, PA 19047, United States
Tickets: The weekday group ticket is currently on sale at $35, while the regular one-day ticket with one free visitor is on sale at $59. The any-day ticket and any-day group ticket can be very convenient as they can be used "any day", and the price rise is only $10.
What Makes the Sesame Place Special?
Sesame Palace is themed after the super popular and beloved show Sesame Street, with rides and attractions, as well as events, dedicated to the show and its characters.
The rides are colorful and beautiful to look at, but also extremely fun for children. Among the most popular rides, the Water Park includes Ernie's Waterworks, the Count's Splash Castle, Elmo's Silly Splashy Slides, and more.
The park also includes a dry-attractions section, which features regular amusement park rides that are also Sesame Street themed: Captain Cookie's High Castle's Adventure, Elmo's Cloud Chaser, and the Monster Clubhouse to name a few.
Shows and Parades with the Sesame Street Characters singing, dancing, and interacting with children occur daily at the park and are one of the favorite experiences for children and families.
While the park is clean and generally visitors are satisfied with the rides, food options can be overpriced and just not that good.
There are several restaurants inside the park, so take your time to review the different menus (Cookies Monster Funnel Cakes, Abby's Backyard BBQ, Elmo's Pizza Kitchen, and much more) to avoid disappointment.
2 Indoor Water Parks in Pennsylvania for the off-season: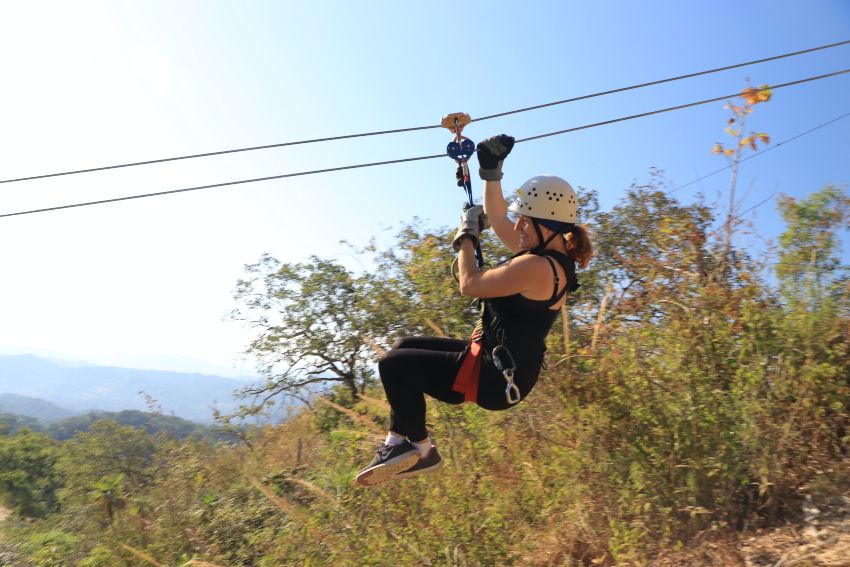 Address: 250 Kalahari Blvd, Pocono Manor, PA 18349, United States
Tickets: The Kalahari Indoor Waterpark can be accessed by those staying at the Kalahari Resort, however, a limited amount of all-day tickets are available to everyone. Prices span from $62 to $99 per person, depending on the day and season. You can book your tickets here.
What Makes Kalahari Indoor Waterpark Special?
This indoor waterpark is a perfect choice to spend an amazing time with family, year-round and regardless of the weather.
The Kalahari Waterpark is a place where families with children, friends, or couples likewise come to have fun and relax, and the wide array of rides reflects that.
There are almost 30 official rides at the indoor waterpark and many fun areas for toddlers that are not listed on the website:
For children and toddlers: the peaceful Wave Pool, Tiko's Watering Hole, and Coral Cove are great options for a fun time in perfect safety.
For adults and teenagers: from the Cheetah Race to the Anaconda, the park counts over ten different waterslides, at different thrill levels.
Must be 21+ years old: the Paxton Grotto Swim Up Bar is perfect for grown-ups to enjoy a fancy cocktail in the water, relax and have a conversation in a magical and fun setting.
Extras: the park includes a couple of attractions not directly related to water but still super fun. There is an external adventure park where you can get on a rope course and even try ziplining.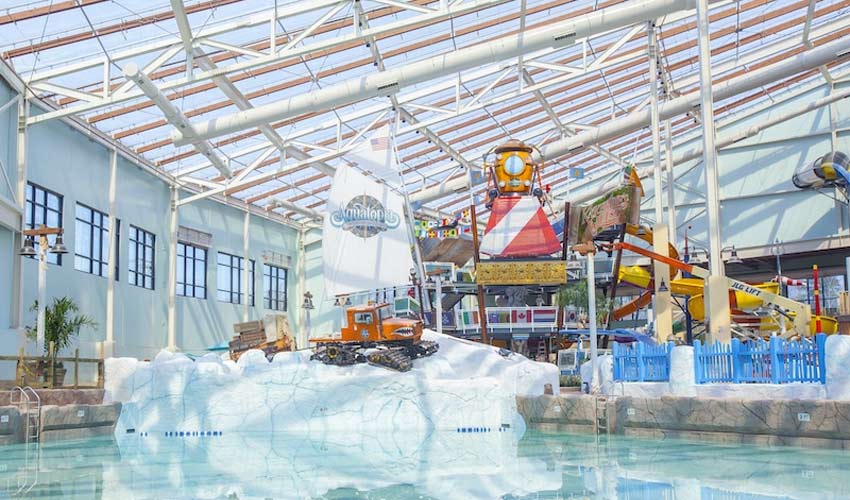 Address: 193 Resort Dr, Tannersville, PA 18372, United States
Tickets: Individual Day tickets to the waterpark are for sale starting at $79.
This park is also part of the Camelbeach Resort group, so if you're already staying at the resort you're eligible for a significant discount.
If you want to also purchase a Camelbeach ticket, there are discounts available for double entrance tickets.
You can check out the various ticket options here.
What Makes Aquatopia Indoor Waterpark Special?
If you think indoor waterparks can feel "oppressive" think again. The glass vault ceiling of Aquatopia gives it an open-air feel, letting natural light filter through and allowing you to look up at the sky, even on a rainy day.
From water slides to pools, the rides are so many, that it's virtually impossible to cover them all in one afternoon, so you can be assured you'll have a day filled with fun activities.
Food options are varied and high quality, even though a bit pricey, but nothing out of the ordinary compared to other waterparks. From Italian to burgers, to pizza, you are bound to find something for your and your family's palate at Aquatopia.
You can even plan your party and celebration at the Aquatopia Indoor Waterpark. Check out the contact info and specifics to host your birthday party at the park here.
More Fun Attractions and Water Parks
If you can never have enough amusement parks and water parks, check out my latest article on the best indoor waterparks in the US to have fun this winter, or the best amusement parks in the US to check out this year.