You may not know this (or maybe you do), but Oklahoma is an amazing place for playing golf.
The state's open plains and rolling hills are what make the Oklahoma golf courses great. Plus, there are courses for every skill level, from novice to expert, so there's no need to worry if you're no Tiger Woods.
Heading to Oklahoma to golf it up on one of their 102 golf courses could be just what the doctor ordered. There are quite a few Oklahoma state parks with golf courses, so get ready for blue skies, plenty of greenery, and a ton of fresh air.
I've put together a list of the 16 best public golf courses in Oklahoma so there's no need to worry about any pesky membership fees! You will find everything from championship greens, to budget courses and stunning greens.
Here we go…
Budget Friendly Oklahoma Golf Courses
Golf doesn't have to cost an arm and a leg, and luckily, some of the top golf courses in Oklahoma are budget-friendly.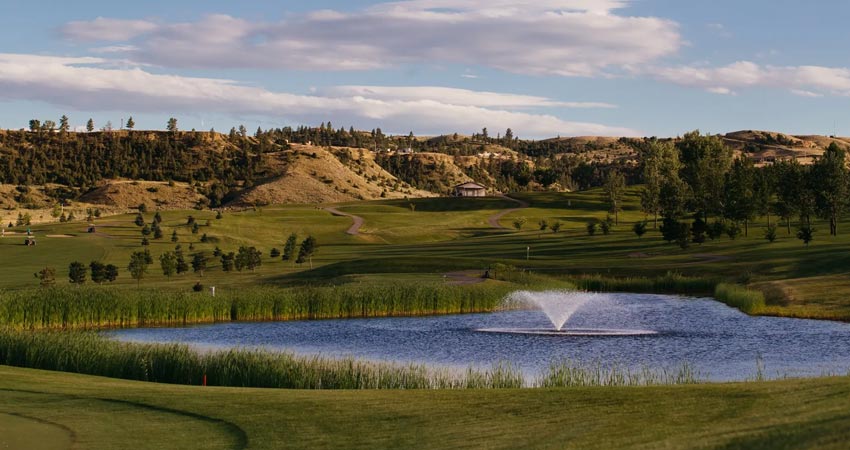 Pryor Creek Golf Club has been running since the 1930s. It may have a relatively short yardage but the-18 hole, par 17 course has plenty of challenges.
The golf club is great for seasoned golfers as well as novices, and many champions have trained here – including the Pryor Creek Tigers.
Its green fees will set you back $24.50 ($25.50 on weekends), and, with beautifully manicured lawns and chipping greens, we think it's a real bargain.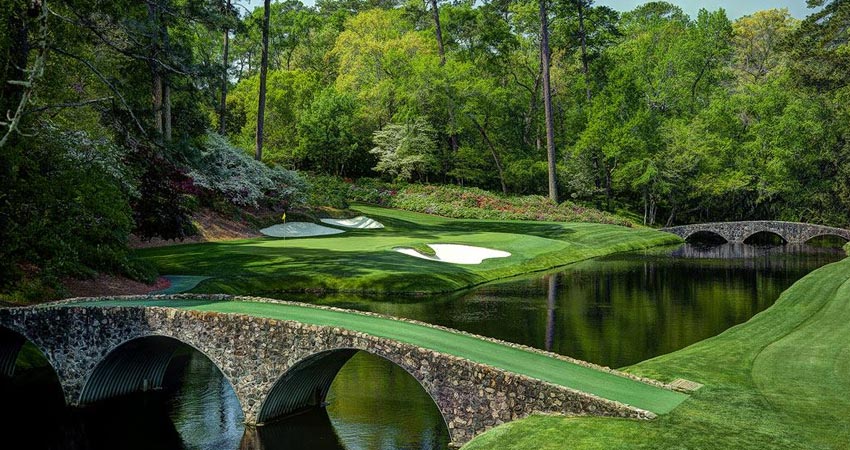 If you're looking for one of the more challenging southwest Oklahoma golf courses, then give Twin Oaks a go! This 18-hole golf course has a rating of 122 and a slope rating of 69.9.
With $12 green fees on weekdays and $18 on weekends, it's one of the most affordable places to play golf in Oklahoma.
The golf club is nearby to the iconic Chisholm Trail, an old cattle route filled with history and incredible landscapes.
If you have time after your game, we highly recommend driving the trail and checking out the small towns and museums.
This has GOT to be one of the best golf courses in Oklahoma City for families.
The course has a full-service restaurant with an all-day breakfast (yeeees!). Or, you could take the short three-mile trip into Downtown Oklahoma City and find something there!
It has nine holes that take around 1.5 hours to complete, so there's no need to panic about the kid's attention span.
Green fees cost $11 for adults, $8.50 for seniors, and only $2.75 for juniors.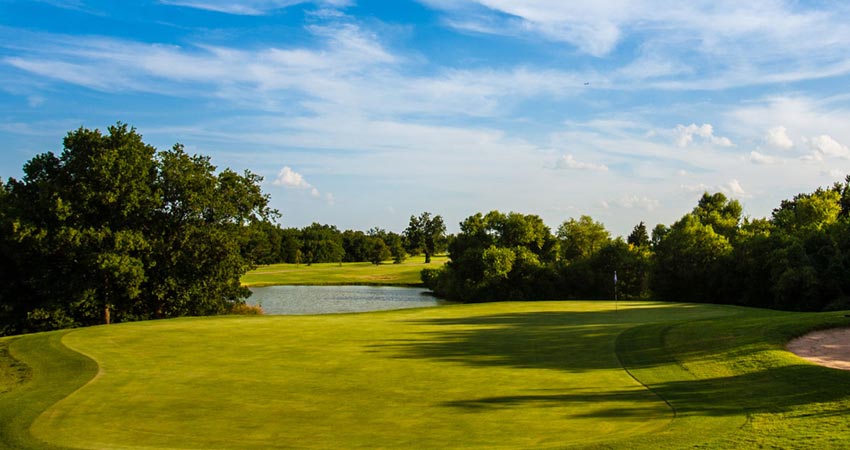 The Earlywine Golf Club has two wonderful golf courses to choose from – the North Course and The Lakes.
They both have green fees of $27 on weekdays, but going at sunset could save you a pretty penny as fees are as cheap as $9.
Head to the North Course for elevation changes and a couple of par-4 holes for advanced golfers.
The Lakes has several water hazards (as its name suggests) which offer golfers a challenge as well as some scenic eye candy.
Top Oklahoma Golf Courses Near Tulsa
There is an awesome selection of golf courses near Tulsa.
If you're keen to have a holiday filled with golf, then basing yourself in the city and heading to nearby golf courses during the day is a TOP plan.
Here are some of the best Tulsa public golf courses.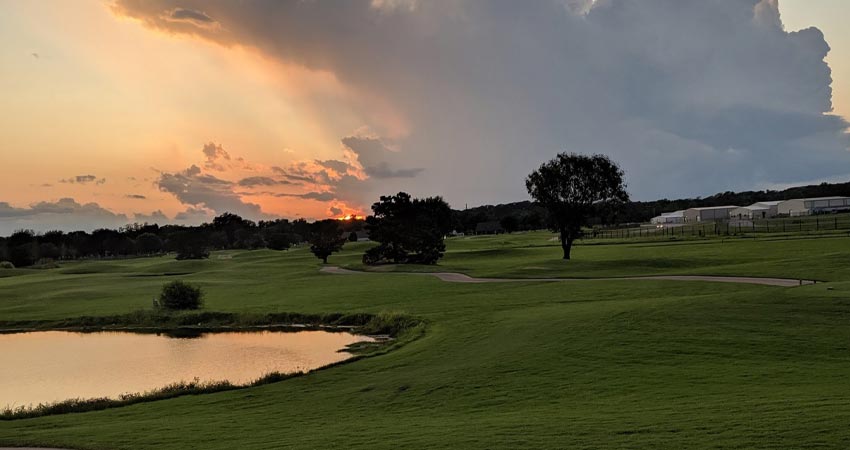 South Lakes has 18-holes of championship golf and it plays 6,600 yards from the back tees.
Beginners, don't be deterred as this course is still beginner-friendly.
The course has large bent grass greens and seven lakes.
It is extremely budget-friendly, costing $24 on weekdays and $26 on the weekends. There are also discounted tickets for seniors, juniors (ages 13-17), and youths (ages 12 and below).
The South Lakes require proper golf attire to be worn. Turn up in gym shorts, tank tops, or cut-off t-shirts and you'll be turned away, so it's time to don those pleated pants and polo shirts.
Mohawk Park is in north Tulsa and has two of the area's most historic (and challenging) golf courses.
Each course has a whopping 36 holes, perfect for those of you that could play golf all day long.
The course is also Tulsa's first certified FootGolf course (by the American FootGolf League), so for something a little different, it's worth checking out!
Woodbine, built in the late 1920s, has generous fairways, large green, and small water hazards. It has mature oaks and pecan trees that make this course a breath of fresh air. Pecan Valley has tight driving areas and the front nine has been made into a nine-hole course of par 3's and 4's.
Green fees cost $33 on weekdays and $37 on weekends, with twilights, senior, and junior discounts. All their fees include a cart, so it's great value for your money.
This is one of the best golf courses in Tulsa and home of the Tulsa Golf School.
It's just over 11 kilometers from central Tulsa, so it's easily accessible if you're staying in the city.
The 36-hole facility has two courses, Olde Page and Stone Creek.
Old Page is loved for its subtle contours and rolling terrain and was the host of the 1988 USGA Women's Pub-Links Championship.
Stone Creek has a more modern layout and was built 10 years later in 1987. In 1988, it was named one of America's Top 50 New Public Courses.
Prices at both courses are the same, $24 on weekdays and $29 on weekends, with discounted prices for twilight, senior, and junior green fees.
Not only is Cherokee Hills one of the best golf courses in Tulsa, but it's also one of the TOP golf courses in Oklahoma.
It's only 22.5 kilometers outside of central Tulsa, taking around 18 minutes by car.
It was designed by the well-known architect Perry Maxwell in 1924, and more recently, redesigned by Tripp Davis.
It's a challenge for even the most accomplished golfers, with steep elevation changes, tree-lined fairways, and water features.
Unsurprisingly, a fantastic golf course like this isn't cheap! Green fees are as high as $60 on weekends, and as low as $30 during twilight (after 5:30pm).
The Most Scenic Oklahoma Golf Courses
Golf is a great sport for heading outdoors and getting some fresh air.
Luckily, Oklahoma's beautiful landscape means that its golf courses are just as lovely. Here are some of the best public golf courses in Oklahoma with incredible scenery.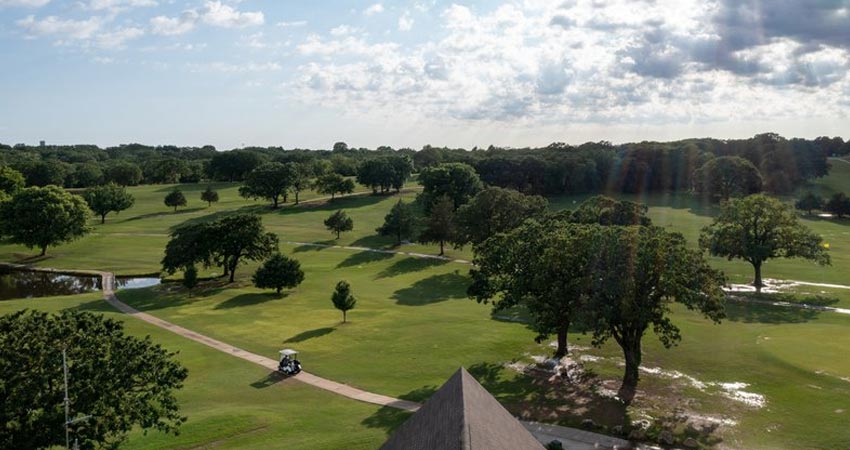 You'll find this awesome golf course in Lake Murray State Park.
It's an 18-hole course with beautiful water hazards (including a natural waterfall!), mature oak trees, and tree-lined fairways.
It's a wonderful course for all ages and abilities, AND there is accommodation on-site so it's great for families.
The Lake Murray Lodge has 32 guest rooms and there are 56 cabins for rent in the state park. Aside from golf, there's ATV, water sports on the lake, and even mini-golf to keep you busy.
Green fees are very reasonable, with varying prices across the week. The cheapest time to play is on a Monday when the green fees are as low as $20.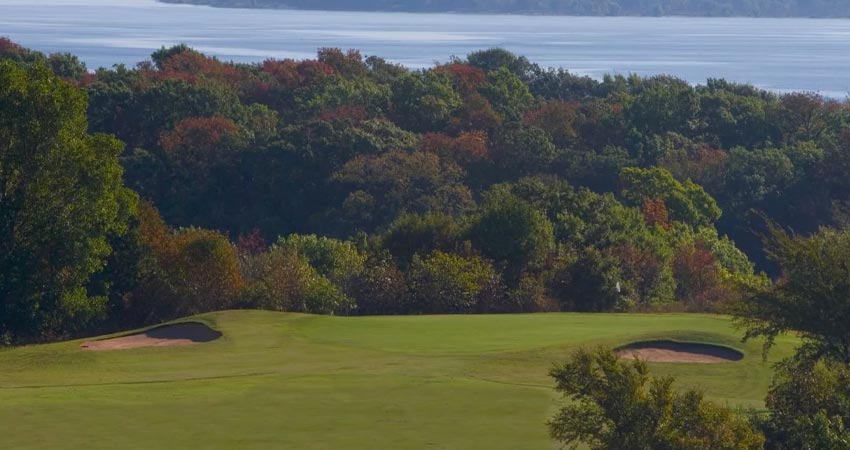 Not only is Chickasaw Pointe Golf Club extremely beautiful (think rolling hills, Bermuda grass fairways, and lake views), it is also rated the #2 public golf course in Oklahoma, and #16 in the US. Impressive!
It's a relatively young golf club, designed by Randy Heckenkemper, with a 7,085-yard Championship layout.
There are four sets of tees and it's at par 72. All golfers no matter their skill level can enjoy the course.
Green fees are 69$ on the weekend and $49 on weekdays.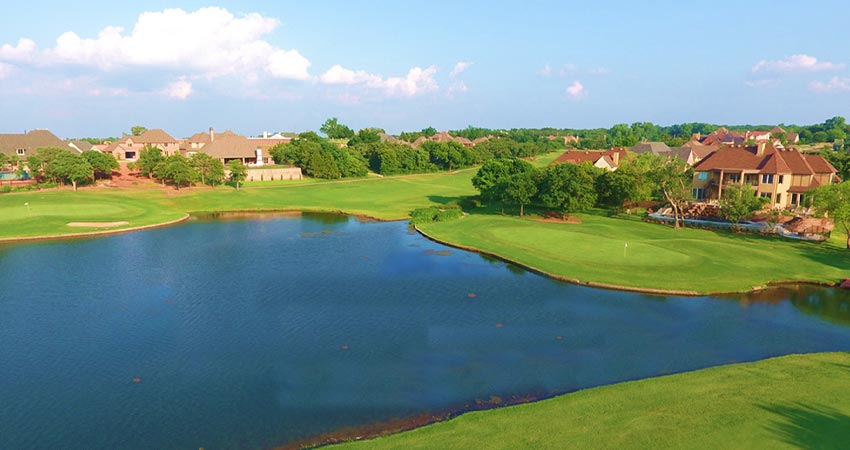 The Golf Club of Edmond is located on the former Harper-Turner Cattle Ranch.
Its historic setting features rolling hills, water hazards and features, and mature trees.
It is only 15 minutes north of Downtown Oklahoma City and is said to be quite luxurious despite being a public golf course.
This 18-hole golf course is great for all abilities! Green fees start at $60 a day or $40 for seniors or at twilight.
Cedar Creek is in the scenic Beavers Bend State Park.
It is known as one of the most beautiful golf courses in Oklahoma and it sits at the foothills of the Kiamichi Mountains.
The 18-hole par 72 course is long and narrow. It is surrounded by pine forests and Broken Bow lake. Its namesake Cedar Creek runs through the course and is an interesting hazard!
Green fees are $40 ($30 at twilight) with junior and senior discounts. There is plenty of lodging in and around the state park, as well as other recreational activities, making it a great place to go for a family vacation!
Most Challenging Oklahoma Golf Courses
Are you looking for a little bit of a challenge?
Then hang tight as we're going to be bringing you some of the most difficult places to play golf in Oklahoma.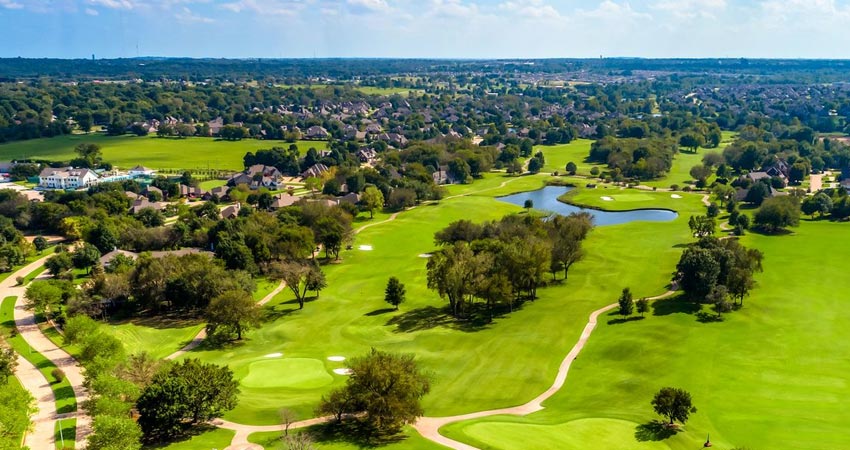 This course is up there as one of the top in the state.
The 7,012 yard is a long par 70, so it's a challenge for even the most experienced players. It has a link-style layout with woods, berms, and lakes.
The club has memberships and daily green fees. The greens fees are $70 over the weekend and $60 during weekdays. These include the cart and range balls.
This Oklahoma Golf Course will really have you on your toes.
This 18-hole par 71 course will need your thinking game to be on top form.
There are several placement shots needed to avoid the trees, plus the Choctaw creek runs right through, so you'll have that to think about!
Green fees are a very reasonable $25 on weekdays, $20 on weekdays, or $15 per nine holes.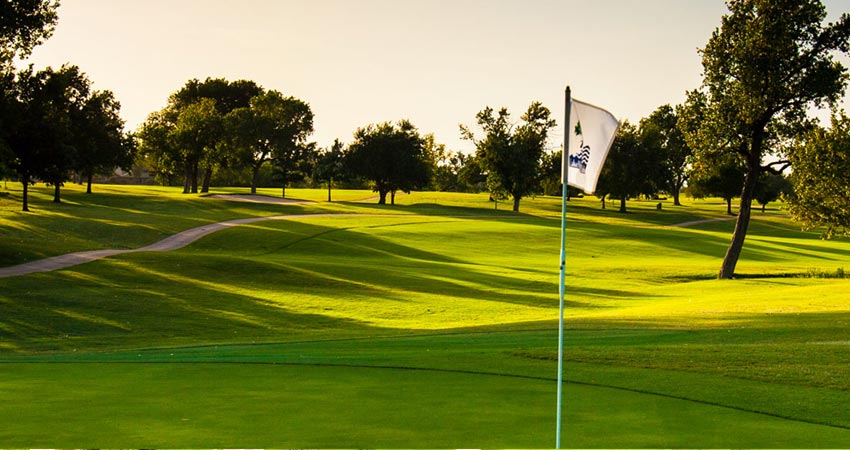 Oklahoma is positively drowning in amazing lakes, and the Lake Hefner Golf Club is the perfect place to enjoy scenic lake views AND play some golf.
There are two golf courses to choose from, The North Course and The South Course.
They are both equally as challenging, with bunkered fairways and water hazards.
The Lake Hefner Golf Club has a restaurant and golf carts, and green fees cost $27 with twilight, senior, and junior discounts.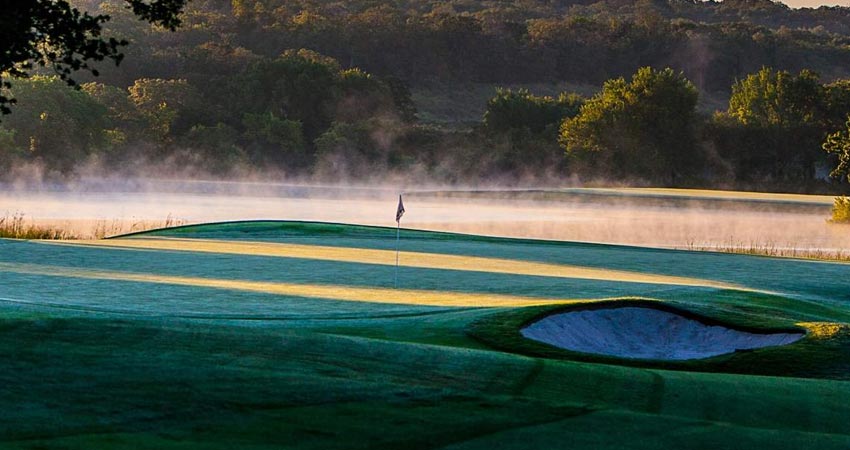 One of Oklahoma's more challenging golf courses, and named one of the "Top 100 Courses You Can Play" by Golf Magazine, Karsten Creek is a must-visit for any golfer.
The course has thick forest, a sunken creek, and a par four stretching 464 yards.
Now that's tough.
While most playing corridors are wide, wayward shots will be punished by the tree-line fairways.
This is definitely one of the pricier golf courses, and green fees are a whopping $400 (including the cart and range balls). BUT, if you go with a member, it's half the price at $200.
Let's Play That Golf
There you have it, the top 16 Oklahoma golf courses.
Hopefully, you're now inspired to make a special trip to Oklahoma for some sweet sweet golf, or, at least, add a round of golf in on your next Oklahoma vacation.
While you're in the state, why not check out its best waterfalls?