Having the best coolers for camping could make or break your camping experience.
Whether you're just planning a backyard camp with your kids, or preparing for an upcoming week-long adventure in the wilderness, there are coolers made specific to your activity, budget, and requirements.
If you're new to the camping world, you'd see them as:
Lunchbox-like insulated coolers – These coolers are super portable, lightweight, and smaller in size. The downside is they also can't insulate for long periods, so these should only work for day-use picnics or similar activities.
Hard-plastic coolers – If you're in search of the best ice chest for camping you remember growing up, I'm sure hard coolers are what's on your mind. They're the most common type of coolers and are heavier, more durable, and provide longer insulation than lightweight insulated bags. They come in various sizes and prices as well.
Electric coolers – These coolers require a power source (solar panel, car battery, heavy-duty power banks, or a trip to the nearest power station). You can depend on these coolers to keep ice hard and your beverages cold, but these coolers are quite expensive.
I've obsessed with picking ours for months, so I hope this camping cooler shopping guide would serve you as well. Don't miss the top 7 coolers in the market that made my decision quite challenging (and learn which one I went with at the end).
Things to Look for When Buying the Best Coolers for Camping
Like anything in life, coolers for camping are not made equally. The insulated lightweight bags are not enough for our needs, while the electric-powered coolers are quite an overkill for a few days of camping.
Size and Storage Capacity
The best coolers for you might not be ideal for another person. A good example of this is shown on the size of the cooler (the external height/width/length measurements) vs. the actual storage space a unit offers.
The cooler size may be an important consideration if you have very limited space in the car. Of course, the storage size will be essential in figuring out how much volume you can store inside. Do note that the advertised storage size (such as 50 quart/60 quart) doesn't necessarily mean you can store 50qt or 60qt of items that you need kept cold. The storage area often includes spaces for both insulated and non-insulated spaces.
Materials
Except for the lightweight coolers that are usually made from fabric with insulation foam, hard coolers and powered coolers can be made using a mix of the following materials:
Plastic – Many cooler brands stick to an all-plastic solidly-built cooler model with fewer hinges and just a single piece (or a minimal number of pieces) for maximum insulation. Some brands use metal hinges, while others opt for completely plastic materials.
Rubber – Rubber is often used to make the gap between the cooler's box and lid air-tight. Other parts where rubber can be useful include the handles, wheels, drain plugs, and even for branding (logo of the cooler company).
Metal – Most coolers use metal for the hinges or handles, while others incorporate metal inside hard plastics for a stronger build.
The materials a cooler uses will affect its durability and price.
Insulation Capability
The main reason you're buying a cooler in the first place is to keep items as cold as possible during your trip, right? As such, the insulation capability is important when weighing your options.
How long do you need your drinks and other items cold in your cooler? In general, here are some guidelines:
Insulated bags can last a few hours.
All hard plastic and powered coolers could easily last for a few hours or up to 1 day.
Some hard plastic coolers could reach up to 3 days, but you'd need higher-quality units if you'll need coolers to reach up to 5 days.
Only a few plastic coolers can last up to a week.
Most electric coolers can keep your items cold for as long as you need, but this will depend on the power source.
Note that weather and climate could affect insulation performance of a cooler, so adjust your expectations appropriately.
Wheels, Lids, and Handles
You might think these details are not important, but if you're going to be dragging the cooler up a mountain, or through rugged paths, then you have to consider how portable the cooler is.
Wheels are often found in bigger models, so you could just push or pull them to your destination. If you plan to camp in areas with rough terrain, you have to check the wheel materials or quality before buying.
Lids (a handle placed on top of the cooler) or side handles could both be useful in carrying the cooler. Of course, the lid is useful if you only have one hand to carry, while side handles are better for bigger coolers with two people carrying the unit.
Design and Accessories
The design of coolers can vary between brands and models. I believe this consideration would fall under personal taste.
What you should look out for design-wise include:
Non-insulated storage
Drain plug (where it is located and how it drains water shows you how easy/difficult it is to clean the cooler)
Waterproof cover (protect your items from the elements, make sure the cooler you pick is waterproof)
Accessories like built-in can openers or detachable water bottles
Bike attachment option (some wheeled models can be attached to the back of your bike)
Bear-resistant coolers (this is important if you're planning to camp in an area known for bear sightings).
My Top 7 Best Coolers for Camping
Now that I've listed considerations when picking the best coolers for camping, let me share to you the 7 models that I chose from: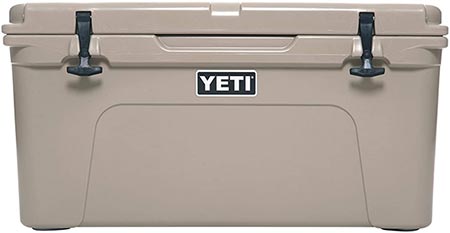 Quart Capacity: 56 quart
Why it's Special: This indestructible cooler is bear-proof, roomy, and keeps ice frozen for up to 4 days.
Item Dimensions LxWxH & weight: 30.5- x 17.5 x 16 inches (34 pounds)
Price: $350
Yeti is a very popular brand with loyal customers spanning decades. Most of its coolers look similar to the Tundra 65 – the design is very retro. It has one of the most impressive constructions out of all the coolers I checked out. If you like your coolers simple, but durable, and you have a bigger budget, then check this model out.
PROS:

Permafrost Insulation
FatWall design and Rotomolded construction
Coldlock gasket with NeverFail hinges
Comes with dry goods basket

CONS:

No wheels for something so bulky
Runner up: If you're looking for a cheaper bear-proof cooler, check out Coleman's 50-Quart Rolling Cooler.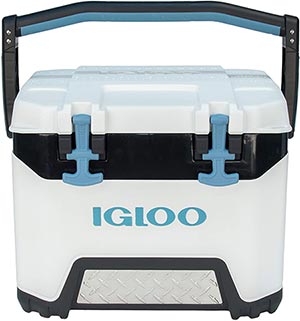 Capacity: 25 quart
Why it's Special: Small, but with an amazing design and insulation that competes with the bigger models.
Item Dimensions LxWxH & weight: 19. 59 x 13. 25 x 15. 70 inches (29 pounds)
Price: $70
This affordable, portable, and well-designed ice chest can take in up to 35 beer cans and keep it cold for up to 4 days. The Igloo BMX may be the smallest cooler on this list, but its blow-molded construction means it is just as heavy-duty as the rest and can definitely take the ruggedness of camping.
PROS:
Affordable
Durable and easy-to-carry construction
Lightweight
Good insulation
CONS:
Runner up: Yeti's Roadie 24 is a good alternative to the Igloo BMX – it is just as portable, but also durable and bear-proof.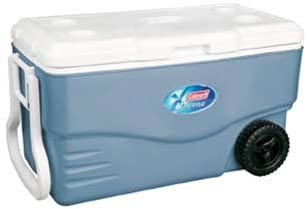 Capacity: 100 quart
Why it's Special: It's surprising to know that the most affordable cooler on this list also has the biggest capacity offered. Plus, it comes from the well-known brand Coleman, so you're guaranteed a durable product.
Item Dimensions LxWxH & weight: 17 x 36.4 x 17.9 inches (1.9 kilograms)
Price: $80
If you love the look of the classic Coleman ice chest, you'd be in love with this cooler model as it features the same sturdy construction (that you can seat on), built-in cups, strong handles, and heavy-duty wheels you probably grew up with. The Xtreme 5 can keep ice-cold for up to 5 days and hold over 160 cans.
PROS:
Affordable
Made in the USA
Big storage space
Portable thanks to its wheels
Features leak-resistant channel drain
CONS:
Runner up: If you're looking for something cheaper, a bit smaller and an all-around cooler, check Coleman 52-Quart Cooler. It's only $40.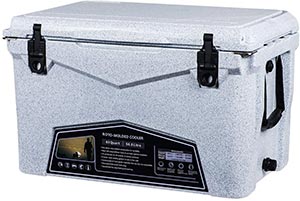 Capacity: 61 quart
Why it's Special: As a rotomolded cooler, you can expect that this Xspec is durable with enhanced insulation that can withstand the elements of the great outdoors. Xspec has a simple shape, but with extra pizzazz thanks to the granite, camouflage or mint green colors.
Item Dimensions LxWxH & weight: 28 x 17 x 18 inches (31 pounds)
Price: $195
The Xspec 60qt Rotomolded Cooler is made for the outdoors – it has nonslip feet, quick-to-open latches, solid structure, airtight design and the capability to keep items cool through a weekend of camping. It comes built-in with a compass, in times you get lost, and bottle openers, fish ruler and other nifty accessories.
PROS:
Value for money
Impressive insulation quality
Good construction
CONS:
Limited 30-day warranty (others come in 5 to 10 years)
Runner up: The OtterBox Venture 65 Hard Cooler looks similar to the Xspec. It is also rugged and provides excellent insulation for a camping trip that could take a couple of days. Plus, this one has a lifetime warranty.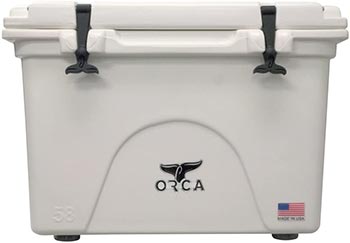 Capacity: 58 quart
Why it's Special:  Top-notch insulation in a long-lasting, compact design
Item Dimensions LxWxH & weight: 28 x 21 x 20 inches (34 Pounds)
Price: $340
ORCA 58 quart may look like an ordinary ice chest at first glance, but this cooler is so much more. It features high insulation capability and Rotomolded construction, which maintains food temperatures of 40º or less the same temperatures until 6 days.
Design-wise, the contrasting white hard plastic walls and lid with the black rubberized gasket, handles, and the orca-inspired latches that serves as the centerpiece. Not only is this model well-designed and provides excellent insulation, it is also one of the favorite bear-proof coolers from the Interagency Grizzly Bear Committee.
PROS:
Excellent insulation (comes with airtight rubber gasket)
IGBC-certified
Provides great drainage
Highly durable and compact design
Comes in 11 solid colors
CONS:
Runner up: I also love the design of Magellan Outdoors IceBox Dual Open Hard Sided 20 qt Cooler. Its vibrant red hard plastic color with metal handles and white contrast hinges look super classy (it's priced at $120, which is way cheaper than other high-end brands on this list).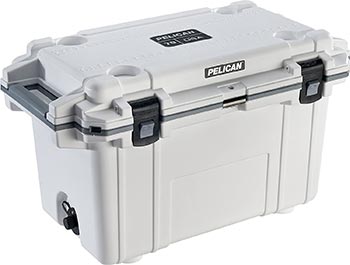 Capacity: 70 quart (also available in 20, 30, 50 and 150 quart)
Why it's Special: This heavy-duty outdoor cooler is perfect for days-long camping and adventures thanks to its 200+ can capacity and ice retention of up to 10 days.
Item Dimensions LxWxH & weight: 36 x 20.3 x 21 inches (33 pounds)
Price: $350
If your goal is to keep food, meds and other items cold for long periods while camping, hiking or fishing, the Pelican Elite cooler won't let you down. It was built with hard-molded plastic all around (including the carry handle), 3 inch locking latches, reinforced lockable hasp, stainless steel bottle opener, anti-shear hinge system, and molded-in tie-down slots.
PROS:
Impressive ice retention
Built-in beverage holders
Durable construction
Lifetime warranty
 CONS:
Runner up: If you're looking for something about $100 cheaper than the Pelican, check out RTIC 65-quart Cooler that's also super-insulated, highly durable and performs almost like expensive brands.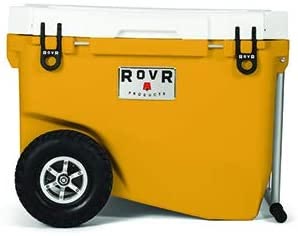 Capacity: 60 quart
Why it's Special: This rugged, all-terrains, "cooler on wheels" is not only a sight to behold, it also boasts a massive storage space, durable build and portability that only wheeled coolers can provide.
Item Dimensions LxWxH & weight: 28 x 22 x 21 inches (48 Pounds)
Price: $540
If you're bringing along a dog and kids (under the age of 5) to your camping trip, it's only understandable that you'd want a cooler that is easy to bring. After all, you still have bags of clothes, dry food supplies, toys, and other items that you'd be carrying.
While the RovR RollR 60 is the most expensive out of all the best coolers for camping on this list, it is also the most durable and most dependable for rugged and uneven terrain. Every part of this cooler screams durability, from the rubberized gasket to its non-skid feet. And with its ability to retain ice up to 10 days, I think you're definitely paying for a top-notch product.
PROS:
9-inch inflatable wheels
Durable and well-designed construction
Good insulation
Comfortable handle
Super portable even in rough terrain
Can haul more stuff on top of the cover
Towable by bike (accessory sold separately)
CONS:
Runner up: If you need something bigger, the Pelican 80QT Elite cooler is a good alternative. For around $515, this hard-sided, rugged cooler has 80 quart capacity with lifetime warranty.
Trying Out the Best Coolers for Camping
My choice? I went with the wheeled RovR RollR 60. It's the best choice for our family with two little kids, so dragging it with our trips is stress-free and manageable even by one person.
Now that you've got the best coolers ready to go, have you decided where you'd like to test it out first?
Here's my recommendation for the best campgrounds in the US for families, to get you started with your planning.