Few things are more relaxing than lying down on an inner tube and drifting away down a river, whether real or manmade. Today, we're looking at the best lazy rivers in the US to catch a peaceful wave.
Resorts and Hotels With the Best Lazy Rivers in the US
Staying in a waterpark resort or a hotel is a common way for couples, families, and groups to beat the summer heat.
While pools, water slides, and splash pads are where the action is, drifting aimlessly along a lazy river has its own unique charm, especially if you can get drinks poolside.
These are the top resorts and hotels with lazy rivers in the US.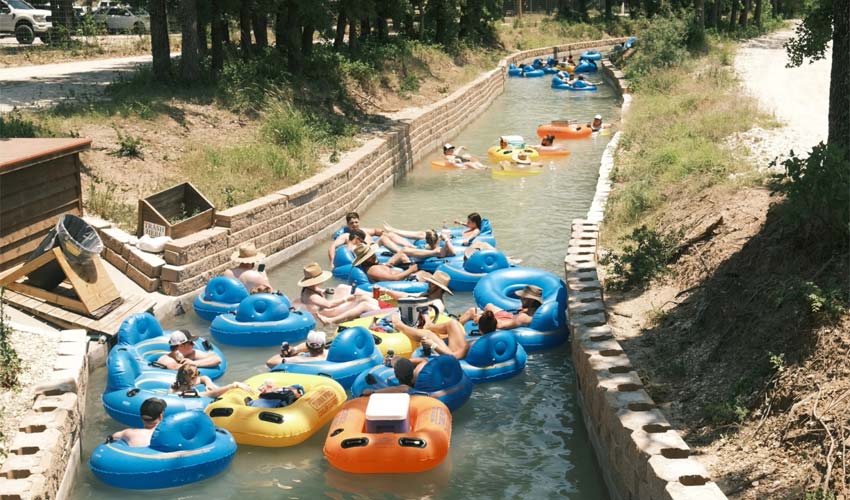 Waco Surf's lazy river is a whole mile long, making it the longest lazy river in the US and the world.
The lazy river is in the section of the park called The Wetlands, which is also home to The Wedge water slides.
You might want to surf at the Surf Center, featuring a two-care surf lake, reach great heights at the Cable Park, or hang out at the Beach Club.
There are a variety of choices of accommodations as well; Waco Surf Hotel for couples and small families, The Cabins for larger groups, Waco Surf Houses for longer stays, and The RV Hookups for the family on the go.
Anaheim has much more to offer to tourists than Disneyland; it's also home to Great Wolf Lodge's largest indoor water park!
The lazy river in the Anaheim resort is called Crooked Creek and is a favorite of kids, teens, and adults alike to relax in between the action-packed water slides (with varying degrees of difficulty), tube ride, and wave pool.
Younger kids will have fun at their water fort treehouse, splash pool, and water playgrounds.
There's truly something for everyone here, and It's no wonder this water park made it to our list of the best best indoor waterparks in the country.
You can choose from their standard, themed, and premium suites, or if you have an RV, there's an RV park and hookup down the street from the lodge, and you can simply buy day passes to enjoy the waterpark.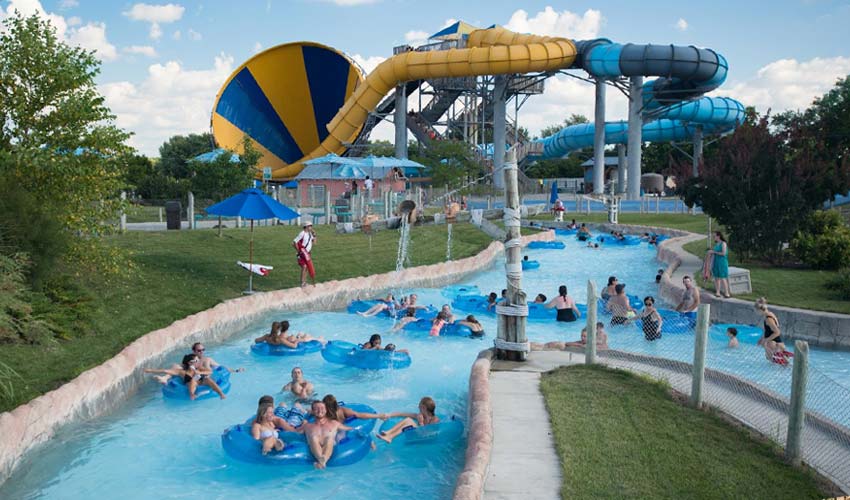 Zoombezi Bay is a 22.7-acre water wonderland within the Columbus Zoo and Aquarium complex.
The most recent renovation to the waterpark is Croctail Creek, a strictly 21-and-over attraction that many consider to be one of the best lazy rivers in the US.
The area features a lounge pool with in-water seating, heated water, and The Sandbar, a swim-up and walk-up daquiri bar serving various frozen concoctions served in souvenir bottles that you can actually consume while floating on the lazy river.
If you or your companions are not of drinking age yet but still want to float around on tubes and be at the mercy of a river, their action river Roaring Rapids might be a better fit for you, with faster currents, roaring waterfalls, and surprises at every turn.
Other crowd favorites include the Cyclone (funnel slide), Python Plunge (water coaster), and Wild Tides (wave pool).
As a bonus, your admission to Zoombezi Bay includes entry to the Columbus Zoo and Aquarium, which is among our picks for the best zoos and best aquariums in the US.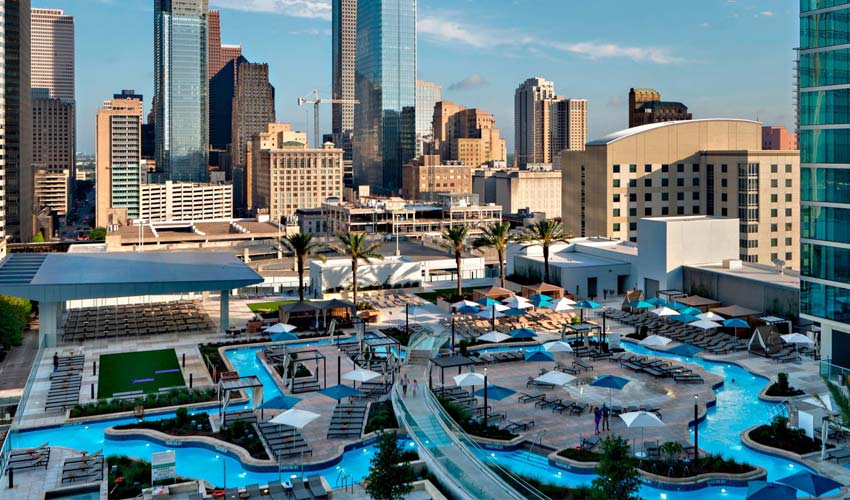 The Marriott Marquis in Houston, Texas is home to one of the most iconic pools in the country: the world's largest Texas-shaped rooftop lazy river.
It's a rare treat to have a relaxing lazy river so easily accessible from downtown and just a half-hour away from Space Center Houston.
Aside from the lazy river, visitors can also relax in the rooftop infinity pool and whirlpool. The bar and restaurant serves delicious food and drinks, and a poolside bar serves cocktails during the summer.
The pool is open year-round, so whether you want to cool off during the summer or drink hot cocoa during the winter (the pool is heated then), they promise a memorable experience.
To access the pool, head over to the Altitude Rooftop & Pool on the sixth floor. If you're staying in the hotel, access to the pool is complimentary. But if you're staying elsewhere or just passing through, you can buy day pass tickets and rent a day bed, cabana, pergola, or a gazebo (if you're part of a large group).
Schedule your visit in the winter and you can catch the Texas Winter Lights, a nightly pop-up lights experience throughout the deck, as well as movie nights on Thursdays and ugly sweater parties on Fridays.
With over 20 indoor and outdoor waterparks, Wisconsin Dells has the largest concentration of waterparks on Earth.
Among these waterparks is Noah's Ark Waterpark, the largest outdoor waterpark in the world. Covering over 70 acres with 25 attractions plus various shops and restaurants, Noah's Ark is simply impressive.
They offer, not just one, but two lazy rivers.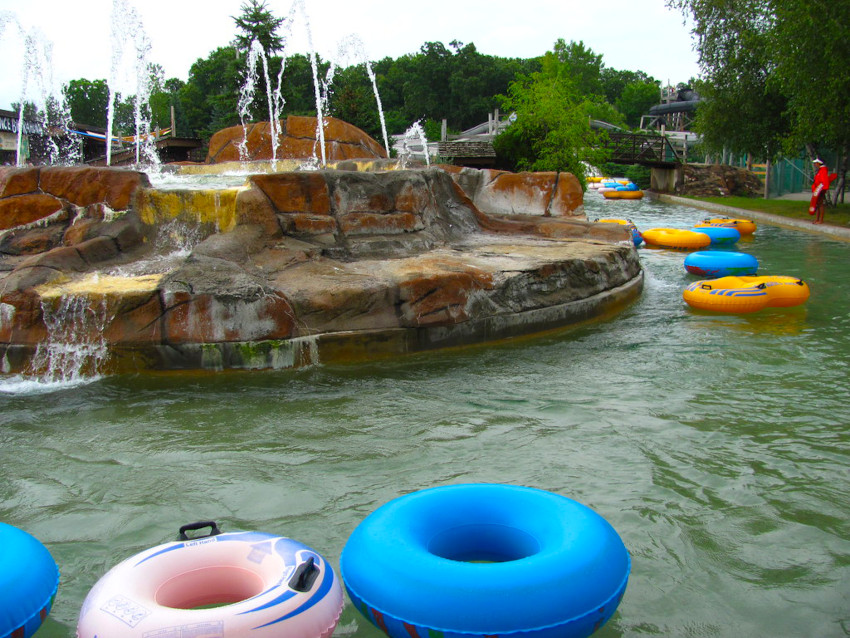 Adventure River is the larger one, with cascading waterfalls and various water features. Endless River is smaller and more chill, with nothing but a constant current taking your tube round and round.
Crowd favorites include Flash Flood (log plunge ride), Surfing Safari (surfing simulator), and Black Thunder (waterslides in total darkness).
For those who are looking for even more intense thrills, Scorpion's Tail, the country's first (almost) vertical looping waterslide, offers an unforgettable water slide experience.
There are plenty of motels and hotels in the vicinity of the waterpark, with admission to Noah's Ark included with your stay.
The Best Lazy Rivers In The US to go Tubing
Floating away in a hotel or waterpark lazy river is fun, but tubing in a natural waterway is a unique experience in itself.
If you've never experienced tubing through a calm, scenic river in the summer, this is the year to do it.
Trust me, there's no better way to spend a hot, sticky summer day than floating down a lazy river on a giant rubber donut with the sun on your face, ice-cold beer in your hand, and nothing on your mind except the sights and sounds of nature around.
These are the best natural lazy rivers in the US for tubing.
6. Guadalupe River, Texas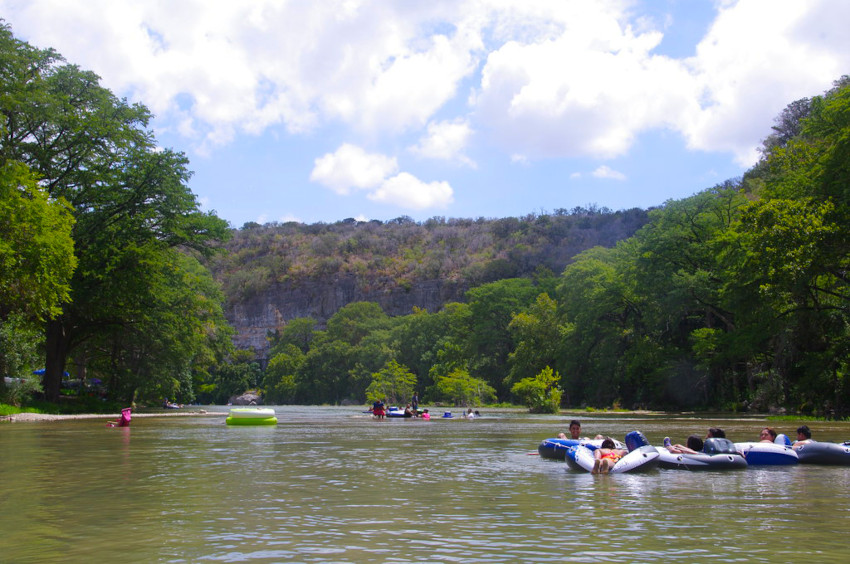 New Braunfels, Texas is considered by many to be the tubing capital of the US, probably because of the two rivers running through their city: Comal and Guadalupe.
Comal River might be tubing party central, but the scenic canyons, cypress trees, and consistent flow from the Canyon Dam all make the Guadalupe River one of the best lazy rivers in the US to go floating.
New Braunfels (via River Acres Park and Cypress Bend Park) is how many visitors access the river, but tubing enthusiasts can also go to Canyon Lake (via Horseshoe Loop) and Spring Branch (via Guadalupe State Park).
Be mindful that there are different tubing rules at different points along the river. But in general, just remember not to litter, not to bring a foam cooler, and not to use disposable food containers to be safe.
Tubing is the most popular activity on this river, but aside from tubing, visitors flock to the river for fly fishing, rafting, and kayaking.
New Braunfels visitors usually stay at campsites or rent cabins along River Road. It's recommended to make reservations 6 months in advance, especially for weekend bookings as slots fill up quickly.
7. Yampa River, Colorado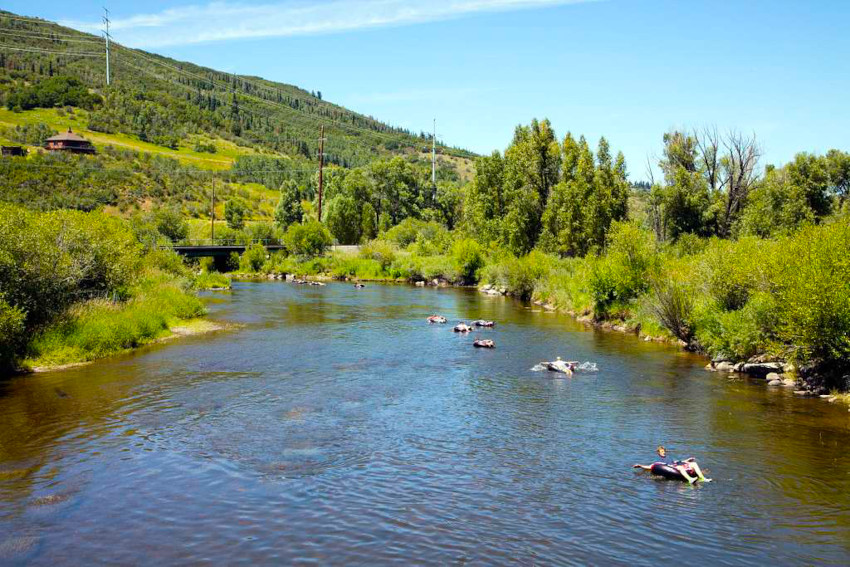 Yampa River is a major part of the Colorado River System and one of the few free-flowing rivers left in the west.
It's also a relatively calm river (by Colorado standards, anyway), granting visitors great views of the surrounding forests and mountains.
The Yampa flows right through the heart of the city of Steamboat Springs, where there are access points all along Yampa Street and River Road.
Other popular access points include Cross Mountain, Juniper Canyon, Duffy Mountain, Little Yampa Canyon, and Yampa River State Park.
The best time to go tubing on this lazy river is late spring to mid-summer when the flow is strongest. Early summer in Steamboat Springs means you get to catch the Yampa River Festival, with plenty of events such as races, competitions, concerts, and others.
8. Shenandoah River, West Virginia and Virginia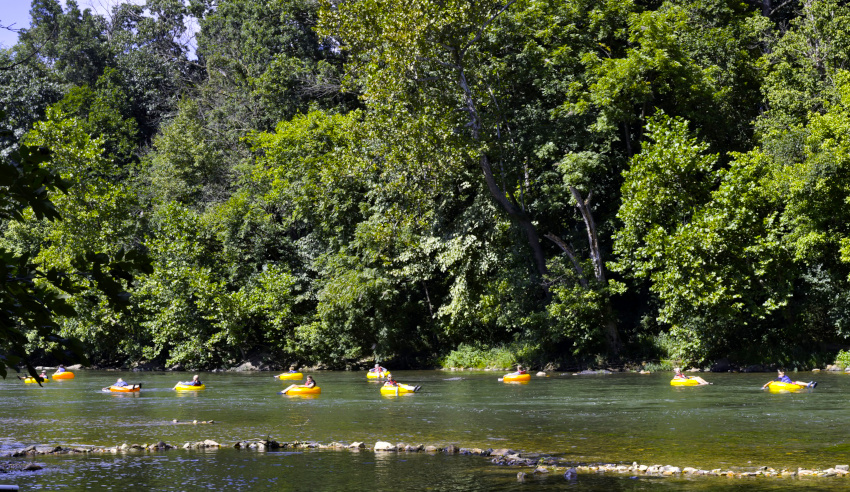 Shenandoah River isn't just a place from a John Denver song; it's a real river that flows through Page Valley and encompasses the states of West Virginia and Virginia.
Its calm waters attract tubing enthusiasts from the tri-state area during the summer months as a more chill alternative to the more fast-flowing, bumpy Potomac.
One aspect of Shenandoah River tubing that's different from the others on this list is that drinking alcohol is not allowed on the river, which can be either good or bad news depending on the experience you want.
Popular access points for river tubing include Harpers Ferry in West Virginia, as well as Front Royal, Shenandoah River State Park, and Luray in Virginia.
9. Delaware River, New Jersey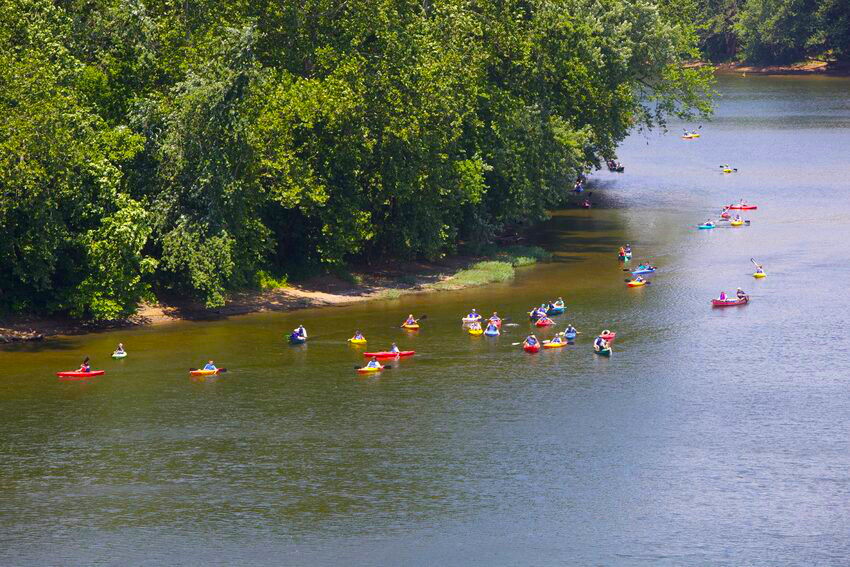 The Delaware River is a historic river and the longest free-flowing river in the Eastern United States, bordering four states before emptying into the Delaware Bay.
In particular, the section of the river that's within the Delaware Water Gap National Recreation Area is perfect for floating, especially during the summer months.
The most popular outfitter to rent tubes is Delaware River Tubing in Milford, New Jersey. From its access point to the end of the journey is a six-mile float, which takes around 3 to 4 hours to complete.
Midway through your journey, you can stop for lunch at The Famous River Hot Dog Man, a restaurant on a floating river barge serving hot dogs, barbecue, and burgers to passing tubers, rafters, and kayakers.
Other popular access points along the Delaware River include Bucks County, Easton, Matamoras, and Milford in Pennsylvania; Knights Eddy and Barryville in New York; and Kingwood in New Jersey.
10. Niobrara River, Nebraska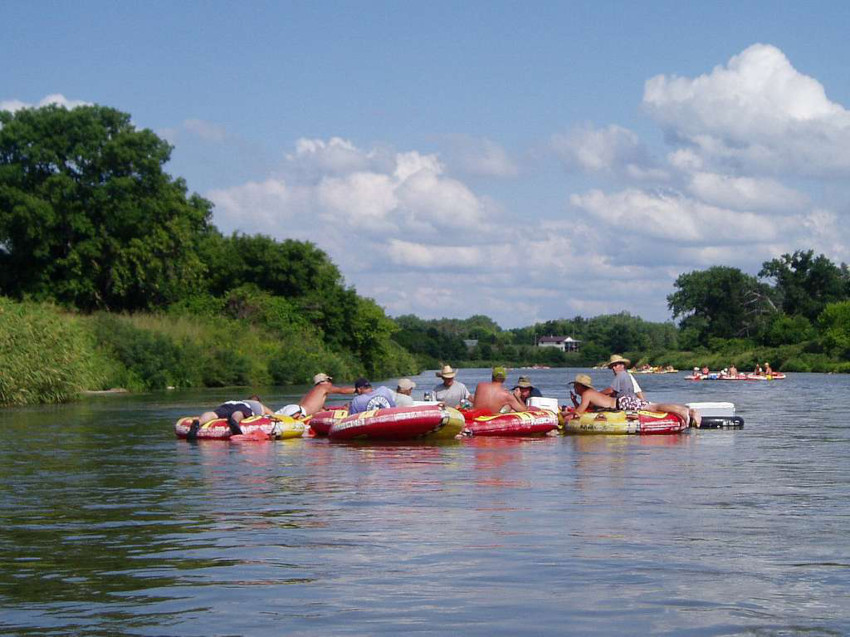 Nebraska is probably a surprise entry for a list of the best lazy rivers in the US.
But as far as rivers go, you can't really go wrong with a National Scenic River.
The 76-mile Niobrara River is a tributary of the Missouri River that gives tubers plenty of natural beauty to marvel at: at least a hundred (!) scenic waterfalls, lush forests, interesting rock formations, and diverse wildlife.
In fact, this is one of our picks for the best things to do in Nebraska.
Popular entrance points include the Fort Niobrara National Wildlife Refuge (via Cornell Bridge), Berry Bridge, and Brewer Bridge.
Smith Falls State Park is a popular campground for tubers, which is also home to Smith Falls, the state's highest waterfall.
The town of Valentine is also a popular place to stay, especially if you plan to enter through the Fort Niobrara access point.
Float Away in One of the Best Lazy Rivers in the US!
Not all of us are made for adventure; some of us prefer to cool off by floating on a lazy river, looking up at the sky, and letting the current be the boss.
On the other hand, if you're thinking a little bigger, check out our list of clearest lakes in the US or the best beaches in the US for some inspiration.