I'll never forget the excitement of getting up early to go splash around in a waterpark where it's always 84 degrees, even in the middle of winter.
Now, I get to share that excitement with my kids! Although the waterparks that are around today definitely can't be compared to what I grew up with.
These water wonderlands are bigger and better than ever, with every inch filled to the brim with eye-catching slides, rides, and toys for people of every age.
If you want to get a taste of the best indoor water parks the USA has to offer, have a look at these great new parks that have only been around for the last decade.
The Best Indoor Water Parks in the US
1. Kalahari Resorts and Conventions, Round Rock, TX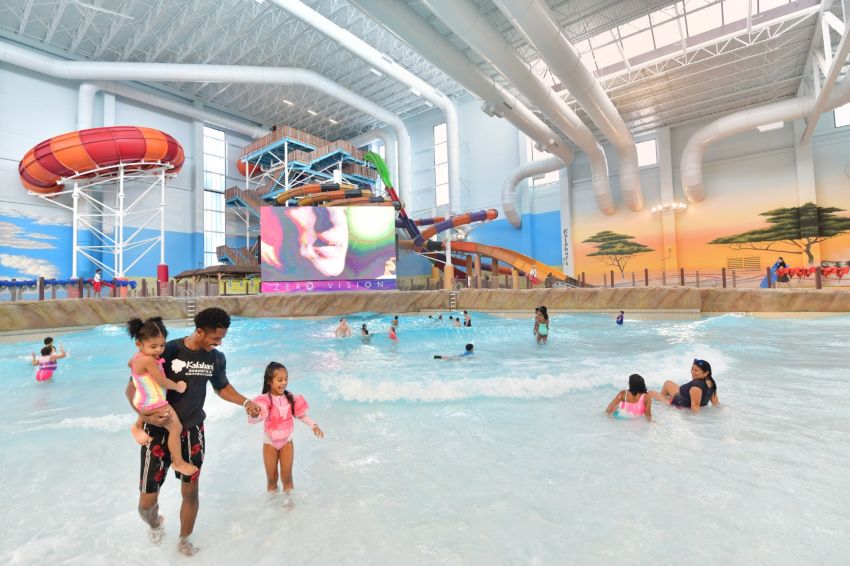 Kalahari Resorts and Conventions are now synonymous with having a splashing time indoors, and they're also known for building some of the biggest indoor water parks in the country.
Now, they've outdone even themselves by building the biggest indoor water park in the US to date at their Round Rock location in Texas.
The Texas location continues the African theme and expands on all the thrills by filling 223,000 square feet with 30 towering water slides, 20 pools and whirlpools, a FlowRider surf simulator, and plenty of waterfalls.
The giant wave pool has an equally massive LED display screen with surround sound along the back wall where they show movies and play trivia games and other interactive games.
If you need some time to yourself, you can book one of the cabanas or head for a drink at the adult grotto swim-up bar. There are also 3 acres of outdoor pools – which is more than enough space to do your own thing.
Plus there's plenty more to explore across the resort. I don't think even a week would be enough!
Since it's brand new, the whole space has a clean and modern look to it too, and the pools are immaculate. Plus there are so many restaurants, you may find it hard to choose where to eat. Texas really does do everything bigger!
Essential Information
Address: 3001 Kalahari Blvd, Round Rock, TX 78665
Hours: Sun – Thurs 10am-8pm | Fri – Sat 10am-9pm
Admission: Day passes change every day, but can set you back between $70 – $120. Access to the waterpark is included if you book a stay with the resort.
Can I bring food in? No
Website: Kalahari Round Rock Water Park
2. Great Wolf Lodge, CA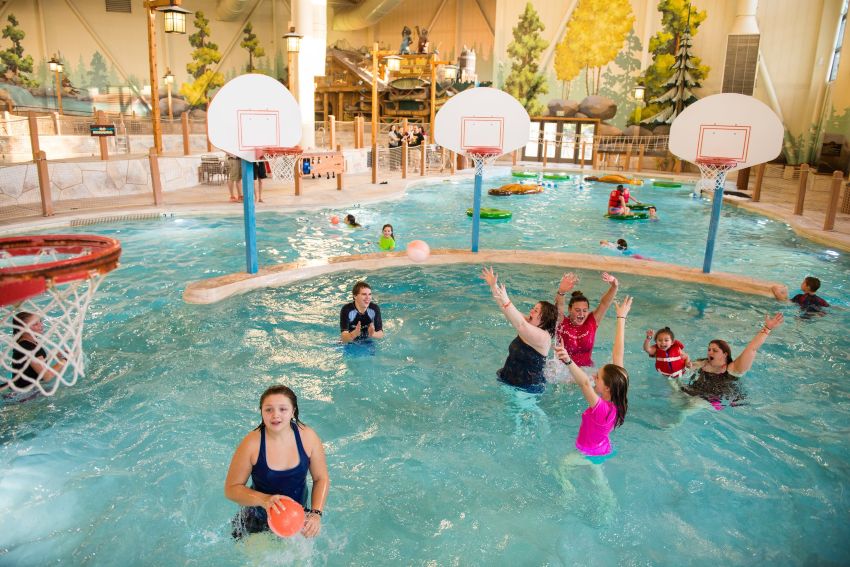 If you love water parks, you're probably familiar with the Great Wolf Lodge too. Their latest (and greatest) indoor water park is located in Anaheim California and it's their largest one to date at 105,000 square feet filled with crazy slides and gallons of fun.
This park continues the rustic woodsy theme Great Wolf Lodge is known for, with its quirky names (think Loose Moose restaurant), zany forest characters, and lumberjack-friendly decor.
Along with other attractions like an arcade, mini-golf, and MagiQuest that will have your kids running around like they're on a sugar high, the water park comes with massive water slides, a multi-level interactive fort with plenty of water features including a 1000-gallon water-dumping bucket, and a wave pool.
The little ones will have a fun time too with a splash park and mini slides of their own.
The water park also comes with cabanas you can rent for the day and plenty of free seating – there's more than enough space here to accommodate everyone, especially since the park doesn't allow walk-ins from outside the resort.
Essential Information
Address: 12681 Harbor Blvd, Garden Grove, CA 92840
Hours: Mon – Fri 10am-8pm | Sat & Sun 9am-8pm
Admission: No day passes. You'll have to book a stay at the resort.
Can I bring food in? No
Website: Great Wolf Southern California
3. Epic Waters Indoor Water Park, TX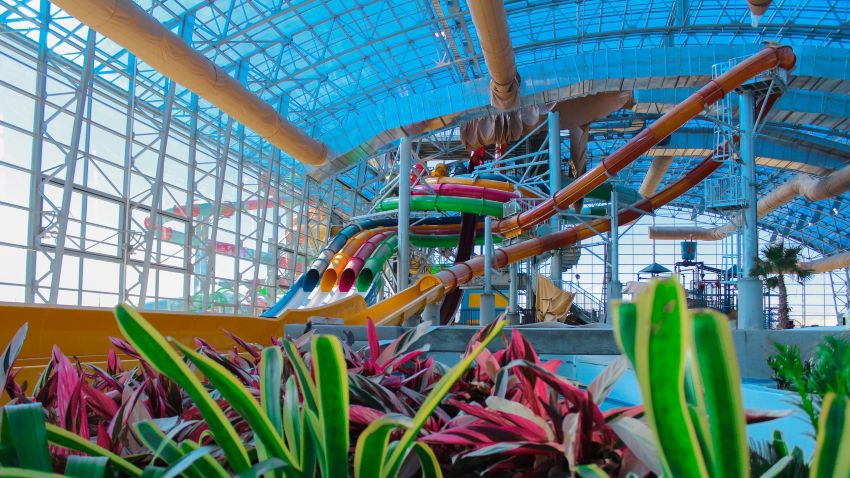 Want to dive into the first indoor double rider Aquasphere inner tube (what a mouthful!) in the world or try the tallest indoor Aqualoop body slide in the US? You can find these and a bunch of other amazing slides at Epic Waters in Texas.
This indoor waterpark was built in 2018, so it's relatively new – but its unique design, exciting lightning-fast slides, and retractable roof make a big enough impression to set it apart.
At just over 80,000 square feet, this is one of the smaller parks on my list but it makes up for that by utilizing every square inch to throw oodles of fun your way.
There are 11 water slides, a lazy river, a giant dump bucket, mat racer slides, and a FlowRider to keep you busy all day long.
The only thing you might notice that is missing is a wave pool. There is one, but it's outside so you'll have to give it a miss if you plan on visiting during the winter months.
Looking to expand your water-themed vacation in Texas to the outdoors? Try one of the best lakes in Texas.
Essential Information
Address: 2970 Epic Place, Grand Prairie, TX 75052
Hours: The park's hours change daily. Check out the park's calendar for up-to-date information.
Admission: Day pass: $29 – $34, Annual Pass: $239 per person, Grand Prairie Residents: $199
Can I bring food in? No
Website: Epic Waters Indoor Park
4. Wilderness Hotel and Golf Resort, WI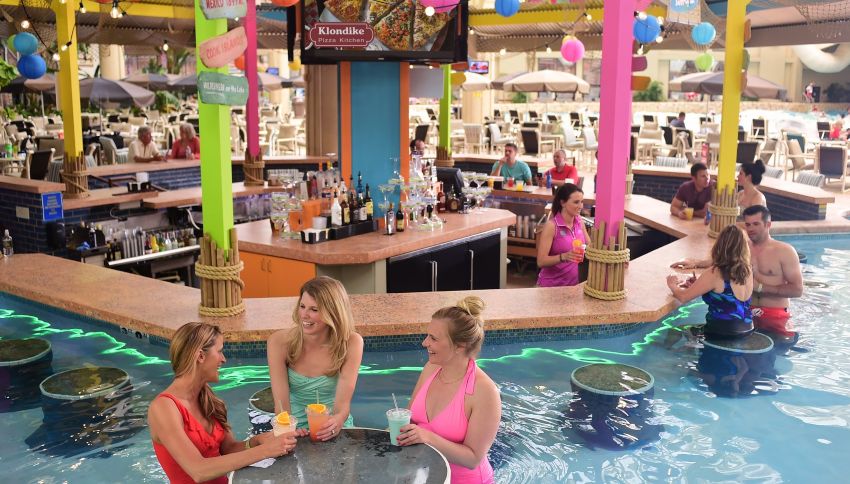 While the waterpark at Kalahari Resorts in Texas now holds the claim for the biggest continuous indoor waterpark, the Wilderness Resort in Wisconsin definitely takes the prize for the biggest combined indoor waterparks in one resort, with 4 indoor waterparks totaling a combined 240,000 square feet.
On top of that, the resort also hosts another 4 waterparks located outside. If we're ever in a drought – I'll know where all the water went!
The great thing about having 4 indoor waterparks in one resort is that each offers something different and you get to choose where you'd rather spend your time, and also avoid things you're not interested in.
Luckily, you can reach each park via enclosed skywalks so you don't have to go outside and get a chill.
Two of the waterparks offer exciting thrill rides and slides as well as a 400-foot lazy river, and Cubby's Cove is a wonderful spot for families with younger kids.
I particularly love the massive skylight and tropical theme of Wild WaterDome which has America's largest indoor wave pool and Margarita's – a swim-up bar for people over 21.
Essential Information
Address: 511 E Adams, Wisconsin Dells, WI 53965
Hours: Each individual park's hours are different. Check out the park's calendar for up-to-date information.
Admission: No day passes. You'll have to book a stay at the resort.
Can I bring food in? No
Website: Wilderness Resort
5. Splash Lagoon Indoor Water Park Resort, PA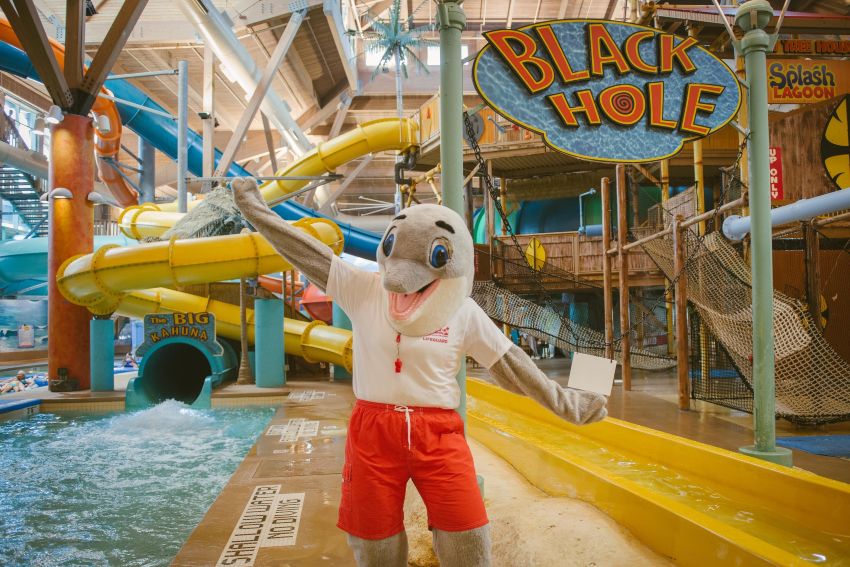 Even if you've never been to a waterpark before, you've probably heard of Splash Lagoon. This tropical Polynesian-themed indoor waterpark opened around 2003 but quickly became a vacation staple for families all over the states, and I can definitely see why.
While all indoor waterparks are family-oriented, many try to section off their rides by age. I understand why they do that, but it was refreshing to see young kids could go on all of the rides here, even if adults had to accompany them for some. Believe me, anything that spares you from having to deal with tears because you wouldn't 'let' them go on a scary ride is a win.
You'll have no shortage of fun here (regardless of age) with a lazy river, several great water slides, family whirlpools, a gigantic wave pool, and a children's play area called Monkey Shines Island.
Ironically, some of my favorite things here don't have much to do with water at all. The five-story interactive Tiki Treehouse is fantastic and I really like the Tree Tops Ropes – although trying to balance on a rickety bridge 3 stories high is no joke!
If you're looking for other fun stuff to do with your kids in Pennsylvania, I'd recommend either Hersheypark or Knoebels Amusement Resort, both of which made it onto my list of best amusement parks in the US (that aren't Disney).
Essential Information
Address: 8091 Peach St, Erie, PA 16509
Hours: The park's hours change daily. Check out the park's calendar for up-to-date information.
Admission: Day passes: Between $29 – $59, depending on the season and day of the week.
Can bring food in? No
Website: Splash Lagoon
6. The Kartrite Resort & Indoor Waterpark, NY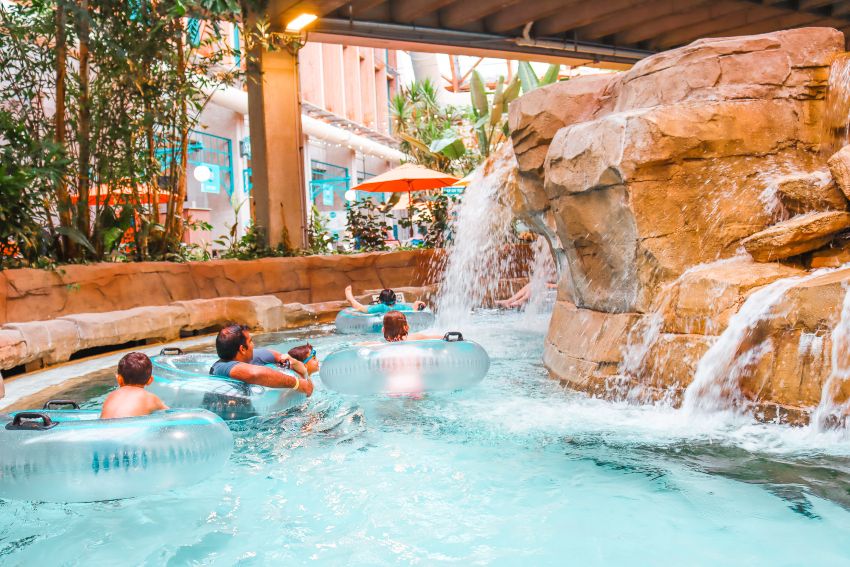 It may not be the biggest waterpark on this list, but the newly built Kartrite indoor water park in New York is one of the most beautiful indoor water parks I've ever seen.
The egg-shaped transparent ceiling (apparently it's the world's largest texlon transparent roof) combined with the wood beams and lush vegetation makes this a tropical indoor paradise.
Plus, there are enough thrilling slides in here to keep you busy for hours on end. The Nor'easter is particularly fantastic, but you'll need to convince at least 1 other person to join you on the ride. Keep in mind, many of the slides have a minimum height and, while the lifeguards here are pretty good at their jobs, they won't give in to letting you and the smaller ones have a go together.
There's also a lazy river (it's not very long but it's good), FlowRider, a splash pool area for the little ones, a "gator crossing" ropes course, aquatic basketball, and an arcade in the hotel just outside the water park.
If you need some time to relax after all that running around, you'll also love Affinity Springs, the indoor/outdoor heated spring.
Essential Information
Address: 555 Resorts World Drive, Monticello, NY
Hours: Daily: 11am-7pm
Admission: Splash Pass (day passes): Differs from day to day, but will set you back around $79 per person for a full-day pass and $49 for a half-day pass. They also have a family 4-pack option for around $245.
Can I bring food in? No
Website: The Kartrite Indoor Water Park
Start Practicing Your Stroke
Whether you're going for the kids or you want to try out those daredevil water slides for yourself, these are some of the best indoor water parks you'll find in the US.
Need something else to keep you occupied on a rainy day? There's no shortage of options with fantastic zoos and amazing aquariums open across the states year-round.