The best things to do in Nebraska are perfectly mixed with historical and cultural landmarks, hidden waterfalls, open grassland and numerous natural formations, a bustling city, and modern-age attractions.
Geographically, Nebraska is the boundary between two regions, which means it literally is where the Midwest meets the West. Because this divide brings a uniqueness rarely found in other states, you'll witness how captivating these regional differences are wherever you go around Nebraska.
Nebraska hasn't been traditionally showcased as a go-to fun destination, but here's a secret: you'll never go bored with the many things to do in Nebraska. You just have to give it a chance.
Below, I'll share you the classic Nebraska attractions, followed by fun places to visit in Nebraska that may just surprise you…
20 Best Things to Do in Nebraska
The following attractions are mostly included in Nebraska tourism flyers.
They're definitely must-sees, especially if you're a first-time visitor.
Nebraska's Top Natural Sights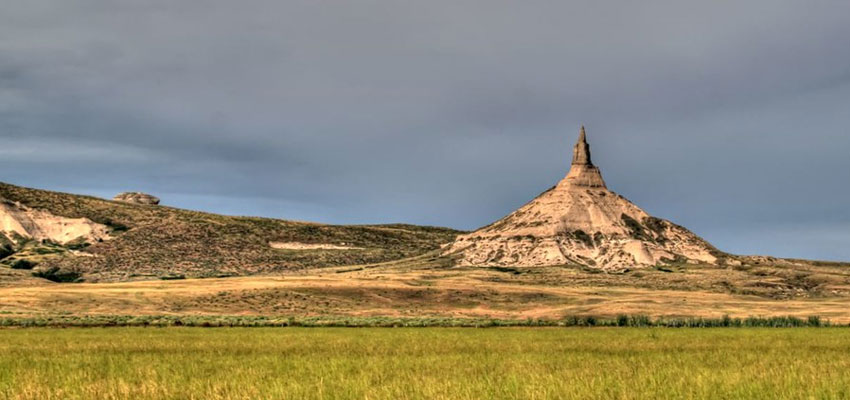 Nebraska has over a dozen of parks (You will have to go a little further west to find national parks though.) and unique adventures like the Cowboy Trail, which lead you from the Sandhills and up to the northern counties of Nebraska.
You can also enjoy the white sand beaches of Lake McConaughy.
If you love exploring nature, you won't run out of things to do in Nebraska, including:
Chimney rock – A chimney-shaped, geological rock formation in western Nebraska
The Niobrara National Scenic River – Discover fantastic views, rock formations, fossil sites, and hybrid animals – those that originally came from the East and mingled with Western creatures.
Toadstool Geologic Park – In the mood for a hike? Be amazed at these unusual toadstool-shaped geological formations with ancient fossils all over.
Indian Cave State Park – Go bike, hike, camp, horseback-ride, go on haunted Hallow rides or just explore the fascinating carvings within the Indian Cave
Holy Family Shrine – Phenomenal architectural marvel where you can pray or find some peace. It's located at the top of a hill in Gretna, Nebraska.
Courthouse and Jail Rocks are two rock formations located near Bridgeport in the Nebraska Panhandle that are considered a pair of legitimate "road signs" by westward travelers.
Scotts Bluff National Monument – This historical attraction served as a major landmark for traders, missionaries, military expeditions and thousands of westward emigrants.
Nebraska's Top Indoor Attractions
Visiting Nebraska in winter? Or prefer to stay indoors instead? These 4 destinations are well-recommended:
Henry Doorly Zoo & Aquarium – Don't miss the 70-foot-long underwater tunnel. There's a reason this place has been named the best zoo in the world.
The Arbor Lodge Mansion – This mansion was home to founder of Arbor Day J. Sterling Morton. It is also home to many historical artifacts
Durham Museum – Displays historical artifacts of the country's western region. It is located in Omaha's beautiful art deco Union Station.
Strategic Air Command and Aerospace Museum – Kids and kids-at-heart will love spacecraft exhibits, rides, a planetarium and other activities.
My Pick of the Best Nebraska Attractions
If you want to go beyond the Nebraska tourism flyers and see other interesting attractions, here are 9 things to do in Nebraska that I'm sure you can use for awesome story-telling:
The smallest town in America is run by only a single citizen.
What used to be a town of 150 people, Monowi's population shrunk to 2 by 2000 census – a married couple named Rudy and Elsie Eiler. Unfortunately, Rudy passed away in 2004.
As of 2019, Elsie Eiler remains the only citizen of Monowi. She is also the mayor, librarian and owner of the only business in town, the Monowi Tavern, where she also wears the hat of bartender.
Located in the beautiful hills south of North Platte, this modern town doesn't look modern at all. It is made up of 20 octagon-shaped wooden grain bins and a massive barn smacked in the middle, all of which were built only in 2012.
All these unique-looking bins contain vintage items for sale, including old farm items, decorative iron pieces, glassware, cow skulls, and other cool collections.
​The Village of Boys Town Nebraska has been a National Historic Landmark since 1985, and is now the only National Historic Landmark District in Nebraska.
Founded by Father Edward J. Flanagan in 1917, it is home to up to 400 boys and girls at any given time. Its mission is to provide hope to children suffering from abuse, addiction, abandonment or violence, and give them a chance to reach their potential.
Boys Town is on a level of its own. About 8 to 10 kids live in a regular, single-family home with a married Family-Teaching couple, who cares for and nurtures them as long as they're part of the Boys Town program.
While you're here, make sure to stop by The Boys Town Visitor Center (at 13628 Flanagan Blvd.), where you can view the massive 600-pound ball made with over 4 million canceled stamps. It measures 32 inches in diameter and was created originally with only a regular golf ball in 1953, with  the Boys Town Stamp Collecting Club slowly adding more and more stamps until 1955. The club members stopped adding to the ball when Ripley's Believe It or Not featured their project.
Nebraska's version is made up of 38 cars set-up to copy the proportions of England's Stonehenge.
Made by experimental artist Jim Reinders (and with the helping hands of about 30 family members), the group were able to mirror the position of Stonehenge's rocks using an ambulance, a 1962 Cadillac, a pick-up truck and a couple of cars.
Of course it isn't the same as the original Stonehenge, but it's really quite impressive once you reach the carefully constructed modern "structure."
I'm not a fan of taxidermy and this probably isn't for the faint of heart, but the steakhouse is definitely one for the books.
This roadside restaurant was founded by Rosser O. Herstedt, known by locals and the hunting crowd simply as "Ole." He purchased this bar in 1933 and mounted his first taxidermy piece (an elk's head) in 1938.
In the next 30 years, not only did he bring back numerous pieces of taxidermy from his hunting around the world, Ole also came back home armed with stories of his adventures. The crowd would gather around and listen to Ole's hunting escapades until he retired in 1988.
Ole eventually sold the lounge, but new owners continued to add pieces to the wall as to what it is today. Out of the 200+ taxidermy mounts the place features today, a full-sized, stuffed polar bear became the mascot of the lounge.
Edwin Perkins invented may products, but landed his big break in 1927 when he created Kool-Aid in Hastings, Nebraska.
The "Kool-Aid: Discover the Dream" exhibit explores the life of Perkins and how Kool-Aid became an international cultural icon that's still relevant today.
Make your trip worthwhile. Check out the theatre, planetarium and other exhibits at The Hastings Museum while you're there.
Located in South Omaha, The Lauritzen Gardens is a living museum with hundreds of four-season plant displays, garden clubs, special events, as well as programs for kids and adults.
If this is the main reason you're visiting Nebraska, check the garden's schedule. The floral display halls hold three major floral shows per year; the fall chrysanthemum festival, holiday poinsettia show, and spring bulb show.
If you're visiting Nebraska to learn more about the people's culture, Norfolk is a cool small town where you can get a taste of everything.
From hunting the outdoor sculptures of this small town, to following the footsteps of many who have explored Norfolk area trails, you'll never run out of things to do in Nebraska. If you're feeling outdoorsy, go fishing, hunting, skating, canoeing, apple-picking, golfing, motorcycling, trap shooting, and just hiking, there's a spot for your adventure here.
Other notable attractions include  the 100-year-old Presbyterian Community Center for Arts & Education, Sunset Plaza Mall, TaHaZouka Park horseshoe complex, antique shops at  Northwestern Ave., the Klown Doll Museum (with over 7,000 clown dolls) and AquaVenture Waterpark (with its famous zero-depth entry pool).
12 million years ago, this spot was engulfed by volcanic ash entombing numerous animals in the process.
The first discovered animal was a juvenile rhinoceros in 1971, followed by many more rhinoceros, as well as 5 species of horses, 3 species of birds, 2 species of turtles, and more.
Ashfall Fossil Beds State Historical Park opened in 1991 and is open publicly until today.
Kids will love the fossil dig table and other educational activities inside the park.
What are your favorite things to do in Nebraska?
If you're just planning your trip to the Midwest, check out the activities you can do in nearby Iowa and North Dakota.
I hope you enjoy Nebraska's unique charm. Got a favorite Nebraska attraction I didn't mention? Would love to hear your travels too!