If you're planning a trip to the Western United States, make it 100% memorable for everyone by including West Coast national parks in your itinerary.
The western national parks feature a good mix of majestic mountains, historical structures, natural landscapes, adventure trails, and one-of-a-kind beauty you cannot find anywhere else.
10 Must-See West Coast National Parks
From California to Alaska, take a look at my top 10 West Coast National Parks.
Location: the Sierra Nevada, California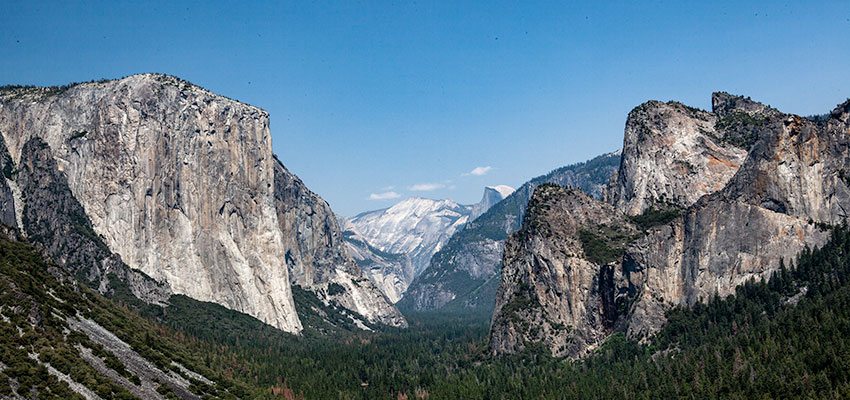 Absolutely don't miss: Yosemite National Park has plenty of fantastic waterfalls, but if you're after the "classic Yosemite falls" featured in almost all Yosemite trips, then you've got to check out Bridalveil Fall.
The world-famous Yosemite National Park is massive—it spans across four counties within 748,000 acres of land, water, mountains, cliffs, and jaw-dropping views from several angles.
Whether you're looking for a place to think, camp out in nature with your family, hike, or go on other adventures, Yosemite National Park has something for all ages.
Best Things To Do in Yosemite National Park
Located right smack in the middle of California's Sierra Nevada Mountains, Yosemite's Sentinel Dome gives you views of Half Dome, Yosemite Falls, El Capitan, and Yosemite Valley all in one hike.
Ideal for nature lovers, the Mariposa Grove will get you face-to-face with Giant Sequoia trees, while the Mirror Lake stuns with a dreamy view of the granite cliffs, the beautiful meadow, and lush greens from across the water.
For photographers, Glacier Point is one of the best vantage points for photographs.
Best Time To Visit
Yosemite National Park is lovely all year, but try to visit in February if you want to see Horsetail Fall light up in orange and red during sunset.
Location: Del Norte & Humboldt Counties, California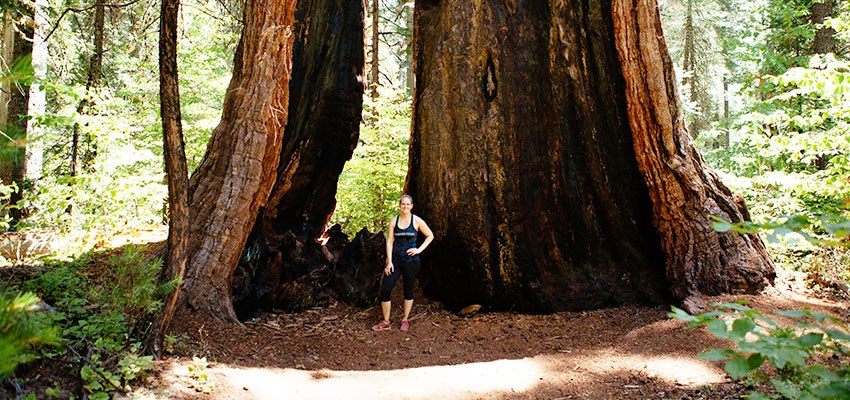 Absolutely don't miss: Make sure to go near the Prairie Creek Visitor Center and visit The Big Tree, which stands 68 feet and is estimated to be 1,500+ years old.
Home to the coastal Redwoods aka the tallest trees on earth, you'll find about 35% of the remaining redwoods on the planet in this area.
But the big old trees aren't the only things to see in this park; there are prairies, oak forests, wild rivers, and 40 miles of rugged coastline to bask in and enjoy.
Best Things To Do in Redwood National Park
Obviously, tree-hugging is a popular activity here. Notable trees include the Star Wars Tree (this one was featured as the Forest Moon of Endor), Corkscrew Tree, Girdled Tree, and Albino Redwood.
The Klamath River Overlook, which you can access north of the Thomas H. Kuchel Visitor Center, offers a unique meeting of the river and sea. If you're visiting in November-December or March-April, bring binoculars for some whale watching.
Popular places to hike include the Trillium Falls Trail, featuring a lush forest and a 10-foot waterfall, as well as Fern Canyon Loop Trails, featuring (you guessed it!) ferns, streams, and the occasional wild elk.
Best Time To Visit
Redwood National Park is great to visit all year round; it depends on what you're looking for.
Summer has the best weather, spring greets you with the best wildflowers, fall sees thinner crowds, and winter means few mosquitoes.
Location: Death Valley, California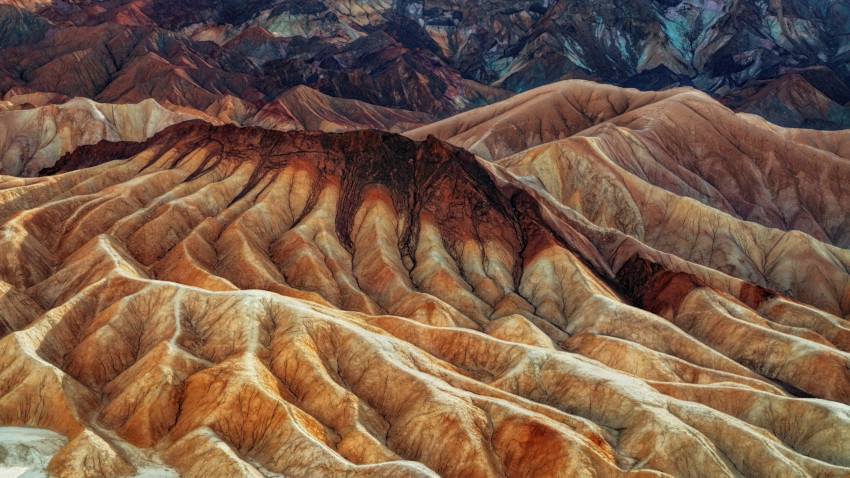 Absolutely don't miss: Zabriskie Point is an iconic viewpoint popular with photographers and hikers. Gaze at the colorful badlands, the Panamint Mountains, and salt flats in the distance.
Known as the hottest and driest place in North America, the Death Valley National Park got its name because Gold Rush travelers in the 1800s tried to take a shortcut to California via this area and paid with their lives.
Best Things To Do in Death Valley National Park
The picturesque rolling hills of sand of Mesquite Flat Sand Dunes, enclosed perfectly by the rich, textured mountains, are great for sandboarding.
Badwater Basin is one of the largest salt flats in the world and is the lowest point in the US at 282 feet below sea level.
Hiking to Darwin Falls reveals a hidden paradise with year-round waterfalls surrounded by trees. Swimming is prohibited since a nearby community uses these pools of water as their main drinking source.
Best Time To Visit
Winter (November to March) is the perfect time to visit this park if you plan to take low elevation hikes. Spring and fall are bearable for climbing high peaks.
It's best to avoid the summer months if you don't want this park to live up to its name.
Location: Grand Canyon, Arizona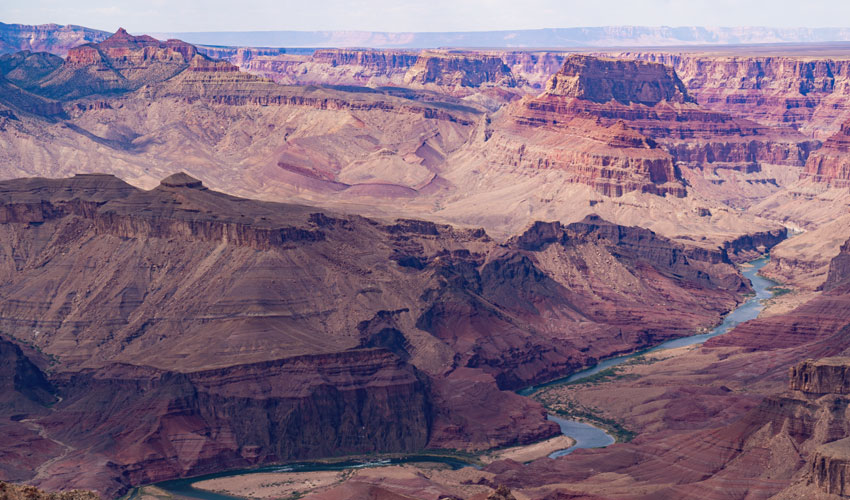 Absolutely don't miss: Whether your visit to the Grand Canyon is focused on the South Rim or North Rim, time your trip so you can witness either the sunset or sunrise.
Formed by millions of years of the mighty Colorado River carving into rocks billions of years old, the Grand Canyon is a magnificent sight and is a bucket-list-worthy destination.
Not surprisingly, this is consistently on the top of the list of the most visited West Coast national parks.
This World Heritage Site spans 1,218,375 acres, which is impossible to experience in just one visit.
With top-notch desert landscapes, the Colorado River, easy-to-challenging adventure trails, and mind-blowing vistas, you won't run out of itineraries to use for your trip.
The Grand Canyon is a must-included attraction if you're going on a tour of the 8 Mountain States.
Best Things To Do in Grand Canyon National Park
The South Rim is the more popular access point to the Grand Canyon, with a train station, shuttle bus stations, visitor centers, restrooms, and Mather Point, which for many people is where they first get to look at the Grand Canyon.
If you want more solitude, the North Rim access point is more secluded, but not very family-friendly. Hikers would love Bright Angel Point Trail for the excellent views and relative solitude.
Best Time To Visit
Spring and fall visits mean lower temperatures and fewer people.
Location: Crater Lake, Oregon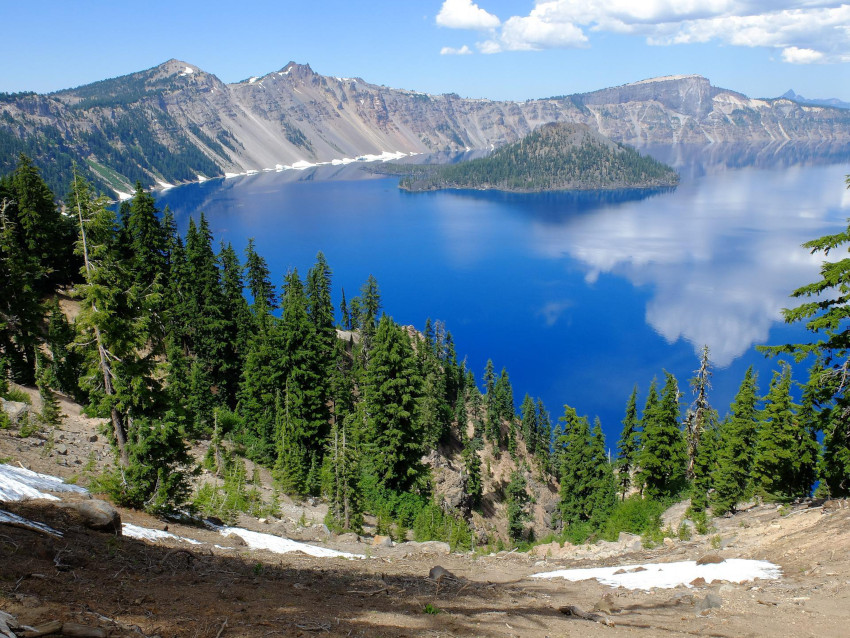 Absolutely don't miss: A photograph of Crater Lake is a must, whether it's a selfie or a panorama. Sinnott Memorial Overlook is the most popular photo spot as you can reach it without hiking.
The Crater Lake National Park may be Oregon's only national park, but it can definitely compete with the other West Coast national parks on this list.
Crater Lake was formed as a remnant of Mount Mazama when it erupted 7,700 years ago. Fed by rain and snow, it is the deepest lake in the United States (it goes as deep as 1,949 feet) and one of the most pristine in the world.
Best Things To Do in Crater Lake National Park
Get up close and personal with the lake by going on a boat tour. Marvel at the uninhabited Wizard Island and watch out for the "Old Man of the Lake", an ancient hemlock log floating upright in the waters of Crater Lake for a century.
Discovery Point Trail is a popular hiking and biking trail for great views of the lake.
The Rim Village area is popular for winter activities such as cross-country skiing, snowmobiling, and snowshoeing.
Best Time To Visit
Summer (July to early September) is the best time to visit this national park when the views of the lake are better and all the roads are accessible (winter and early spring mean road closures due to snow).
Of course, if you're coming here to ski then winter is the best time to visit Rim Village.
Location: Ashford, Enumclaw, Packwood, and Wilkeson, Washington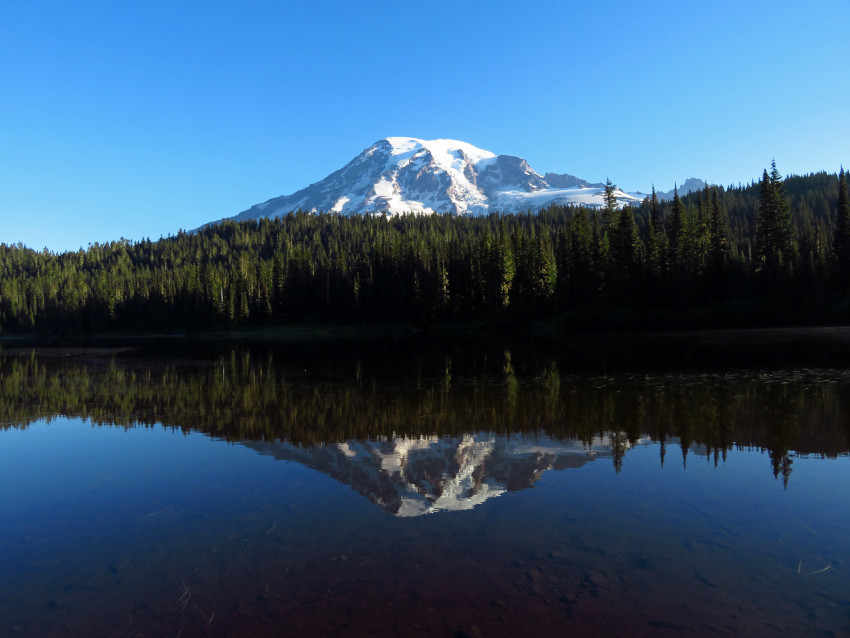 Absolutely don't miss: The iconic view of Mount Rainer with a mirror-like reflection at the aptly-named Reflection Lakes is surely breathtaking.
Mount Rainier National Park is my favorite among the Washington national parks because I just love waterfalls and old-growth forests.
With this park, you'll be in awe of rich and lush forests made green all year-round thanks to the wet and foggy climate of Washington State.
Of course, Mount Rainier is the star of the park. Did you know that this is an active volcano?
Best Things To Do in Mount Rainier National Park
Waterfall chasers will definitely have their fill here. There are plenty of options without very strenuous hikes. Choose from Christine Falls, Narada Falls, Myrtle Falls, Comet Falls, Spray Falls, and Silver Falls, just to name a few.
Hikers love taking on the Skyline Trail, with Myrtle Falls along the way plus 360-degree views of Mount Rainier National Park at Panorama Point
Extend your trip and make sure you go visit Cape Flattery for some spectacular coastal landscapes.
Best Time To Visit
Early summer will reward you with the perfect temperatures for hiking as well as lovely photos of Mount Rainier with a clear-sky backdrop and a calm lake foreground.
Location: Port Angeles, Washington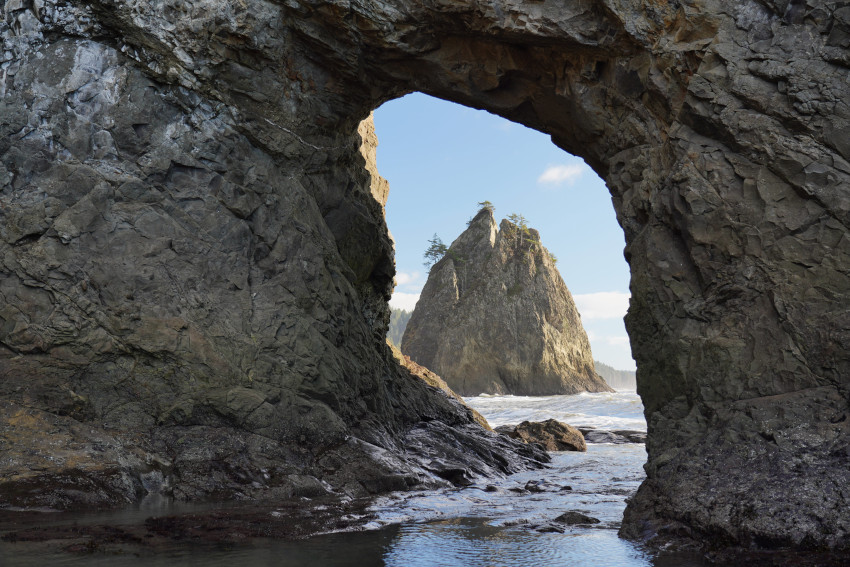 Absolutely don't miss: Rialto Beach features Hole in the Wall, a rock formation best explored during low tide.
Olympic National Park features the most diverse ecosystems among the West Coast national parks.
Rainforests, beaches, mountains, meadows, lakes, waterfalls—there's truly something out there for everyone.
Best Things To Do in Olympic National Park
Hiking the Hall of Mosses Trail is the best way to explore the Hoh Rain Forest. Look out for a grove of maple trees covered with moss.
Hurricane Ridge is the most easily accessed mountain area, where you can hike, snowshoe, ski, sled, or simply enjoy the view.
The three-tiered Sol Duc Falls is the most beautiful waterfall in the park. After the hike to get there, you can then soak in nearby Sol Duc Hot Springs.
Best Time To Visit
The park is open all year, but July and August are your best bets for perfect weather and accessible roads.
Location: Bettles, Alaska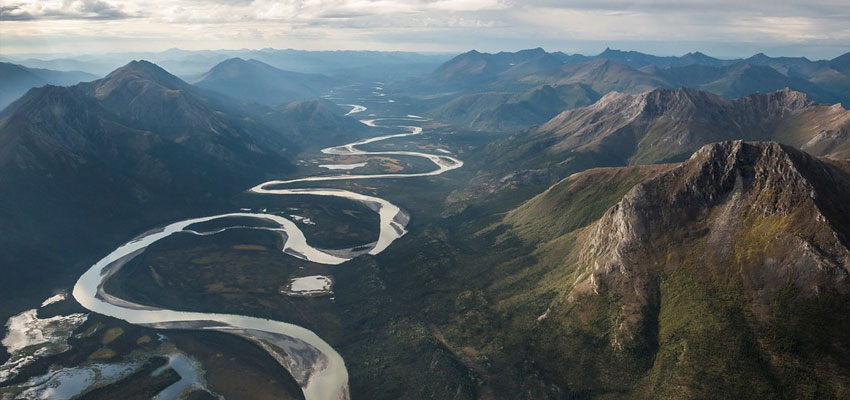 Absolutely don't miss: Float along the meandering Alatna River and marvel at the Arrigetch Peaks along your journey.
If Grand Canyon National Park is among the most visited, Gates of the Arctic National Park is the least visited West Coast national park, receiving only 7,362 visitors in 2021 (by contrast, Grand Canyon National Park received around 4.53 million visitors in the same year).
This super-remote location is above the Arctic Circle and has no roads, no official trails, and no park facilities. You have to either fly or hike from Fairbanks to get here.
Private tours are available, but once you arrive at any of the visitor centers, they'll warn you that you're responsible for your own safety.
And because wolves, grizzlies, Arctic foxes, and other wild animals call this wilderness their home, you'll have to be a serious hiker, backpacker, or survivalist who loves fishing, climbing, and possibly some running-for-your-lives activities too.
Best Things To Do in Gates of the Arctic National Park
The gateway communities of Anaktuvuk Pass, Bettles, and the twin towns of Coldfoot and Wiseman are not only jumping-off points but have visitor centers and park rangers, and probably a private guide or two.
Go to one of the six Wild Rivers in this park via air taxi for float trips, as well as wildlife watching and birdwatching.
While there are no official trails here, hiking, backpacking, and camping can still be done, depending on your skill level and confidence.
Take lots of photos and share them; not everyone is experienced enough or can afford to venture into this remote wilderness.
Best Time To Visit
Late spring to early fall is your best option to visit; flowers are blooming, wildlife and birds are abundant, rivers are flowing, and the temperatures are perfect for hiking.
Location: Seward, AK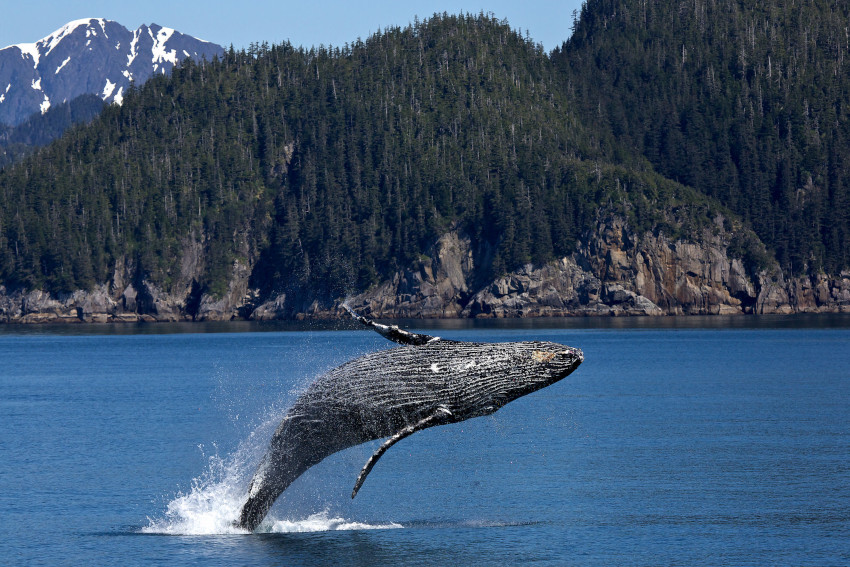 Absolutely don't miss: Go on a boat tour. It can take up to 6 hours, but you'll see mountains, ice, and ocean meet up close with Alaska glaciers. It's also a chance to spot whales, seals, puffins, and bald eagles!
Kenai Fjords National Park is on the Kenai Peninsula, just outside the town of Seward, where 40 glaciers flow, surrounded by mountains and the Gulf of Alaska.
If you're looking for one, this is a sign to visit this park before climate change destroys these magnificent glaciers.
Best Things To Do in Kenai Fjords National Park
If you can't take explore the coast, exploring the area by land is another option.
The Harding Icefield Trail is a strenuous hike that may take around 6 to 8 hours but has a magnificent payoff: breathtaking views of the Harding Icefield.
Too strenuous? The Glacier View Loop Trail lets you view Exit Glacier spilling down from Harding Icefield.
Best Time To Visit
Summer is definitely the best time to visit this park, as this is when boat tours depart on schedule, Exit Glacier Road is accessible, kayaking and hiking are bearable, and flowers are a-bloom.
Location: Denali Park, Alaska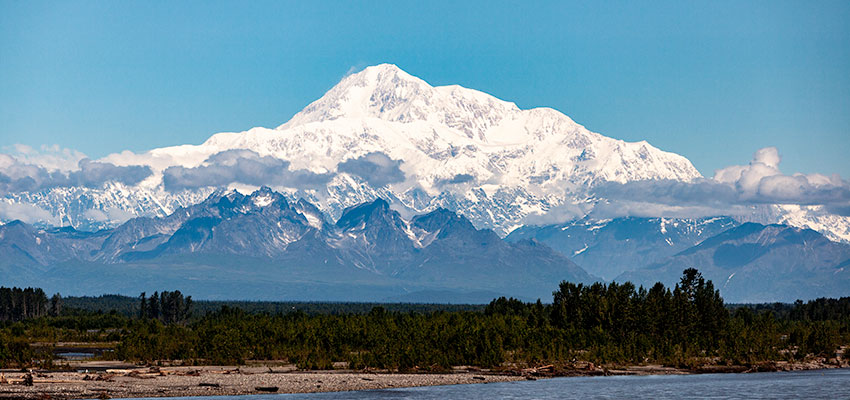 Absolutely don't miss: Stony Hill Overlook is a vantage point from where you can see Denali from base to summit if the weather is fair.
Denali (formerly Mount McKinley) is the highest peak in North America, but Denali National Park is more than this mountain; it's 6 million acres of lush green forest, long valleys, rivers, and wildland bisected by a single road.
If you're lucky, you may even get to experience the northern lights if you stay overnight.
Best Things To Do in Denali National Park
There are a few hiking trails right near the visitor center, such as the Roadside Trail or the Horseshoe Lake Trail to see Horseshoe Lake.
If you're looking for something more adrenaline-charged, don't miss whitewater rafting at Nenana River.
Or maybe try to spot moose, caribou, bears, marmots, golden eagles, ptarmigans, owls, and many other wildlife and birds that you can't see in the city.
Best Time To Visit
As with the other Alaska national parks on this list, the summer months are the best time to explore Denali National Park.
Plan Your Trip to One of These West Coast National Parks Soon!
Can't get enough national parks? Check out my favorite East Coast national parks here.