Whether you're a fan of the paranormal or simply a thrill-seeker, you're in the right place to learn about some of the most haunted places in America.
Below, I'll list 15 of the most haunted places in America, followed by 5 ghost towns you might be interested in:
15 of the Most Haunted Places in America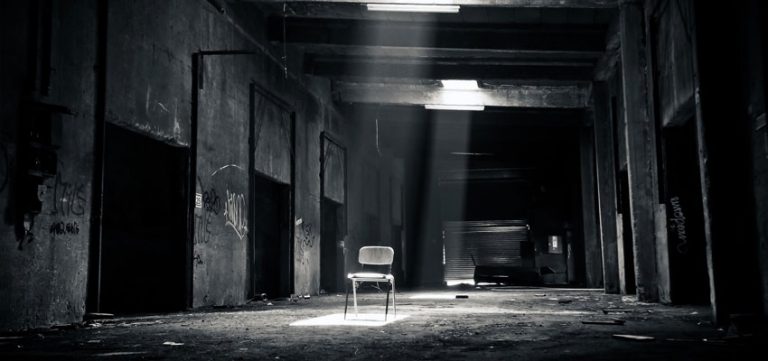 First opened in 1829, the Eastern State Penitentiary was the largest, most expensive public structure in the US.
It was designed to encourage separate confinement as a form of penitence, with the idea that time alone would inspire criminals toward spiritual reflection and eventually change.
The idea was that inmates would be alone in their cells but visited from time to time by prison guards and counselors.
In reality, the prison guards designed a variety of physical and psychological torture, such as dousing inmates outside with freezing water or placing them in "The Hole," a pit dug below a cell block where they stay alone with no light, no human contact, and very little food.
The penitentiary ceased to be a prison in 1969 but reopened as a museum holding daytime and night tours, as well as a venue for a seven-week Halloween Festival.
Visitors have reported hearing footsteps, echoes, and laughter; seeing shadows on the walls just in one's peripheral vision; feeling such dark, negative energy that it's almost a blow.
Because of these reports over the decades, this penitentiary has been a favorite of paranormal experts.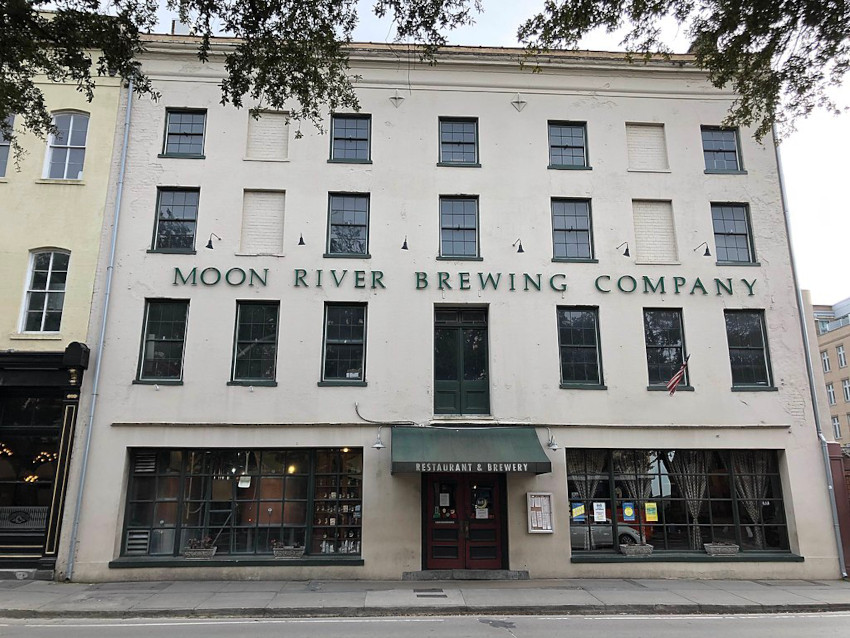 The building where the Moon River Brewing Company is now located started out as the City Hotel in 1821. It was the first hotel in Savannah and the first branch of the USPS.
During the yellow fever outbreak in the 1870s, the building was used as a makeshift hospital, and people who died back then were said to be the source of many of the ghosts.
Known ghosts that haunt the building include the "Lady in White," James Stark (a gambler who was killed in the building), "Mrs. Johnson," and "Toby."
Thus, this is known as one of the most haunted restaurants in America.
Ghost City Tours' Savannah Haunted Pub Crawl often includes this restaurant.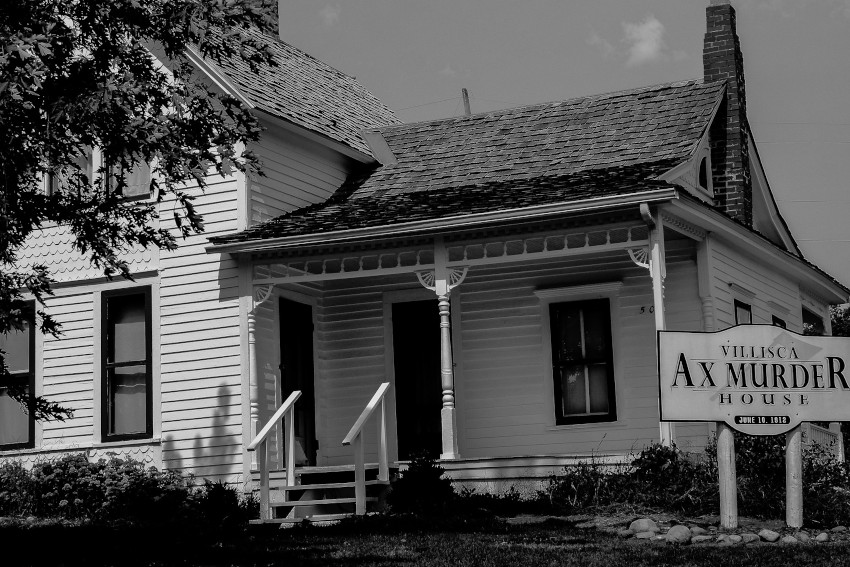 The Villisca Ax Murder House was the site of an infamous massacre.
On the morning of June 10, 1912, the bodies of six members of the Moore family (four of them children aged under 12) and two Stillinger sisters (both of them aged under 12) were found bludgeoned to death.
Over the years, many possible suspects were investigated, with one of them, Rev. George Kelly being tried twice; the first trial ended with a hung jury while the second one ended with an acquittal.
The crime remains officially unsolved.
Perhaps because this case is unresolved, the spirits are said to still haunt the house, even after its renovation in the 1990s and its inclusion in the National Register of Historic Places.
It remains one of the most haunted places in America.
Disembodied screams and giggles, a strange fog moving from room to room, and unexplained movements of things in the house are just some of the reported happenings in the house.
Experience them yourself by booking a daytime tour or an overnight stay, depending on your tolerance for possible encounters with the spirits.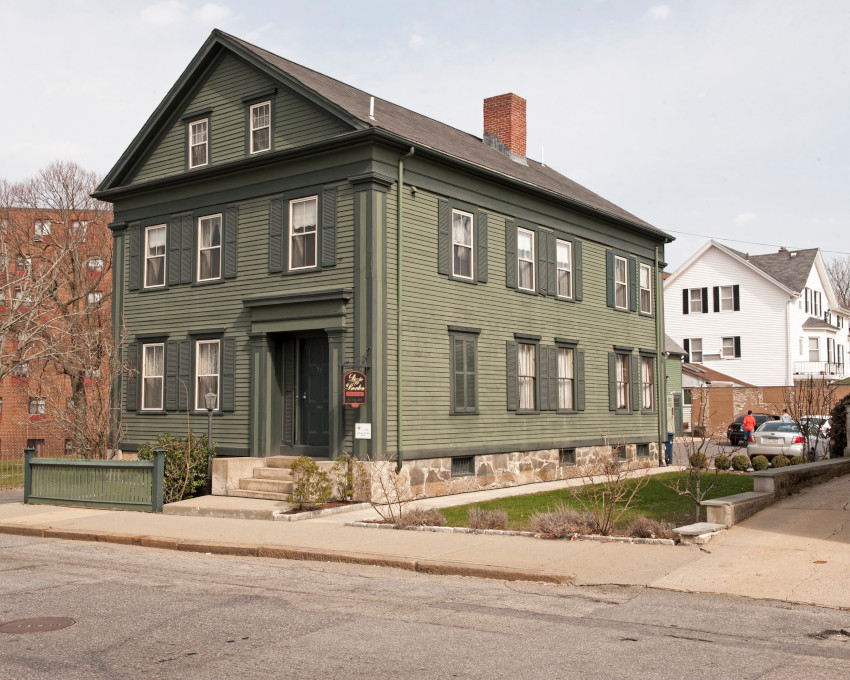 Lizzie Borden took an axe
And gave her mother forty whacks.
When she saw what she had done,
She gave her father forty-one.
If you're familiar with this skip rope rhyme, you're either very old or are familiar with the Borden murders, another massacre involving an ax (a hatchet, to be precise).
What is now known as the Lizzie Borden House was owned by Andrew Borden from 1874 to 1892, when he and his second wife Abby Borden were found hacked to death.
Andrew's daughter from his first marriage Lizzie Borden was accused of committing the bloody crime but was eventually acquitted of this crime.
As with the Villisca Ax Murders, this case remains unsolved to this day.
Lizzie's sister Emma never returned to the house, and neither did Lizzie (who bought a house nearby and named it Maplecroft).
Today, the old Borden house is a museum and B&B in one; the most requested room to stay in is the room where Abby Borden was found.
Through the years, guests and employees have witnessed strange activity in the house, such as sounds of footsteps, weeping, opening/closing doors, and whispers heard from vacant rooms.
Be warned, they don't do refunds if you can't stay throughout the night, so buckle up!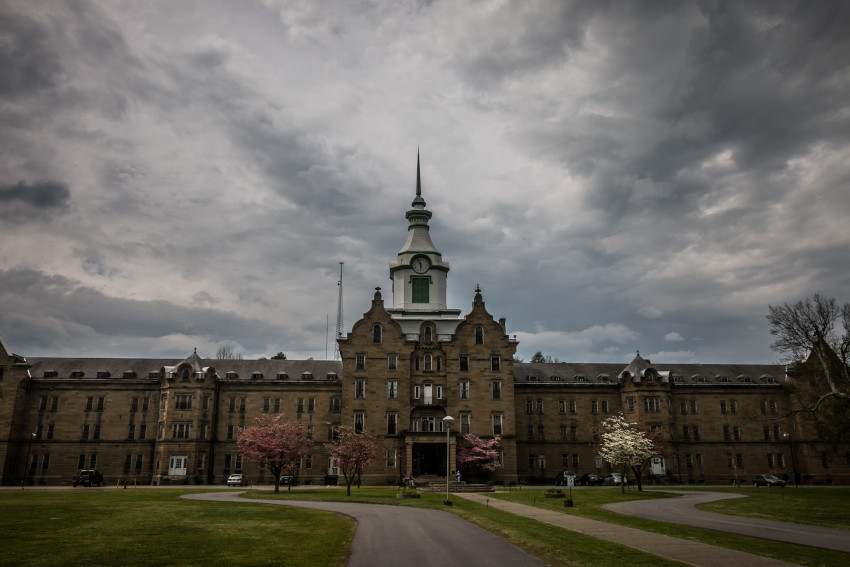 The Trans-Allegheny Lunatic Asylum, subsequently named Weston State Hospital in 1913, this asylum had been the home to thousands of mentally-ill patients from 1864 until its closure in 1994.
At its peak in the 1950s, the facility housed over 2,400 patients (even if the place was only designed to accommodate 250).
This overcrowding led to inhumane conditions, such as insufficient heat, lighting, and poor sanitation, leading to hundreds of deaths.
Those who were "treated" didn't fare much better; they were subjected to arcane methods of managing mental illness, such as hydrotherapy, lobotomies, electric shock, and for patients who can't be "controlled," locked up in cages.
All this death, pain, and suffering perhaps contribute to the oppressive energy and paranormal activity reported by workers, guests, and the many paranormal experts and ghost hunters who have come to this building.
Today, you can join a historical tour, which focuses on the history of the building, medical treatments, and the Kirkbride theory, and has no paranormal information.
Or if you're all about the paranormal, go on a guided paranormal tour or on an 8-hour overnight Ghost Hunt. Guests on Ghost Hunts are encouraged to bring their infrared video cameras, digital recorders, EMF meters, and the works.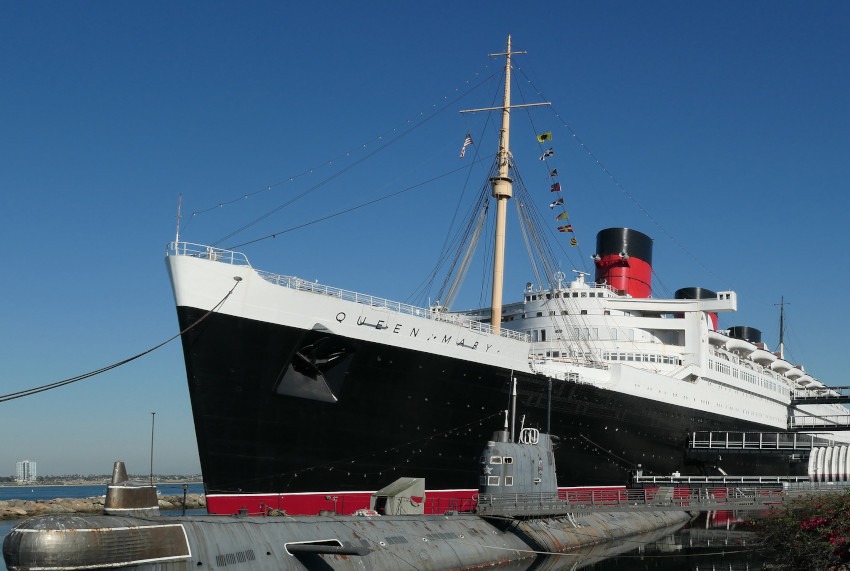 The Queen Mary started out as a grand ocean liner in 1936, carrying civilian passengers between Southampton, England, and New York City, New York.
When World War II broke out, it was transformed into a troopship, transporting more than 810,000 military personnel across the Atlantic.
Post-war, the Queen Mary resumed its passenger service that went on until 1967, when it was docked permanently in Long Beach, California, where it remains to this day.
It is now a floating hotel and events venue. Guests can appreciate the Art Deco interior, the luxurious wood paneling and carvings, and unique art work and murals.
Beneath this glamorous façade, though, lurks a shadowy supernatural presence, cementing its place as one of the most haunted places in America.
Haunted places in the ship include the drained first-class swimming pool, Hatch Door #13 (where a crewman was accidentally crushed to death), and the infamous Stateroom B340, whose mysterious occurrences began even before the Queen Mary became a hotel.
Legend says that it was the site of an unsolved murder of a passenger in 1948. The strange happenings started after, including lights turning on and off, water running without anyone turning them on, and bed covers being pulled off.
It was so bad they had to close it for decades but is now open for booking for the brave. In fact, when you go to their booking page, you can specifically book Stateroom B340.
They also offer various themed daily and nightly tours, but schedule your visit around Halloween, when the ship transforms into Dark Harbor.
Currently, it's closed for much-needed repairs but the target reopening date is Fall 2022, just in time for the Halloween festivities.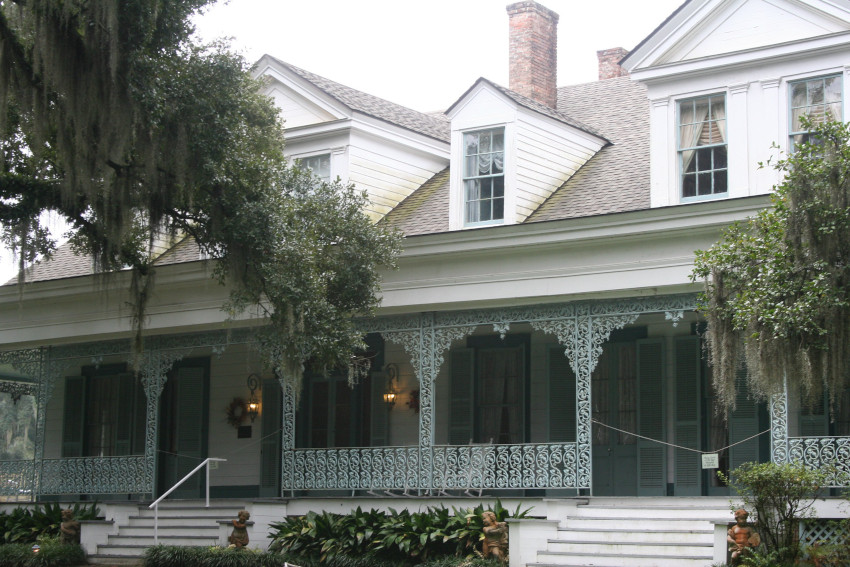 Named after the crepe myrtles that grew all over the property, Myrtles Plantation was built in 1796 by General David Bradford and is known as one of the most haunted homes in America.
For starters, the house is rumored to be on top of a Tunica Indian burial ground.
Since its construction, Myrtles Plantation has allegedly been the scene of at least ten murders, but historical records can only confirm the 1871 murder of William Drew Winter, an attorney shot by a stranger and died on the stairs trying to stagger back in the house.
Perhaps the most notorious ghost tale is that of a former slave named Chloe (or Cleo in some versions), whose owners had her ear chopped off for eavesdropping.
She allegedly retaliated by poisoning a birthday cake, killing two of the owner's daughters. Chloe was in turn killed by the other slaves, perhaps fearing their owner will take out his rage out on them.
However, there are no records of a slave named Chloe or Cleo ever living on the plantation; the owner's daughters who were allegedly poisoned actually died of yellow fever, according to medical records.
Today, the former antebellum plantation is now home to a bed and breakfast as well as a restaurant. Day and night self-guided and private tours are offered to guests who want to know all about the history of the plantation and its significance.
8. Braley Pond (West Augusta, Virginia)
Braley Pond is a picturesque camping and fishing spot located in George Washington National Forest, just outside of West Augusta, Virginia.
It has always been known as one of the most haunted campgrounds in America, what with stories of apparitions floating over the creek, splashing sounds on the otherwise still pond, disembodied children's laughter, and the sound of horses' hooves when there aren't any animals for miles.
Though these ghost stories and rumors of suicides and missing hikers have surrounded Braley Pond, it's the 2003 gang murder of Christopher Kennedy that added to the notoriety of this campground.
Kennedy was lured to the pond by his fellow Crips gang members who then stabbed him multiple times.
Paranormal experts who have entered this area since the murder have reported feeling nausea and a slime-like sensation crawling up their back, as if the evil in the area manifested physically and attacked them.
If you'd like more details about the murder of Christopher Kennedy and how it impacted Braley Pond's reputation, I suggest listening to the What Happened at Braley Pond? podcast (Content Warning: detailed description of violent assault).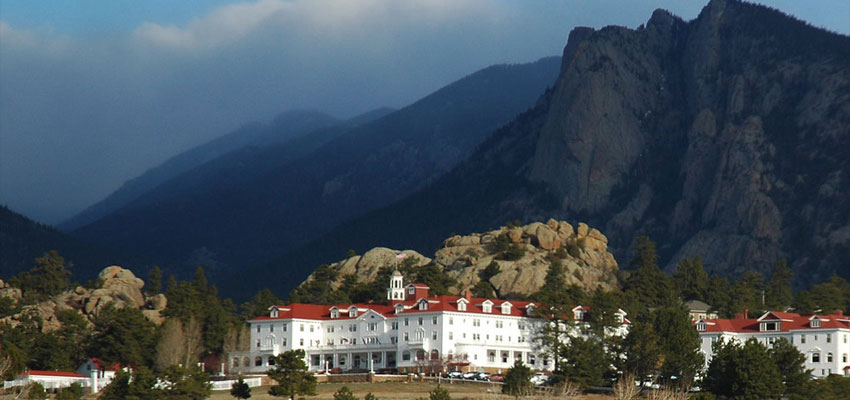 No list of the most haunted places in America will ever be complete without the Stanley Hotel.
Estes Valley was once the Rocky Mountains' best-kept secret until 1903, when F.O. Stanley's doctor recommended he spend a summer here to improve his tuberculosis-stricken lungs.
He and his wife Flora resolved to come back here every summer, but soon missed the trappings of city life and the sophistication of East Coast society.
Thus construction began on the Stanley Hotel, a posh place to stay for those who want to spend time in the mountains with amenities common in city hotels. Eventually, Estes Park became more developed and was declared an official municipality in 1917.
Paranormal experiences have frequently been reported since the hotel opened. Mr. Stanley may be seen strolling the lobby, Mrs. Stanley sometimes plays the piano in the music room and if you happen to stay in Room 217, you may or you may not find your bags tidily unpacked.
In the 1970s, Stephen King and his wife Tabatha stayed one night at the Stanley. The eerie surroundings and the haunted history of the room they stayed in (Room 217) inspired him to write the book The Shining.
Because of the popularity of the book and its movie adaptation, the Stanley's reputation for being a paranormal site reached wider audiences and actually helped keep the hotel open.
Today, you can join guided day and night tours of Stanley Hotel's "spirited history." They also host seasonal events around Halloween.
10. Whaley House (San Diego, California)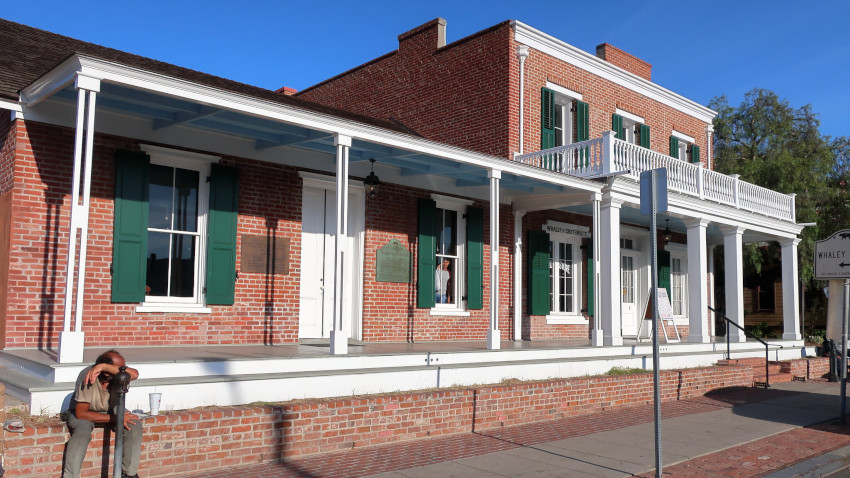 In 2005, LIFE Magazine called the Whaley House "the most haunted house in America."
Built in 1857 atop a former graveyard site, the property has been turned into a residential house, store, courthouse, city theater, ballroom hall, school, and community center.
Before construction even began, the site where the house stands has reportedly been haunted by the ghost of convicted robber "Yankee Jim" Robinson, who was hanged in 1852 from a gallows that stood on the property.
Thomas Whaley then bought the property and built his house there, only to hear the heavy footsteps of a large man in boots haunting the home for more than 100 years.
Guests, visitors, and employees who worked in the house have reported sightings of the Whaley family ghosts, as well as the family's dead dog running in the house.
Since 1960, the Whaley House has been operating as a museum, allowing self-guided day tours and hosting guided evening tours.
Ghost hunters can book a slot in an after-hours paranormal investigation, guided by experienced guides and with exclusive access to the latest ghost-hunting equipment (or bring your own, you do you!).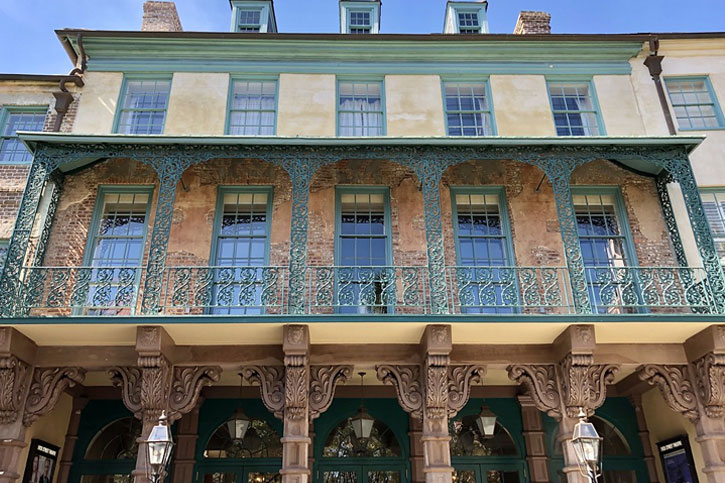 Photo Credit: w_lemay
Like many things in Charleston, SC, the history of the Dock Street Theatre is rich and super interesting.
The building itself dates back to 1809 and was originally constructed as theater. When the Great Fire of 1740 (which destroyed many of the buildings in Charleston's French Quarter) also burnt down the theater, a hotel called Planter's Inn was built on the same location.
By 1930s,  the structure got back to its roots and converted back to a theater in the 1930s.
Legend has its, Nettie Dickerson, a former prostitute who frequented the hotel in mid1800s, has been roaming Dock Street Theatre. According to stories, then-25-year-old Nettie was struck by lightning while standing on the balcony of the Planter's  Inn. From then on, sightings of Nettie dressed in a red gown had been happening along the second floor of the theater, .
Another resident ghost of Dock Street Theatre is Junius Brutus Booth, a renowned 19th-century actor who used to frequent the inn.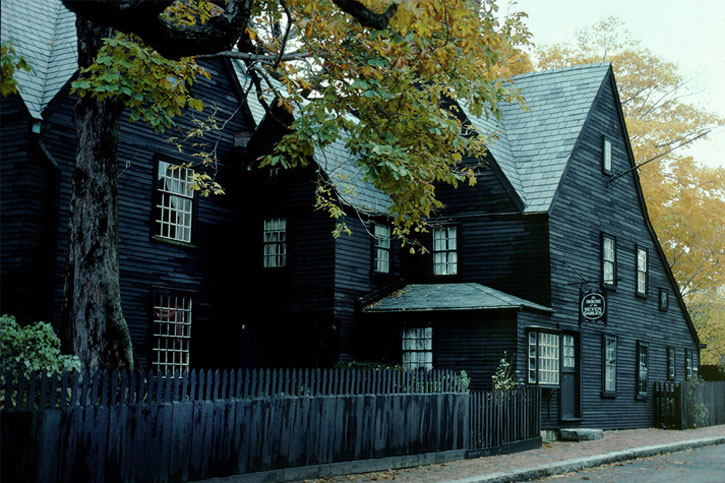 Photo Credit: Massachusetts Office of Travel & Tourism
If you've ever read the famous 1851 novel, The House of the Seven Gables, this is the house that inspired that book. Yes, the author Nathaniel Hawthorne born in Salem and have known the gothic-like house growing up.
As you may have guessed, the house in question has been shrouded with tales of ghost sightings and paranormal activities told by employees working there throughout the years.
Every October, the place hosts the Haunted Fables at the Gables, Halloween-inspired tours, and an Daemonologie: Sinew & Soul theater production.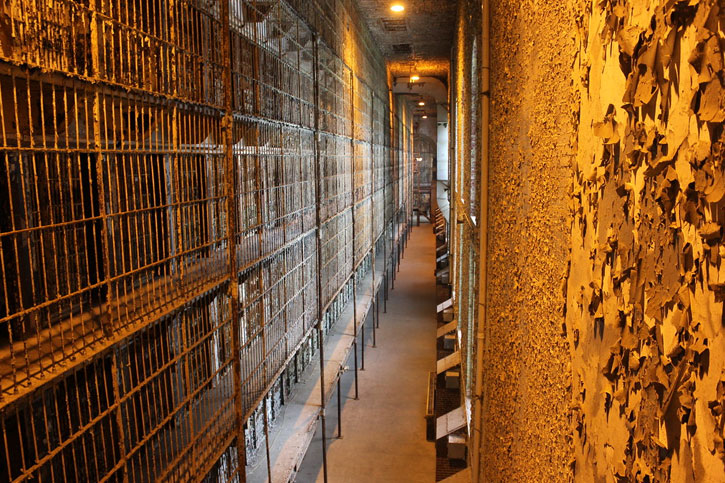 Photo Credit: TexasExplorer98
Outside, the Ohio State Reformatory is one of the most stunning Gothic structures in this part of the country. If you look through the pictures, you'd probably feel de ja vu. That's because the six-story prison was the filming location for The Shawshank Redemption.
But before the award-winning film even came here, the 1896-built Ohio State Reformatory witnessed over 200 people die. It was closed for good in 1990 due to overcrowding and inhumane conditions.
The ghosts are wildly whispered belonging to former inmates, who still roamed the halls. Even the presence of an old guard who jabs visitors with his nightstick has been reported for years.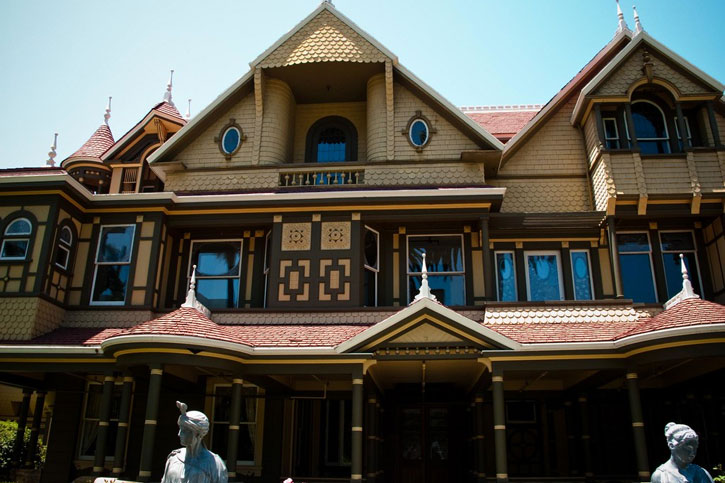 Photo Credit: HarshLight
The Winchester Mystery House may seem like a normal, but interesting Victorian house. But the history beyond its construction is really one for the books.
Owner Sarah Winchester was informed by a seer that her husband and child were killed by the ghosts of gunshot victims. Believing this to be true, Winchester commissioned the house with a staircase leading nowhere, windows that take you to secret passages, doors that open onto brick walls, and other odd features designed to confuse ghosts.
I recommended you book a guided tour to learn all the secret features of the house.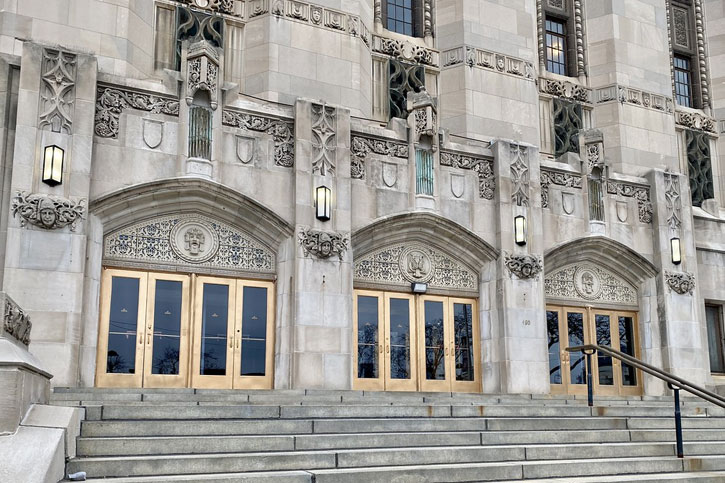 Photo Credit: w_lemay
The Masonic Temple is a regal, landmark structure in Detroit, Michigan.
From the outside,  the giant doors and sculpted faces on the pillars and intricate details will all catch your attention. But inside the 16-floor temple are thousands of room, impressive staircases, and hidden passageways.
What made the Detroit Masonic Temple included in my list of the most haunted places in America cannot be backed up by facts. But legend has it that the temple's architect, George D. Mason went bankrupt funding his extravagant temple construction, leapt to his death from the roof and now haunts the area near the roof.
If you plan to visit and want to book a guided tour, make sure you call first since these tours are subject to staff availability.
My Top 5 Ghost Towns To Explore This Halloween
The US is full of ghost towns; places once bustling with activity that were eventually abandoned for a variety of reasons.
Although arguably a few of them are, ghost towns aren't automatically haunted by ghosts.
However, visiting a ghost town might feel even eerier; the void left by lives uprooted, hopes dashed, and homes abandoned can leave one feeling melancholy.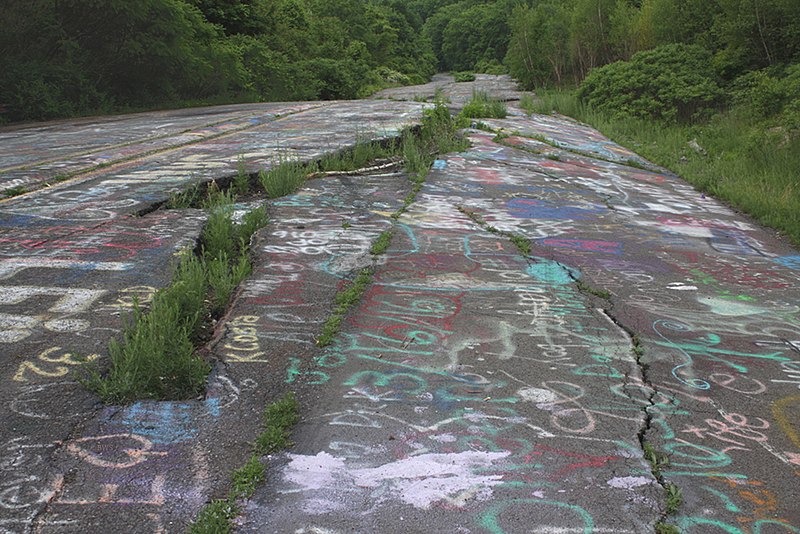 Smoke and noxious fumes rising from the ground.
Nope, it's not Silent Hill; it's a real town.
Centralia has a coal mine burning underneath it for 60 years now and is expected to burn for the next 250 years.
Understandably, many of the town's residents have fled and the abandoned homes have either been reclaimed by nature or forcibly transferred to eminent domain. Today, the town has 4 residents remaining.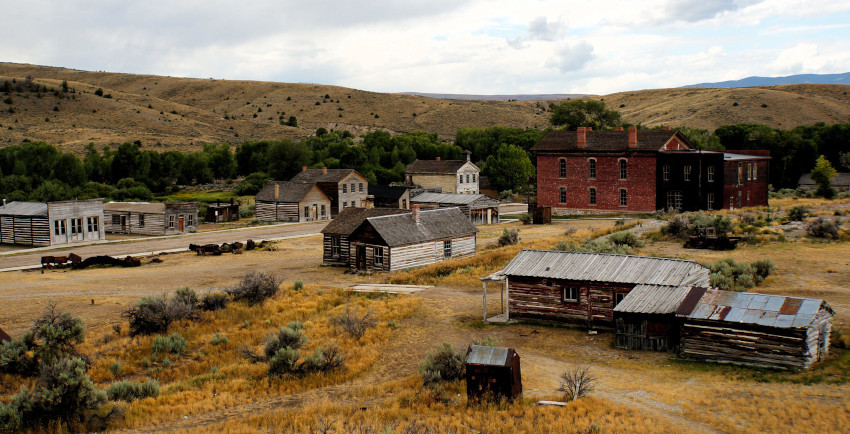 Bannack is where gold was first discovered in Montana, prompting a gold rush that eventually dwindled. It is now preserved and maintained as a state park.
It's allegedly one of the most haunted places in America and has been featured in an episode of the Travel Channel's Ghost Adventures.
Walk along Main Street, peer into the empty buildings, and imagine how life was in the Old West. You may also camp on the grounds if you dare.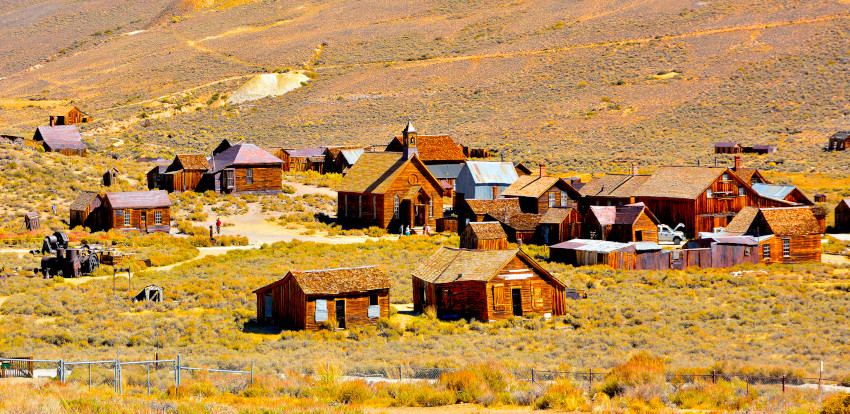 At its peak in 1880, Bodie, California was home to 10,000 people, all driven by the gold discovered by William S. Bodey.
By the 1950s it had become an authentic Wild West ghost town.
Today, the town is a State Historic Park, preserved in "arrested decay"; that is, no restoration is done, just the preservation of the appearance of the buildings and structures as they were in the 1880s.
As with many other ghost towns, supernatural occurrences are frequent, from sightings of a Chinese maid to smells of cooking from houses long abandoned.
However, Bodie is most famous for its curse; any visitor who takes anything from this town will be cursed with bad luck and poor health until they return what they took.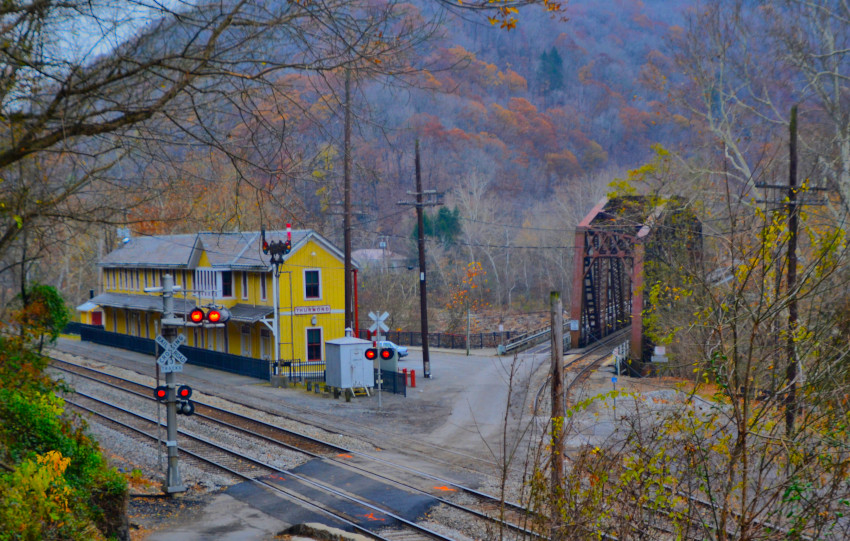 Named for Captain W.D. Thurmond, the town of Thurmond, West Virginia used to be a thriving railroad town. With tons of coal coming in from local mines, it was a big stop on the Chesapeake & Ohio Railway.
However, with the Great Depression, the rise of diesel locomotives (and the decline of coal-powered ones), and the popularity of automobiles, people fled the town looking for jobs and businesses had to close.
Today, only 5 people live in Thurmond, which is now designated as the Thurmond Historic District. Thurmond Depot has been transformed into a visitor center for travelers wanting to raft on the New River Gorge National River.
Although far from being the most haunted places in America, ghost hunters have reported communications from the abandoned post office and a lady in red in the Erskine Pugh house.
Not many towns can claim that everything in their town is haunted.
Windyville, Missouri is one of the few.
How?
Well, there were several child deaths in this town in the 1800s; whether they died from disease or from murder is unknown.
And so all the important spots in town, like the Windyville Store, the school, the center of town, its post office, and the Lone Rock Cemetery are reportedly hangouts of child ghosts; some holding a lantern, others staring with red lights instead of eyes.
Today, though very few people live in the town, the Windyville Store is open again (now the Windyville Cozy Cottage) and welcoming customers and visitors willing to spend the night.
There are 3 other ghost towns in Missouri worth checking out as well.
Have you visited any of the Most Haunted Places in America?
You don't have to believe in ghosts or be obsessed with paranormal shows to visit the most haunted places in America.
You just have to love rich stories, people's history, and local hearsay to appreciate our country's awesome past.