Whether you're celebrating a birthday, an anniversary, a holiday, or going on your honeymoon or babymoon, there are plenty of romantic things to do in Estes Park for couples.
Estes Park, Colorado is at the base of Rocky Mountain National Park, one of the most beautiful national parks in the country. With its towering mountain peaks, serene alpine lakes, scenic hiking trails, and abundant wildlife, it's a sought-after destination by adventurers.
Estes Park is often the base camp for those going to the national park, but it doesn't have to be a pit stop; it can be your ultimate destination.
Today, we explore Estes Park and fun things to do in this lovely mountain town for couples.
Fun, Romantic Things To Do in Estes Park For Couples
1. Take a scenic drive.
Estes Park is surrounded by some of the most stunning scenery you'll ever see, and the excellent roads here mean you don't even have to get out of the car to enjoy them.
Trail Ridge Road is the highest continuous paved road in the US, with elevations reaching up to 12,000 feet.

It connects Estes Park to Grand Lake, cutting its way through the heart of Rocky Mountain National Park. Along the way, you get treated to sharp curves, dramatic heights, and spectacular views of the surrounding mountain peaks, lakes, and tundras.
To enter Trail Ridge Road, make your way to E Wonderview Ave and follow it west until it becomes W Wonderview Ave, Fall River Rd, enters Rocky Mountain National Park, and finally becomes Trail Ridge Rd at Deer Ridge Junction (these are all part of US-34).
Peak to Peak Scenic Byway is another famous scenic drive you can take from Estes Park. Colorado's oldest scenic byway follows Colorado State Highway 7 from Estes Park to Central City, Colorado until it terminates at I-70.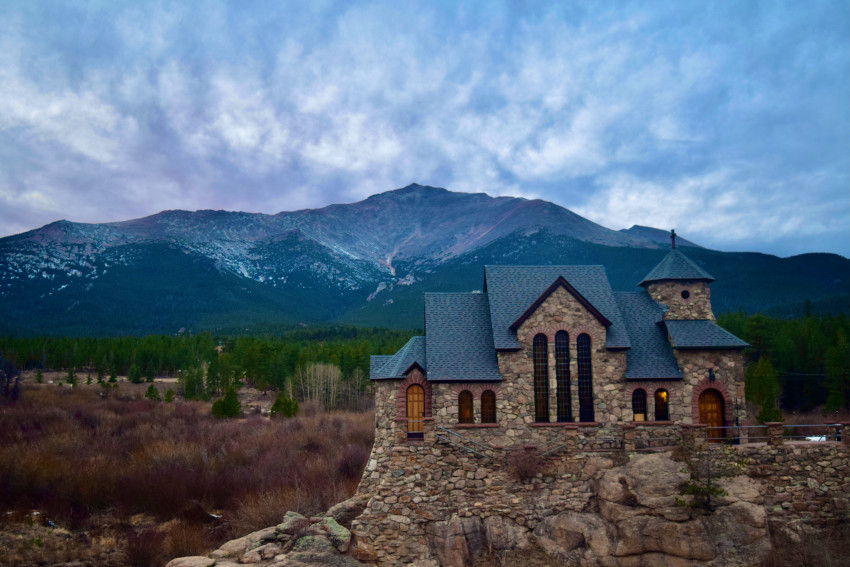 The Peak to Peak Scenic Byway showcases the best of Colorado's Front Range. Stops along the way range from a lake to a church on a rock, to aspen groves, to a few ghost towns. This is a particularly nice drive in the fall.
Start your road trip by making your way to N St Vrain Ave and follow it south until it becomes S St Vrain Ave, and continue on south until it becomes CO-72 and CO-119 until it ends at I-70.
More Information:
2. Go for a walk.
Hiking in nature is the classic thing to do in Estes Park for couples.
Rocky Mountain Park has over 300 miles of hiking and walking trails, with more in the surrounding forests and right within Estes Park proper.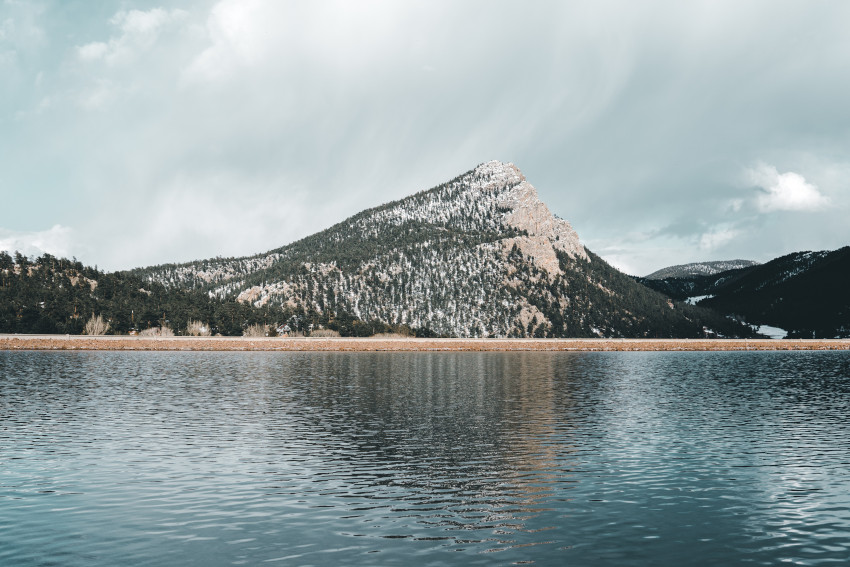 The Lake Estes Trail is a popular trail right within Estes Park, which gives you a chance to enjoy the lake without getting wet.
There's even a hiking trail right in the heart of downtown Estes Park. Wander down the Estes Park Riverwalk and enjoy the sights and sounds of the Big Thompson River and Fall River while shopping and dining.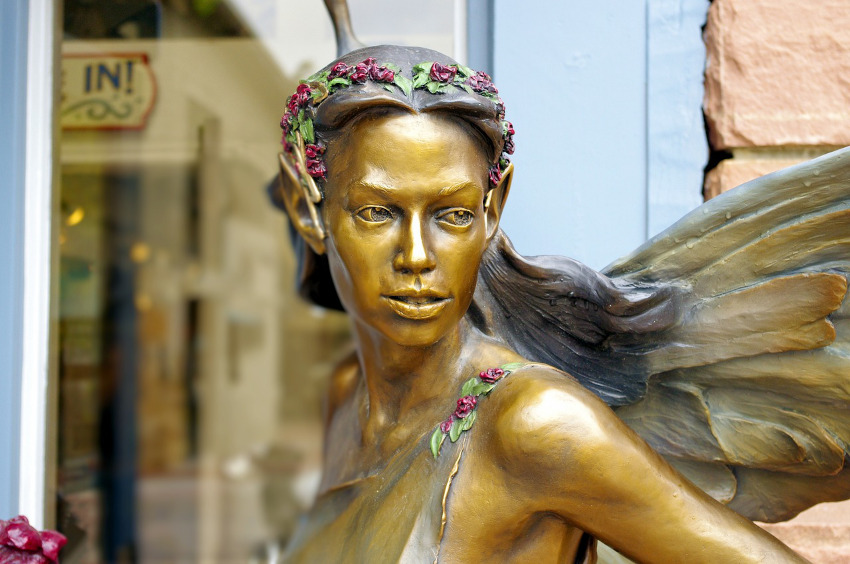 You can make a game out of spotting murals and bronze sculptures by local artists before resting at George Hix Riverside Plaza.
More information:
3. Explore the mountains on horseback.
While there are many ways to enjoy the Rockies during a trip to Estes Park, horseback riding is certainly one of the most unique!
Horseback riding outfitters offer a variety of tours; from one-hour tours up to overnight, from the Rockies to Roosevelt National Forest, and from streams to lakes.
Take in the sights and keep your eyes peeled for wildlife such as deer, elk, and coyotes.
More information:
4. Look up at the stars…
Stargazing is one of the most romantic things to do in Estes Park for couples.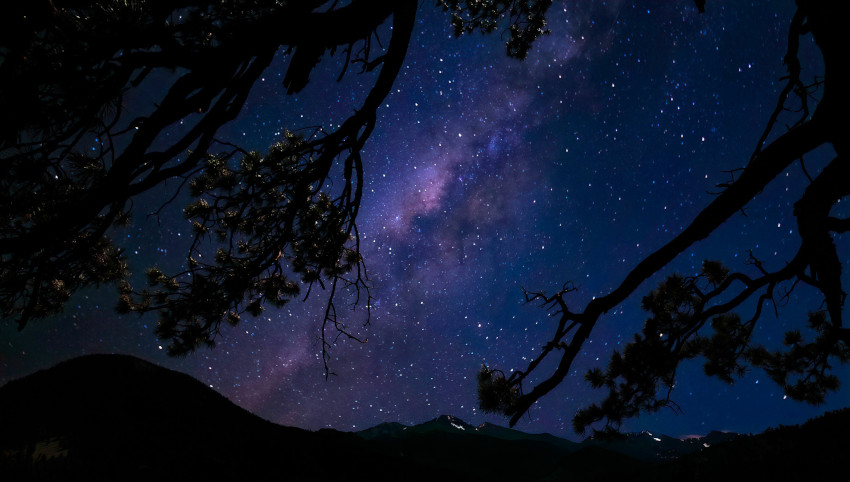 Away from the light pollution from big cities, the night sky above Estes Park explodes with a million lights when the sun goes down.
The Estes Park Memorial Observatory is the best place in Estes Park to look at constellations, especially for beginners.
They host group and private viewing sessions, with basic astronomy lectures to help visitors know what they're observing when they look at the telescope.
Not surprisingly, Rocky Mountain National Park is another great place to appreciate the night sky.
Drive out to Bear Lake at night and marvel at the Milky Way above Hallett Peak. Or drive through Trail Ridge Road all the way up to Alpine Visitor Center and hike a short trail to stargaze from an elevation of 12,000 feet.
Park rangers and volunteer astronomers also host night sky programs during certain seasons.
More Information:
5. …and then reach up and touch the sky.
Sitting at 7,522 feet, Estes Park is by no means a low place. But this mountain town and the surrounding areas offer plenty of opportunities to reach even loftier heights.
With hundreds of granite faces and peaks, rock climbing is a popular activity in and around Estes Park.
Sites like Lumpy Ridge, Big Thompson Canyon, and Emerald Lake are popular rock climbing sites from spring to fall.
If you're not quite ready for the outdoors, you can get your fix through indoor rock climbing at Estes Park Mountain Shop. Then, increase your confidence by moving on to Performance Park downtown.
In the winter, it's time for ice climbing in sites like Jewel Lake, Hidden Falls, and Loch Vale within Rocky Mountain National Park.
If you're not really into climbing, you can try the 32 different aerial adventures at Open Air Adventure Park or the alpine coaster at Mustang Mountain Coaster.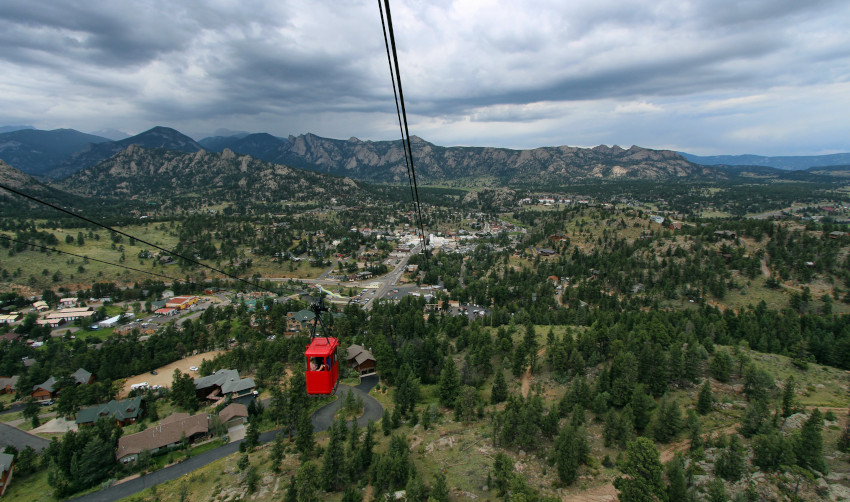 Or if you'd be more comfortable inside an enclosed space while you're high up in the mountains, you can ride the Estes Park Aerial Tram, which takes you above the treetops to the top of Prospect Mountain, giving you a bird's eye view of Estes Park, as well as Longs Peak, the Continental Divide, and the Rockies.
More Information:
Climbing Guides/Outfitters/Climbing Gyms
Adventures
Tram
6. Have fun on the water.
Estes Park is known for hiking and mountain climbing, but it's also a great town for water activities.
Head over to Lake Estes Marina and rent a motorized boat to go fishing, or a pontoon, canoe, kayak, or stand-up paddleboard (available from May to September). If the water's too cold for your liking you can just picnic or sunbathe on the shore.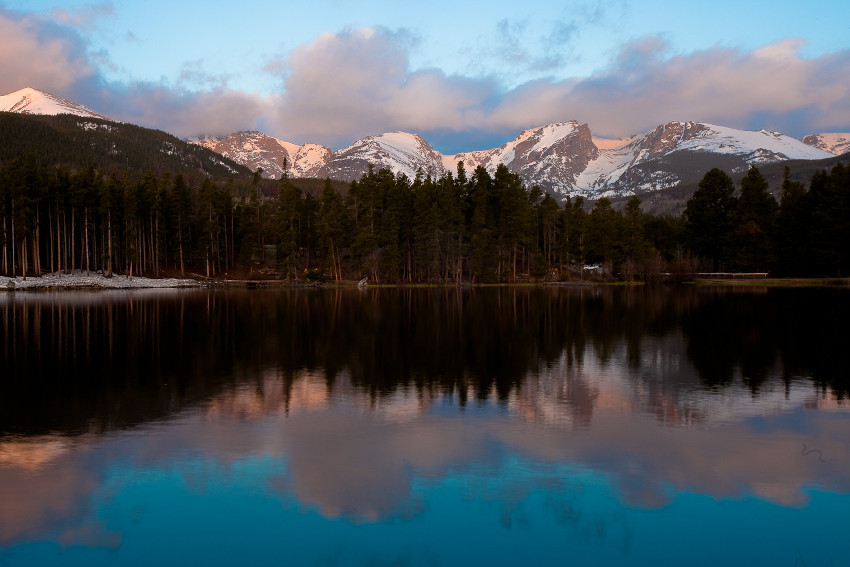 Most lakes inside Rocky Mountain National Park don't allow fishing or any other activities in the lakes. Sprague Lake is one of the few lakes where fly fishing is allowed. It's also known for its great sunrises, so you can come early in the day to gawk at the sunrise before fly fishing.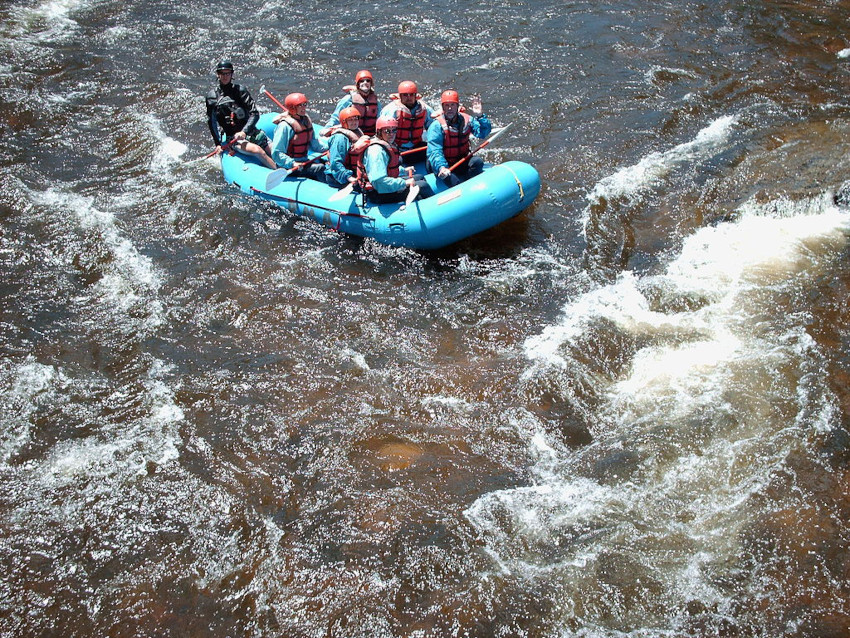 Whitewater rafting on the Cache la Poudre or Colorado Rivers is for the thrill-seeker couples. This will take you to neighboring Fort Collins or on the western side of Rocky Mountain National Park.
More Information:
Lake Estes Marina
Lake Estes Marina
Whitewater Rafting
7. Explore Downtown Estes Park.
Yes, the mountains and the lakes are all beautiful, but Downtown Estes Park has a mountain town charm worth exploring.
Stroll through Elkhorn Avenue and Moraine Avenue and browse through the shops and get one-of-a-kind souvenirs like handblown glass, bronze sculptures, paintings by local artists, jewelry by local craftsmen, genuine rocks, and many more.
Don't forget to get saltwater taffy, fudge, and beef jerky for the folks back home (or just for you two; no judgment here!).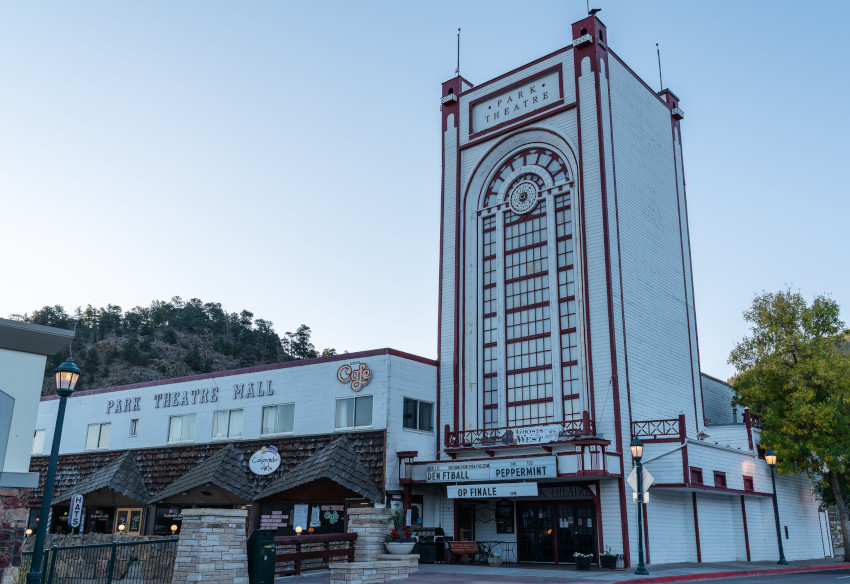 While you're downtown, why not catch a movie? Going on a movie date in the oldest motion picture theater in the country, Historic Park Theatre, is one of the most romantic things to do in downtown Estes Park for couples.
Visiting Estes Park Museum is another fun thing to do downtown. Learn about Estes Park's history as a destination community, from Native Americans, to homesteaders, to entrepreneurs, to artists.
More Information:
Estes Park Shopping
Estes Park Shopping
Breweries/Distilleries/Winery
Estes Park History
8. Relax with a couples massage.
Estes Park is naturally relaxing; the fresh mountain air, fantastic scenery, and friendly people.
But a couples massage after exploring Estes Park sounds like a great way to end a weekend getaway.
There are a number of spas in the village and along the river that offer a variety of massage techniques, as well as other relaxing body treatments.
More information:
9. Visit Rocky Mountain National Park
I know I said Estes Park deserves to be a destination in itself, but honestly, no trip to Estes Park is complete without visiting Rocky Mountain National Park.
As I've mentioned numerous times above, the activities in the park include driving, hiking, climbing, horseback riding, fishing, and stargazing. And these are just some of the many ways to enjoy the natural beauty of this park.
If you don't want to leave for the night (which is totally understandable), there are campgrounds scattered around the park where you can stay overnight and snuggle underneath the stars.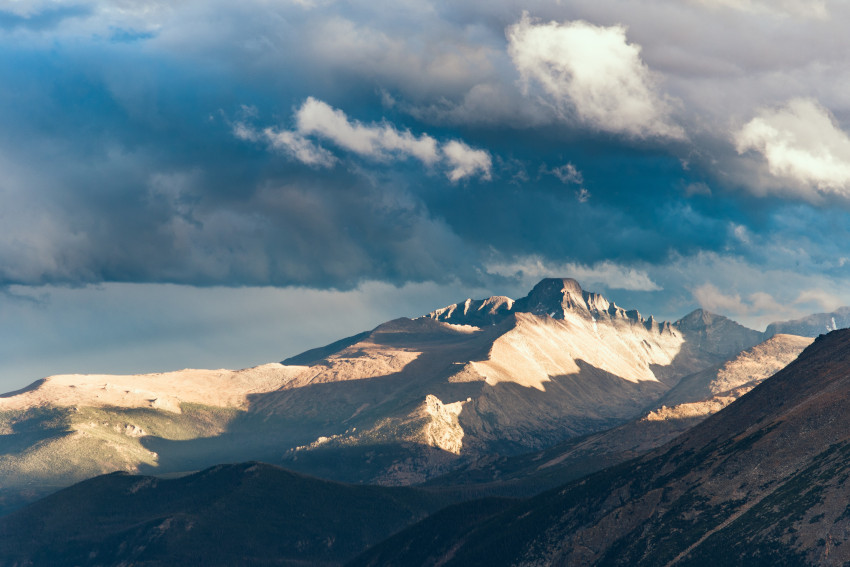 From Estes Park, take Trail Ridge Road (as described above) to get to the national park.
More Information:
Rocky Mountain National Park | National Park Service
10. Elope!
The small-town, secluded, picturesque mountain town vibe makes elopements a popular thing to do in Estes Park for couples.
Plus, the surroundings are beautiful all year round; your wedding photos would look gorgeous with summer golden light, fall foliage, winter snow, or spring wildflowers.
Some popular venues in Estes Park where people have eloped include the YMCA of the Rockies, Knoll-Willows Open Space, and Cheley Colorado Camps.
Rocky Mountain National Park is another popular wedding spot, though you have to apply for a wedding permit in advance; there are limited slots per month. The National Park Service has helpfully mapped out approved wedding locations.
Local wedding planners even know how to incorporate outdoor activities like hiking, climbing, horseback riding, and even boating into your wedding.
Of course, only do this if you both agree to elope.
More information:
Estes Park Elopements | Visit Estes Park
Romantic Restaurants in Estes Park for a Date
The locally-owned restaurants in Estes Park offer unique dining experiences for all types of guests. Here are a few recommended restaurants for a romantic date.
Twin Owls Steakhouse at Taharaa Mountain Lodge
For those who want an intimate setting (and love steak!)
A classic steakhouse in a 1920s mountain lodge with a fireplace and amazing mountain views, Twin Owls Steakhouse is in an intimate setting made for romance.
Essential Information
Address: 3110 S St Vrain Ave Suite B, Estes Park, CO | 970-586-9344
Open For: Dinner: Mon–Sun 5pm–9pm (seasonal)
Attire: Casual Dress
Reservation Required: Encouraged (via OpenTable)
Cost: $$$
Dishes to try: Bacon-wrapped scallops, filet mignon, bison ribeye
Website: Twin Owls Steakhouse
Claire's Restaurant and Bar
For the laidback couple who prefers brunch or early dinner dates
Claire's has a homey feel with classic American food from locally sourced ingredients, set in a charming atmosphere with views of Bond Park and the Rockies.
Essential Information
Address: 225 Park Ln, Estes Park, CO | 970-586-9564
Open For: Brunch to Dinner: Mon–Tue 11am–8pm, Thu–Fri 11am–8pm; Breakfast to Dinner: Sat–Sun 8am–8pm; Wed closed
Attire: Casual
Reservation Required: No; call-ahead seating available within 90 minutes of planned arrival
Cost: $$
Dishes to try: Cuban Benedict, wild game meatloaf, smoked brisket grilled cheese sandwich
Website: Claire's Restaurant And Bar
Dunraven at The Estes Park Resort
For couples who want the classic fine dining experience
Dunraven has been serving modern Italian cuisine, steak, and seafood in Estes Park for more than 40 years. They recently moved to The Estes Park Resort, an elegant setting right on the shores of Lake Estes.
Don't forget to contribute your signed dollar bill to their wall of dollar bills.
Essential Information
Address: 1700 Colorado Peaks Dr, Estes Park, CO | 970-586-6409
Open For: Breakfast & Lunch: Mon–Sun 7am–2pm; Happy Hour: Mon–Sun 2pm–4pm; Dinner: Mon–Sun 4pm–10pm
Attire: Casual Dress
Reservation Required: Encouraged (via Resy)
Cost: $$
Dishes to try: Traditional ziti, lobster tail, grilled ribeye
Website: Dunraven at The Estes Park Resort
Romantic Places to Stay in Estes Park
Whether set in the mountains or in the forests, lodging options in Estes Park are just perfect for romance. Here is a selection of the most romantic places to stay in Estes Park for couples.
The Stanley Hotel
For the couple who loves movies, haunted places, and movies about haunted places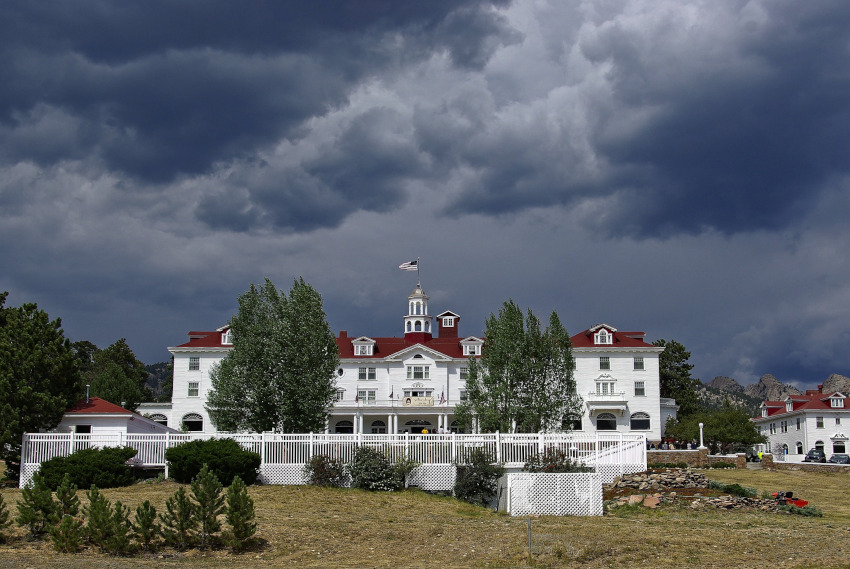 Best known for inspiring Stephen King's novel-turned-film The Shining, The Stanley Hotel is considered one of the most haunted places in the US.
But more than that, the Stanley Hotel is an Estes Park landmark that is listed on the National Register of Historic Places.
They have four types of accommodations; the original historic (i.e., haunted) rooms, the Lodge with boutique rooms, the Aspire with apartment-style rooms, and the Residences, which are condominium residences.
They also offer a historic day tour as well as a spirited night tour of the hotel.
Essential Information
Address: 333 E Wonderview Ave, Estes Park, CO | 970-577-4000
Website: The Stanley Hotel
Della Terra Mountain Chateau
For the couple who craves luxury
If you're looking for a luxurious romantic suite experience with awesome views, Della Terra has got you covered.
Stay in one of their fourteen luxury suites and get sitting nooks, jetted showers, private hot tubs and balconies, fireplaces, soaking bathtubs, and access to all chateau amenities, including a chef-catered breakfast, a spa treatment room, dry sauna, The Loft Bar, and a private theater.
The Della Terra is located above Estes Park, right at the Fall River entrance to Rocky Mountain National Park.
Essential Information
Address: 3501 Fall River Rd, Estes Park, CO | 970-586-2501
Website: Della Terra Mountain Chateau
Romantic RiverSong Bed & Breakfast Inn
For the couple who wants romance on a budget
Set in 26 acres of secluded wooded land right beside the Big Thompson River, the Romantic RiverSong has been "enchanting couples since 1922."
Each of their 10 rooms has its unique charm, and their couple getaway packages include breakfast, massages in your room, and a set of keepsake mugs as souvenirs. You can also get add-ons like fresh flowers, chocolate-dipped strawberries, a picnic set up for two, or a wine and cheese platter.
Essential Information
Address: 1766 Lower Broadview Rd., Estes Park, CO | 970-586-4666
Website: Romantic RiverSong Inn
Additional Information and Tips On Visiting Estes Park, Colorado
Here are some more tips to help you plan your couples' trip to Estes Park.
Getting To Estes Park
If you're flying in, the nearest airport is Denver International Airport. You can spend a few days in Denver if you have the time.
From DIA, it's around a 90-minute drive to Estes Park via I-25, CO-66, and then US-36, which leads to Downtown Estes Park.
Getting Around
Estes Park has plenty of both free and paid parking spaces. Downtown Estes Park is walkable. Rocky Mountain National Park has parking slots available as well.
Best Time Of Year To Visit
Estes Park is lovely all year round, so the best time of year to visit depends on what activities you want to do.
Spring is when the flowers bloom and wildlife come out of hiding; you might even spot some elk downtown. Spring is also best for whitewater rafting as the rivers are flowing nicely from the snowmelt.
Summer is best for lake activities, such as boating and fishing, as well as climbing. However, this is also peak season and accommodations are more expensive plus there are many more tourists.
Fall is when the most beautiful colors burst on the mountains; it is also the time for the Autumn Gold Festival.
Winter is best for snow sports or just cuddling in front of the fireplace.
Start Planning Your Couples' Trip To Estes Park!
Estes Park is the perfect mountain town destination for couples, and there are plenty of things to do. I hope this list has helped you plan out your couples' getaway in Estes Park.