The best mountain towns bring something magical to the table. Aside from the head-turning scenery of nature's colors blending together like real-life painting, a mountain town also has its own unique charm that people from other places fall in love with.
Whether you're a landscape photographer looking for the next project to complete, or just an ordinary traveler who loves the postcard-perfect mountain towns in America, I've compiled 12 that you should definitely visit at least once in your life…
12 Breathtakingly Beautiful Best Mountain Towns in America
Add these charming mountain cities to your bucket list, or pass by them while you're embarking on a tour.
1. Eureka Springs, Arkansas
Eureka Springs is a city in the Ozark Mountains of northwest Arkansas.
Most of the hotels and B&Bs here are attractions themselves, especially if the one you picked is housed in one of the 100+ Victorian buildings currently in existence at Eureka Springs. In fact, the entire downtown is listed on the National Register of Historic Places.
2. Asheville, North Carolina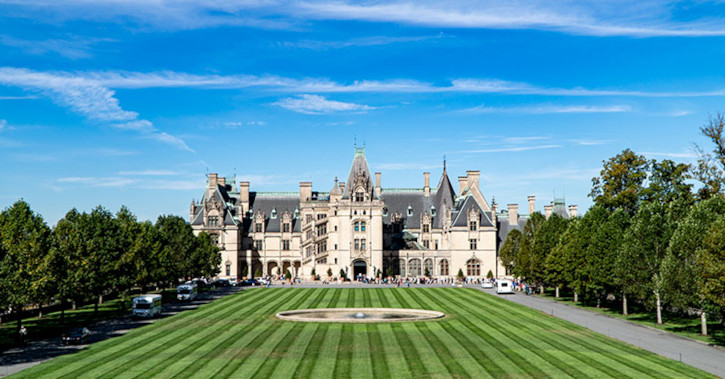 This bohemian town has one of the richest "personalities" a town can have. From its street art scene and street busker entertainment to the abundance of microbreweries (like Asheville Brewing Company or Wicked Weed), local museums and coffeehouses, you won't run out of chill things to do at Asheville.
You can go "bellyaking" (a local water sport) on the French Broad River, or just behold the Appalachian and Blue Ridge mountains that seemingly outline the town.
3. Gatlinburg, Tennessee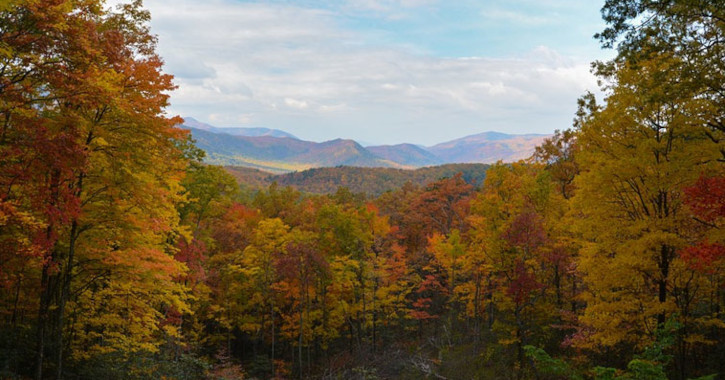 This town is situated on the border of the Great Smoky Mountains National Park, which means it can be quite busy during peak seasons. There are tons of scenic views, mountains and forests…and activities from fishing, hiking, whitewater rafting, horseback riding, tubing, and riding the ziplines that would make your visit worth the wait.
For spectacular views of downtown Gatlinburg, ride the 120-passenger Aerial Tramway, taking you to the top of the mountain. Check out Ober Gatlinburg Amusement Park & Ski Area, if you're interested in reaching "new heights."
4. Telluride, Colorado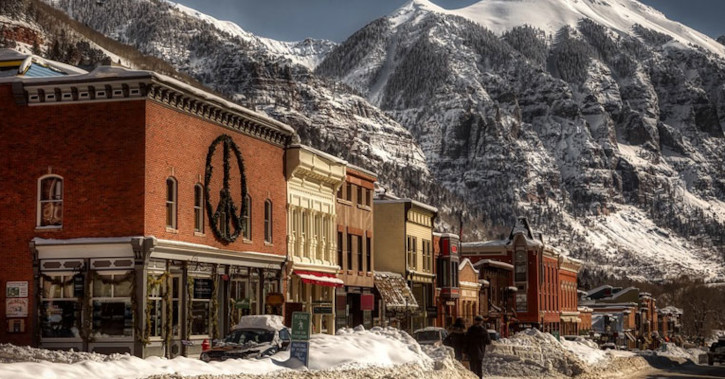 Personally, Telluride is hands-down one of the most picturesque mountain towns in the US for me. One look and you'd literally fall in love with this small town, which is surrounded by the San Juan Mountains.
It's so fantastic that almost the entire downtown is protected as a National Historic Landmark District.
Telluride is also a famous ski town, so if you're not into the sport and just want to chill, schedule your trip around ski season.
If you're a golf lover, you'll love hitting the golf ball at more than 9,000 feet altitude at the esteemed Telluride Golf Club.
5. Whitefish, Montana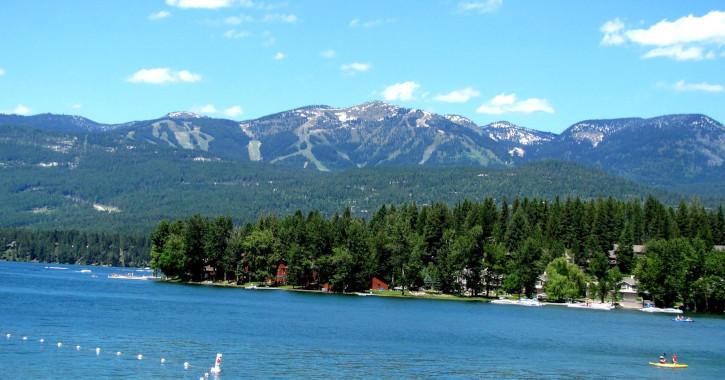 If you're planning a trip to the Glacier National Park, drive about 30 miles more to reach Whitefish.
Whitefish, Montana is an authentic mountain town located in the northern Rockies, Whitefish is where you'll find some of the world's most unspoiled nature and majestic mountains.
Meet locals, and check out the art hanging in the Going-to-the-Sun Gallery in downtown Whitefish.
If you're visiting around February, don't miss the Winter Carnival (it's been around for over 50 years).
Just a few miles northwest is Whitefish Lake State Park, where you can go camping, kayaking, fishing, and swimming.
I wrote an extensive guide about all the fun things you can do in Montana if you've decided to check out Whitefish.
Don't Miss: Whitefish Mountain Resort if you like to ski, or the Whitefish City Beach if you're looking for an interesting backdrop (a body of water with forest in greens and yellow)
What Makes it Special? This town is consistently ranked one of the best mountain towns for its perfect weather all year round.
6. Charlottesville, Virginia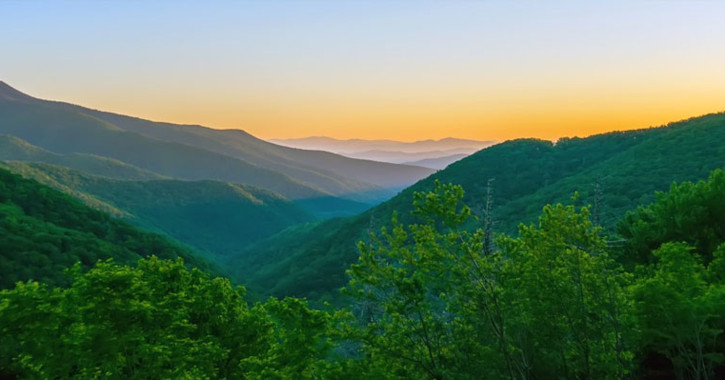 Thomas Jefferson's hometown is a wine lover's haven; this mountain town is home to over 30 wineries that you can visit via the Monticello Wine Trail.
Located at the foothills of the Blue Ridge Mountains, Charlottesville has plenty of natural interesting sites, from the nearby Shenandoah National Park (with its 190 species of birds) and about 105 miles of the Appalachian Trail, and the highest vertical drop waterfall in the eastern US (that's the Crabtree Falls).
Don't Miss: The University of Virginia and Thomas Jefferson's mountaintop home of Monticello (it's the only home in America to be designated as a UNESCO World Heritage site).
What Makes it Special? It's officially a city, but it has the personality of a small town through and through (the Downtown Mall consists of 150 locally-owned shops where everybody knows everybody). It's also a go-to destination for birders, wine fans, history buffs, and nature lovers.
7. Deadwood, South Dakota
The Wild West town of Deadwood was born upon the discovery of gold, so this mountain town isn't just picturesque, it's also deep in history that date backs to 1800.
During summer, the Historic Main Street becomes the stage for re-enactments of three popular shootouts and the Trial of Jack McCall, who murdered Wild Bill. It's an exciting live show with professional actors gun slinging down the street.
Visiting this town is just one of the best things to do around Mount Rushmore, so make sure to check out all the other items on our list.
8. Leavenworth, Washington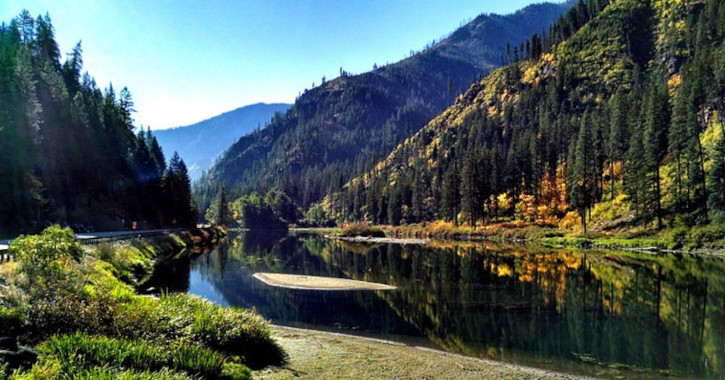 Located about 2 hours east of Seattle, in Washington's Cascade Mountains, Leavenworth was modeled after a Bavarian village to attract more visitors. 
Leavenworth's Front Street Park is where you'll find a picturesque river with an old school gazebo, dense forest as a backdrop. If you're up for an adventure, hike the Icicle Gorge Trail to witness the beauty of the Icicle Creek Valley. 
If you're visiting in October, join the Leavenworth Oktoberfest for some fun drinking.
9. Lewisburg, West Virginia
Lewisburg is one of West Virginia's most walkable cities. Stroll downtown and experience the local culture as you shop through dozens of boutique shops, antique stores and art galleries lining its picturesque main street.
Love to eat? Schedule your visit around Lewisburg's food festivals: the Chocolate Festival in April or Taste of Our Towns (TOOT) in October.
If you're lucky, you can join locals as they enjoy good food and live music at First Fridays After Five in downtown Lewisburg.
Check out other things to do in West Virginia, if you plan to go on a side trip here.  
Don't Miss: Tour the Lost World Caverns, visit Carnegie Hall or the part-museum, part-hotel General Lewis Inn.
What Makes it Special? The cool mountain town of Lewisburg offers outdoor activities, amazing dining options, memorable festivals, and a unique arts scene.
10. Sugar Hill, New Hampshire
Sugar Hill is a town in Grafton County, which overlooks the White Mountain National Forest and views of the Presidential, Franconia, Kinsman, and Dalton ranges.
Visit Sugar Hill in the winter, and you'll have a ton of activities to do from sleigh riding, extreme skiing, snowmobiling, snowshoeing, dog sledding, ice skating, cross-country skiing, and so on.
In the summer, you can go canoeing, cycling, fishing, horseback riding, golfing, hiking Mount Washington or Mount Lafayette, swimming in Echo Lake, and joining the Lupine Flower Festival.  
Don't Miss: Dine at the James Beard Award-winning Polly's Pancake Parlour, shop at artisan markets, and take home some white cheddar goodness from Harman's Cheese & Country Store.
What Makes it Special? Sugar Hill may be one of the smallest mountain towns on this list, but it has tons of natural attractions, good food, and spectacular views to offer.
11. Lake Placid, New York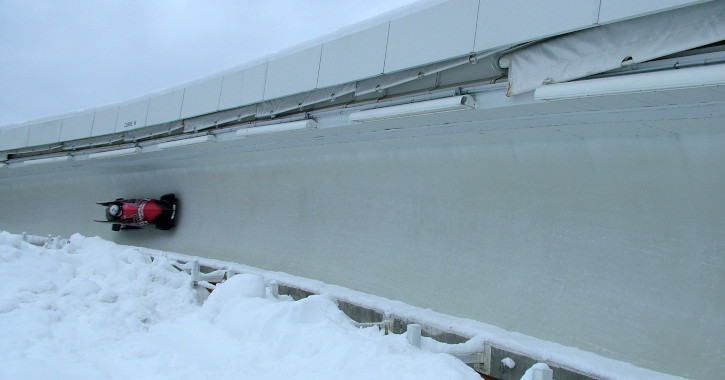 Nestled in the Adirondacks, Lake Placid is popular among winter sports enthusiasts.
Aside from being the site of two historic Winter Olympics, it holds a distinction as one of the oldest vacation destinations in the country.
Take a stroll on Main Street and eat and shop your way through town.
There are also plenty of trails where you can hike and cycle to your heart's content. Or fish and paddle on Mirror Lake and Lake Placid.
Going in the winter? Skiing and snowboarding on Whiteface Mountain are popular activities here.
Embrace its Olympic history by visiting theLake Placid Olympic Museum.
Don't Miss: The IRONMAN Lake Placid triathlon, bobsledding in the Olympic Complex
What Makes it Special? It's known as the site of the "Miracle on Ice," which was an ice hockey game in the 1980 Winter Olympics where the US hockey team beat out the heavily favored Soviet team (and probably where chanting "U-S-A!" became popular).
12. Coeur d'Alene, Idaho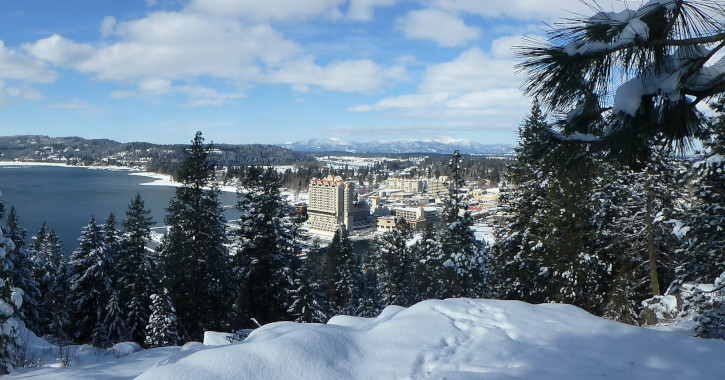 Set right on the shores of Lake Coeur d'Alene and surrounded by the Coeur d'Alene Mountains, this mountain town offers plenty of recreational opportunities on land and on the water.
The city is named after the Coeur d'Alene people, one of five federally recognized Native American tribes that live in this region.
Coeur d'Alene Resort, featuring the world's only floating green, a boardwalk, and Tubbs Hill, takes up a considerable portion of the city's downtown area.
Thrill-seekers will have fun in Silverwood Theme Park, while those who are looking to get in touch with the Coeur d'Alene region's history will appreciate the Museum of North Idaho.
Which Towns do You Consider the Best Mountain Towns?
Technically, all the towns I listed in my post about the best skiing town in America can be included in this list as well. They're all located in charming towns with perfect snowy mountains serving as backdrop.
Have you visited any of the mountain ranges in the US?
Do you agree with my list?
Or do you have a recommended town to add to this bucket list? I'd love to hear your picks!