If you're looking for places to go skiing near Madison WI, you have a handful of options – each with its own pros and cons.
Here, I'll list 5 of the best ski resorts near Madison Wisconsin that are about an hour or two drive away.
And a bonus resort for those traveling with a group of experienced skiers who are willing to drive for around 6 hours up in nearby Mohawk, Michigan.
Best Options for Skiing Near Madison WI
It's hard to pick the best ski resort for everyone, especially since we have different requirements.
Are you looking for kid-friendly slopes? Challenging terrain? Snowmobiling trails? Cheapest ski resort? Or just the most accessible from Madison?
Check the following ski resorts to find out which one is best for your needs: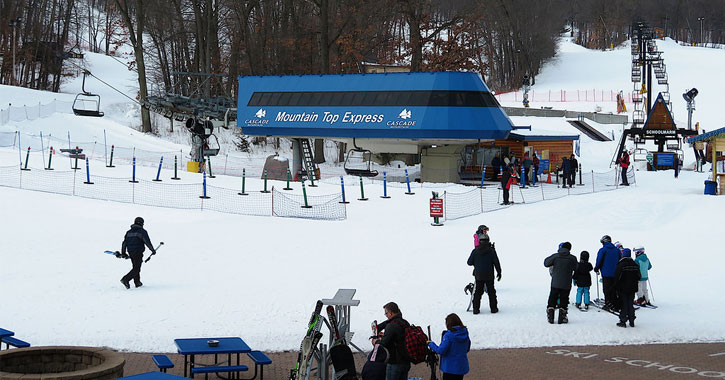 There are 14 kilometers of slopes available for skiing and snowboarding on Cascade Mountain. During ski season, you can ski at night or daytime.
Cascade Mountain has a peak elevation of 1903 feet and a 1247 feet vertical drop. The 22.4 miles of marked trails are available for all skill levels, more specifically: 36% for beginners, 24% for intermediate, and
38% for advanced. All trails are easily accessible thanks to 10 lifts that transport the guests (and a bunny hill for those who can't ride the lift).
The longest trail at Cascade Mountain is called "Far Out", a beginner cruiser trail that runs 5,300 feet long (or just over a mile) and gives you an up-close view of old-growth forests, waterfalls, rock formations, and more scenic terrain.
For families, you can save money because Cascade Mountain lets kids 12 & under ski for free with a paid adult.
There's a tech shop on the mountain, where you can get rentals, equipment for sale, and tuning service. Lessons for kids and beginners are available as well – 3 hours of instruction could really go a long way in learning the basics or new skills.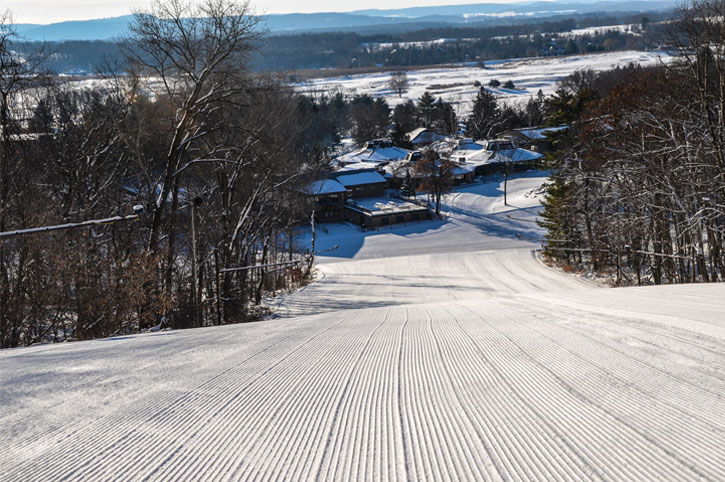 Devil's Head Resort is a full-service ski resort and golf course located in Merrimac, right in the Baraboo Bluffs region of central Wisconsin.
It is one of the biggest ski resorts in the Midwest. Devil's Head Resort is also known for its impeccably-groomed, long blue cruising runs. While many of the trails are ideal for intermediate skiers and snowboarders, there are terrains, chair lifts and hills exclusively for beginners and experts as well.
Kids will enjoy the terrain parks maintained around the resort. Beginner skiers can also participate in ski school classes and rent all the equipment they need (or bring your own).
On top of the day and night recreational activities found at Devil's Head, people go here every year because of the excellent lodging options. You can expect both proper sit-down dining for adults and laidback fast-food dining options with a kids' menu that will make pizza-loving kids happy.
Probably the best thing I like about Devil's Head is that all their buildings are connected by covered walkways, which allow you to explore the resort safely even at nighttime.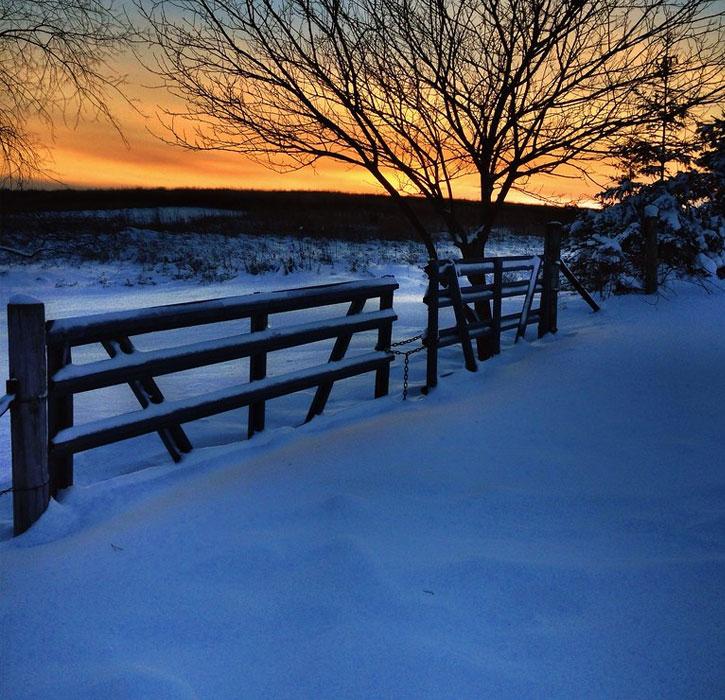 You don't need to worry about compromising on quality over proximity. If you decide to go to Mount Horeb's Tyrol Basin, skiing near Madison WI would still be a memorable experience.
This charming ski resort, which is beloved by locals and guests alike, is located in the town of Vermont. It is a mid-sized ski and snowboard resort with runs designed for beginners (like the "Gentle Ben" run), intermediate and expert levels (such as the "Double Diamond" run).
The 18 trails of Tyrol Basin are serviced by 5 lifts (3 chairs, 1 rope, 1 magic carpet, 1 handle tow). Lessons and equipment rentals are available at the resort. If you like to join ski and snowboard races, there are events held here every year.
Plus, if you're traveling as a family, get more savings because kids five and under always ski for free at Tyrol Basin.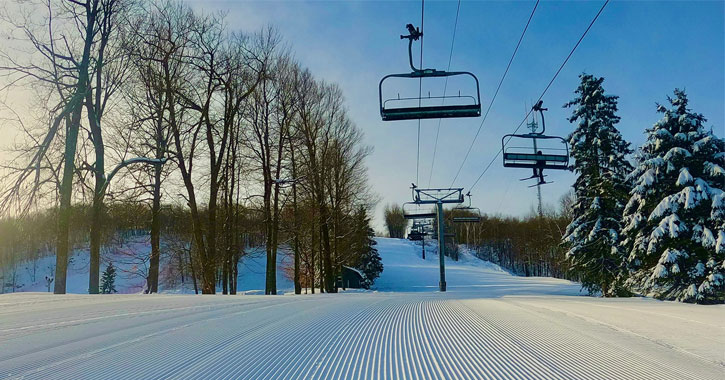 When the ski area opened on the slopes of Rib Mountain in 1937, this was one of the first ski areas in North America (just after Vermont's Stowe and Idaho's Sun Valley).
Of course, the Granite Peak Ski Resort you know today only began in 2000 when the current owners took over operations and expanded the resort to 74 runs with a lively new base village and 7 new chairlifts.
If you plan to ski at night, Granite Peak won't disappoint. It offers the best views for night skiing in the Midwest. Granite Peak Ski Resort is also considered the best Apres Ski in Wisconsin, thanks to the bustling shops, eatery, grill, coffee shop, ski stores, tuning center, rental shop, learning center and other amenities at the new building.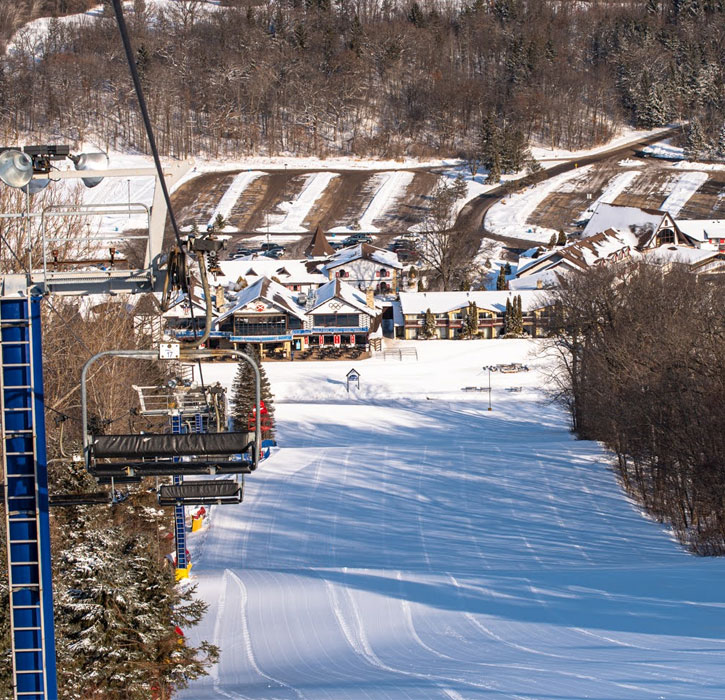 Alpine Valley, located in Elkhorn, is a little further from Madison but it is still within drivable range (about 2 and a half hours). The all-season resort has a golf course and alpine skiing with 90 acres of skiable area, 21 runs (with the longest at 3,000 feet), terrain parks, and snowmaking.
The resort offers skiing and snowboarding with one of the largest beginner areas in the Midwest, making Alpine Valley a good choice for a family skiing getaway.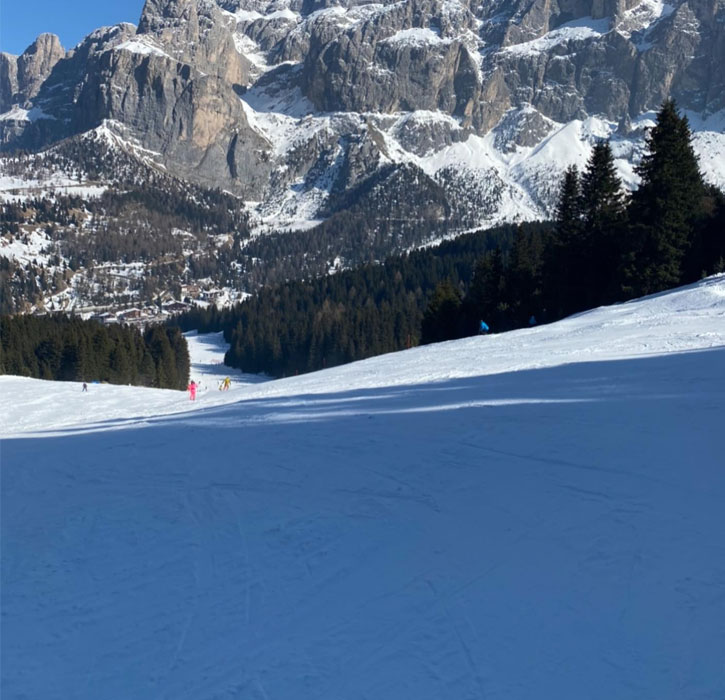 Mount Bohemia in Michigan's Upper Peninsula has the longest runs (2.3-mile run) with the highest vertical and deepest powder (with 273 inches of average snowfall) in the Midwest.
Not for the faint-hearted and beginners, Mount Bohemia and all its 620-acre skiable terrain are ideal for experienced backcountry skiers & riders looking for a thrilling adventure.
It isn't near Madison as others on this list, but it is definitely the closest extreme ski resort where the best can put their skiing skills to the test.
Other Skiing Destinations
The ski season in Wisconsin starts in early November and lasts through mid-April. However, in southern areas, such as Wisconsin Dells and Devil's Head, the season runs from December through March since they receive less snow than the north.
Even if you've already made a reservation with a particular resort, you still have to call ahead and confirm if they're open. Ski season changes from year to year, depending on how early or late snowing starts that season.
If you're willing to go farther from Wisconsin for your winter getaway, check out the Best places to ski in the country, and the best winter vacation destinations to vacation this year.