The Lone Star State is known for football, BBQ, rodeos, chili, The Alamo, live music, and more, but hot springs in Texas (and other natural attractions) are often overlooked.
But did you know there are at least two dozen natural hot springs in Texas – and probably more that have yet to be discovered?
So if you're craving fun in the sun but the weather is getting too cold for a beach trip, these hot springs are perfect destinations because the temperatures of the springs stay high even in colder seasons.
5 Hot Springs in Texas to Visit
These five Texas natural springs are included on my bucket list: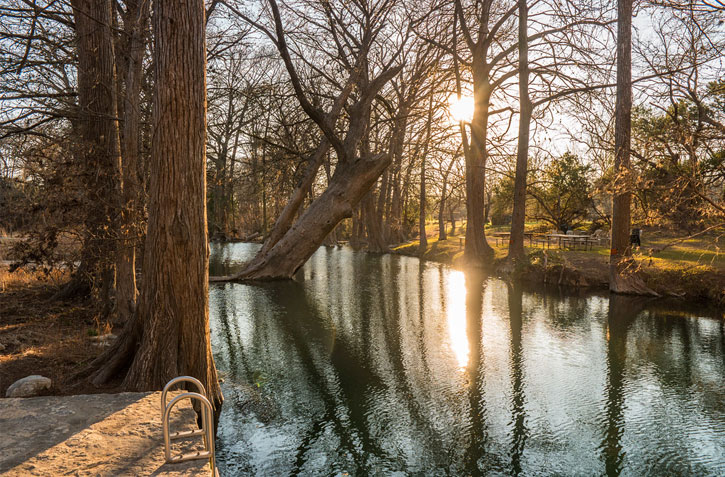 Blue Hole Regional Park features one of the most mythical-looking hot springs on this list. It looks like it came out of a storybook!
The park's swimming area is fed by a spring and embraced by stunning Cypress trees. The place has the famous rope swings, flocked by visiting kids and adults alike.
There are even handlebars installed nicely in designated spots that allow guests to enjoy the swimming hole safely.
Aside from the natural pool, The Blue Hole Regional Park's 126-acre destination also has a basketball court, sand volleyball court, and 4.5 miles of trails perfect for all hiking skill levels. The picnic area here is massive, clean, and relaxing. There are also a playscape, a community pavilion, and even an amphitheater.
Development of Blue Hole Regional Park is continuous (as of 2022 Q4) so expect more features built around the park.
The entire park is protected by the city of Wimberley, so seasonal passes and regular tickets for the swimming area are sold by the city.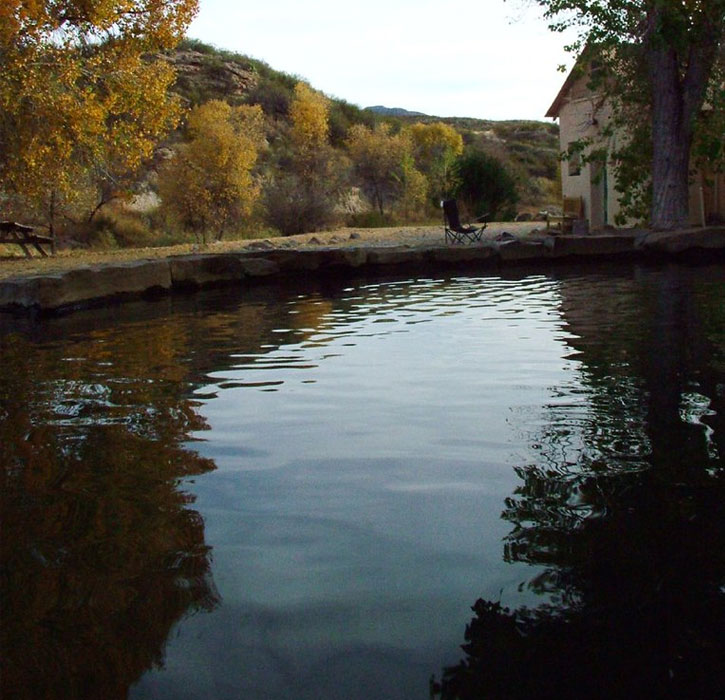 Also known as Ruidosa Springs, the Chinati Hot Springs is a privately owned oasis located north of Ruidosa, Texas in the Big Bend region of the Chihuahuan Desert.
If you're looking for a place to relax and get a breather from the stresses of daily life, this spot is perfect.
The desert town of Marfa, where Chinati Hot Springs is found, is secluded so prepare everything before you drive to the location. Bringing food and drink is encouraged since there are no in-house restaurants or stores nearby.
Chinati Hot Springs, however, is a quick drive away from the Big Bend National Park, if you want to do some fishing, explore some trails, watch wildlife, or dip in more natural hot springs.
As for the springs, the hot mineral water that emerges from the spring peaks at 113 °F / 45 °C year-round. The water allegedly contains minerals that help with skin issues, stomach ulcers, arthritis, and other conditions. Beside each hot-spring pool is a cooling pool that guests can use if they want to take a break from the heat.
Note that Chinati Hot Springs does not allow visits from impromptu guests. You need to have a paid reservation in order to enjoy the hot springs. This means everyone who wants to take a dip in one of their fantastic natural springs must also stay here overnight.
If you're visiting as a group of 20 people or more, you can rent the entire property for about $1300 (plus tax) and enjoy the place all for yourselves.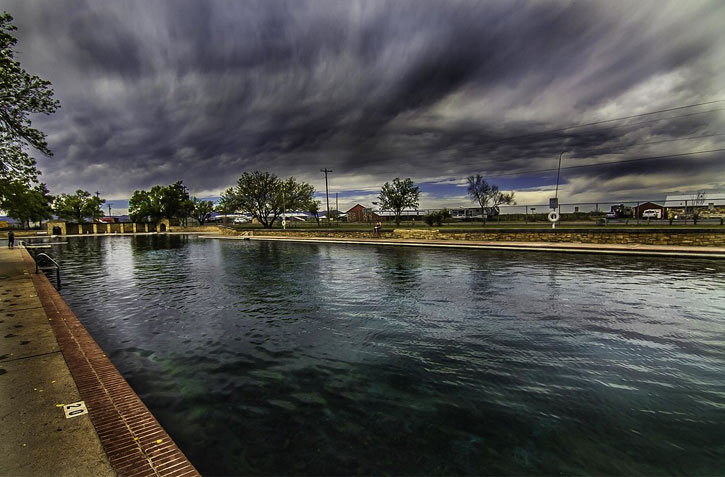 Balmorhea State Park was built by the Civilian Conservation Corps in the 1930s and opened to the public in 1968.
Today, the 46-acre state park's main attraction is the 1.3-acre hot spring pool. It is the largest spring-fed swimming pool in the world that flows an amazing 18,000 gallons a minute.
Located on the San Solomon Springs in Reeves County (around 2 hours from El Paso, Texas), the 11,000-year-old San Solomon Springs is actually a group of gravity springs formed through the years by subsurface geologic faults.
The pool is up to 25 feet deep and holds 3.5 million gallons of water. The water temperature stays at 72 to 76 degrees year-round.
San Solomon Springs also serves as a habitat for endangered desert fishes, such as Comanche Springs pupfish and Pecos gambusia.
If you wish to stay overnight, you can rent a room at San Solomon Springs Courts, park your RV in designated areas, or camp out.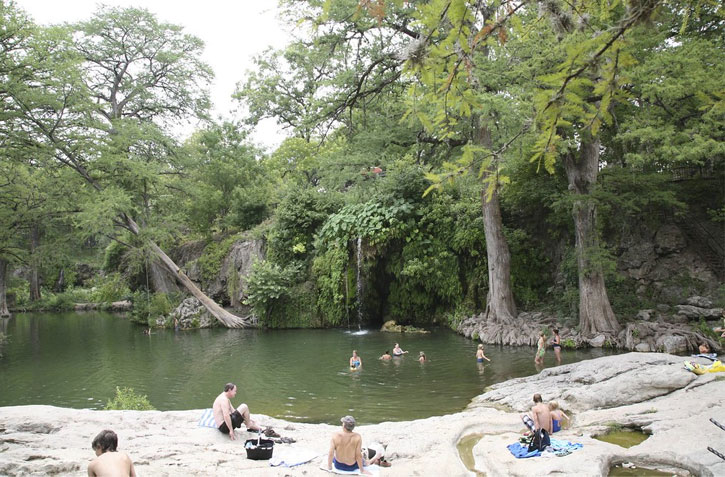 Krause Springs is located on a 115-acre private property with 32 natural springs and hiking trails that lead you to waterfalls, fishing spots, kayak areas, and other adventures only nature can give you.
The place is open to the public for about 10 months each year.
The Springs feed the pools flow constantly, year-round at around 68°, even during times of extreme drought. After heavy rains, Krause Springs pools and property drain very efficiently into Lake Travis. All pools here have some of the cleanest natural Texas spring water flowing through them non-stop, so the water never becomes stagnant, and is swimmable year-round.
Krause Springs features both man-made and naturally-fed pools, BBQ pits, public restrooms, and barrel rings for small bonfires. Tent camping is available, but on a first-come, first-served basis.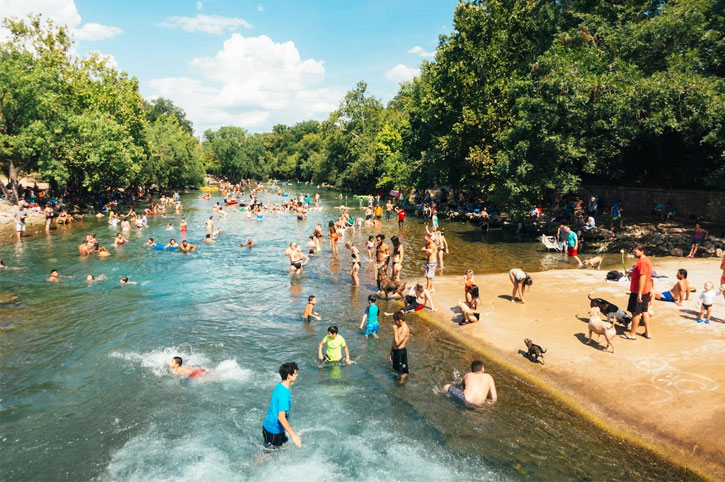 Barton Springs Pool is located within the 358-acre Zilker Park. It is one of the most popular hot springs in Texas, mainly because Barton Springs is free for residents.
Measuring 3 acres, Barton Springs Pool is continuously fed by underground springs that emit water that runs at a moderate 70 degrees Fahrenheit.
It is in Austin, so expect the pool to get crowded, especially on warm days.
Depths of the Barton Springs Pool range from 0' to 18′ with surrounding grassy areas for patrons to lounge upon. There is guarded swim and "swim at your own risk" schedules posted on the Austin municipal site, so check this first before you visit.
Beyond Hot Springs in Texas: Other Things to do
Swimming in hot springs is reportedly good for your body. Your body supposedly absorbs small amounts of minerals like calcium, sulfur, and carbon dioxide, while your skin gets naturally detoxed. Some even claim to improve blood circulation and relieve pain.
Whether these medical claims are true or not, I adore hot springs – they're very relaxing and have always been my go-to stress-busting destination.
If you're interested in other hot springs around the country, check out which ones are near you: Arkansas hot springs, hot springs on the east coast, and the best hot springs in the US.
For those just visiting Texas and are building itineraries, read up on my Texas museum guide, Austin TX itinerary, a visit to Caddo Lake, and other must-visit lakes in Texas.