Would you like to know more about the best wineries and vineyards to visit during your vacation in Boise, Idaho?
Learn what makes the region so special and enjoy your exploration of the Treasure Valley, from classy wine & sushi nights to more rustic spots offering good wine and earthy meals.
2 Wineries in right in Boise City Centre
1. Bodovino – Wine & Sushi For a Romantic Evening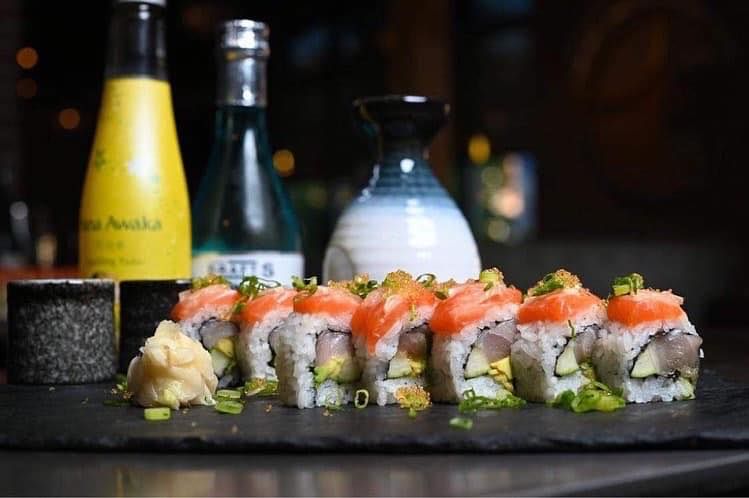 Location: 5-minute walk from Boise city center, at 404 S 8th St, Boise, ID 83702, United States
If you're looking for the ultimate wine experience in Boise, Bodovino is an excellent choice. One of the best and more centrally located wineries in Boise, Bodovino is one of the most popular spots not only in town but in the whole Treasure Valley.
When it comes to ordering a glass or bottle, you'll be spoiled with choice. There are over 200 bottles listed on the menu, and 144 you can order by the glass.
If you love to try wines from all over the world, Bodovino is a great option as they pride themselves on providing a real "tasting tour of the world" through their wines.
The food menu is extensive and very diverse, from tapas to Italian cuisine. But the most recent addition and star of the food menu is the sushi from Happy Fish Sushi.
With such a diverse wine and food menu, one could be a bit confused about what to order, but the waiters can help in that regard and will advise you on how to successfully pair your drinks and dinner.
Because of the elegant atmosphere and relaxed vibe (you won't be rushed for the check) I recommend Bodovino for a romantic date.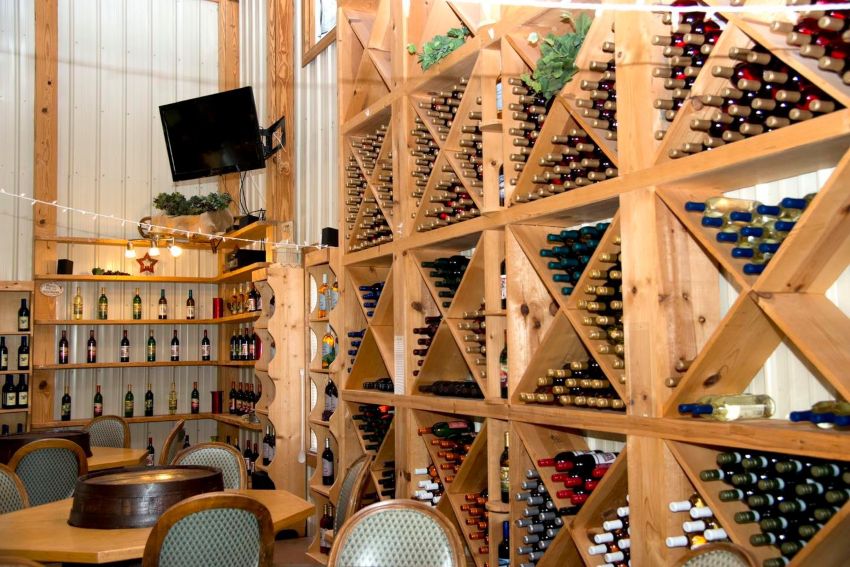 Location: less than a 15-minute walk from Boise city center, at 915 N 8th St, Boise, ID 83702, United States
Uncorked Wine Bar is a great choice for those looking to have a glass of wine and a snack plate in an elegant setting.
Located in downtown Boise, this wine bar is one of the most popular destinations among local wine enthusiasts, for its great bottle selection and sophisticated atmosphere.
The knowledgeable staff will know how to help you choose the right bottle from the extensive wine menu, or you can try different bottles by ordering the $12 wine flights.
This is a great spot to relax, and unwind from a long day, or to enjoy a romantic and peaceful evening with your date.
The music is usually chill ambient, as the whole vibe of Uncorked is designed to make you feel comfortable.
I would not recommend this location for those looking to have dinner, as the menu mostly includes appetizers, chees boards, and finger food.
If you love to sit by yourself and enjoy a glass of wine, you'll never be bored as the venue offers games, books, and free wifi.
6 Wineries in Boise Area (Maximum 30 minutes from Boise)
3. Telaya Wine Co. Scenic Wine Tasting by the Riverside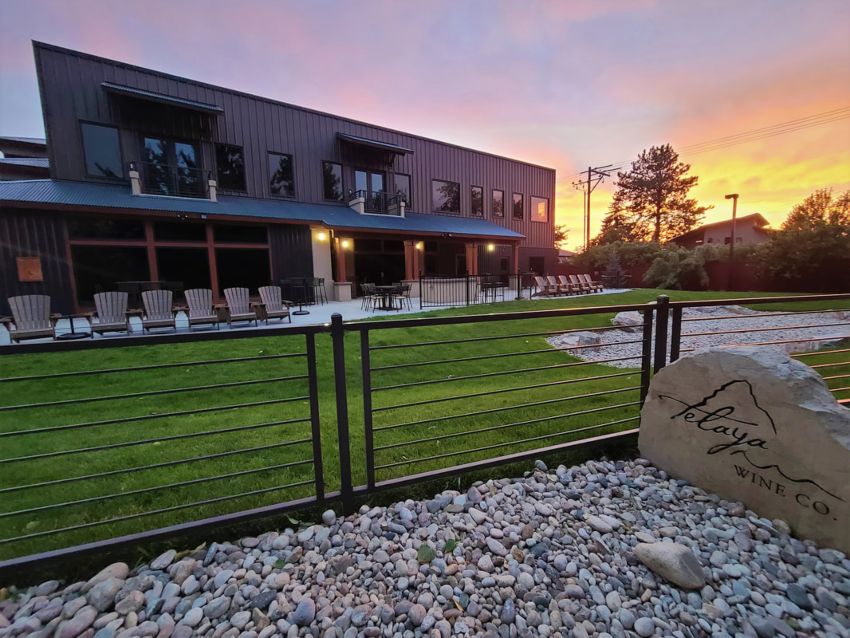 Location: 7 minutes drive from Boise city center, at 240 E 32nd St, Garden City, ID 83714, United States
With a laid-back vibe and an extensive wine selection, Telaya is a wonderful option for a day of sipping wine immersed in nature.
The winery is located just outside Boise center, and the unique river-side position makes it a real must-visit.
On a sunny day, you can expect this spot to be crowded, but there's usually space in the outside patio, which is beautifully styled and guarantees a great view of the river.
You can check out the wine list before visiting, or you can rely on the expert staff for recommendations.
Even if you're just passing through, I recommend joining the Wine Club. It's free, and you will enjoy perks and discounts reserved for club members.
For example, a wine flight tasting is completely free if you purchase 2 bottles as a member. If you're interested in learning more about the winery, and the science behind making wine, you can book your spot on the Telaya Winemaking Tour.
You'll get an exclusive look behind the curtains, and enjoy a private tasting session around the gorgeous vineyard.
Everyone's favorite part of the tour is probably the wine-tasting game, which is fun and educational at the same time.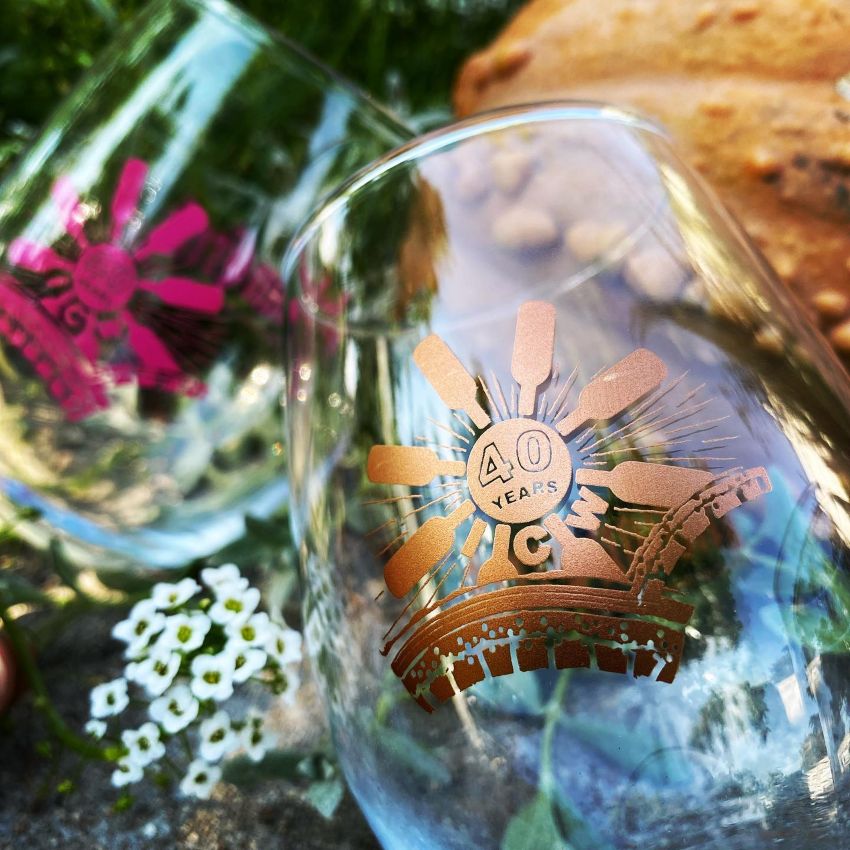 Location: 30 minutes drive from Boise, at 1000 N McDermott Rd, Kuna, ID 83634, United States
For those looking for an unpretentious and relaxed location, Indian Creek Winery is the way to go.
Kick back and enjoy an afternoon in the sun, a glass of wine in hand, surrounded by a beautifully landscaped winery.
The winery is known not only for the gorgeous grounds but for the fun and entertaining events, from yearly celebrations to weekly live music nights.
The wine selection is impressive, and you won't go wrong asking for suggestions from the attentive winery staff.
It is a beautiful location for wine-tasting events and large gatherings, especially when there is live music and a food truck.
Indian Creek Winery is one of the most kid-friendly locations on this list for its extensive park, where kids can play freely without bothering other guests.
The winery offers a food menu, however, it's even possible to just order wine and bring your snacks from home.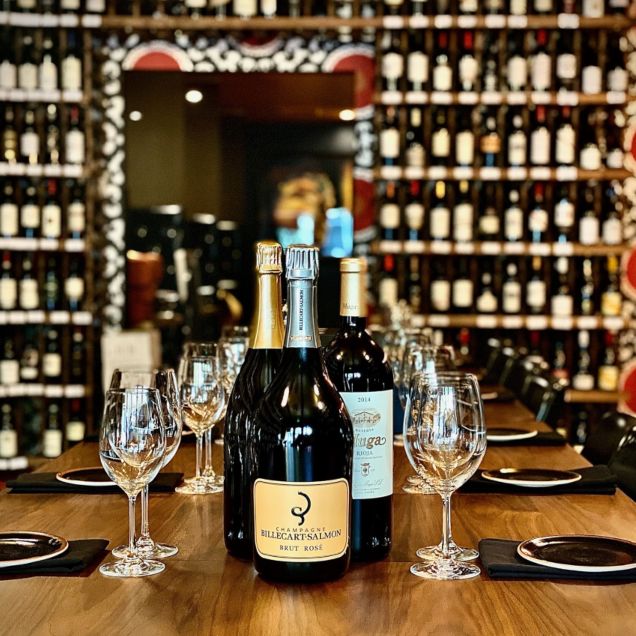 Location: 5-minute drive from Boise city center, at 1304 W Alturas St, Boise, ID 83702, United States
Wine lovers that are looking to expand their palate will find Hyde Park Fine Wines a corner of heaven in Boise.
The owner of the winery, Scott, is beloved by first-time visitors and usual customers for his great recommendation on the best glass or bottle to go with your mood.
The wine selection is quite impressive and includes bottles from all over the US and the world.
The atmosphere is casual and informal, a great place to hang out with your friends or with a partner and enjoy a quality glass of wine.
On a nice, sunny day, I recommend going for the outside seating area on the patio and enjoying the view of Hyde Park.
True wine enthusiasts would want to check out Hyde Park Wine Club.
While it can seem a bit pricey (around $75/month), being a member of the wine club comes with some exclusive perks, from free tastings to getting every month 3 bottles from a different country.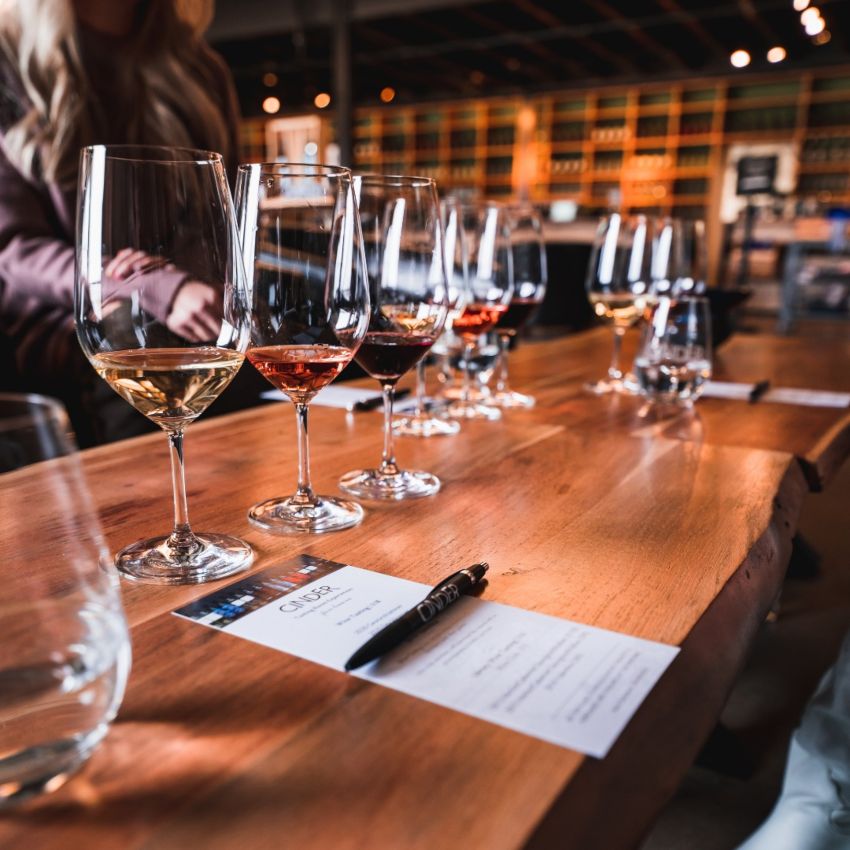 Location: Downtown Boise at 107 E 44th St, Garden City, ID 83714, United States
This lovely spot in downtown Boise has a lot of character and a welcoming atmosphere.
With its curated and stylish interiors, and great wine selection, Cinder Wines is one of the town's hidden gems.
If you love to try locally sourced wine wherever you go, this is a great spot along the Snake River Valley Region.
You can book in advance for a personalized wine-tasting experience, and try multiple of the winery's signature bottles.
Cinder Wines is famous in the Boise area for its whites, like the Viognier, and reds like Tempranillo and Syrah.
The winery also hosts fun events throughout the year, for example, the HallowWine costume and contest party, monthly live music nights, or scheduled tours of the Cinder Winery.
I recommend booking one of the private tours with tastings for those looking for a unique and personalized and educational experience.
You'll get to not only try new wines but learn more about Cinder Wines' history and winemaking process.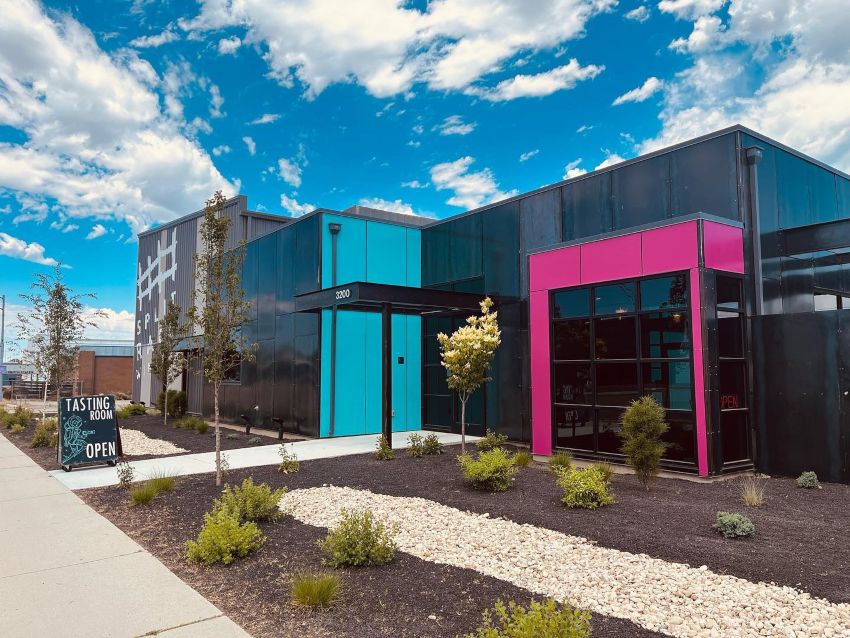 Location: 5 minutes drive from Boise city center, at 3200 W Chinden Blvd, Garden City, ID 83714, United States
If sipping sparkling rosè in a modern venue sounds like your ideal afternoon, check out Split Rail Winery.
Split Rail Winery is not only one of the best wineries around Boise but a must-visit of whole Idaho.
The winery mostly offers its bottles, and the staff will be ready to answer any questions about their self-produced wines.
A great way to explore the different bottles is to order a flight. The flight at Split Rail Winery includes 4 tastings for only $5.
You'll get to try out different bottles, learn about the wine-making process and get a discount on the purchase of one bottle.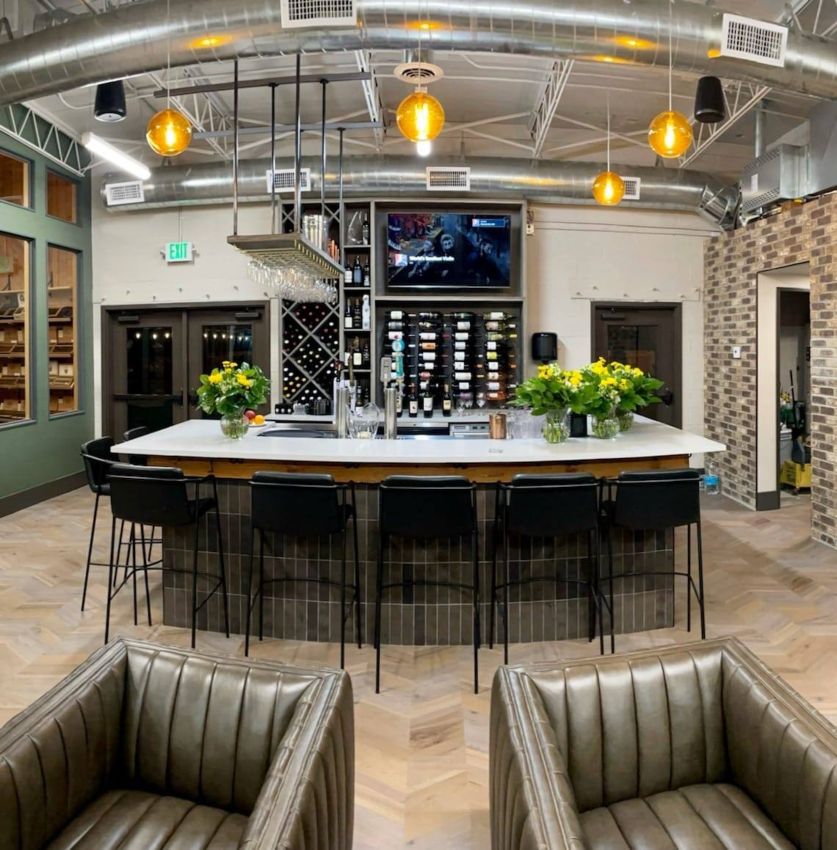 Location: 10 minutes drive from Boise city center, at 4204 W Chinden Blvd, Garden City, ID 83714, United States
Sturman's Wine and Cigars offer, as you might have figured out, quality wine and cigars.
If you love the combo, go for it and book your table at Sturnman's.
Wine lovers and cigar smokers in the region appreciate this location for the solid selection of bottles and well-stocked humidor.
The venue includes both indoor and outdoor seating, for a great experience year-round.
On a rainy day, you can enjoy the elegant indoor lounge, while good weather calls for the outside back patio.
Sturman's Wine and Cigars is also a great location for those who love live music. You can enjoy live music every week at the venue, which hosts regular performances by local artists.
Check out Sturman's Facebook page to keep tabs on upcoming events like live music and Cuban food on Friday night, Trivia Tuesday, or Happy Hour.
Keep Reading for More Insider Traveling Tips
Planning your next trip under the sign of great wines? Wine lovers should check out my guides on the best wineries in Seneca Lake and Sedona.
If you're passing through Boise and you feel like taking a break from the city, check out the best hot springs near Boise.