I wouldn't blame you for not immediately connecting award-winning wine-making with the Red Rock desert.
Who could have guessed that vineyards would fare so well here in this semi-desert (but immensely beautiful) landscape?
Even if you didn't plan on visiting Sedona for its wines – although it's quickly becoming a trendy wine destination on par with Napa valley – these Sedona wineries offer a natural charm of their own that's sure to be a hit whether you're looking for a good time at lunch or want to do full wine tasting tours.
Wines in Sedona Valley
Winemaking hasn't been around for long in Sedona, with most of these young vineyards having sprung up sometime during the last 50 years, and most of the current wineries existing for less than 20 years.
Despite their New Wine Country title, Sedona wineries produce incredibly flavorful selections of merlots, chardonnays, and syrahs, among other experimental varietals that differ greatly from one vineyard to another as owners try to see what works well in the soil and weather here.
The majority of the wineries in Sedona are located near each other on a loose path around Cottonwood which is just 19 miles (a short 20-minute drive) from Sedona, making it easy to plan out a day or multi-day wine tour.
Some are even within walking distance of each other, so you don't have to spend extra money on transport for your tour.
If you're keen to get your wine on in Sedona, add these vineyards to your list!
The Best Wineries in Sedona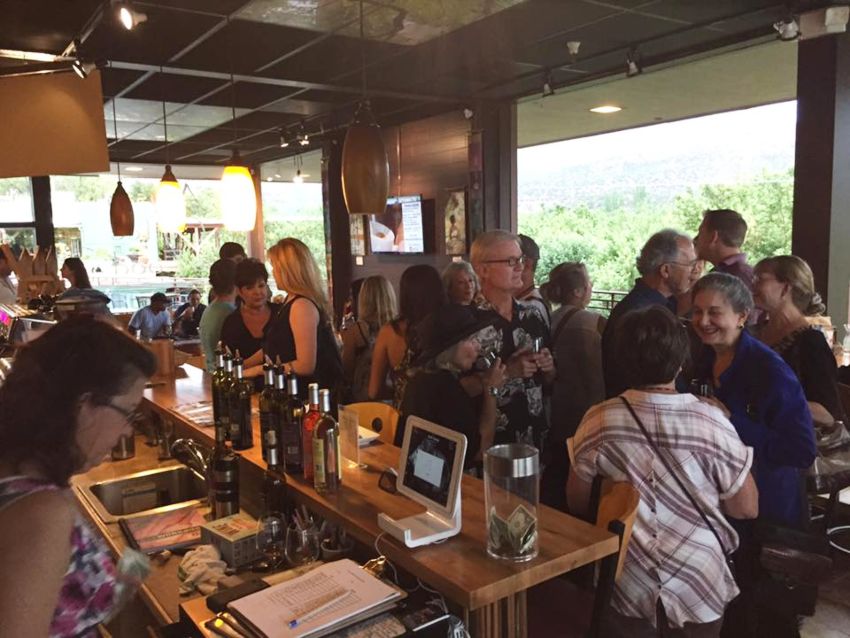 Must-try wine: The Javelina Sangria
This small family-run winery is only a few minutes' drive outside Sedona in the historic Page Springs valley.
Javelina Leap may position itself as a premium boutique winery, and its award-winning wines certainly support that statement, but the cozy atmosphere and chill vibe of the vineyard and its tasting center along with the onsite restaurant paint a different picture.
You instantly feel at ease when you step onto the winery and that's exactly what you want when you're off to taste some wine!
There are a lot of different seating options here, as you can either sit inside the covered outdoor patio next to the tasting room, head outside to one of the picnic tables under the trees, or choose to sit inside the bistro/bar area that also has a TV if you want to catch up on some games.
Although I'd highly recommend you try to time your visit when there's live music (which is thankfully a regular occurrence) as that really adds to the ambiance here.
As a bonus, this winery is also dog-friendly!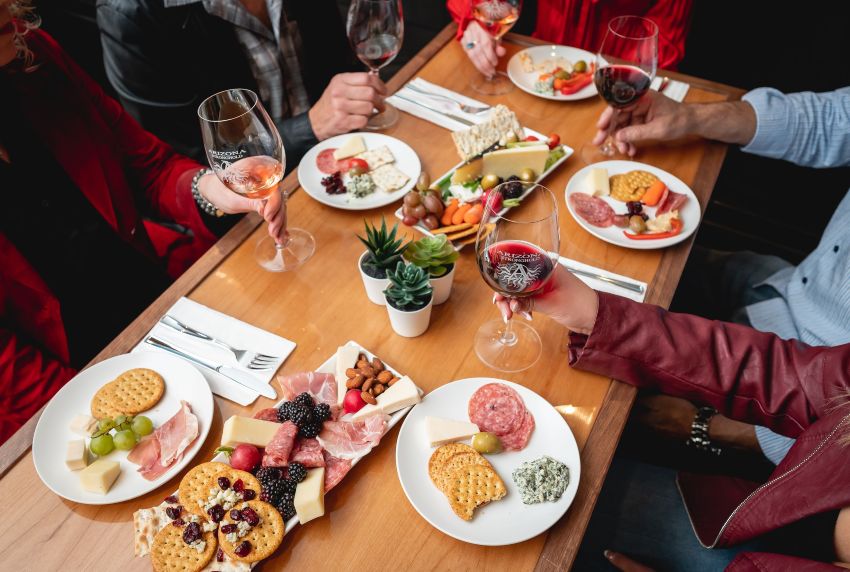 Must-try wine: The 19 Dala Chardonnay
While I can't say the same thing for many of the other tasting rooms in the region, the employees at Arizona Stronghold Vineyards are incredibly friendly, knowledgeable, and willing to share that knowledge with you while you sip your way through some delicious varietals.
This is also one of the more affordable wineries in the region as many of the other vineyards charge double what you'll pay here for both their tastings and bottles of wine and you can pay a bit extra to try some of their tasty tapas.
I'd recommend that you get a bite to eat during your stop here (though don't expect to leave full) because their small bites pair amazingly well with their flights.
If you want some entertainment with your drinks, head over on a Friday night for live music.
The tasting room is airy and welcoming, and even though you won't get an amazing outside view here in the heart of Cottonwood, its quirky and relaxed setting more than makes up for that.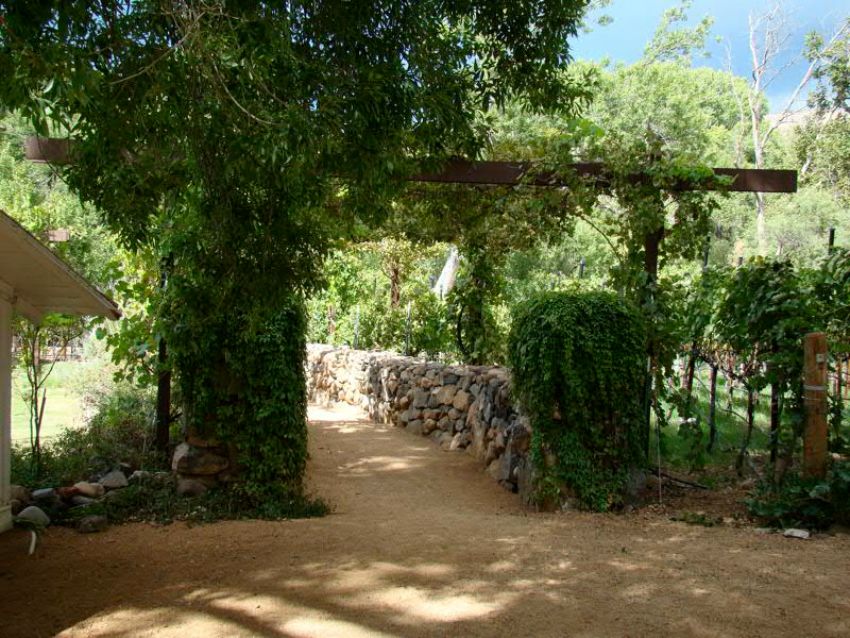 Must-try wine: The Dos Padres Vineyard Syrah if it's available
This is a very scenic winery, as Page Springs Cellars pulls all the stops with an upper deck overlooking the picturesque surrounds, stairs leading down to a gurgling creek, and plenty of natural beauty that's elevated by the rustic charm of the tasting room itself.
If you don't want to sit with everyone else in the tasting room or on the deck, you can get your wine and food to go and sit outside on one of their stone picnic benches opposite flowering fields (in the right season).
They serve incredible pizza from their brick oven, but also have charcuterie boards and other tasty delectables.
There's a surprising amount of things to do here as well, as the tasting room hosts an art gallery, yoga classes, tours at the nearby vineyards, and even creekside massages.
Page Springs Cellars also likes to experiment with its varietals and puts out a staggering 75 labels every year, so the menu changes often which is a perfect excuse to come back and try some more wine!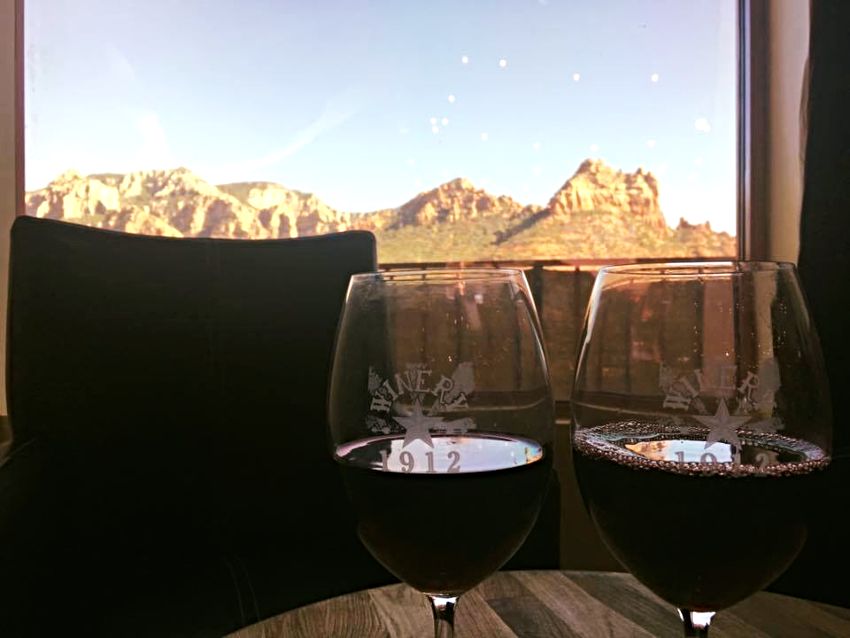 Must-try wine: The Cresta Roja, a Rioja blend, or the Winery 1912 Heritage Red Blend
Winery 1912 is one of the most popular tasting rooms in the Sedona region, with delicious Spanish and Iberian varietals from Dragoon Mountain Vineyard, one of the largest and most diverse vineyards in Arizona.
Arguably the best part about their tasting room is its incredible views of the surrounding mountains. Some people dislike that the tasting room isn't very large (so you might have to wait a while if it's busy) but I really enjoy its intimate atmosphere.
If you're lucky (meaning they're not too busy), your server will regale you with an interesting tale about the history of wine in the Arizona region and how Jesuit priests form part of that picture while serving your flight. It's fascinating stuff!
The tasting room also hosts live local artists every weekend so you can look forward to some good tunes with your wine.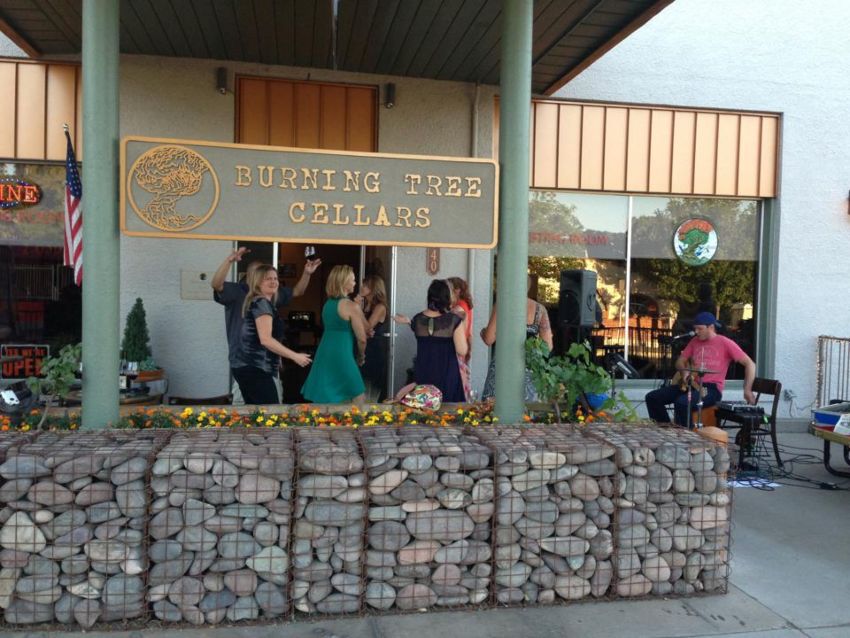 Must-try wine: A Riesling or Grenache Mourvèdre
Burning Tree cellars is an award-winning craft winery that specializes in small-batch single varietals, and while that all sounds very fancy, the owners of this winery are determined to make it feel homey and down to earth.
Not to mention the wine here is more affordable than many others from this region.
The tasting room is conveniently located right on the main street in Cottonwood, and while you may not get amazing views like at Page Springs Cellars or even Winery 1912, what you do get is an inviting and warm atmosphere as well as a fairly large tasting room with enough space for everyone to spread out and do their own thing.
Get yourself a red or white flight (or do both!) and plop down on a comfy leather couch and enjoy the variety of tastes they have on offer.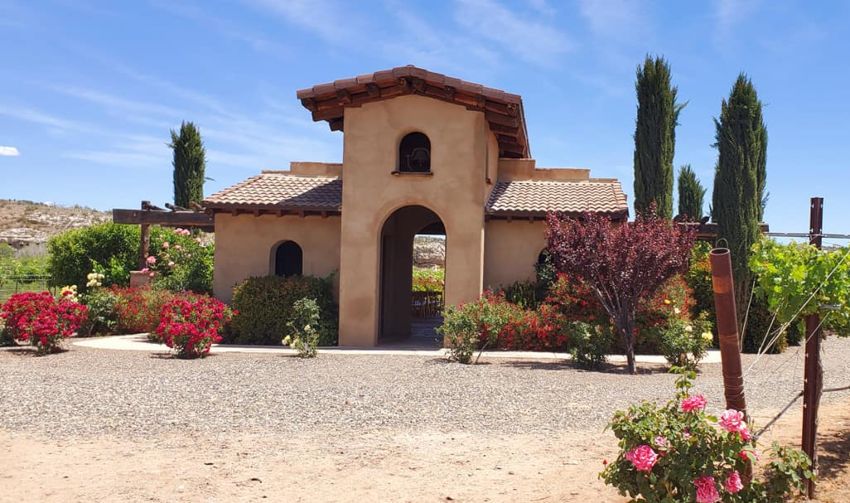 Must-try wine: The Petite Sirah or Zinfandel
This vineyard is home to 17 different varietals, with which they bottle some spectacular wines. It's also one of the most beautiful vineyards in Sedona (and probably Arizona as a whole) with sprawling acres of green vines and a beautiful terracotta-colored building with a Tuscan-inspired design.
The property winds all the way down to the Verde River and despite the wonderfully chic style of the tasting room and decked seating area, you might enjoy stretching out on their grass picnic spots even more.
Situated on a hillside just outside Sedona, this is a family-owned and eco-conscious winery, which definitely ticks a few boxes for me as I love supporting local.
And environmentally-friendly practices aren't just in right now, they tend to produce better wines because you just know the winemakers are taking more care with their produce.
Only one thing really bothered me here and that was the size of their pours. The food and wine are great but if you're used to large pours that you can share (which is common at most wineries) you might be disappointed here – especially for the price.
Plan Your Sedona Trip
Whether you came to Sedona to hike its incredible trails or to explore the nearby canyons, these wineries offer a great respite with wonderful wine and food and an excellent ambiance.
While you're here, don't miss out on some of the most spectacular views this state has to offer with some of the best lakes in Arizona and these Arizona waterfalls.