If you enjoyed my post about the best waterfalls in the US and fell in love with Supai's Havasu Falls, one of Arizona waterfalls that I featured there, I'm sure you'll love chasing these waterfalls as well.
Check which of the best waterfalls in Arizona are easy to visit, best for hiking, ideal for waterfall photography, and the biggest or most beautiful falls in the state.
List of Must-See Arizona Waterfalls
For a place with such a dry climate and serious summer heat, Arizona is home to numerous waterfalls. Some require advance hiking experience, while others can be easily accessed by anyone of all ages.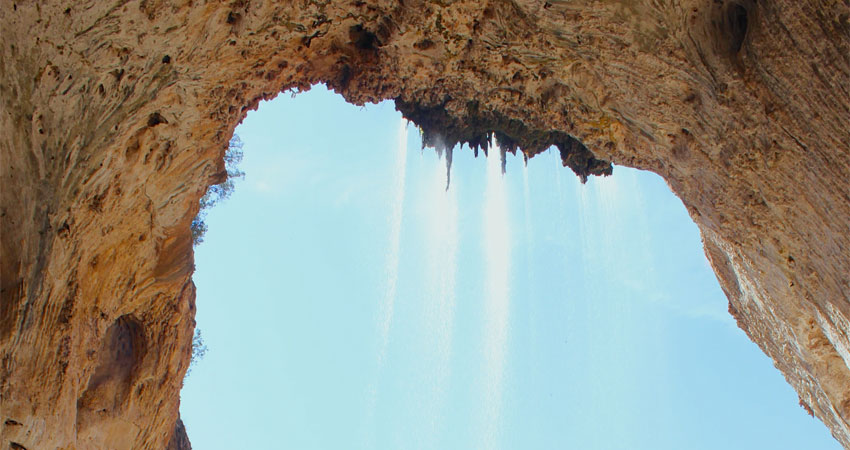 Difficulty: beginner to advanced, but must wear proper hiking shoes
Location: Inside the Tonto Natural Bridge State Park in Pine Creek, near Payson, AZ
Reason to Visit: Quick hike, but offers Instagram-worthy shots of the waterfall
The Tonto Natural Bridge is a natural arch believed to be the largest travertine natural bridge in the world, standing at a height of 183 feet and a width spanning 159 feet.
There are four half-a-mile trails available, each with varying levels of difficulty and different views of the waterfall. All trials require at least an hour of hiking to reach the end, but the Waterfall Trail, which we're going to focus on, only requires 15 to 30 minutes.
Like the other 3 trails, the Waterfall Trail is a short, but with many steep and uneven steps. The trail is definitely breathtaking as you'll pass by moss- and fern-covered rock until you reach the waterfall cave at the end.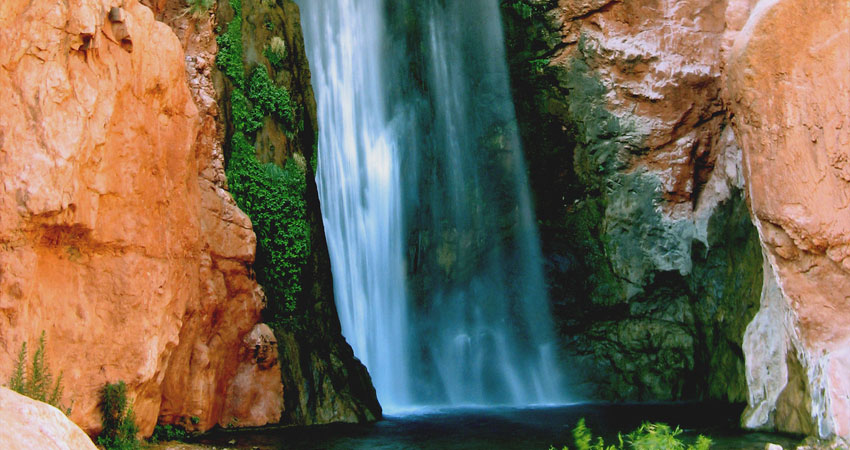 Difficulty: Easier if coming from a raft, can be challenging if done backpacking
Location: within Grand Canyon National Park in Gila County, AZ
Reason to Visit: As a side-stop if you're planning to experience river trips through the Grand Canyon
Deer Creek is a gorgeous 180-foot waterfall that flows through the western Grand Canyon to the Colorado River.
The Deer Creek Falls is considered remote and takes an average five days and four nights to reach the falls and back. The itinerary involves a 14-mile hike each way when backpacking using the Esplanade Trail.
If you're white-water rafting on the way to Grand Canyon, Deer Creek Falls can be visited via River Mile 136.9.
Difficulty: Moderate
Location: Cibecue Creek Falls Trailhead in Gila County, Arizona
Reason to Visit: A hidden waterfall in Arizona that looks like a mini Havasu Falls
If you're looking for waterfalls near Phoenix, Cibecue Falls is one of the closest you can find. This trail is primarily used for hiking with awesome views at the end. You'll pass by a dirt road, which leads to the trailhead along Salt River Canyon. There's a $30 permit fee, which you should pay online before embarking on the trip.
This 4-mile hike has 220 elevation gain before you reach Cibecue Falls. It combines the famous Arizona rock landscapes on both sides with a gorgeous 30-feet-high waterfall at the center.
Although you might read that the trail to Cibecue Creek Falls is pet-friendly (but with a leash), it's best not to bring your dogs anymore since you'd have to jump into a couple of creeks. If you're bringing your kids, older kids (ages 10+) may find this trail more doable than little kids. You'll get wet on your way, but unfortunately, you can't swim once you reach Cibecue Creek Falls.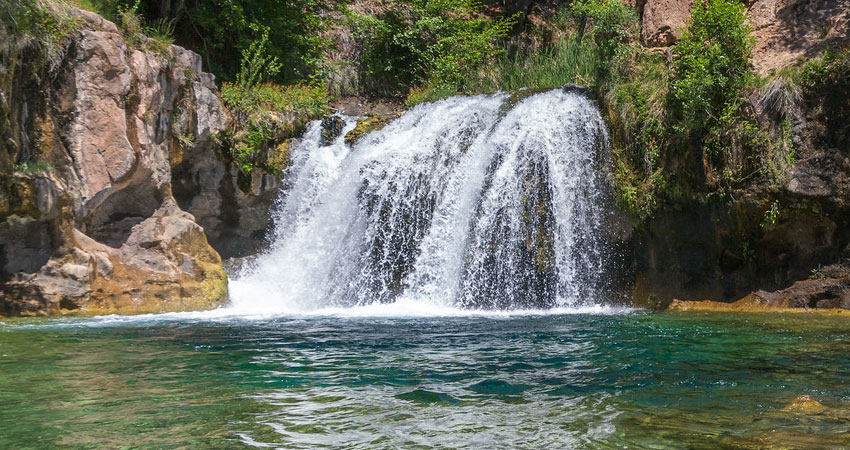 Difficulty: Medium to experienced hikers
Location: Located at Coconino National Forest in Pine, Arizona
Reason to Visit: For camping, swimming at the falls, and hiking with a cool view
If you're looking for Arizona waterfalls that you can swim in or camp out in, Fossil Creek Falls offer a mid-ranged difficulty trail.
Fossil Creek Falls is only 25 feet, but wider than most waterfalls and has a deep pool beneath. Guests can swim in the falls (there are multiple swimming pots) and cliff jumping is even possible, but it's best to take precaution when doing so.
What's unique with the water here is that its heavy calcium content turns the water into a gorgeous turquoise color.
Fossil Creek didn't use to charge fees, but a permit system with $10 entrance fee was put in place around 2016 for maintenance. It is open to anyone from April to October.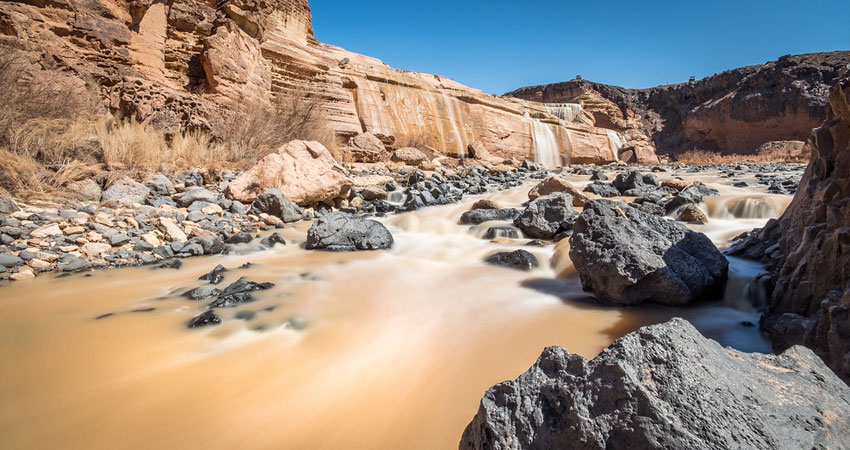 Difficulty: Easy
Location: 30 miles northeast of Flagstaff, Arizona in the Painted Desert on the Navajo Nation
Reason to Visit: Unique muddy waterfall with spectacular Arizona landscape
If you hear someone mention Flagstaff Waterfalls, there's a big chance they're talking about the Grand Falls. Aptly named, this Arizona waterfall is definitely grand.
Going here requires a permit to the Navajo Nation and an off-road drive up to the picnic area. From here, you'll only need a 1-mile hike roundtrip to reach the bottom of the falls.
There is no swimming allowed here, but the view alone of this 185-feet waterfall is a unique experience. It feels like you're watching a chocolate waterfall from Willy Wonka's factory.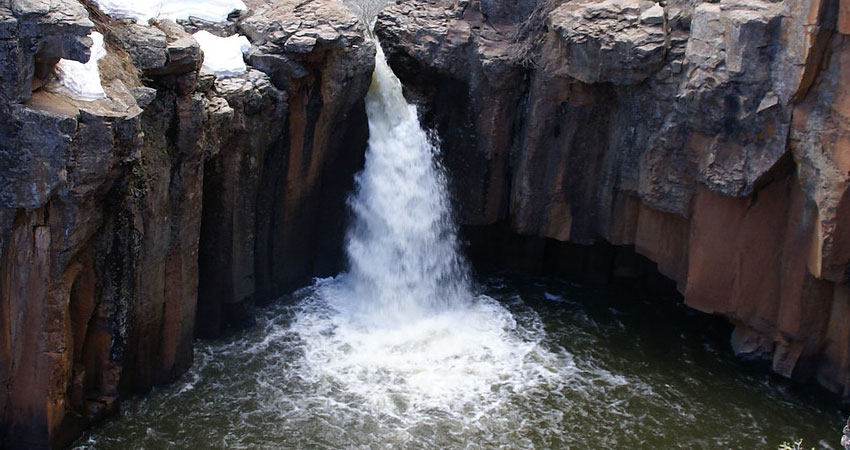 Difficulty: Easy to moderate
Location: Sycamore Canyon, south of Williams, Arizona
Reason to Visit: It is a season waterfall with a forest view trail
Sycamore Falls is a popular rock climbing spot when it's dry. But during monsoon storms, snowmelt, and in springtime, this becomes a glorious 100-foot waterfall.
Guests have 5 trailheads options, which include one that's just a short stroll from the falls. The best views of the falls starts at the Sycamore Rim Trail, an easy to moderate 11-mile loop with several access points around the canyon.
Difficulty: Easy
Location: in the Salt River Canyon at San Carlos, Arizona
Reason to Visit: The waterfall is easy to access and flows year-round
Unlike other Arizona waterfalls on this like, Apache Falls is actually on a river (instead of a creek). As such, its water flows year-round with a volume that's pretty consistent no matter what season you visit.
From the parking lot, you can reach Apache Falls with only a 1-mile, round-trip hike. If you can, visit in the spring while Apache Falls is showcasing snowmelt for a spectacular sight. But if you want to swim, summer is an excellent time to go.
Guests are welcome, but permits are required beforehand. Purchase a $10 permit from either the White Mountain Apache or San Carlos Apache. And if you're visiting the nearby Cibecue Falls as well, you can get the double pass for only $15.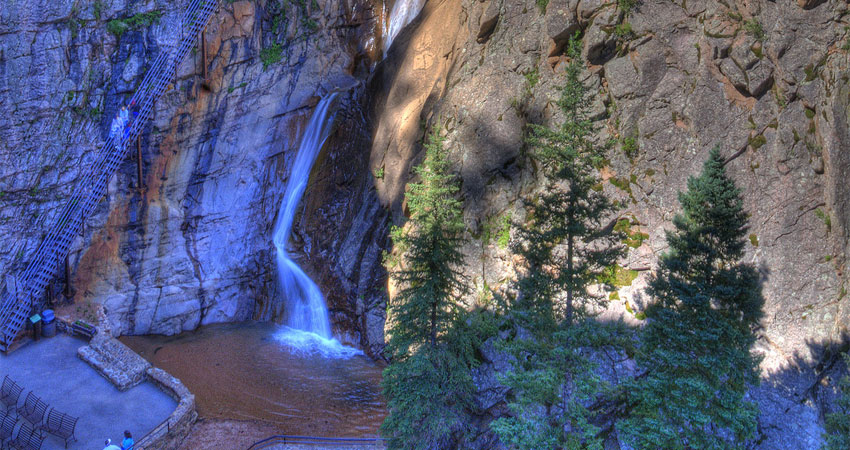 Difficulty: Moderate hiking
Location: Bear Canyon Trail, near the Catalina Foothills, in Tucson, AZ
Reason to Visit: Oasis in the middle of the Arizona desert with 7-in-1 waterfalls
Seven Falls is located in the Sabino Canyon outside of Tucson near the Catalina Foothills. This is a heavily-trafficked, favorite hiking spot in Tucson among locals and tourists alike.
At the end of the 15-mile trail where you go through the lush landscapes of the Catalina Foothills while gaining 900 feet elevation and passing knee-deep rivers at several points, you'll be greeted by seven different waterfalls. Yes, this is why it is named Seven Falls.
The heat of the Sonoran Desert can sometimes be harsh. Good thing Seven Falls allow swimming. Guests need to pay a $5 parking fee.
Other Arizona Waterfalls at Havasupai Reservation
The following waterfalls are located within the Havasupai Reservation. If you're planning to visit the picturesque Havasu Waterfalls, these four waterfalls can be pretty interesting side-trips as well.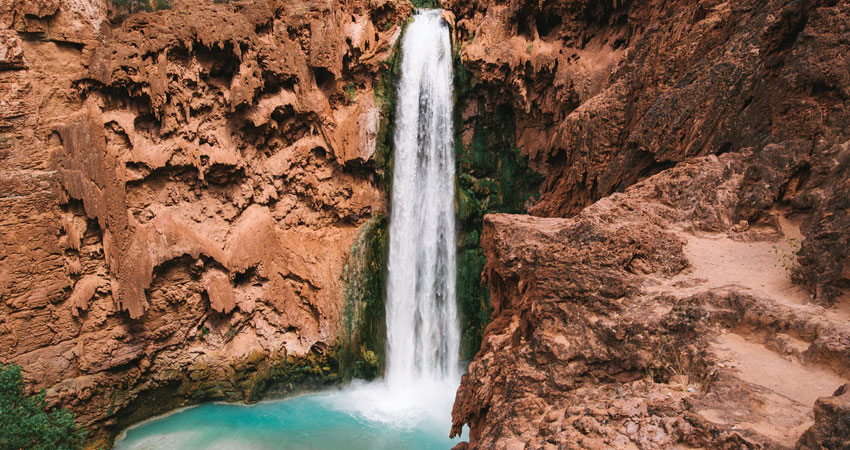 Even if the Havasu is the more popular and most photographed waterfall of the 5 Havasupai Reservation waterfalls, Mooney Falls is definitely the tallest not only in this area, but in the entire state.
Mooney Falls is a 200-foot waterfall that pours turquoise-colored waters over gorgeous reddish rocks.
Unfortunately, the trail going here is more difficult with ladders to climb down, walking with chains, and going through tunnels to reach the spot. It is however near the Havasu Campground, so if you're an experienced hiker with proper hike shoes and a heart for an adventure, don't miss Mooney Falls.
If you're on the hunt for the "hidden waterfalls in Arizona," this is probably the waterfall you're looking for. Some locals also call this the "Fifty Foot Falls."
The Hidden Falls is also part of the Havasupai Reservation and can be accessed via Havasu Campground in Supai, Arizona. It can be easily accessed via a short 1-mile one-way trail from the campground, passing by a bridge.
The Fifty Foot Falls is interesting in that there are 3 points where the falls go over the cliffs at 30, 40 and then 50 feet. You can visit the falls year-round and even go cliff jumping if you're brave enough to do so.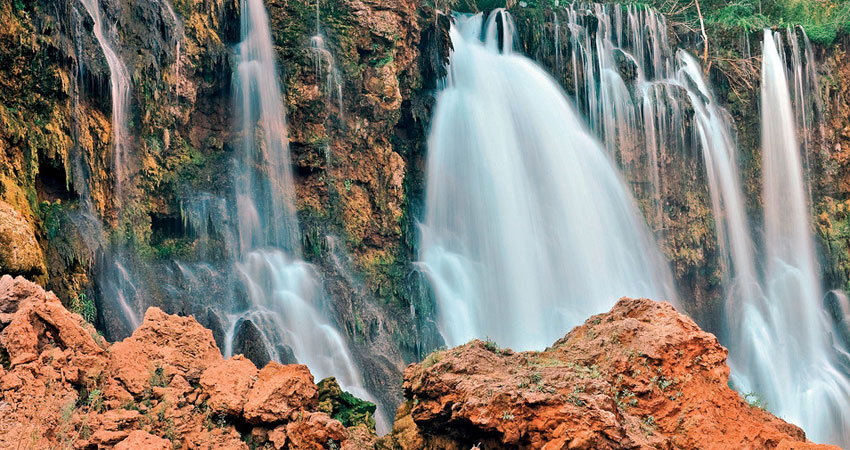 Navajo Falls is one of the most popular waterfalls in Arizona. It is near the Havasu Falls with only a 1.2-mile hike from the campground with an elevation gain of 500 feet.
While Navajo Falls is a year-round falls with high season during spring, summer and fall, it would be best to avoid the monsoon season when flash-floods do occur.
The trail going to the waterfalls is suitable for beginner hikers, but the cliff-jumping (which is allowed) is ideal for only experienced cliff-jumpers. There's a deep pool at the bottom of the tall waterfall, so swim to your heart's content.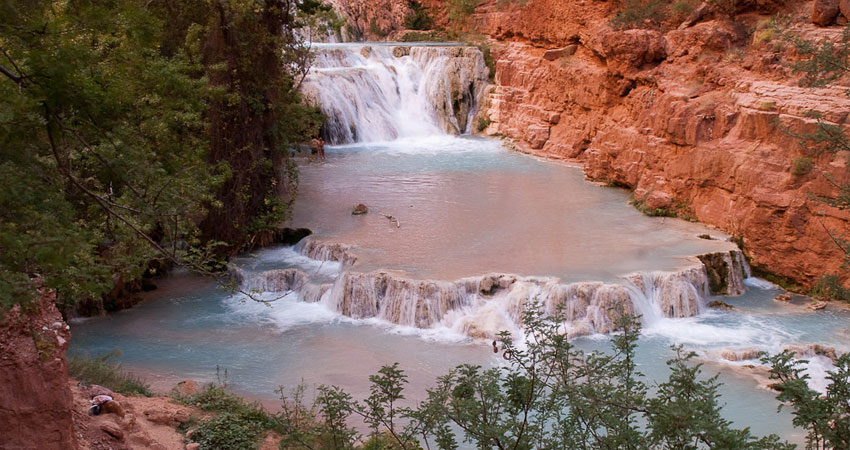 If you're looking for an awesome photo opportunity and a quieter trail than other Supai waterfalls, then check out how to go to Beaver Falls.
Some people claim this spot is just made of a group of little waterfalls stacked on top of each other, but the challenging trail going to Beaver Falls will be worth it once you actually get to see the turquoise water cascade down different layers.
Beaver Falls is located just six miles away from Supai, but it is best for expert hikers due to its remoteness (you descend from Mooney Falls) with a trail that involves rock climbing, climbing a ladder, and rugged trails.
Beyond Arizona Waterfalls: Other Things to do in AZ
If you are looking for Sedona waterfalls, I'm afraid there aren't any in the city. The "Sedona waterfalls" you see online would most likely be the Havasu Falls on the Havasupai Indian Reservation on the West side of the Grand Canyon. It can be reached 3 hours by car, an entire day hiking down, camping overnight, and then another full day hiking out.
Those who are planning a nature trip to Arizona should include at least one of these waterfalls into their itineraries. And if you want something less strenuous, there are always the lakes in Arizona for a more chill experience.