Many covered bridges in PA were built over a century ago, but about 200 of them still stand today.
Imagine… there used to be more than 1,500 covered bridges all over the state. Today, you can find at least 1 covered bridge in 34 out of 67 Pennsylvania counties.
Yes, most of them can only be visited by foot (no more crossing the bridge with your car) and only marveled from afar, but these historical landmarks are worth the trip.
7 Must-See Covered Bridges in PA
Check out 7 of my favorite covered bridges in PA.
Make sure you get all your selfies and pictures – these bridges have been designed using old-school architectural styles and with the rustic natural landscapes of Pennsylvania's backroads. To say they're Instagram-worthy is an understatement.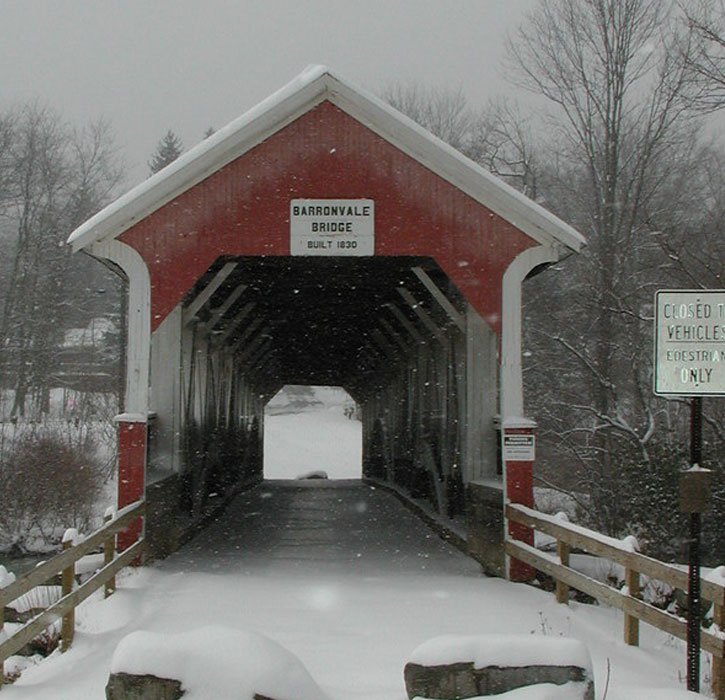 Barronvale Bridge is the longest remaining covered bridge in Somerset County.
Located in Middlecreek Township, on your way to the Hemlock Trail Natural Area, this historic covered bridge stands 13 feet & 10 inches wide and 152 feet & 3 inches long.
Near it, you can also see two other covered bridges – King's Covered Bridge and Lower Humbert Covered Bridge, which also cross Laurel Hill Creek like the Barronvale covered bridge. These landmarks are also a few miles away from Cole Run Falls.
When visiting, respect the bridge and property because it is privately owned. You can park along Ream Road on the western bank of Laurel Hill Creek and just walk on your way to the bridge.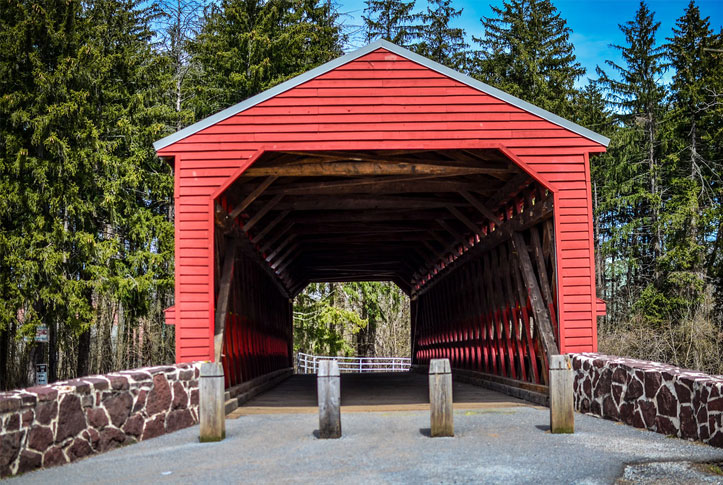 The history of the Sachs Covered Bridge dates back to the pre-Civil War. It was constructed in 1852 by David S. Stoner in order to connect land separated by Marsh Creek.
During the Battle of Gettysburg in July 1863, Union and Confederate soldiers crossed the bridge, even serving as an execution site. This bridge also saw many lives lost during the American Civil War.
These are just a few reasons why locals call this a haunted bridge, or Pennsylvania's "most historic bridge."
In 1996, a flash flood knocked the bridge from one of its abutments and had to be reconstructed (they raised the bridge 3 feet higher).
Today, you can still visit the bridge on foot. The lovely bricked entryway and cool red exterior are such a picturesque combination. Fishing is allowed here, too!
Other Covered Bridges Nearby (within Adams County): Jacks Mountain Covered Bridge (you can drive through this bridge), Heikes Covered Bridge, and Anderson Farm Covered Bridge.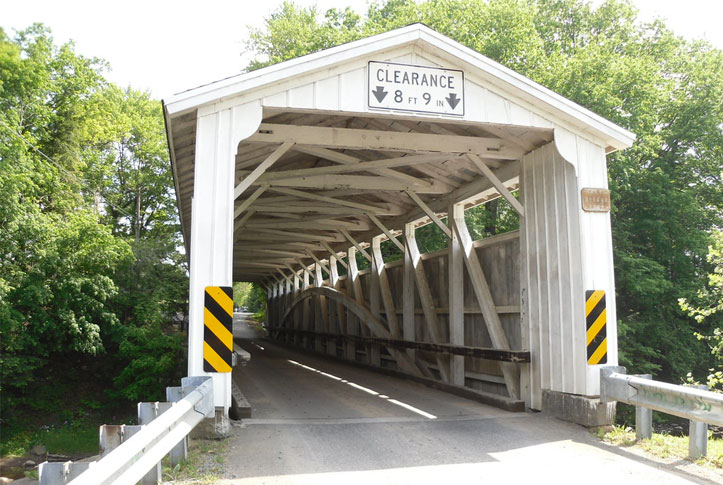 Banks Covered Bridge is a wooden bridge built in 1889 in Wilmington Township, spanning the Neshannock Creek.
Measuring about 121 feet long, the bridge was designed with stone foundations, steel girders and a Burr arch truss. It is also one of a few covered bridges in PA painted completely white, inside and out.
Unlike other Pennsylvania counties that had hundreds of covered bridges a century ago, this area didn't originally have many.
Only a handful of bridges like this were built in Lawrence County throughout history. Today, only the Banks Covered Bridge and McConnell's Mill Covered Bridge remain.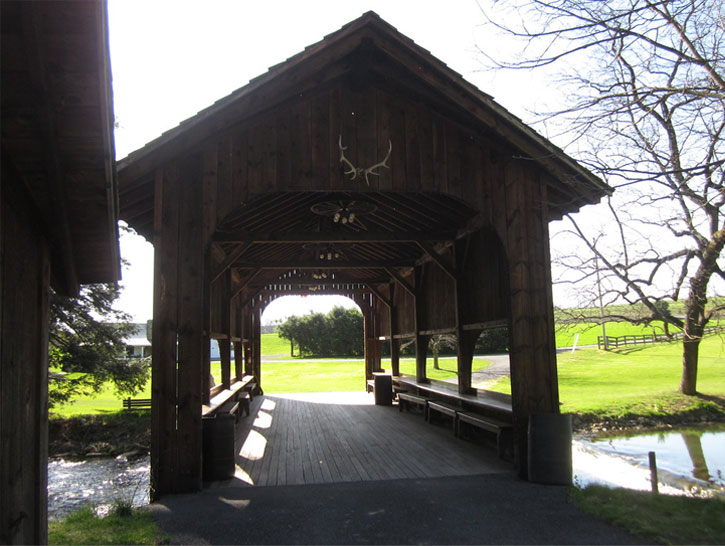 The covered bridge at Evergreen Farms is nestled along a stretch of Spruce Creek.
The entire estate is part of a massive dairy farm owned by the Harpster Family with a lodging (called Hemlock Lodge). The cottage holds 7 rooms and accommodates up to 16 guests.
It is where former US President Jimmy Carter used to visit for fly fishing.
In between these dairy farms and lodging is a mile-long private stream, where a brown-colored covered bridge stands. This bridge was built by both the Harpster Family and the Carter family in the 1970s.
Today, the Harpster Covered Bridge is now a historical landmark. Guests of the farm or lodging can visit the bridge and take unlimited selfies while taking in the view.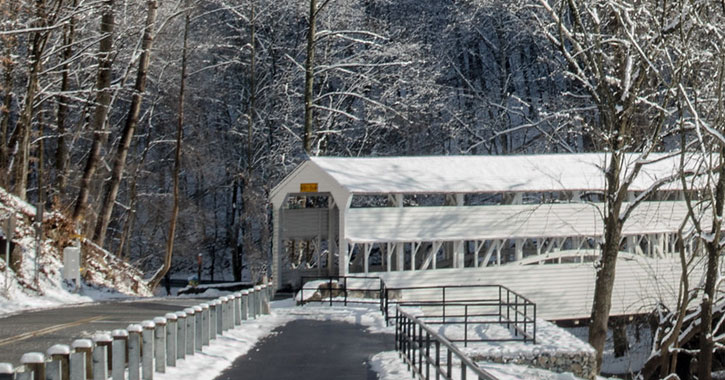 Knox Covered Bridge is one of the most-visited covered bridges in PA mainly because it was built on the grounds where Valley Forge National Historical Park is located.
The bridge is also just 100 feet off the main road, which is easier to access than other bridge landmarks on this list.
The white-colored Knox Covered Bridge isn't actually the original bridge built here. An older and smaller one (only 50 feet long) was constructed in 1851, but it was flooded and destroyed in 1865.
The bridge was then replaced by a slightly longer one (a 65-foot-long bridge) the same year.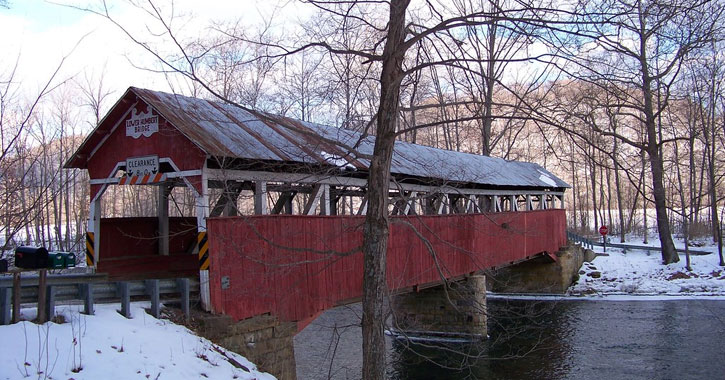 If your interest got piqued by the featured photo above and want to know where to find that bridge, let me introduce you to the Lower Humber Covered Bridge.
Also known as Faidley Covered Bridge, Lower Humbert Bridge was built in 1891. It is a burr arch structure that spans 126 feet and 6 inches and crosses Laurel Hill Creek.
The red, brown, and white-colored bridge is located on a road off Route 281, just 25 minutes away from Ohiopyle State Park.
Even if it looks old, the Lower Humbert Covered Bridge was last rehabilitated only in 1991. It is strong enough for vehicular traffic even to this day.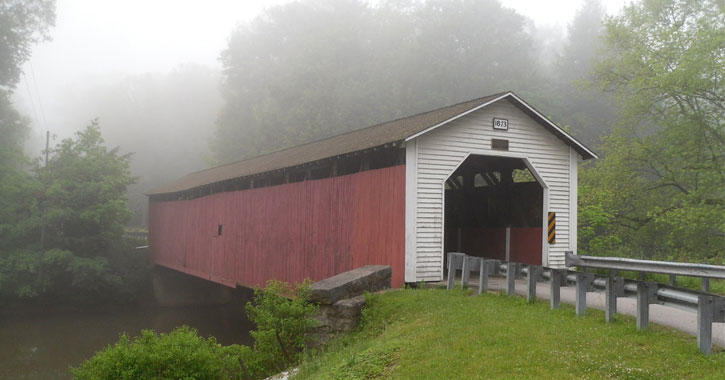 In 1873, Thomas McGee built this 116-feet-long, single-span Burr arch-truss bridge for $175 using hand-hewed white pine timbers from the area.
McGees Mills Covered Bridge was the last covered bridge constructed in Clearfield County and the only remaining covered bridge over any branch of the Susquehanna River today.
It is open to vehicular traffic. Visitors of McGees Mills Covered Bridge may picnic on the banks of the river under the channel, or enjoy fishing.
The site is listed on the National Register of Historic Places (since 1988). McGees Mills Covered Bridge was damaged in 1994 due to heavy snow, but was renovated soon after and reinforced quite heavily from the interior side of the bridge.
Other Attractions and More Covered Bridges in PA
If you have a mission to see all covered bridges in Pennsylvania before they are damaged or demolished, check out this map from UncoveringPA.com to see over 200 bridges in the state. For covered bridges in Indiana, go here.
If you're from out of state and want to maximize your PA trip, go visit Lake Erie or other beaches of PA. If you don't want to drive far, you can check out the man-made water parks (found in the cities) or take a quick detour to the waterfall at Fall Run Park. If you're a fan of good locally-brewed wine, cider, or craft beer, spend an afternoon at the wineries at Lake Erie or breweries in Pittsburgh.
For other historical PA tours, explore things you can do at Gettysburg or join one of the tours that bring you to every ghost town in PA.