There are many cool skate parks in PA that have attracted locals and skateboarders from all around the country.
Like many states in the country, the skateboarding culture in Pennsylvania didn't begin as smoothly.
Around 1958, surfers invented DIY boards (using rollerskates and boards) so they could "sidewalk surf" in land. In the next decade, as more people began skateboarding and companies like Hobie and Mahaka designed and manufactured professional skateboards, parks were slowly being populated by skateboarders of all ages.
As skateboarders decided to make parks like John F. Kennedy Plaza (or "Love Park") their go-to spot for skateboarding, city officials tried to ban skateboarding in 1994 and 2000. These events led skateboarders to become activists and lobby successfully for designated public skateboarding spaces.
Today, skateboarding is now widely accepted as a sport and finally landed its own place in numerous Pennsylvania towns (even if construction or up expansion takes years to be accomplished).
10 Skate Parks in PA to Check Out
There are over 60 skate parks in Pennsylvania. Here are some of my favorites: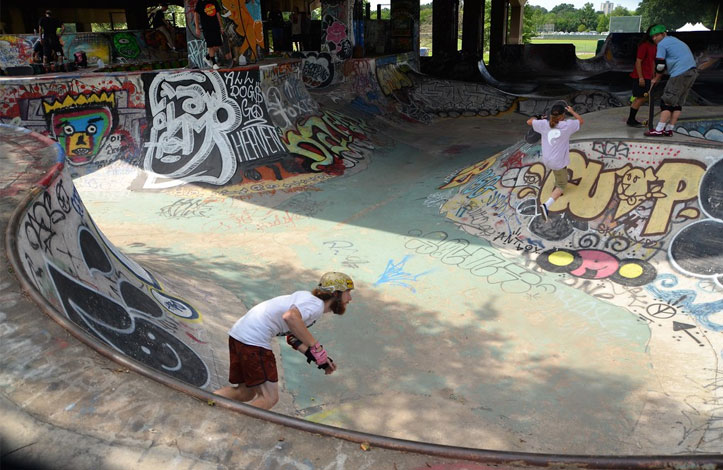 It's FDR. What more needs to be said? Easily one of the most iconic skate parks to ever exist.
Built by the skaters for fellow skaters when the city officials tried to push them out of Love Park, FDR is known as a "concrete paradise" and featured by SKateboarder and Thrasher magazines multiple times.
This notable Philadelphia skatepark has a core park situated under the overpass and a bunker, dome, mini ramp, vert ramp, a patch of humps called "Amoeba" and other challenging areas for all skill levels.
FDK Skate Park was the host of the 2005 Gravity Games, and had been featured in numerous videos such as Tony Hawk's Proving Ground and footage from famous skaters like Bam Margera (in his heyday).
Bethlehem Skateplaza is a 23,000-square foot park designed for bikers and skaters with handrails, benches, staircases, sculptures and other streetscape obstacles.
Located in South Bethlehem, right across the Wind Creek Casino, Bethlehem Skateplaza was part of the city's "Rails-to-Trails" program that brought decommissioned railroad tracks to life and converted them to modern open spaces for recreational activities like skateboarding.
Bethlehem Skateplaza also hosts national skateboarding and BMX events, local competitions and classes for all ages.
Want to host an event here? Contact Bethlehem Skateplaza here.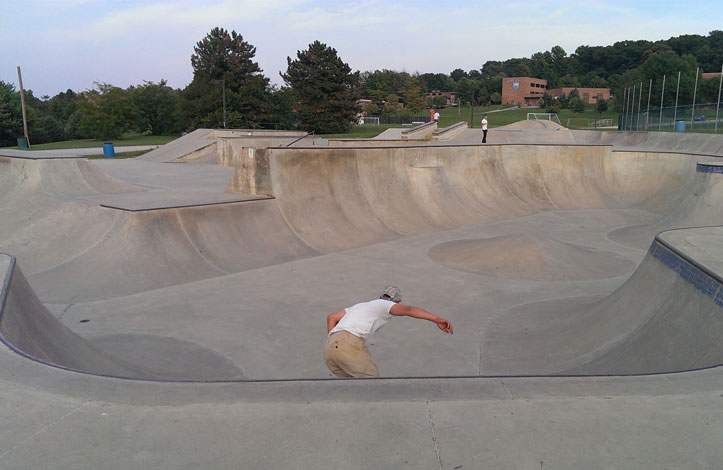 Reid Menzer Memorial Skatepark is a skate park built in honor of Reid Evans Menzer, who died in 2006 at the age of 14 when he was struck by a car.
The park was built completely with donations from people from the community, the Tony Hawk Foundation, and other fellow skaters. Even labor and materials were donated on land provided by the City of York, and designers by leading skatepark design firms California Skateparks and Site Design Group of Carlsbad, California.
Today, over 20,000 people enjoy the park with their bikes, boards, scooters, and blades each year.
The original design already had numerous features such as Bank Ramp, 5 Stair, 5 Stair Hubbas, FDR Wall, A Love Seat, Gaps, Hips, and more, but the people behind the skatepark continuously upgrade the place with more rollers, banks, quarter pipe, and other well-designed elements.
Paine's Park has been a long time coming. Opened in May 2013, this mixed-use park underwent almost a decade of advocacy, fundraising, and project development.
Designed with skateboarding in mind by Anthony Bracali and Brian Nugent, Paine's Park is now a permanent fixture along the banks of the Schuylkill River adjacent to the Philadelphia Museum of Art.
As the biggest skatepark in PA, expect many competitions, demos, and other events like concerts and film screenings held at this modern urban skate park. Many skateboarding professionals stop over at this park. And if you really just want to hang out, you can chill (there's on-site seating available) and grab something to eat at one of the local food trucks that park here.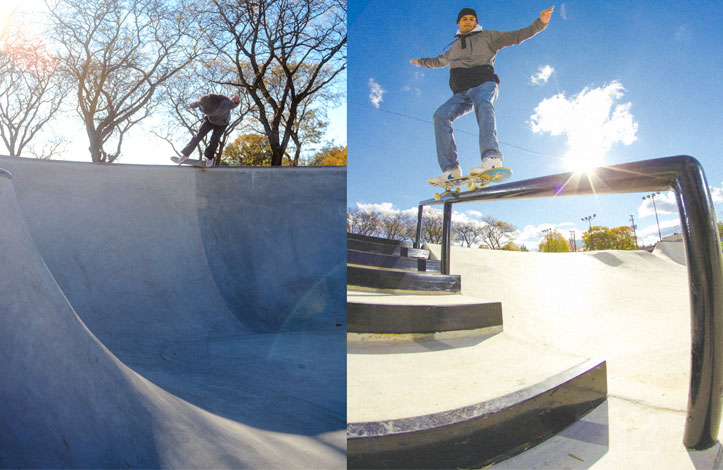 This 18,000-square-feet skate park in PA is located in Allentown.
Opened in 2021, the Jordan Park Skatepark for scooters, in-line skates, BMX bikes, and skateboards has been years in the making. The first phase was designed and constructed by Spohn Ranch, while the second phase (to be built by Grindline Skateparks) is yet to begin as of 2022 Q4.
When you visit now, phase 1 of the park is already functional with a huge space with smooth concrete for heelflips, kickflips, and other freestyle tricks.
Once the park is 100% complete (which will depend on funding), skaters can expect two different bowls to choose from.
Like many skateparks in Pennsylvania, Ambler Skate Park was realized after years of effort from the local community, sponsors, and the Borough of Ambler.
Since Ambler Skatepark's opening in 2011, this has become one of the favorite skateparks in Philly among the younger crowd. Skaters are able to master their styles thanks to the park's smooth pavement and unique ledges, gaps, ramps, bumps, and rails.
For beginner skaters, Ambler Skateshop conducts lessons at the park.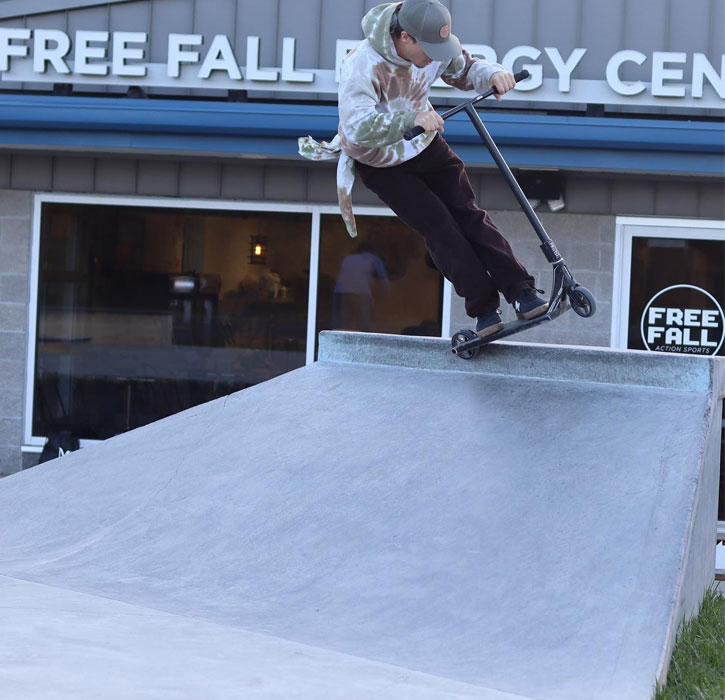 If you're looking for the popular Main Street Quakertown skatepark, you're too late. What used to be a local favorite spot for skating was left neglected. But instead of tearing the park down, many members of the community began outreach efforts through skating competitions, cookouts, and other fundraising activities.
These events made the local Borough Council decide towards expanding the park and reconstructing it into a state-of-the-art, modern skatepark.
Renamed Free Fall Action Park and opened in June 2021, PA skaters from Bucks County and beyond enjoy the large flow bowl, street section, pool, and traditional skatepark elements like ramps and rails.
There is even skateboard training for beginners, intermediate and advanced riders offered by talented coaches from the community. Watch out for workshops, such as the phone filming and video editing course, so you can take cool shots at the park.
Like FDR, 9th and Poplar is among the handful of DIY skateparks in Philly that local skaters built and improved upon continuously.
You can feel the vibes of every skater in the place. Sure, it's not ideal if you're after smooth riding. But the obstacles and park elements that are custom-built at 9th and Poplar definitely are well-designed.
Considering it's a small space, the park can be impressive, especially for intermediate and advanced-skilled skaters.
Plus, the builders and skaters regularly host fundraising events to add park elements and maintain the existing features.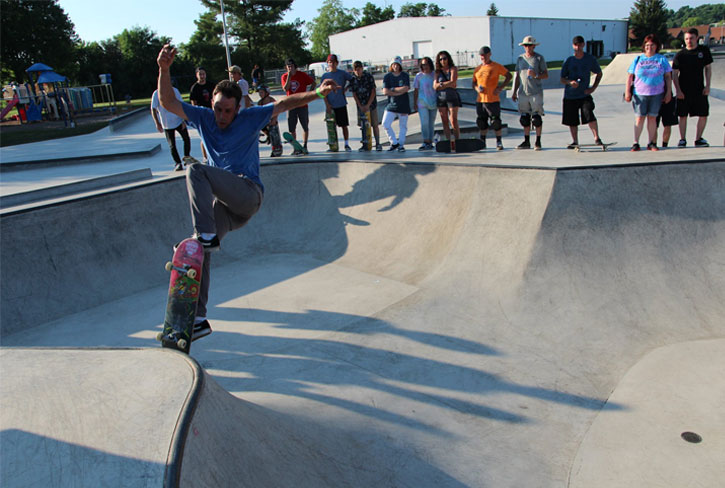 This 10,000-square-foot public park serves the skaters in the communities of Hershey, Camp Hill, and the entire central PA region. While the Borough of Steelton calls it a "skate-at-your-own-risk" park, locals love the space with a diverse skateboarding terrain for all skill levels. Plus, it is the only FREE skatepark in central PA.
Steelton Skate Park was designed with a mix of old-school park elements and modern necessities based on the recommendations of avid skateboarding locals and professionals.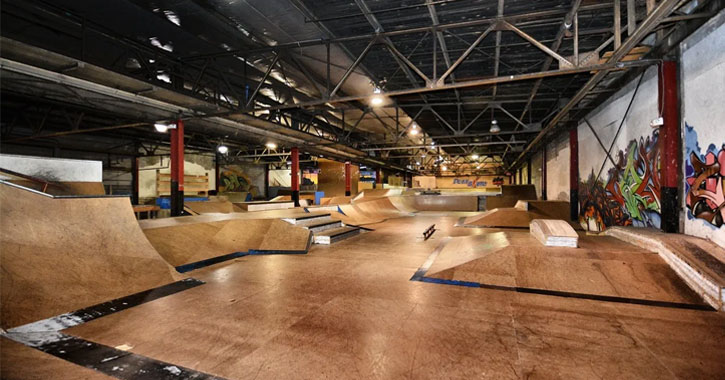 We are! Penn Skate! (Sorry, I had to.)
Penn Skate is the most popular of all indoor skateparks PA has to offer. After all, it is the largest and the oldest one there is.
Penn Skate features a wide range of challenges, from skate boxes and rails, to pools and ramps. The indoor park also welcomes scooters and BMX bikes.
Aside from riding on your own (you need to sign a waiver though), kids and beginners can also join a group or one-on-one classes.
Visitors can rent a bike or skateboard at the location. If you prefer to bring your own ride and it breaks down, you're lucky because Penn Skate also has an in-house repair shop where they repair your scooters, bikes, and skateboards for a fee.
BONUS: If you're interested in other indoor Pittsburgh skateparks, check out the 12,000-square-feet Switch & Signal Skatepark in the Swissvale neighborhood.
Just Visiting Skate Parks in PA?
If you're not from around here and you were just exploring the many skateparks in Pennsylvania, why not extend your stay and visit other nearby attractions?
Have fun in the sun at Lake Erie and the beaches of PA, or the man-made water parks and waterfall at Fall Run Park. You can even take a scenic trip and enjoy good locally brewed wine, cider, or craft beer at the wineries at Lake Erie or breweries in Pittsburgh.
If you're visiting in winter, check out your options for skiing near Pittsburgh. But if you want to experience something new, explore the historical Gettysburg or join one of the tours that bring you to every ghost town in PA.