The Indiana Caverns are part of the longest cave system in Indiana and are also the newest show caverns in the US. That's because these caverns were discovered only 10 years ago, and have since been turned into a family adventure park with plenty of fun activities available besides the cave tours.
After discovering the cave system in 2010, the team also found a room (now called the Big Bone Mountain room) containing a large number of bones dating back to the Pleistocene (Ice Age) period, a time period stretching between 12 000 and 50 000 years ago.
If you visit the caves you'll get to see these pieces of preserved history and learn more about why this discovery was so amazing. There's a lot more to see and do in this family-friendly adventure park too.
6 Things to Do In The Indiana Caverns Family Adventure Park
Here are the top 6 things you can do while visiting the Indiana Caverns.
1. Explore The Majestic Indiana Caverns By Foot And Boat
I'm not the biggest fan of exploring caves by any means – the idea of being far underground in a cramped space just doesn't do it for me. The Indiana Caverns wasn't that, however.
This massive network of caves, which is part of the greater Binkley Cave system spanning more than 44 miles in length, was big and open for the most part. At least, the parts where the tour groups go are.
There are built-in steel stairs and paths, and everything is well-lit so at no point do you feel unsafe or get that intense claustrophobic feeling. Most of the one and a half hour tour is on foot but it also includes a 20-minute boat ride for a part of it.
The boat ride is probably the biggest highlight of this tour besides the bone room and you get to see all sorts of things during the ride like cave salamanders and blind crawfish. During the walking part of the tour, you also get to see a 40-foot underground waterfall and learn more about the history and scientific significance of the cave from the guide.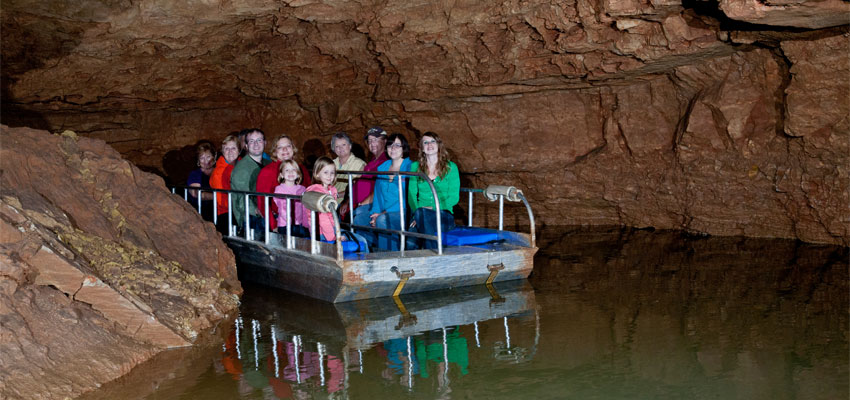 If you have small children or elderly people who want to go as well then this should be one of the better caverns for them to visit. Everything is accessible – though not wheelchair accessible of course – and there isn't any climbing (except for the stairs) or crawling involved. The guides are also wonderful and will go at a pace that the group's slowest members can keep up with.
Essential Information
Address: 1267 Green Acres Drive SW, Corydon, IN 47112
Hours: Mon-Sun 9am-5pm, except on Thanksgiving and Christmas Day
Cost: $22 per head for adults (aged 13+); $12 for kids (aged 4-12); kids under 3 can go in for free but no strollers or backpacks are allowed.
Website: Indiana Caverns Family Adventure Park
2. Experience True Darkness
While the guided tour part of the cave exploration is relatively stress-free, they do offer something a bit more anxiety-inducing (at least to me) in the form of a 4-hour spelunking exploration deeper into the caves.
For this part, you have to wear closed shoes, long-sleeved clothes and will be provided with a hard hat and headlamp. This part is not suitable for kids or elderly people as you start off with a belay down a 90-foot ladder with ropes, then climb and crawl your way through the underground. I would say children ages 13 and up would probably be allowed – they require a minimum weight of 100 pounds.
This is not something you should undertake if you're not relatively fit or if you have health issues. It's quite the arduous trek during which you'll have to kayak upriver for a good part of it as well.
The minimum group size for this underground adventure is 3 people – although they may add more people to your group. It costs $120 per head to book for a group of three people, bigger groups pay a bit less.
3. Escape A Room 1000 Feet Underground
I've seen my fair share of escape rooms but this one really takes the cake in terms of uniqueness.
They only have one type of escape room at the moment but are planning on adding more with a lost temple theme which has me really excited. The current escape room centers around a mining crew that has been trapped by a collapsed mineshaft. Naturally, time is running out because they're running out of air so you have to work quickly to free them.
The escape room has its fair share of puzzles and surprises, and some tight nooks as well. Other than the location it's pretty standard fare so if you've done an escape room or two before then you'll know how this works.
4. Get Your Adrenaline Fill With The Bat Chaser
The Indiana Caverns don't just offer exciting things to do underground, they have some more fun things to do on the ground level as well.
Or rather above it.
The park's zip coaster, which they've aptly named the Bat Chaser, is a fun and exhilarating ride that will let you fly around the sky unperturbed. For those who haven't seen them before, zip coasters are on the rails ziplines that you're attached to with a harness.
Personally, I feel they're much safer than normal ziplines since they're sturdy structures and you don't hold onto any moving parts yourself. Not that I'm putting ziplines down, but this might be a better option for kids or people who are new to ziplines.
Either way, this is a lot of fun and not too expensive at $13 for one ride or $25 for three rides (per person, they won't let you share the three-ride wristband).
The Bat Chaser is one of only two zip coasters available in the US, so if you're into the thrill of coasters and looking for a unique experience then I would highly recommend this.
5. Let The Kids Loose In The Sabertooth's Lair
The Sabertooth's Lair isn't actually part of the cave system since it's manmade and has its own skull-shaped entrance. This is a 400-feet crawl through a small tunnel-like "cave" with some fun surprises spread throughout.
Parents (and people with no kids) are welcome to join in this lighthearted activity, so if you're not up for the more strenuous version for adults but still want to get the "spelunking" experience then this might be more up your alley.
Thankfully, there's no mud or water involved so you'll come out looking clean-ish overall and they provide gloves and a helmet as well. A trip through the lair will set you back $6 per person (both children and adults).
6. Try Your Hand At Gemstone And Fossil Panning
If you don't want to buy your gemstones at the gift shop and prefer a more hands-on approach then you can try panning for them instead.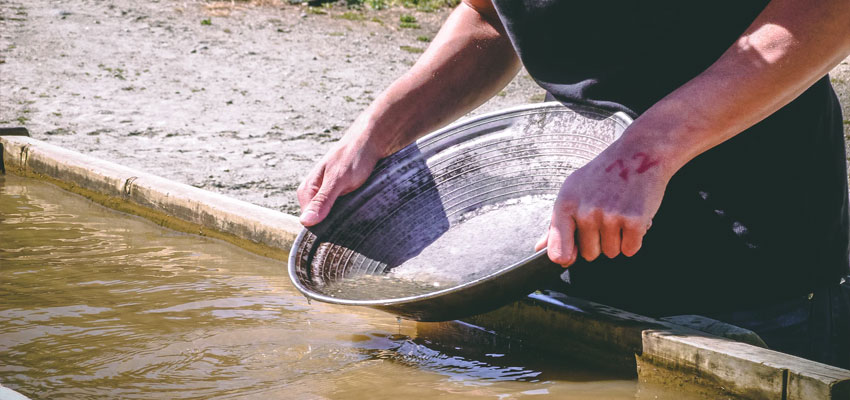 This isn't "realistic" panning by any means as you buy a bag containing the type of gemstones or fossils that you would like to collect. Or go for the mixed bag for a surprise.
The prices of these bags range from $9 through $25 and you'll be taken to the panning area where you can upend your bag into a sifter and use water combined with your hands to find the gemstones between the dirt.
Information And Tips On Visiting The Indiana Caverns
How to Get to the Indiana Caverns
The Indiana Caverns Family Adventure Park is only 5 minutes off Exit 105/Corydon on I 64 and only 25 miles west of Louisville, KY.
Getting Around
Everything in the park is accessible by foot and you won't have to drive anywhere once you get there. The park has picnic facilities and a gift shop but it doesn't sell anything to eat.
If you don't take your own food then you will want to drive to nearby Corydon (it's just 5 minutes away) and visit one of the restaurants there.
Otherwise, you could fit this in as a stop on your trip. I also have a list of other awesome things you can do in Indiana if you're planning to stay awhile.
Best Time Of Year To Visit
This depends greatly on what you want to do at the caverns. The park is open year-round except on some holidays, but certain features will be closed depending on the weather.
For instance, if it's too cold or raining then the Bat Chaser won't be operating. Similarly, the underground spelunking adventure will be postponed if it is raining or has rained recently since that can mean some parts of the caves are filled with water.
What to Wear
The cave is 56 degrees year-round so not too bad, but you'll want to take a jacket just in case. It can get a bit chilly during the boat ride, especially. You don't need to wear trainers or boots for the main tour and generally, any comfortable flat shoes will do fine. Leave the flip flops at home though.
What to Expect
The staff and guides at the Indiana Caverns are all very helpful and friendly. As is always the case with tourist attractions, you'll have to deal with the other visitors and it's best to try and go in the morning when there are generally fewer people.
Go Have A Fun Time At The Indiana Caverns!
I'm always keen on finding new things to do with my family and the Indiana Caverns are a great choice. Not only can you learn some new things but you'll have a good time doing it.
If you were planning on visiting the caverns then, hopefully, this article has helped you understand what to expect when you get there. Let me know what your Indiana Caverns experience was like!
Be sure to check out some of the best caves in the US and this massive list of things to do in Indiana while you're here!