There's an abundance of lakes in Kansas that you can explore with minimal funds.
The awesome thing about going on nature trips across the country is that they're not as expensive as visiting Disneyland or following an itinerary for touristy cities like NYC or Miami. Or in the case of Kansas, attractions like Safari Zoological Park or SEA LIFE.
15 Must-Visit Lakes in Kansas
If you've been feeling the Kansas heat and want to cool off without spending a ton of money, check out any of these 15 Kansas lakes:
This manmade reservoir is located inside Kanopolis State Park (Kansas' oldest park) and is embraced by lush greenery and rolling hills.
Kanopolis Lake welcomes water recreational activities like swimming, boating, and fishing, then its nearby land allows guests to hike along the Prairie Trail Scenic Byway, go spelunking or be in awe at the early Indian rock carvings at Horsethief Canyon.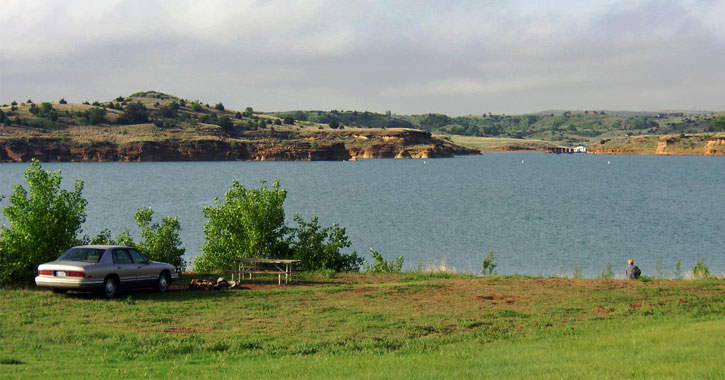 Wilson Lake is the cleanest lake in Kansas.
It is located amidst the Smoky Hills of Central Kansas and is spread across four state parks with Wilson State Park being the largest and the most popular.
This particular lake has everything you need to cool off from the Kansas heat, whether you plan to just swim and go boating in the waters, or go on an adventure with the many nature trails and fishing spots Wilson Lakes offers.
Located at one of the best state parks in America, El Dorado Lake is another manmade reservoir that flows along the Walnut River.
This south-central Kansas lake offers spectacular views no matter which of the four areas of El Dorado State Park you decide to visit.
It's a favorite lake for many local and visitor birdwatchers wanting to spot tree swallows, warblers, Canada geese, prairie chickens, and bald eagles.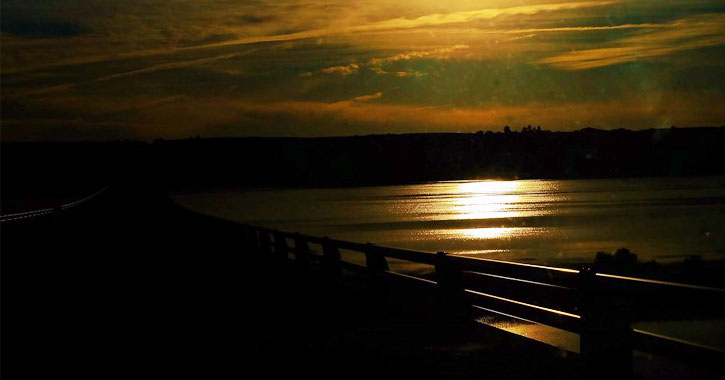 Tuttle Creek Lake is the second-largest lake in Kansas with its 100-mile shoreline and 12,500 surface acres of water.
It is located in the beautiful Flint Hills and is home to an artificial beach with volleyball courts, hiking trails, biking spots, picnic areas and campsites if you plan to stay a day or overnight.
Lone Star Lake and Lone Star Lake Park (where this 185-acre lake is located) are owned and operated by Douglas County since it was built in 1934, rehabilitated in 1981, and again in 2000.
It is one of the most peaceful lakes in Kansas, so if you're soul-searching and want to be one with nature, Lone Star Lake could be the right choice.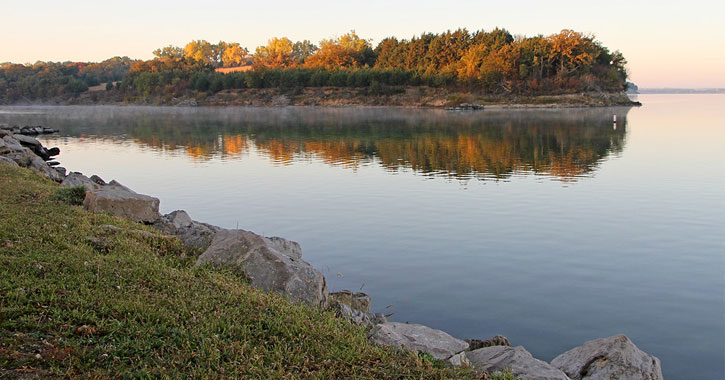 This is the biggest lake in Kansas and also one of the clearest with blue waters, a scenic backdrop that looks phenomenal in the fall, and 163 miles of shoreline.
There's also the family-friendly Nudie Beach (which ironically is NOT clothing optional), several boat ramps, a private yacht club, a beach for jet-skiing, and a marina.
And if you've enjoyed all the water activities you can do at Milford Lake, the park offers several trails for you to hike or watch for birds.
Also known as Glen Elder Lake, this manmade reservoir is located in north-central Kansas.
Waconda Lake is set in a picturesque location with plenty of opportunities for capturing the sunsets and watching wildlife.
Aside from all the water activities you can enjoy at Waconda Lake, you can also golf and hike to your heart's content.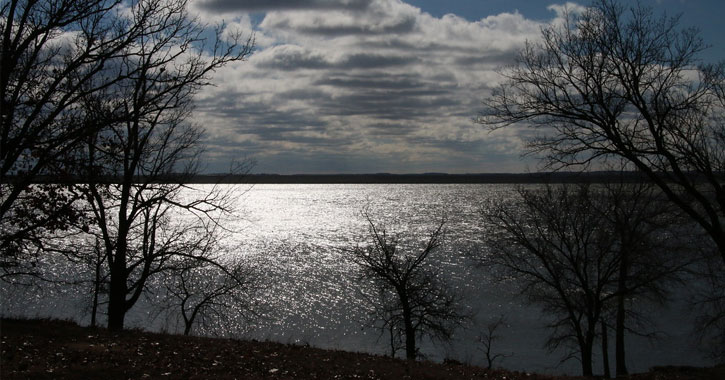 Fall River Lake is located in the Fall River State Park, surrounded by the Flint Hills valleys and ridges.
This spot is a favorite nature getaway for sunset chasers, anyone looking for an ideal birdwatching location, and campers who want to enjoy the lake and the gorgeous backdrop Fall River Lake providers.
You can choose to rent a cabin or rough it out at campsites by the southern shore of the lake.
The lakes in Kansas all have amazing vistas, but the Elk City Lake doesn't just offer a beautiful backdrop for your weekend swimming and other water activities.
You also have the option to explore one of the six trails ready for anyone looking to hike, or hunt turkeys or deer when in season.
Camping and boating facilities are found at the eastern side of Elk City Lake.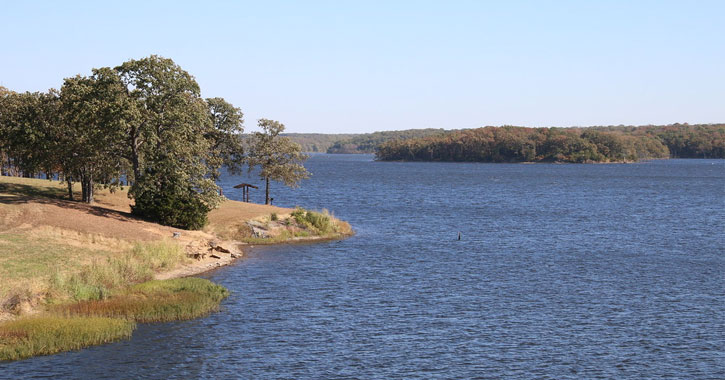 Big Hills Lake is a beautiful southeast Kansas lake, situated about 5 miles from Cherryvale.
It offers clear waters by the beach, relaxing views with tall trees and a TON of space to enjoy all kinds of land and water activities.
If you're here for an adventure, be sure to try the 17-mile long Big Hill Lake Horse Trail.
Known by locals as the "Paradise on the Plains," the pristine Perry Lake is located in the state's northeast region.
It is surrounded by scenic vistas, and wildlife just roaming around for visitors to marvel at.
If you're always up for a good hike, there's the -30-minute Perry Lake National Recreational Hiking Trail, which runs along the eastern shore of the lake.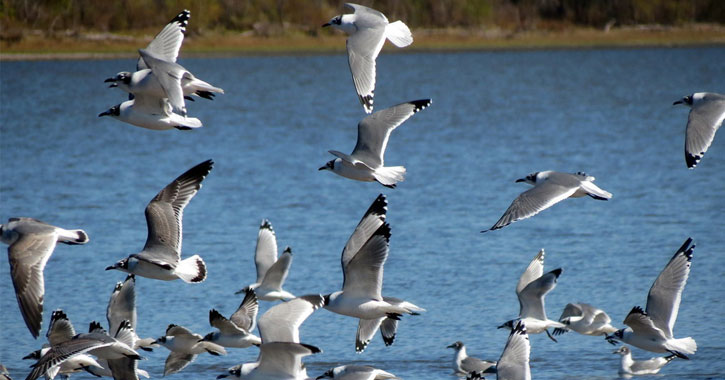 What makes this east-central Kansas lake unique to others in the state is the presence of dozens of bald eagles gliding over the lake to catch fish.
This spot is a perfect place for nature photographers interested in a good shot.
Of course, there are plenty of water activities to be had at this v-shaped Hillsdale Lake from chilling in the water to boating and everything in between.
The state park, where the lake is located, has 4 campgrounds with day-use areas and boat ramps for you to use. You can also go on a hike and explore the woods by following the Hidden Spring Nature Trail.
Clinton Lake is one of the younger lakes in Kansas.
You can find it in the southwest corner of Lawrence, just about northeast of Kansas.
It's a favorite among hikers and wildlife enthusiasts as visitors can see tons of squirrels, rabbits, quail, wild turkey, and more. Do note that Clinton Lake only has one marina, and it's a private one.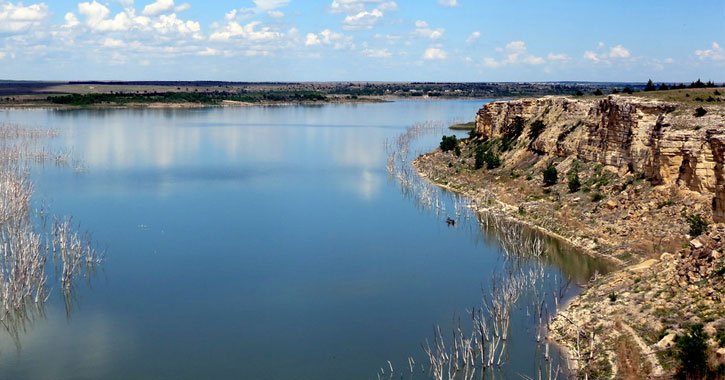 Cedar Bluff Reservoir welcomes anyone in search of a spot for relaxed swimming, fishing, and other water sports.
This west-central Kansas lake is located along the Smokey Hill River, where you'll be mesmerized by multicolor wildflowers and prairie grasses.
The park also features a beach, boat ramps, camping spots, the historic Threshing Machine Canyon, and hundreds of rock carvings dating back to the 1800s.
Council Grove Lake is an east-central Kansas lake that flows along the Neosho River.
Built and managed by the U.S. Army Corps of Engineers, it is used for flood control, recreation, and water supply.
Here you can also enjoy boating and camping facilities, picnicking spots and many birdwatching areas. Hikers have the Pioneer Nature Trail and other scenic trails to explore within the park as well.
Beyond the Lakes of Kansas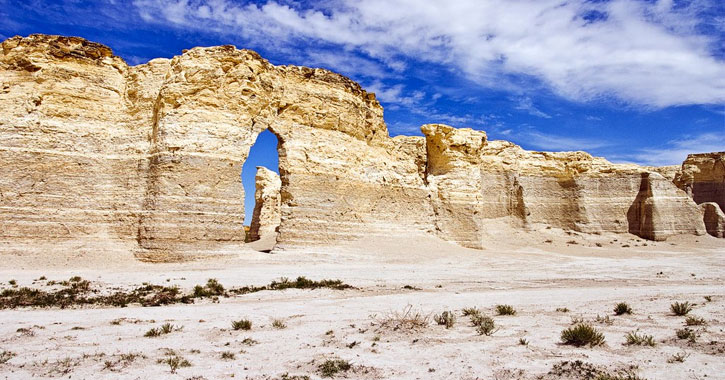 If you're looking for more nature destinations in Kansas, you can check out the marvelous Botanica at the Wichita Gardens, the IG-worthy Keeper of the Plains, and the 8 Wonders of Kansas, which include:
For those in search of the arts and sciences, there are the Spencer Museum of Art, Oz Museum, The Museum of World Treasures, and Exploration Place to visit.
Historical buffs would enjoy a trip to the Old West's Boot Hill Museum, Fort Larned National Historic Site, Evel Knievel Museum, and the Flint Hills Discovery Center. If you're visiting with someone who loves car racing, go to the Kansas Speedway.
If you really need to coof off, Schlitterbahn Waterparks and Resorts can be a good alternative to the lakes of Kansas.
And for those chasing some of the best lakes in the country, check out my features about the Arkansas lakes, lakes in Colorado, Oklahoma lakes, lakes in Texas, Illinois lakes, lakes in Connecticut, Virginia lakes, lakes in Oregon (as well as the Cascade Lakes), South Carolina lakes, and Alabama lakes.