If you're vacationing around Oklahoma and planning to do some nature-tripping, don't miss any of the coolest lakes in Oklahoma.
Whether you're planning on camping, horseback riding, scuba diving, or simply marveling at serene water sanctuaries, Oklahoma has a lake that would speak to your soul.
Here are EIGHT of my personal favorites:
8 Must-See Lakes in Oklahoma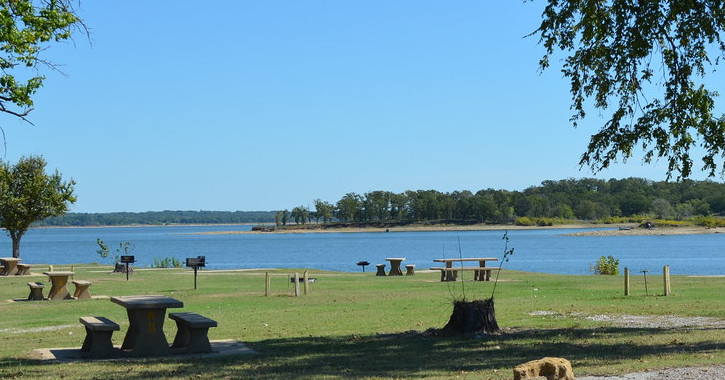 If you checked out my go-to Texas lakes post, I placed Lake Texoma on my list. After all, it is the 12th largest lake in the country with over 1,000 miles of shoreline and a variety of destinations. Activities here aplenty, thanks to several white sandy beaches, rugged rocky cliffs, and 36,000 hectares of lake goodness.
It is home to saltwater fish, striped bass, a favorite of local or visiting fishermen.
Check out the pirate ship, docked at Grandpappy Marina called the Compass Rose. It's an 1800 all-wooden brigantine tall ship (one of the few remaining in the world) that is still actively sailing.
Essential Information
Location: It is found 15 miles south of Durant, at the border of Oklahoma and Texas at the confluence of the Washita and Red Rivers.
Activities: Boating, canoeing, kayaking, swimming, fishing, sailing, wakeboarding, picnicking, hiking, camping
Popular access points: Dallas-Fort Worth Metroplex
Nearby services and amenities: Two state parks, wildlife sanctuaries, 12 marinas, 26 resorts, picnic amenities, boat rentals
Where to stay:  Lake Texoma State Park has three campgrounds closely aligned, offering a total of 517 campsites for both campgrounds and RV parks.
2. Tenkiller Ferry Lake (one of scuba-divers' go-to lakes in Oklahoma)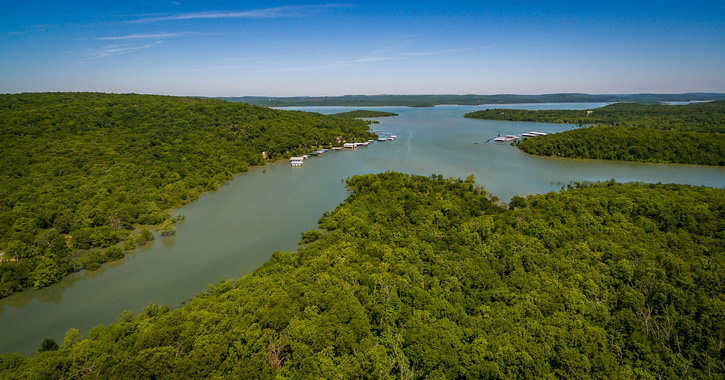 Lake Tenkiller is a very interesting lake, formed by the damming of the Illinois River. It covers 12,900 acres with a shoreline of over 130 miles.
When the Tenkiller Ferry Dam was completed in 1952, the old town of Cookson was covered with water and still exists under the lake. It is why many scuba divers find their way here. But beware if you're accessing the lake from the town of Paradise Hill, at the far southwestern edge of the lake, since it is known for violent drop-offs, going from an adult man's waist to over his head, and have caused numerous death
Tenkiller Ferry Lake is bordered by Tenkiller State Park, Cherokee Landing State Park, and 14 other parks. You can find 10 marinas, 24 boat launching ramps, 5 floating restaurants, and many islands (like the Goat Island with hundreds of goats that inhabit it) in the area.
Essential Information
Location: Situated 20 miles south of the Cherokee capital of Tahlequah
Activities: It's a spectacular spot for scuba diving, fishing, boating, marinas, camping, hunting, hiking, and other outdoorsy activities with nature.
Popular access points: Tenkiller Ferry Lake, just north of Gore, Oklahoma
Where to stay: There are 1,400+ acres of land available for camping. The Timbers at Burnt Cabin (upscale RV park) is one of those, but if you want to keep it old-school, check out two state parks and many campgrounds managed by the U.S. Army Corps of Engineers.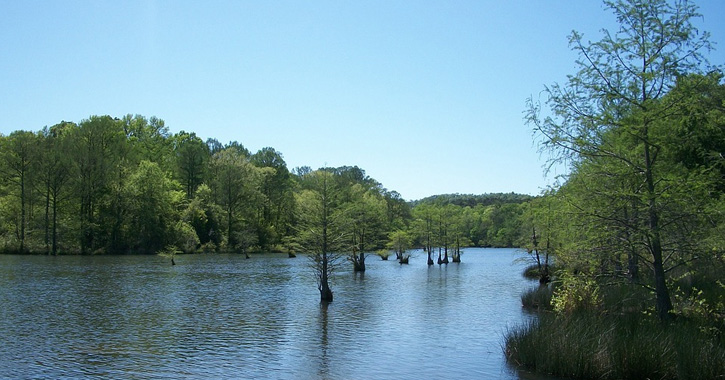 It is one of the largest freshwater lakes in Oklahoma today, but Broken Bow began life as a flood control measure in 1970.
Broken Bow Lake stretches over 20 miles into the Ouachita and Kiamichi wilderness. It features 14,000 acres and 180 miles of shoreline, a backdrop of densely forested mountain terrain (as a prime location for bird-watching), and the Beavers Bend marina where you could rent jet skis, boats, canoes, and so on.
For hikers, you can choose from the beginner-friendly, mile-long Big Oak Nature Trail, or the more advanced, two-way trail Beaver Lodge Nature Trail that brings you closer to the pine-covered hills.
Essential Information
Location: It is inside the Beavers Bend State Park, just in the foothills of the Kiamichi Mountains
Activities: Boating, canoeing, kayaking, swimming, fishing, hunting, hiking, biking, horseback riding, camping, birdwatching
Popular access points: the Ouachita Mountains, close to the Arkansas and Texas borders
Where to stay: Tent sites along the shoreline, the 40-room Lakeview Lodge to vacation rentals, lodges, and cabin facilities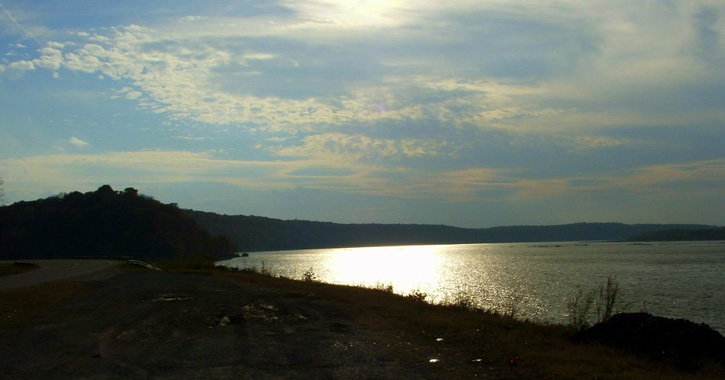 The result of the Pensacola Dam project completed in 1940 that now provides water, power, and flood control for nearby communities, Grand Lake O' the Cherokees is one of Oklahoma's third-largest and most popular lake destinations for sailing enthusiasts.
Known simply as Grand Lake, it is bordered by FIVE state parks, sitting at an elevation of 226 meters above sea level and boasting 1,300 miles of scenic shoreline. The Grand Lake waters is a spot known for fishing largemouth bass, channel catfish, white bass, crappie, bluegill, or the rare paddlefish.
If you're not here for the scenic lake and its beautiful shoreline (especially around The Snowdale Recreation area), there's a good chance you're joining the hunt during special deer hunting seasons at the Spavinaw Hills Game Management Area.
Essential Information
Location: Located on the Grand (Neosho) River in northeastern Oklahoma
Activities: Hunting, fishing, boating, canoeing, parasailing, wakeboarding, kayaking, swimming, sailing,  tubing, jet skiing, scuba diving, picnicking, hiking, camping, bird-watching, etc.
Popular access points: Delaware/Ottawa/Craig counties, Grove, OK 74344
Where to stay: From camping sites to Airbnb's, hotels, bed and breakfast, lodges, RV parks, and other lodging options
5. Lake of the Arbuckles (Local Fisherman's Must-Visit Lakes in Oklahoma)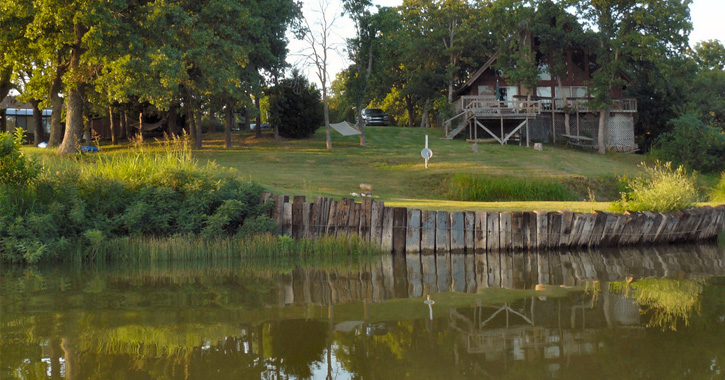 The Lake of Arbuckles was built in 1966 as a water supply reservoir for the city of Ardmore and its surrounding communities. It is now the go-to spot for fishing for bass, crappie, catfish, and perch. And if you're not planning to fish, their 58-kilometer shoreline offers a ton of activities for you, from camping to picnic, boating, hiking trails, and all water activities your heart desires.
Lake of the Arbuckles has some of the most scenic lakes in Oklahoma. On the north side, you'll be welcomed by the Chickasaw National Recreation Area and the rest is prairie and woodland.
Essential Information
Location: Located 15 miles southwest of Sulphur, at the northern end of the Arbuckle Mountains, in Southern Oklahoma
Activities: Boating, swimming, scuba diving, fishing, picnicking, hiking, camping, nature photography, hunting
Popular access points: Chickasaw National Recreation Area
Where to stay: The Point Campground or 55 other campsites are available to the public for RVs, trailers, and tents.
6. Lake Murray (one of the most breathtaking lakes in Oklahoma)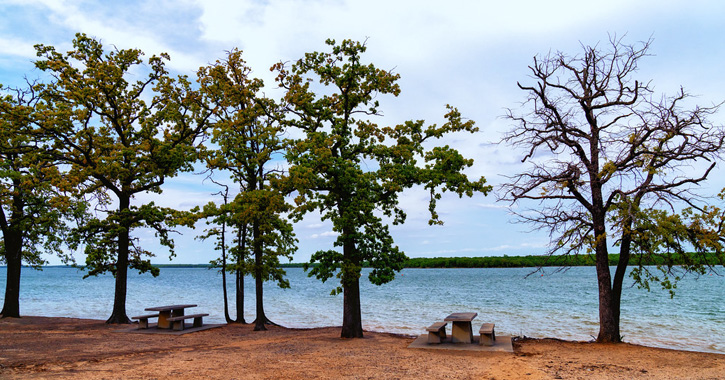 Lake Murray is a man-made reservoir, created by building an earthen dam across the Anadarche and Fourche Maline Creeks.
You can find the lake within Oklahoma's largest and oldest state park – the Lake Murray State Park. It is also the first Oklahoma park to be included in the National Register of Historic Places.
Aside from exploring the waters by swimming, scuba-diving, and other water sports, you also have a ton of fishing opportunities with its Walleye, Smallmouth bass, White bass, Spotted bass, Channel catfish, and so on.
Don't miss the historic Tucker Tower, located on the southern shore. It was built in the 1930s as a retreat for Oklahoma governors, but since it didn't serve that purpose, it was turned into a geological museum and now houses the famous Lake Murray Meteorite.
Essential Information
Location: Carter County, south of Ardmore, almost to the Texas border
Activities: Nature photography, boating, canoeing, kayaking, swimming, fishing, sailing, windsurfing, wakeboarding, jet skiing, scuba diving, ATV, picnicking, hiking, camping
Where to stay: There are numerous camping sites within the park, but if you want to try something new, stay at one of the floating cabins.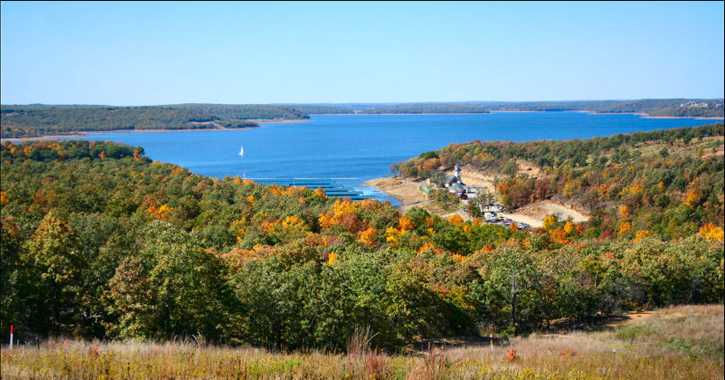 Made in 1968 during the creation of Keystone Dam for flood control, hydroelectric power generation, wildlife management, and recreation, the Keystone Lake is now a reservoir in northeastern Oklahoma on the Arkansas and Cimarron rivers.
The 9,600-hectare lake, which sits along the Arkansas and Cimarron rivers, offers many nature-friendly activities from swimming in the clear waters to chilling by the sandy beaches or being one with nature in one of the 11 recreation areas.
This northeastern Oklahoma lake is home to catfish, crappie, striped bass, black bass, small-mouth sand bass, and many more, so there are tons of fishing opportunities. If you prefer to hunt instead, you can join bird-, rabbit-, or squirrel-hunting activities.
There are two state parks within the Keystone Lake area, as well as 16 recreational areas, 11 boat ramps, and 4 marinas.
Essential Information
Location: 1926 State Hwy 151, Sand Springs, OK
Activities: Fishing, swimming, scuba-diving, hunting for squirrels, rabbits, and birds, nature photography
Popular access points: west of the city of Tulsa, 7 miles W on Hwy 51 from Sandy Springs, 6 miles E on Hwy 51 from Mannford, or US 412 exit to Keystone Dam
Where to stay:  There are 22 lake view cabins with fireplaces, a community center with kitchen, picnic sites, group picnic shelters, 72 RV sites and 82 tent campsites, comfort stations with showers, and lighted boat ramps
8. Skiatook Lake (one of the most Intagrammable Lakes in Oklahoma)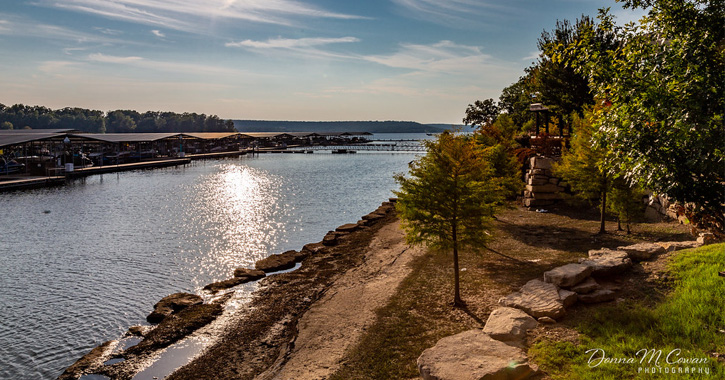 Skiatook Lake is a 4,200-hectare reservoir located within the Osage Reservation. It is the 15th largest lake in the state, and probably the most-Instagrammable thanks to the rolling hills that surround it.
Aside from hosting a couple of sports fishing tournaments, Skiatook Lake is also included in the Oklahoma Fishing Trail and Osage County Fishing Trail. The lake is home to largemouth bass, smallmouth bass, hybrid striped bass, crappie, channel catfish, and bluegill, among others.
Essential Information
Location: 4 miles west of the town of Skiatook, and 11 miles east of Hominy, Oklahoma; about a one hour drive from Tulsa
Activities: Swimming, fishing, sailing, boating, scuba diving, picnicking, hiking, camping
Where to stay: Vacation rentals, hotels, bed and breakfast, lodges, campgrounds, RV parks
Beyond Lakes in Oklahoma: Attractions and other Oklahoma Stops
Aside from these lakes in Oklahoma, don't miss the following attractions: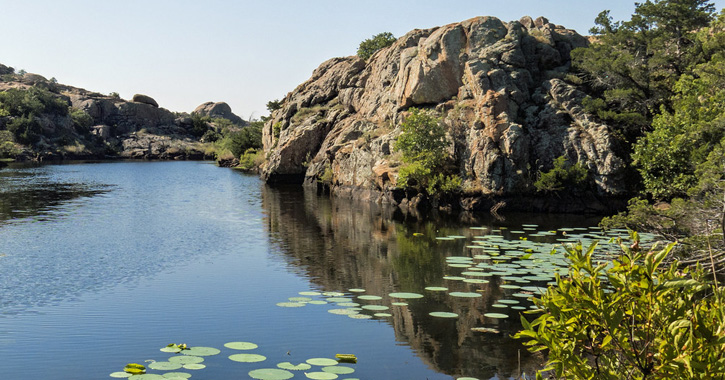 If you love to include other nature stops on your Oklahoma itinerary, don't miss:
the Talimena National Scenic Byway (it's a favorite fall foliage destination).
the beautiful Glover River in McCurtain County, southeastern Oklahoma is one of the last rivers in the state that remains undammed throughout its 33 miles of scenic beauty, and
Wichita Mountains Wildlife Refuge (located in southwestern Oklahoma near Lawton) is over 59,000 acres of ancient mountains that free-range American bison herds, prairie dogs, Texas Longhorn cattle, bobcats, and coyotes call home. If you're up for the climb, include the three-mile-long paved road hike leading to the summit of Mount Scott, where you can see the spectacular lakes of Oklahoma and stunning rock formations 2,464 feet above sea level.
Starting from scratch with an ultimate road trip itinerary? Check out my Route 66 guide or these 5 cross-country routes you must take at least once in your life.