Thirsty for new craft beer? Boise, Idaho has a booming and diverse breweries scene.
Over the last few years, the city has grown a lot when it comes to craft beer, and trying to decide where to go can be difficult.
But don't worry, each brewery on this list offers a great combination of a cozy atmosphere and great craft beer and food.
Whether you're just coming into town for the weekend and want to hit as many breweries as possible, or you're a craft beer lover looking for your next favorite spot, this guide has something for you.
8 Boise Breweries You Can't Miss
1. 10 Barrel Brewing Co – Craft Beer and Tasty Food in the City Centre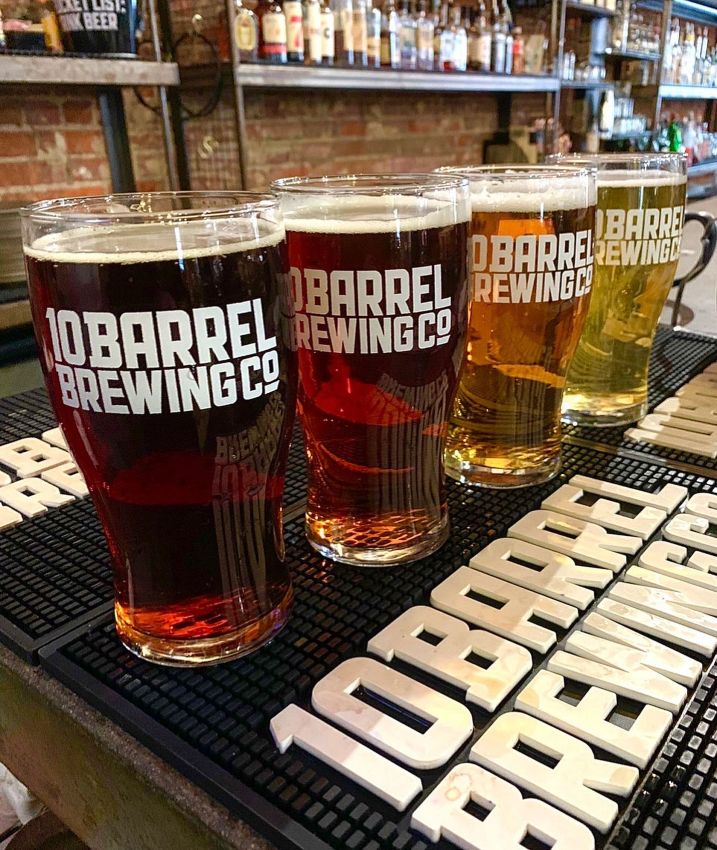 Location: 5 minutes walking from Boise city center at 826 W Bannock St, Boise, ID 83702, United States
Located right in the heart of Boise, Idaho, 10 Barrel Brewing Co. is the most popular brewery in the area, and one of the best spots for craft beer and delicious food.
From Golden Ale to Black Ale, Dark Ale, Belgian Style table beer, or even passion fruit and mango beer, there is plenty to choose from at 10 Barrel Brewing.
A great option to get started is the 10 beer flights, which provide sample tastings of locally crafted beers for just $12.
If you're drinking and dining, you'll be amazed at the ample menu choice. You can't go wrong pairing craft beer with a classic pretzel, pizza, nachos, or burger.
However, there are also less conventional and healthy options like Korean bowl, grilled tuna, or kale and farro salad.
If you feel like snacking, order your craft beer with a side of the 10 Barrel Brewing Co. signature fried pickles, you won't regret it.
2. Payette Brewing Co. – Pet-Friendly Brewery with Food Trucks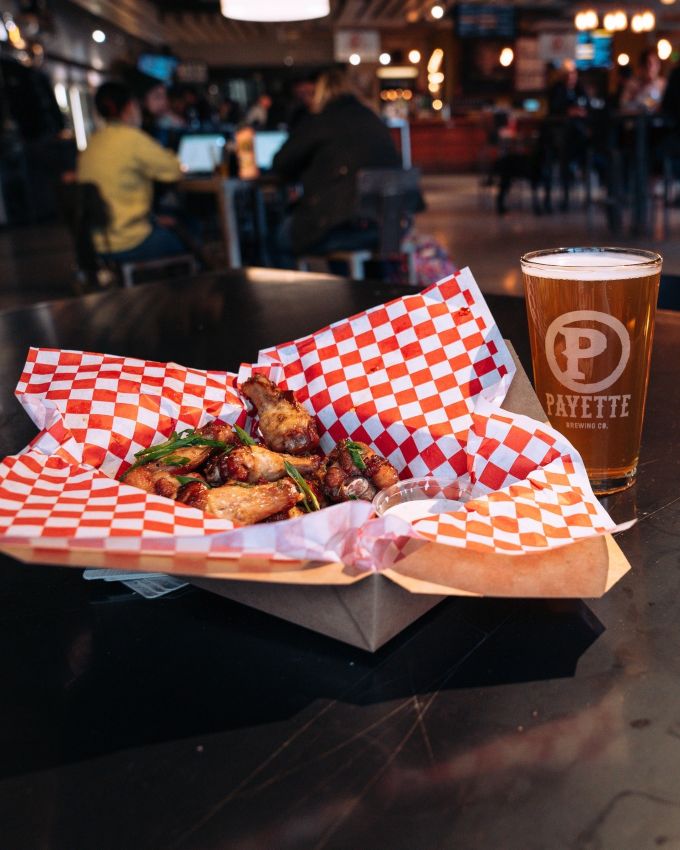 Location: 5 minutes walking from the city center, at 733 S Pioneer St, Boise, ID 83702, United States
Conveniently located in downtown Boise, Payette Brewing does not fail to impress.
Customers will find friendly staff and knowledgeable bartenders, and an ample choice of craft beer and food in a lovely setting.
From the most classic lagers and pale ales, to "cinnamon french toast" flavored beer, you won't ever have to order the same beer twice.
There are even seasonal and limited edition beers released at different times during the year.
Food-wise, there is no kitchen within the brewery, but you'll find plenty of refreshment options at the permanent food trucks outside (only note, not many gluten-free items).
Payette Brewing is a kid and pet-friendly environment, with plenty of indoor and outdoor seating space, perfect even for families and large groups.
The outdoor seating area is spacious and equipped with an outdoor fire pit, making it comfortable year-round.
For some privacy, try taking a table upstairs, in the lounging area overlooking the brewery floor.
3. Edge Brewing Co. – Award-Winning Beers and Fun Events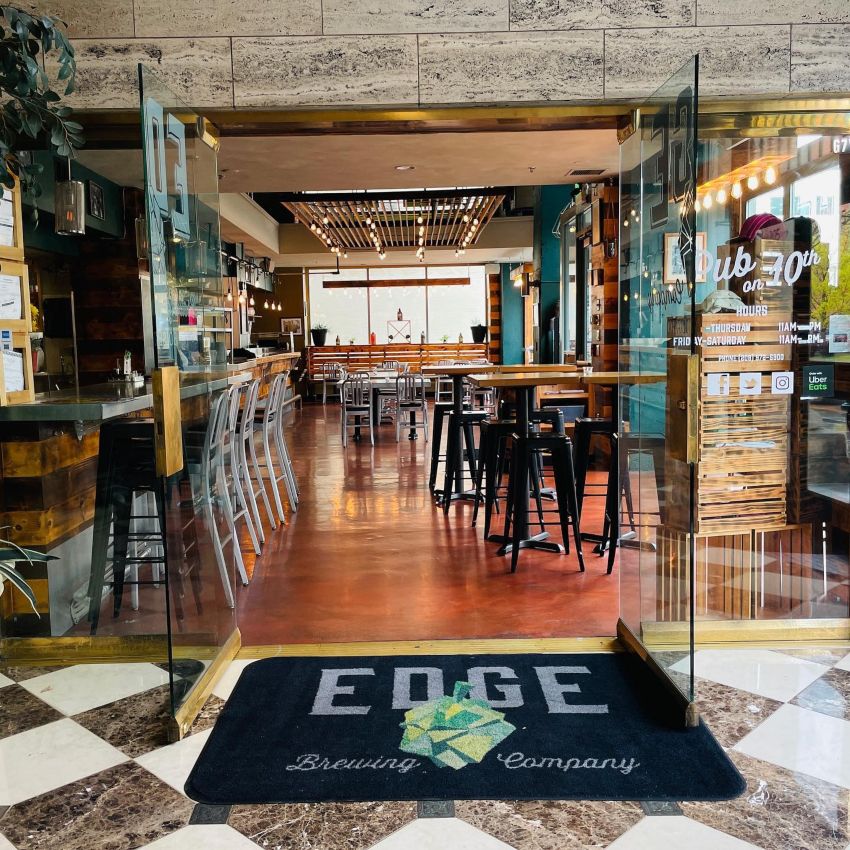 Location: 10-minute drive from Boise city center, at 525 Steelhead Way, Boise, ID 83704, United States
If you're looking for an outstanding brewery with high-quality beer and a fun, relaxed environment, Edge Brewing Co. is the way to go.
Locals highly renew Edge Brewing Co. for its friendly staff members, and quality beer and food.
You can try one of the award-winning craft beers on the menu, like the Obligatory Dipa or Huckleberry Cider, or try the 4 beer sample tasting.
Apart from the regular happy hour, the pub also hosts events weekly (Sunday brunch, taco Tuesday, wings Wednesday, and more), which can be a lot of fun, especially with friends.
Service can be slow at times because of how popular this spot is, but they make up for it with an excellent presentation.
For example, you can expect to get your Belgian-style beer in the appropriate kind of glass.
The atmosphere is neighborly and it's easy to get attached to this place.
If you love the pub, you can write a nice message on the guest book at the entrance, but many satisfied visitors even reward the cooks with a round of beers.
4. Lost Grove Brewing – Sustainability, Community & Handmade Pizza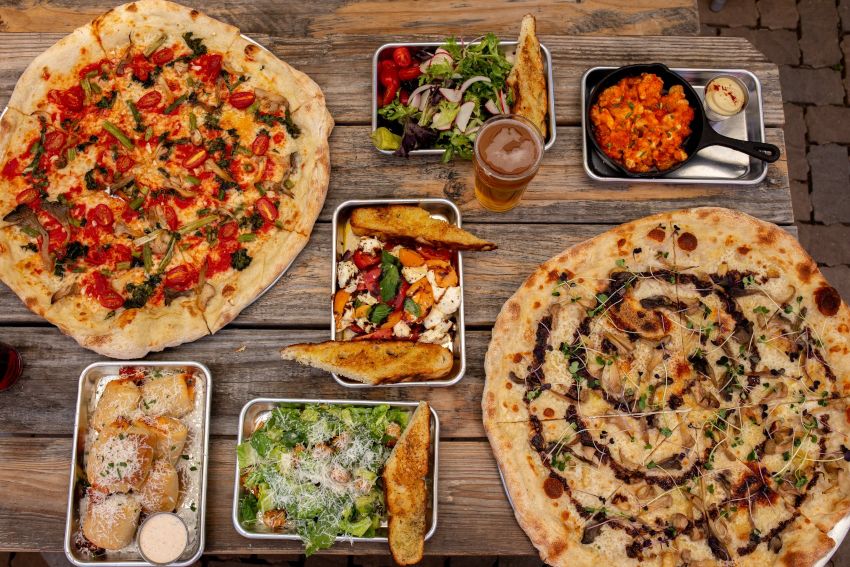 Location: 5-minute drive from Boise city center, at 1026 S La Pointe St, Boise, ID 83706, United States
Looking for an unconventional spot in Boise? This place is not like other Boise breweries.
Lost Grove Brewing is a down-to-earth brewery with a unique atmosphere, midway between a pub, an art gallery, and a community center.
They pride themselves on being carbon-neutral certified and they routinely cooperate with local nonprofits.
If you're unsure of what to order, you can get the 4 beer flights and choose between the many craft beers on the menu.
While you're enjoying your craft beer, I recommend trying Lost Grove's signature thin-crust pizza, everybody's favorite item on the menu.
The pub has a stylish but cozy vibe, with many uniquely designed, working vintage pinballs, dart boards, and art on the walls.
It's a pet-friendly location and they even offer dog water bowls.
While coming here anytime is fun, why don't you check out the weekly event and plan your visit during a live music event, trivia, or bingo night?
It might take a few blocks to find a parking spot, but there are plenty of spots nearby.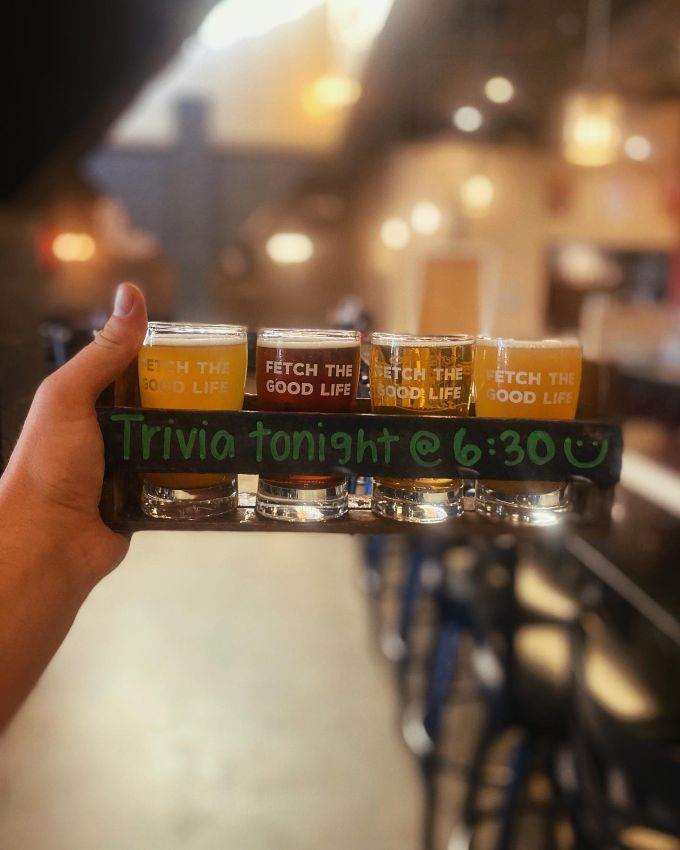 Location: 7-minute walk from Boise city center, at 705 W Fulton St, Boise, ID 83702, United States
White Dog Brewing Co. is a cozy and chill taphouse, very centrally located and complete with excellent earthy food at a reasonable price.
The venue is adorable, as it is themed around the brewery's "white dog" mascot, and the staff is affable and accommodating.
The craft beer menu mostly includes IPAs and Ale, but one of the most popular orders is the Blood Orange Hefeweizen.
The pub also hosts events like trivia and game nights, which are not advertised on the website, so I recommend keeping tabs on the Instagram page instead.
A variety of merchandise featuring White Dog's lovely logo is available, including stickers, hoodies, glassware, and t-shirts and caps.
Indoor, while you can be seated at one of the many tables, the bar itself has a fun feature. The bar includes a frozen stripe the whole length of the bar, which keeps your beer cold through the night.
Outdoor there is a patio with plenty of seating available and a nice overlook of downtown Boise.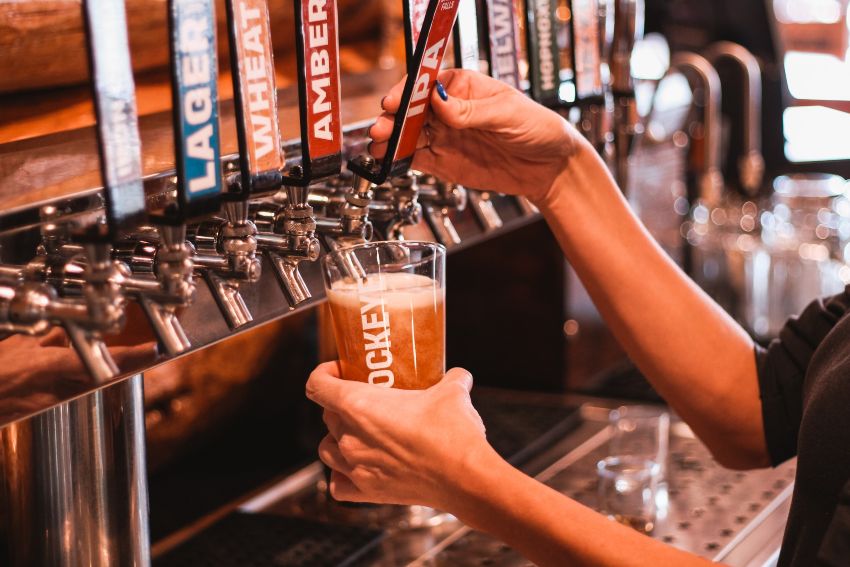 Location: 20-minute drive from Boise, at 12542 Fairview Ave, Boise, ID 83713, United States
Compared to the other Boise breweries, Sockeye Brewing is a bit further from the city, but I would say it's worth the drive.
The atmosphere is welcoming and classy at the same time, and right from the start, the venue will surprise you with its curated interiors.
The high ceilings and log-covered walls make the pub almost look like a wooden cabin, but with plenty of natural lights coming from the windows.
There are outdoor seating options on the patio, but pets are still not allowed.
There are plenty of seating places and parking spots, making Sockeye Brewing a perfect location even for larger groups.
If you're unsure of which craft beer to choose, order the regular beer sampler, or even better the seasonal beer sampler.
While the seasonal beer sampler is slightly more expensive, it includes more unique craft beers. If there are two at your party, you can order both tastings and get the full craft beer experience.
There's an extensive food menu, but the visitors' favorite is by far the Salmon Taco plate. In general, the portions are large enough and not expensive.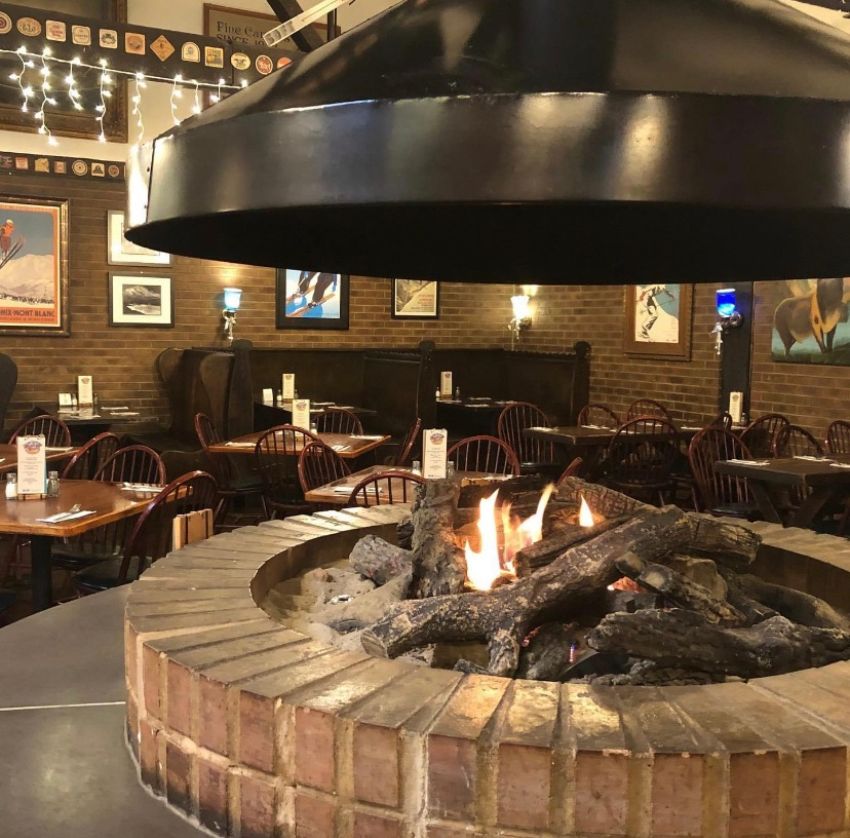 Location: 10-minute drive from Boise, at 2455 N Highlands Hollow, Boise, ID 83702, United States
Highlands Hollow Brewhouse is one of the must-visit Boise breweries near Bogus Basin Ski Resort.
Whether you're done skiing for the day or looking for an invigorating breakfast before hitting the slopes, this is one of your top choices.
The venue will remind you more of an old-fashioned ski lodge, than a brewery, and in wintertime, the indoor area is especially cozy, with a fireplace and wooden walls.
Highlands Hollow brews craft beer and you can try ordering the 4 OZ. tasters of any of the ales for $4, or you can choose the Build A Flight option which includes 4 tastings for $4, 5 for $5, and 9 for $9.
The food is excellent but the star of the menu is the french fries. For just $7, you'll get the largest bowl of cut fries you've ever had, and they're delicious too.
Highlands Hollow Brewhouse often hosts live music events, so be sure to check out the upcoming event page.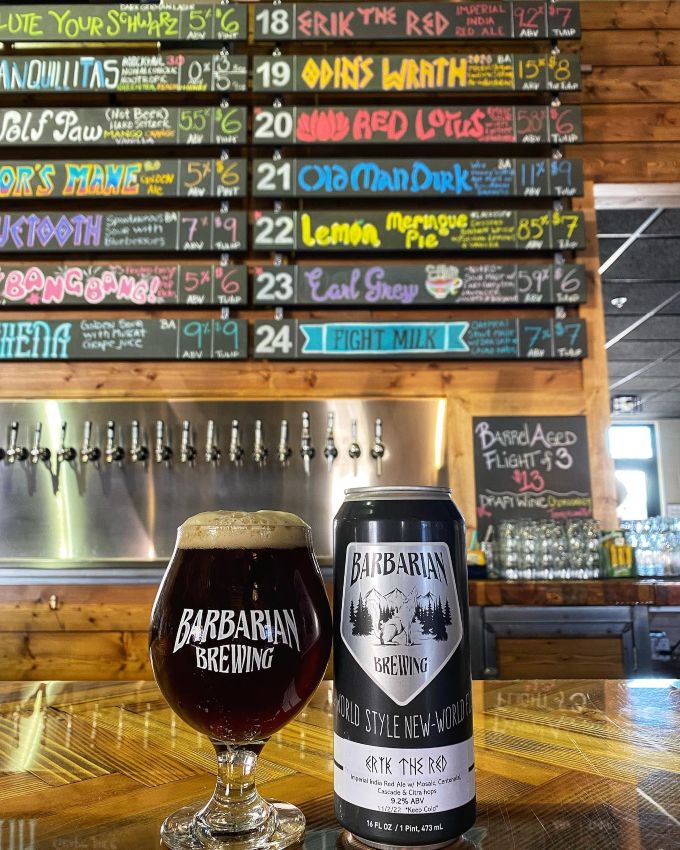 Location: Downtown Boise at 1022 W Main St, Boise, ID 83702, United States
Boise has some great breweries, but at Barbarian Brewing, you're guaranteed to have one of the best craft beer experiences in town.
IPAs, flavored beers, barrel-aged stouts, and more are all locally crafted at Barbarian Brewing. Even the venue is pleasant and interesting with sophisticated décor.
But it is the knowledgeable staff's personalized recommendations that make the experience unique. These people know their beer.
If you're interested in trying more than one beer, you can't go wrong with the craft beer-tasting option.
I recommend trying out the unusual but tasty flavorful beers, like cheesecake bites or gusher candy.
If you're looking to dine, maybe Barbarian Brewing is not the best option. You won't go hungry here, but there's no real menu and only an ongoing collaboration with a taco stand.
More things to do in Idaho and around Boise
If you loved Boise breweries and want to further explore the area, check out the 11 best hot springs near Boise. And for the perfect Idaho holiday, nothing beats a trip to the lake.